Posted Saturday, April 19, 2014 in:
Obsessed With
Now that our house is getting there bit by bit in terms of our renovations, I've finally been letting myself think more about decorating our walls. Because we are still styling our house on a tight budget so we can afford to do our renovations, I have a stack of thrifted picture frames I've picked up, and a collection of artworks, prints and pictures we've collected over the years. I'm looking forward to doing a lot of serious hanging-up! So I thought I would put together some tips on choosing artwork for your home, whether you're styling on a budget or have money to invest in a beauty to keep forever.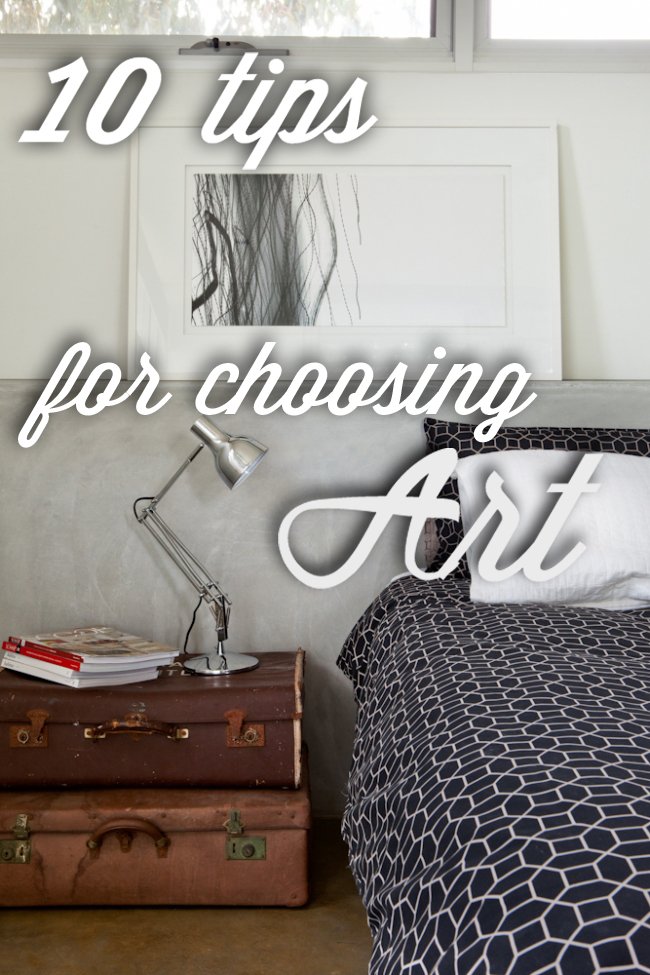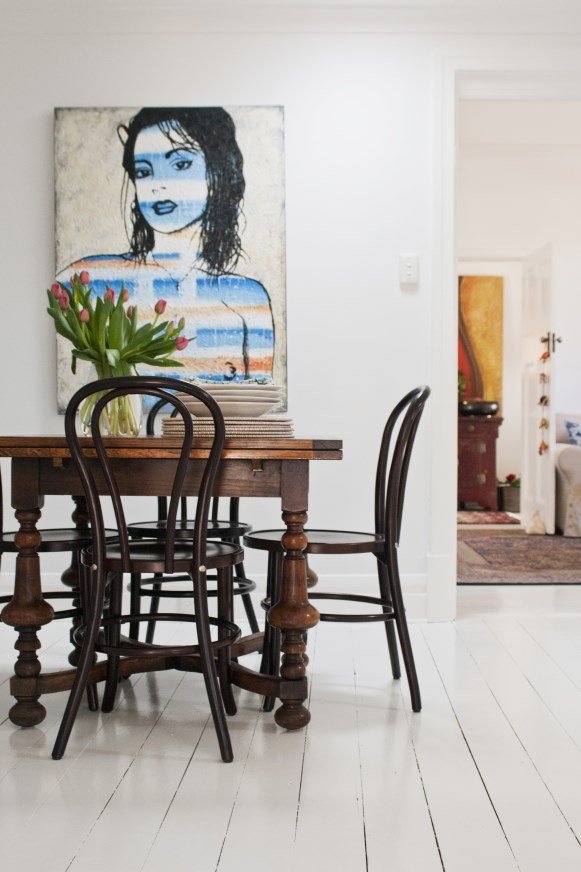 Consider scale.
Scale can make or break your room, so when you buy a piece of art, always consider its size, says Twinkle and Whistle interior designer Nelly Reffet. "You don't want to put a beautiful but tiny artwork on its own on a big white wall, or a huge artwork that chews up so much visual space that it overtakes everything in the room. If you intend to move the piece around your home or to move house at some stage, you might want to focus on pieces that are of fairly "standard" size, i.e. not too big and not too small. Things with measurements between 30cm and 120cm are pretty easy to accommodate in any house."
Trust your instinct.
"If you love it, buy it!" advises my artist friend Francesca Gnagnarella. "You will always find a space on your walls for something you love. But if you have really limited space, be prepared and don't forget to take with you your wall measurements. When I talk to my clients about choosing the right piece for their homes, I always insist on buying a piece they love. Art is such a personal choice and once it's in your home you will look at it every day, so you have to like it! When we hang a painting it does not just enhance the appearance of the environment, it brings life and dimension to a space. It says something about you and makes the space more interesting for family, friends and guests."
Follow your heart - it sounds cheesy but it's good advice, says Nelly (you can follow her Instagram and Facebook for interiors tips). "'Real'" art is an investment and a long term commitment," she says. "Its essence is to generate emotions in the person who looks at it. If a piece looks beautiful but you don't feel anything about it, move on. It's better to stare at a blank wall for a while than watching something that doesn't make your heart sing!"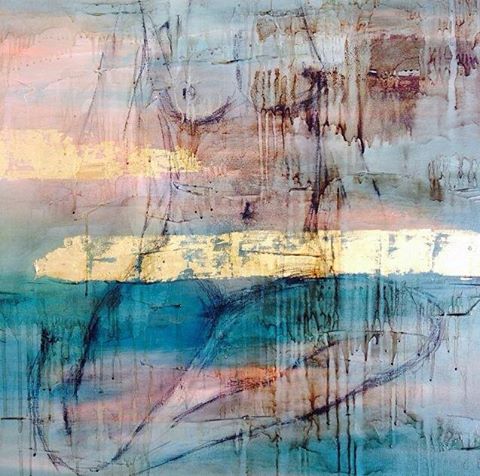 Go online to find originals.
If you're in the market for a beautiful original, Saatchi Art sell a wonderful range of originals that can be shipped all over the globe. My pick – this painting 'East Village' by U.S painter Peter Dugovic. I can picture it in our living room!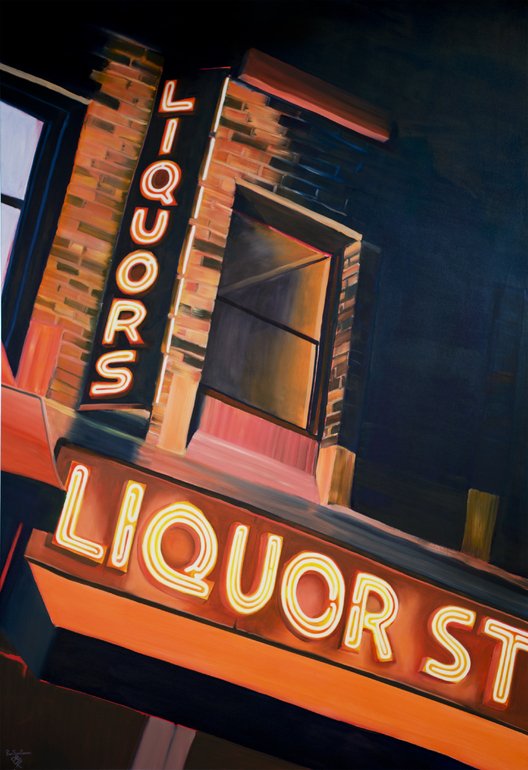 Find something beautiful in black and white.
Ok I know that sounds weird. But I just think there is something about black and white artwork that means it can work just about anywhere.

Mr Nerd and I are stalker-style obsessed with the work of Sarah McCloskey, who is the younger sister of a friend and an artist and illustrator. And goddammit this lady's stuff is AWESOME. So talented. She will make you weep jealous tears that you can't draw like her, but she is so funny and nice you can't hate her - she has a cult following for a reason! You can see her stuff on Facebook here or stalk her on Instagram.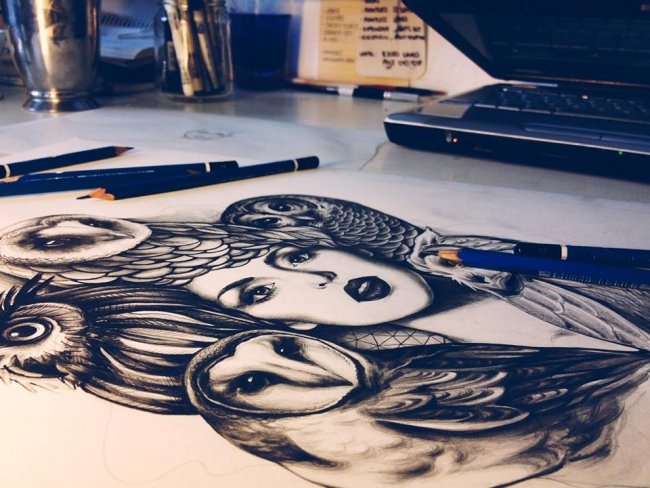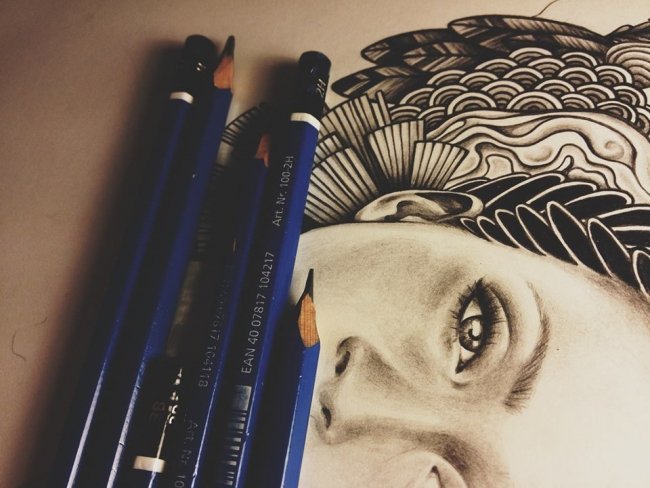 Find out who created your favourite piece of street art.
If you've been to Ootong and Lincoln in Fremantle you'd be familiar with the distinctive work of Perth artist and illustrator Anya Brock. Anya's colourful paintings have become hugely popular and yet her work is still not impossible to get your hands on.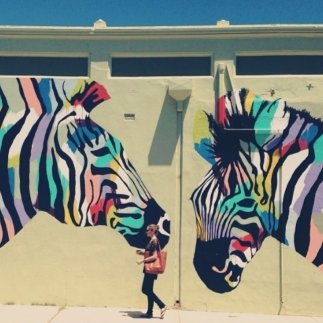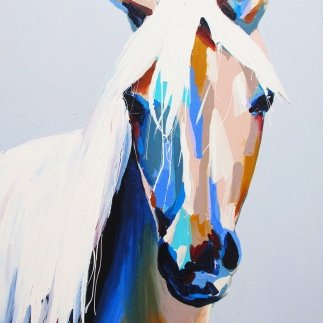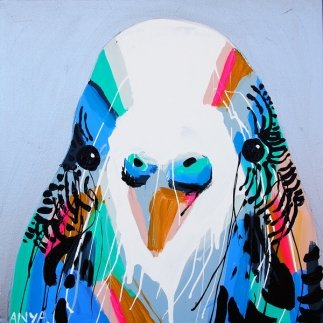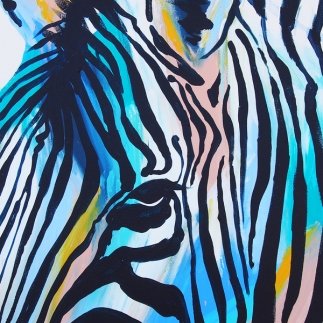 My picks? For an original I like You're Alone, $890, or her famous budgies like Leave Me Here, $750, for a print, I can never go past a horse! And for $80, Love Be Brave, you can easily have your own little bit of Anya Brock in your house, or they're perfect as gifts.


Mix antique and modern. Be bold!
You might remember last year when I featured Francesca's
gorgeous apartment
. Francesca paints beautiful modern pieces that feature her signature gold leaf and her stuff is BEAUTIFUL.
"Growing up at my parents' house in Rome, I've always been surrounded by ancient art and antiques but since I've left to move to Australia it has been great to see how slowly they have been replacing the old art (which I still appreciate) with some of my contemporary pieces… and I have to say, I love it!" she says. "I absolutely adore when an antique piece of furniture 'collides' with a striking postmodern painting in the perfect mix. I remember reading a comment by Giuseppe Panza, founder of the art collection, who said that if a modern artwork sits well above a beautiful antique piece it means that it is a really good painting and you can't go wrong – I have to agree!" You can check out
Francesca's website here
or follow her on
Facebook
or
Instagram
.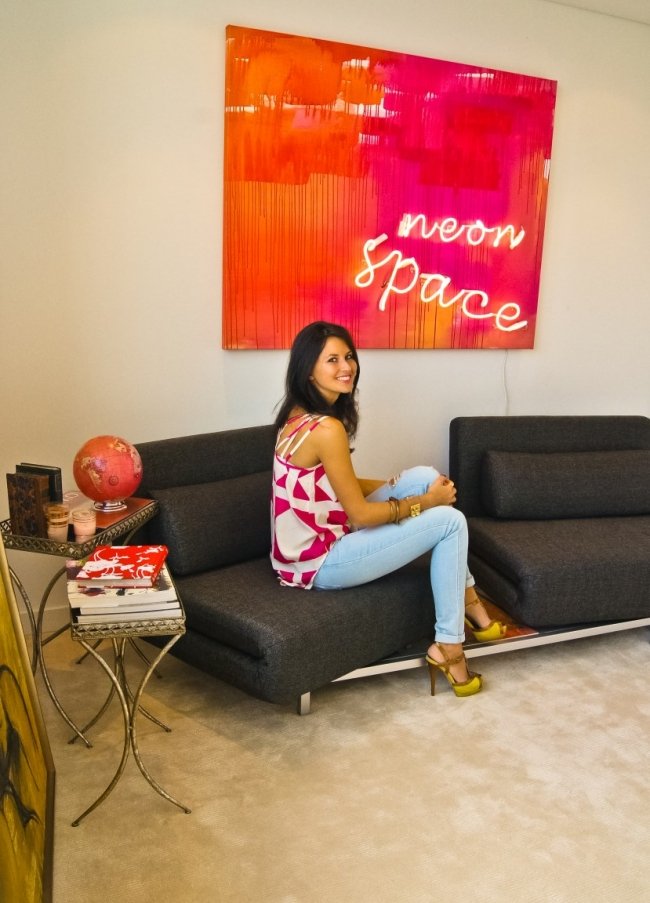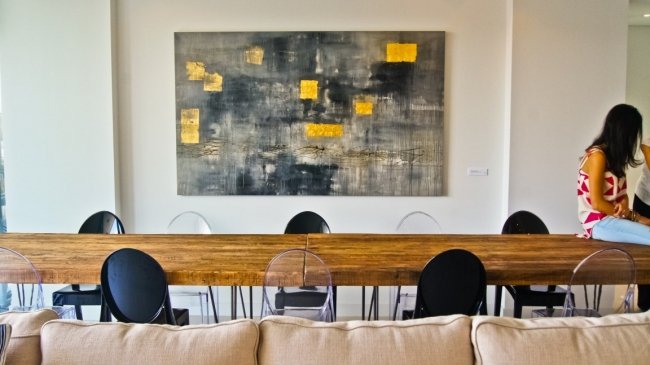 Use social media to source affordable prints.
If you are on a tight budget for art, I think one of the best ways to discover artists you have never come across before is through social media and tools like Etsy. I have come across some very talented artists for the first time just through Instagram, Pinterest and Facebook. Through Instagram I recently 'discovered' the geometric work of husband and wife team Luke and Kate Bordessa from Studio Cockatoo and immediately bought one of their budgie prints for our home. Their prints are so inexpensive but so gorgeous – great for gifts.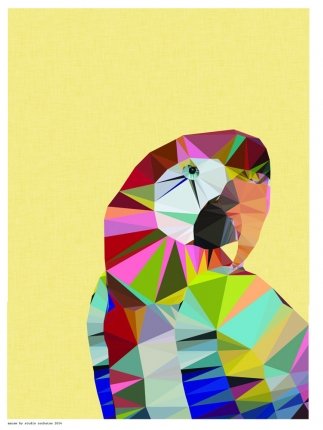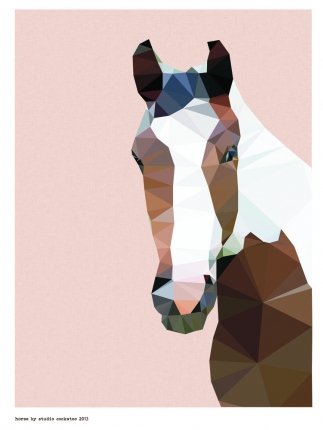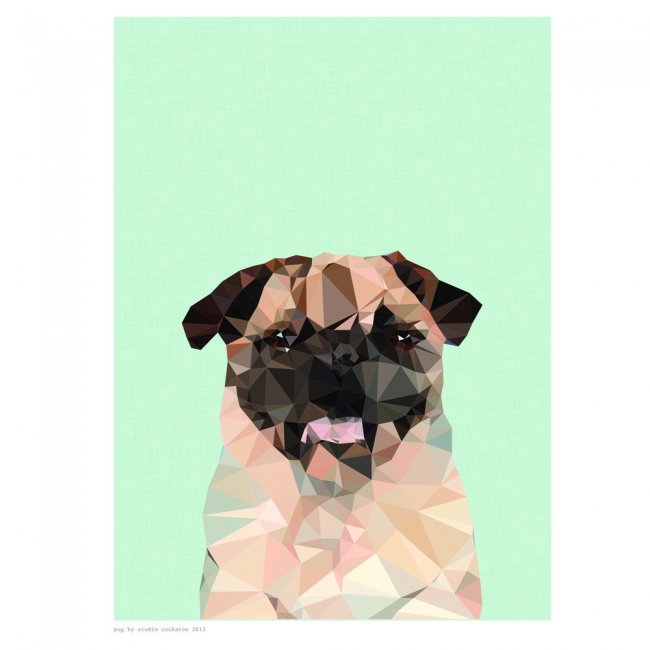 I've found other artists on Instagram - like equestrian artist Laura Douglas who lives on a horse property (so jealous) and realised I had seen her work in person in Melbourne in Myer – she does loads of commissions for Myer and Melbourne Cup. And I like anyone who paints horses for their job!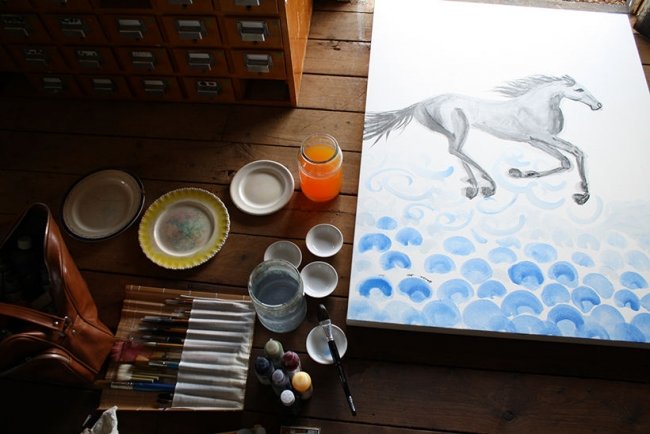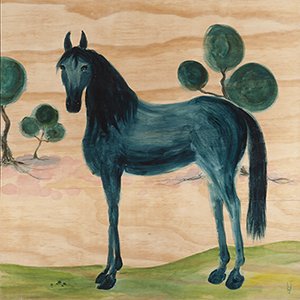 If you go bold, keep other things minimal.
"If you just bought a huge pink and gold canvas, like the amazing work of Francesca Gnagnarella, that shines like a jewel over your couch (lucky you!) make sure it remains the wow factor of your room," says Nelly. "Consider keeping everything else simple. You don't want other items to compete with the artwork."



Discover your taste.
"Buying art is about the connection and reaction you feel to a painting," says Francesca. "Discover what you like and go for pieces you will take pleasure in viewing everyday."
Educate yourself.
To build a collection, it really helps to learn more about the art world, says Francesca. "Start training your eye and your mind to understand different techniques. As well as flicking through art books and magazines it's very well worth doing some online research about the artist you have in mind - their training, their style, their price points," she says. "Understand the difference between an original, a limited edition and a reproduction – these will differ a lot in price but mainly in their value!"
Art is not just painting!
"Photography is another valuable medium that can make a pretty strong statement, both in terms of meaning/emotions and in terms of decoration," says Nelly. Drawings and illustrations are also gaining popularity. On a really tight budget? Vintage-style posters and maps are great.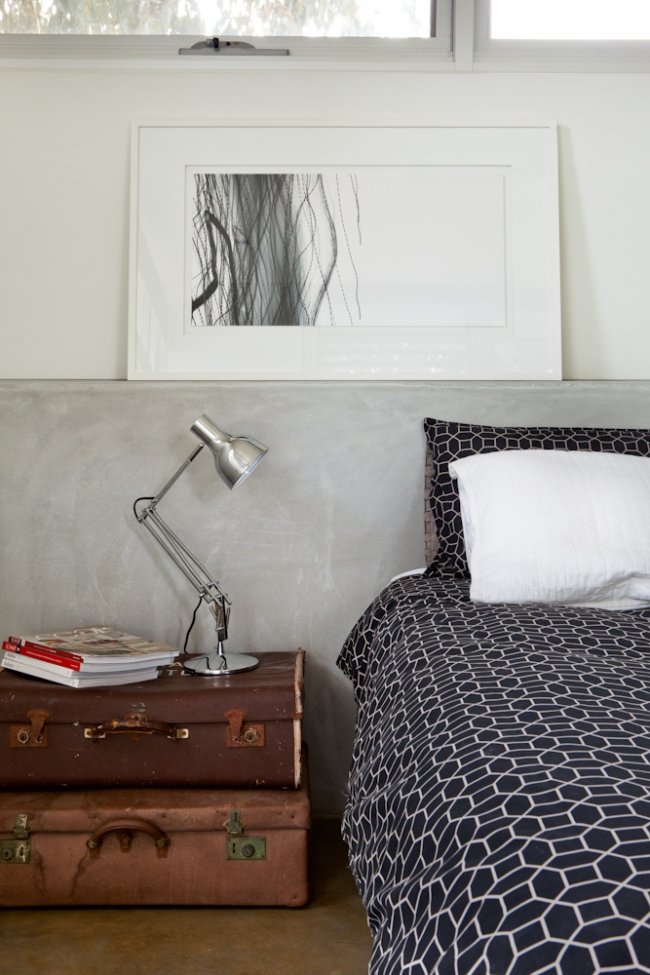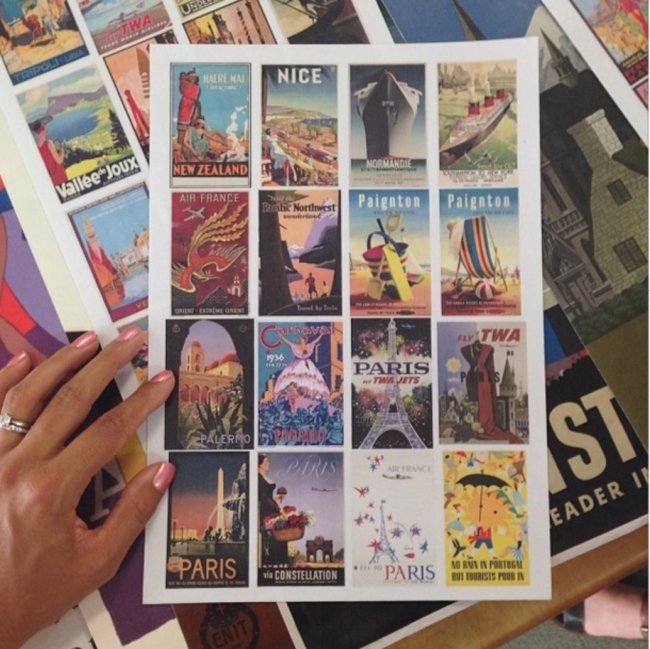 Look around you and get familiar with your local art scene.
FORM is a terrific way to find exhibitions for local (and also national) talent. Check out their What's Happening section for great events and exhibitions.
It's not hard to find great local artwork, says Nelly. "You can visit some not-for-profit art galleries such as Perth Centre for Photography, pay attention to the artwork on display when you go to a café or restaurant, or have a look at what your council offers in terms of arts events - they often run exhibitions of local artists," says Nelly.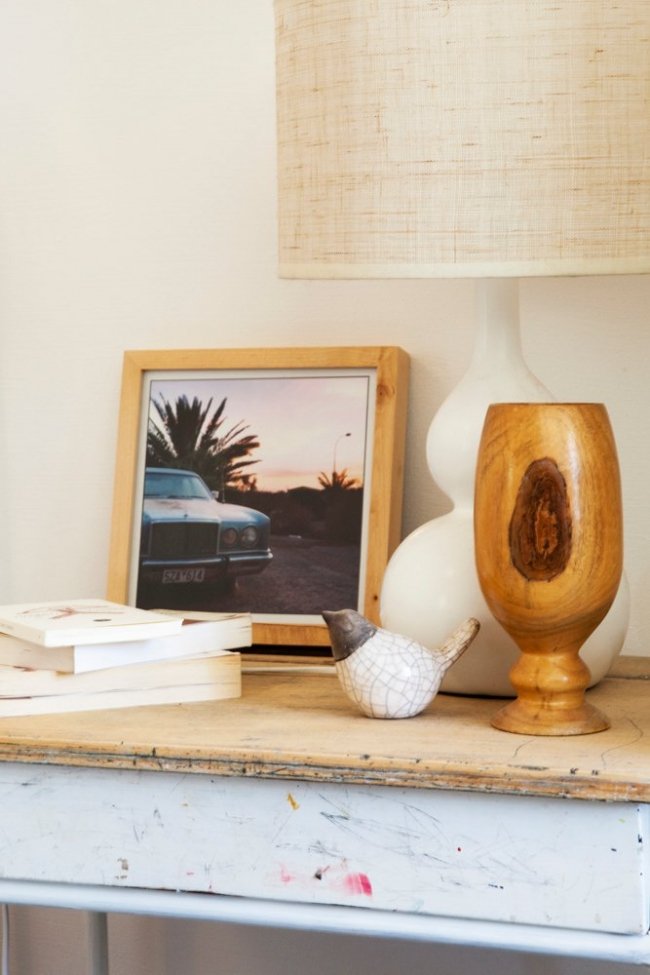 Support a young artist.
Try visiting high school and university art fairs. You never know if you might pick up a gem that's special and perfect for your home.
Just start.
"In essence all you need to start your art collection is to begin with one piece of artwork you love… from there it all unfolds," says Francesca. "You don't need to know a lot about art, you just need to enjoy it, and that is all that matters. You learn as you go and your passion will grow, as will your knowledge and understanding of art."
What's your favourite art piece in your home? Do you have any ideas for finding cool art work for your walls? I'd love it if you shared them. Maya x