Posted Thursday, July 24, 2014 in:
Obsessed With
Nerd Life
I don't know if it's because of winter, but lately it seems like a whole bunch of my friends have been feeling a little flat. A bit uninspired, demotivated, overworked, lethargic or blah; at night more in the mood to slump lifelessly on the couch than go out or do projects around the house (I have quite a few unticked boxes on my home to-do list. Ok, a lot!)
Yesterday one friend mentioned seasonal affective disorder. I used to be quite rudely dismissive when I'd read stuff about SAD, and would think oh just go sit by a window or something, but now I sheepishly realise that a lot of people might not always have that option - like city office workers who leave the house as the sun rises and the office when it's dark.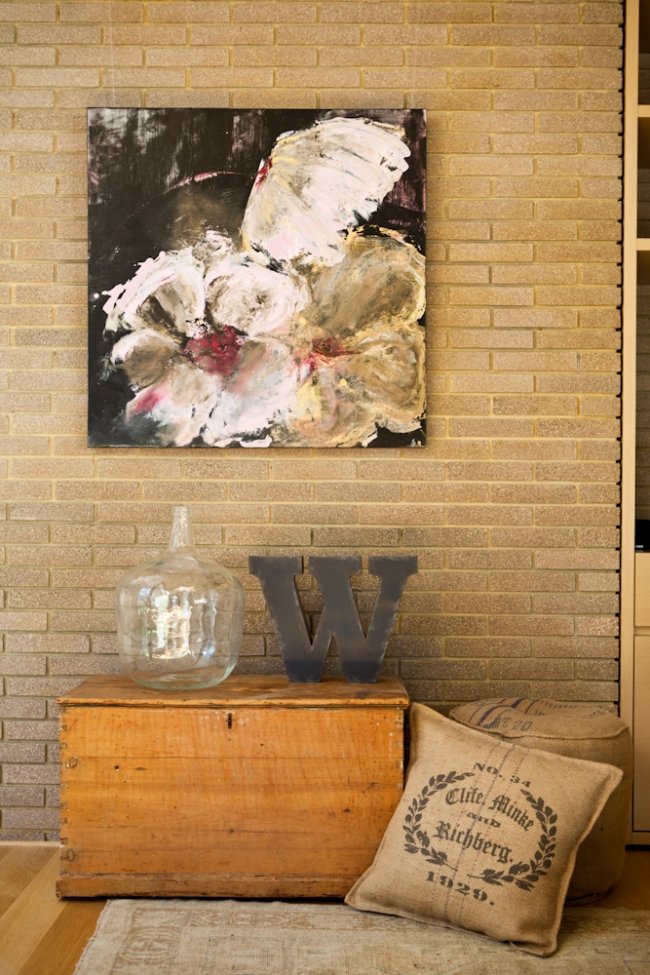 The winter blues really must be a sufferance for a lot of people, if so many seemingly experience the same drop in energy at once. Before when people talked about the winter blahs it had always puzzled me a bit, because I love winter - writing inside when it's raining, stews simmering on the stove, pies, Mr Nerd lighting the fire, red wine, scarves, TV show marathons on the couch.

But maybe when it's bucketing down and heading outside for your usual lunch break walk to refresh yourself seems like a most unappealing idea, our overall energy levels go down. I had two weeks of feeling blah and like a dose of motivation was in order. I was putting off that painful Bunnings trip, procrastinating on doing my tax, slumping at my desk taking much longer than I usually would to write that work story, and so on.
I'm back to normal now, but one thing I was thinking is that when the weather is so gross and dreary and you can't always get outside for a nice walk, you really need to make an extra effort to lift yourself up. And one really quick, easy way to pep up your mood is by grabbing some flowers for your home or workplace.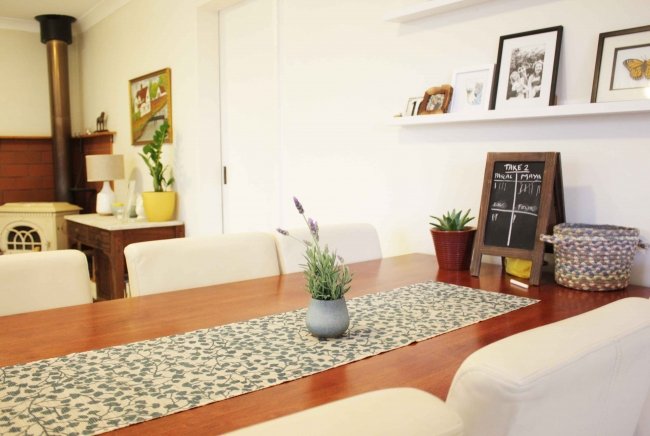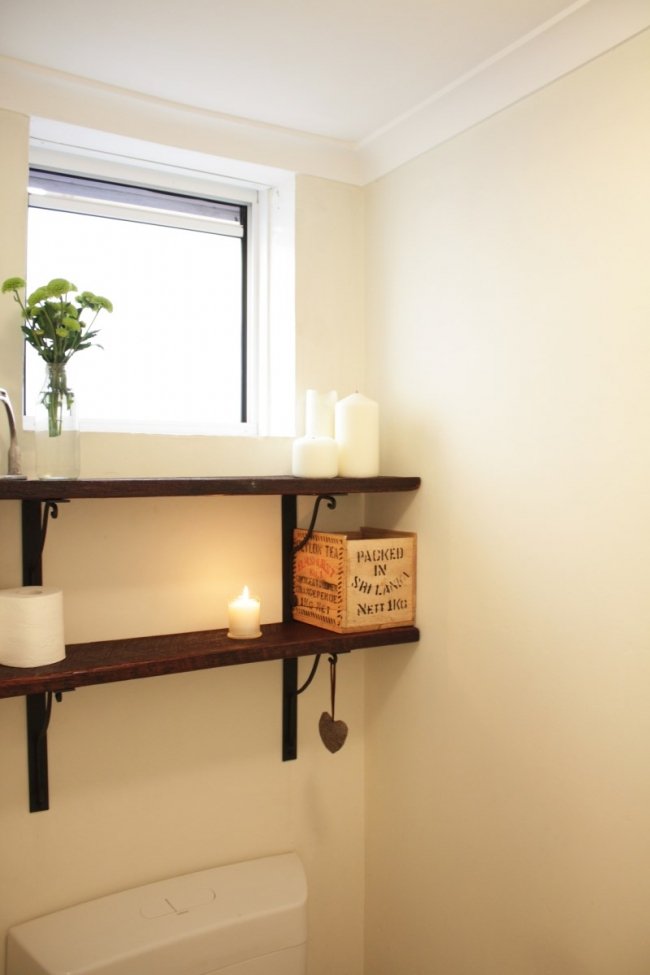 When I have gorgeous flowers in my home or office I get a little mental lift every time I look at them. When it's pouring with rain outside and you're at home on a winter's afternoon, it's nice to walk into a room to a bunch of fresh bright flowers on the table. Flowers add a sort of comfort wherever you plunk them. Even if you're on a budget you can still spoil yourself with an inexpensive bunch that will last for a fortnight. When you're surrounded by a nice, homely space and things that please the eye it boosts your mood and your outlook. (I know – I just went through months of renovating junk cluttering up the house, the washing machine and dryer shoved in my home office and tiles piled in every spare corner!) So today I'm going to share:
10 Easy Tips To Brighten Your Home or Workspace with Flowers
Entertain with flowers.
While Mr Nerd and I love to have friends over for lazy evening barbecues in the summer, in the summer it's all about sit-down dinners at the dining table with pretty place settings, bottles of red wine and board games that go on for hours (some we love: Scrabble Catchphrase, Bananagrams, Settlers of Catan… when time is on our side). I love having a bunch of flowers on the table – or try a flower at every place setting.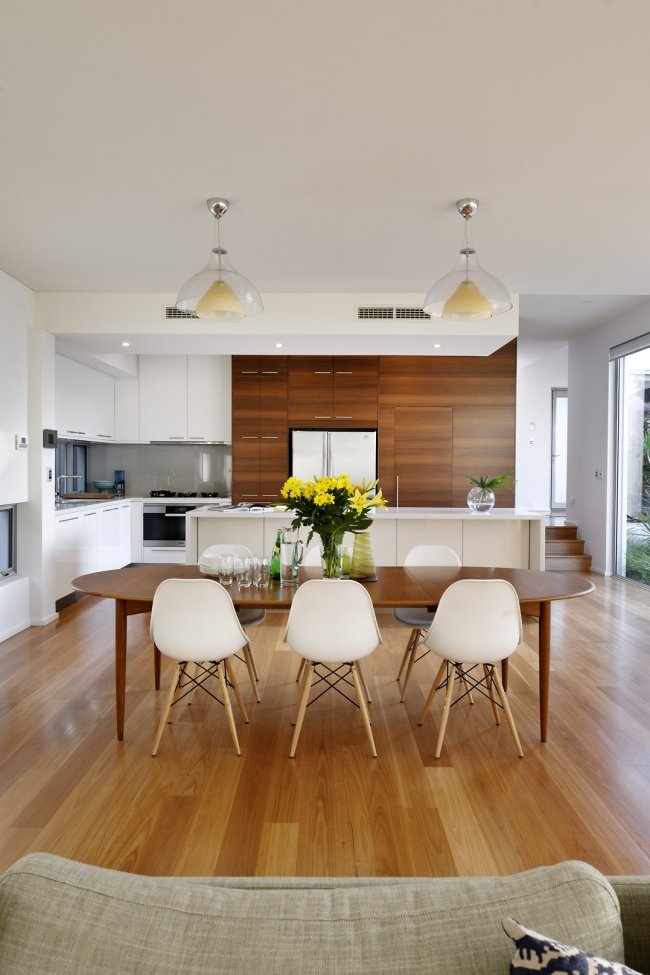 Use flowers to draw the eye from unpleasant room features.
If you are after one quick, easy interior design trick to brighten and lift a room and draw your attention away from any bad bits, adding flowers or foliage to a strategic spot is the way to go. I like to think that putting flowers and plants in our sunroom in winter draws attention away from the old windows and our moss-covered paving that I can't be stuffed scrubbing.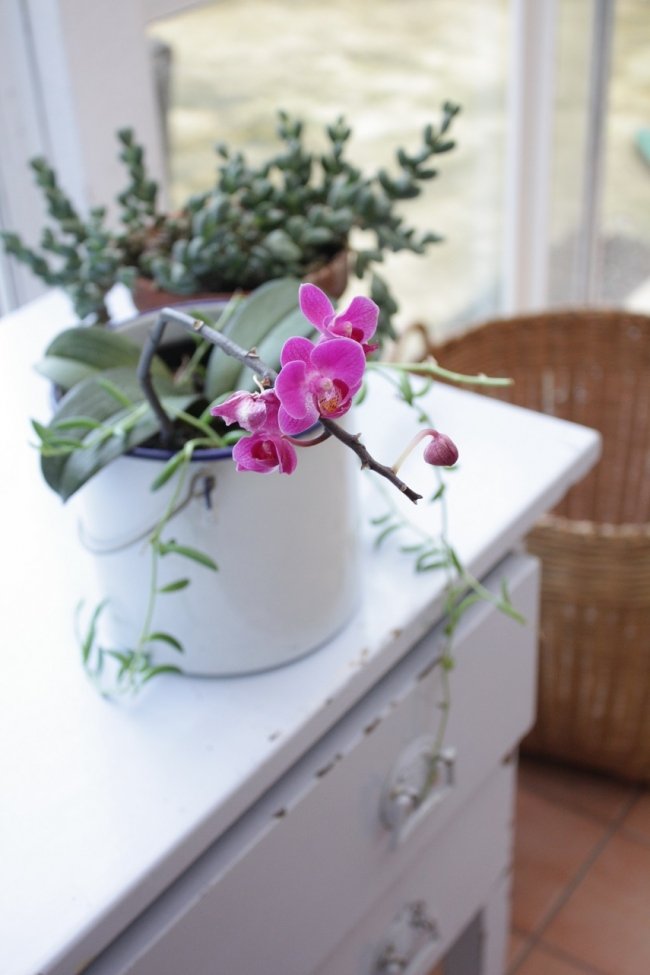 Use really cute display vessels.
I may have a small IKEA cupboard beneath the coffee machine dedicated to vases. It's a lie that you only need three vases! I try very hard not to buy too many vases but often I spy one that I can't resist. Don't restrict yourself to displaying your flowers in glass vases either. Display your flowers in a tea box, a cane basket (Kmart have really cute ones), or wrapping up the vase in brown paper and tying it with string. I also love beautifully coloured, handmade ceramics. Smaller bunches I often display in our kitchen using the Meek Beaker my ceramic artist friend
Patricia Fernandes
made for me as a posy vase.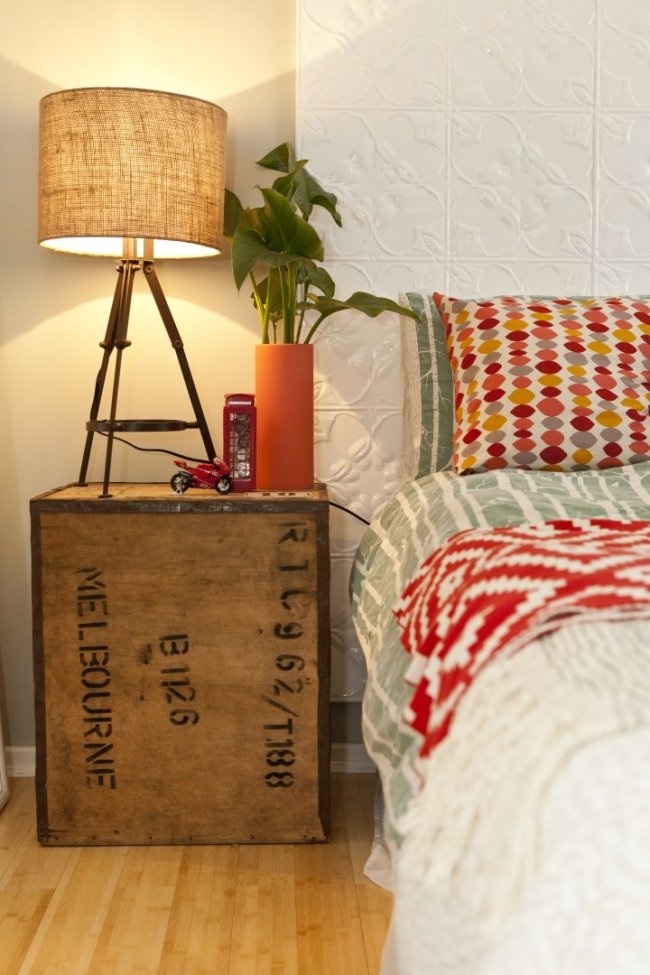 Make your flowers last.
I milk my flowers for all they're worth! When parts start to die off, I remove the brown bits and put the still-vibrant blooms in smaller vases. Or sometimes I'll make them look lush and full again by just getting rid of any drooping leaves and plumping it up with fresh green foliage grabbed from our garden. You can also go for flowers that last longer than most when cut – try chrysanthemums, orchids, roses, daisies, carnations, gladiolas, alstroemeria and lilies.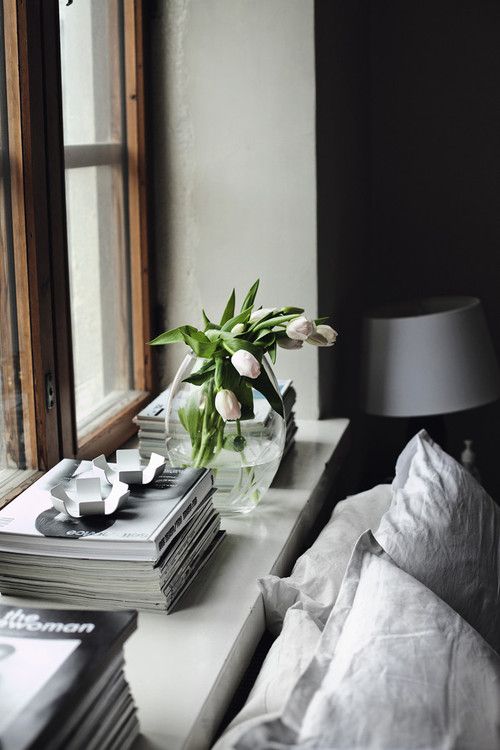 Order bright flowers to lift a dark room.
Our living room has dark grey walls and while this room generally gets a lot of natural light, sometimes in the winter it needs a bit of a visual lift. I love putting flowers here against the dark grey walls. Yellow flowers look great against dark grey or inky blue walls (try tulips, roses or daffodils which are in bloom right now) or try something bright pink or crisp white. Fresh Flowers deliver really gorgeous flowers Australia-wide and have a lot of colourful blooms (I love their generous bunches of tulips). They also sell these cute seasonal terrariums - perfect for brightening up a kitchen windowsill or bathroom in winter. You can like the Fresh Flowers Facebook page here.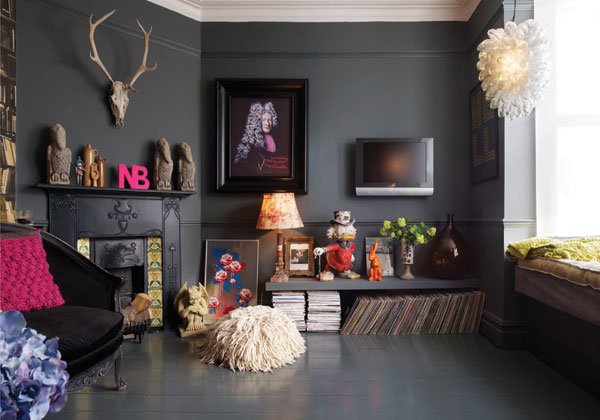 Put flowers in your workspace.
Buying a bunch of flowers is the equivalent to buying a pretty new bottle of nail polish or getting a manicure – it's a little indulgence that gives you a little mood boost every time you look at it. Even though my home office is a work-in progress, having flowers on my desk or on the shelf is always a mood booster. Even if you just work at a desk by your kitchen, add a little bunch.


a windowsill with flowers and lighting for a beautiful visual boost.
The days darken much quicker in winter. If you have a window with a sill, do like the Europeans do in winter and brighten up your window with flowers. You can also add pretty ornaments, fairy lights or candles. My friend Kaarin Toivonen, a personal organiser at
Nordic Planning
, says in her native Sweden in winter you can walk down the street and see the windows of every home glowing with lights and decorated with fresh blooms (which don't last outside in the sheer cold). "In Perth it gets dark at 6pm, but in the Swedish winter the sun sets about 4," she says. "So we put lights and flowers and pretty ornaments in the windows to brighten them up. A lot of people also add an extra shelf to the kitchen window for herbs, plants and flowers." I think they're very cute ideas to try here in Australia. (Also make sure you don't put open flames by curtains) Try a bunch of flowers or separate a bunch of flowers to put individual blooms into a line of Mason jars (I got some from Woolworths a while ago – on special for $12 for a dozen. Woohoo!)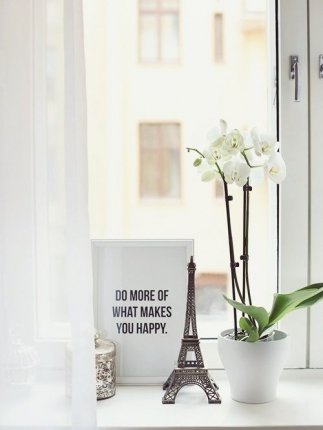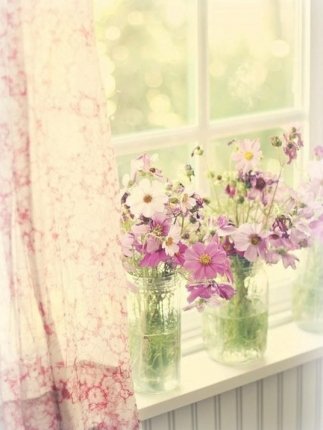 Buy a pot of flowers.
I really love potted orchids and giving them as gifts. They always look so classy and they can last for ages.


Buy flowers that smell amazing for an extra mood boost.

Try gardenias, roses, lily of the valley, lavender, lilacs, peonies, sweet alyssum and you'll enjoy their scents every time you walk past. I really like the smell of jasmine, wisteria and magnolias.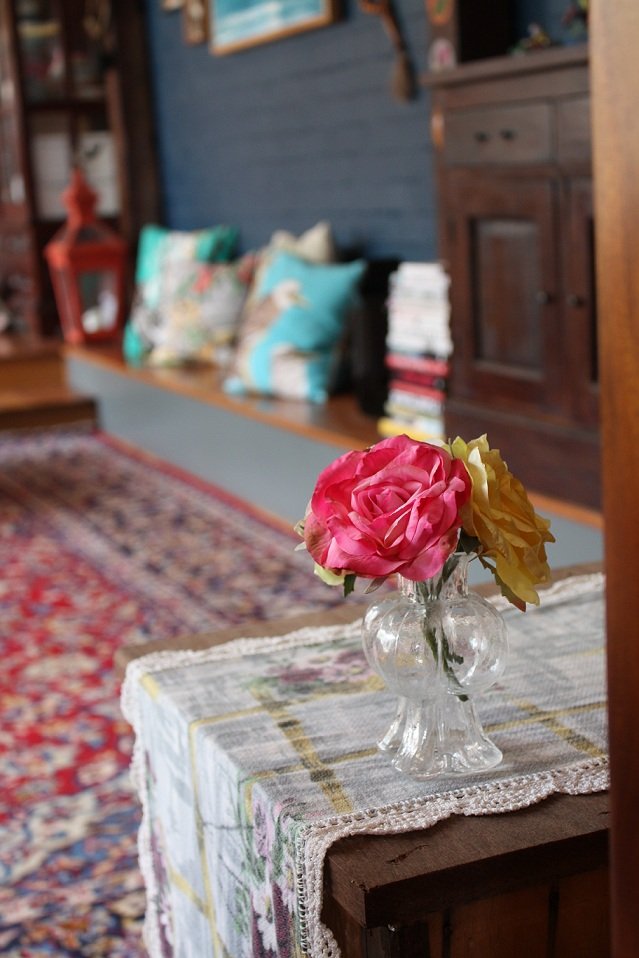 Go native.
Natives look beautiful in Australian interiors and in winter and coming into spring we have many beautiful wildflowers in full bloom. Perfect for homes! While on a walk with my stylist friend Bec Tougas recently, she introduced me to her favourite native flower, Geraldton Wax. Before that I had heard of Geraldton Wax, and yet never knew what flower it was! Now that I know what it is, I notice it everywhere, with its tiny flowers with round petals. Bec told me Geraldton Wax flowers can be deep pink, pale pink, white or red. It looks gorgeous indoors in generous bunches, or displayed in a more minimalist fashion with a couple of artful sprigs. Try displaying the white flowers against a dark wall or the pink ones against white for pretty displays.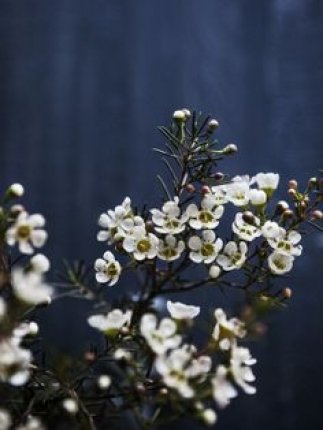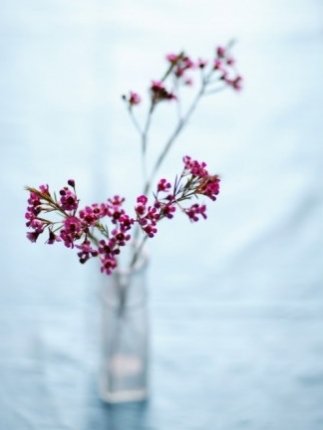 Do you get the winter blues? How do you bust the winter blahs? Are you as obsessed as me with having flowers and plants in the home? Maya x