You hear about kerb appeal or street appeal a lot when you are house hunting, renovating or building. Kerb appeal is important – especially if you're putting your house on the market. In fact, I'm not going to lie, when we were house-hunting there was a home open where we drove up, looked at the house silently and drove away again with hardly a word. (And I love a renovation project!) But sometimes, a house is just too unappealing.
If you're selling a house, and it's not some renovator's undiscovered 1920s gem that future buyers will be itching to restore, you need to make it look as inviting as possible. It's worth putting in some work even if you don't plan to sell - just because there's something so nice about coming home to a house where things have been done and you don't look at them as you pull in the driveway and think, "Arrgh, we really have to fix that." Even something as small as a smart-looking house number, or a few pots of flowers on the freshly swept front porch, can really lift your mood when you get home.
When Monier Roofing asked if I could write a feature about how you can boost the look of your house, I thought I most certainly can. We have made a few changes to the elevation of the Crap Shack (which was supremely ugly when we bought it) and while it's still not perfect and needs some more work, it does look much better. In the meantime you can read about a few of the things we HAVE done, and some of my other favourite ideas I've seen for boosting a house's kerb appeal. (And when I can convince Mr Nerd to let me paint our front door bright magenta or duck egg blue, I'll definitely blog about it).
Paint your walls a really dark colour.
I'm a little bit obsessed with houses that have had their exterior walls painted black, dark charcoal or navy. It sort of seems to camouflage flaws and makes a house look really sexy! Add white trim and some greenery and voila a cool and not-too-expensive way to modernise your house.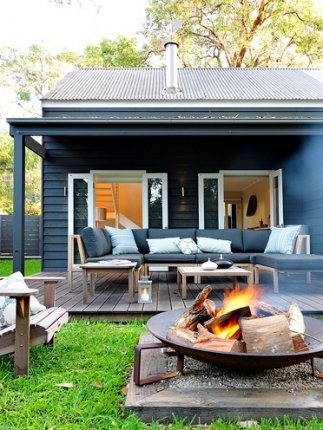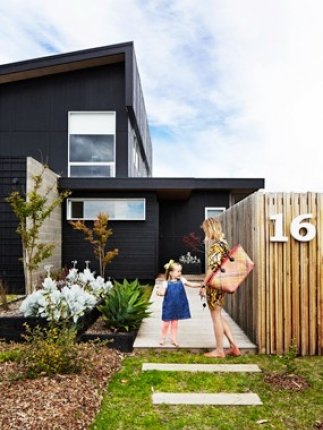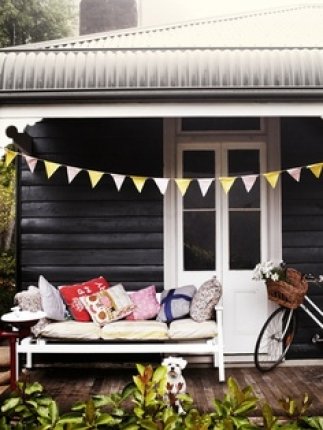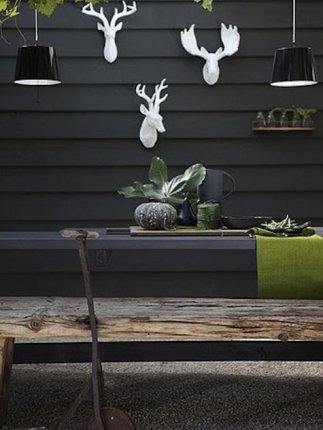 Say goodbye to foul brickwork!
Our house was a big step away from black sexy walls when we bought it. When we moved into The Crap Shack, it had those dark red-brown, 70s brick walls. Teamed with its array of old aluminium windows, the house looked dark and depressing and not very inviting. Yuck!
After we learned that the cost of having the walls professionally rendered would start from around $10,000, and being strapped for cash, we rendered the external walls of the house with Dulux Texture Full Cover in Sideshow. We've done the whole house in this stuff (at a fraction of the cost of hiring a professional rendering company) and we like the look of it now so much more – much more bright and cheerful.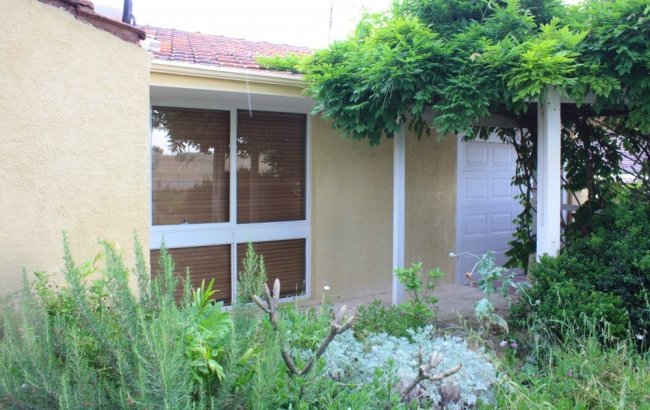 Replace or rejuvenate aluminium windows.
Mr Nerd and I hadn't been in our house long when we realised the windows in our house brought the whole place down. They're '70s aluminium windows that were in okay nick, but a mishmash of dated colours - grey, mission brown, dark green and cream. Some even had faux wood-effect panels on them. Bleh!
Because our windows were in good condition (just ugly as hell) we decided to have a go at spray-painting them first instead. And they look tons better (you can see in the pictures above). Whatever kind of house you have, I don't think you can go wrong with white window frames. It makes the front of our house look so much brighter and less creepy.

The only downside to our windows was that many of the old fly screens were in poor condition and needed replacing. A place like Aluminium Trade Centre can cut fly screens to fit - and they also sell a wide range of aluminium and home products cut to your measurements, from glazing to louvres to security mesh.
Revamp your entry.
Sand back the decking on your front porch, repaint your concrete veranda, or retile it. We laid pieces of West Australian stone over our nasty 1970s orange tile. Unfortunately we did this in the days before House Nerd so I didn't take proper before photos (always take TONS of before photos, nerds!) and the photos Mr Nerd did he deliberately and evilly took as I was bending over and you can see butt crack and so I'm not going to put those up here.
Every six months I freshen it up with a coat of stone sealer – it really picks out the beautiful hues and shimmery bits in the natural stone. The new stone is a bit '70s and we love it - and the whole project only cost us about $250 to do.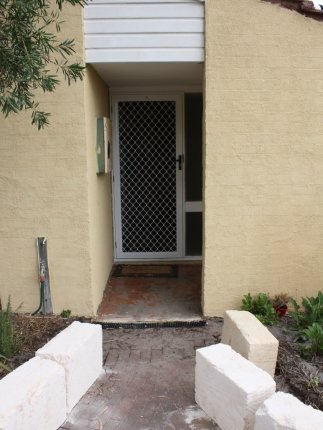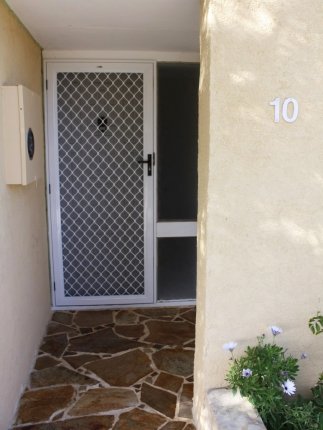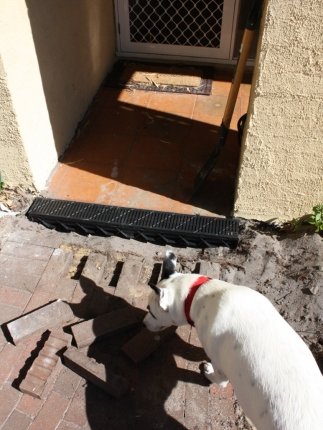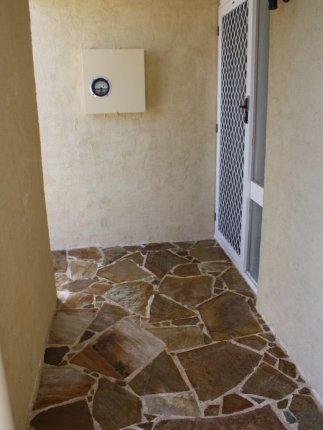 Re-roof to add value.
As someone who has an older house with an annoying leaky roof, re-roofing is something we would love to do. There have been several times where we have had a massive storm and afterward we get ugly spotty damp patches on the ceiling - and sometimes the ceiling paint starts to flake. Last time there was a massive storm, a chunk of tile actually crumbled off the roof and smashed at my feet a metre in front of me (ARRRGH! Near-death by roof.)

Older roofs can need lots of maintenance and constant fixing so re-roofing can look like a very attractive option. Steve Timms, who is a Monier Roofing specialist at Timms Roofing, says a new roof can add value to your house when selling and is an opportunity to update the look of your house as part of a makeover. "The roof can make up to 30 percent of your home's façade so it has a major bearing on the overall look," he says. "Re-roofing can modernise your home and bring it into the 21 century, or can just reinforce that majestic charm of the traditional Australian home."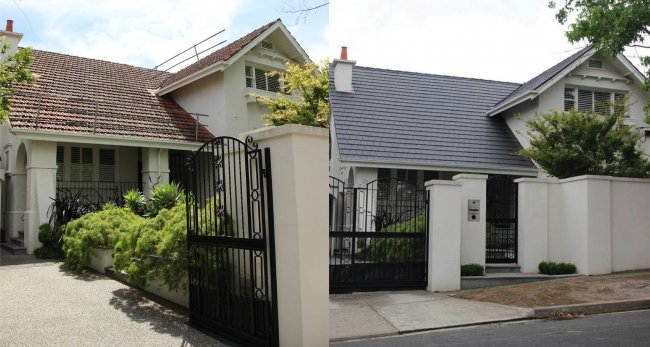 Re-concrete, repave or paint your driveway.
We painted our faded, worn-looking driveway – it's a project that is inexpensive, relatively easy and takes less than a day – my kind of DIY project. We used Berger Jet Dry and I really like this stuff. Berger Paving paint comes in tons of nice colours but I love their deeper colours best (and they're best if you're lazy about cleaning and sweeping dirt off your driveway, like us).

Paint your front door a cute colour.
How nice are these? I love coloured doors. Ours is white. Borrrrrrring. The day I can convince Mr Nerd...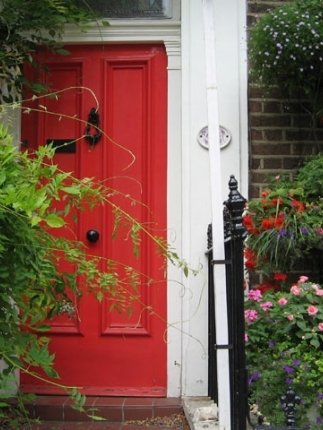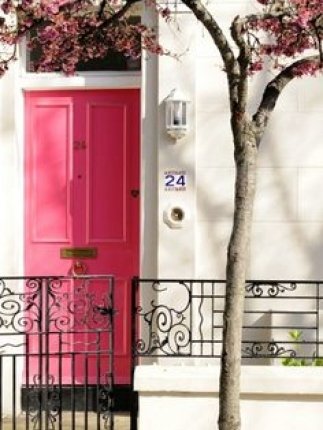 Clean up your verge.
STYLE TO MOVE consultant and interior stylist Tracy Nyman, who advises people on how to freshen up their homes for resale, says it is a cliché but first impressions count. "As the front of your property is the immediate focus to your home, the kerb or verge must appeal in any shape or form but it needs to be neat and not too busy," she says. "Improving your kerb appeal adds enormous value. It's simple to achieve and shouldn't be discounted."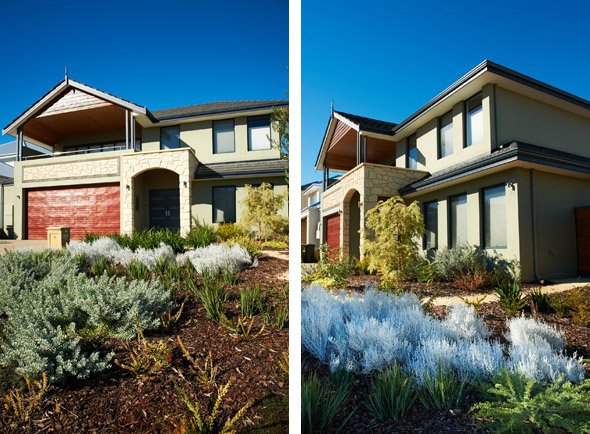 Tracy says most councils in Perth are encouraging verge improvement and a few restrictions apply - i.e. height of plantings. "You can even think of the neighbours and begin to share some vegies - check with your local council." In Mt Hawthorn, for example, there are verge vegetable planting schemes like this home.
Think about your climate and what plant types suit, like coastal natives for seaside suburbs, and try drawing the eye to a tree with a line of the same shrub, advises Tracy. "Once you've got an idea of what's going to suit the area, get to work - you'll be amazed at the positive comments you'll receive and if you've chosen natives, the minimal water you will need to keep your verge looking the best in the street." Companies like Sustainable Outdoors offer specific verge landscaping services. I love the look of these ones below, with natives leading all the way up to the street.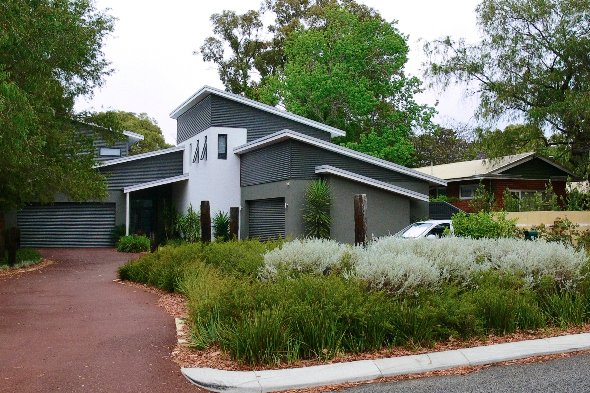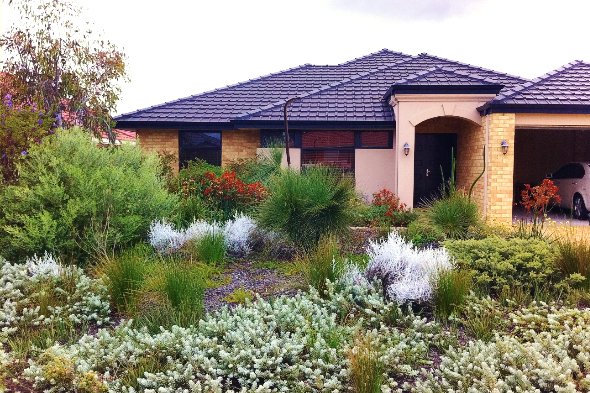 Add pots to brighten your elevation.
I used to steer away from potted plants completely – now I love them. I've even added potted plants to the rooms in our house. Such a nice way to add colour and life to a corner that might ordinarily be a bit depressing and a good way to draw the eye away from less appealing features! Add pots to your front porch or flank your front door with a matching set. Love to hear your front-of-house fixer-upper ideas if you have any! I received sponsorship from Monier Roofing for this post. Maya x