Posted Friday, March 10, 2017 in:
Home Envy
Obsessed With
It's funny how fast technology moves ahead – and how things considered strange or unusual just five or ten years ago are now becoming the norm today.
It's certainly the case when it comes to building houses. We now have a huge range of modern building materials available to us that can make building a house take a fraction of the amount of time it once did.
So why then in Perth are we still using ancient building methods to build our homes? I'm talking about brick. Surely there is a more efficient, smarter way to build. You only have to go look at a new housing estate to see how slow it can be to build a house by laying brick after brick. In Perth, it still seems like brick is the only way to build a new house – whereas the rest of Australia has already realised the benefits of building smarter through the use of framed construction.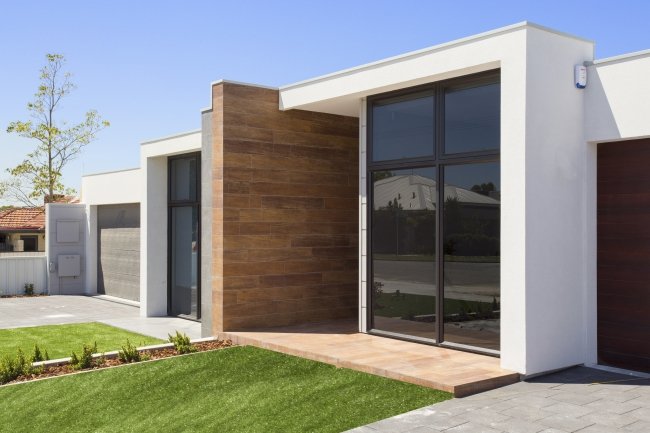 But even if Perth is taking a bit longer to catch up, the good news is that these days SO many more home owners are not just genuinely interested in how we can design new houses that are more sustainable, or retrofit older existing homes; they're knowledgeable about it too.
More and more people are taking steps wherever they can to reduce their carbon footprint, whether it's something on the small end of the scale like making their own compost or growing veggies at home to reusing their greywater or building a whole eco-friendly house. What was slightly offbeat ten, fifteen years ago is now very cool, and I think it's awesome. I think we are really in the middle of some big, long-lasting and very positive changes, and there are some brilliant architects and designers who are really thinking outside our traditional boxes.
Building designer Matt Buckley, who heads Matt Buckley Designs, is one such building designer. Matt takes on a wide range of projects, from luxury homes to apartments to very cool cafés, but he is most passionate about designing modern houses that reduce the impact they have on our environment. And he is not afraid to use new and innovative building materials and construction methods.
He agrees that we are seeing a huge upswing in the amount of people who are interested in and know about environmentally responsible building methods. "At barbecues, when I tell people I am a building designer, I'm finding more and more people are interested in sustainable design and really want to chat and have questions about it," he says. "It's great."
Recently Matt (who was a national finalist for NABD & James Hardie Dream Designer 2016) epitomised his passion for modern, environmentally responsible design very nicely in the form of these two new thermally efficient houses in Embleton. Yes, they look lovely - but there is more to them than meets the eye. Each house utilises steel framing, aerated concrete panels and composite cladding to achieve a modern, cost-effective and energy-efficient home. They are an awesome example of what people can achieve by utilising framed construction.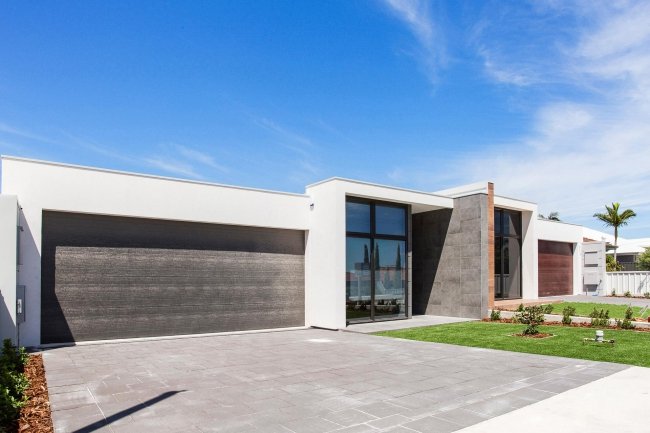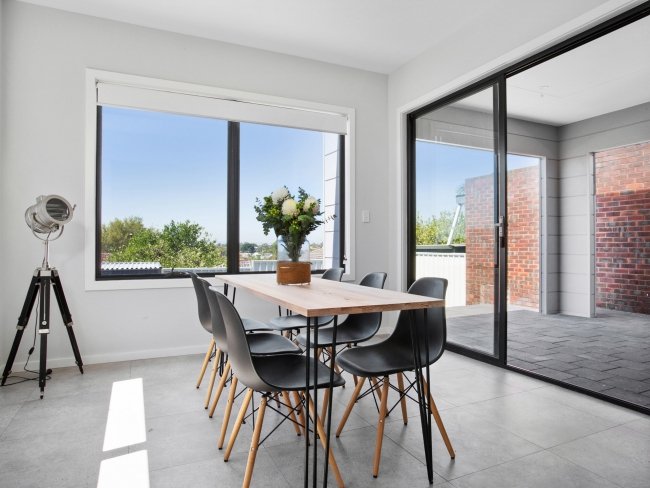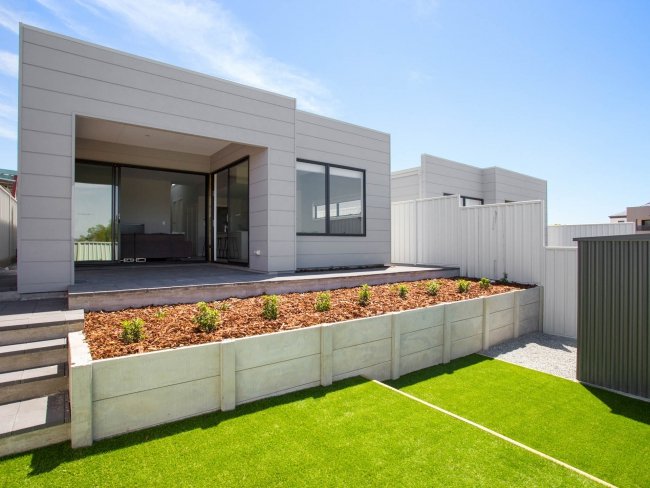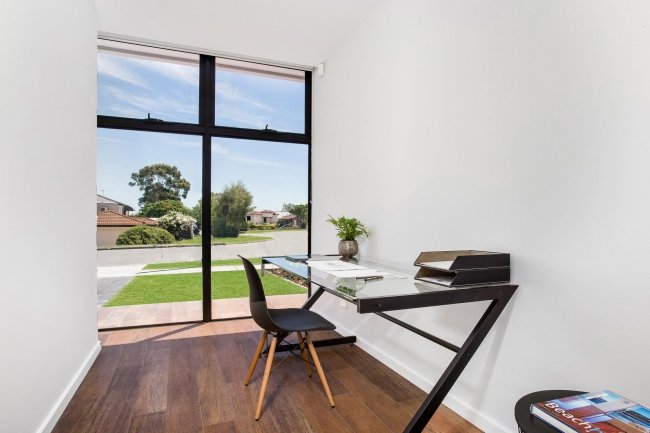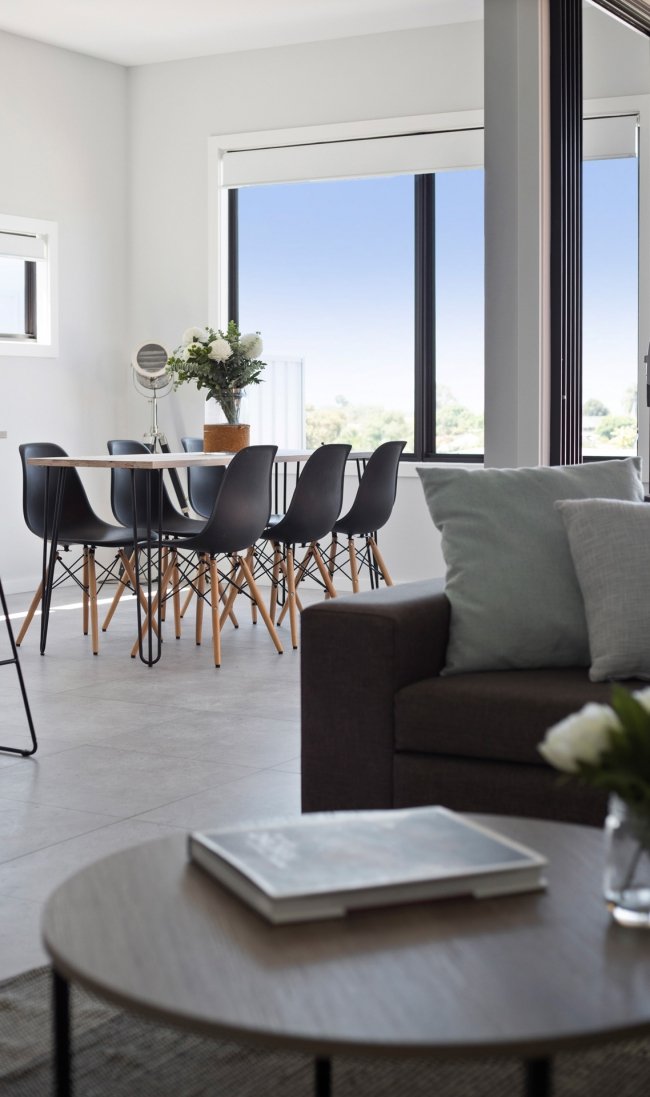 As you guys know, I don't often cover new homes that haven't been lived in yet on House Nerd. But I wanted to show these to you because I think they are a great example of something different and something very non-traditional – they are steel-framed houses, and their walls are NOT the usual brick.
Matt tells me that it is still quite rare in Perth for houses to be built with something other than brick. I know where he is coming from. "Don't even CONSIDER buying anything other than double-brick," I remember my dad telling me firmly when I was house-hunting for the first time in my early 20s.
Sure, double-brick is wonderful, and we have the legacy of lots of lovely solid older houses because of it. But these days, we can count ourselves lucky to have access to so many other building materials that are lighter, cheaper, more convenient, faster to build with, and much more environmentally responsible, yet we're still firmly entrenched in our 'brick is best' mentality - even when other, newer building methods can result in a more affordable and more energy efficient home. It seems crazy!
Even Matt admits that he used to be a 'brick all the way' kind of person. "I have nothing against brick but I feel like here in Perth we have been persuaded into thinking that brick is the only option," he tells me.
"I held the same preconception until I went to Queensland and stayed in a beautiful house overlooking the river. It wasn't until the very last day that I spoke to the owner of the house who told me that it was made of timber framing and I thought to myself, Wow, I've stayed in this place all week and the fact it wasn't a brick house was never an issue." The framed house stayed cool even on hot days, didn't need air-conditioning, and had no issues with sound (something that's always drummed into us whenever the phrase 'framed construction' is spoken).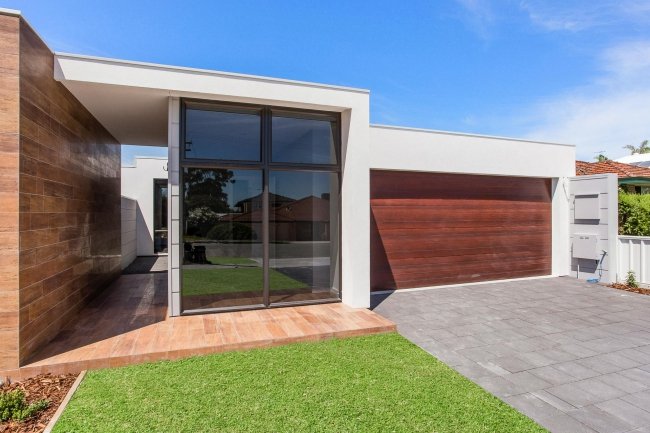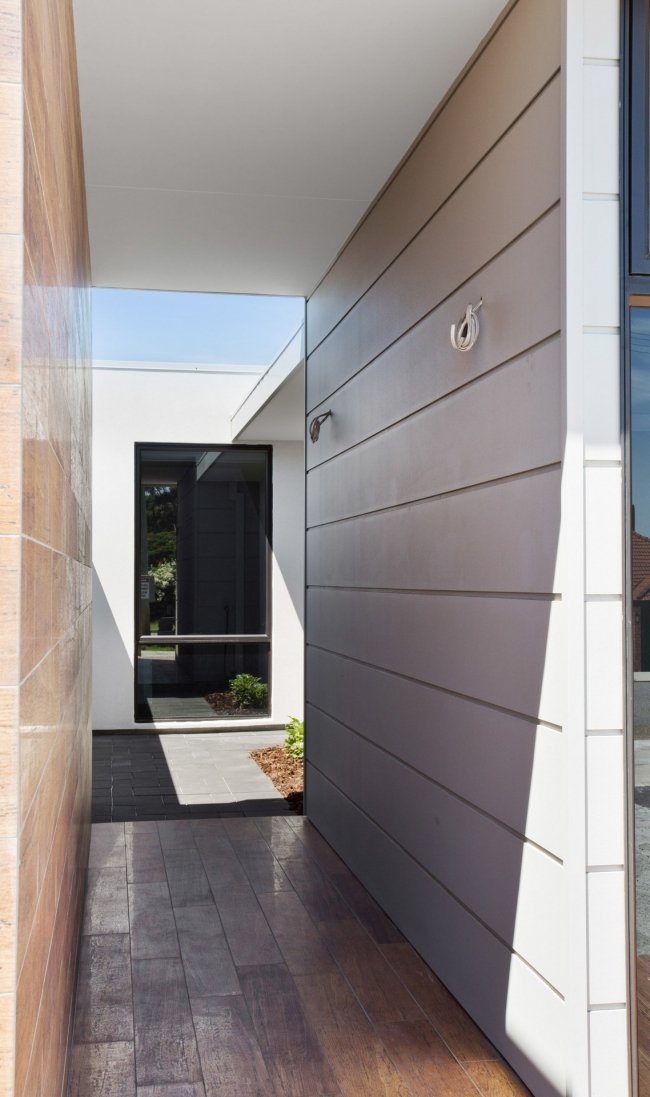 The Queensland house fuelled Matt's fascination with designing homes that are better for our environment. "It made me think that if we can build more energy efficient homes, that are quicker to build and enable you to get a better design outcome for the money spent then why aren't we using framed construction? Framed construction is very popular in New Zealand and the east coast of Australia and for good reason - steel or timber framed buildings offer a lot more in terms of flexibility when it comes to design due to its light weight."
Not only that, but framed construction reduces the upfront cost of a home enabling you to get more out of your budget. If you consider building options other than brick, you can make room in your budget to invest in other things.
Framed houses are also faster to build so they have reduced construction costs. They are built by erecting pre fabricated walls which are pre made in a factory (framing can be steel or timber) and the wall panels are delivered to site and bolted together. It's unbelievably efficient and a lot less time-consuming than laying bricks – the structure of these Embleton houses was put together in just two days!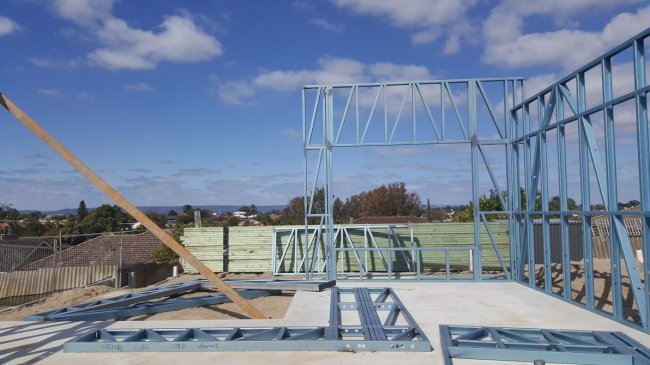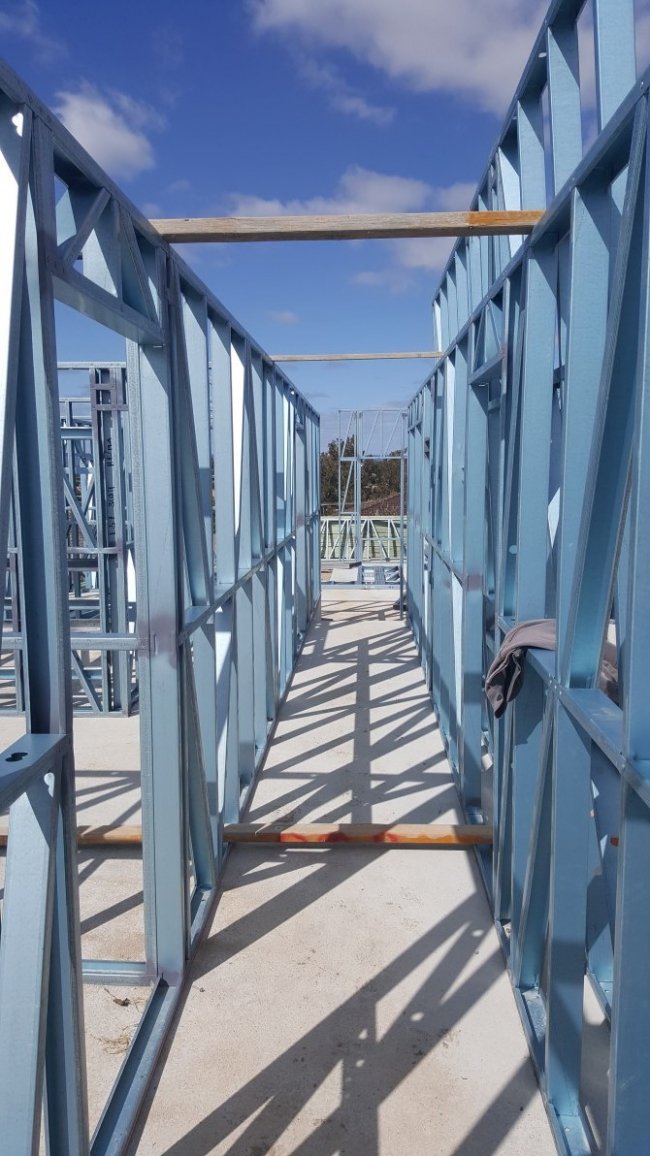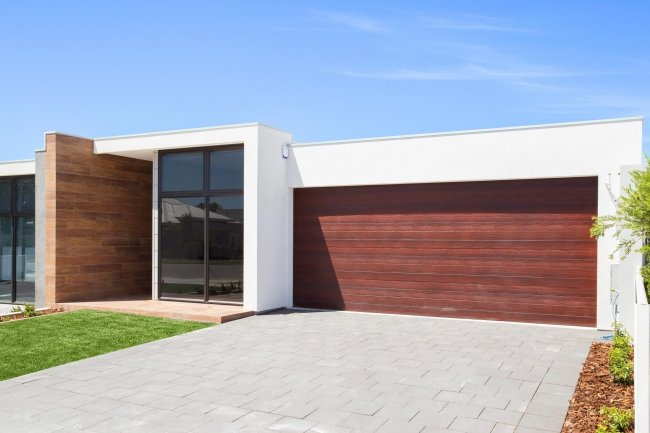 The external walls, that look like rendered brickwork, as you can see above, are in fact panels of aerated concrete. Picture Aero chocolate, with those little pockets – well, as weird as it sounds, that's kind of what aerated concrete is like!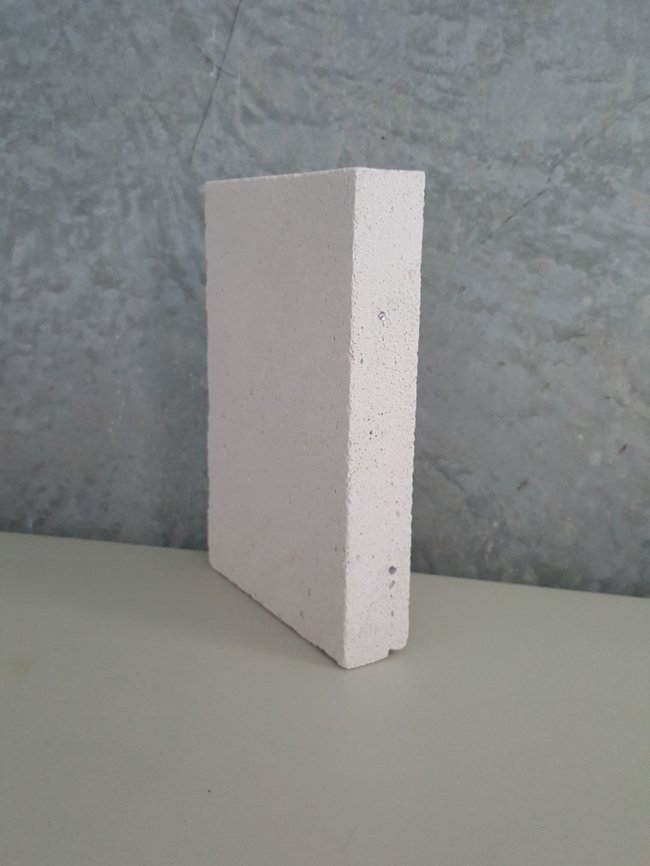 It's concrete that has been manufactured to contain lots of tiny closed air pockets by adding a foaming agent to concrete in a mould – and the end result is lightweight, durable, highly insulative and with decent energy efficiency. Aerated concrete has only been used in Australia for about 20 years, and it's still not commonly seen, yet it makes so much sense.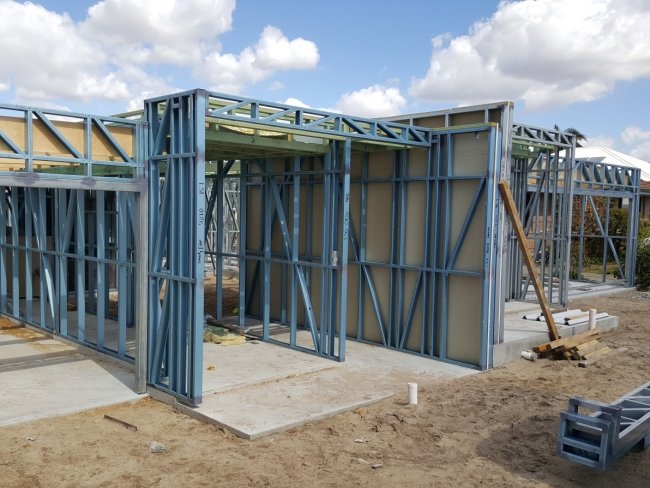 These two houses in Embleton were designed for clients Brendon and Steph, who wanted to build them as an investment, and asked Matt to help them decide how best to subdivide their 725sqm block and design two contemporary, thermally efficient low-maintenance houses that captured the spectacular views across the Darling Scarp to the East and also looked a bit different to the other houses in the area. "Above all else it had to feel like a home, rather than just another unit, something someone could fall in love with," says Matt.

The end result - two modern, light-filled homes with really great, free-flowing floor plans and designs that capture the stunning views. When I walked into the first house, I definitely did not expect the view when I walked into the open-plan living area. I was gobsmacked! With the light and the sprawling vista, you feel like you are high above everyone else.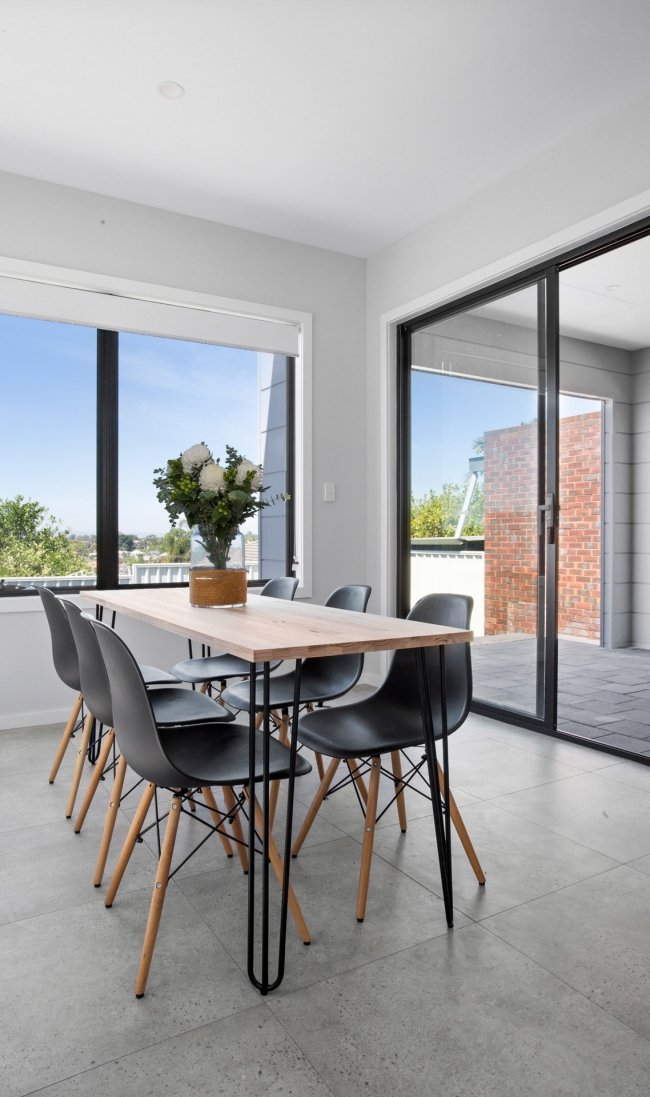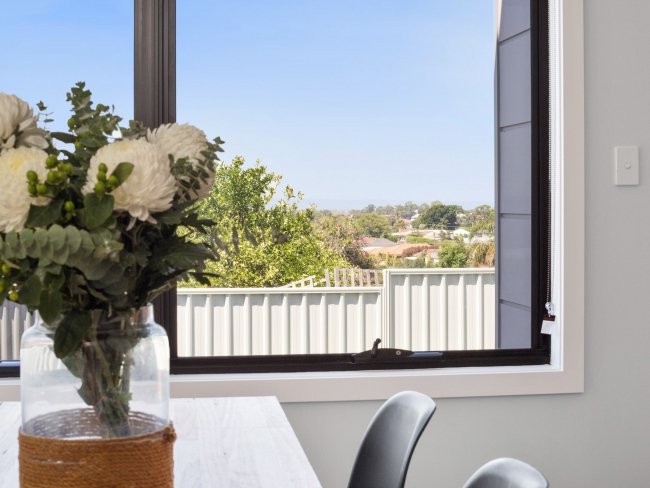 Matt was stoked when he discovered his client Brendon, an engineer, had always had a personal interest in and great knowledge of thermally efficient building methods – including framed housing. "One thing that made this project stand out from other projects that I had worked on was Brendon's insistence that the two homes be made of steel framing," says Matt. "Brendon is passionate about thermal efficiency and being from New Zealand, where framework was the norm, new of the benefits building in steel would have. Brendon would not only be the client but he would also be the engineer and builder for the development." Brendon's insistence on framed housing also meant greater design flexibility for Matt in his design role, as he could really make the most of every bit of space on each 375sqm block.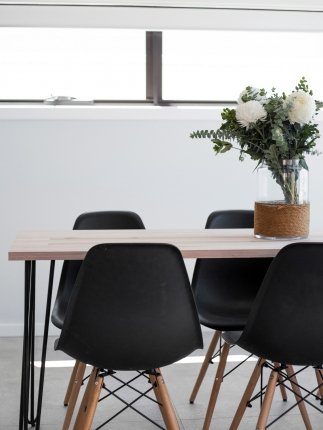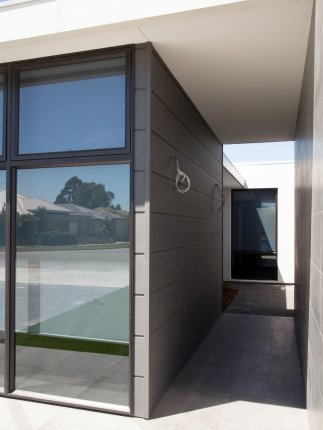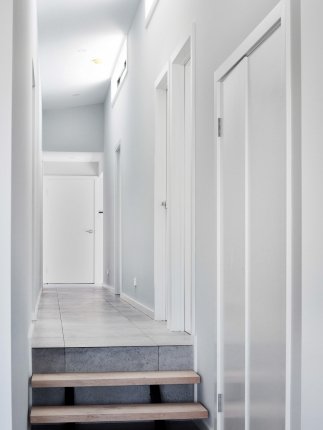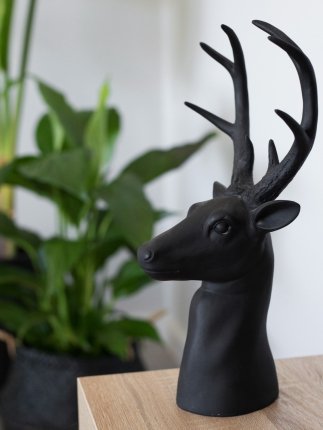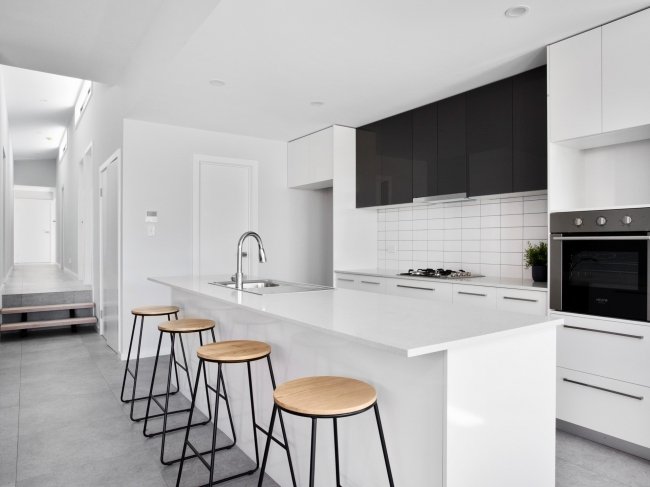 "A great thing about framed housing is that it means reduced construction costs as the insulated walls fit in a 90mm profile rather than 250mm, saving about 25sqm on this particular project than if we had used double brick," says Matt. I had never even really thought about it; but the slimmer walls actually not only mean more living space; a definite bonus if you have limited space on a suburban or inner-city block. "Not only that," Matt continues, "framed construction also has the ability to increase housing affordability through reducing the upfront cost of a home, and there are reduced ongoing running costs due to the highly insulated walls - six times better that standard brickwork."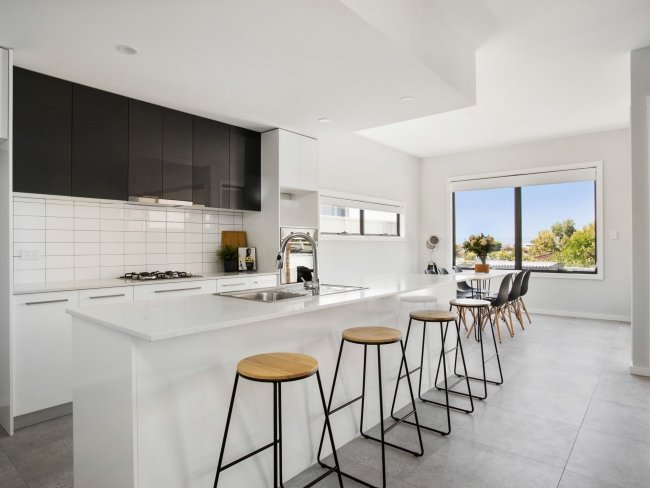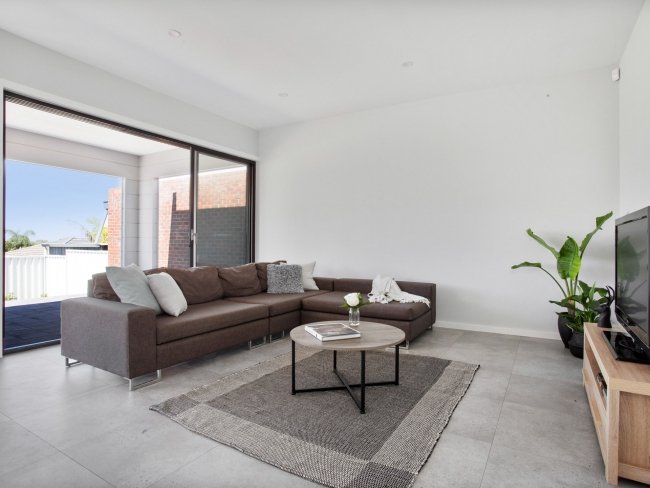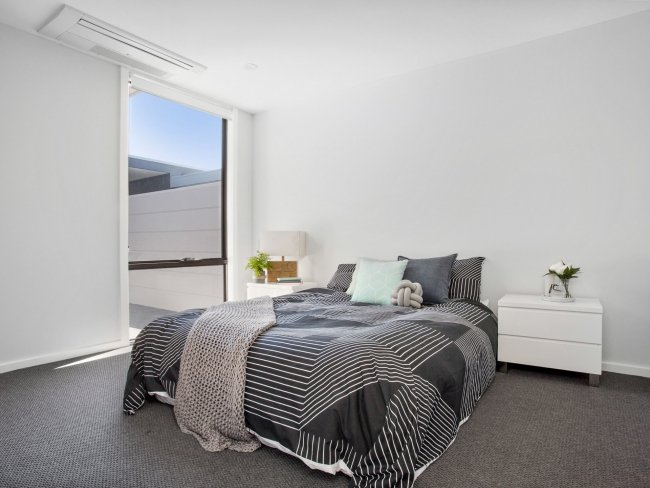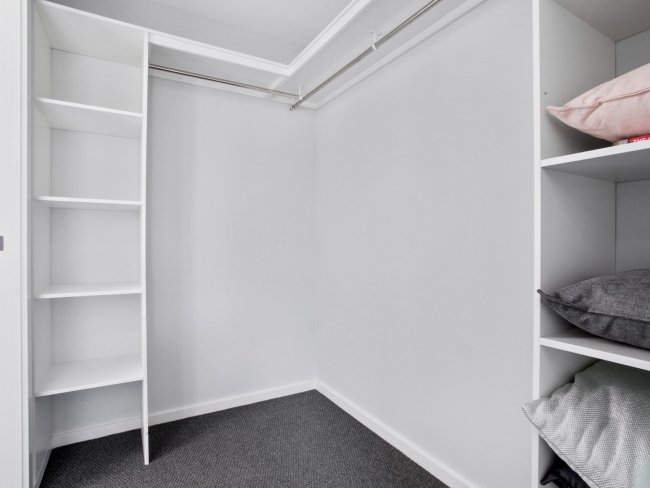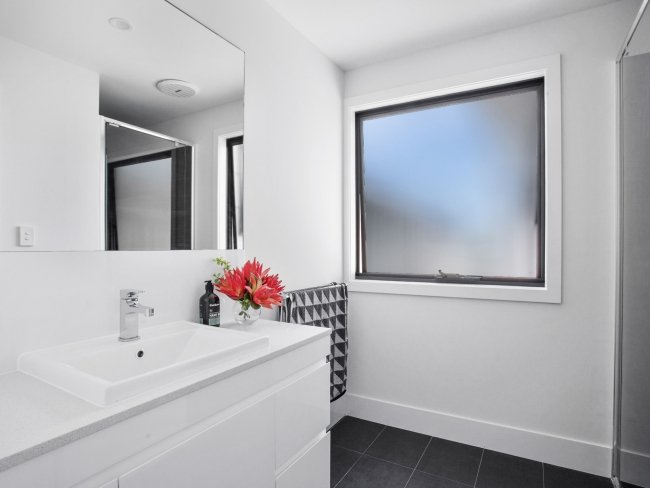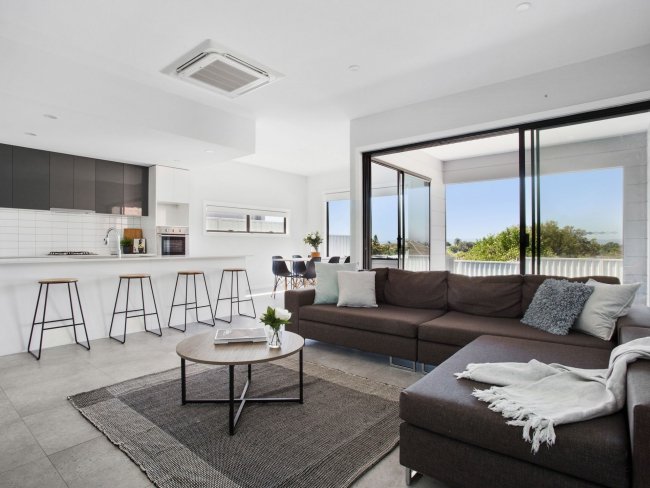 Environmentally, framing has a low ecological impact as timber can be sustainably grown, steel is an infinitely recyclable material and framing allows for the walls to be heavily insulated, reducing the environmental impacts associated with heating and cooling a home. "It takes less natural resources and energy to produce a timber or steel framed wall than a double brick wall," says Matt. "It doesn't make sense to me to keep building these energy-guzzling brick buildings when there is a smarter more efficient way to build a home. I think if we built smaller, higher-quality homes then it would solve a lot of problems Perth is currently experiencing such as habitat loss, urban sprawl and cost of living pressures."
Brendon and Steph are so happy with the end result that Matt and his team are now designing their dream home for them in Darlington overlooking the picturesque Helena Valley! Brendon says they have been thrilled to work with Matt. "It is refreshing to work with someone who adopts a client's methodology and runs with it rather than trying to force their own ideas," he says. "We have and will continue to pass your name to others who are looking to build or develop." Work on their new dream house is already underway. "And you guessed it – the new house is using framed construction, timber this time," laughs Matt. (You can follow their future updates with this new project on their Facebook page here). Maya x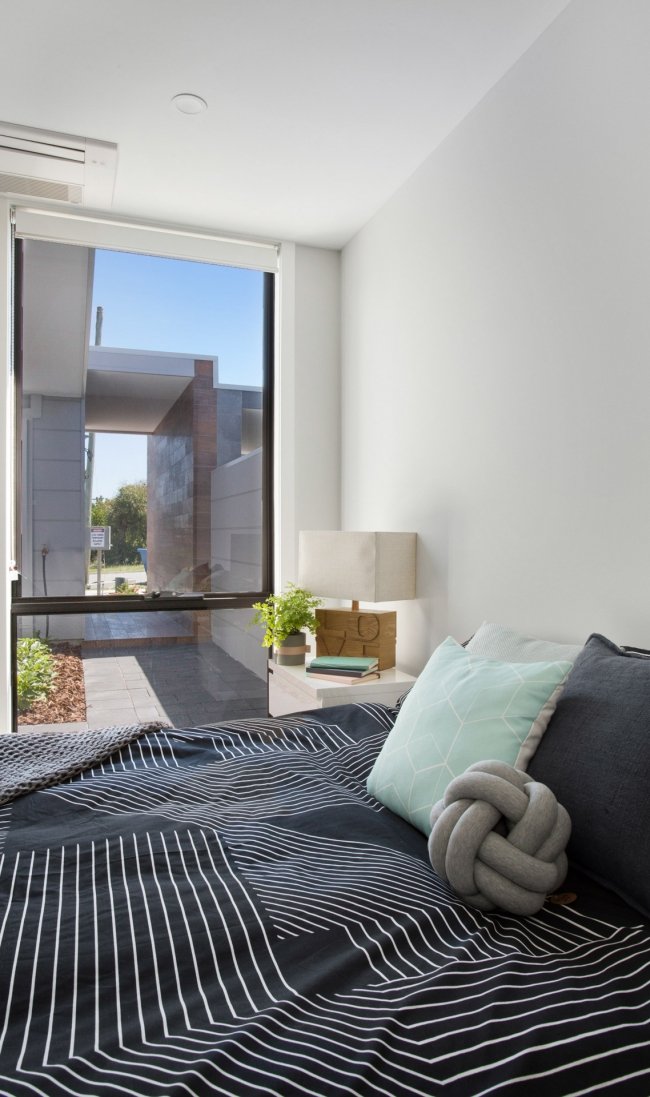 The concrete-look home has already scored a happy tenant before it even went on the market, with a friend of the next-door neighbour asking if he can live there! However the timber-look house is about to go on the market, and will be available for the public to view on Saturday the 11th of March at 11:30am should any house nerds wish to check it out in person. You can have a sneak peek this Saturday 11th March at 11.30am at 16 Mallion Street, Embleton, or call Matt for another viewing).
You can get in touch with Matt Buckley Designs online here, follow them on Facebook, or call Matt on 0423 036 091.
HOME LOWDOWN
THE OWNERS
Brendon and Steph, who took on the project as a long-term investment
THEIR HOMES
Two new side-by-side steel-framed, thermally efficient, environmentally responsible homes
LOCATION
Embleton, Western Australia
BUILT
2017
THE BUILDING DESIGNER
Matt Buckley of Matt Buckley Designs. Call 0423 036 091 or follow on Facebook.
ENGINEERING AND CONSTRUCTION
FEATURES
Each home has three bedrooms, two bathrooms, multi-purpose room, home office and open-plan kitchen, living and dining with sweeping valley and hills views
PHOTOGRAPHY