Posted Monday, July 22, 2013 in:
DIY
Obsessed With
How many of you watched House Rules? I LOVED the concept of this show. A chance to renovate using someone else's money, your own crappy dump gets a (hopefully stylish) makeover, AND you have the opportunity to have your mortgage paid off? Awesome.
A little while ago I chatted with winners, South Australia couple Carly and Leighton, who were really nice and very, very deserving of their win - congratulations guys! Not only did they win the whole contest, they showed their star potential from the start by winning the first round, giving the main bedroom suite of WA couple Jenna and Ben's house a makeover that impressed the judges. I asked them to share their bedroom renovating advice. Mr Nerd and I are giving our tired, dated bedroom a makeover right at this moment (and sleeping out in the lounge room on our mattress while we do so) – so it was very timely!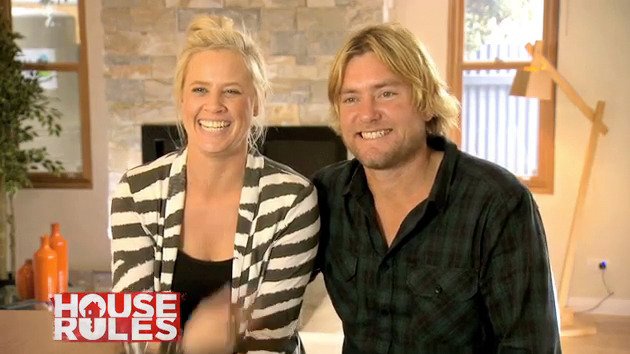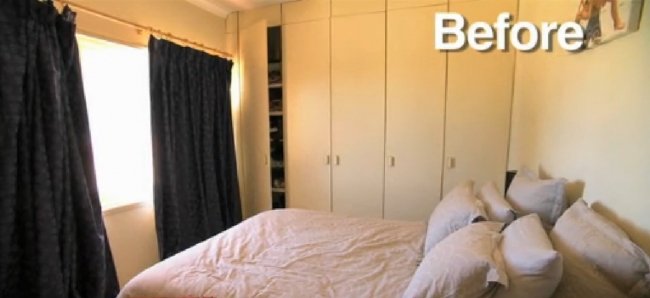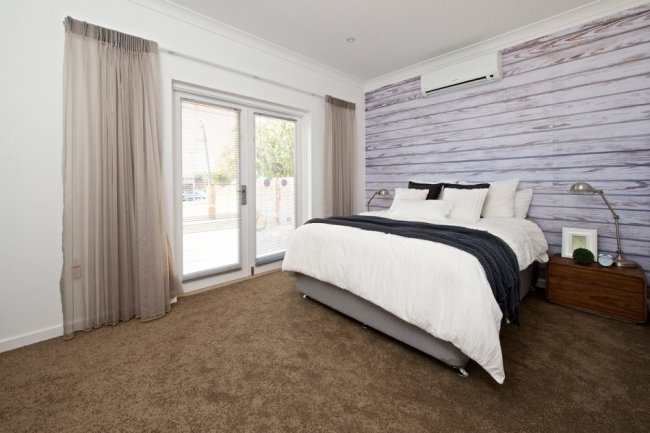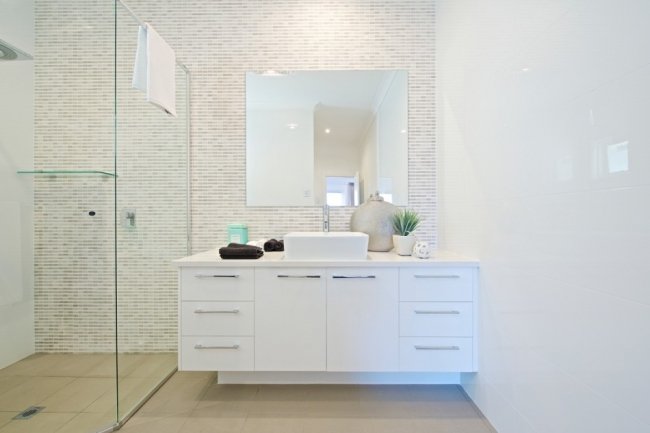 House Nerd: What was your vision for Jemma and Ben's bedroom? What sort of look or atmosphere did you want to create?
Carly: "Well because it was our first week, we were really fresh at the competition and didn't yet really understand it. Our vision for the space was modern and comfortable."
Leighton: "We got cues by looking at Jemma and Ben the way and the way they were dressed, what they were wearing – they were such a stylish, funky young couple."
Carly: "They asked us to make it very now with an edge, so we went for a very modern look – and a Sex and the City robe!"
House Nerd: How would you describe the look of the space before its makeover?
Leighton: "It was run down – very much so – quite tired and definitely not attractive!"
Carly: "The house was this old Italian home with two big lions down the front!"


House Nerd: What exactly did you do to the main bedroom, robe and ensuite?
Leighton: "Originally it never had a walk-in robe, which we took over the second bedroom for, and it's something that adds value. We replaced the old window in the bedroom with two big French doors that open onto the garden. It's a feature that really opens up the space, and it gives any bedroom a more luxurious look. French doors in your bedroom – what luxury! It combines the two spaces – the indoors and the outdoors."
Carly: "That's probably my favourite feature of this room, it's beautiful. Jemma and Ben absolutely love it. The second bedroom became the ensuite and walk-in robe, and the first thing we chose for the ensuite was the tiles for the feature wall. It looks amazing and it's still my most favourite space."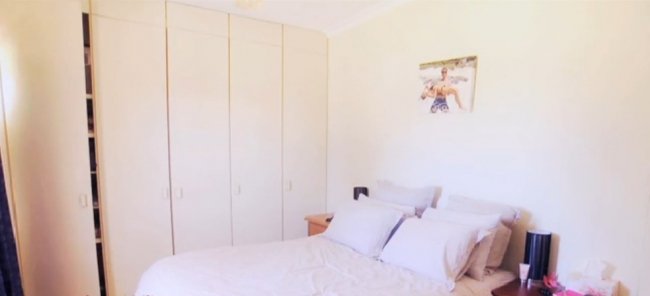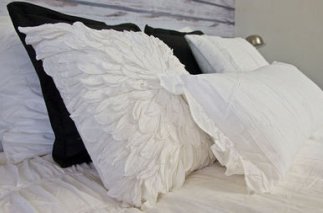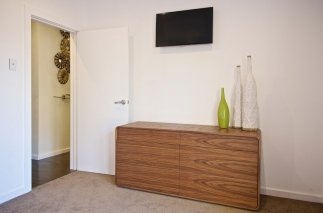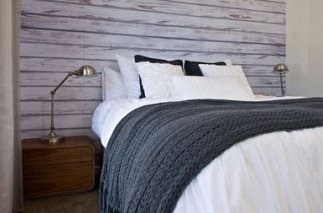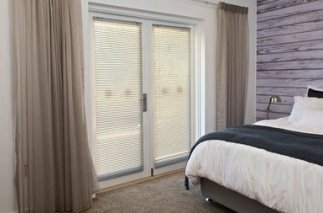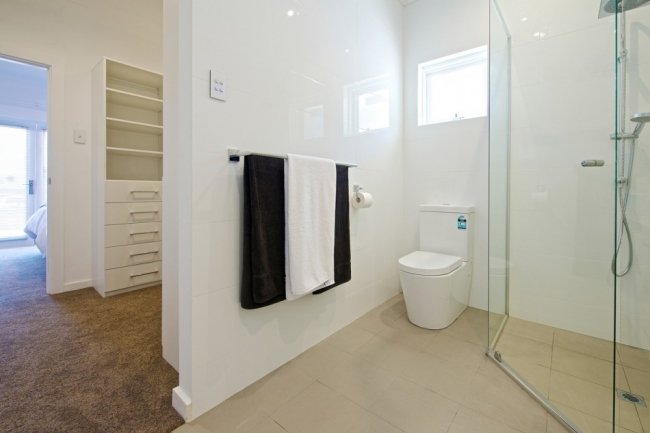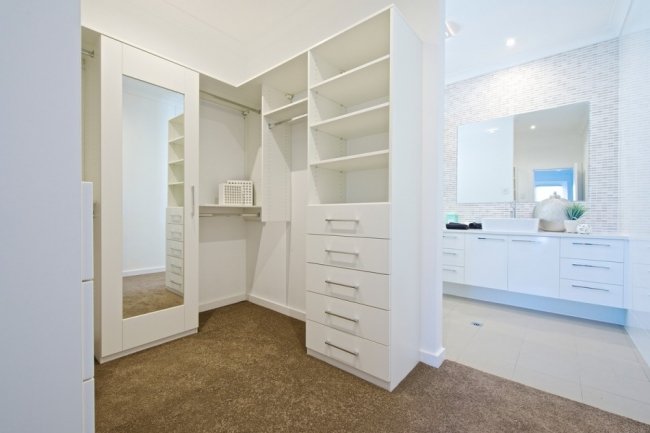 House Nerd: What are your favourite design elements in the spaces?
Carly: "The Sex and the City wardrobe, the feature wall of the tiles and the beautiful Merlino furniture."
Leighton: "I like the wallpaper too – it would have been good to clad it in real wood, but the wallpaper still gives a textured look."
Carly: "The wallpaper created a really nice bedhead and gave us a nice base to start with."
House Nerd: What did you learn?
Carly: "I would have gotten bigger bedside table lamps – with bedside lamps you can go really, really big. It's great for giving more impact."
House Nerd: The ensuite looks beautiful. What did you want to achieve with it?
Leighton: "We wanted a nice modern feel, with a classy look and user-friendly. A lot of things that look really good aren't very easy to maintain!"
Carly: "Overall it was our favourite renovation - we could let ourselves go!"
House Nerd: What challenges did you face?
Carly: "We wouldn't do wallpaper again!"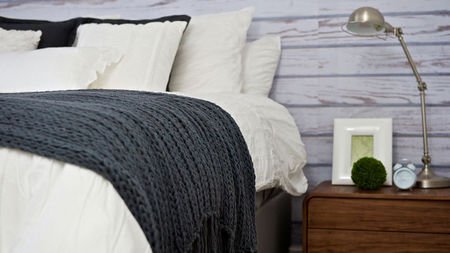 CARLY AND LEIGHTON'S 5 TOP BEDROOM STYLING TIPS
Bedside table lamps can be as big as possible. The bigger the better! It creates a luxurious feel. In hindsight we would have gone with bigger lamps.
Create a bedhead whether that's with a window, wallpaper, artwork or an actual bedhead.
A bedroom has got to be a nice gentle room, no loud colours and still be warm, not sterile. Use very neutral colours or nice pastels and timber - natural timeber just warms the area.
One thing we learned is that we didn't personalise the space quite enough for Jemma and Ben which we got judged down for – in hindsight we might have hung a chandelier in the walk-in robe. So personalise the space by adding a nice photo of the two of you or something that is special to you.
We eventually learned the best thing to decorate a room with is flowers! They look really good in photos.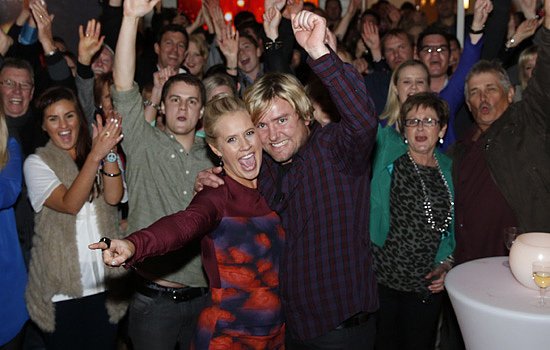 SUPPLIER DETAILS