Posted Thursday, February 12, 2015 in:
Obsessed With
DIY
When I was a teenager I absolutely loved the comic Zits (I never had a real boyfriend, so I just pretended it was Jeremy. Yes, I do think you can have a crush on a cartoon. Mr Nerd liked The Little Mermaid) and I remember a Zits comic when Jeremy painted his bedroom black.

Anyway, at the time I was like, "Ew. Why would ANYONE paint a room BLACK?" (at an age when my idea of paint perfection was purple walls with a silver ceiling, like a teenage bedroom in The Craft or Sabrina the Teenage Witch or something).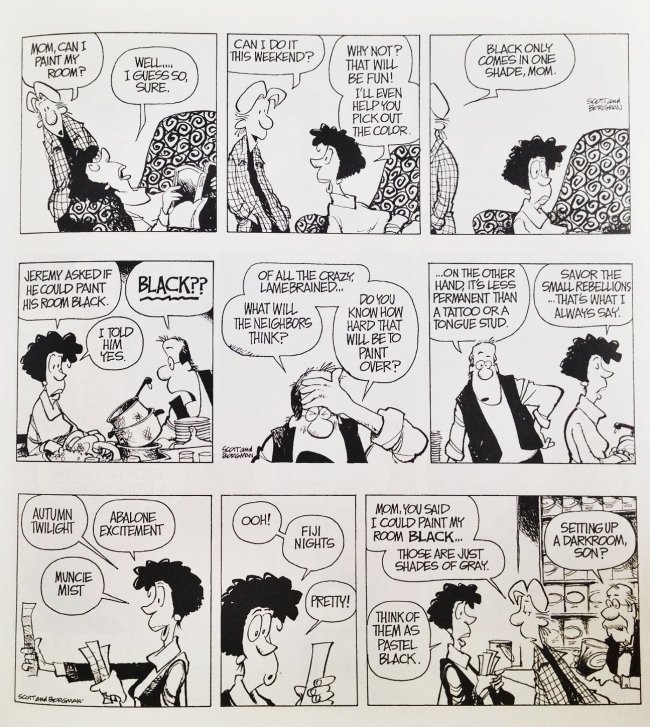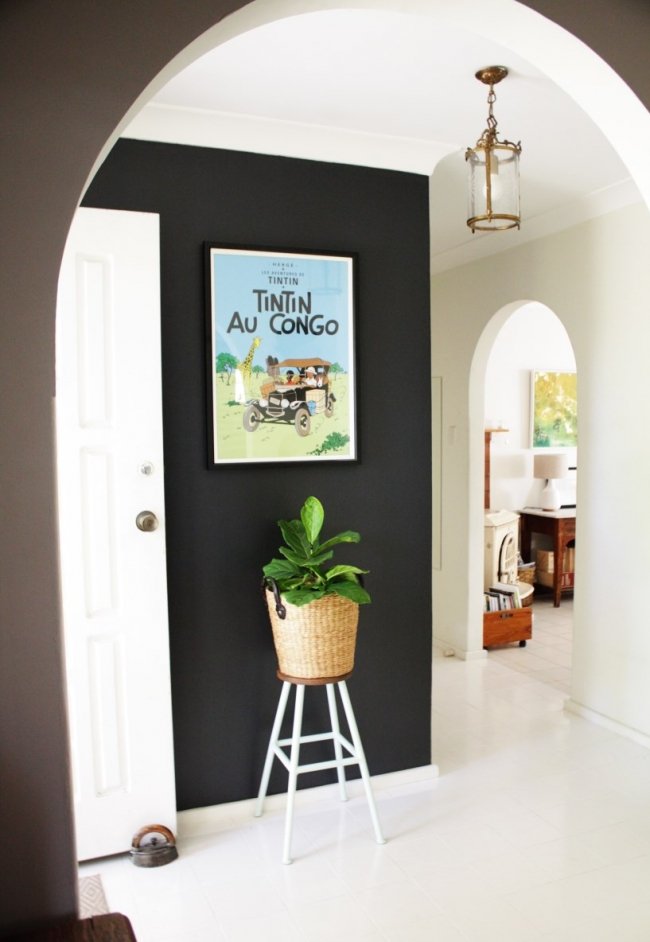 My feelings for black walls have come full circle since I was a teenager. Recently I blogged about our recent mini hallway makeover, where I painted a few walls in our entry hallway black. I love it - and it's clear I am not the only fan of black paint! A lot of you told me how much you love the trend for using black in the home, and some of you had even used the same black paint colour (Dulux Domino) yourselves. So today I thought I would celebrate the black trend and share eight gorgeous DIY ideas to add black to your home.
My interior designer friend from Twinkle and Whistle, who cemented my confidence that we could paint our hallway black and suggested the perfect shade - Dulux Domino - says black in the home is definitely hugely popular right now. "Black is making a resurgence in decoration and interior design at the moment, but it has never been totally out of fashion either," she says. "The colour of choice for many fashion designers for decades, black is often perceived as chic, timeless, a little bit luxurious and glamorous. Just like its opposite - white - black is a perfect backdrop: it doesn't distract from, but reveals and enhances shapes as well as other colours. By adding contrast, it gives "rhythm" to a monochrome or neutral room, preventing it from looking too flat and, dare I say, boring... It, however, can "absorb" its surrounding if not used properly. So there are a few tips on how to make black paint work!"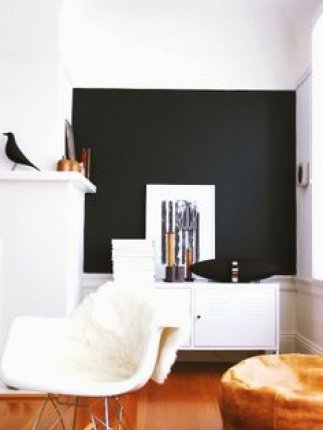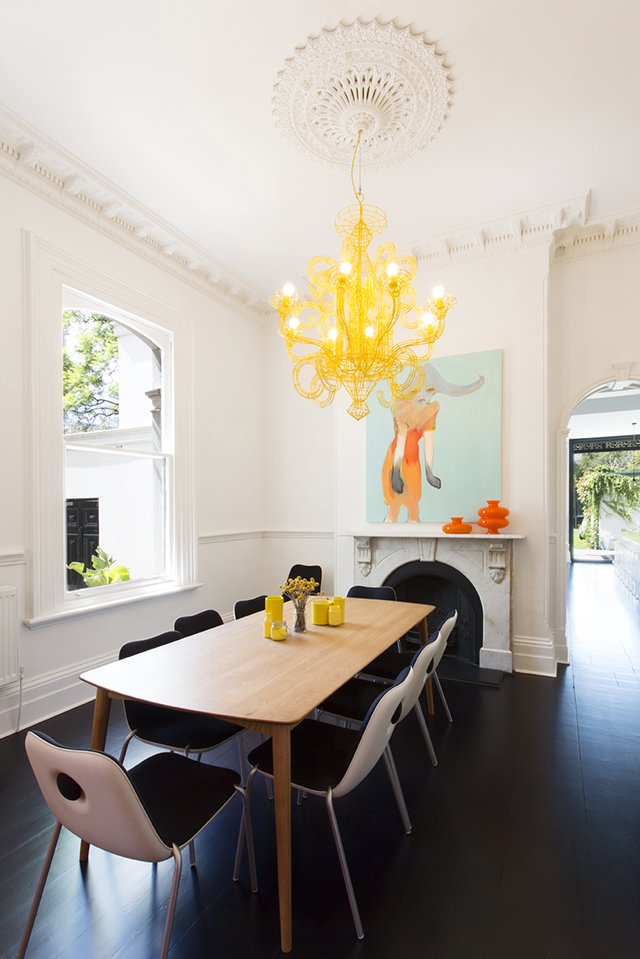 8 Ideas For Adding Black to Your Home


Paint a section of your kitchen black - try cabinets, a wall or your island kickback.
Painting our cabinets black is something I once tossed up for our little wooden kitchen, before deciding I really loved the original woodgrain and was happy to keep it. But I do think black in a kitchen - whether on cabinets, a splashback or a wall looks so sexy! Yes, there is something so fresh and open about the current trend for all-white kitchens, but black can look so chic in a modern kitchen, and it also suits old-style, quainter kitchens too, giving them a cottage-y yet on-trend feel.

And you don't have to have timber cabinets to start with - there are paints specially for laminate available, which is good news for people with those yellow or orange 70s laminate kitchens. In this kitchen below, styled by Nate Berkus and Jeremiah Brent for Domino, a black island kickback is highlighted by accents of black elsewhere in the room. (I love the steel and camel-coloured bar stools against the black).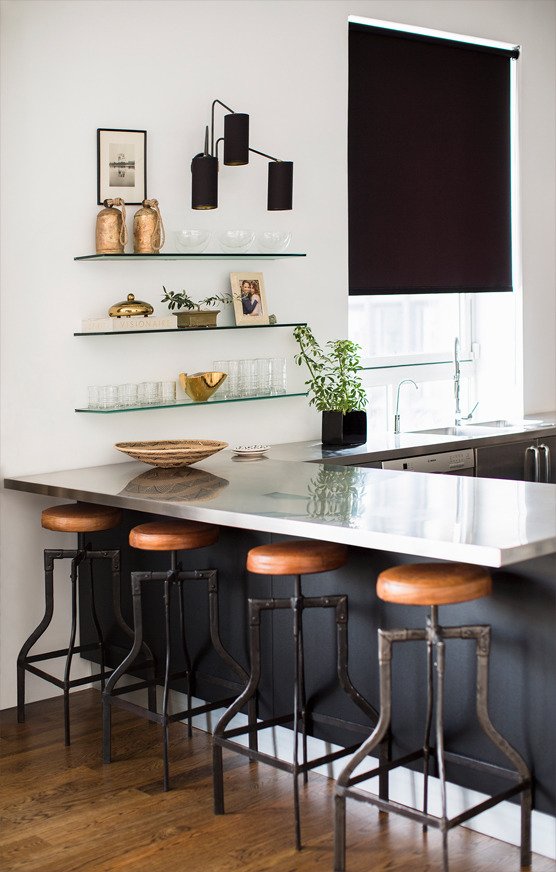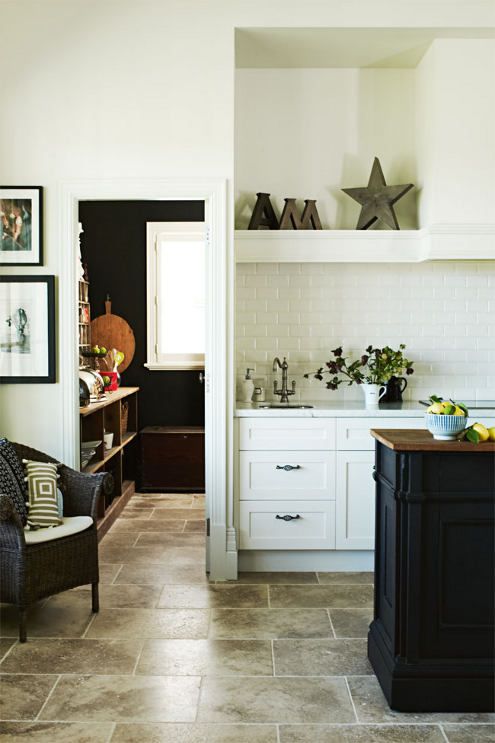 Add black to your bathroom.
If you follow our renovation musings on Instagram you might remember when I tossed up black walls for our second bathroom renovation, before deciding it wouldn't be the right wall colour for that room - too dark and bold for the tiles we already had in there. (I think I just desperately wanted to paint SOMETHING black and was willing to consider all avenues!) But black wall paint in a bathroom can be a really hard one to get right because if you are painting an existing bathroom, it will need to go with generally unchangeable things like your wall tiles, floor, vanity and benchtop. If your tiling scheme is too light or too 'beige-y' to go with black the room could look a bit weird - stark black walls could make some lighter tiles look washed out, old or dirty.
If you are desperate to go dark but your tile colours are more muted, maybe look at a softer grey (or 'pastel black' as Jeremy's mum refers to it in the comic) as a black alternative. And sample pots, people! (I have learned through trial and error, mostly error). If you don't want to go black walls, what about adding small black accents - maybe paint your vanity unit, add a black shower curtain or black and white framed pictures. After endless debate, I got my black fix for our bathroom by painting the old jarrah towel rail and the timber mirror frame matt black and I love it.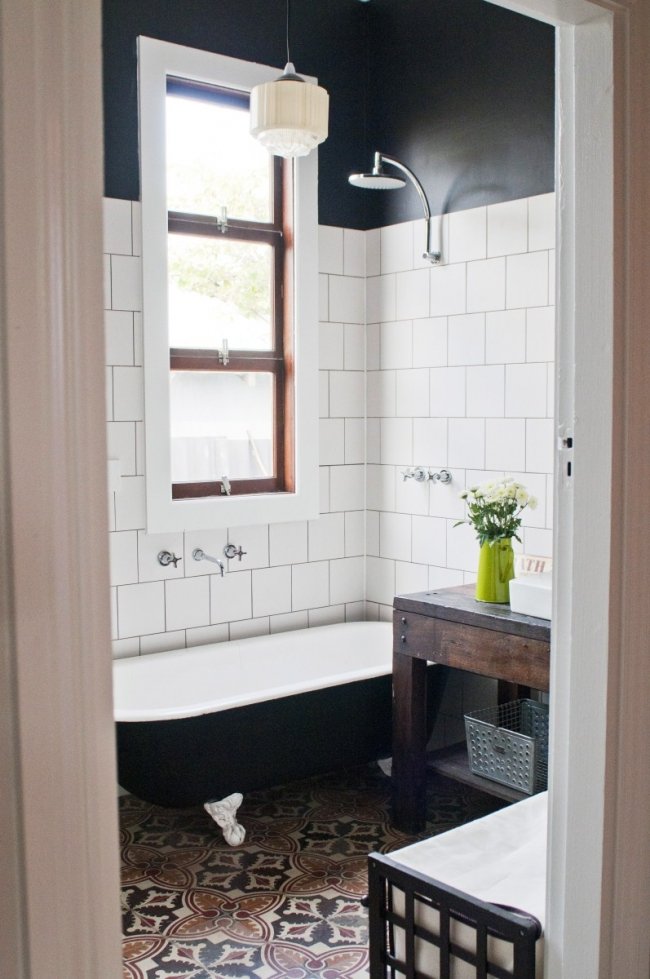 Swap out old kitchen or bathroom tapware for black tapware - or spray paint old hardware with matt black paint.
"In the bathroom and kitchen, we have all noticed the appearance of black tapware lately," says Nelly. "I definitely would not recommend to paint your tapware black - it wouldn't last and the paint would flake or peel in no time, so it's better to buy these. But other bathroom
fixtures that are not in regular contact with water can be spray painted: shower curtain rod, hooks and racks, and even (my personal favorite) toilet paper roll holder! A good clean, a very good sanding with a fine grit, two coats of matt spray paint, and you have ultimate
bathroom sexiness!" IKEA have a few nice black kitchen mixers, including the classic-look Glittran, pictured below.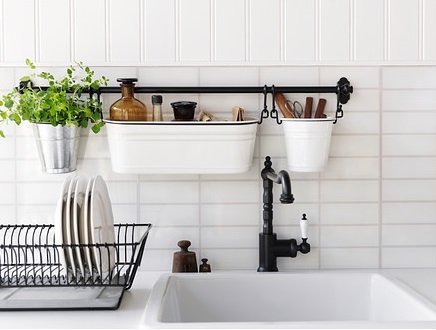 Add small black accents, like throw cushions, rugs and vases.
You don't have to go all out with black - small amounts can still give a room definition and punch, like this kitchen from Design Sponge below that features a black pendant light, black shelf brackets, a black window frame and a black picture frame.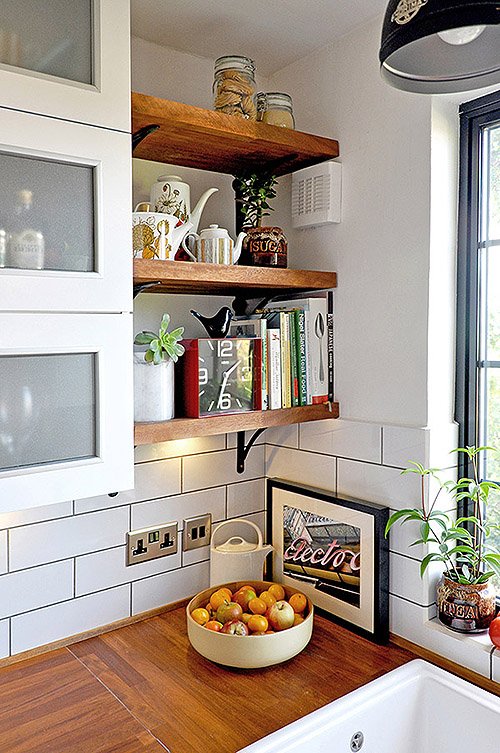 And remember
our mini toilet makeover
, where we used black wall brackets for shelving? "If you're considering black furniture, how about even smaller decorative pieces?" says Nelly. "In the kitchen, dipping glass bottles in matt black paint (or even chalk paint) will give a funky makeover to such unused items and will instantly create quirky vases."
I love black and white cushions and throws, and rugs. (IKEA and Aura have great black and white throw cushions). I just think a bit of graphic black and white has the power to instantly make a room seem more pulled-together and stylish. Try it! Or consider other black and white pieces, like spray-painting an old lamp base or a plant pot from an opshop, a lightbox (Typo sell cute little ones), a chalkboard or a series of graphic black and white prints and photographs (try Etsy).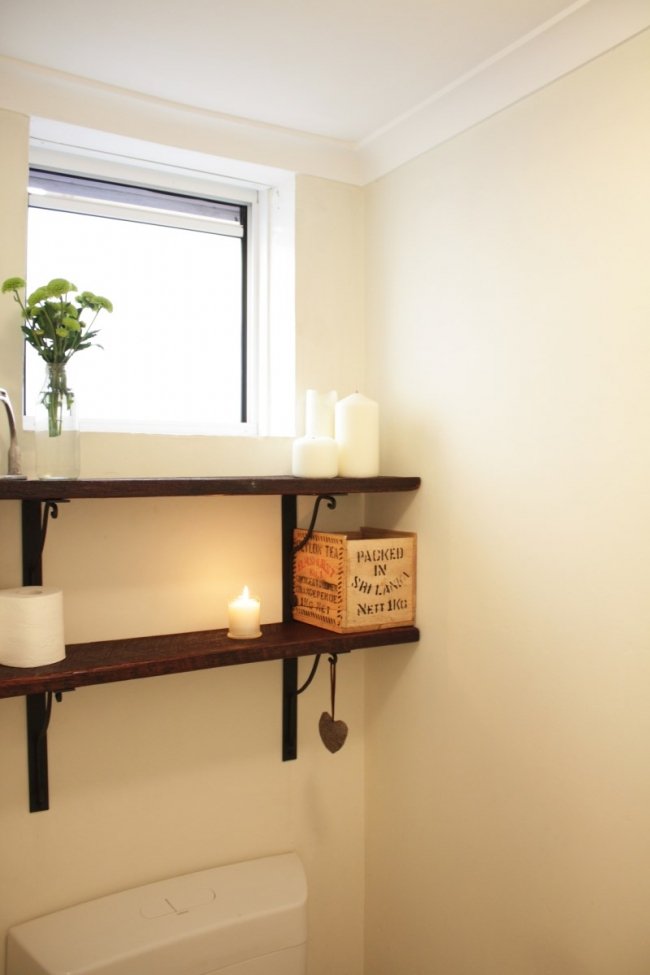 Paint the inside - or outside - of your fireplace.
My friend Rachel did this to her recent renovation of a 1960s house and I love it. If your fireplace brick or stone is dated, or too stained for your liking, this is a great idea to neaten it up and make it visually pop. Dulux Domino looks awesome against white.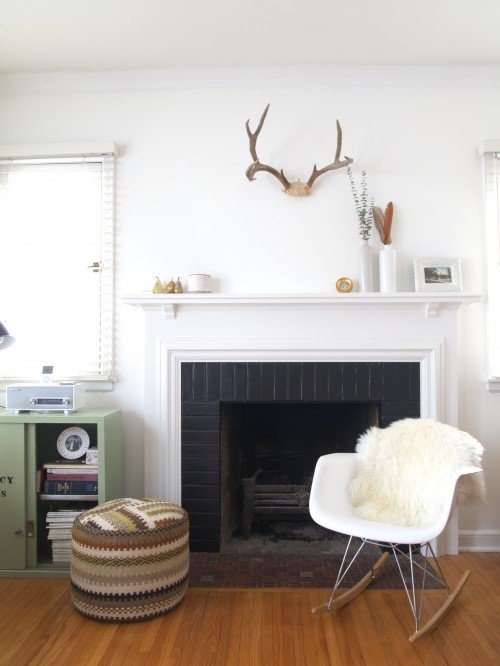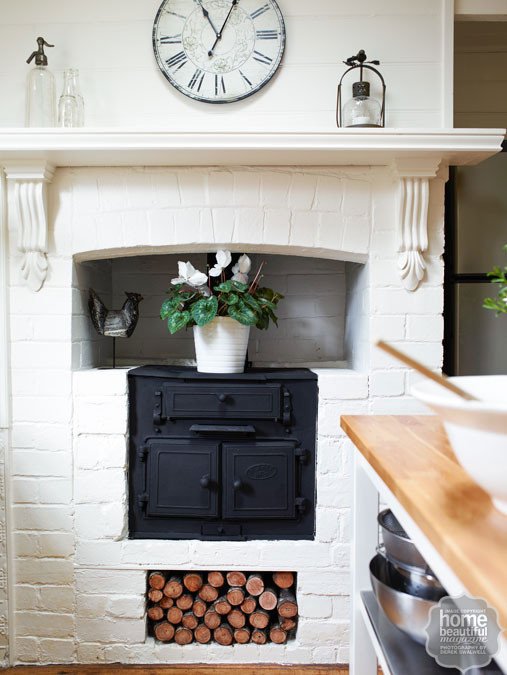 Spray paint a piece of furniture in very on-trend matt black.
Nelly generally recommends steering clear of painting large pieces of furniture black, but highly recommends black paint for smaller pieces. "For furniture, I wouldn't paint large pieces black as they can quickly look "oppressive" in a room," she advises. "Besides, black is a dust gatherer so the larger the surface is, the more likely it will look dirty, so think smaller pieces when using black paint on furniture. Painting a chair black is a great way to refresh it and accentuate its design and lines." You can see my post on how I spray-painted this Bentwood chair I found on the side of the road.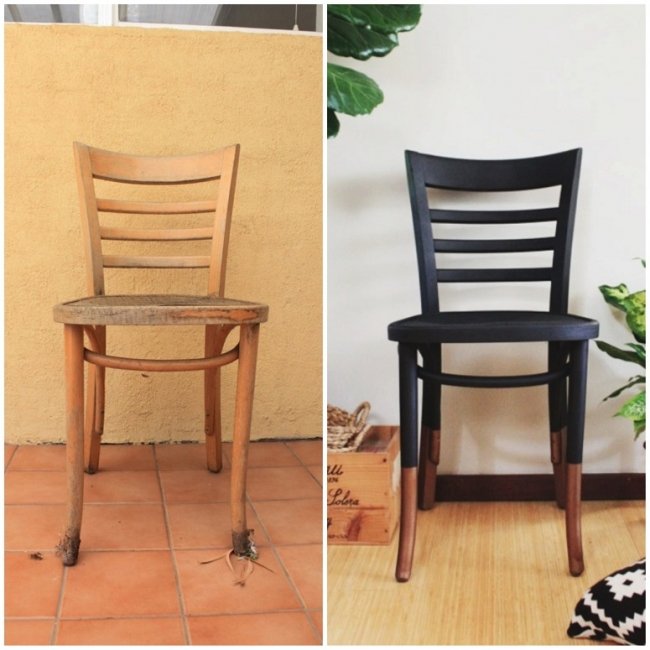 Use black in the living room or the bedroom.
Black can contribute to a very eye-catching headboard. "Creating a bedhead with plywood and painting a large black circle or any other shape can bring fun and create a strong focal point in a bedroom while not breaking the bank," suggests Nelly.
Black paint also looks really hot on pressed tin, which is great for a bedhead (you can see how we made a pressed tin bedhead for our room here) or if you're feeling very bold how about black walls or a black feature wall? It can make artwork and furniture pop against it. I particularly love it when black walls are teamed with older-looking textures like worn timber, cane baskets and deep brown and camel-coloured leather, which can help add a cosy, club lounge 'curl up with a book' feel (like this space below featured on Carla Aston). Add accents of white or a colour like yellow to stop it from looking flat.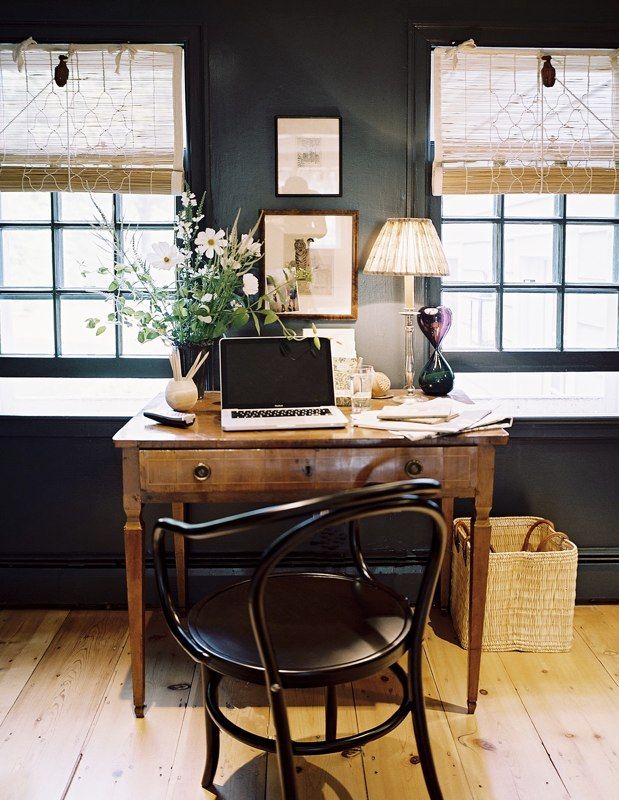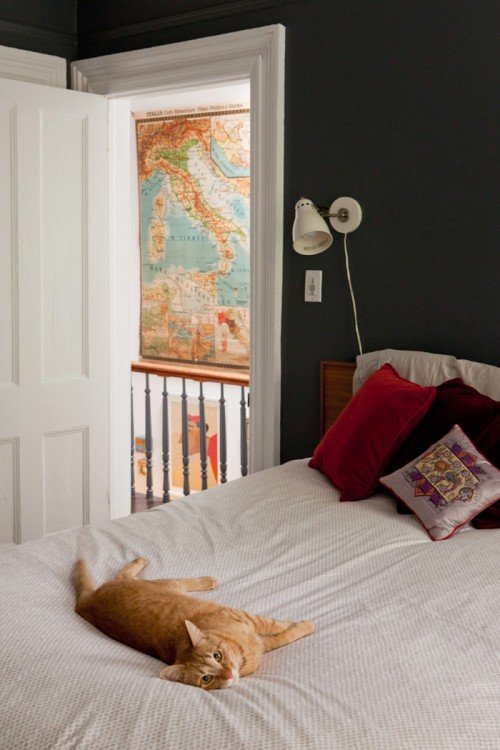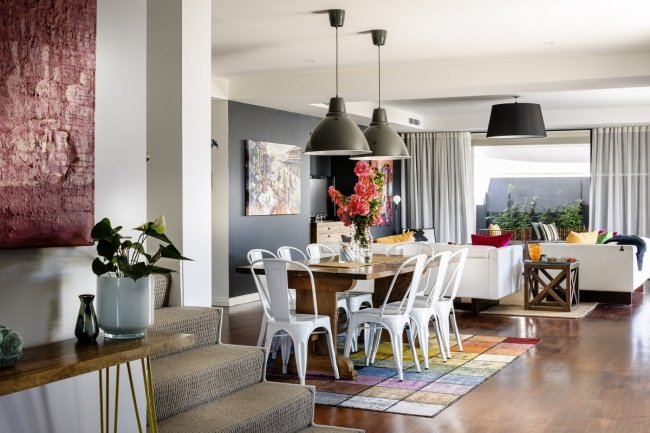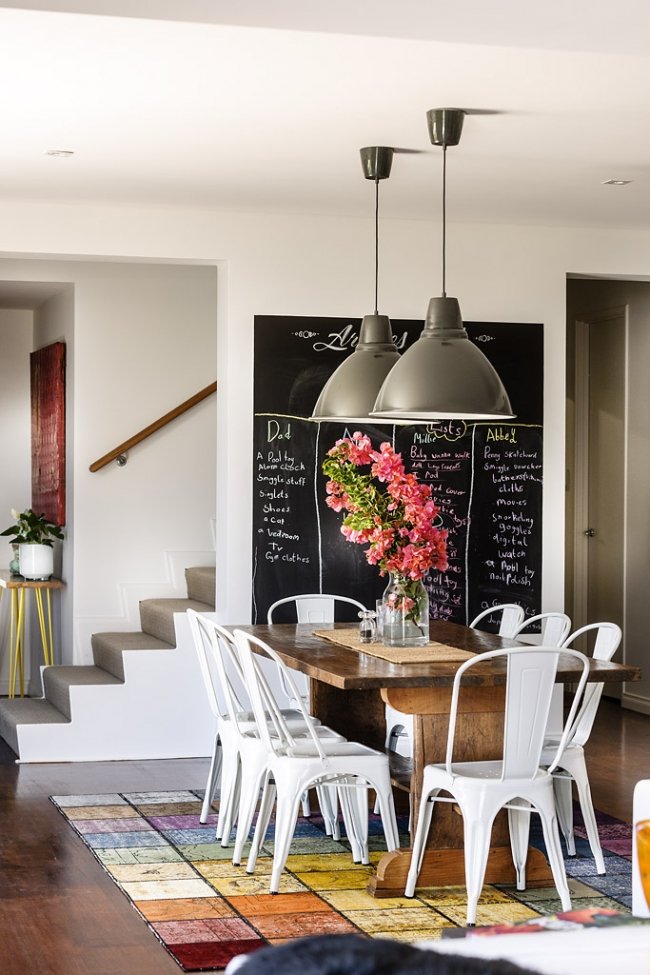 Go black on your front door or internal doors.
There is something I have always really loved about high-gloss black front doors and shop doors (a particular fave is the shopfront of Cookie Dough in East Freo). So English and glamorous. I think it's a look that's worth trying - but take note of our dry, hot Australian climate and maybe don't do it if your front garden is a dustbowl like ours. If we did that here, our front door would quickly become even more of a magnet for dust and I am far too lazy to clean it.

Think of trying black inside instead. We often think white is the only colour to add to internal doors and door frames - and a glossy white IS absolutely wonderful for making your home seem more spacious and open - but black can work in a different way by adding a very expensive feel and contrast to your interiors. "Black doors - front doors but also internal doors - always look chic," says Nelly. "Even simply painting a door frame black can add sharpness to an interior." I love how interior designer Michelle Smith has used black throughout the doors in her apartment (featured on One Kings Lane) - and also turned a shallow cupboard into this nifty shoe closet.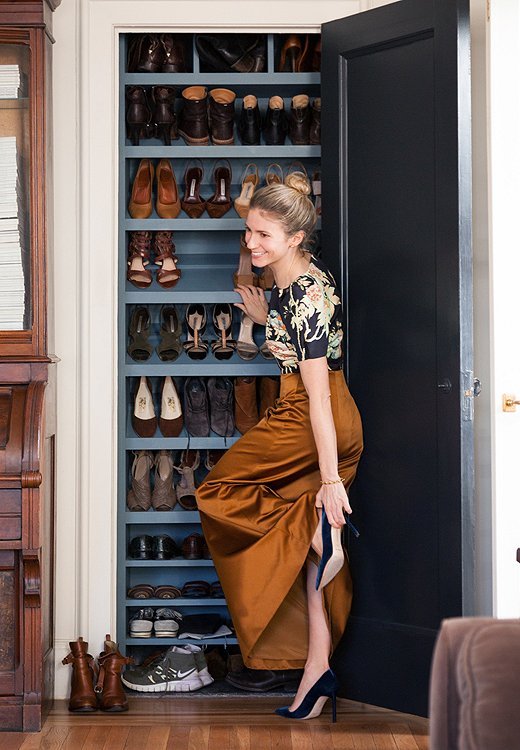 Do you have much black in your home? What have you tried? Or does black seem a bit too intimidating for you? Maya x