Posted Thursday, May 19, 2016 in:
Nerd Life
DIY
Obsessed With
Our House
So we've now lived with our IKEA kitchen for a year and I thought it was about time I blogged a bit more about it and the renovation process – including all the sweat, blood and hormonal pregnancy tears!
You might remember last year a post I wrote when I was 25 weeks pregnant and Mr Nerd and I decided to do some renovations, which included renovating our old kitchen and turning our 1970s bar into a walk-in pantry. We proooobably could have timed that one better.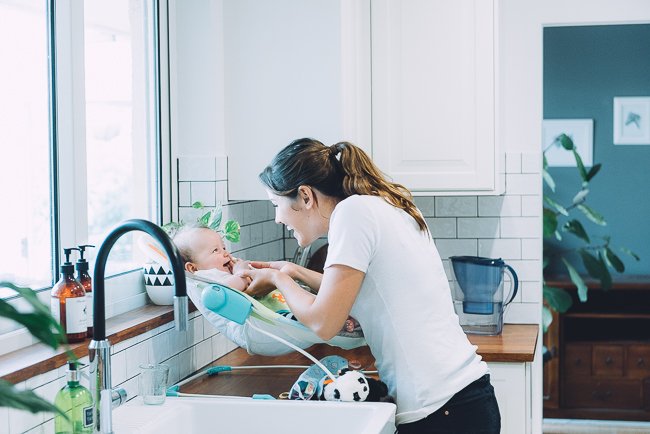 This week I'll be sharing a couple of posts – a diary of our IKEA kitchen renovation, and my thoughts on our renovated kitchen and what I think are the pros and cons of going the IKEA kitchen route. Hoping it will help a few of you guys who are considering a kitchen renovation.
So first, here's our little walk waddle down Memory Lane!
IKEA KITCHENS – FROM FAKTUM TO METOD

Boring stuff first. In June 2015 IKEA swapped over their kitchen system from FAKTUM to a new one called METOD.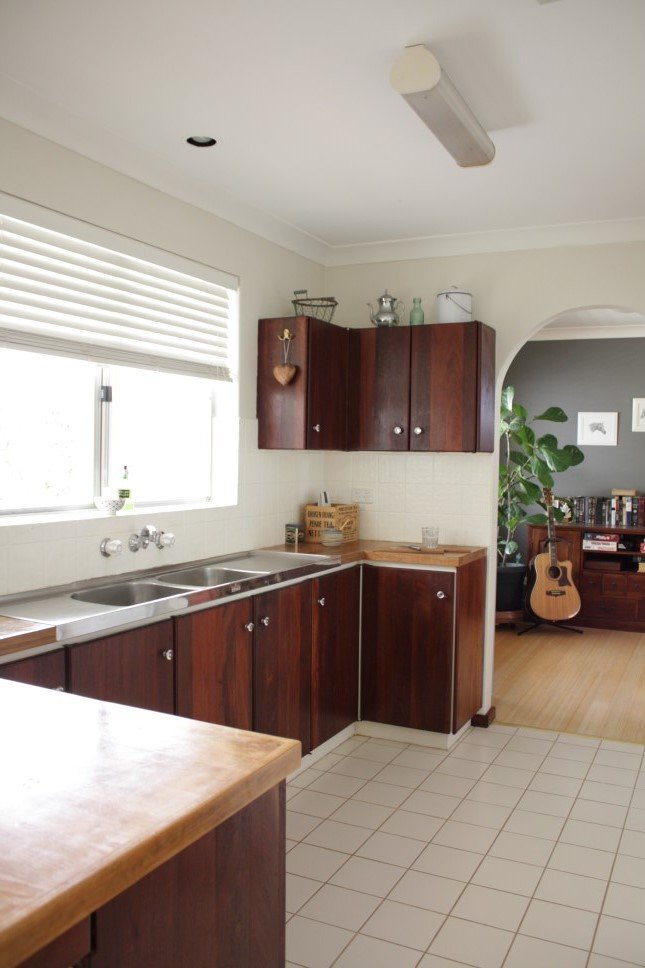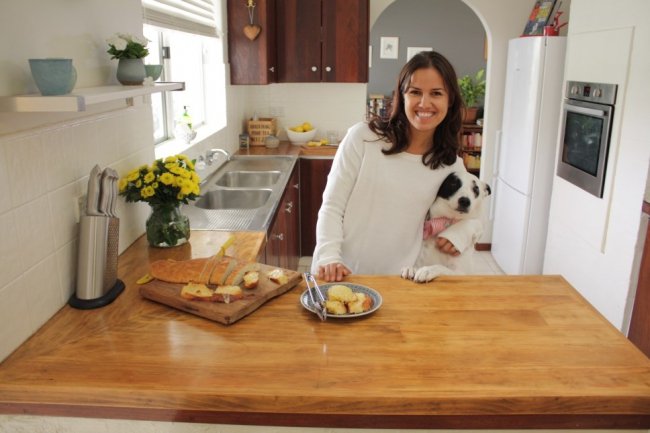 Mr Nerd and I were, apparently, some of the last people at IKEA Perth to contract a kitchen using the old system of cabinets. The new system, METOD (called AKURUM in the U.S) apparently means new everything – hinges, doors, drawers, although the cabinet styles are mainly the same, keeping the most popular fronts as well as some new ones.
After seeing some of the new kitchens in real life, there are many aspects of it that seem to look and function better than the old system – for example shallower drawers that mean more storage - and a slightly wider range of cabinetry options make more use of the space. For example in some designs you can have built-in nooks that can hold chopping boards or cookbooks, which was something I wanted in ours but was told I couldn't have (they just affixed a panel over the space).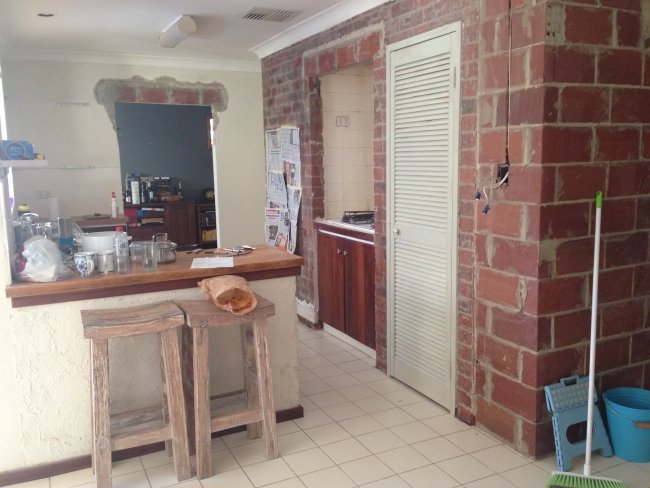 The main difference to me seems to be that METOD cabinets are affixed differently to the FAKTUM ones. METOD wall cabinets are mounted to a steel suspension rail that is attached to the wall. It is apparently meant to make it easier to hang and level the cabinets. FAKTUM cupboards were mounted directly to the wall. I am not sure if the new method affects IKEA's standard procedures for a kitchen renovation but I doubt that it does.
DIARY OF AN IKEA KITCHEN RENOVATIONSunday 22nd February 2015 - the Consultation Booking
We visit IKEA to see the cabinets in person. Mr Nerd and I always aim to buy things that last for ages. I think "solid" is one of his favourite words. He's happy – I think he is pleasantly surprised how good the quality is - and so am I.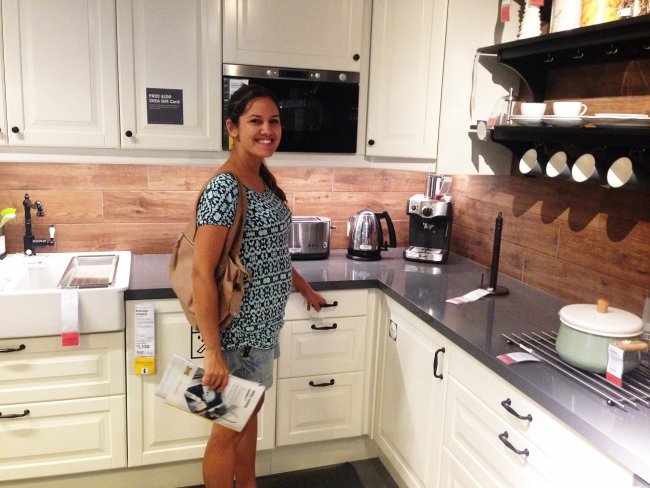 We pay the $99 for the initial kitchen consultation with a designer contracted by IKEA. The $99 fee gets refunded if you decide to go ahead with buying a kitchen from them. (Just a little side note, make sure you chase this $99 refund up later – they probably won't remind you of this!)
We choose the cabinets (Lidingo in white) knobs, a sink, and a benchtop, a solid butcherblock one. We'll source our own splashback tiles. Oh man, shopping for an IKEA kitchen is fun. Pointing at what you like, ticking the boxes of what you want. It makes it all seem so effortless! Before your consultation date, IKEA advise you to get dimensions of any appliances you are buying (if not from IKEA's range) so they can factor those into your plans, so later that week we check out dishwashers – the sole purpose of our kitchen renovation, incorporating a dishwasher into our home. I actually genuinely adored our old kitchen, but it will be nice to have more benchtop space and a dishwasher. (You can see pics of the budget makeover we had previously done to it here, including painting the old splashback tiles).
I am six months pregnant and along with renovating our kitchen, we are also knocking out arches and turning our 1970s bar into a walk-in pantry. The house is like a war zone sometimes. But feeling totally (naively) confident that we will get it all done before the baby arrives.
Monday 23rd February, 2015

I liked how quickly IKEA contacted me to arrange the consultation – the very next day after we popped in they called, and we teed up a time for the designer to come out the next week.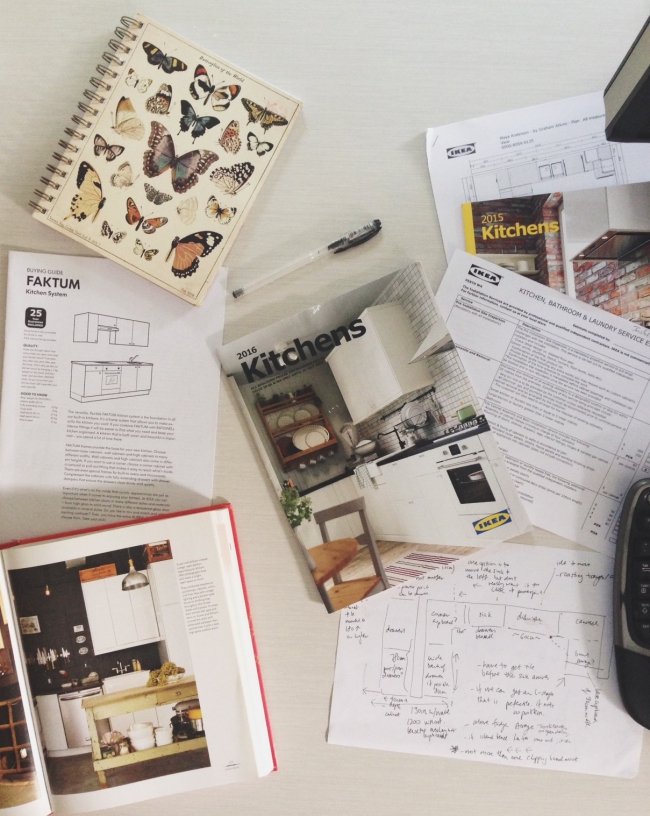 Tuesday 3rd March, 2015 - The Consultation

The kitchen designer came over and over a couple of hours I showed him what we wanted and he drew it up. That same night he emailed me through the plans and drawings, including a 3D drawing, which was great.

The downside was that IKEA wouldn't do the butcherblock benchtop we wanted as our new island bench would be too wide (just over 1m) for their standards. I was a bit disappointed. "Can't they just join two pieces of benchtop together?" I asked but no. Never mind - we will just have to get a timber benchtop provided by another company. Seems easy enough to us at the time, but this small detail later proves to be the bane of our kitchen renovation!
We think the cost of the cabinets (minus the benchtop) is great – just shy of $4,000 for all the cabinets and hardware (no benchtops).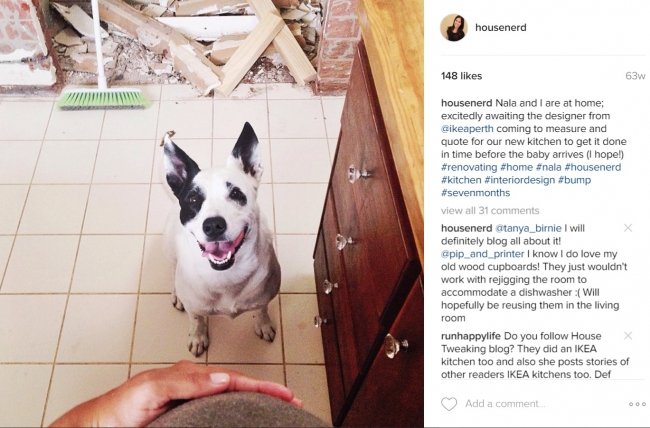 Wednesday 4th March, 2015

The next day I called up IKEA and paid our $220 for the pre-installation site inspection – a mandatory service IKEA do to pre-empt any challenges with the installation. They hire independent installers to come out to your house, check over the floor plan design, confirm the final product list and provide a final quote. The lady I chat to tells me that IKEA pass on my number to an installer from a cabinet company and tells me an installer will be in touch with me within three days. These guys are contracted by IKEA. 
Monday 9th March, 2015

So, it's not quite 'within three days' but I get a call from the installer saying he is up around my way at the moment and would I be home in the next hour? Unfortunately I am at a photoshoot and won't be back until later. He calls again the next day and we book in a time for him to come out first thing Wednesday morning. Excited! The next step is happening. We can start removing tiles, cabinets etc. IKEA can do this for you for a fee but it's something we are happy to do ourselves.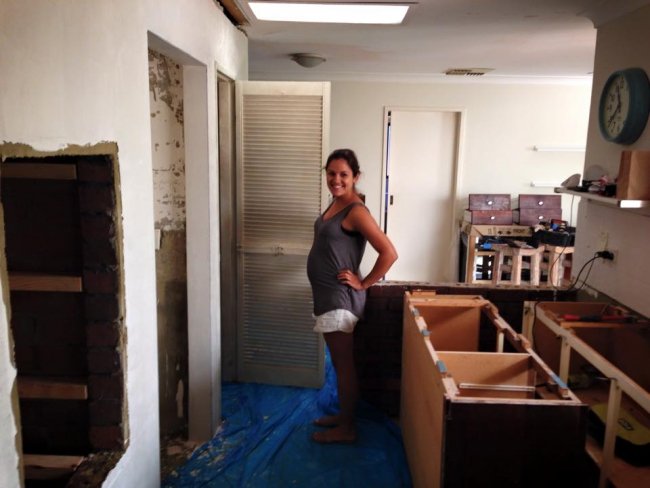 Wednesday 11th March, 2015 – the IKEA Pre-Installation Site Inspection

Our pre-installation site inspection, where our installer comes out to measure the kitchen again and take a look through all the drawings. We ended up making one change to the overhead cabinet upon his advice, tweaking it to get a bit more storage space which I am stoked about. The installer says he now has to get in touch with the designer to get this cabinet change put in and our quote finalised. Personally Mr Nerd and I feel like they could combine the two first consults into one.
Friday 13th March, 2015 – Plastering Time! (and a snake)
It's a crazy house renovating day today, the kind where everything is chaos. The plasterers spend all day here doing the first coat of render on the once-were-arches and the new brick walls.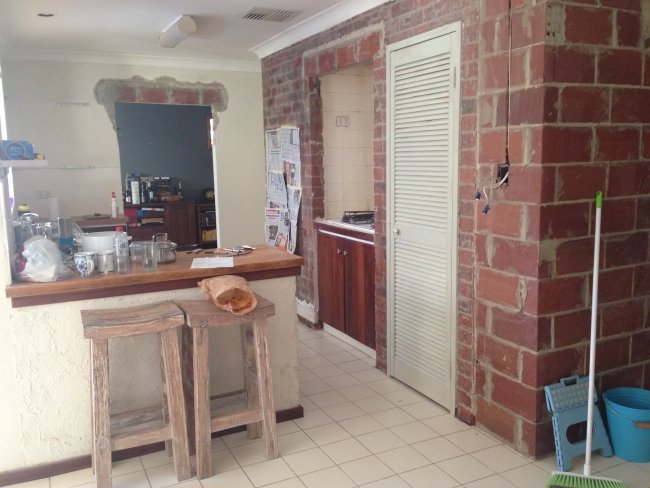 Excitement in the afternoon – there's a snake in the house. It's the third little dugite we have found on our property in the past four weeks. The first two were on the front veranda, now it seems they are getting more ballsy and deciding to venture into the house through the open front door, which we had to leave open for the plasterers so they could go in and out easily. In the early evening, Mr Nerd's parents come over and we are all sitting in the lounge with Nala. I'm walking to the bedroom and to my right I see a snake slither along our lovely newly rendered scullery wall. A very small dugite, but nonetheless poisonous, and not a visitor I want in my house. I shriek. "Grab Nala!" I yell at Mr Nerd and his parents in the living room. "There's a snake in the house," and after shoving Nala away I run back into the kitchen, but the snake has disappeared. I start checking under furniture. Nothing.
Mr Nerd sees me prowling around the dining room on my tippy toes, holding a shovel.
"Are you SURE you saw a snake?" he asks me skeptically.
"Yes! A snake! You actually doubt me on this one?"
"Well…" and I see his eyes flicker over my rotund belly. I know what he is thinking, crazy pregnant lady alert. There's still no snake in sight.
"He would either be under the blanket box or in the pantry," I tell Mr Nerd. He dubiously opens the door to the pantry, then draws back in surprise. "Holy shit there's a snake in there!"
I glare at him. "No way."
Ten minutes later, he and his dad manage to gently get the snake into a wooden box. The snake is most ungrateful that Mr Nerd is trying to relocate him and doesn't stop snapping at him. They take it down the road to let it go where he disappears into the long grass without so much as a cursory glance of thanks.
Mr Nerd and I have plans to go out that night, so I am very thankful I saw the snake when I did and can't stop thinking about what we might have come home to if we didn't see it. Nala would have probably tried to play with it. Eeek. And also very thankful the snake didn't get wrapped up in all the plastic sheeting the plasterers laid out and bite one of the guys while they were packing up.
Thursday 19th March, 2015

Okay I have to be honest, I think the IKEA contractors are too busy and overworked. We have now waited a week for our installer to get back to us. He is apologetic and keeps saying it will be just be one more day. In the beginning we didn't want to rush him as we thought he seemed like a good guy who knew his stuff, but now we are getting a bit frustrated because we don't have a proper kitchen and we want to know the installation date.

Rather than using IKEA's plumber and electrician, we have chosen to use our own and have to know the installation date so we can book the tradies in with minimum disruption, as we really want to minimise the time we have to live without a kitchen sink and benchtop space. Mr Nerd is cooking outside on the barbecue and we have the fridge, microwave and coffee machine set up in the sun room but the oven and stove have been disconnected and removed, and I know it is a first world problem but I am a little bit over not having an oven and stove – I just want things to be moving!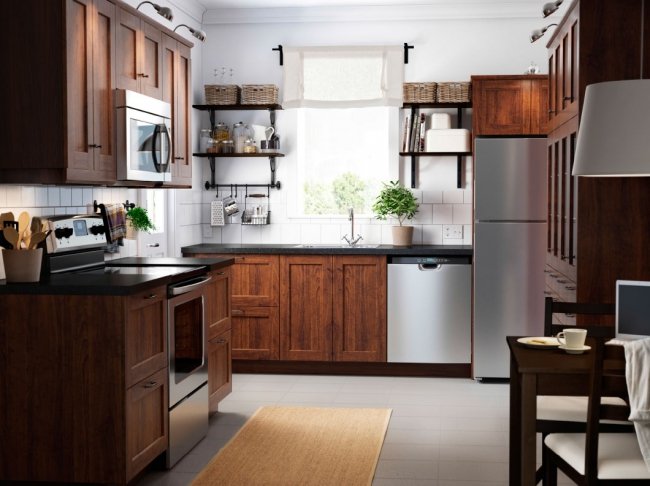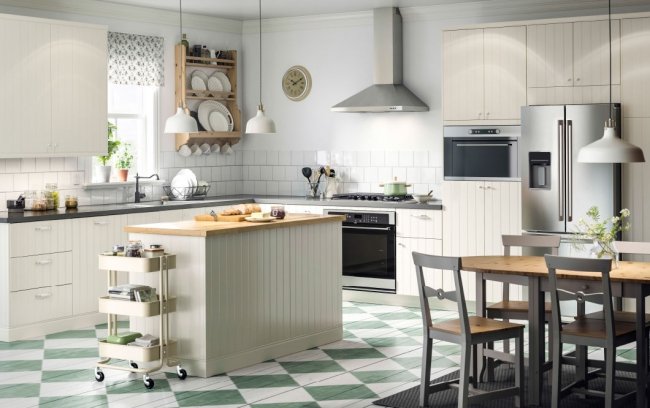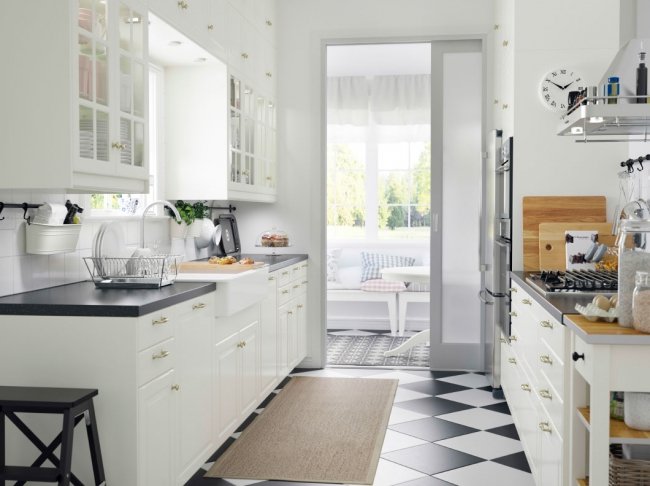 Then, Mr Nerd goes to pick up our kitchen splashback tiles and he finally manages to get ahold of the installer – who, as if sensing our frustration that day, gives us a kitchen installation date of April 2nd. Awesome – now we just need to get the cabinets confirmed, the quote checked and we can call IKEA and order the cupboards. Mr Nerd goes to buy our new oven and dishwasher.
As I am banned from heavy lifting, my sister pops in to help Mr Nerd carry the oven and dishwasher into the house. I do my bit by making us all coffee. We are still using our makeshift outdoor kitchen and our enamel camping mugs. Halfway through his coffee, Mr Nerd starts spluttering like Donald Duck and spits a Portugese millipede on the floor. Drowned. I notice my sister gingerly place her own coffee on the table and not touch it again. Mr Nerd maintains I put the millipede in his coffee on purpose and now every time I make coffee he tells me to not add any insects. I am grumpy this night. I miss having a proper kitchen.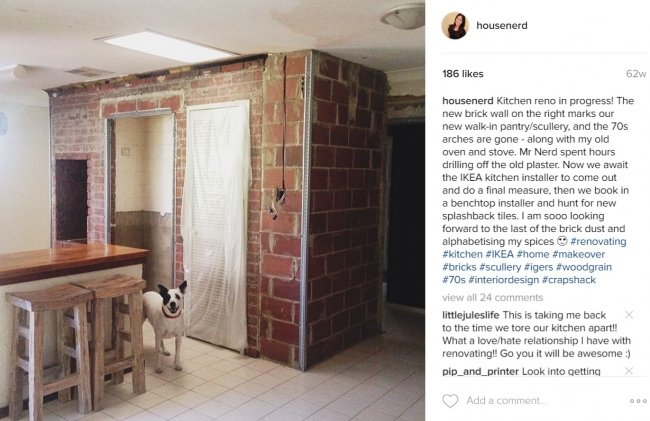 Friday 20th March, 2015

Today is an AWESOME renovating day! I love it when you feel like things are really moving along. The plasterer comes to do the white set – the final layer. It looks schmick. I'm very happy despite vomiting through the whole day. My 'What to Expect' baby app tells me I have 10 weeks and 6 days until the baby is here, and that Little Nerd is the size of a cabbage. I am the size of a juvenile killer whale.
I'm also very happy because Mr Nerd comes up with the awesome idea to reuse our old jarrah cabinets in our two garden sheds. They fit perfectly! I am BEYOND stoked, because I was feeling sad about ripping the old cupboards out. They were crafted by hand from old jarrah floorboards by the old guy who used to own our house before us. We were going to pop them up on Gumtree but I am selfishly happier that we are re-using them. We always had a soft spot for the old kitchen cabinets and have to admit the only reason we were changing them was because they were too narrow to fit any dishwasher on the market.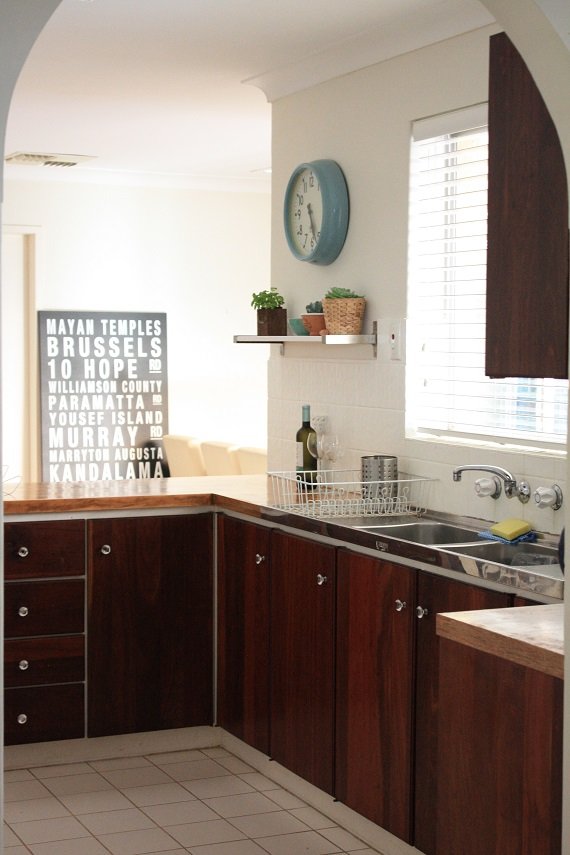 The cupboards look awesome in the sheds and they work well because our back shed was badly in need of some proper storage. I'm happy. Nala is also happy because Mr Nerd moved his old treasured soccer ball out from the shed, which she immediately claimed and punctured with her teeth. Mr Nerd is now in male nesting fervor and talking about spray-painting the roof.
The designer sends us through our final cabinet quote and we call IKEA to book the cabinets in.
Wednesday 8th April 2015

Our wonderful tiler Stan comes along and begins tiling the nook where the new freestanding oven will go with our beautiful Italian porcelain subway tiles.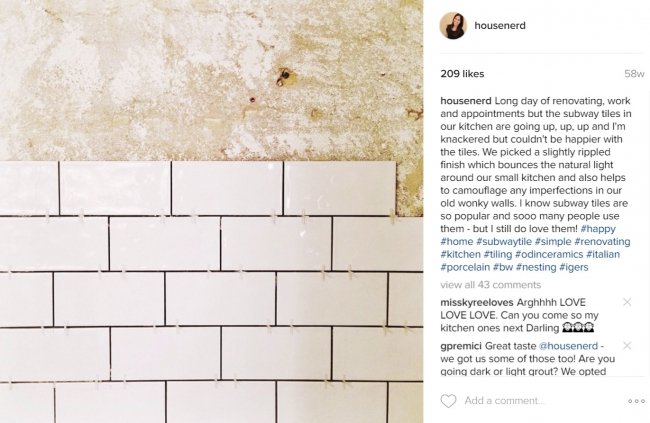 Thursday 9th April 2015

The cabinet installers arrive at 7am. Today should be a happy renovating day, but instead I come very close to having a mini meltdown over absolutely nothing. I had a bad night's sleep and am preggo-sick in the morning which puts me in a foul mood. Damn pregnancy hormones! The cabinet boys and Stan the tiler edge around me trying to avoid catching my crazed eye.

I am ginormous (well at least I feel like it) and stomp around the house feeling round and grouchy and scared that the new cabinets, at 95cm, with a 30mm benchtop, are going to be too tall for my 164cm height. The new cabinets also feel HUGE in our little space and I am scared I won't like them. "That's cos you don't like change," Mr Nerd says, and I point out that that's not necessarily true, I just don't like the frightening commitment of expensive, permanent change.

The cabinets, and their height, are fine. I figure they will make me stand up straighter and Mum will be proud. Although the middle shelves of the overhead cabinets are just out of reach. Mr Nerd is gleeful when I point this out. "More storage for me. Things I don't want you touching." Luckily for me, the shelves are adjustable. And I also buy – with part of the $300 voucher IKEA send us for purchasing a kitchen during their special, where you get a $100 voucher for every grand you spend on their kitchens – a foldable BEKVAM stepladder.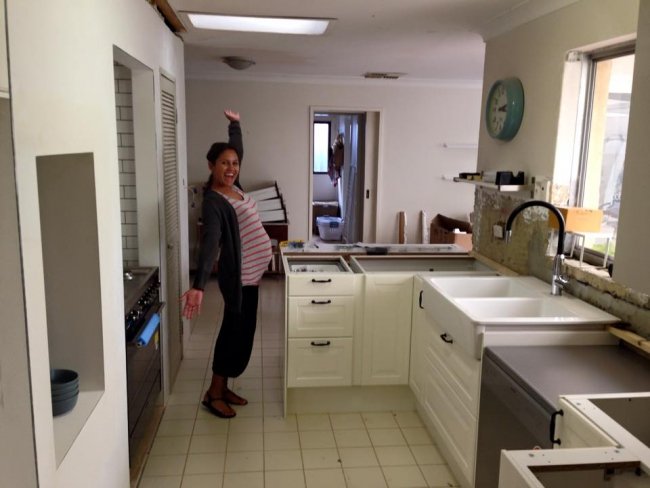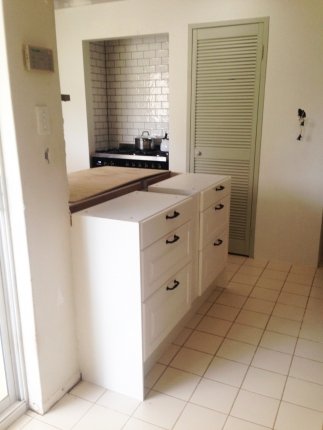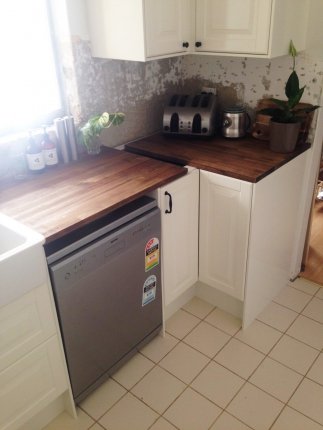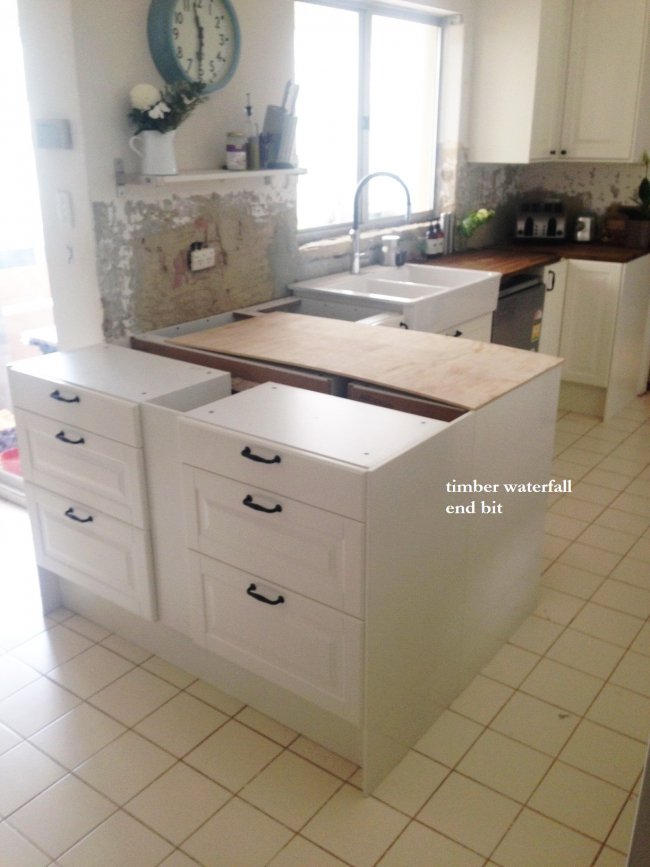 The overhead cabinets are great, the drawers are great. However, there is a small discrepancy between the drawing we get and what we have in real life. What we were told, and what was in our site drawings, was that there would be one big panel of laminate across the end of the island bench, is instead two panels, one 50cm and one 60cm.

I am a big, pussy confrontation-hater, but I point this out to the cabinet installers, who say that is what IKEA give them and that is what they have to use. The join between the panels, although neat and siliconed, drives Mr Nerd crazy. He is one of those symmetry nuts. "It's going to look filthy in no time," he says. And I admit, it doesn't look great. It looks about as great as my outfit in that picture above. I later spend AGES trying to find a place that will sell a huge piece of custom-cut laminate in that exact IKEA white to cover it. No-one has it. 
There is also a strange bit of paneling sticking out that is going to make getting a benchtop to fit a bitch. The shitty thing is though, that I can see how if that part had been designed a bit better that problem wouldn't exist. Like if they had cut the dividing panel between the two banks of drawers just a cm smaller, there wouldn't be any problem. Of course I only notice this at the end of the day when the installers are done!
Mr Nerd is a perfectionist and particularly unhappy about it. As I learn in a short amount of time, the extra cuts the timber benchtop will now require to cover this little bit of paneling means that it will now be a bit more expensive. I guess it is the payoff with getting IKEA cabinetry. You pay substantially less but you are not going to get the service you would from a custom cabinetmaker, and unless you have a perfect space to work with in the beginning, the end result might have its little quirks and imperfections. Ok, I know I sound like a whinger, but I'm hormonal and I have cankles. Let me whine.
Not all of the pieces were in stock so we have to wait a short time to get the remaining drawers. We notice a tiny crack in one of the drawers, but the installers are more than happy to come out and replace it later.

We do work on our new walk-in pantry.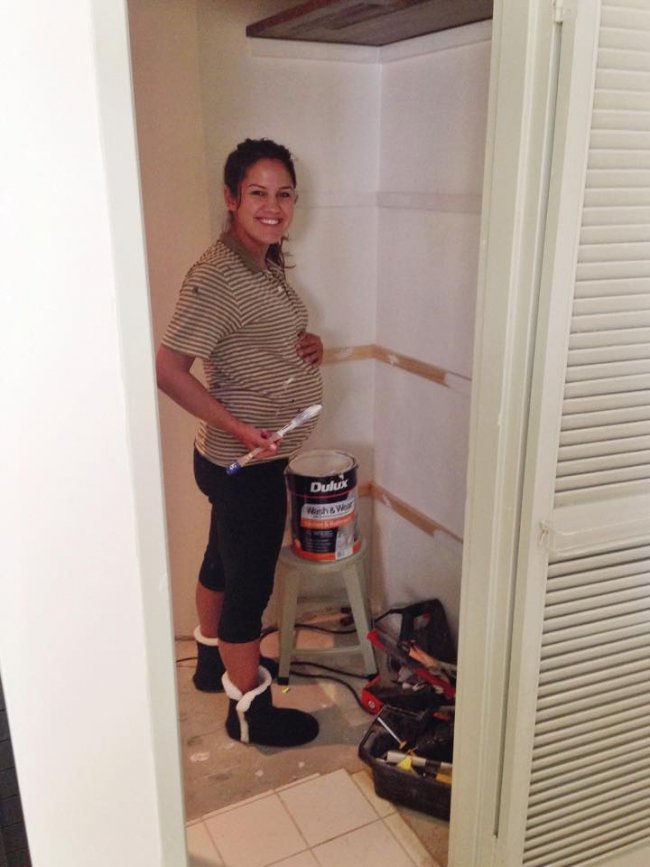 Saturday April 4th, 2015

Head to IKEA to pick out cutlery dividers, drawer dividers, etc and to get my refund for the $99 initial kitchen consult. The cutlery dividers do my pregnant head in. I buy all the wrong ones.
Sometime around the end of May, 2015

We finally have a wonderful wooden benchtop! I am in an absent-minded pregnancy haze, during which I once fill my diesel car with petrol then have it die on me while sitting in the automatic car wash. So where I was once the most avid diary-keeper, partly in case I ever get accused of murder and need to check my alibi, I now have only the vaguest sense of owning a diary and now realise I forgot to note down exactly when we got our new benchtop.
But let me tell you, it took a loooong time. After attaining numerous quotes from timber companies and benchtop suppliers for a wood benchtop, I was shocked at how much they were. My kitchen designer friend Yasmin Drake of Lead Design ruefully tells me that yes, decent timber benchtops are not cheap.
We were getting quotes for benchtops that cost more than all the cabinets! Bloody hell. I had naively thought timber would be a cheaper option than engineered stone, Corian, granite and the like.
One day by sheer luck one of my father's clients, a gruff, abrupt though kindly man who runs a carpentry company says he'll cut and join us a timber benchtop if we supply him with the timber, install the benchtop ourselves and don't annoy him too much. I find timber laminated merbau panels at Bunnings and we decide to use them. He does the most fantastic job. The benchtop is millimetre-perfect. Working around my belly, I oil the benchtop pieces myself and can't stop myself from rubbing our new benchtop in glee.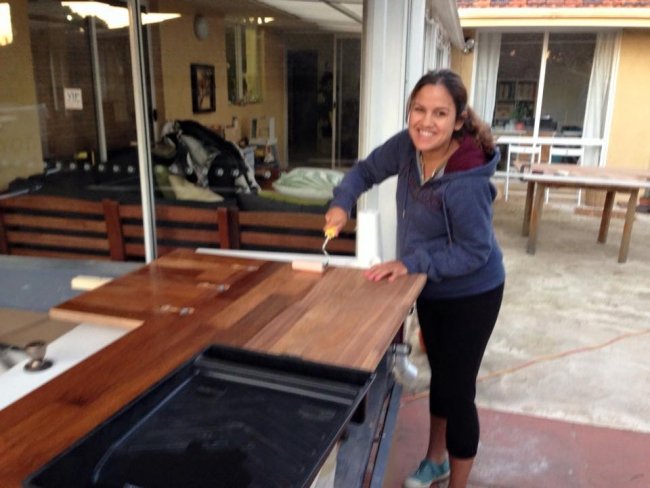 Mr Nerd is happy because he has come up with a solution to the problem of that silicone join to the cabinets – a waterfall island bench (when the benchtop material also goes over the side of the island bench on one or both sides).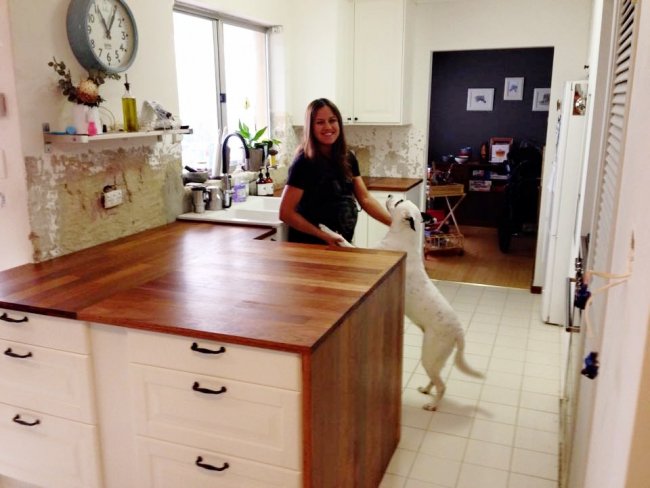 Monday May 25th, 2015
We calculate – very roughly - how much we've spent doing the kitchen reno so far.
OUR KITCHEN RENOVATION COSTS
IKEA Pre-install inspection $220
IKEA cabinets and hardware $4000
IKEA cabinet installation $1440
4 x Merbau timber benchtop pieces from Bunnings $516
Carpentry work for timber benchtop $500
Splashback tiles $720
Ardex grout $20
Tiler $800
Electrician $1000
Plumber $1000
Plasterer $1400 (included other parts of house)
Dorf mixer $250
New window $1000
New Smeg dishwasher $1267
New Smeg freestanding oven $4500
Cornicing $400 (included other parts of house)
TOTAL: $19,033
All up, we're happy with how it panned out and how much we spent, splashing out on some things, like the oven and sexy Italian subway tiles, while budgeting on the others, like the cabinets.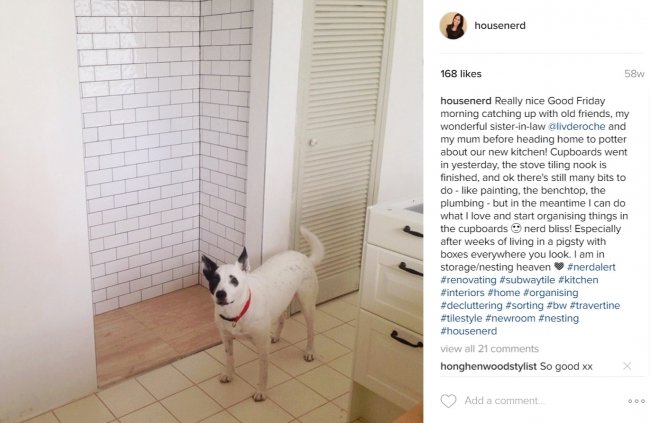 Friday, June 5th, 2015

I shall be pregnant no more! It's baby's due date! I am a deadline-oriented person, a ticker of to-do lists, an achiever-type. To my disbelief, baby does not arrive. I am genuinely shocked. Around bedtime, when it finally, fully dawns on me that baby is not going to be coming today, I start to weep. Mr Nerd looks at me with a fearful expression I have come to recognise as the 'I've married an insane person' look.
Tuesday, June 9th, 2015

Why hasn't the baby come yet? I weep daily at the unfairness of life. Especially when I try to put shoes on by myself, because I can't.
I am now in the fourth trimester. Hormonal, bloated, tearful and with so much water retention I only fit into two pairs of my shoes and one pair of jeans. Baby is the size of a small Kent pumpkin. I am the size of a small country. Kitchen is unfinished; the splashback is untiled and is raw, chipped plaster that optimistic, kindly Instagram followers tell me looks 'very Fremantle'. Everyone is ultra-nice to scarily pregnant woman.
To kill time, I decide to bake the guys at the carpentry company a white chocolate and macadamia nut slice as a little thank you for doing the benchtop for us, as they did it as a favour. Unused to my new, powerful oven, I overcook the slice. It is so hard you could chip your teeth on it. I cry.
Twenty minutes later I decide I will drop off the slice to the guys the next day anyway. Maybe it will soften overnight. Mr Nerd looks dubious when I announce this but wisely keeps his mouth shut.
Reliable sources on Yahoo! Answers tell me that lots of walking will help trigger labour. So Nala and I walk around the dog park for at least an hour every night. Tonight I decide to up the ante and chase Nala around the park that night while kids playing . Yes, the fat pregnant lady actually runs. A game of little four-year-old boys playing soccer at the park stare at me in rude wonderment. But sucks to them - just hours later my waters break while we're watching Orange is the New Black and just hours after that we are holding our baby. (Note to self. Maaaybe don't run around the dog park while 41 weeks pregnant. You can read my birth story here).
Tuesday June 16th, 2015 – We Bring Our Baby Home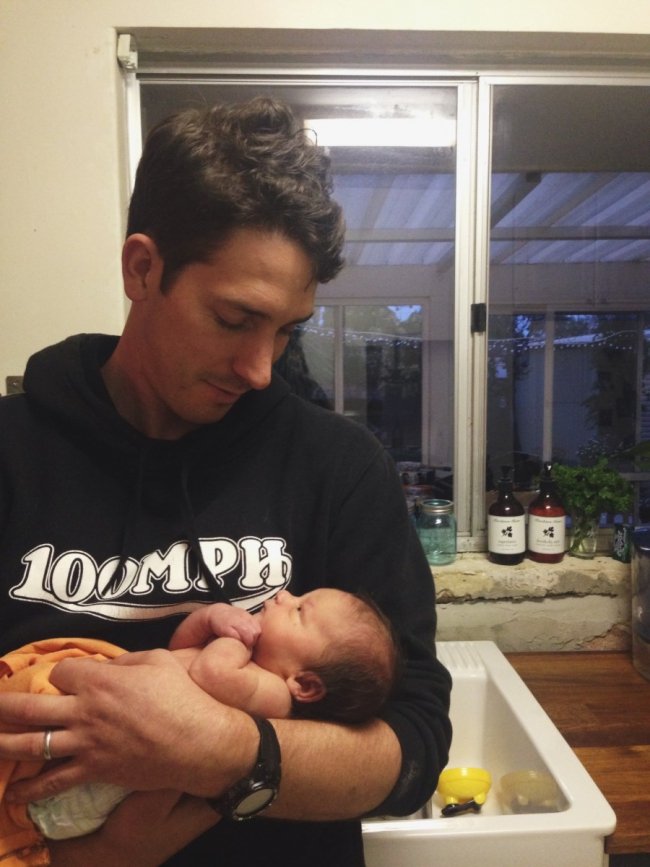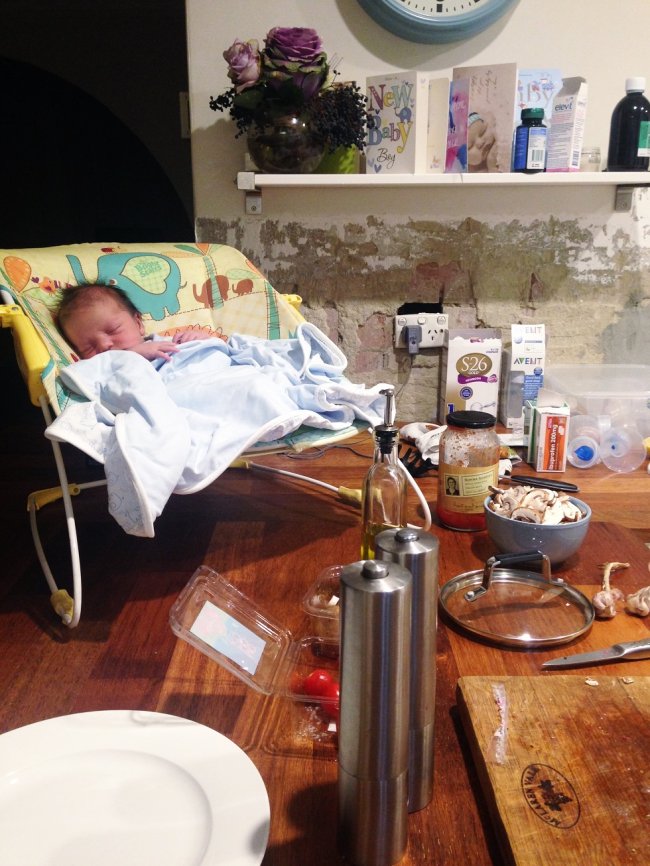 Despite our best intentions to have it all finished by his due date, we bring our new baby home to an unfinished kitchen, but I can't honestly say I mind – it's functional and usable and organised at least, who cares about the splashback tiling not being done yet?

Having a tiny baby means I lose my entire momentum and drive for ever finishing our home renovations. Instead I become absorbed in more pressing matters, such as marathons of Orange is the New Black while stuffing myself with double cream brie, sashimi and other forms of listeria.
I realise I had forgotten I had put the macadamia nut slice for the carpentry boys into a tin and shoved it far into our new walk-in pantry. It has sprouted an intriguing variety of mould.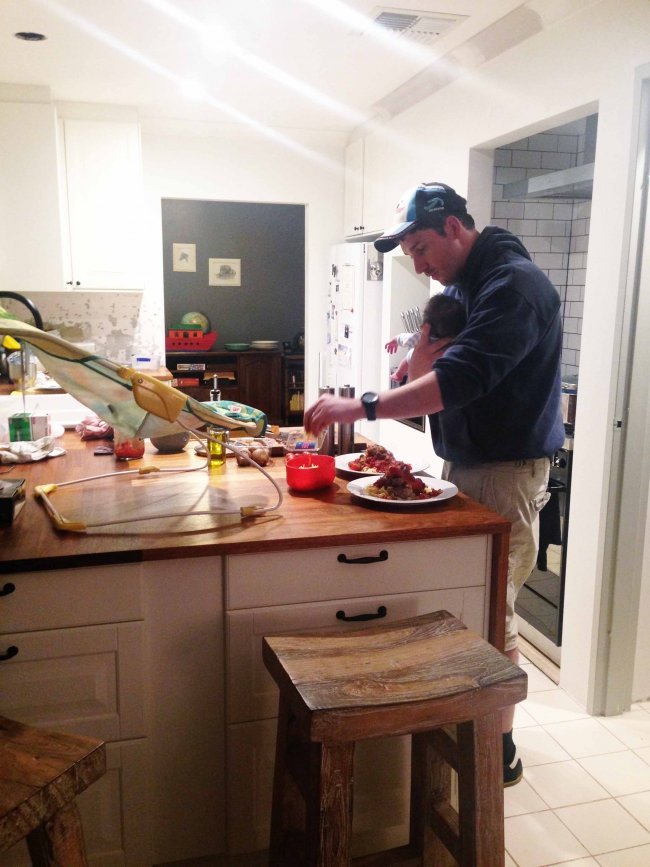 Thursday August 13th 2015

Over the next two days Stan the tiler tiles and grouts the splashback. Finally – except for the floor, which will be a future project - the kitchen is complete. It's fantastic. I want to touch it everywhere.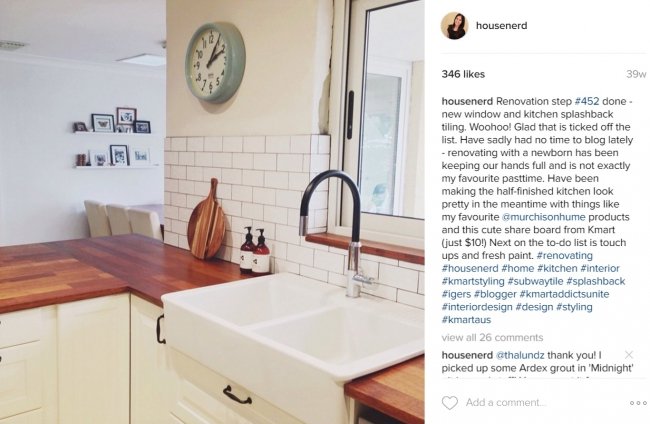 Sunday May 15th, 2016

After now more than a year of living with it, we LOVE the new kitchen. It is fantastic having so much more bench space.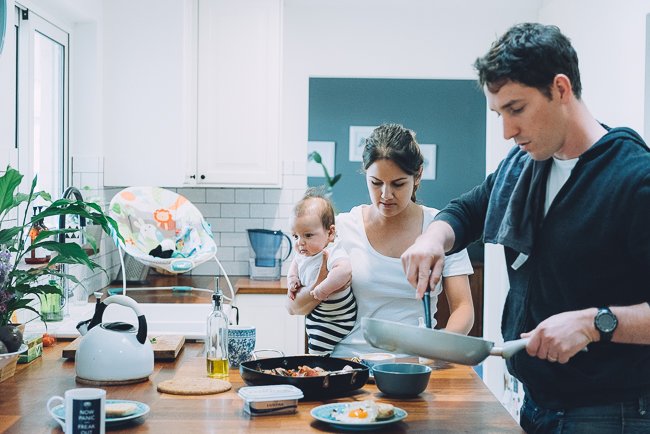 The small thing I wish I could change? The cabinet colour. It honestly doesn't bug me that much, but I'd prefer it if they were a really crisp white – instead IKEA cabinets are a touch more cream/yellow than the white-white I prefer. I'm not sure why they make them like this – surely white-white (such as Dulux Vivid White) is an easier colour than off-white for people to use? I daydream about painting them one day… going all Jersey Icecream Co and painting them my favourite colour, duck egg blue. Or an inky navy grey. Or a beautiful grey-green. Look at this!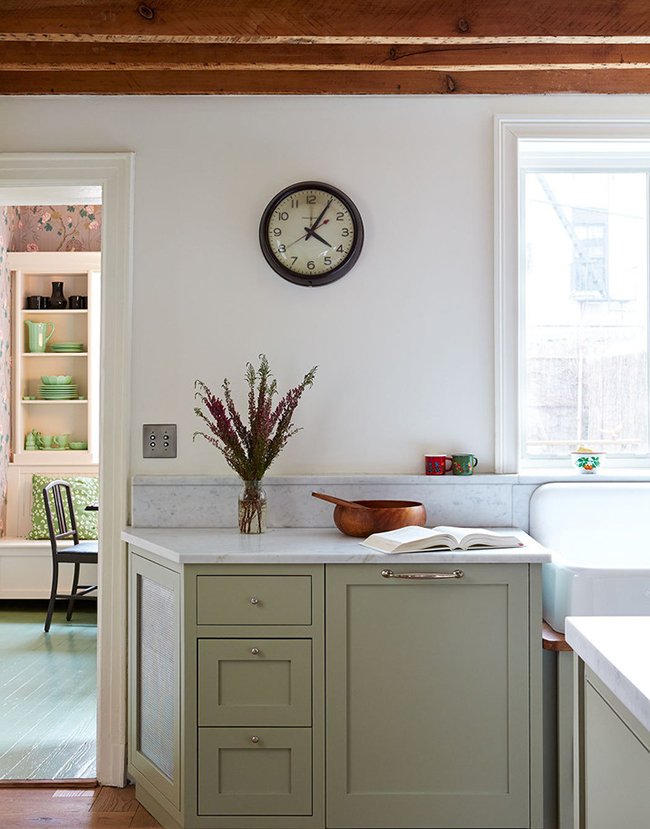 Mr Nerd says because they are melamine, the cupboards can't be painted and got all bossy like, "You're not painting anything." So this will have to be a DIY project that I keep for one of his upcoming work trips. (How would you paint glossy laminate cupboards? You'd need a really good primer I am guessing – metal etch perhaps? Anyone done this? Does the paint scratch off?)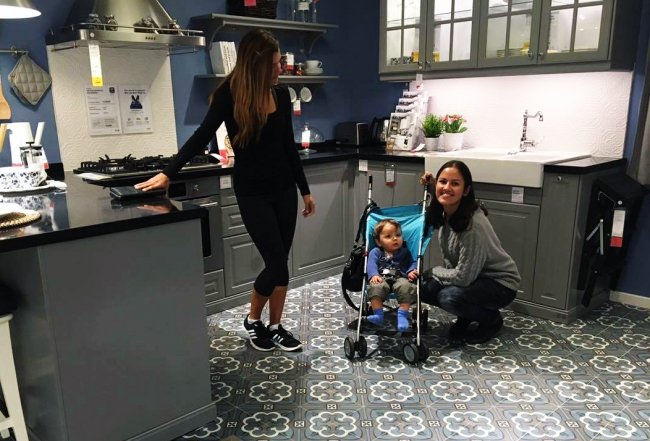 With Little Nerd in tow, my sisters and I head back to IKEA and I have fun checking out the new kitchen ranges - they always look so pretty! But at the same time I am very happy I don't have to go through the process again. I hope.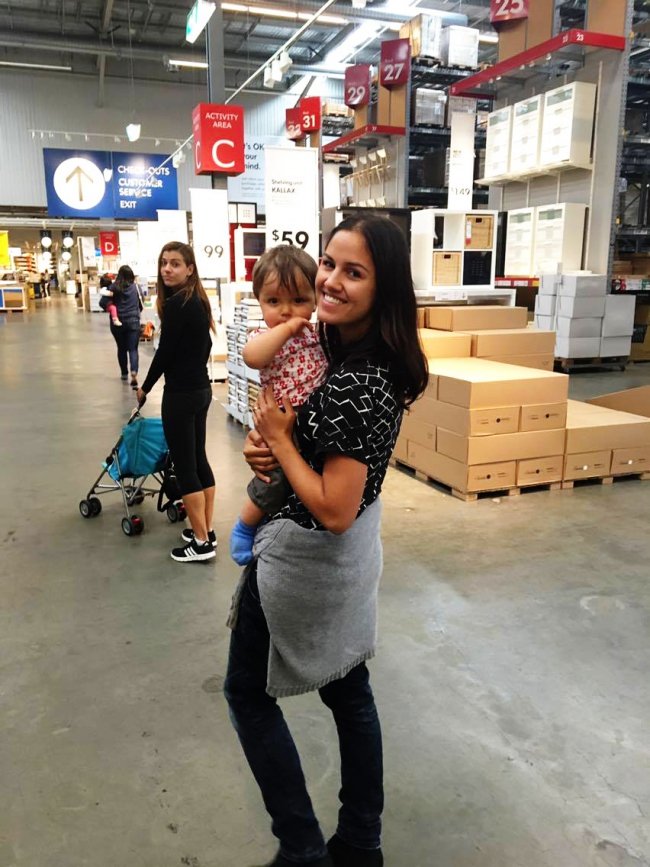 Check back here in a couple of days – I'm sharing my list of pros and cons for IKEA kitchens and what I think of ours.
In the meantime – would love to hear experiences, tips and traumas from any of you guys who have done a kitchen renovation, IKEA or otherwise! Maya x