Since I put up this post on the veggie garden I made in winter last year, quite a few friends have visited our house and I can tell some were expecting to see a lush, verdant spread of bountiful lettuce and silverbeet and broccoli.

I think they were disappointed because now in the peak of summer and after Perth's longest December heat wave, our veggie garden looks nothing like it did in winter and spring. I would go take a proper photo to show you, but I am too embarrassed. Partly because we haven't mowed the lawn since last year and also because I just hung out a load of washing and my Kmart underwear emblazoned with 'BEST IN TOWN' is hanging on the line.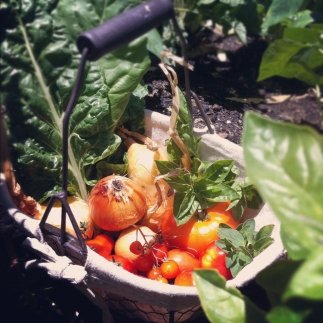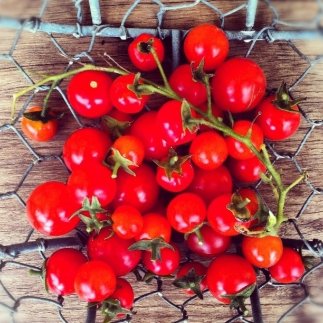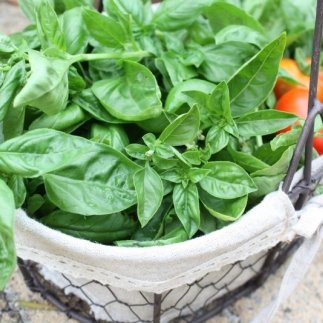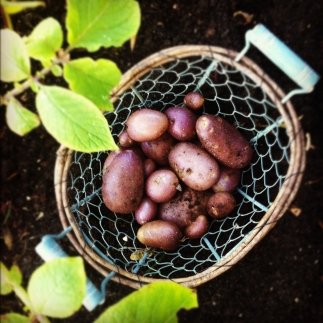 Let me state I am by no means an expert veggie gardener (certainly not the best in town). I am learning as I go (plenty of trial and error!) I can't speak for all Perth gardeners because I know every season that some will have success with particular veggies while others won't. But in our patch, it has just been too damn hot for some things to grow properly. As soon as it became hot, our broccoli turned to little yellow flowers, and when the temperature hit 43 degrees our beautiful Cos lettuce let out a high-pitched scream and keeled over into a disturbing brown sludge.
But that said, some things have done really nicely in the hot weather. So today I'm going to share some really easy veggies, fruit and herbs to grow during summer (easy cool weather ones can be found here!)
EGGPLANT
I'd only cooked eggplant once before I tried growing it – now that I have, I crave it constantly (
this moussaka recipe
is amazing and it's so nice on homemade pizza). Eggplant satisfies my savoury cravings and it has tons of vitamins and minerals so I feel less guilty about eating vast quantities of salty food. I like the miniature eggplant variety because you can get a fruit from the tiniest little plant! They're hardy, love the scorching sun and grow so quickly – I planted some seedlings and in just two to three weeks some of them had fruit. And when you eat small food you can pretend you are a giant.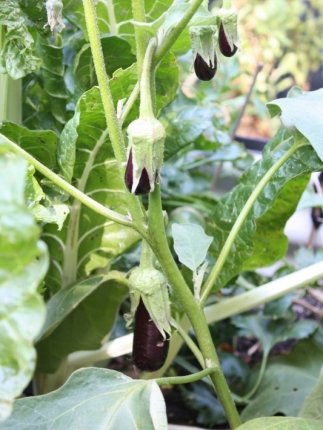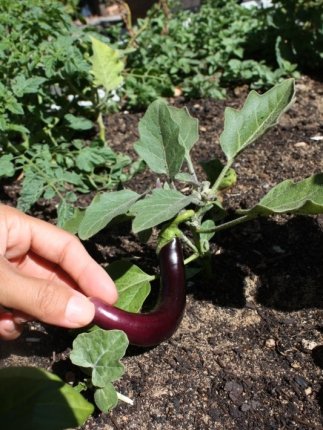 BASIL
The smell of basil always reminds me of long, summer evening barbecues and Little Creatures woodfired pizza. Basil thrives in summer. Sweet basil is my favourite kind and I think the nicest on homemade pizzas and for pesto. Next time you buy a bunch of basil from the shops, snip off the top bits and put them in water on your windowsill. They will sprout roots in a few days and become new little plants you can grow - cool huh? Most basil varieties don't like frosty weather so they will only live in summer, but we also have this perennial basil below, which grows throughout the year.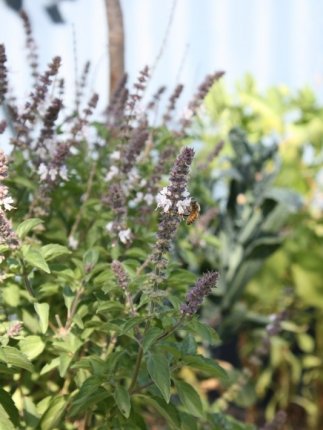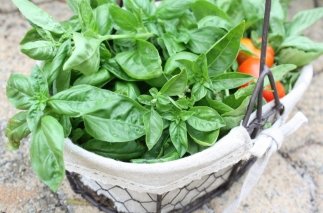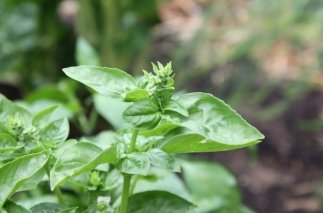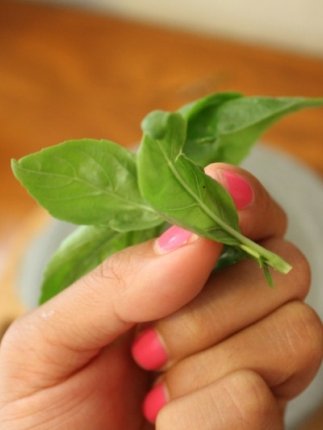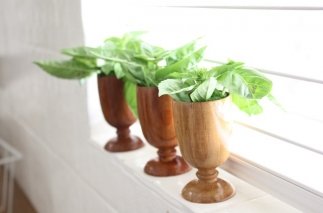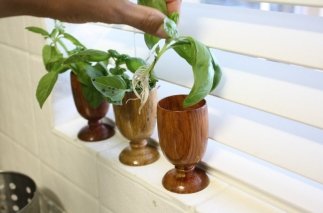 PUMPKIN
One of my favourite things about having a vegetable patch is coming across veggies or herbs that have unexpectedly sprouted somewhere like potatoes that have come up from potato peel scraps. I put all of our household scraps into a compost bin and when I planted eggplant I put compost around them. Some of it hadn't rotted down completely, and within two days some little sprouts appeared. I left them alone out of curiosity and within two weeks this is what we had:
They are pumpkin plants that had grown from seeds I'd tossed into the scraps bin. They haven't fruited yet, but they are thriving so far. So if you want to grow something really easy, pumpkins could be worth trying!
KALE
Kale was in my last easy veggie list (you can read about why
here
) and it has also made my summer list! It's super-healthy, really delicious added into dishes like this
Greedy Italians pork and barley risotto
and once it's a bit established it can take abuse like 43 degree heat and absent-minded 20-something people forgetting to water it. It doesn't grow as quickly in the summer as the winter but it still grows okay!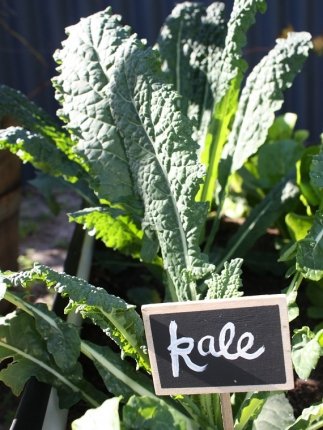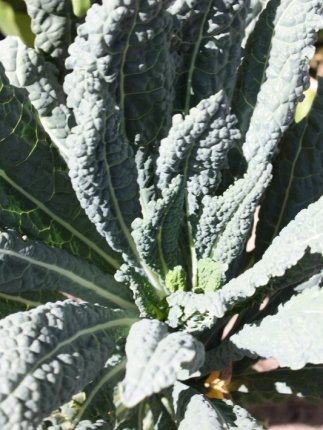 GRAPES
Okay, grapes won't grow anywhere near as quickly as pumpkin or eggplant. We were lucky with grapes as the old guy who owned our house before us had put in two grape vines along a fence. Earlier in the year I stretched the grapevines out, adding new posts and wires to grow it further along the fence. It was a pain to do but we have been rewarded with more grapes than ever this summer. My mum goes berserk when she comes over picking them.
Grapes are not a quick-growing kind of produce - vines take at least three years to fruit but the good news is that they are tough and don't need much love. So if you want to make your mum happy and you are patient enough to start a grapevine, why don't you try it? According to ehow.com, one vine can give fruit for 100 years, in case you plan to live that long.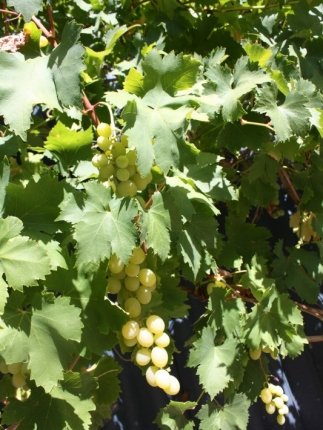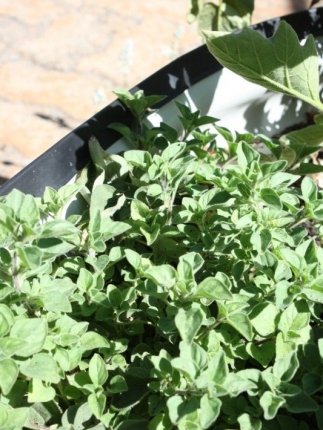 ROSEMARY, OREGANO AND THYME
Tough herbs that will thrive through summer (and sooo nice on chicken and lamb on the barbie).
TOMATOES

One of the best summer veggies, tomatoes are so easy to grow. I prefer the cherry varieties, because I often find that bugs get to the big tomatoes before I do and I don't spray them.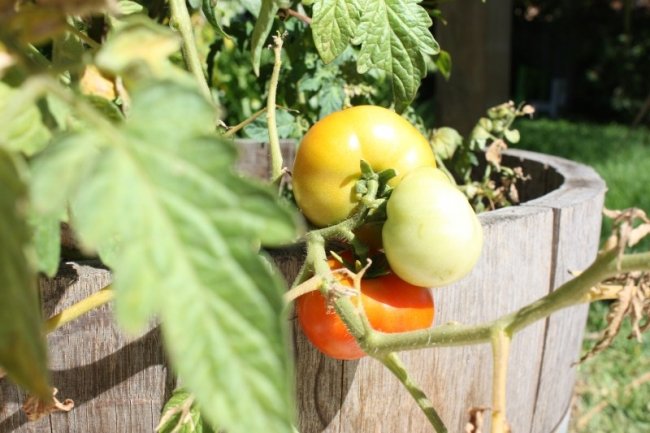 POTATOES
Yesterday was one of those nice, calm Perth summer evenings that smells like frangipanis and screams HAVE A BARBECUE. I pulled up fresh potatoes and onions from the garden and Mr Nerd cooked them on the barbecue with chilli cheese sausages from the butcher in Limes in Myaree (these are maybe the best sausages in the world). And the veggies were delicious.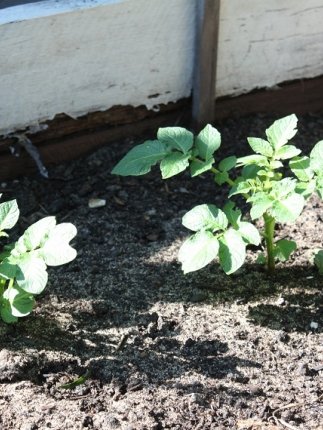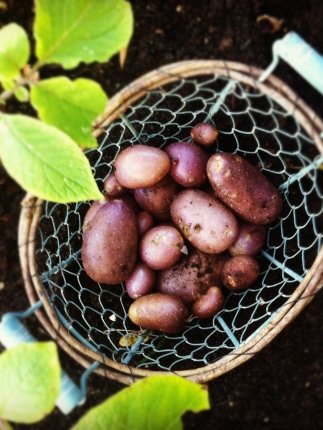 Experts will advise only planting certified seed potatoes (available from Bunnings and other nurseries) that are grown on supervised farms to ensure freedom from disease, and not potatoes from your local greengrocer. But I have to I admit I did the naughty thing and just planted some regular potatoes that had sprouted in our pantry because we hadn't eaten them soon enough.

We were lucky - they grew fine and firm and tasted delicious, although some of the potatoes were tiny! Next time I plant potatoes I will do it with seed potatoes to see how much difference it makes. Potatoes need rich soil and love blood and bone, and are generally meant to be best planted in winter, but I have been planting the odd potato through the hotter months (in fairly well-shaded areas) and they have grown well.

RHUBARB
Rhubarb has taken a long time to grow and get established in our garden but now that it has, it has taken over, become huge and looks like some kind of prehistoric plant. Ours grows best in an area that gets half-shade, half-sun and although it's meant to do better in cool weather, ours has been really happy in summer, strangely enough. You can grow rhubarb in a large pot and a plant can last you for years.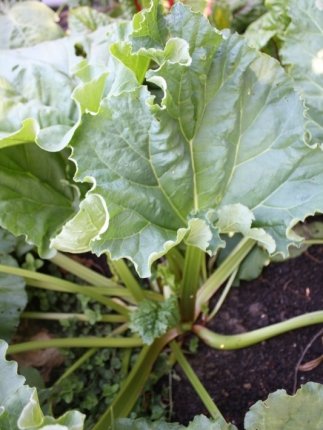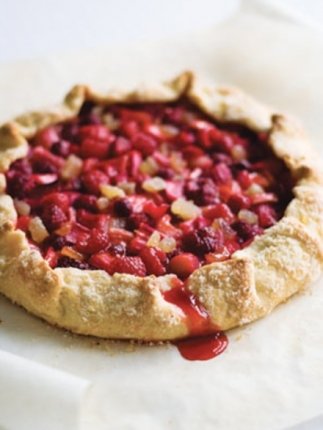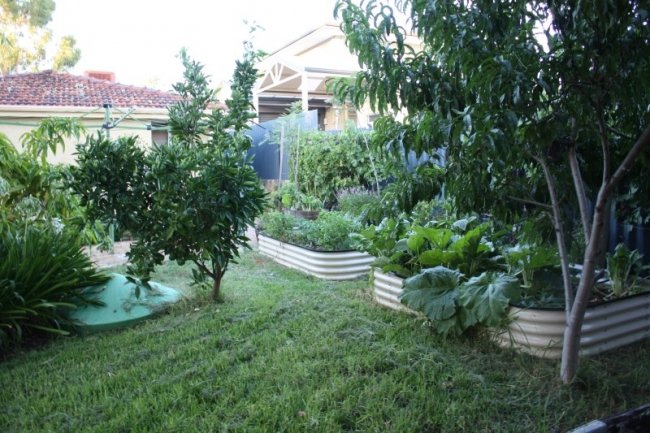 If you grow veggies, I'd love to hear what has worked well for you this past year! I am always on the lookout for tips. Maya