Posted Wednesday, December 4, 2013 in:
Obsessed With
It was October 31st that I went to Fremantle Arts Centre to have a coffee with my fellow blogger friend Amanda. She had told me I had to visit and that I would absolutely love the gift shop, FOUND at Fremantle Arts Centre. I remember the date because we found it funny that on Halloween we were visiting a place reputed to be one of the most haunted buildings in WA!
I hadn't been to the Fremantle Arts Centre since I was a teenager, and had only a vague memory of what it was like inside. I was wowed by my visit. I even felt kind of stupid that I hadn't 'discovered' how awesome it was before, despite having lived near Fremantle most of my life! Adding this spot to my list of fave Perth coffee spots.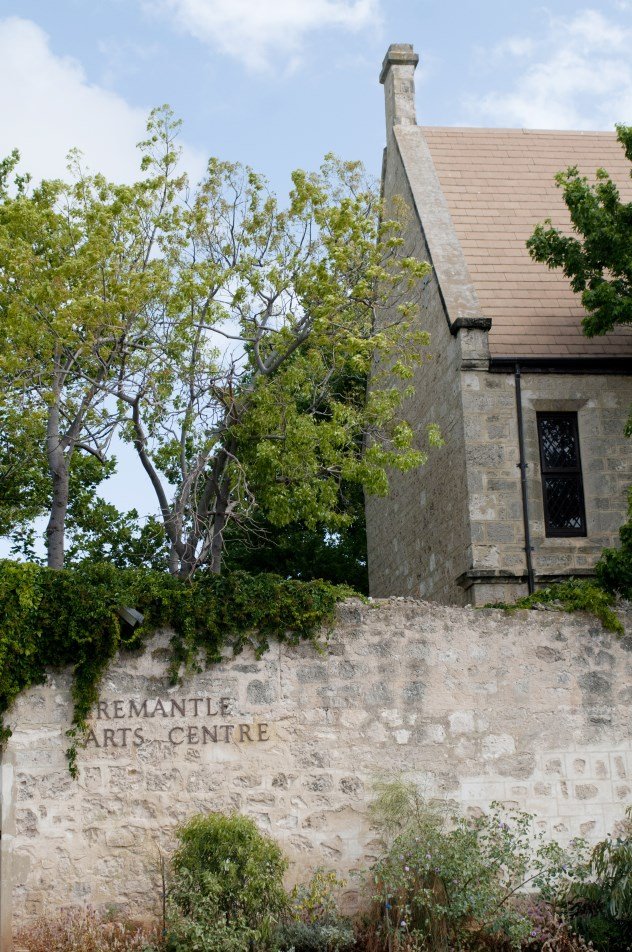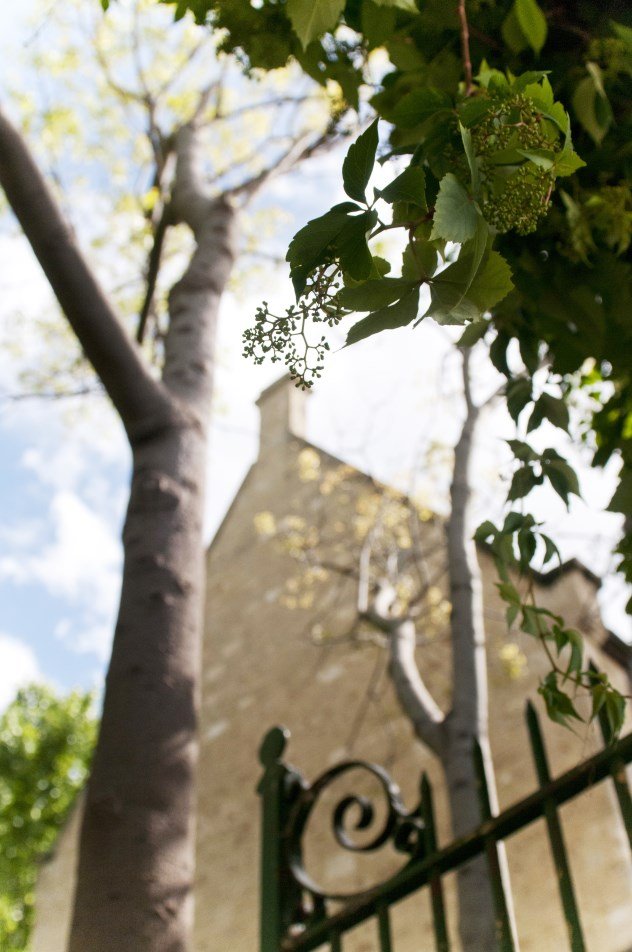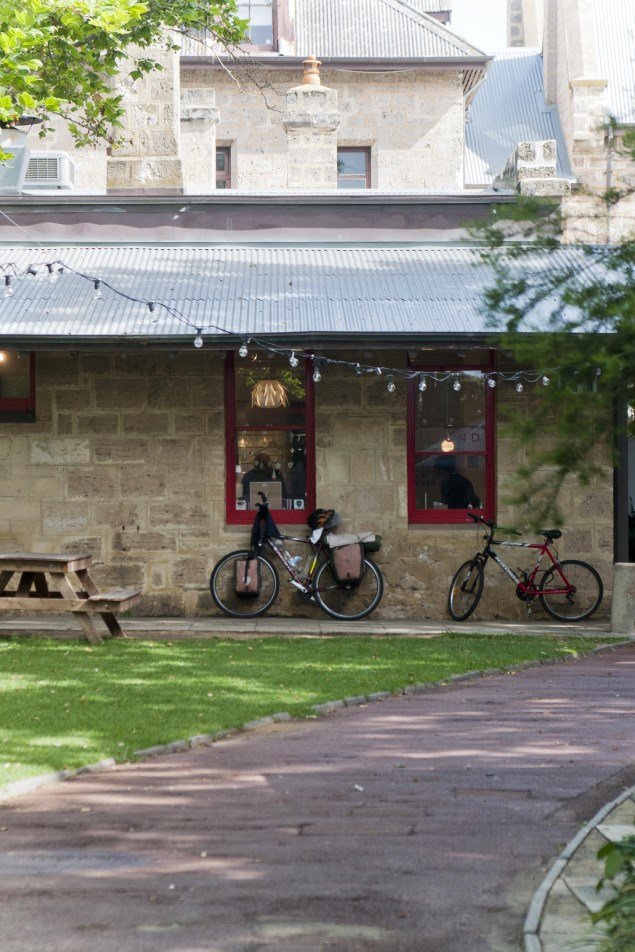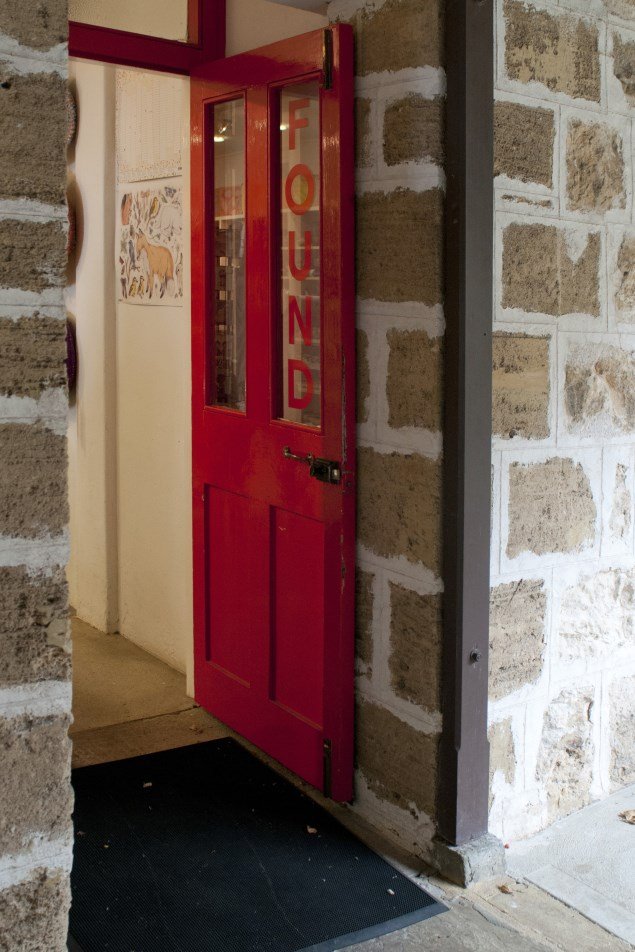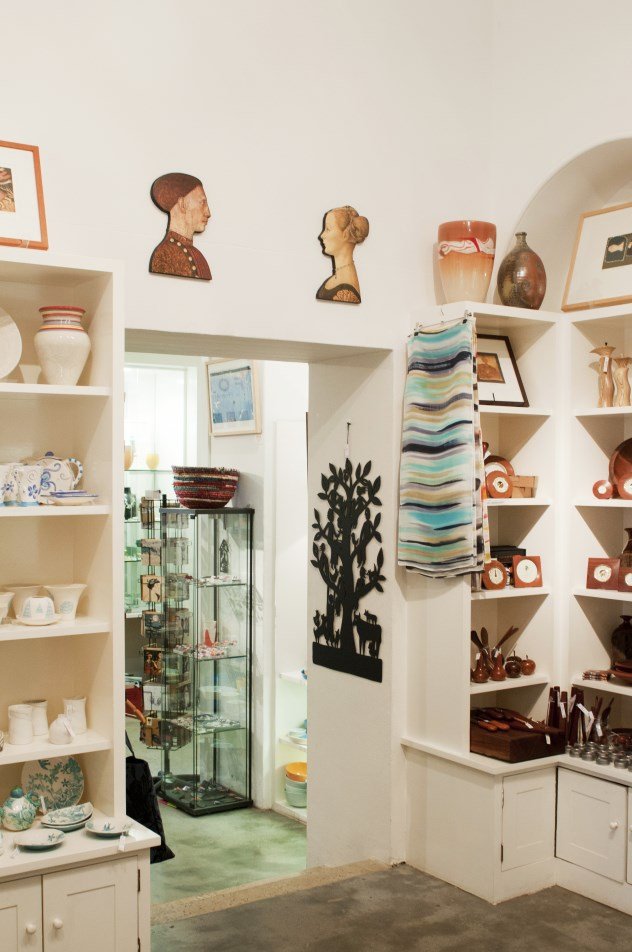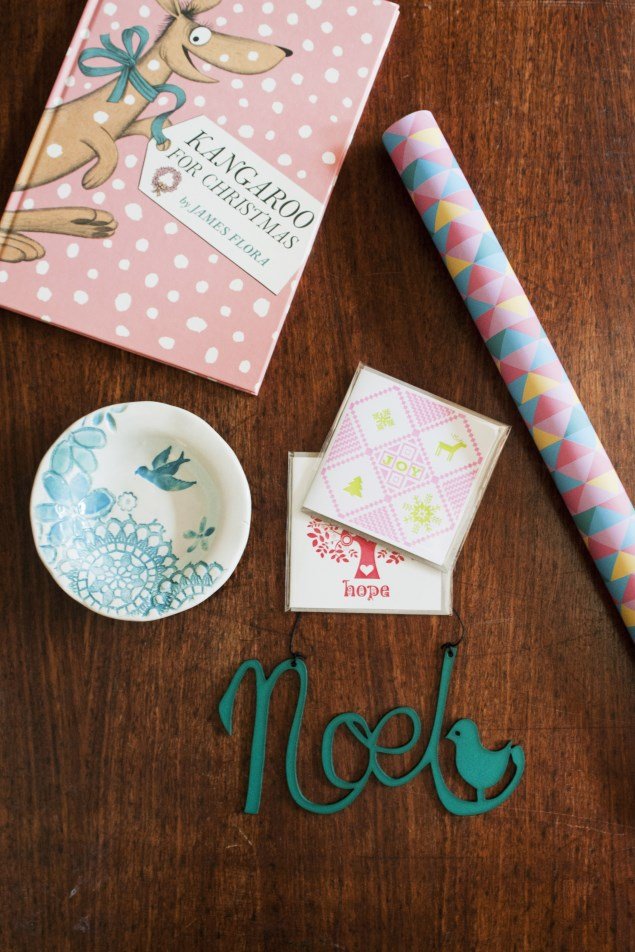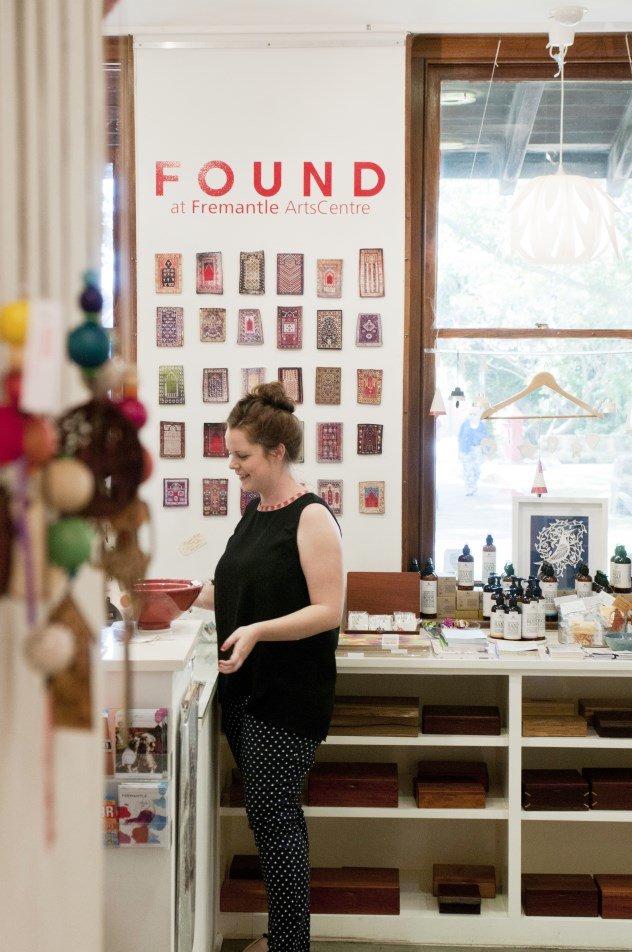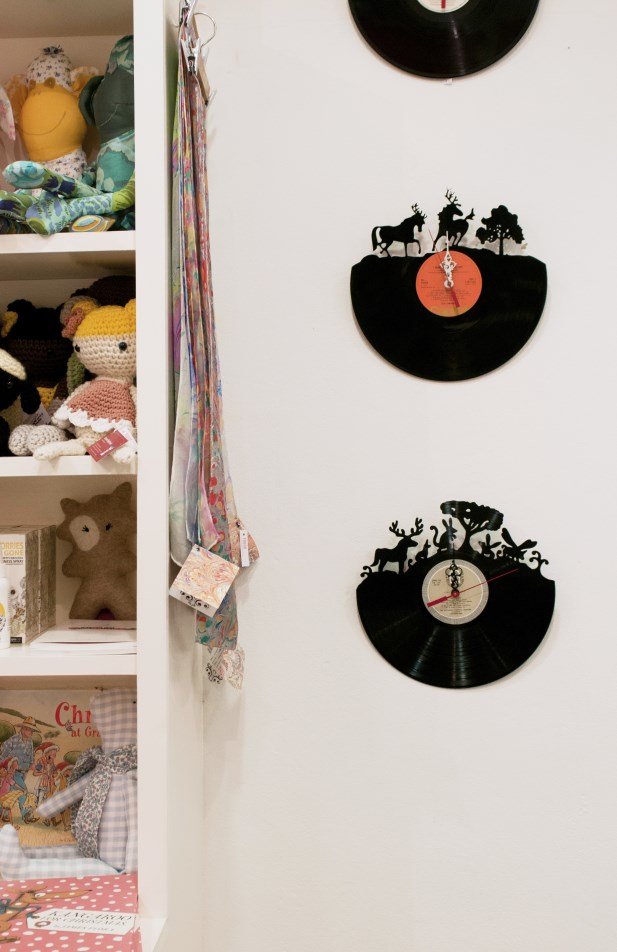 I put a little post on my Instagram and found out that a bunch of you guys already loved FAC (and some were regular visitors!) But lots of you were like me – you hadn't been here since you were a kid or you had never been at all. So please add this spot to your must-check-out list.
Fremantle Arts Centre is just beautiful. Despite the hustle and bustle of the streets and shops and trucks roaring into Freo just a few hundred metres away, as soon as you walk under the ivy-clad arch into the gardens with their old stone walls surrounding lawns shaded by towering plane trees, everything becomes quiet and cool and Enid Blyton-esque enchanting. It is gorgeous! If you were stressed or feeling tightly wound, it would be impossible to come here and not feel yourself unwind, at least just a little.
A DARK HISTORY
But there is a certain irony to a place that feels so lovely. While it is such a beautiful, happy place now, the Fremantle Arts Centre has a dark and unhappy history. It was originally built in 1864 as a lunatic asylum, and constructed by convict labor on six acres of land, opening its doors as a lunatic asylum and invalid depot.
In time, it become something of a dumping ground for inmates (as the patients were called back then) with all sorts of social problems, including prostitution, alcoholism, STDs, conditions of old age, delirium and ill health.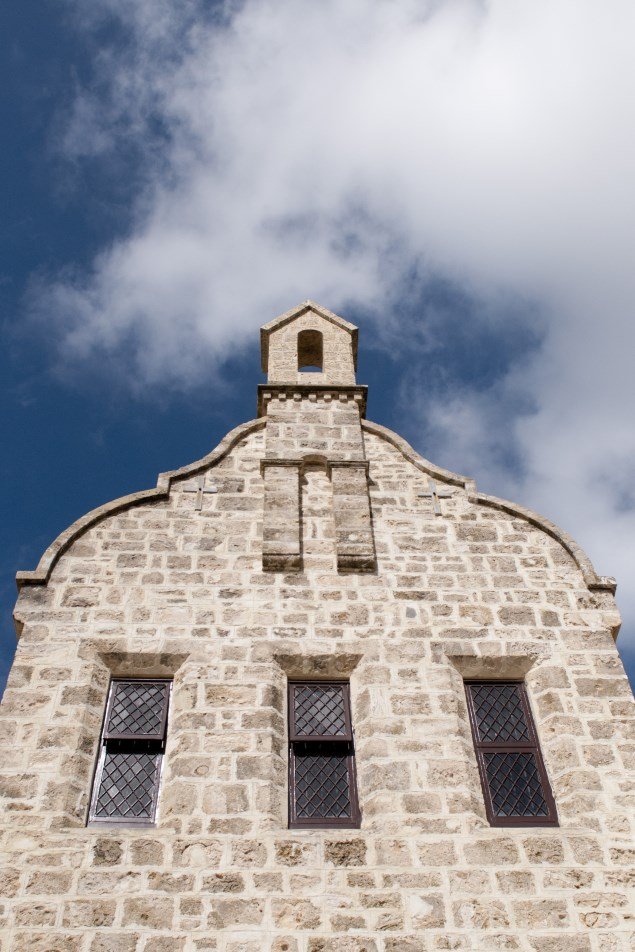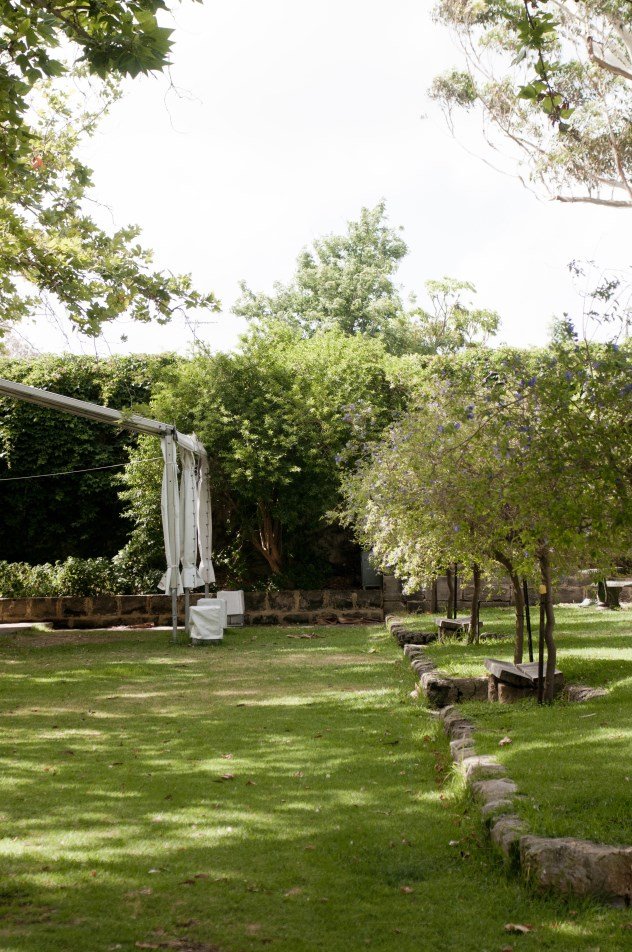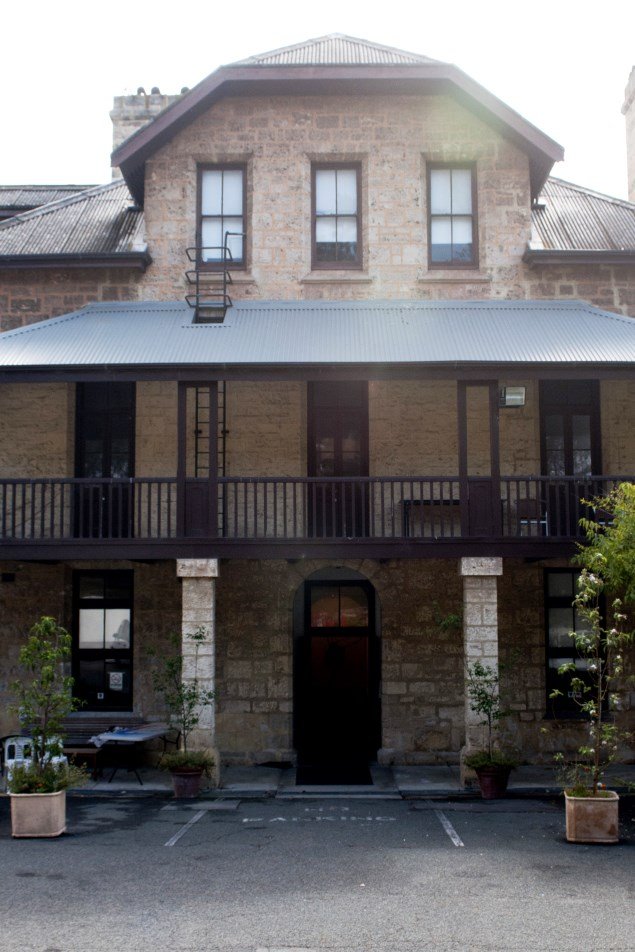 MURDER AT THE ASYLUM
In 1900 a lady called Catherine Clifford was admitted. She had gotten lost in the bush and was found, but in a state of shock and mentally disturbed. When she was brutally murdered in her room, the asylum went under inquiry and it was found it was terribly overcrowded, at the time housing 219 patients, with some rooms holding 20 patients when they should have held just one.
A newspaper article from October 1900 spilled the details of Mrs Clifford's death and appealed to the public that the asylum be changed, terming the institution "a frightful evil":
"A darker, dirtier, more horrible hole than Fremantle Lunatic Asylum is impossible to conceive. The wards are dark, gloomy and ill-ventilated. There are actually punishment cells – little, dark cubicles which the light of heaven never reaches and where the unfortunate maniac raves in lonely misery the livelong night and keeps the whole place awake with his bitter cries. According to a well-known clergyman, who often visits the place, the rooms are frowsy, dusty, and reek with the smell of urine. And it is in this horrible Bastille, this hell upon earth, that the insane poor are confined. We have exposed this disgraceful institution often enough before, but with no effect. Will all be deaf to the voice of humanity and none come to the help of the helpless? Have the people of this colony hearts of stone that they should tolerate such a frightful evil in their midst?"
- The Sunday Times, dated 7th October, 1900

As a result of Mrs Clifford's death and another suspicious death at the asylum, an official inquiry finally resulted in the appointment of a medical superintendent and a trained mental health nurse. In 1909, the asylum was declared a "poor house", and became a women's shelter. Dark stories abound of adolescents with venereal diseases kept under lock and key on the upper floor in the 1930s.
The asylum later became used as WA's first maternity training school while still being home to poor and elderly women, but it was such a hole that several women's groups campaigned to close it. Their actions finally resulted in its close in 1941 – yet it took nine years for all its 'inmates' to be relocated.
The asylum was also as a naval base during WWI and WWII, became Fremantle Technical School and was almost demolished in 1958 but was saved by a forward-thinking Mayor of Fremantle who envisioned it as an Arts Centre and Mariners' Museum.
It opened as Fremantle Arts Centre in 1973. And now this former lunatic asylum has a gift shop. And a café and a book store. And it is an absolutely gorgeous art gallery space and a wonderful spot to have a relaxing morning. When we visited, children were having their faces painted in the courtyard and running on the lawns. It's a little bit crazy when you think that once it was home to tortured souls. (I know, I know, but I am a writer and I like to be dramatic).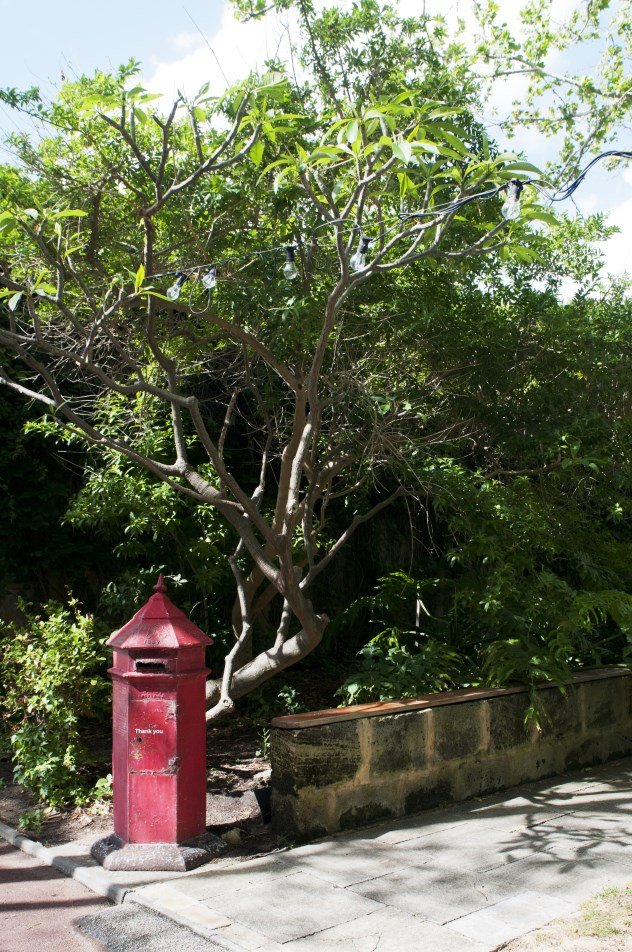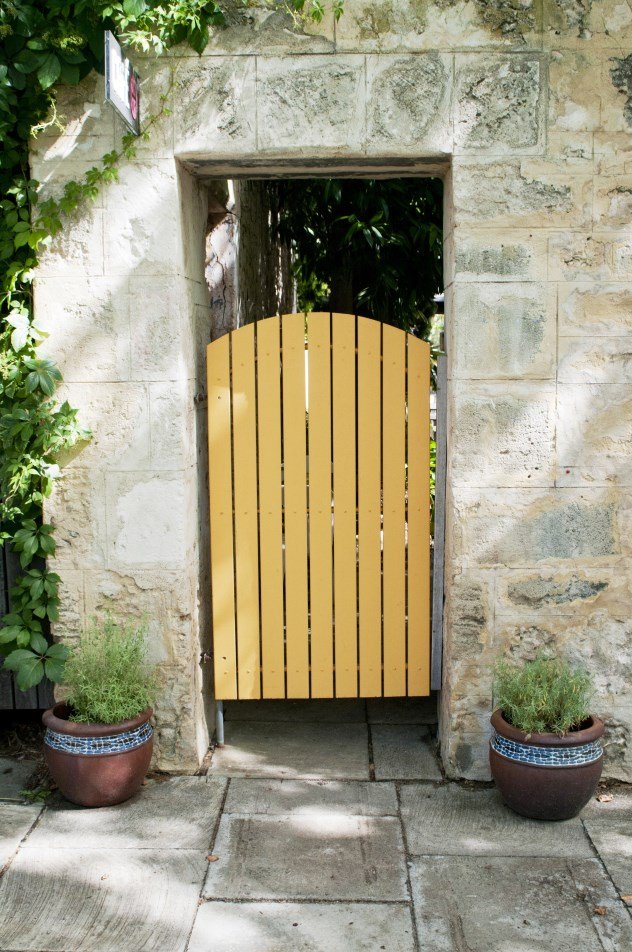 FOUND – THE MOST BEAUTIFUL GIFT STORE
After I 'discovered' Fremantle Arts Centre, my friend Meghan Plowman and I visited to do this feature on FOUND – its beautiful and very unique gift store.
This shop is awesome. If you want to shop locally for Christmas this year and support Australian artists and makers, this is the place to do it. FOUND stocks WA's biggest range of unique gifts, wares, books and textiles made by local artists and makers.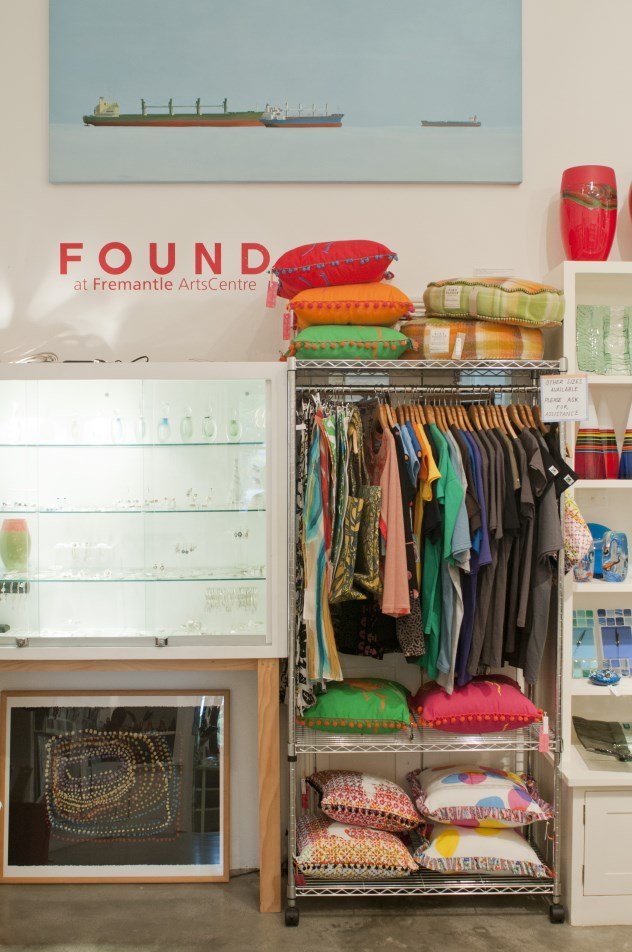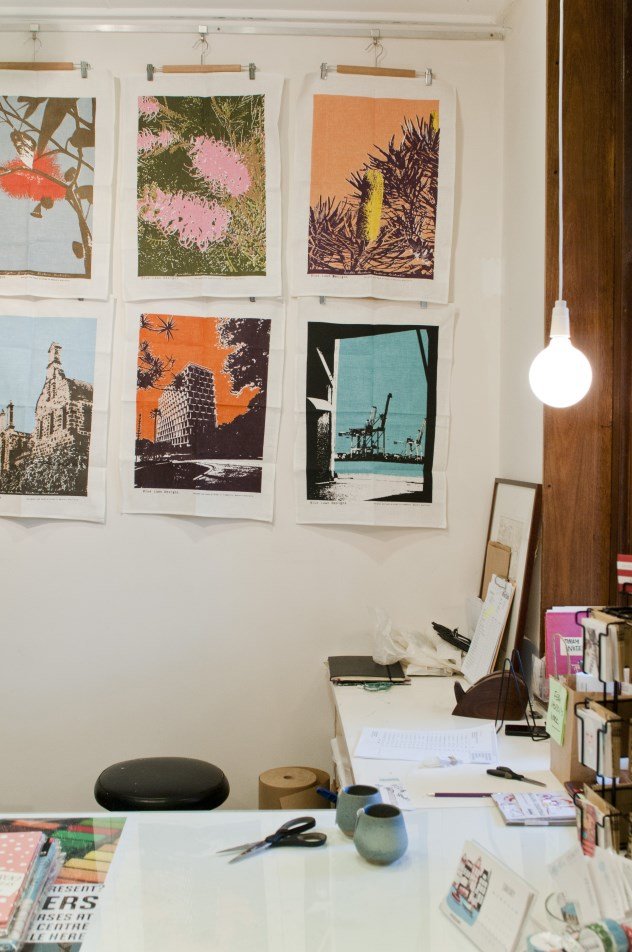 The store has been open for close to 30 years (under its old name The Craft Shop until it was later re-named FOUND) and was always well-loved, selling wares from around Australia. However it was when Gabbe Howlett took over as manager two years ago that its wares drastically changed. "I decided to take it back to WA," says Gabbe. "I believed it could be done and no-one really believed we could do it. But now 95 percent of things in the shop are designed and made by WA people. It's fantastic. There are so many incredible things being made in WA… there are so many clever people here!"
Now the gift store attracts a customer base as besotted with the place as I am. "Our customer base is 50 percent local, 50 percent tourist – and from that 50 percent, half are from over east, 40 percent from the UK, and 10 percent from the rest of the world," says Gabbe.
Here you will find no cheesy clip-on koala bears or snow globes with the Bell Tower (I'm sure they are out there) but beautiful handmade treasures you keep for life. It's the kind of store you visit fully intending to buy that gift for a friend or your mum and leave happily clutching something for yourself too. (Well I did).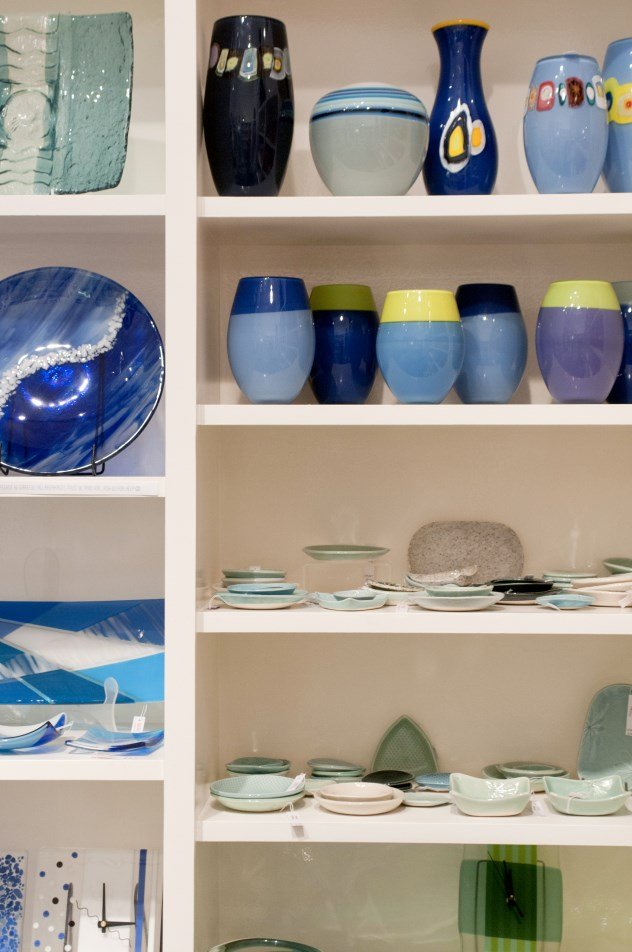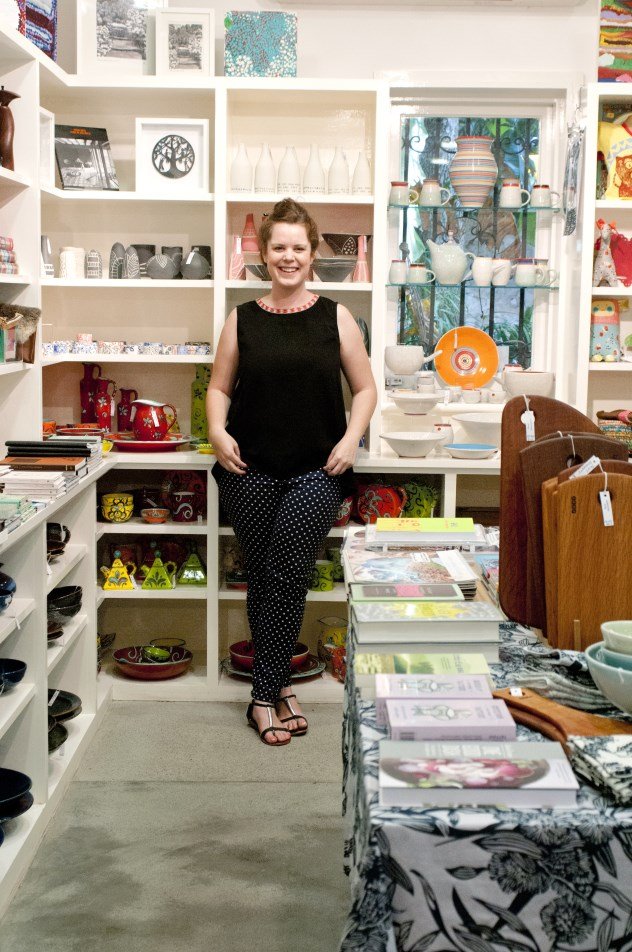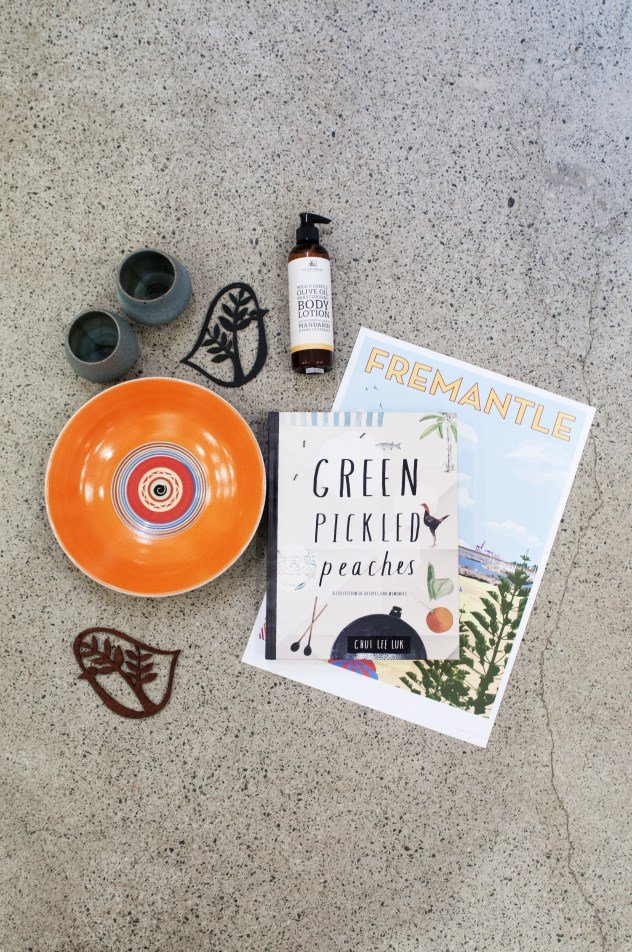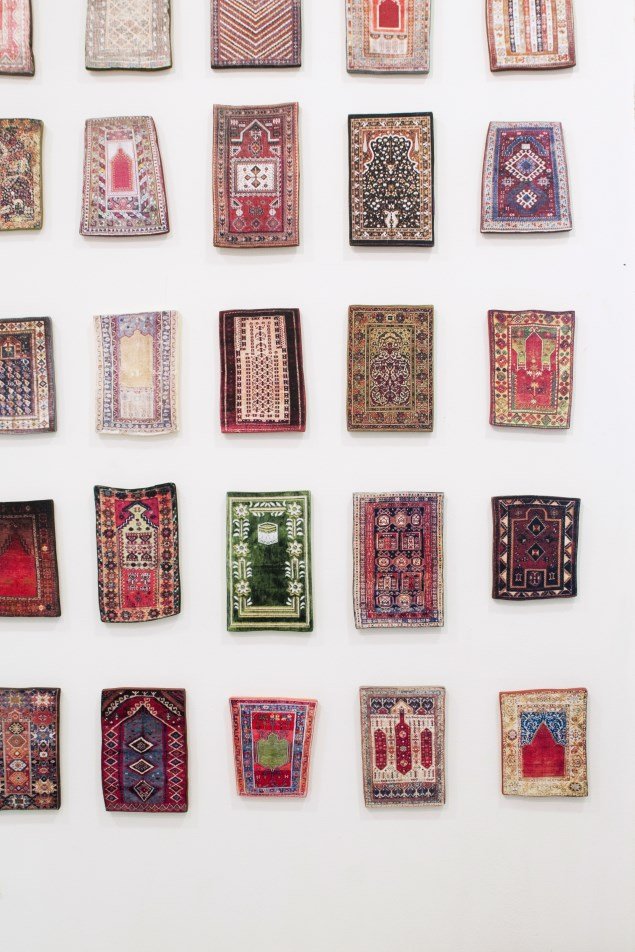 FREMANTLE ARTS CENTRE - BAZAAR
A perfect time to check out the shop would be this weekend - this Friday to Sunday is the Fremantle Arts Centre Bazaar, their annual Christmas Market. The event showcases artists and makers who create locally designed and made ceramics, woodwork, prints and artworks, jewellery, textiles, stationery, fashion, cards, sculptures, children's toys, books, leather ware, beauty products and more.
"We have 50 sellers this year, there'll be woodfired pizza, a licensed bar, a DJ, bouncy castle… it's really fun," says Gabbe. "We have these groups of women that car pool and drive all the way up from Albany and Busselton. You see them walk up here with their big bags and they're like, "ROIGHT. See you in three hours."
I'm definitely going to go check it out myself, oversized mama-style bag in hand. The Bazaar is open Friday from 5pm to 10pm, Saturday and Sunday from 9am to 5pm. $2 entry, children under 12 free. There's more information on their website and Facebook page. Make sure you try to pop in!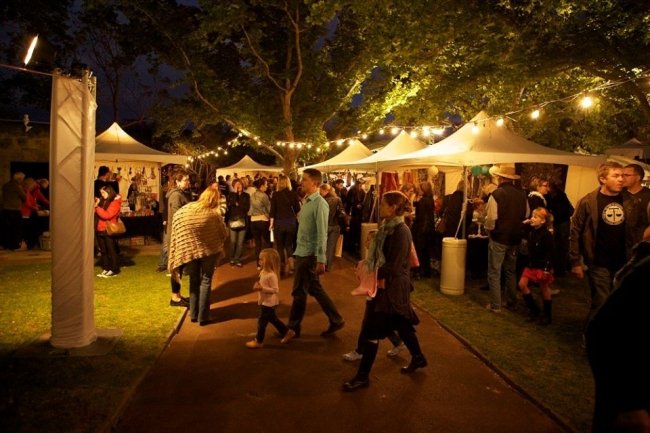 Check out House Nerd tomorrow for another story on the Fremantle Arts Centre - this one on its alleged hauntings... *makes crap ghost noise* Tell me if you have ever had a creepy experience there. Or do you ignore the ghosts and just go to the Fremantle Arts Centre for coffee or to browse the gift store or art galleries? Or are like you me - had you driven past hundreds of times and yet never visited?
THE STORE
FOUND at Fremantle Arts Centre
THE VENUE
An 1890s rambling stone building that was originally built as a lunatic asylum - history nerds will love learning about this plae!
THE WARES
FOUND stocks WA's largest range of gifts and wares made by local artists and creators, with wares encompassing ceramics, prints, artworks, jewellery, books, textiles, paper products and more
THE NERD VERD
Locals and tourists will love this beautiful gift shop. There are no clip-on koala bears here – this is a beautiful gift store with special handmade pieces from talented WA artists and makers. Come for a coffee in the café courtyard garden while the kids play in the garden, stroll around the art gallery and finish up with a browse in the gift shop.
CONTACT
FOUND at Fremantle Arts Centre is at 1 Finnerty Street, Fremantle . Visit www.fac.org.au or call 9432 9569. FOUND is open seven days a week from 10am to 5pm. Follow Fremantle Arts Centre on Facebook or Instagram.
STYLING AND PHOTOGRAPHY
Meghan Plowman of The Orchard