Posted Friday, December 13, 2013 in:
Guest Nerd
With our home renovation projects ever in swing, a collection of furniture that still consists of hand-me-downs from our parents, and our 140-person wedding just a few months ago, buying art for our home is something Mr Nerd and I have always tended to put in the 'too expensive right now' basket.
Well getting gorgeous artwork for your home needn't cost a lot and there is no-one who believes this more than writer Krissy Bradfield of Pretty Paper Things. Krissy writes a beautiful blog that is a carefully curated edit of all her favourite paper products – beautiful books, stationary, artwork, cards, diaries, crafts, wedding inspiration, you name it. She has the eye for sourcing the most beautiful things out there. Scroll through her blog and there will be something you'll want, guaranteed!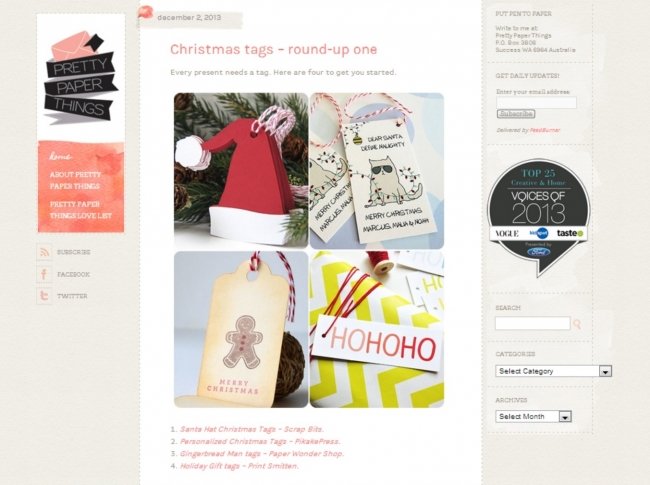 Her writing is so entertaining and easy to read – she was even voted one of Kidspot's Top 25 Voices of 2013 in the Creative + Home category! You can check it out here or keep up to date on all the latest that is beautiful and fresh in the paper world with her Facebook page or Twitter updates.
Today I am chuffed to introduce a new segment on my blog - Krissy is going to be the very first Guest Nerd on House Nerd! She will share her top ten picks for budget-friendly artworks all under $103. (Yes $103, you'll see why). Over to Krissy…



ART FOR ALL

"Think art is expensive and a little hoity-toity? Banish those thoughts! There are amazing artists out there who are creating works of genius for under $103 (I know, a very specific dollar amount, but bear with me). Say no to naked walls - invest in some inexpensive and awesome art.







1. Rise and Shine – The Wheatfield by Katie Daisy – $38.15

I find it really hard to pick just one favourite by Katie Daisy. Her work has been a real standout for me this year; it just makes me happy to look at. This print will brighten up any room.
2. Love Pays Well – Marion Deuchars – $102.84

I had to include this print by Marion Deuchars in the list because I am obsessed with it. Sure, it's about $102.84 Australian (today) but if the dollar performs better against the pound I am sure it will creep in under $100! If it doesn't, an extra $2.84 isn't going to break the bank, right?
3. Deep Sea – Inaluxe – $36

Inaluxe (which is the collective talents of Kristina Sostarko and Jason Odd) create prints that take inspiration from the Abstract Expressionists of the 1920s and onwards, including Mark Rothko (I see a lot of his influence in Inaluxe's work – though he shrugged off the Abstract Expressionist label and instead called himself an abstract painter).
Abstract art is obtuse. To find meaning in a piece (if, indeed, you want to find meaning) involves taking a step back, breaking the piece down and analysing it in conjunction with the environment in which it was created. When I look at Deep Sea I see summer. I see the teal of the shallows and the scorching sand and the deeper grey of the ocean that lies beyond the horizon. I also see lips painted in summer colours and the rough silhouettes of a dinghy or kayak. It takes me back to summer down by the river and it does that with simple shapes and colours. But I'm an abstract nut, so what I see might not be what you see - isn't art awesome! (P.S. by the way art nerds, we are having a little Inaluxe giveaway on the blog next week! Maya)
4. The Charted Cheese Wheel – Pop Chart Lab – $30.52
Pop Chart Lab design incredible infographic style posters. My mind boggles thinking about the hours it must take to collate the information, let alone present it in such a sexy way (I never use the word "sexy" but in this case it's apt). I mean, c'mon – you don't even have to like cheese (who doesn't like cheese?) to appreciate this stunner!
5. If You're Waiting for a Sign – Mr Yen – $87.90
Jonathan, a.k.a. Mr Yen, has mad paper-cutting skills. He also has patience and bucketloads of raw talent that he pours into his work. I love this piece because it's so delicate, yet the inspiration that it provides packs a punch. If you're waiting for a sign, this is it – paper cut style.



6. Fall in Love – First Snow – $50.14

I can't say enough about the amazing work of Darah from the First Snow. She is an incredible artist who exhibits flawless typography mixed with the sweetest floral illustrations. Florals and hand lettering are big this season – and Darah is one of the best.
7. Erin Tyner – Sometimes (from the series Half Awake) – $54.50

Erin Tyner creates outstanding dioramas and then photographs them; this is my favourite. I love how Erin describes her work: "I construct the scenes by pairing figures and contexts to develop characters engaged in an unfolding narrative." That tornado looks like a pretty ominous unfolding narrative. I'd hate to be that businessman.
8. Be Happy – Zoe With Love – $21.80

I always say that you can't go wrong with Scrabble tiles on an orange damask background. Well, I've never actually said that before, but I should, because it looks so darn pretty.
9. You Have My Heart – Brittany Garner Design - $21.86

Every home should have a place for a gold foil heart. End of story.
10. Perth (Stormy grey) – Burbia – $45

Burbia create interesting typographic screenprints that feature local suburbs. They're a little unusual and very eye-catching.
Thank you to our first Guest Nerd Krissy for sharing your favourite finds! If I could choose just one for our house? I like them all, but at the moment I am gravitating most towards If You're Waiting for a Sign by Mr Yen! Which one would you choose for your house? How do you decorate your walls on a budget? I love buying prints, and used to draw and paint a bit myself. I also have a couple of pieces done by friends from our Applecross art school days. They always bring back teenage memories of Saturday art lessons and eating hot chips with tomato sauce.

Think you could be a Guest Nerd? Love to hear your ideas, email me. Maya x