Posted Sunday, July 16, 2017 in:
DIY
Obsessed With
Our House
Nerd Life
What advice would you give your younger self if you could go back in time?
This is what I would tell my 24-year-old self. First don't idly wax your eyebrows while reading a magazine. Focus, you silly twit. You will wax half your right eyebrow clean off, leaving you with an intriguing, puzzled expression for the next six weeks. You'll then ugly-cry and cut yourself a fresh new side fringe in a blind panic exactly two minutes later to hide your half-brow (despite having no prior hairdressing experience, and this will be evident). Horrible times. Thank you, Alison Jade, you gorgeous girl and my savior. I've never been game enough to wax my own brows since.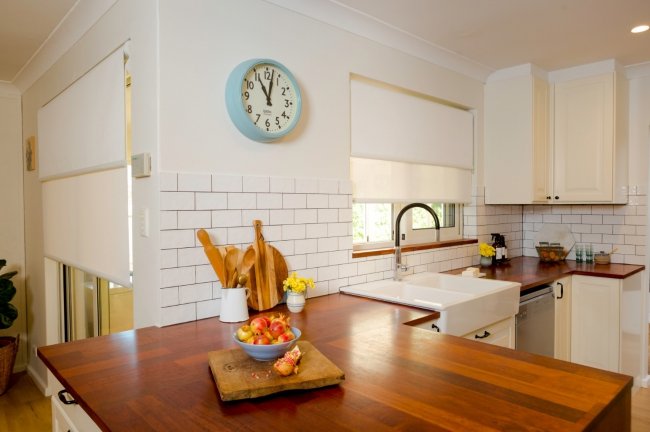 Secondly, think VERY carefully about what you do decorating-wise to your own house, because mistakes mean money. And one of the mistakes you will make, at the tender, eyebrowless age of 24, will be wasting your money on lots of really crap window treatments, before you finally find decent ones. We only just this year FINALLY got nice dual roller blinds on our house's 'problem windows' (kitchen window and dining room sliding door, which you can see above. But more on them a little later in the story).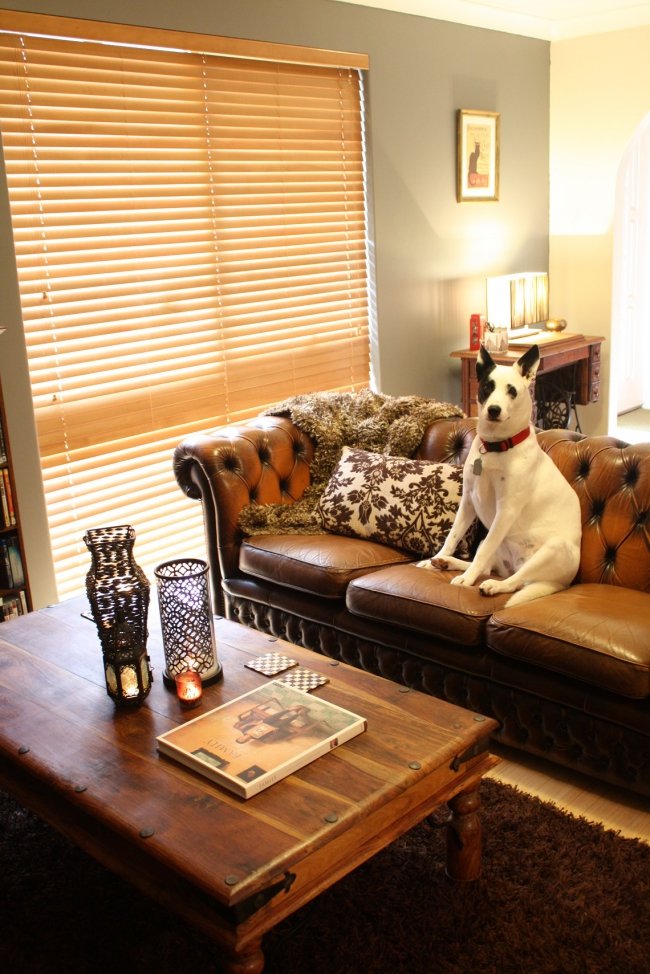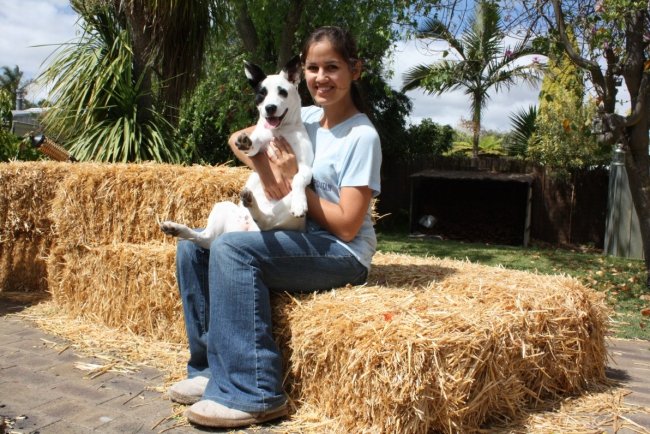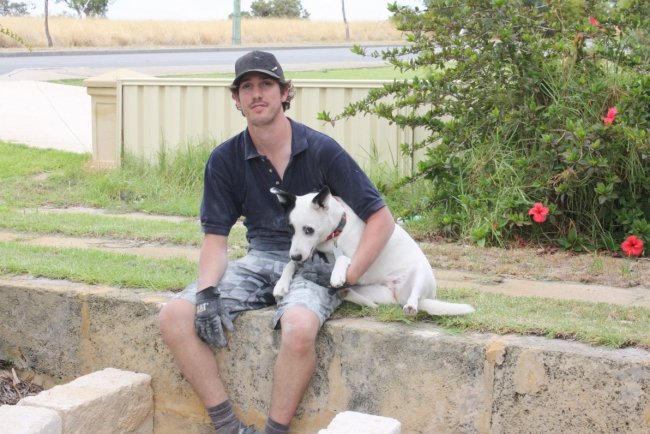 When we got the keys to the Crap Shack, the 1970s blinds and ruffled curtains were so old and dusty they gave Mr Nerd asthma, so I promptly ripped them all off and binned them. I had a tiny freelance writer budget and very high interiors ideals from a job visiting the most beautiful houses in the city, and I daydreamed about doing those chunky, white-painted, Plantation timber shutters. Turned out 24-year-old freelance writer Maya couldn't afford them (I know, I was shocked too).
In lieu of a Hamptons look, I pasted newspapers on the windows for the time being and bought cheapie window treatments online, a mix of cedar-look and white blinds. Cedar/timber blinds were very popular back in 2009 and at the time I was like, "IT IS WHAT WE MUST DO." I didn't even consider anything else (third mistake).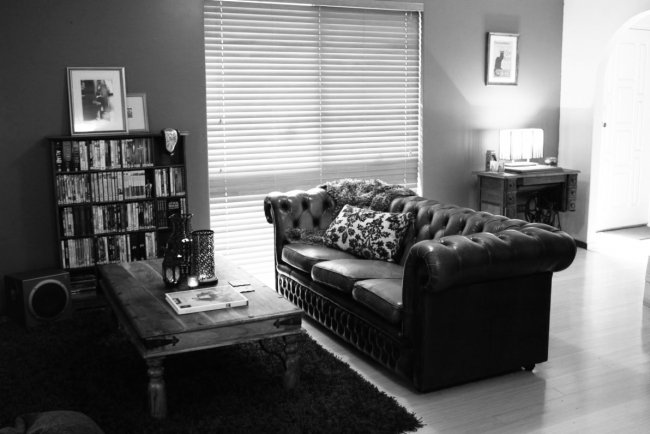 Cheapies those blinds were. They looked ok, but they were so ridiculously heavy that every time you cranked them up you ran the risk of the whole thing popping out of the wall and falling on your head or your dog. Sometimes, those blinds just popped out of the wall on their own accord and crashed to the floor for funsies, scaring the shit out of me as I sat at my desk writing. They were haunted blinds. We never even opened the second door to the garden from the lounge room, because we were too afraid to put the blinds up, so we just didn't touch them. We let them cover the door. We never even went outside. (Ok that's a lie, we just used the other door).
The blinds also weren't the right choice for the house visually, and made it look and feel darker and heavier. I quickly hated those blinds!
Embarrassingly, when it came to some of our windows, I have now replaced the window treatments THREE times over. Arrrrgh. Now, older and wiser, with better eyebrows, I realise it would have been much better to invest in decent, attractive window treatments right from the start - yes, even if that meant living with the newspapers and aluminum foil on the windows that made my house look like a meth den for just a little bit longer.
And I would tell other home buyers, builders or renovators that window treatments are one thing worth researching to get just the right thing, asking the experts for advice if you can, AND putting the money into to choose the right thing, right from the start.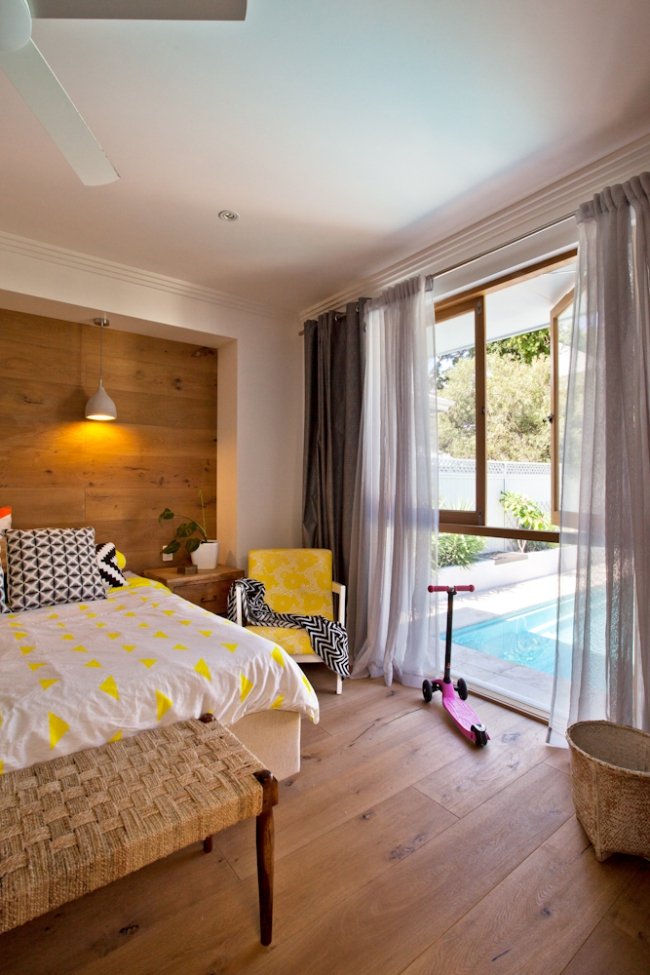 So when ABC Blinds contacted me recently to see if I'd like to work on a story with them, I was very enthusiastic. I knew they were a reputable company and I'd heard numerous glowing compliments about them over the years from my work with The West.
We decided to do a review on one of their products and also a story giving their expert's advice to commonly asked questions and problems people have in regards to choosing window treatments, because if I can help just one House Nerd from making the same dumb mistakes I did, awesome! I had loads of questions to ask them. I also asked my Instagram house nerds if they had any questions or dilemmas choosing window treatments that they'd like the ABC Blinds team to solve. So many of you had questions – so I'm definitely not alone in my struggle to choose the right curtains, blinds or shutters!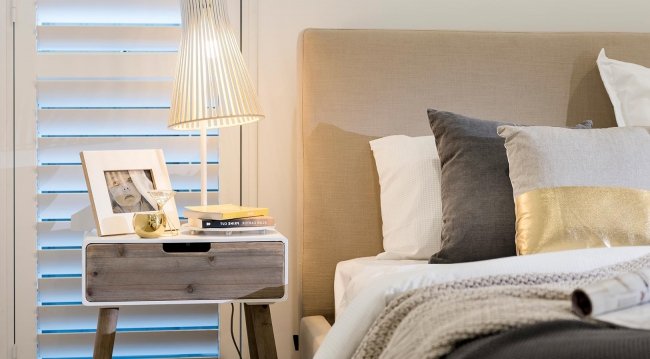 Below you can find all our questions, expert advice from ABC Blinds showroom manager Ann Wilson (and some of my own input). The ABC Blinds team also asked if I had any problem windows in our house and if I'd like to review one of their products for that window –I definitely did and you can check out my review below.
Thanks to Ann Wilson and the ABC Blinds team for their generous advice below.
HN: How important is consistency in window treatments in a home? ie: if you do blinds in living area is it best to do them through the whole house – or is it fine to have different kinds of window treatments throughout? What do you recommend?
"We recommend to have the front windows of the home the same," says Ann. "Having different types of blinds in the rest of the home is fine but it's nice to have similar colours so it flows as you walk around the home."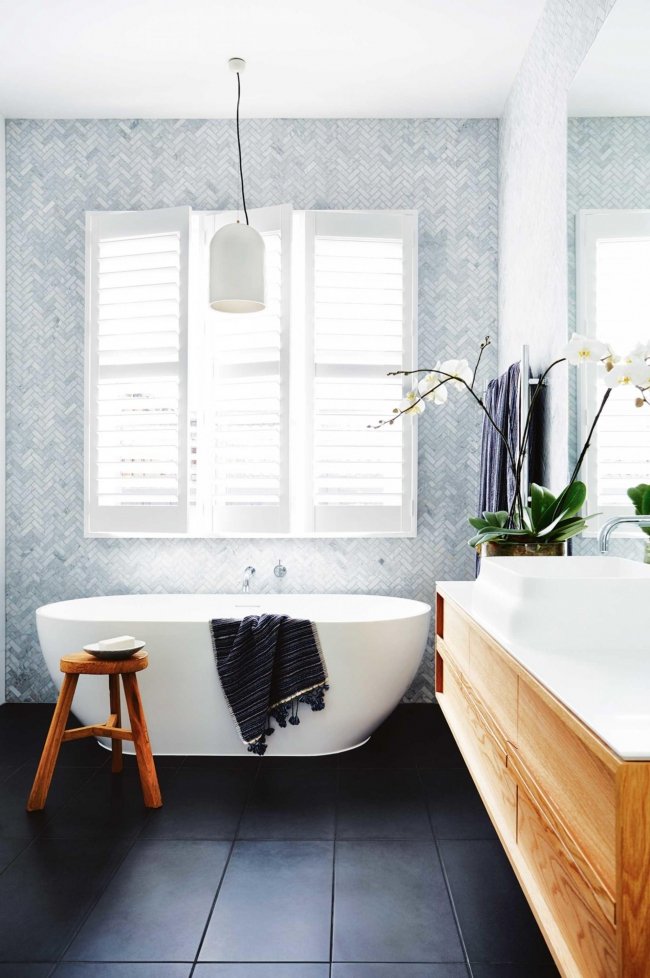 HN: What are some features of window treatments we are seeing now that weren't commonplace ten years ago?
Safety is now more important than ever, says Ann. "All window treatments have to be child-safe as far as cords and chains are concerned," she says. "With Vertical Blinds, no bottom chains or wand control." Ann tells me that timber and aluminum venetian blinds (like the ones I was so set on getting in 2009) are losing popularity. "Timber and aluminium venetians are on the way out – customers are wanting a softer, more maintenance-free blind," she says. "The most popular trends in window treatments at the moment are curtains - especially sheers – Vertisheers, and also aluminium shutters for inside and outside the home."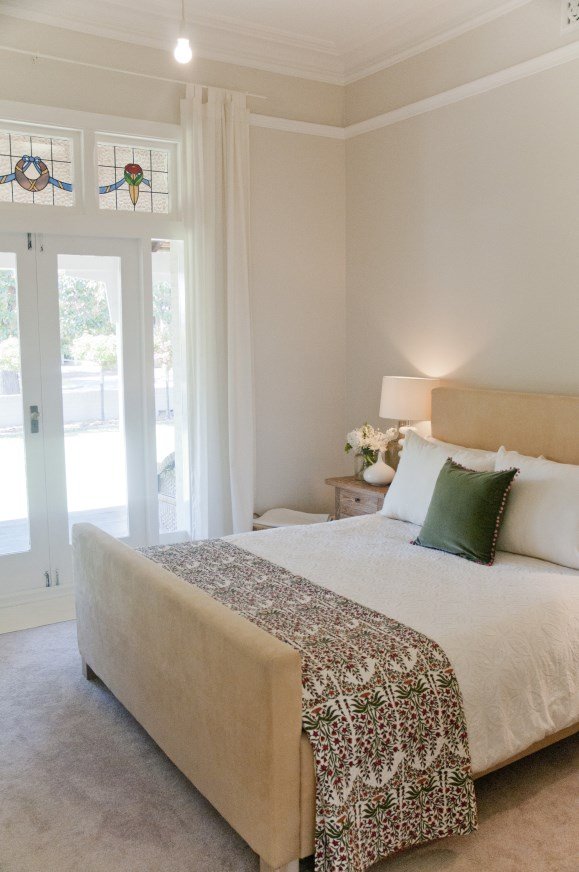 We've got clerestory windows all along the front of our new build, to catch the north sun. I'm wondering about the best window treatments for them in the bedrooms, where we will want full darkness to sleep at night but easy access for opening during the day. @teawithlucy

"Clerestory windows are very popular and great for catching the warmth of the sun," says Ann. "If the windows go right up to the ceiling maybe a curtain that you can just pull across when needed.
Or if there is wall space above, rollers would be good – face-fitted so that the windows are clear when they are rolled up."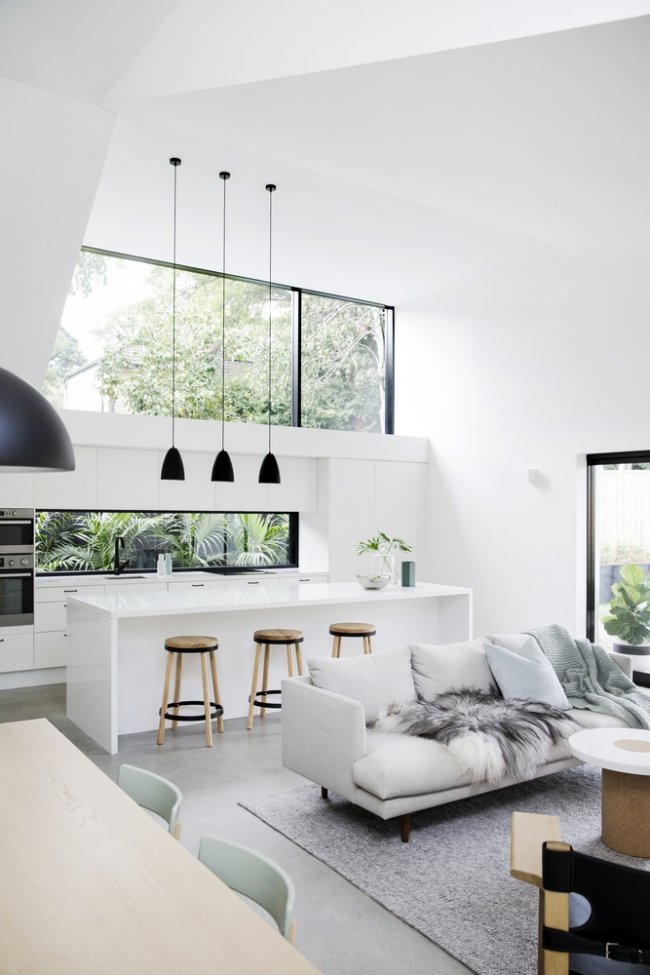 What sort of window treatments could you do with leadlight bay windows? @industriale.com.au and @helencerny

"With leadlight windows I would suggest something plain as the leadlight is a lovely feature of the window," says Ann. "A plain sheer would be good; I would stay away from anything with horizontal or vertical lines as this would detract from the leadlight. A home visit by a consultant would be good, as the product would depend if the leadlight was just at the top or the whole window."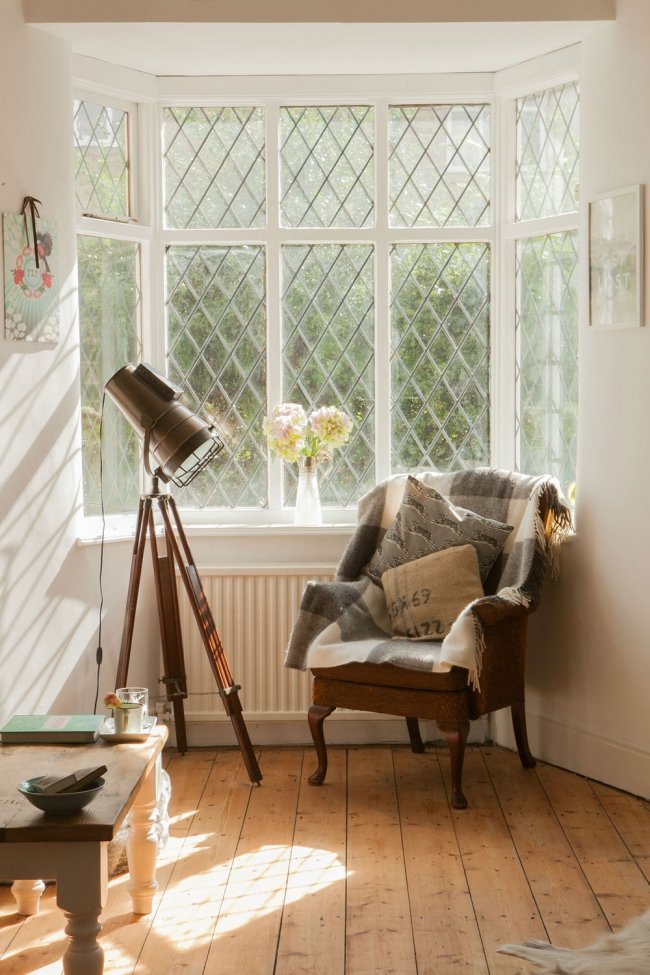 What styles do you recommend for hiding an unattractive window or view?

"If the window or view is unattractive, our vision or triple shade blinds will suit because they can have light and vision control but will still hide the window or an obscure view," says Ann. Vision blinds - also known as zebra blinds and day and night blinds - are designed to offer the best of both worlds; letting in gently filtered light and privacy. They are designed with two layers of horizontal striped fabric (transclucent and opaque) which work together to either block out light completely or gently filter it. You control the amount of privacy or light you want with a chain.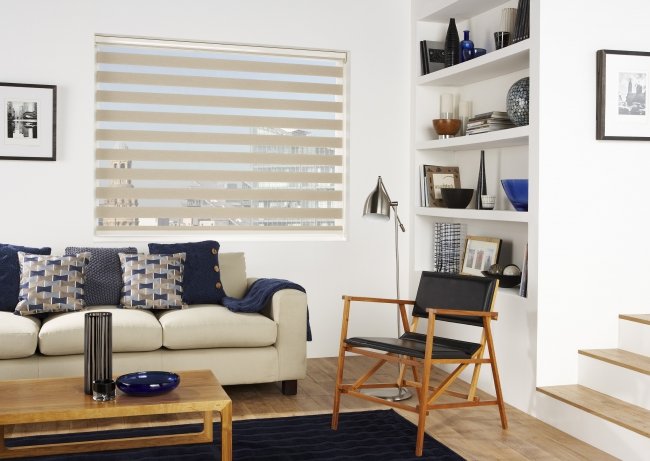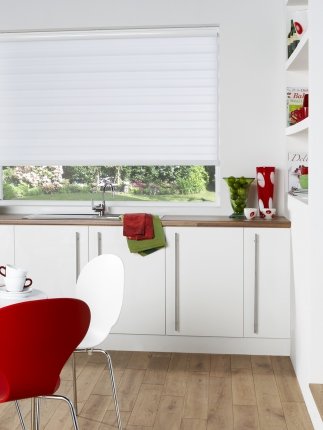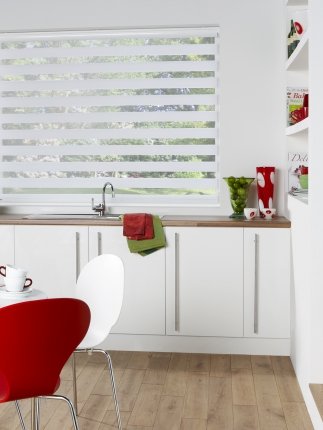 I live in a rental property – and some of the windows and views are so unattractive! What can I do?

Sheers can be your best friend! A layer of sheer curtains, whether on their own or layered with another curtain, will soften and help camouflage less-than-pretty windows and views and will make any window treatment look more expensive. You can also easily take them with you when you leave a rental.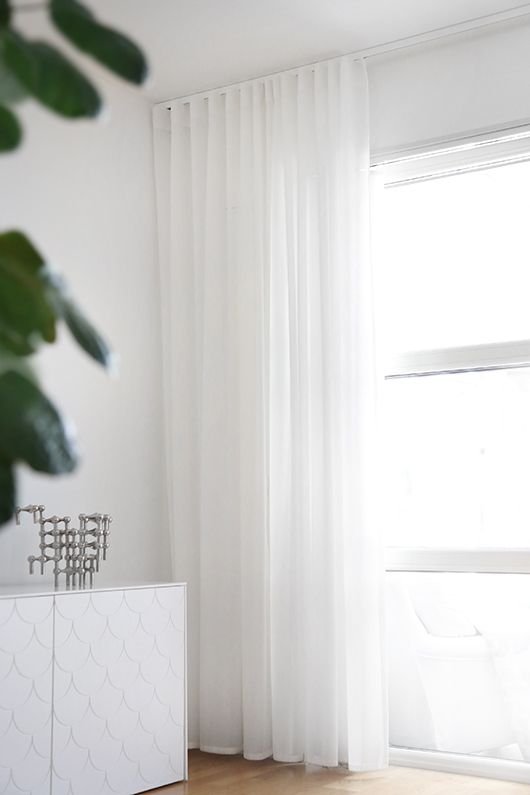 I have a dilemma. I live in an old wood framed cottage with double hung windows with no flyscreens. Can you find in Perth a company that does shutters with an integrated flyscreen? @dymondhome
To Ann and I's knowledge, there isn't one (and do let me know if any of you guys know of one). There are companies who make retractable fly screens in Perth. We actually just got this done for a few of our windows that lack fly screens (visit West Coast Double Glazing).
Should all window treatments in one particular open-plan room be exactly the same type – or is it ok to mix and match? Are there any design 'rules' for mixing and matching window treatments in a room?

It depends if it is a living room or kitchen area. "You could have verticals on a sliding door and rollers in the same fabric on the other windows," says Ann.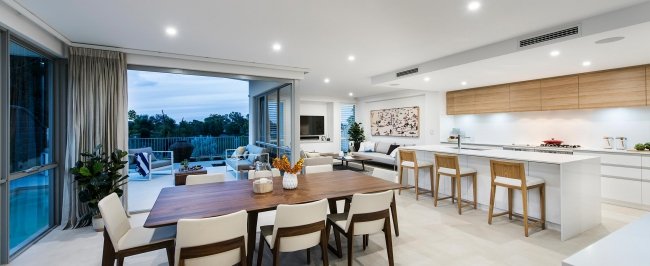 What do you recommend for a baby's bedroom to get it truly dark? @jessmfoster

Unfortunately some little people like to wake with the sun. What can you do except try to make their nursery as dark as possible? "To make a baby's room truly dark I would suggest either a blind teaming it with block-out curtains in the front or an outside roller shutter," says Anne. "If a baby's room gets direct morning sun, an external window mount would be a better idea than doing a blind in the window frame to minimise any tiny chinks of light coming through. We do have a cassette system roller blind, which will stop light very well."
I agree with her – an outside roller shutter is the most ideal choice. If you have the luxury of choosing in your home, try to make sure the room you choose for the nursery doesn't have an east-facing window. We use a blockout curtain in Little Nerd's room which does a decent job. If you can't afford to don't want to go for an outside roller shutter, I would suggest a blockout blind as your next best bet.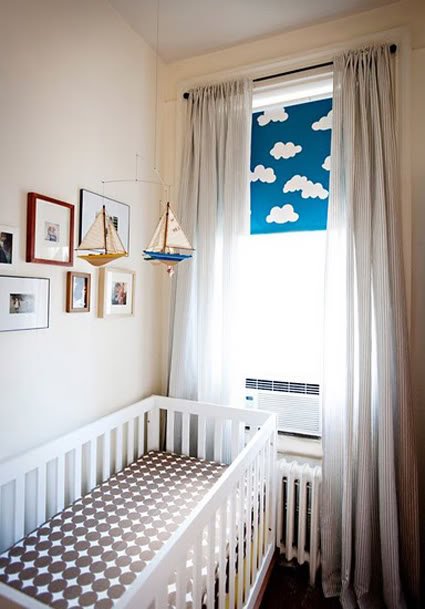 What about window coverings for doors – what would you recommend for both French styles and big, whole-wall sliders? Are there suitable treatments that offer privacy and protection for sun and cold?

"Vertisheers are a very good option. They filter light and are blackout when closed. Shutters are another good option."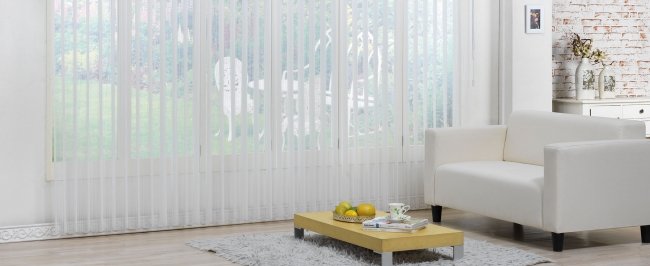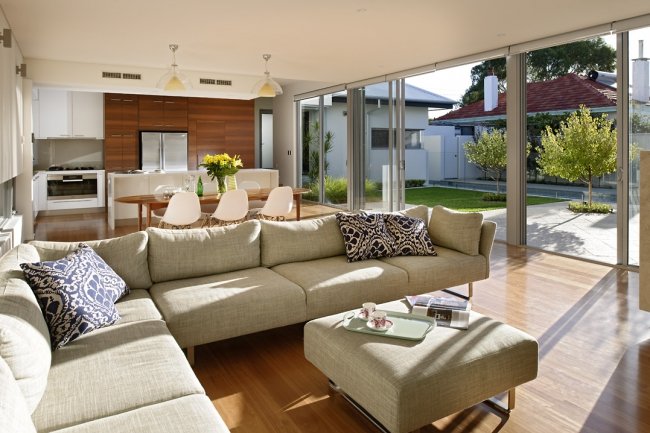 What are Vertisheers?

I'd never heard of this product before – but they are ingenious. "Vertisheers are a sheer fabric with a wave pleat heading for light control and privacy," says Ann. "At night you just turn the wand and they become blockout. They look like a curtain, but function like a blind. A very elegant addition to any room."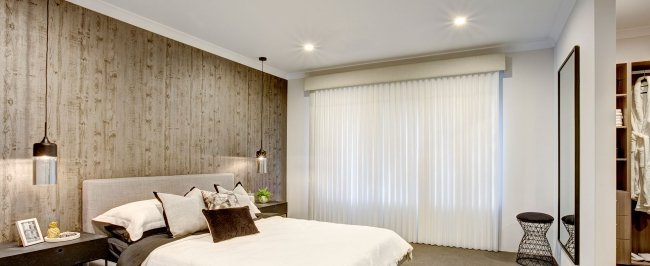 What sort of window coverings suit doors – sliding doors as well as French doors? (@nessylew) We just ordered plantation shutters for our bay windows but need window treatments for our doors that offer privacy and protection from sun and cold @everythingsokkate

There are many suitable window treatments for doors, says Ann. "Our vertisheers are ideal face fitted, providing the elegant look of a wave pleat sheer, and a blockout for privacy when you turn the wand. Vertical blinds are still very practical on doors, we have a wide range of fabrics and colours, wand control, no chains at the bottom for a modern look," she says. "Roller blinds are very popular as well but you do get a gap between each end."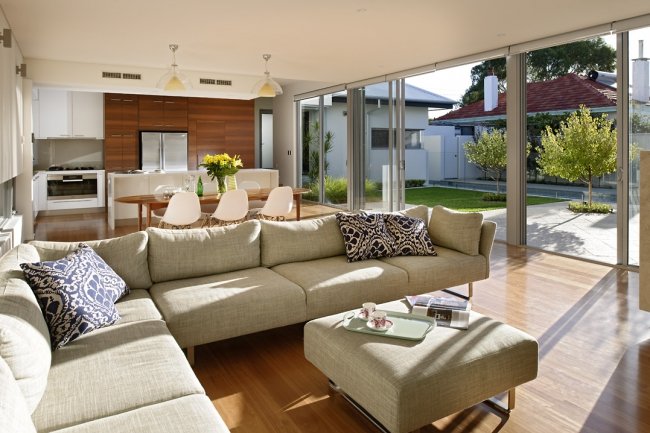 What are great window treatments to do in an alfresco area or patio? What trends have been popular lately?
"Aluminium shutters have become a very popular and a smart alternative to café blinds," says Ann. (Traditional café blinds being the clear plastic ones you often see). "The café blinds that are available now have a more modern look, with no ropes and pulleys and are either motorised or have a crank handle."

If you think of thin, metallic strips when you think aluminium shutters, think again. Today's aluminium shutters are created using lightweight aluminium and they often look just like painted wood - like the below. They're strong, increase security and won't warp, bend or bow, making them ideal for outdoor areas and wet rooms like bathrooms.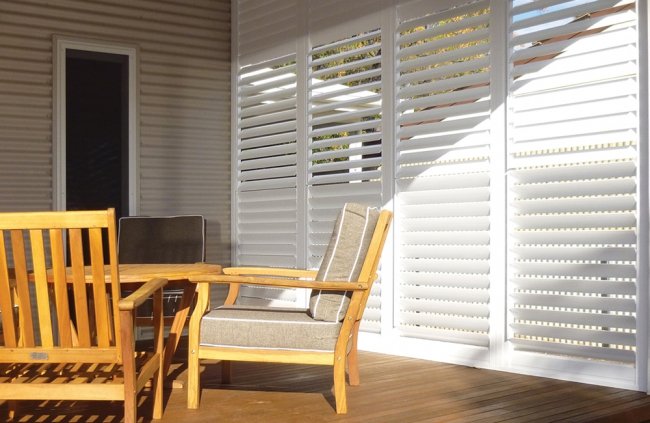 Do contemporary homes suit particular kinds of window treatments and traditional or mid-century homes others?

"If you have furnished the home to match the building style of the home, it is better to choose your window treatments accordingly," says Ann. So curtains would usually be the best choice for old homes decorated in a traditional way.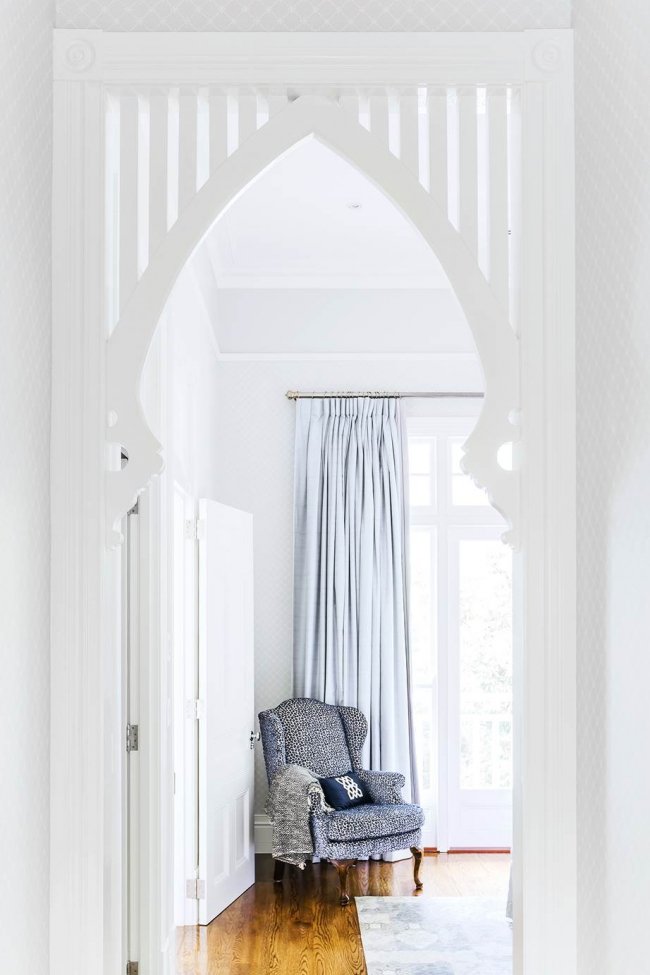 For new, modern homes decorated with furniture to suit, or homes that have been renovated in a contemporary style, blinds (or shades, as they are commonly referred to in the U.S) will probably be your best bet. Blinds and shades make a space feel less cluttered and look more modern than curtains. They also take up less visual space and sometimes that is what you want. Say you have an amazing view? Roller blinds won't detract from it. Meanwhile, if you have an older home or a new home but want to create a more romantic or cosy atmosphere, curtains may be the way to go.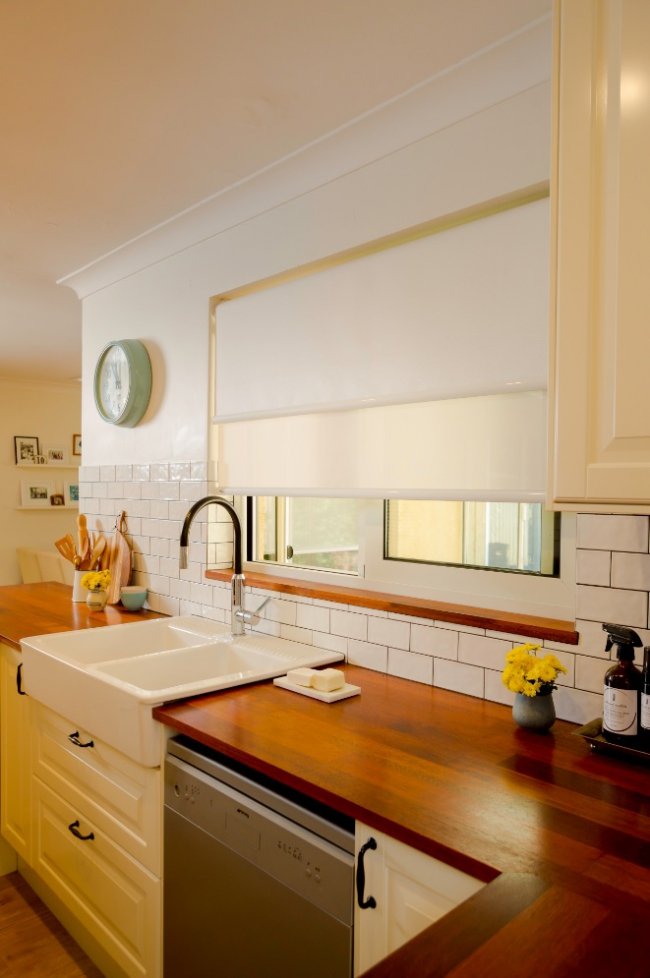 Do you find that there are any misconceptions about any window treatments on the markets these days?

"Vertical blinds can still create a modern look," says Ann. "Aluminium shutters look just as good as timber inside the home."
Is it okay to use different window treatments in one open-plan room? I'm trying to decide on whether to put up sheers in our open-plan lounge area or whether it's just going to cause heartbreak with three little kids running around! Would it look strange to have sheers only across the stacking doors but not the other windows in the same area? @darlingmess
"Full-length sheers and small children do not always go well together!" says Ann. "It would not look strange to have a different window treatment on the windows. If they are not floor-length you could still have sheers on these as well, but not to the floor. Alternatively you could have vision blinds or triple shades on the windows, these are a soft look. Just try to have the colours similar."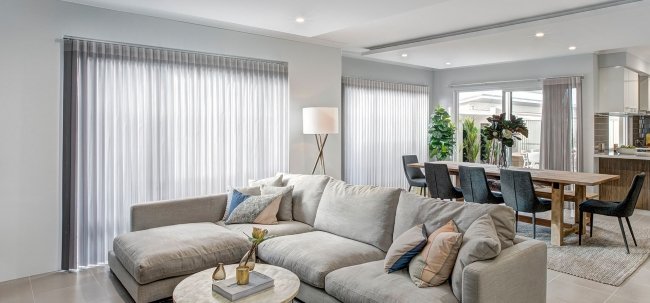 Why do I often see curtains sitting on the floor slightly? Wouldn't they hang better even if they were half a centimetre off the ground? It creates a bunched up look or is that the point? Also don't they get dirty? It's had me miffed for some time. Thanks! @natalig73
"This look was made popular on TV reno shows!" laughs Ann. "Not always practical in most homes especially if there are pets or small children - most customers still have the traditional look with the curtain just off the floor." I happen to know (and I don't know why I know this) but this look is called 'puddling'.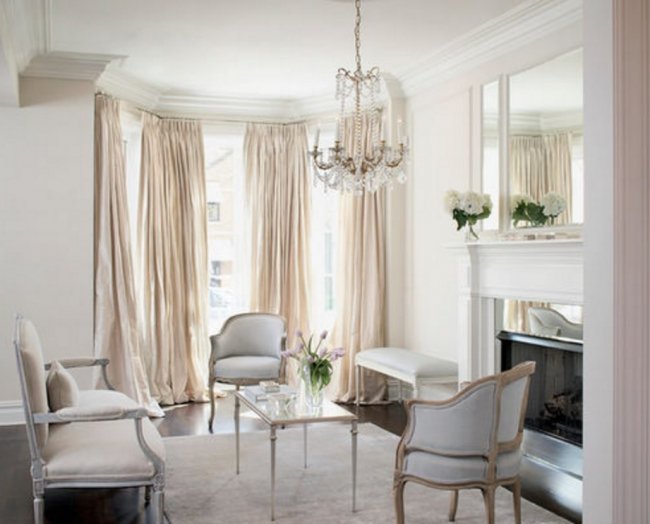 And to me it makes no sense either, except if perhaps you live in a French chateau with no pets and a herd of cleaners. (Off-topic, but if you're ever in the mood for reading an amazing blog by an Australian family renovating a centuries-old French chateau, you have to check out
Chateau Gudanes
– incredible! It's like something out of a very expensive fairytale).
What sets ABC Blinds apart from other companies? What is the best way for readers to go about getting an estimate/quote?

"ABC Blinds has WA's widest range of indoor and outdoor blinds, all manufactured within WA," says Ann. "If a customer finds a comparable product cheaper at a competing blind company, we'll beat the price by five percent. You can request a free measure and quote on our website, which also gives you a handy 10% off if you make an order."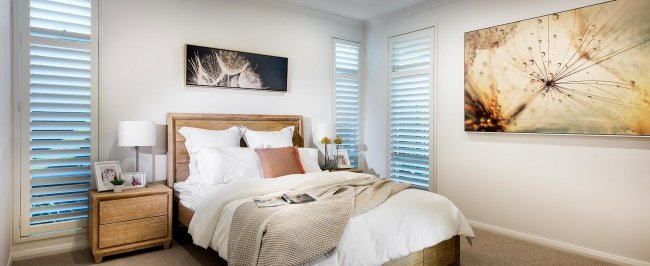 OUR PROBLEM SLIDING DOOR: CHOOSING A WINDOW TREATMENT FOR OUR HOUSE
The ABC Blinds team also asked if I had any problem windows in our house and if I'd like to review one of their products for that window.

Unnervingly they seemed to know me and my ability to procrastinate for years on end well, because we had a sliding door and window in our dining room direly in need of a window treatment. Our kitchen window also needed something – I'd just never been able to choose. When I say direly needed, I mean direly needed. Both windows had been sitting naked for YEARS (a big problem when you sometimes walk around naked). On the dining room sliding door, I'd actually spent money years ago on a big chunky fabric Roman blind at one point, bought online. It got dirty (Nala constantly smoodging her nose on it) it was hard to put up and down, and eventually one day I tried to put it down and it fell off. I told you our blinds were haunted.

Obviously, not all Roman blinds are like this. You get what you pay for and I bought cheaply. They do tend to be heavy though and if you're pulling them up and down twice a day and you bought cheaply, they may not last.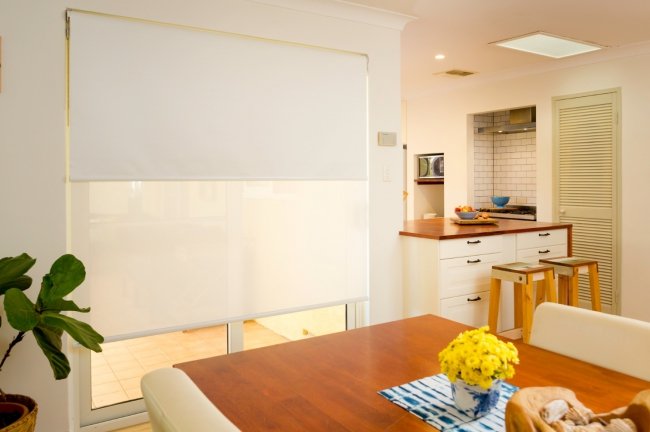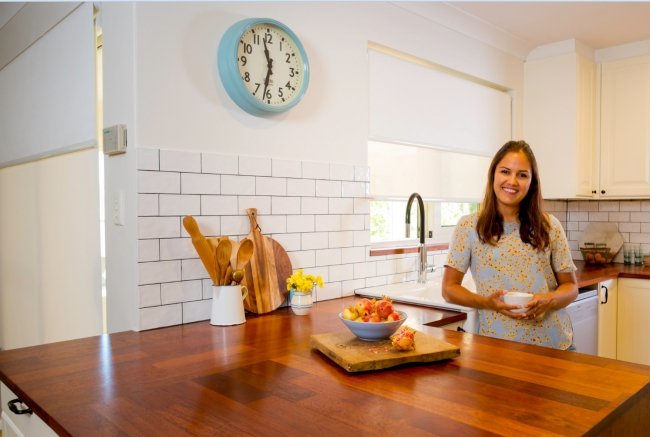 ABC Blinds sent round their lovely interiors consultant and she made the selection process fun and easy. I told her we needed something that blocked out the harsh western sun, was reasonably baby and dog friendly and would make the room feel cosier at night-time when we entertained and sat at the dining table.
Often when I talk to a tradie, consultant, expert whatever and there is a renovating decision to be made, I do this: I ask them all my questions to get all my facts. I mentally choose which material/product I think would work best. Then without saying anything I ask the expert what they would do. If they choose the same option, it means you've probably picked well! And the consultant and I both went for the same thing – a modern, clean-lined dual roller or double roller, where one layer is a blockout blind and the other a sunscreen.
Ideal for blocking out the harsh setting sun in summer (the sliding door window faces the west) and if you want privacy but still some light, the sunscreen is perfect. They installed them and we absolutely love them.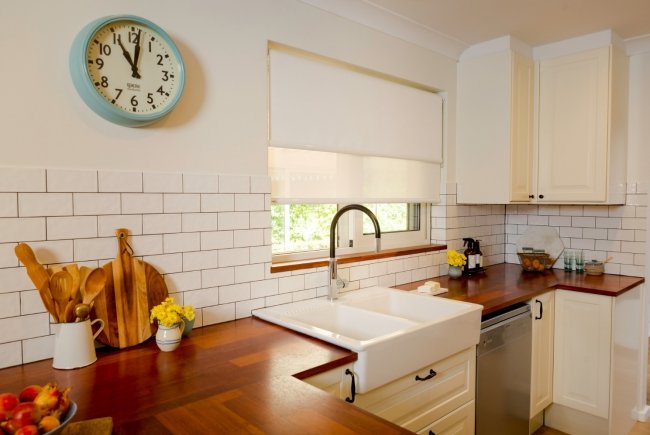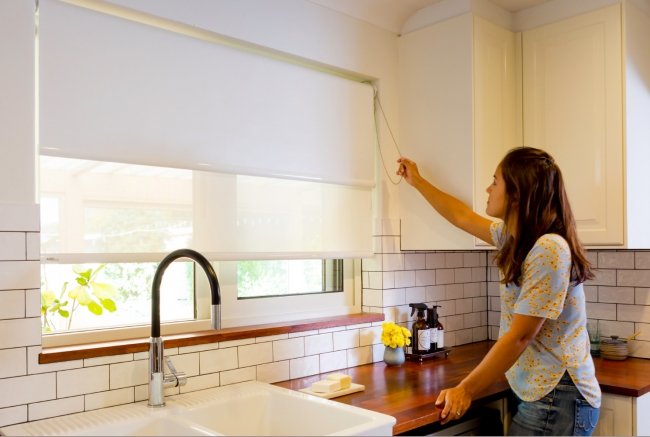 Before I had always presumed that a more modern, clean-lined blind wouldn't suit our more traditionally-styled home. In fact, it works – being so clean-lined and unobstrusive, it doesn't look out of place. It looks great.
While I am not putting the price in this post as they all differ according to style, window size, material chosen etc, I thought their prices were very reasonable. Admittedly, something I regret not having done earlier to our home, just saving up a bit more and buying right rather than buying twice (or in some cases, thrice!) Wish I had done this right from the start.
Thanks so much to Ann and the ABC Blinds team for their help with this story! To contact ABC Blinds or get a free quote, you can call them on 13 13 15 or visit their website here. Follow them on Facebook, Pinterest or Instagram @abc_blinds.