Posted Sunday, March 17, 2013 in:
Home Envy
It's no wonder this Home Envy house is so stylish. It belongs to two of the most respected names in the Australian fashion industry – fashion designer Kylie Radford and her husband Richard Poulson, the founders of the hugely successful brand Morrison.

I knew I would like Kylie and Richard before I even met them in person, because how could you not like people who named their upmarket fashion label after their beloved Kelpie cross dog? (I think "Nala" would be a pretty good name for a fashion label too, by the way).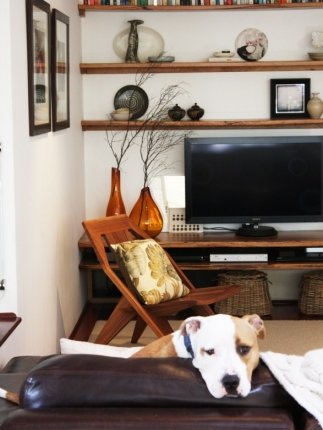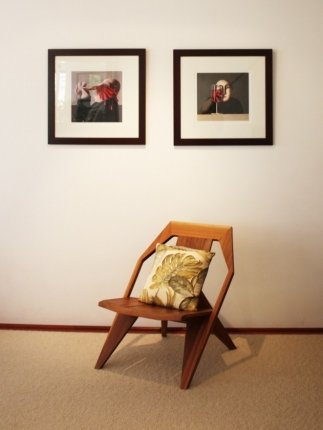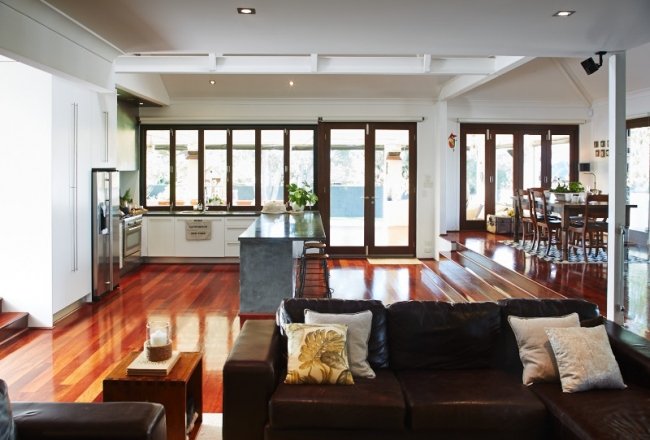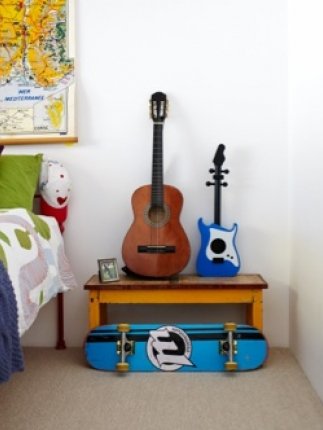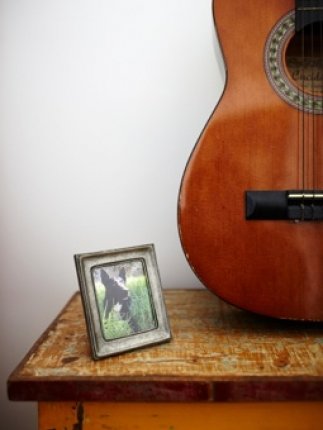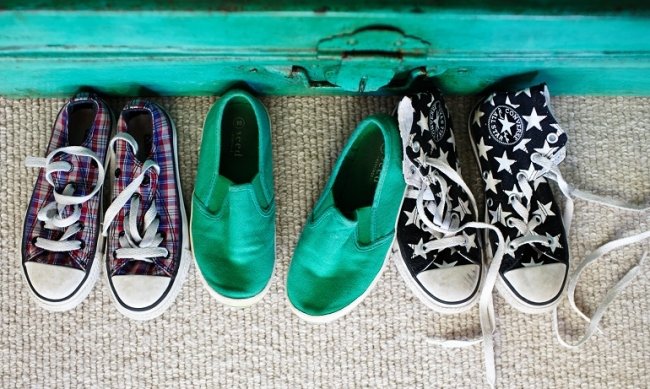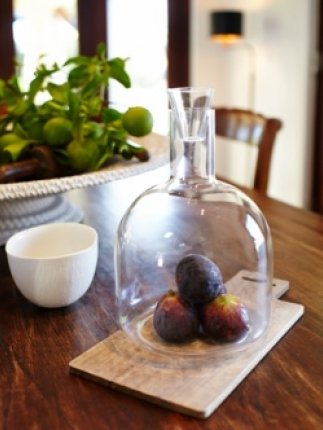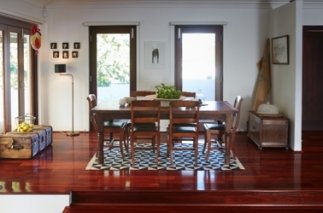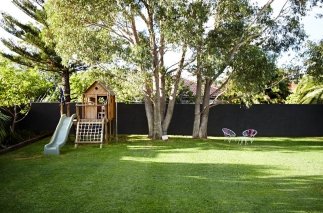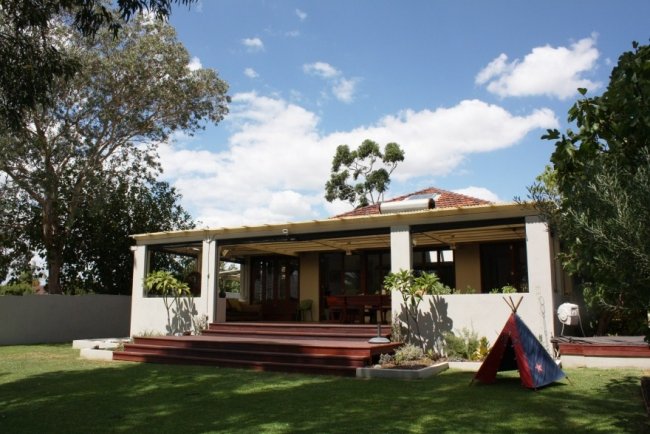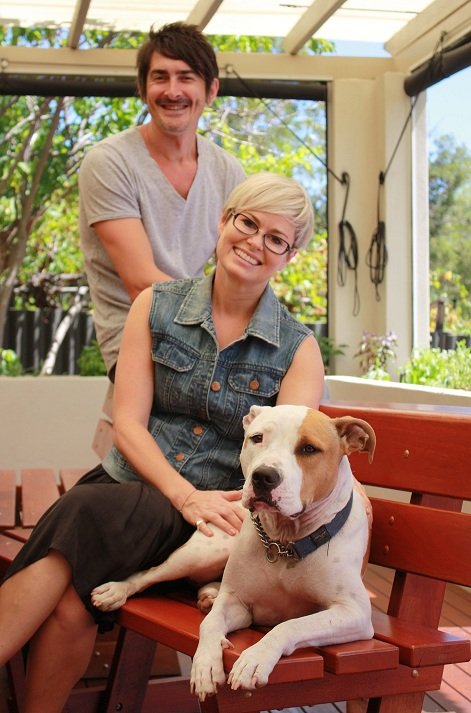 Richard and Kylie bought their Hamilton Hill property ten years ago, liking the house's proximity to the ocean and the heart of Fremantle as well as its big garden. But while this gorgeous house is filled with natural light at every turn now, Richard says the place was a lot darker and daggier a decade ago.

"It used to be brown brick internally, with really deep mortar that you could put your finger inside that often had cobwebs in it," he remembers. "It was just lots of exposed brick, pine and the walls were painted blue, orange and pink, which made it really dark."

He adds that the kitchen had a "dragon mosaic tile countertop" and I thought I misheard him but no, I heard right. But the dragon was no deterrent. "The house needed a lot of work but we could see the potential," he says.

Richard and Kylie bought the home around the same time they were starting Morrison. While some may bault at the thought of conducting an extensive renovation at the same time as starting a business, Richard and Kylie definitely aren't the type to shy away from hard work. Since they first opened the doors of their first boutique in Fremantle they have taken Morrison to a position as one of Australia's most highly respected fashion labels. This dynamic duo now own eight shops around the country, including an online store. Project managing their home renovation themselves, they knocked out internal walls to free up the floor plan, covered up the dark brick, put in jarrah floors and installed new bathrooms, laundry and kitchen (farewell dragon mosaic bench).

The home's incredible styling was by international stylist Jo Pabst, whose work has appeared in publications like Grazia and Easy Living. Jo worked with Kylie and Richard's existing furniture to come up with a unique look that perfectly suits them and their home, with the end result a home that is laidback, rustic and stylish with an inherent warmth in every room. I love how Jo teamed eclectic vintage pieces, time-worn woods, rubbed leathers and beautiful soft fabrics with Kylie and Richard's eclectic collection of art and their beautiful classic ceramics. It's truly a comfortable family home.
Since Kylie and Richard moved in the house has become their much-loved family home – Kylie and Richard now have two sons, Baxter, 7, and Louis, 5, and also live with their gorgeous Staffy Frankie. (Sadly Morrison passed away a while ago).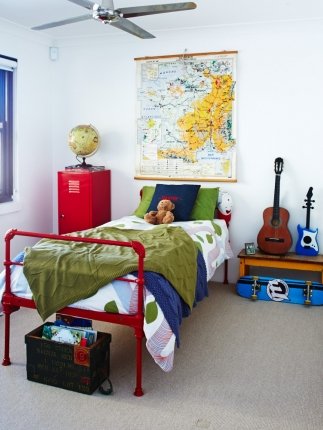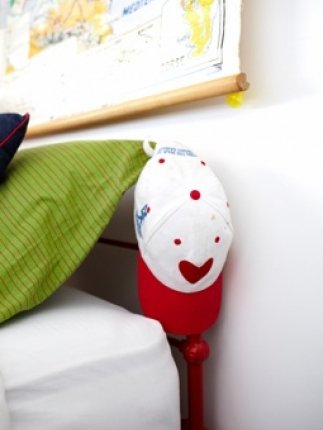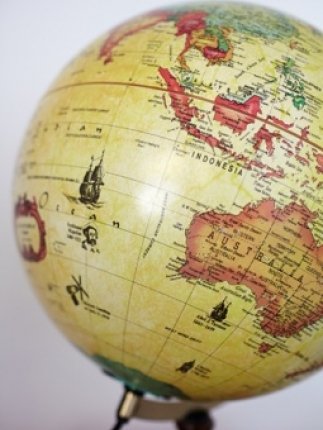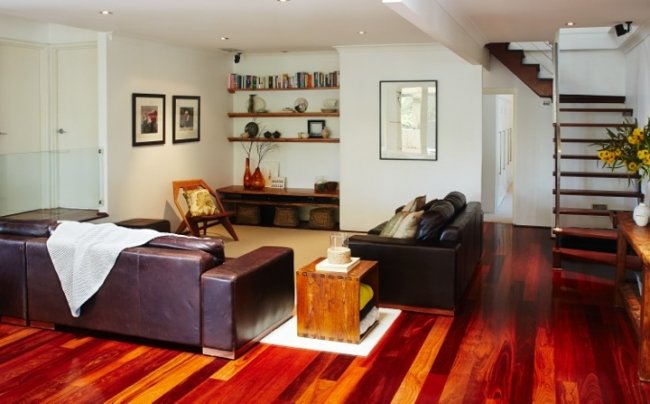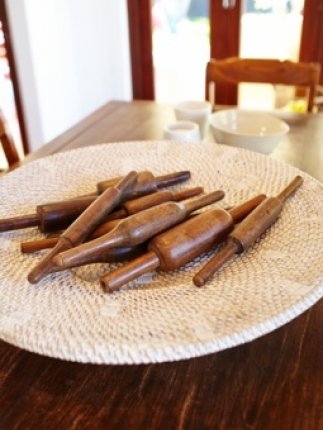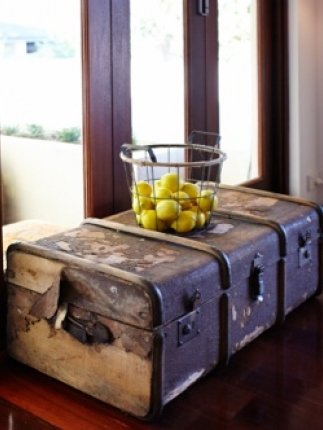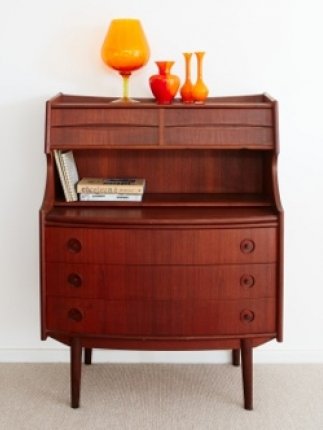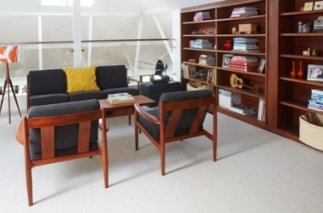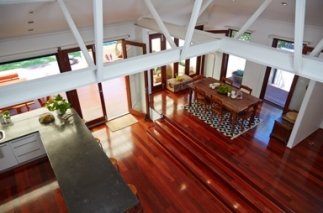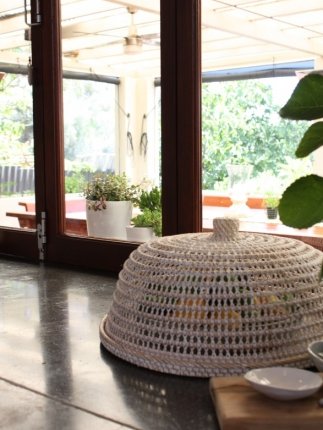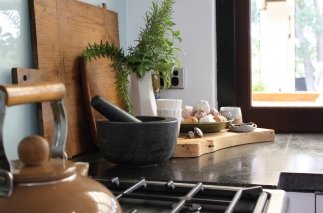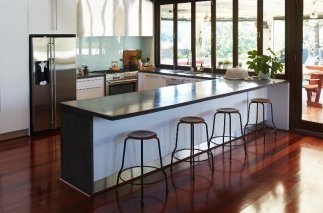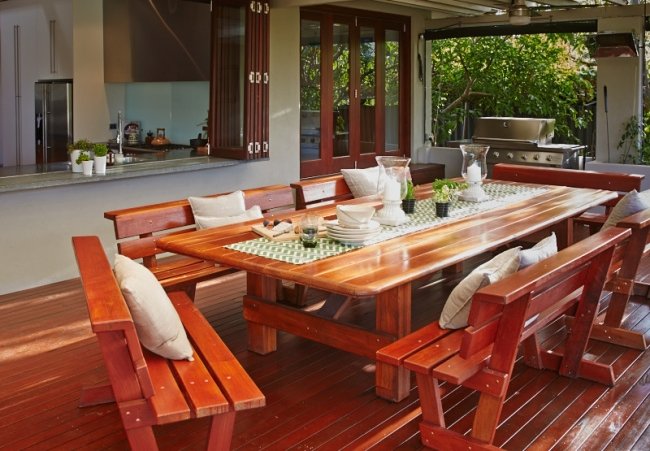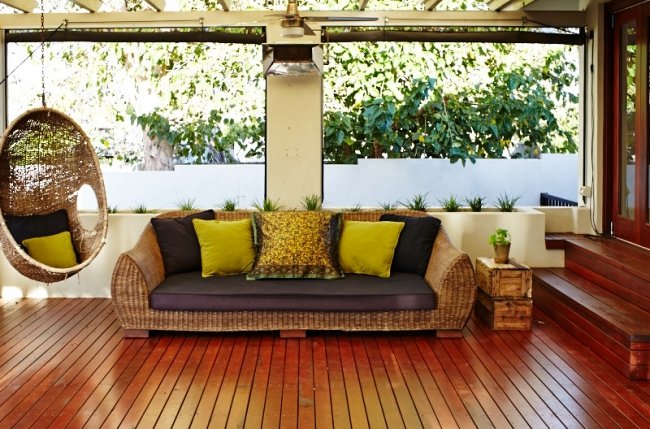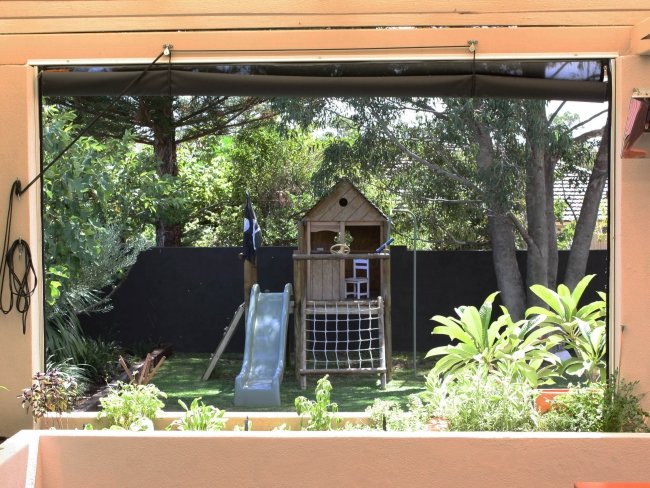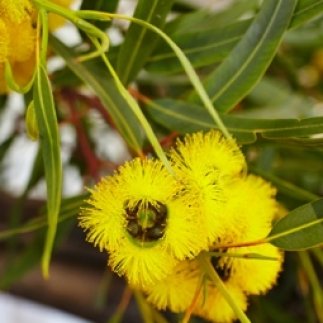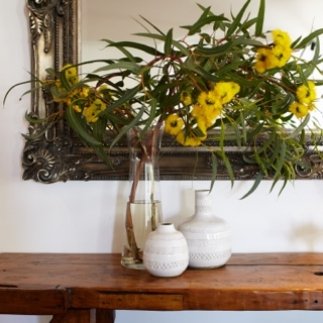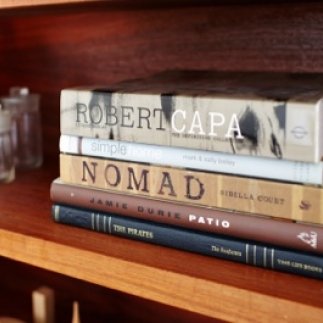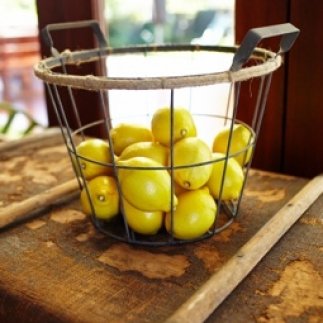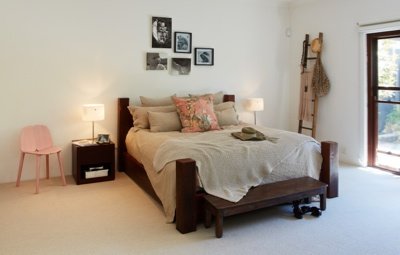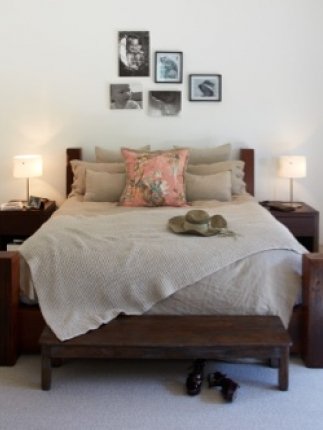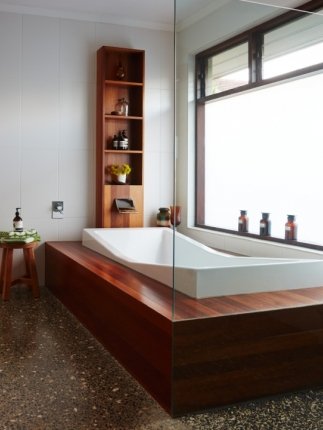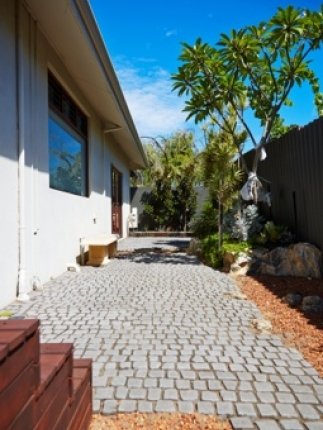 The home is an outdoor paradise for Baxter and Louis and their friends. There is a long driveway for riding bikes, a large expanse of manicured lawn, lots of fruit trees, a cubbyhouse fort and even a dirt bike track at the back of the property. In an age when Perth's ever-shrinking blocks mean less and less people have any kind of yard at all, I LOVE that they have a garden – and an amazing one to boot. What kid wouldn't have a blast growing up here? I want to play cops and robbers on the perfect lawn as an adult.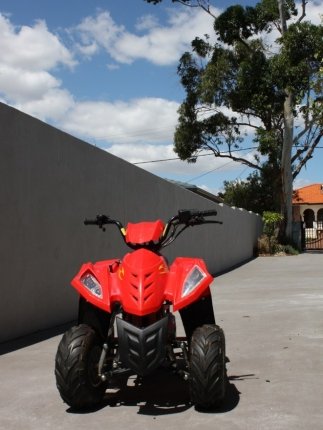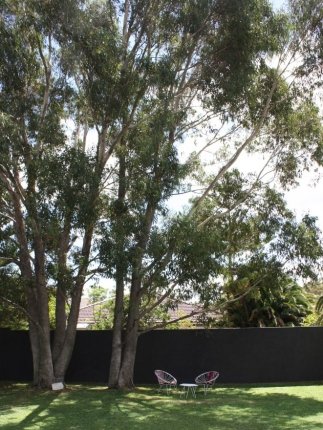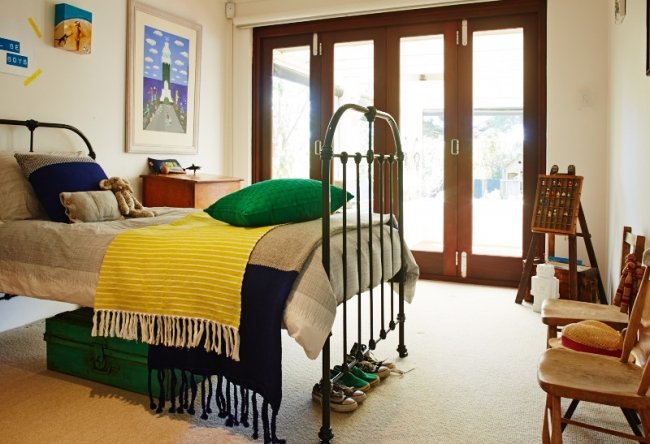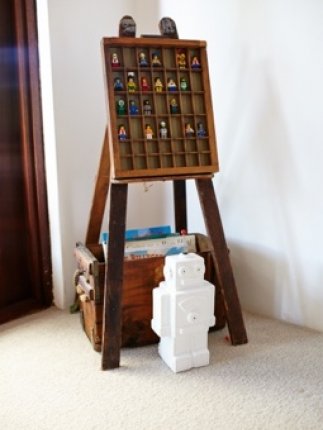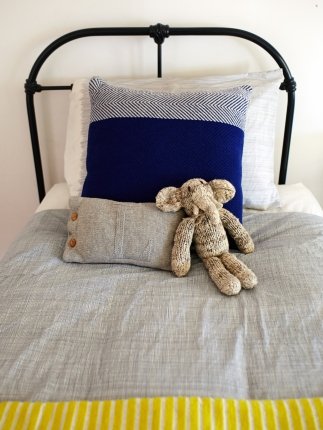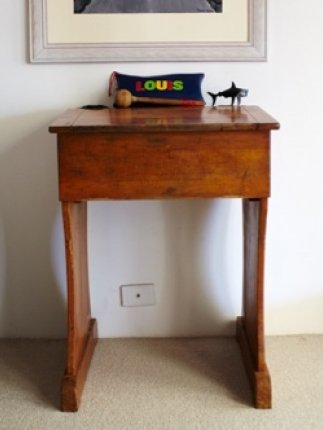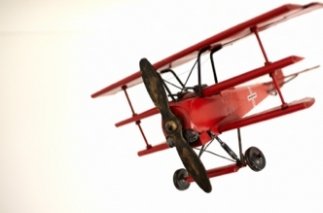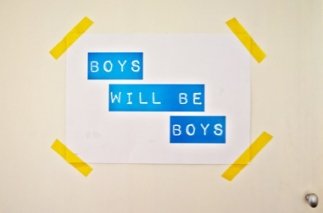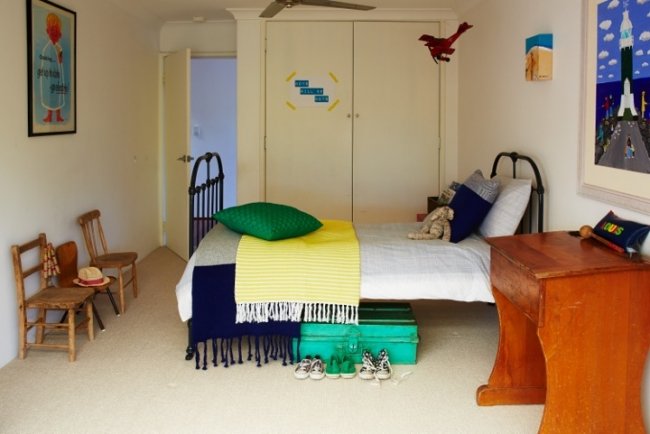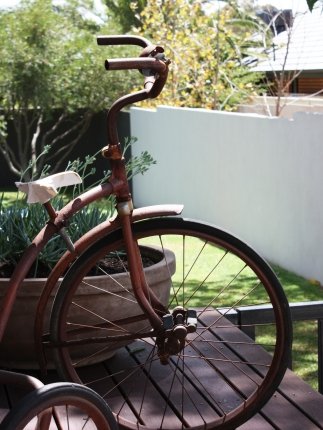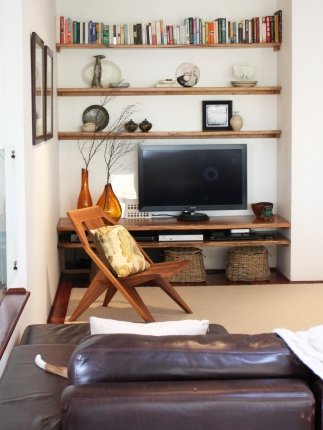 With ten years spent in their gorgeous home, Kylie and Richard are now selling at auction to look for a new project. But they will always think fondly of their house. "I love how the living area spills out into the alfresco area," says Kylie of her favourite feature of the home, adding that they all love to dine and entertain out here with family and friends. "We've got fantastic neighbours here. Sometimes quite a few times a week they come over in the evening for a barbecue. The kids love to get together and put on performances." I look at the raised deck with its timber steps and the huge lawn beyond it – yep, this place would be an excellent 'stage' for putting on a play. It's definitely a very loved home. Maya x
HOME LOWDOWN
THE OWNERS
Richard Poulson and Kylie Radford, the founders of Morrison,
their sons Baxter, 7, and Louis, 5, and their Staffy Frankie
THEIR HOME
A 1960s house that Kylie and Richard fully renovated
LOCATION
Hamilton Hill, Western Australia
PURCHASED
2003
THE INTERIOR STYLIST
The lovely international stylist Jo Pabst, whose work has appeared in publications like Grazia and Easy Living (pictured with Kylie and Richard) You can contact her home styling and interiors business on 0448 576 491
FEATURES
Dirt bike track, orchard, vegetable garden, polished jarrah floors, open-plan kitchen, dining and living, mezzanine sitting area, decked verandas with outdoor heaters and herbs, lawned garden, children's fort cubbyhouse, parents' retreat with cobblestone courtyard
PHOTOGRAPHY
Professional photography by London fashion photographer Grant Taylor, who has worked with British Vogue and Net-a-Porter, with the uh, very amateur photos by me
THE SELLING AGENT
Margo Pinkerton of Dethridge Groves Real Estate, 0418 942 858. The house is going for auction on April 6th, 2013. Kylie and Richard are also putting the other two parts of their Hamilton Hill estate on the market, one a tenanted cottage at the front of the home, the second a vacant rear block dotted with fruit trees.