I have always loved Christmas decorations that are handmade. (Even if they end up looking slightly dodgy-looking. It makes them more special, doesn't it?)
Today I am going to share how I made Christmas decorations that look like your dog using a Dremel MotoSaw (and you can even win one for yourself! A Dremel, not a dog).
Those of you who follow my Instagram may have seen my super-budget handmade Christmas decoration… my Christmas stick. I have our dog Nala to thank for it.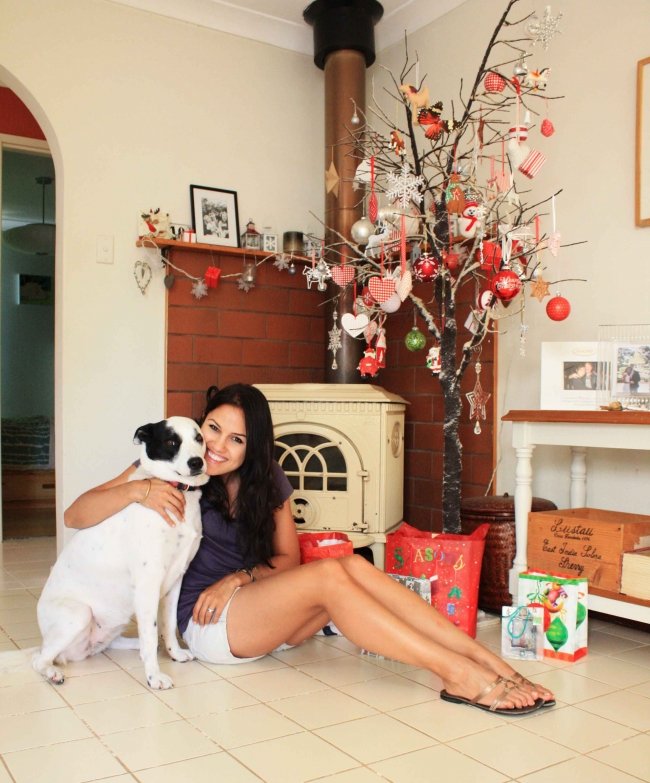 FIRST, SOME BACKGROUND
Nala loves sticks. When Nala comes home from the park and she hasn't brought her Ruff Dawg rubber sticks with her, she INSISTS on carrying some kind of stick home with her. A large natural stick is good, otherwise two or three smaller ones. She carries them all at once and can't stand it if you try to take one from her/ She carefully stacks them on the ground with her mouth so she can carry them all at once. The more sticks, the better her mood. Her record for carrying the most sticks at once is five. Happy as a clam that day.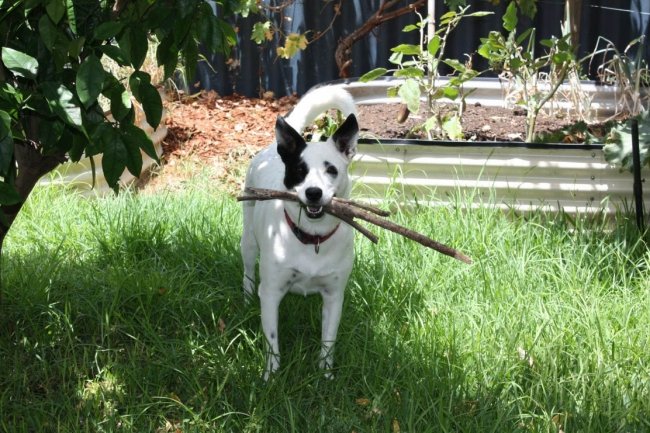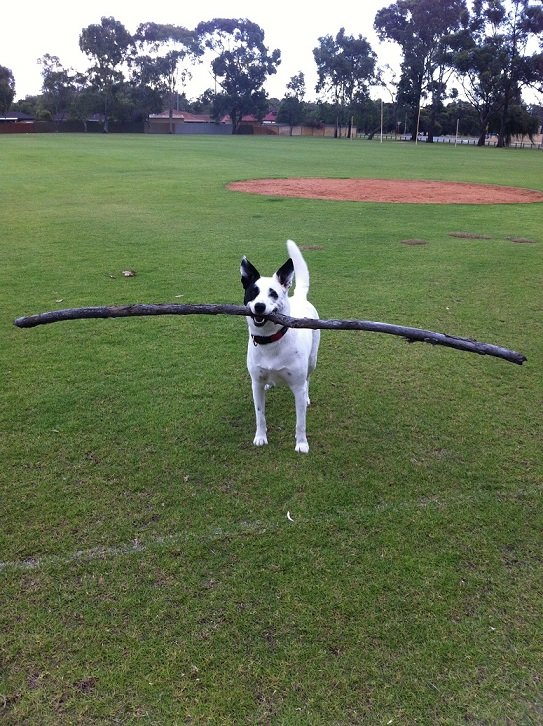 And then with her carrying enough kindle to light a fire or a sizeable log, she insists on walking home like this.
Depending on the amount of stickage, I am usually so embarrassed I avert my eyes from the passing cars and pretend to be looking at something interesting on the ground. But sometimes I look up and I can see people in cars driving past openly laughing at us.
If Nala drops a stick on the way home… panic. I have to stand there on the footpath waiting until she frantically gathers them all up again. It is so freaking annoying. I don't know why she does this. She stockpiles her sticks by the front door because we have a strict "no sticks in the house" rule. But she always tries to quietly sneak them in anyway. "AH-AH!" I say sharply and she spits the stick out on the ground grumpily and then rudely shoves past me to go inside. In winter time sometimes Mr Nerd and I burn her sticks up in the potbelly fire, to her irritation. I find this kind of therapeutic.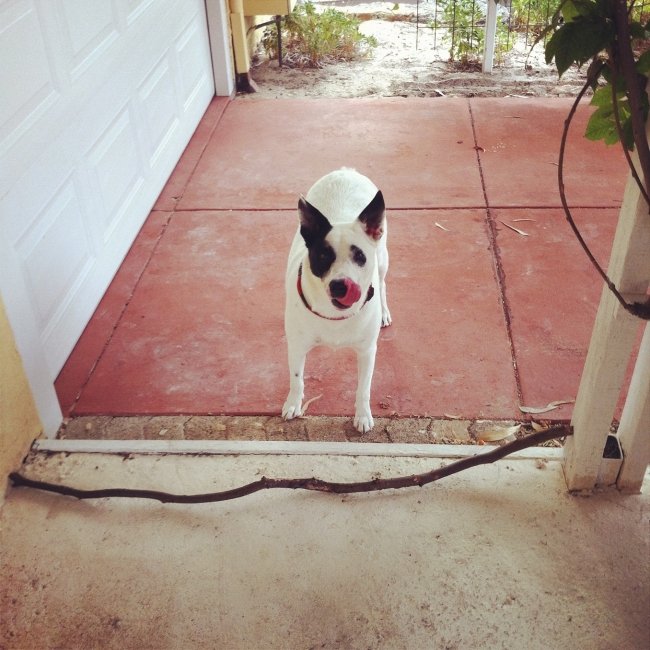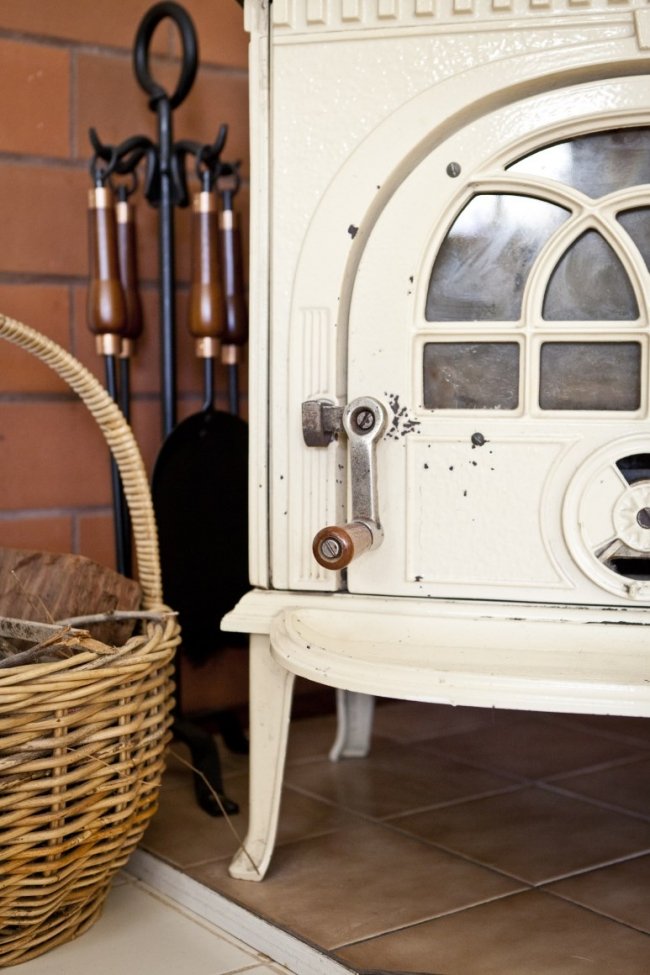 The other day I thought, why don't I USE one of Nala's sticks for a Christmas decoration? So I tied little IKEA baubles to it and hung it to the oyster light in the dining room. Nala was so baffled when she saw me hanging it from the ceiling. Here it is.
AND THEN, SOME CRAFTING
When Dremel kindly sent me a Dremel Moto-Saw to try out, I was over the moon. I couldn't wait to cut stuff up. I could make crafts rather than just pinning pictures of crafts on Pinterest. The Dremel MotoSaw can be used as a scroll saw or as a power coping saw and it is good for those clever practical types - BUT is also really easy to use for people like me who are new to DIY and who just want to copy things they have seen on Pinterest or do little projects around the house.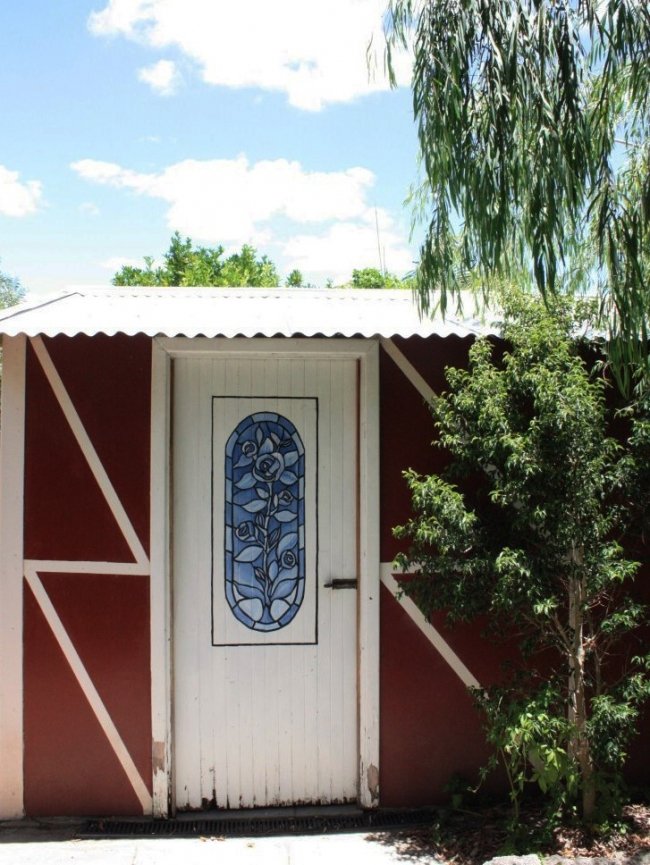 I decided to use it to cut out some little shapes from MDF, paint them and hang them on our tree. I headed over to my parent's place to use my mum's old wood shed where I used to paint when I was a teenager (as you can see, I was a messy teenager. I also went through a Pollock imitation phase). My sister Simone joined me and Nala. I had bought a $3 piece of MDF and we hovered pencils above it, wondering what we shapes should draw. I felt like a little kid in Year 3 arts and crafts class again. Pretty damn excited and there wasn't even any highlighters or Clag glue about.
"What shape should I make?" I asked Simone.
"Um. A Christmas tree?"
"Yeah. Or a diamond." I looked around the shed. "OR A NALA!" Nala looked thrilled at the prospect of being commemorated in a Christmas decoration. I would be happy too if it were me.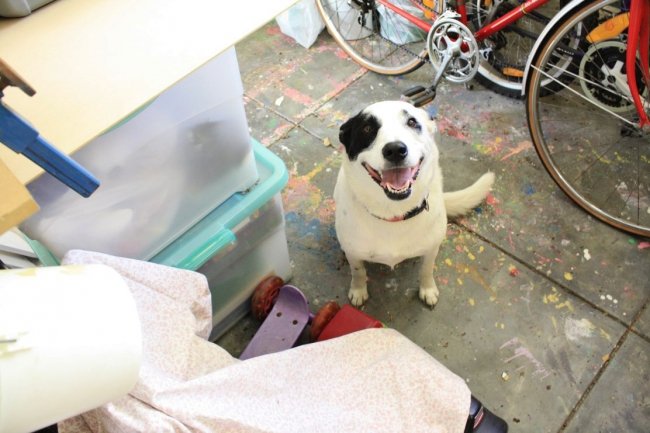 So I cut out two doggy shapes and Simone cut out a Christmas tree and a diamond. The Moto-Saw was so much fun and so ridiculously easy to use. I think I am addicted. It brought back memories of Mr Brown's Year 8 woodworking class, which was my favourite class (and may I say my racing car was probably the best of everyone's, even though Mr Brown took pity on me and ended up making the axle part for me himself).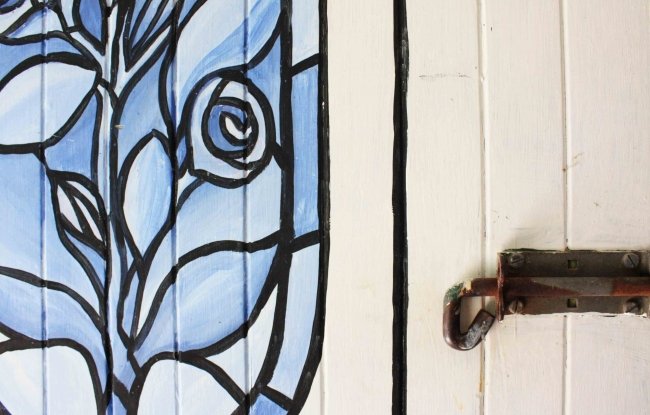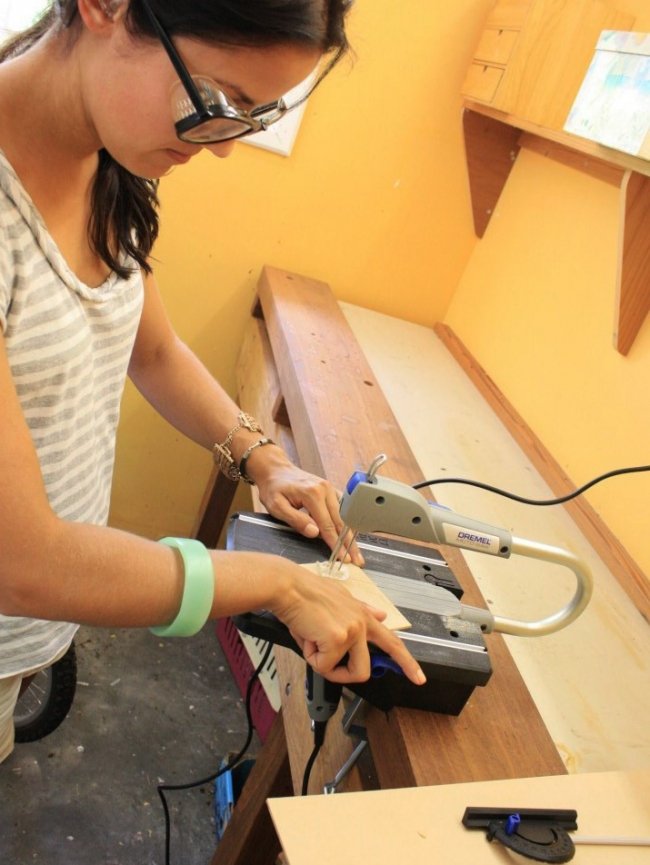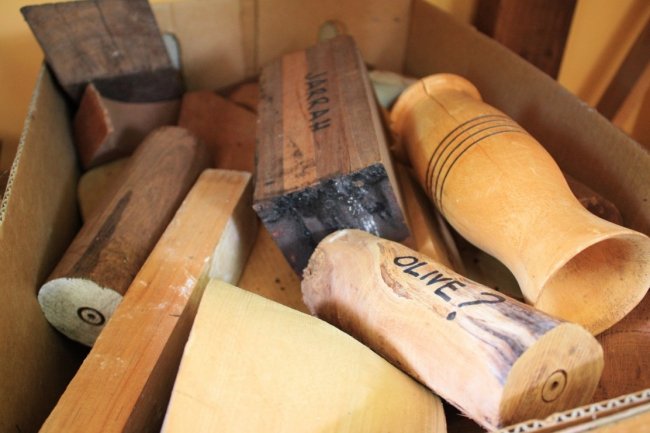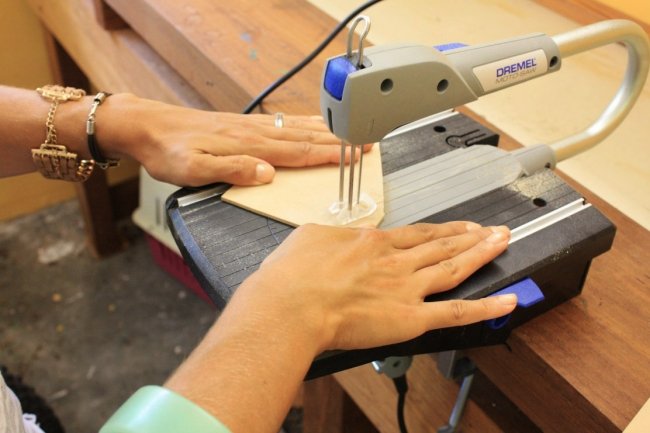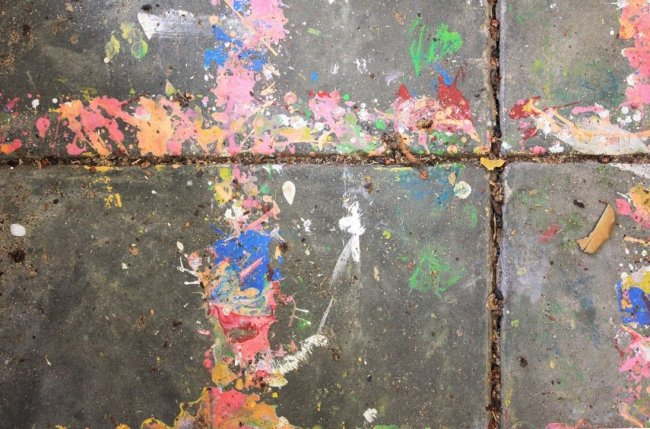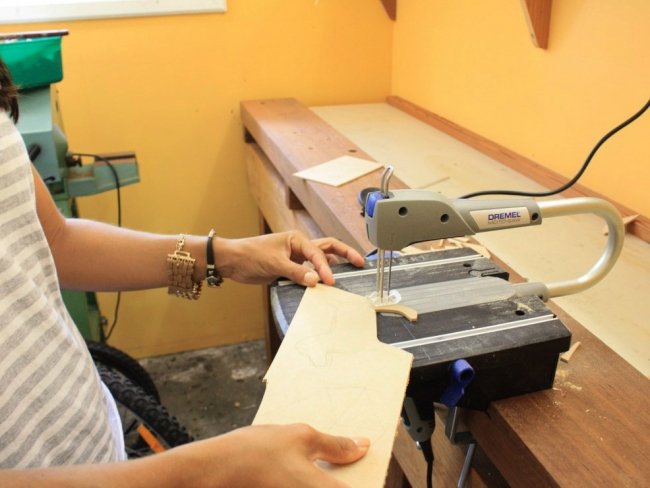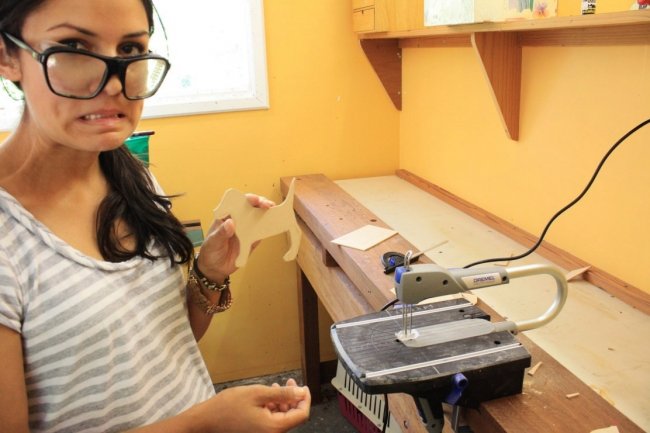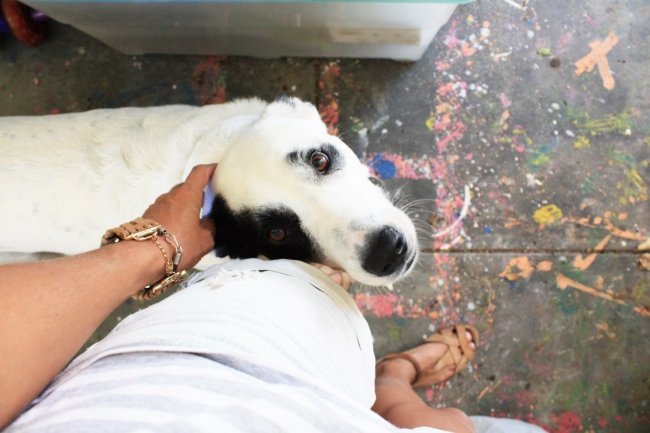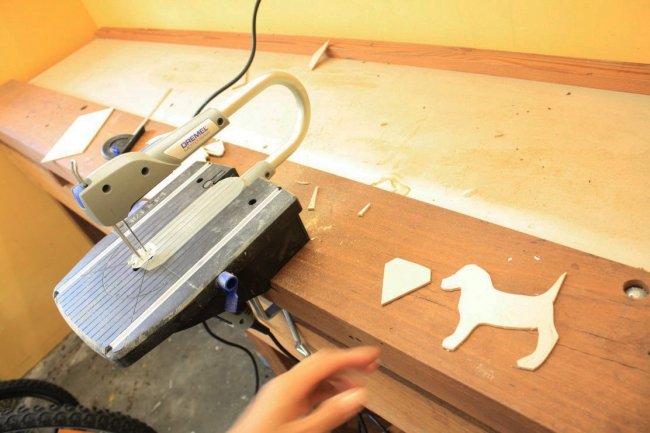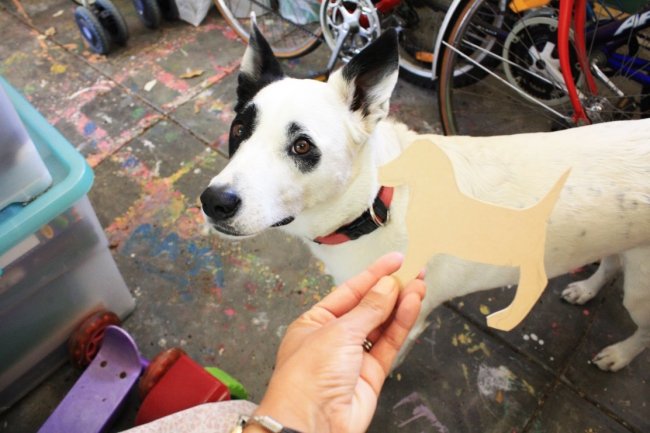 When I got home, all I did to my shapes was sand the edges to make them smooth. And then I painted them (yes, all this in my craft room!).
I cut out two different dog shapes and tried to make them look as much like Nala as possible.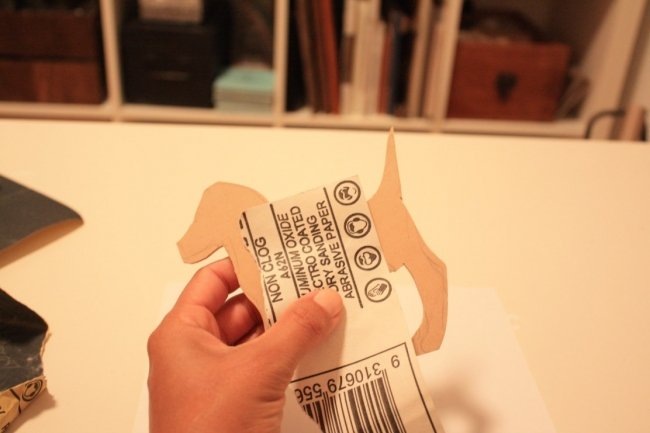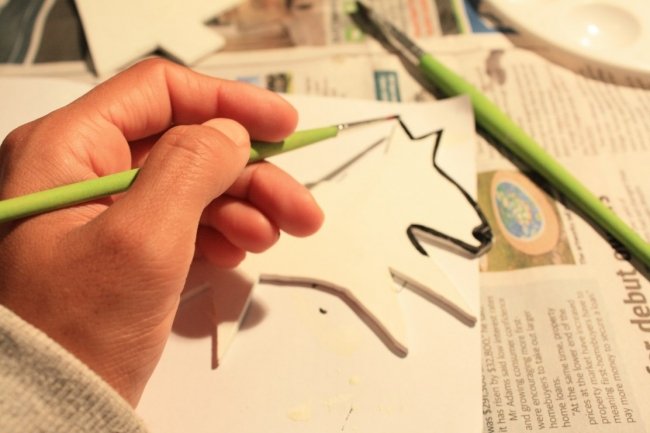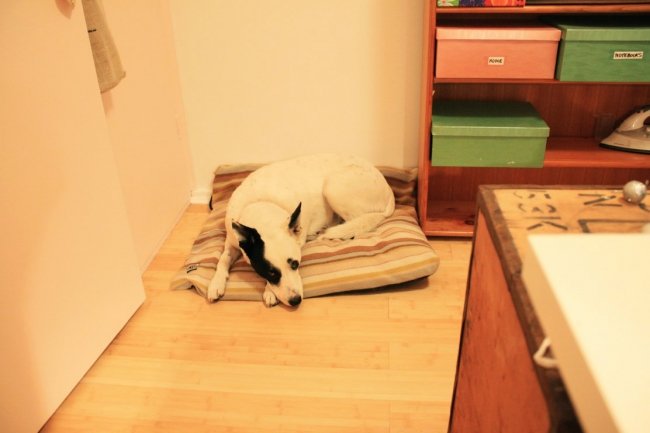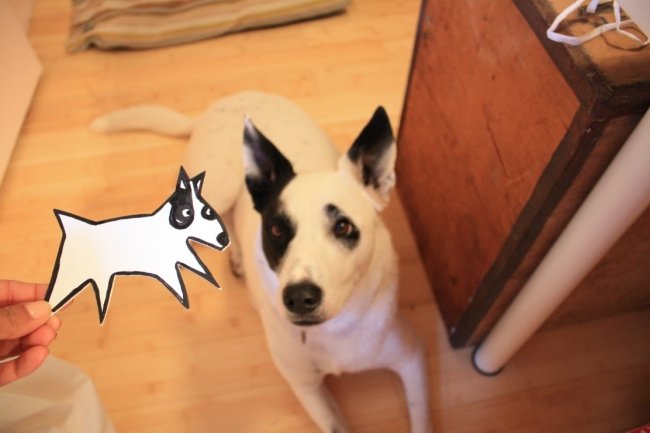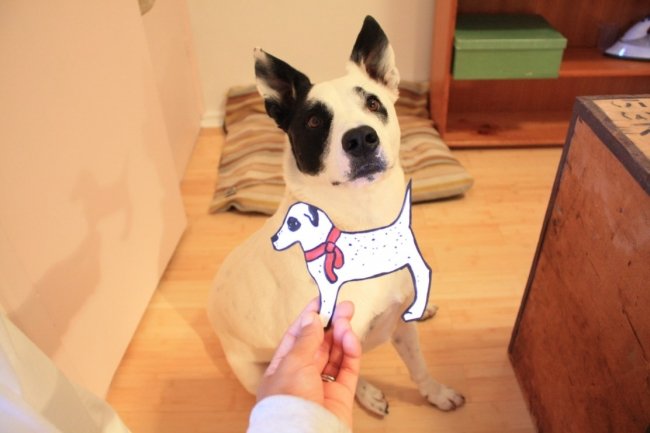 Finally I affixed a bit of sewing thread to the back to hang them up. Very easy. Here is the finished result.
Mr Nerd suggested I hang one of my Nalas to Nala's stick decoration and so I did. The other Nala (and the diamond) I hung to the stick tree I gave to my mum and kind of stole back off her.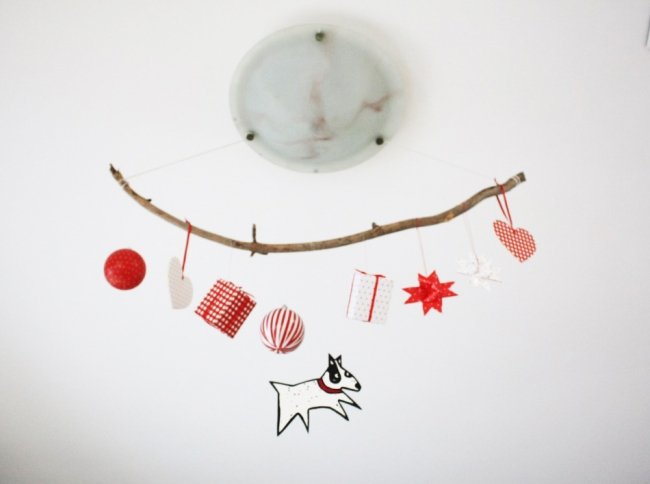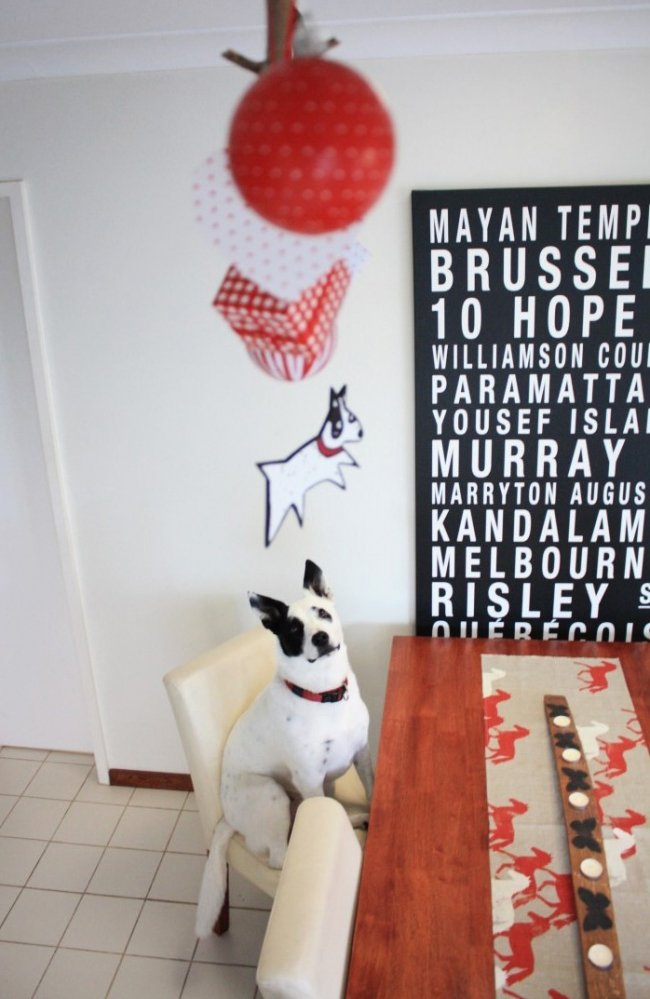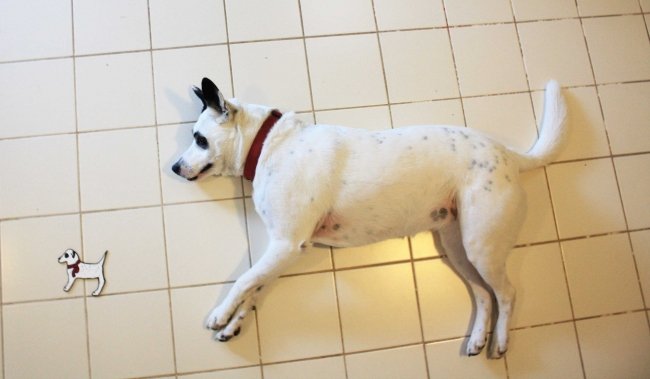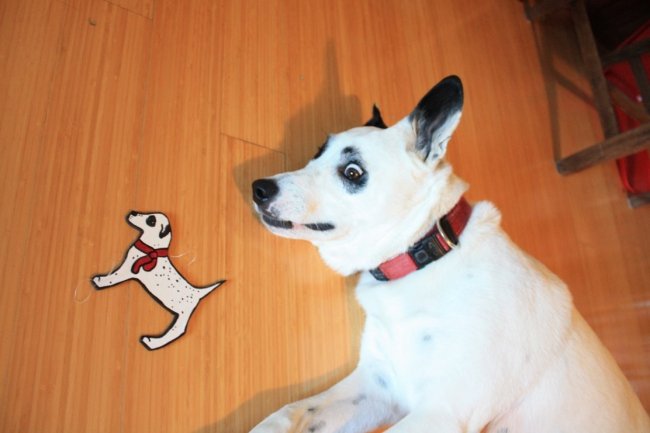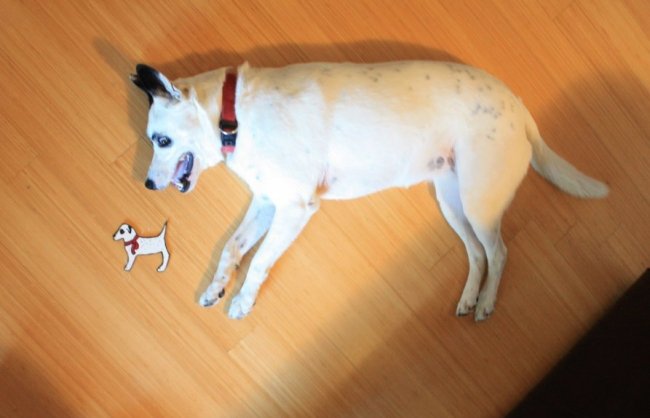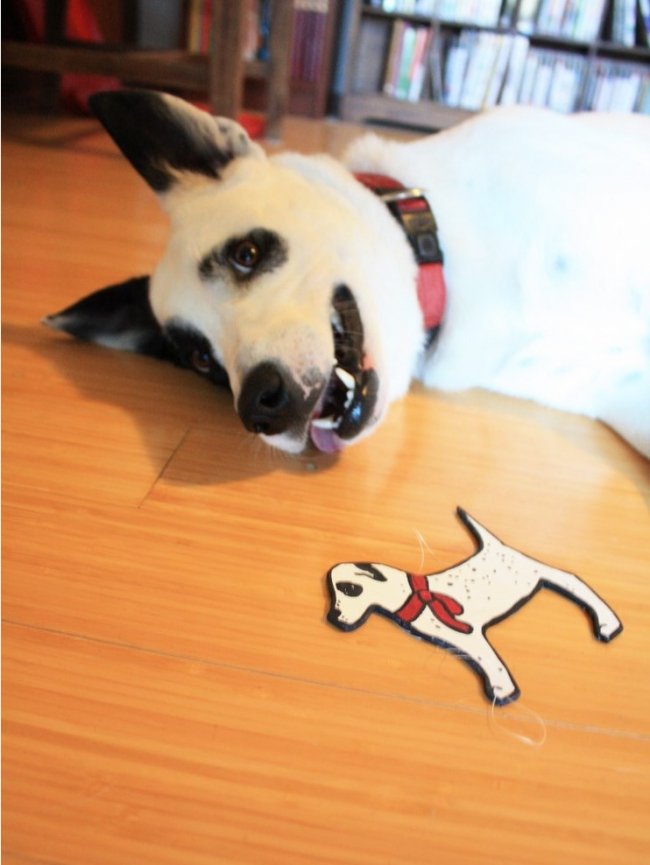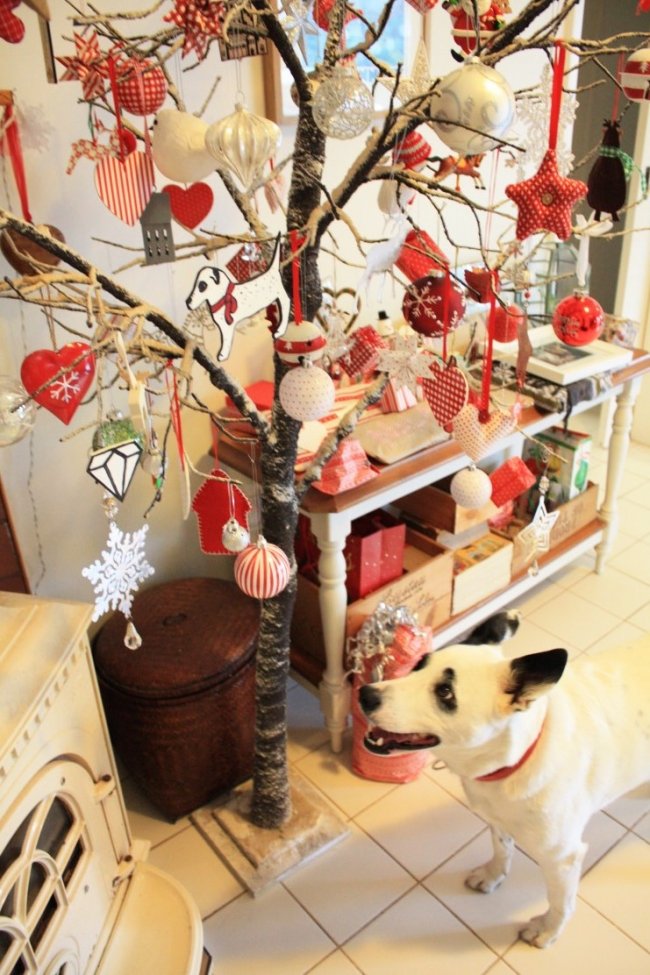 Man I LOVE doing crafts. Making stuff makes me feel happy. And you know what else makes me feel happy. Winning stuff.
WIN A DREMEL MOTO-SAW!


So I find this pretty exciting… I'm giving one of you guys the chance to WIN a Dremel Moto-Saw, and can I say they are awesome. You can attach it to the benchtop or use it in a handheld capacity which is very handy, there are hundreds of different projects you can use them for, and you can cut through wood, plastic, laminate and thin metal, though not all at once. RRP $129.


To enter, all you have to do is tell me what you have got planned for your home in 2014.
Maybe you want to renovate your kitchen, declutter your junk room, start a vegie garden, organise your closet, disguise the door to your toilet so that looks it is just a bookcase and then ta-da!! IT'S A TOILET. Just an idea you might have.
Or maybe there is nothing you want to do to your place, improvement-wise, but you just want to ENJOY your home more… maybe you want to spend more time crafting with the kids, or you want to buy some more cats, work more in your man cave or have friends over more frequently to show them your mad collection of 1940s stamps.
To enter, leave a comment below (please make sure to include your email address so I can contact you) Or if you want some privacy because your secret plan for the house in 2014 is to turf out your sweet adult son so you can turn his room into a trampoline room, you can send me a nice private email to [email protected]. Please put "I Want Dremel" in the subject line of your email.
Terms & Conditions
Competition open only to Australian residents.
Please leave your entry as a comment below or by sending an email as above.
After your comment, you can enter up to three more times (woohoo!) by receiving an additional entry in the draw by:
following House Nerd on Facebook
following House Nerd on Instagram
liking Dremel on Facebook
Please make mention in your entry or add a little note if you have done any of these.
Competition closes AWST midnight January 16th, 2014.
Winner drawn and contacted by email that week to supply their mailing address.
If in one week a winner has not responded, a winner will be redrawn.
Winner announced on the blog in January.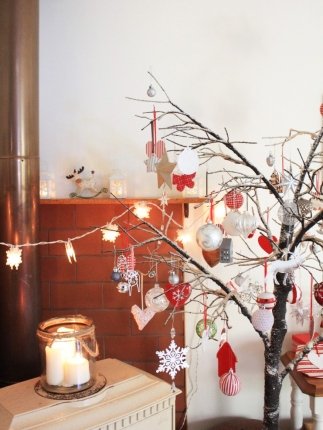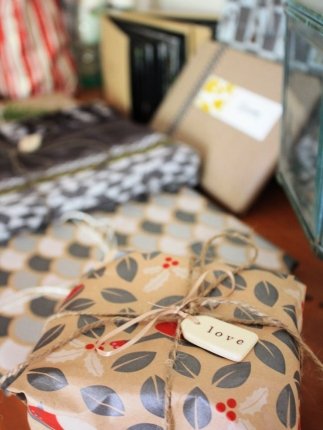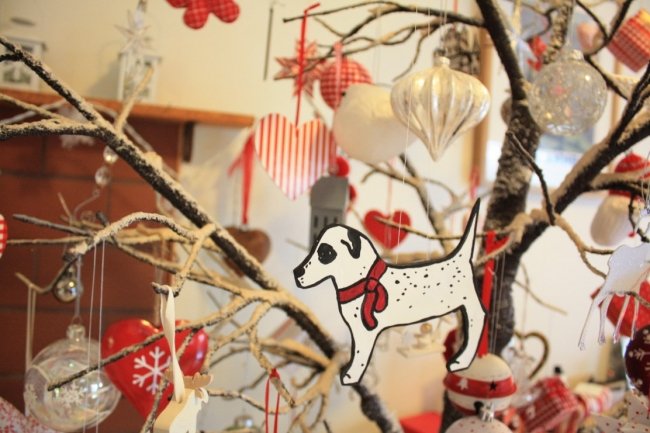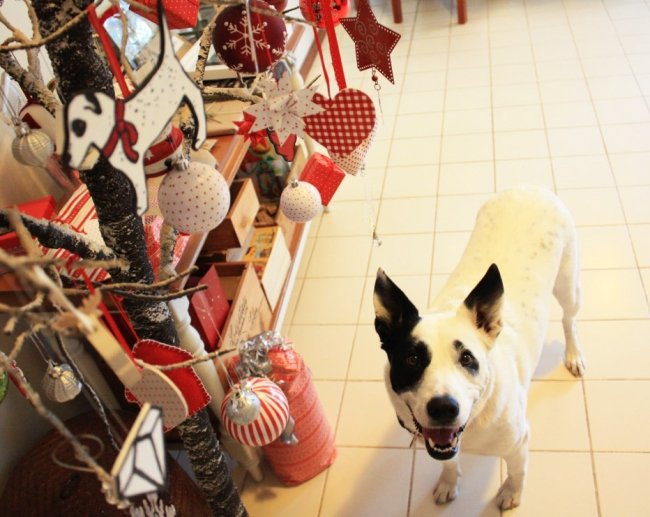 Good luck nerds – and Merry Christmas from me, Mr Nerd and Nala. Hope you guys have a brilliant break. Maya x