Posted Thursday, January 23, 2014 in:
Obsessed With
Today's story is a story about sewing - and about someone very dear to me! I'm pretty proud of the lady who I have written about today, because I know her and have watched her grow in the small business and interior design world since she began. Olivia DeRoche-Reiten is a Perth-raised, Sydney-based fabric designer who founded Moochie Lou, a small business making and selling luxury bedclothes.
She is also Mr Nerd's sister, has been a close friend since we met about four years ago, and was one of my bridesmaids at our wedding (and Mr Nerd was maid-of-honour – yep - at HER wedding… but that is another story!)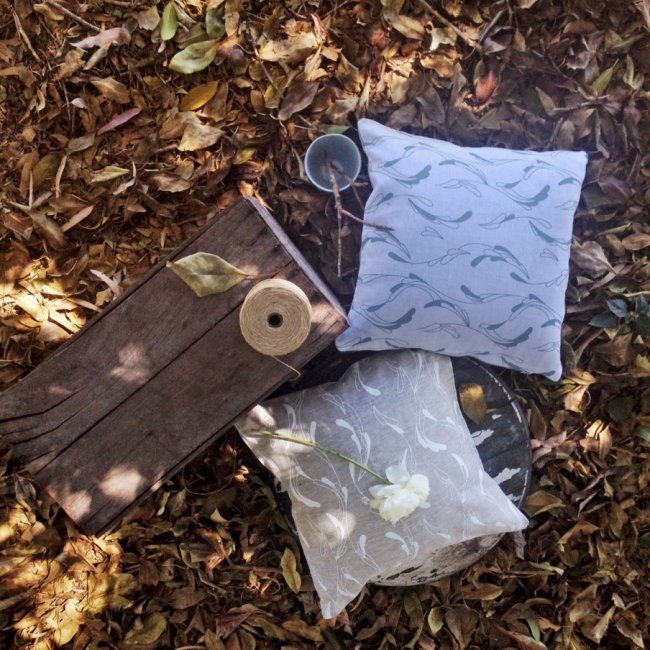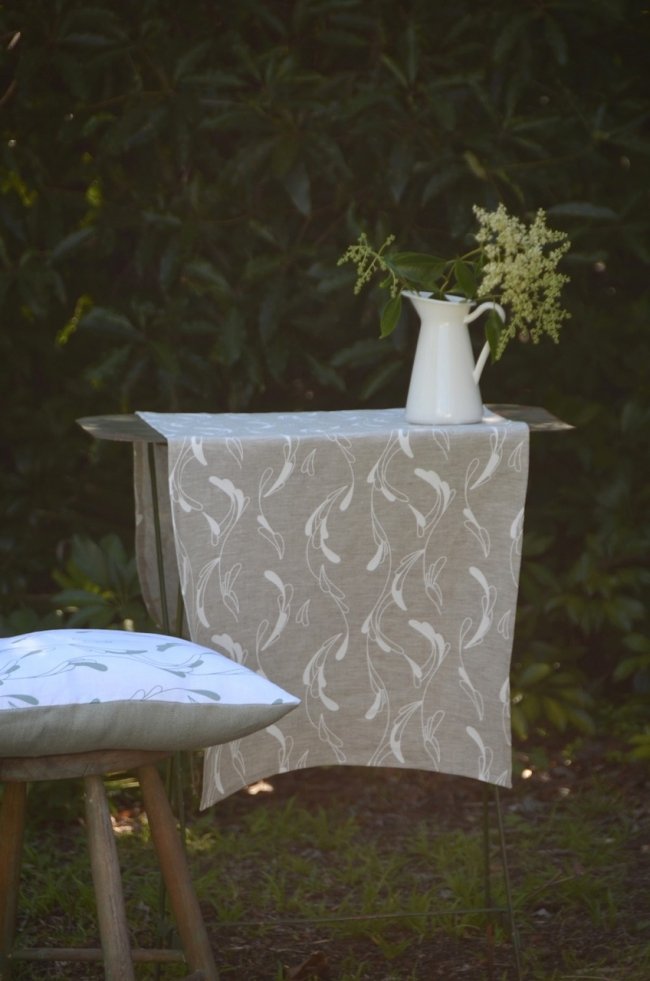 In Olivia I found an instant friend who loves homes and design as much as I do, and she has taken me on many a blissful jaunt around Sydney checking out its most awesome vintage homewares stores while leaving poor Mr Nerd at her home to look after her spawn.
After two years of sewing her range using Australian fabrics, Olivia has now designed and made her very own fabric and it graces this page – her beautiful 'Little Flow' print. At the recent Cranmore Home pop-up shop in Gingin, her first custom-designed Moochie Lou fabric made its debut and her duvet sets completely sold out.
The seed for Moochie Lou was planted when Olivia's firstborn daughter Mia (one of our little flower girls!) started preschool. "Mia needed some bedding for nap times and I struggled to find anything that was unique like her," says Olivia. "So the search for beautiful fabric began. Her little face when I finished her napbed was something I wanted to keep seeing!"
Mia's little bed was made from top-quality linen – the kind that gets even softer and more luxurious with use (and I know, because Mr Nerd and I have Moochie Lou bedsheets and they give you that waking up in a luxury hotel feel!) Once other mothers and friends saw the little napbed Olivia had made, she started receiving lots of requests for all kinds of bedding and a little business naturally began to grow.

Olivia named it Moochie Lou after her daughters – Mia's nickname is Moochie, her little sister Leila (our other flower girl!) goes by Lee Lou. "Moochie Lou started with my little girls so it was natural to embrace their essence in my business name," says Olivia. "Their nicknames made for an easy decision!"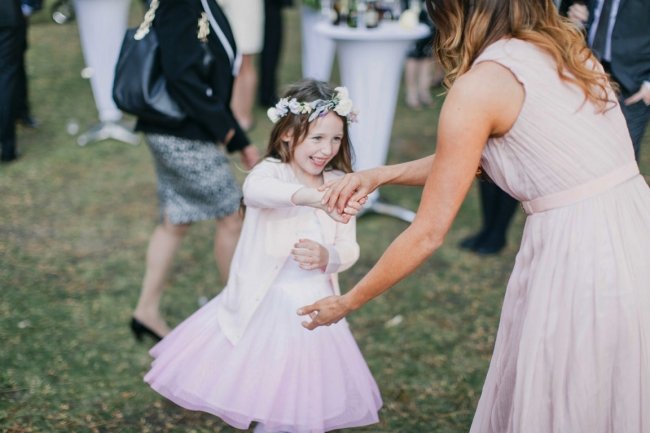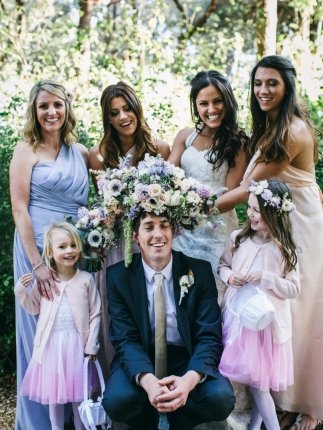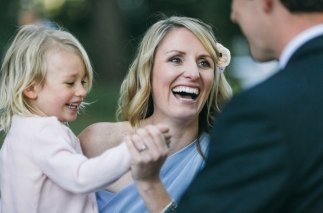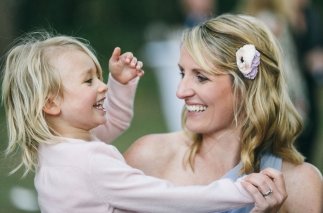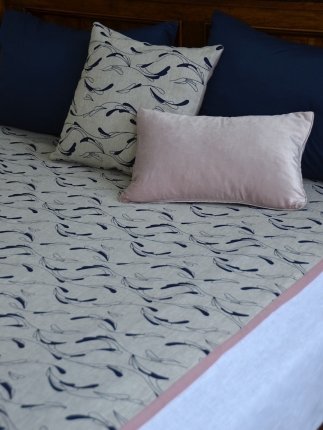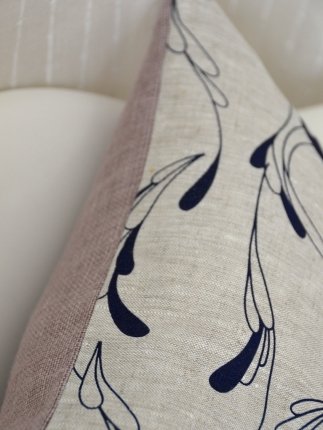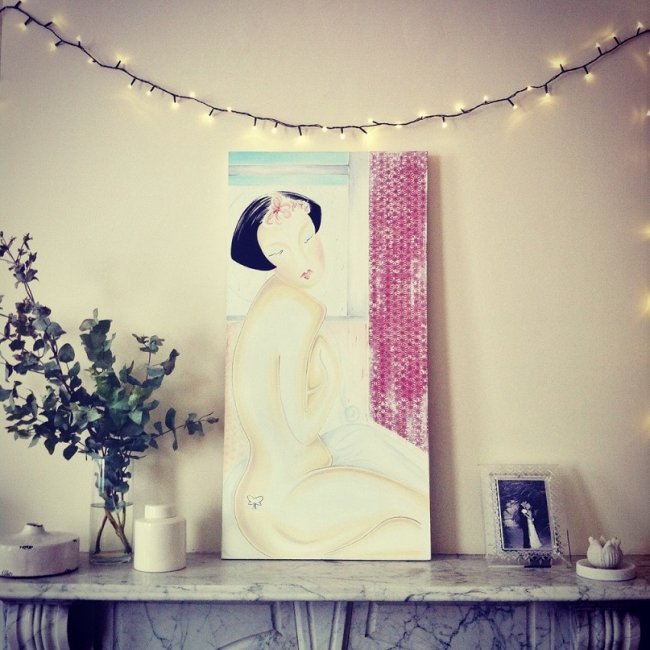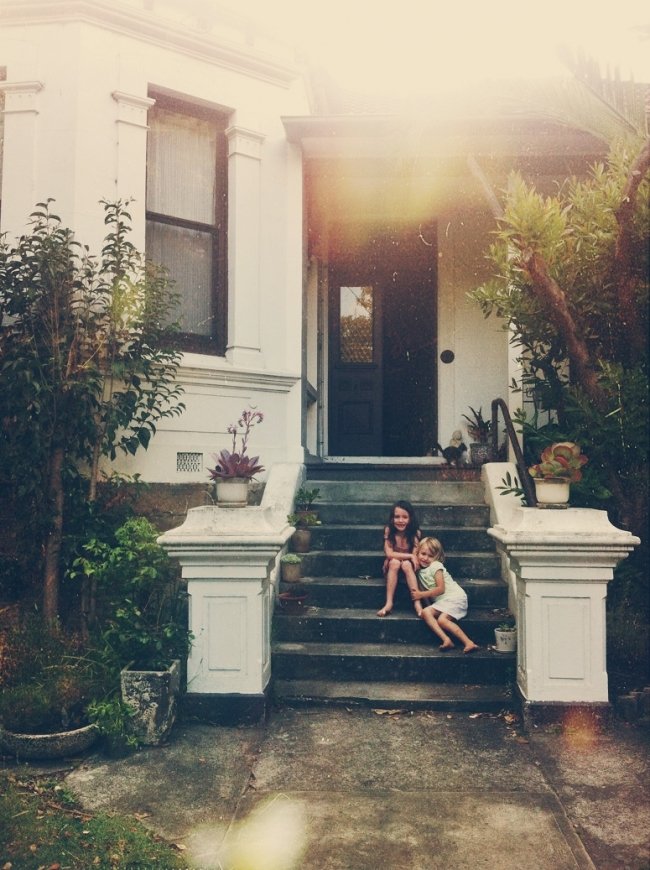 Working out of a sewing room in the place she and her little family call home, a glorious old Sydney house of yesteryear (still with late-1800s marble fireplaces, bay windows and servants' bells – not that these are used these days!) Olivia sews every Moochie Lou creation on vintage sewing machines passed down to her by her grandmother.
"My nanna was an amazing seamstress and I am fortunate enough to have had her give me three machines," says Olivia. "My first was given to me when I was 19, hoping I would take it up. Unfortunately it was no competition for my Derwent pencils so it sat there predominately untouched for many years.
"Eventually I dragged it out and when Nanna saw I had started seriously teaching myself to sew, she gave me her overlocker. This year, my nanna gave up sewing and very kindly gave me her exceptionally fancy and much-loved favourite machine, the materials and tools she used. It was a pretty humbling gift... I may have cried! I cherish every minute being in my studio using her pins, pencils and rulers. I also love the familiar smell of machine oil that reminds me of her."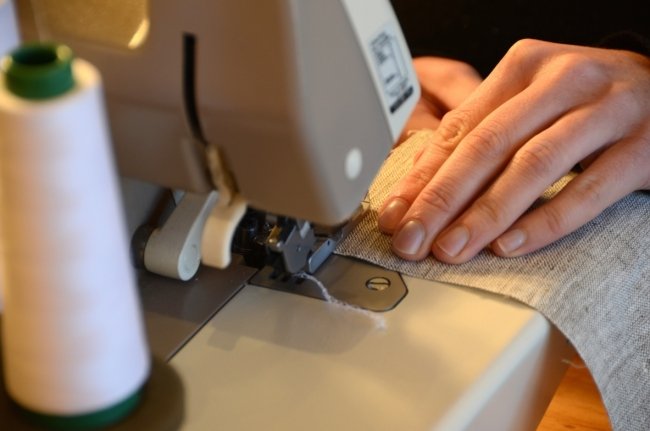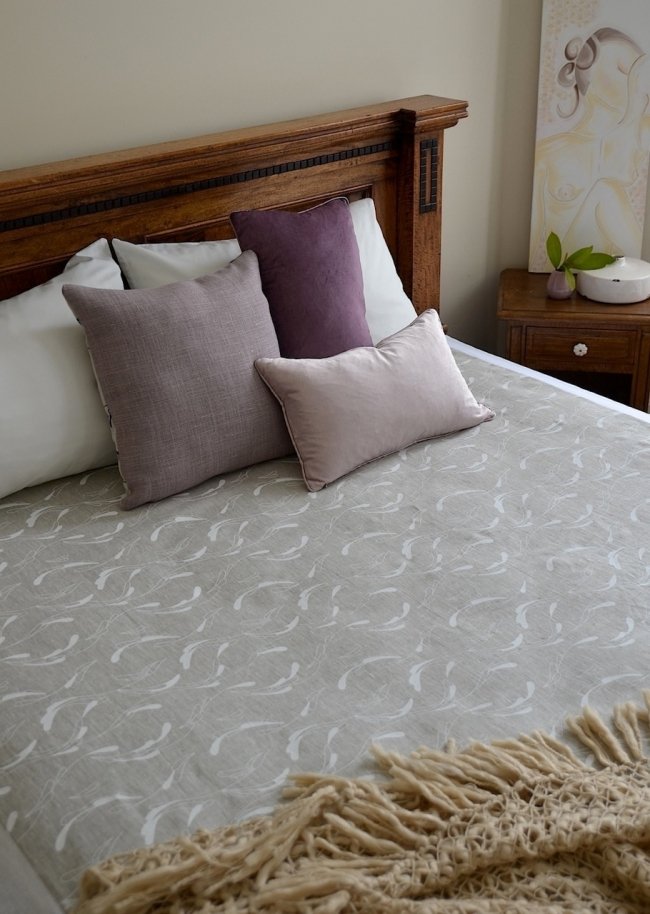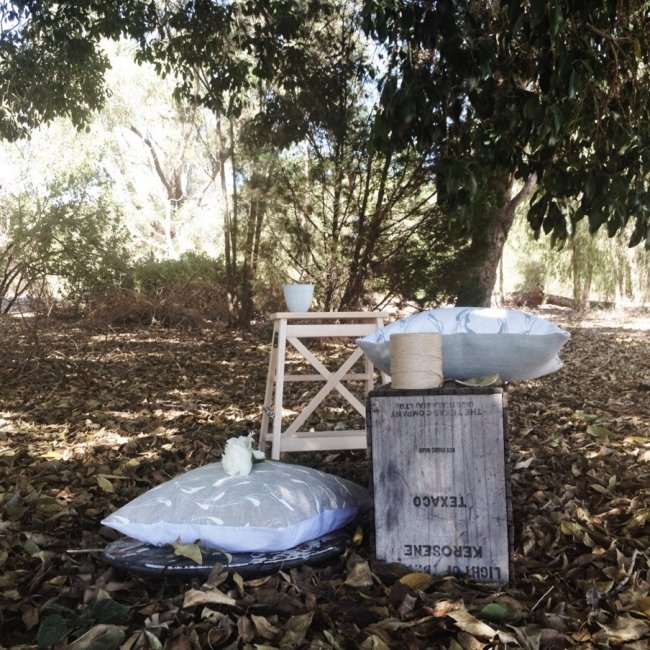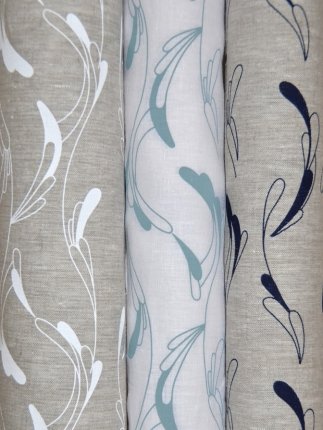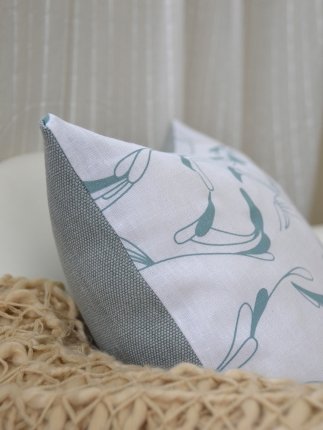 Olivia's bed linens and pillowcases made in her own fabric design, her beautiful 'Little Flow' print (pictured above) have already been snatched up. "My proudest Moochie Lou moment was the other night when I got into bed and snuggled into a duvet set I designed and made," she reveals. "I just felt so content in that moment."
Her favourite things to make are also her most in-demand items, her custom-order duvets. "There is nothing more fantastic than making something that is completely individual." Olivia is a big believer in buying handmade and in handmaking timeless - rather than trendy - things that people will love and keep for a lifetime. "I love knowing there is a little handmade local community finding support and keeping artistic skills alive, and buying handmade means your money will continue to stay local supporting other local businesses and artists."
Exciting things are ahead for this little range. With her first fabric a hit, Olivia already has more designs up her sleeve and a new range will be released in the next couple of months! She has recently teamed up with a friend, Zita Boyd, to take Moochie Lou to the next level. Watch this space… you can keep up to date on Facebook or Instagram. Fingers crossed Olivia will be the next Florence Broadhurst! (Without the icky unsolved murder bit). Maya x

And check out our Moochie Lou giveaway below!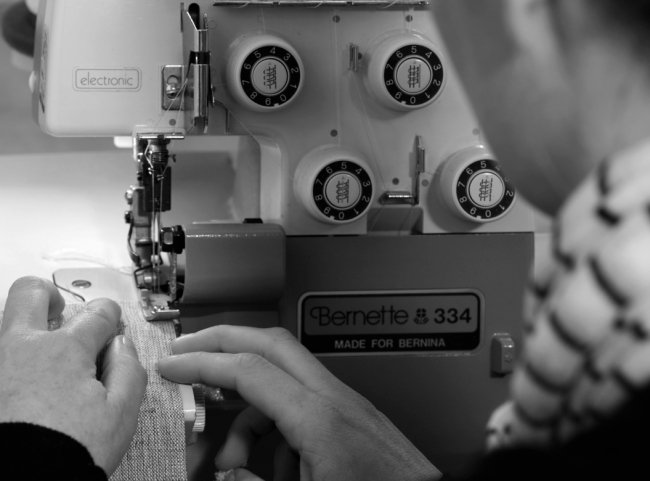 SMALL BUSINESS, FABRICS & MOTHERHOOD
A quick Q&A with fabric designer Olivia.
HOUSE NERD: You have two little girls – how do you juggle being a mother and finding time and energy to work on Moochie Lou?
OLIVIA: "As the girls are getting bigger, it's not as tricky anymore. The girls are so used to me pottering around on the floor with my scissors, at the iron, on my machines, that they just play around me. Sometimes a pony will flop in my lap mid-sew but at least there is no unpicking! I fit in stints around the rhythm of our family and I usually find it pretty relaxing and inspiring."
HOUSE NERD: Why are you so passionate about beautiful fabrics?
OLIVIA: "Fabric is a ridiculous obsession I have developed! It goes in two distinct piles in my space... fabric for my personal use and fabric for my business. For my business, I'm passionate about finding high quality fabrics that are ethical, sustainable and organic. For myself, I can't go past an amazing piece of vintage fabric, crochet or block print design. I could bang on about fabric all day. I am really restraining myself from going into crazy detail!"
HOUSE NERD: Hardest bit of your job?
OLIVIA: Probably the maths! It really isn't my strength and there is a lot of calculation involved with designing and sewing.
HOUSE NERD: Advice for other people wanting to start their own creative small business?
OLIVIA: "Tread gently with confidence. Going slowly allows you to experiment and stretch yourself to really get a good idea of what people love and what you like doing most without risking too much financially. Don't give up, some days are quite confidence-breaking and can make your goal a little muddy but stay positive. Keep at it. It's all part of the journey of running a business."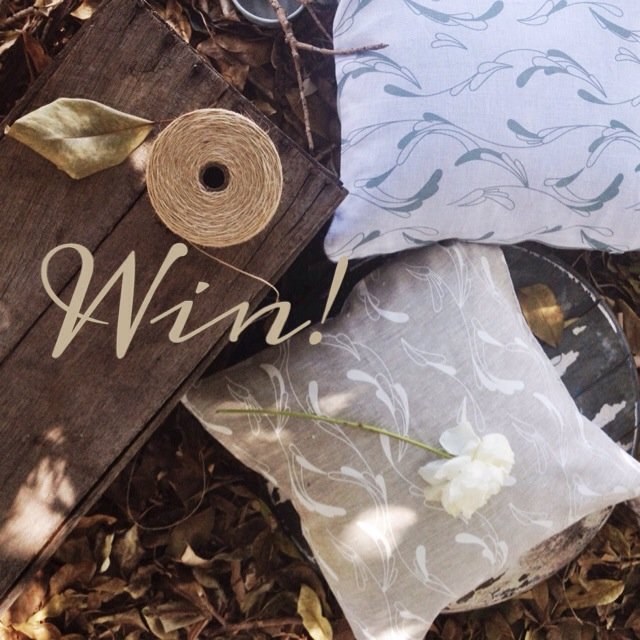 WIN! A MOOCHIE LOU CUSHION SET IN OUR GIVEAWAY!


You can WIN this pair of handmade Moochie Lou cushions for your own home! Valued at $138 and designed and made locally, these cushions feature a backing of washed Belgium linen (the highest grade!) are screen-printed by hand and would make a beautiful addition to any bedroom, living room or sunroom. To enter the competition, all you have to do is leave an answer to the question below:


What colours are you loving for your home at the moment?


You can also receive up to TWO bonus entries in the draw. All you have to do is 'like' Moochie Lou on Facebook or Instagram and mention in your comment that you have done so.


Make sure you get your contest entry in soon and good luck! P.S. My personal favourite colours for the home at the moment are greys, duck egg blues, coral, and lots of white accents. Maya x
Terms & Conditions
Competition open only to residents of Australia.
Each person can get up to three entries in the contest draw, the first by leaving a comment, the others by liking Moochie Lou on Facebook and/or Instagram.
Competition closes AWST midnight February 14th, 2014.
Winners drawn and announced on the blog and required to supply their mailing address.
If in one week a winner has not responded, a winner will be redrawn.
Winners will be announced on the blog in February.