Posted Monday, September 24, 2012 in:
Obsessed With
How cute are these bad boys? These really tiny birds are handmade from felt by the nimble fingers of Nuthatch Cache crafter Alisha Harms. Each bird proudly stands about one inch tall (small?) with some of the fatter ones at about an inch wide also. After coming across Alisha's work on Etsy, I could not resist ordering four little guys for the printer's tray I picked up at a trash and treasure market, and they soon arrived in a little box. Alisha tells me she got into making tiny, tiny birds years ago after buying a small needle felting kit. "I fell in love with the process and I had just been getting into birds so I decided to make a quick and simple owl," says Alisha. That tiny owl multiplied, but for Alisha felting was just a hobby until she finished school and moved to Portland, Oregon. It was here that she was encouraged to start up an Etsy shop and it wasn't long before the requests came flooding in. "Soon I had lots of orders and lots of little owls," she says.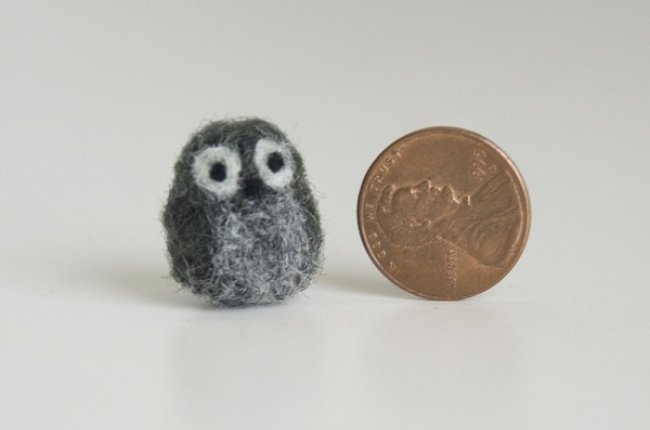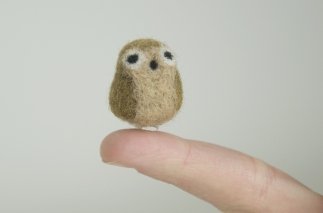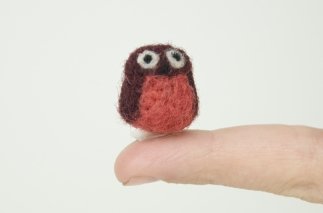 Her business lets her combine two of her loves – crafting and birds. Alisha first became interested in birds whilst studying in New Zealand. An animal fan, she soon found out that New Zealand has almost no native mammals and to fulfill her cute creatures quota she started hiking and bird-watching. "After a few weeks I started getting really interested in what each bird was and during a hiking trip a small New Zealand robin decided to hop around on my boot and try to eat my shoelaces," she says. "That interaction really got my bird love a-flowin'! But the bird that sealed the deal was the New Zealand Fantail. Never have I seen such an adorable and crazy bird. Its tail is as long as its body. It does crazy acrobatic moves to catch bugs mid-flight and it follows people around to catch all the bugs they kick up as they walk. It was love at first sight… flight?"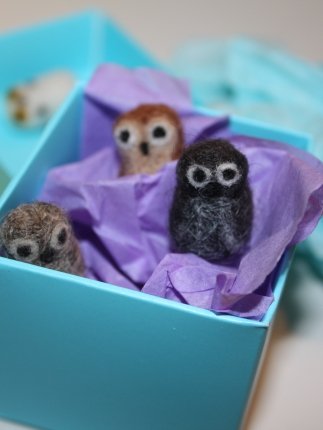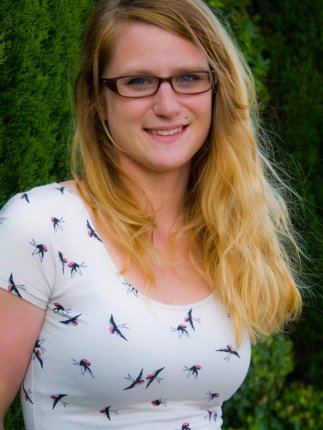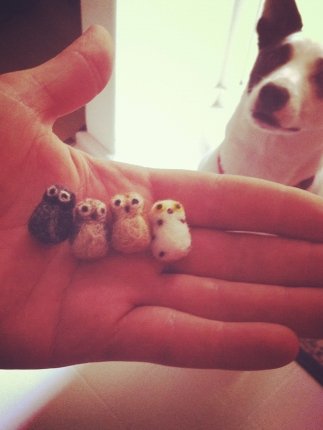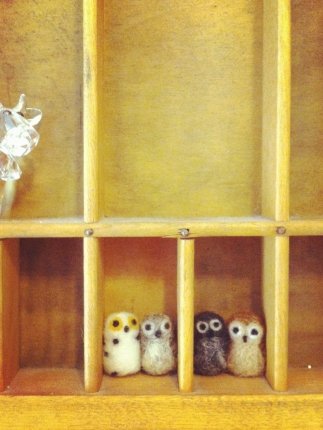 Now running Nuthatch Cache part-time, Alisha also works as a nanny to a two-year-old girl. "I have been watching her for about a year now and let's just say she can identify birds by shape and call!" Alisha laughs.
Alisha says the best part of running a small one-person crafting business is seeing how happy she makes her customers. "When I get messages from someone telling me how much they love their little creature or how it helped win a girl or boy's heart it really makes my day," she says.
CRAFTER LOWDOWN
the crafter
Alisha Harms of Nuthatch Cache
HER SPECIALTY WARES
Tiny, handmade needle-felted birds and other adorable little creatures.
house nerd thoughts
Perfect for grown-up kids (and little kids).
WHERE TO BUY
To check out Alisha's range and make up your own owl escapade stories, check out the Nuthatch Cache Etsy store.