Posted Monday, March 10, 2014 in:
Guest Nerd
Remember when I featured the hallway query from reader Michelle Harmer, and asked if any of you guys also had any interior design dilemmas? Well, there are definitely a lot of people who have always struggled to style a particular zone of their home (we're included!) I got a great response to that story to requests for your questions - including three emails from three women all called Michelle. And here is the letter from one of those Michelles!
Hi Maya,
We moved into a fully renovated, 27 year old house 18 months ago. The layout of the house is functional – but this one room drives me mad! The sitting area is diagonal and there is a mantelpiece on one side. The other part of the room is rectangular.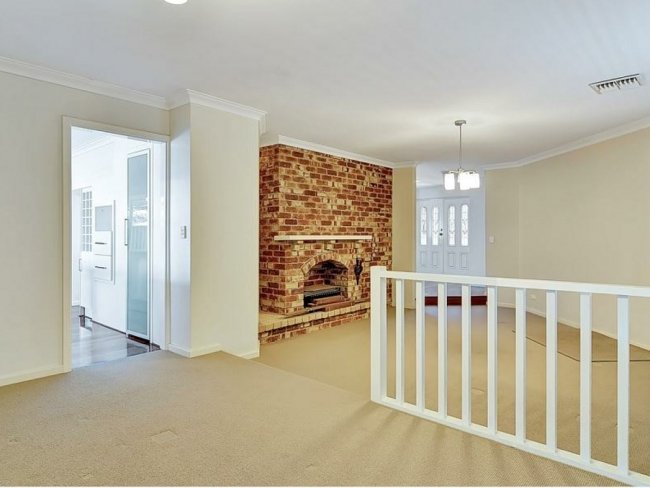 I have no idea how to place furniture and make it into a room where we can watch TV (as this is what the main function of the room is) as well as use the room for a sitting area. Also, the mantelpiece and fireplace is a pretty feature but I need to style it better because at the moment, it is kind of hidden and only looks good at Christmas when the stockings are hanging from it! The lounge is the first room we look at as we enter the house and it looks out to our backyard, so it needs to look styled and functional, as well as inviting. I would love some help!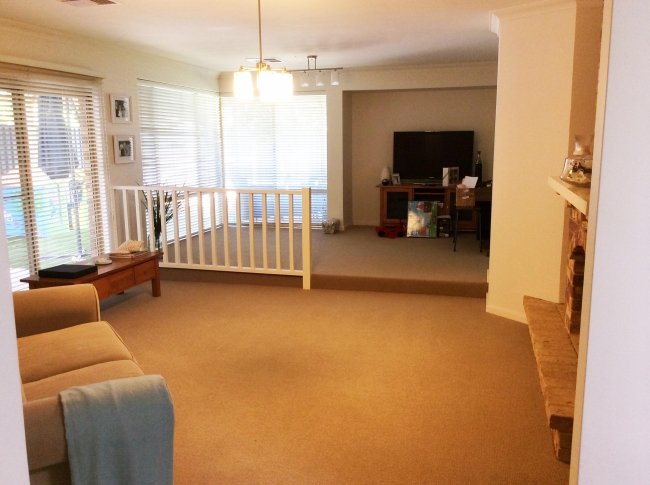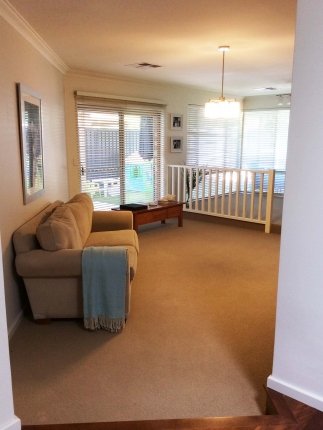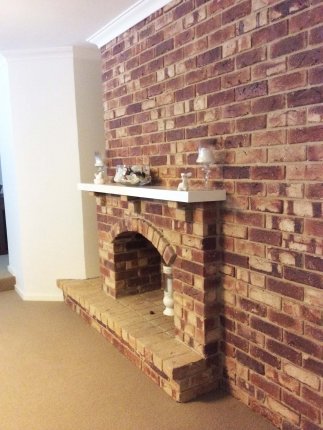 There are no powerpoints to the brick wall. There is a sliding door in the lounge to the outside but we don't use it. And here is the original plan… yep… lovely room shape we are looking at there! Ugh!

We use the dining room as a sort of lounge, and have our eight seater dining table in the kitchen space, to the right by the windows. The games room is currently used for a TV/playroom for our little one. It works well as we can watch TV but at night all the toys are completely hidden so it's quite multi-functional. The family room is really a walk-through area at present. It has our wine rack and buffet on each side of the room.
As you requested I have attached some pics of the style I like that I have followed through the house at this point. I would describe my decorating style as 'pared back Cape Cod meets beach/casual living'. I like blues, whites, greys, black, if that helps.
What do you think?
- Michelle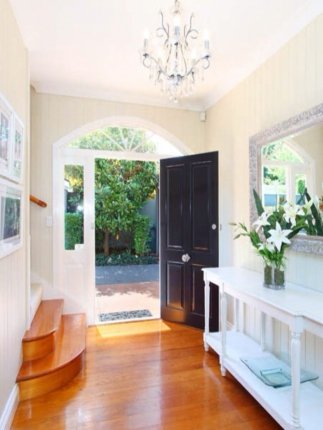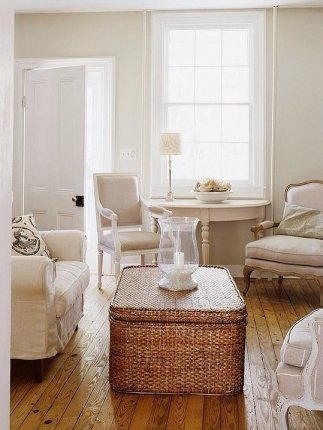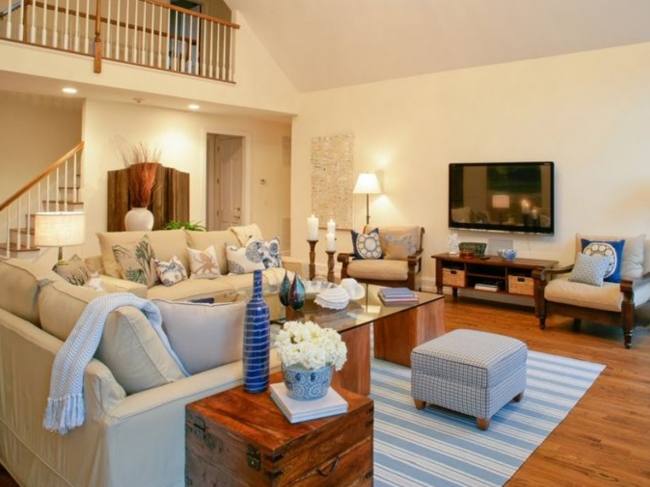 A PAIR OF FRESH EYES
Sometimes when you have lived in a house for a while and feel like you're not using the spaces as well as you'd like, the best thing you can do is to get a pair of fresh eyes in! We all know when you are close to something it can be hard to step back and look at the big picture – and an expert can suggest ways to use your spaces that you might never have considered.
So I asked interior stylist Bec Tougas to cast her eye over Michelle's place. With years of varied interior design experience under her belt, including stints designing interiors with IKEA in Australia and Canada, I knew Bec has a fantastic eye for functionality and would be able to help Michelle come up with practical yet very pretty solutions. Plus I thought Bec's design aesthetic suited Michelle's love of relaxed, inviting, beachy interiors perfectly (Bec's Instagram feed showcases some of the loveliest interiors and lifestyle styling you will ever see - some of her pics below!)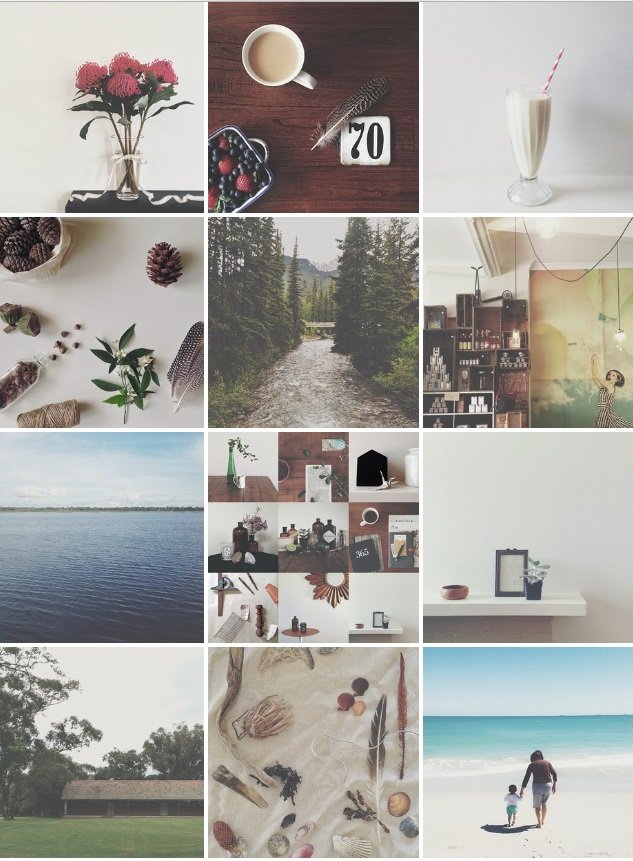 Bec suggested re-envisioning the use of Michelle's living spaces. Rather than using the formal lounge and dining for watching TV, she suggested making the un-used family room an inviting TV watching space for adults, and instead using the formal zones for adult-only relaxing and entertaining.

This way the first part of the house that visitors see is always clutter-free, clean and looks great – while children mess can be confined to the games room and family room! Here's how it can be achieved:
EXPERT ADVICE with interior stylist Bec Tougas


"Hi Michelle,
The problem with your lounge room is not only the funny shape but also the lack of wall space. It doesn't look so great if you place furniture up against floor-to-ceiling windows or sliding doors. Because of this, the rear space would probably be best suited to a formal dining room.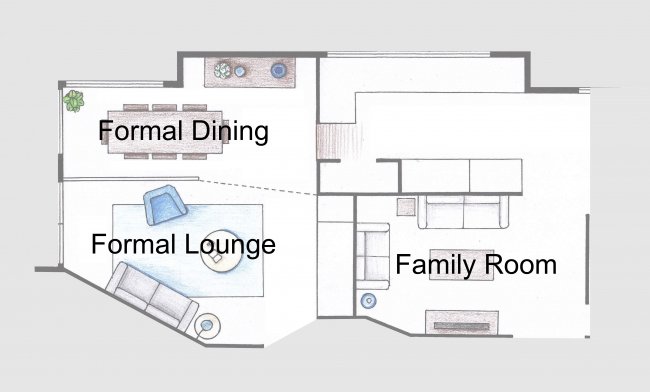 A dining table would sit in the middle of the room and there is no requirement for furniture to be up against a wall - except for perhaps a buffet which would fit nicely into that recess. I understand that this room is carpeted but if it is a formal dining room then that shouldn't be too much of a problem as it would only be used for adult dinners so the chances of spilling would be minimal. Or you could choose to remove the carpet and put in some hard flooring. In the kitchen itself, you could put a small table for informal meals and your little one.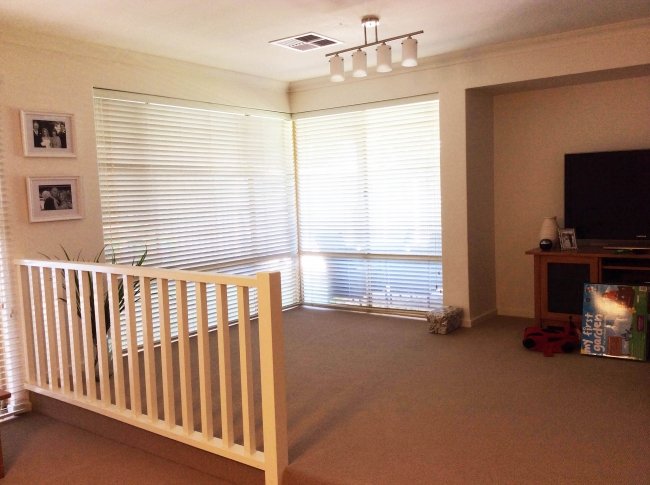 "The lounge room is a tricky one! What I would probably suggest is leaving the sofa where it is, you could perhaps put a longer sofa here but just make sure you don't get one that is so big it blocks the entrance to the room, or in front of the sliding door. Then to create a little extra seating you could place an armchair on an angle about halfway down that balustrade. Armchairs are great because they can stand alone so seeing the back of the armchair from the dining room will not look terrible!
I would then get a round coffee table or a Noguchi-style coffee table for the centre of the room and perhaps a rug to tie it all in. The round coffee table would be better suited to the shape of the room than a rectangular-shaped one.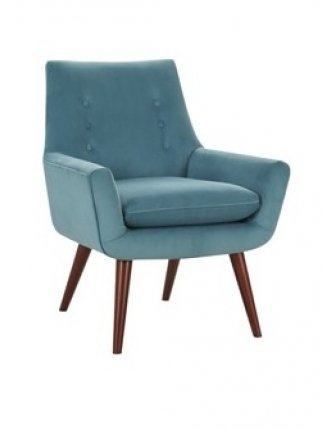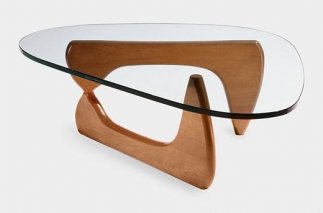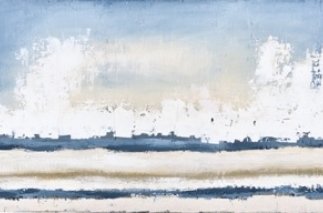 As you said, these are the first rooms you see when you enter the house so if you keep the function of these rooms a little more formal it means they will be easier to keep clean and tidy - especially since it appears you have children. Speaking from experience, if the function of these rooms is your main family room, it will be impossible to always keep them clean!
If you choose this option, the room labelled 'family room' is perfect for exactly that. It has lots of wall space to rest a sofa on and is hidden from sight when you first enter the house. You mentioned this space was a walk-through area at present but this room would actually work really well for watching TV - instead of using the formal lounge for that purpose.
In regards to styling tips for the mantle - because the brick wall is busy the best way to style it is to use larger decorative pieces that are not too decorative. I would also put a large mirror or artwork above the fireplace to break up the brickwork and to draw the eye in. (I'm not a fan of putting TV's over the fireplace - even though I might be forced to do it in my own home!)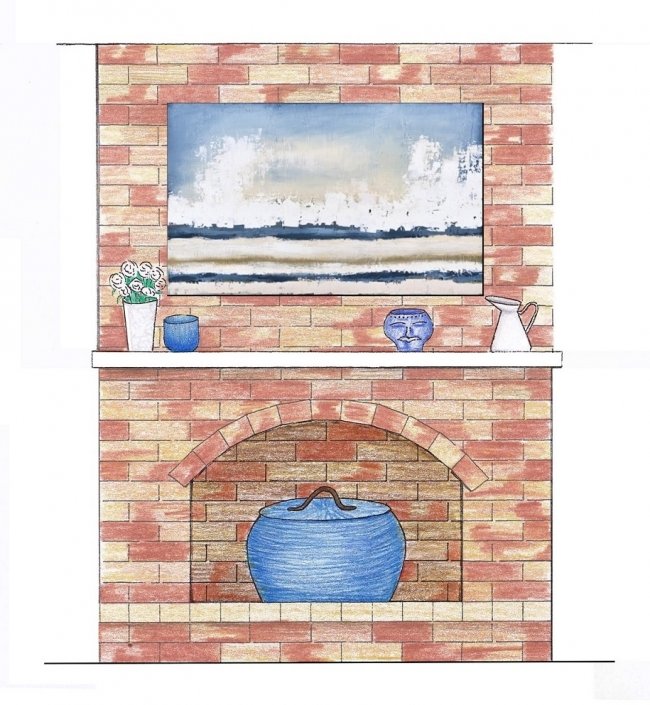 In this case I would centre the artwork over the mantle itself, not over the whole brick wall. The space to the right of the mantle would actually be perfect for a coat rack, something white to contrast with the bricks.

I would keep artwork in the same tones and keep it minimal again because the brickwork is so busy. Scale is important - you want everything on this wall to be fairly substantial so it doesn't get lost in the brick work.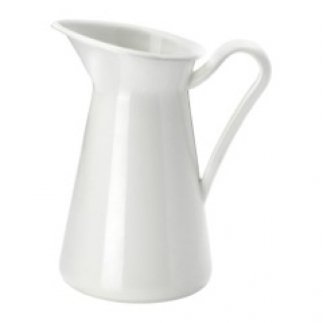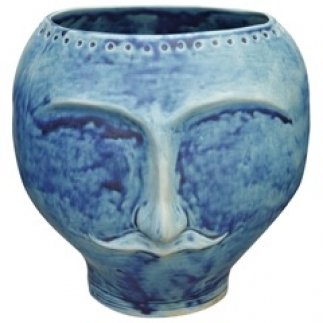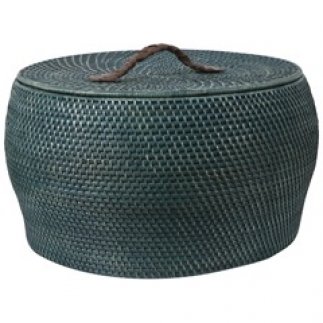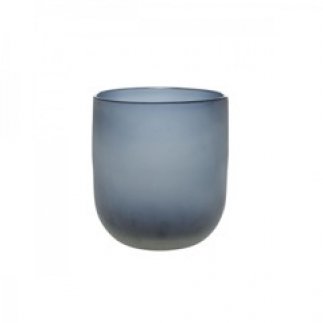 I would keep your decorative pieces light to contrast with the brick and solid –no glass as it will get lost in front of the brick. Use whites, creams, beige, light blue. On the left I would fill that whole space with firewood – functional and stylish!"
Thank you very much Bec! You can follow Bec through Instagram at @bec_tougas, Facebook while her website is being given a makeover of its own.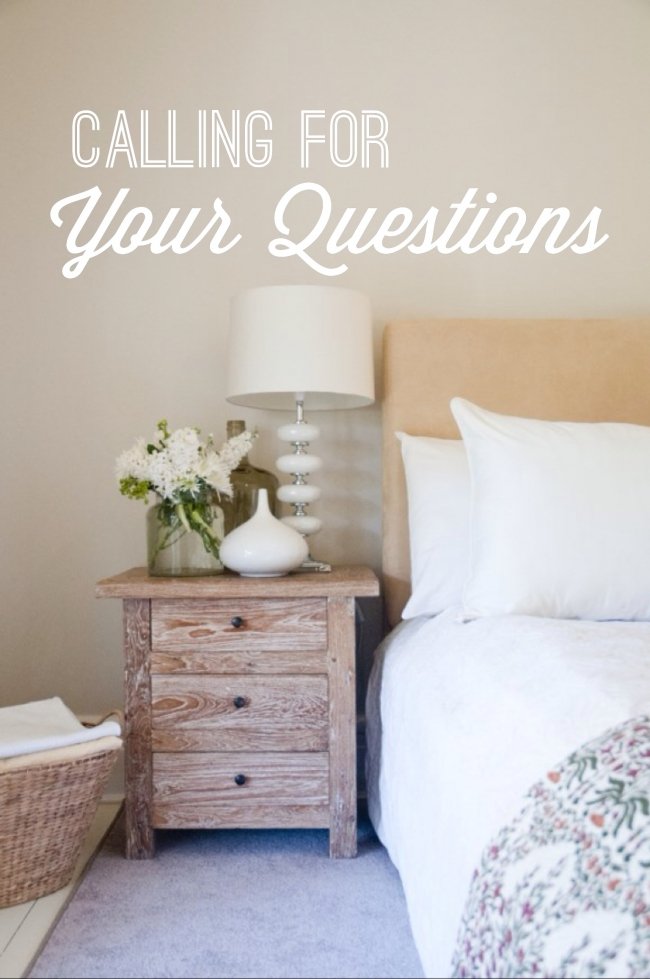 Do you have an interior design problem in your home? Email me your design dilemmas, big or small - I'll be picking a couple each month to feature on here! You can send your reader interior design queries through to me through my contact page.
Love to hear your thoughts on Michelle's place - what would you guys suggest? Do any of you struggle to furnish an odd-shaped room in their house? We have an L-shaped lounge room in our house that isn't always the easiest room to style. Maya x