Posted Monday, October 1, 2012 in:
Gardens
Before & After
When you think about the costs associated with moving house – the agent's commission, bank fees, stamp duty and removalist fees, to name a few – sometimes it makes sense to just stick with what you've got.

That was the advice the owners of this Lathlain home received – and from a real estate agent, ironically enough!

Daydreaming about having a home with a pool, the pair had been thinking about selling their 12-year-old house for a while and approached a real estate agent who advised them to stay in the house and spend the money they would have spent on moving costs to instead put in the pool they'd always wanted.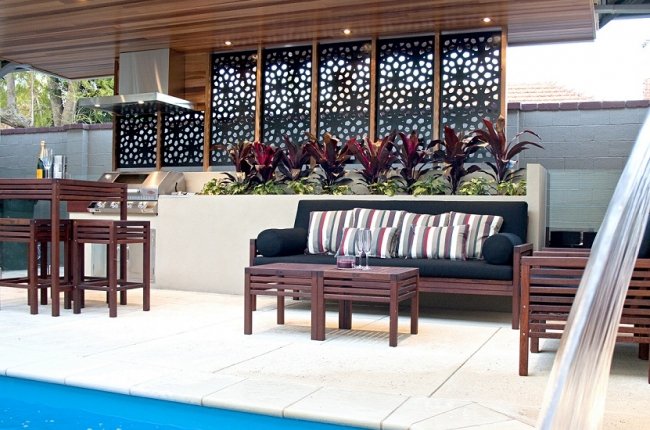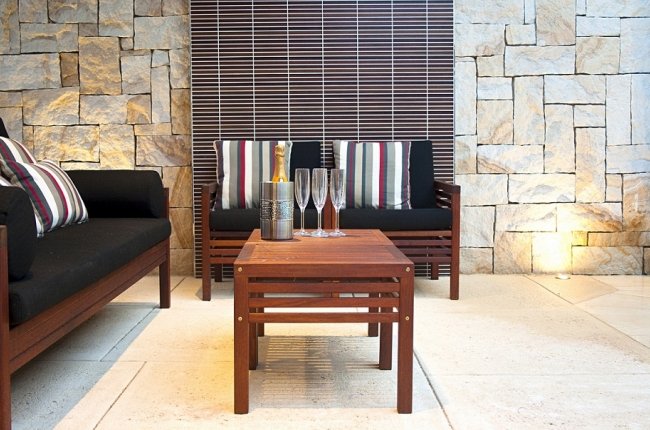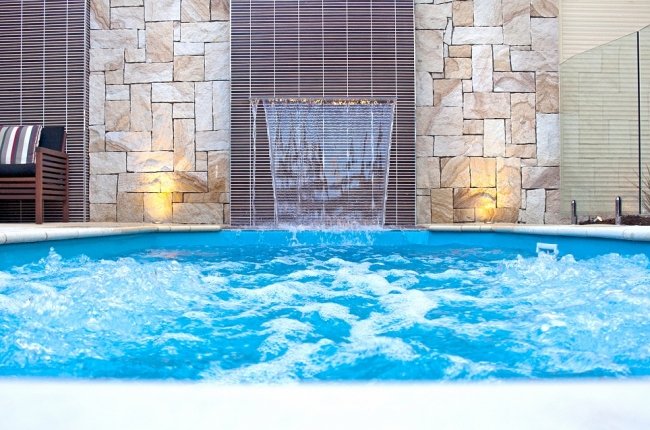 Deciding to take on a complete garden renovation, the couple asked Ashley Peverett to do the job and I met with him one evening to check out the finished result. "It can cost around $50,000 to change your home," Ashley tells me. "So they took the agent's advice to spend that money they would have spent on moving on improving their outdoor area instead."

It's now a warm, intimate and stylish outdoor space, but the courtyard was in need of a little more than a new pool and a basic freshen up when Ashley started work, when it was a harsh-looking concrete pad. "It looked a bit like a prison yard," he admits. Being keen entertainers, the owners wanted a pool and outdoor entertaining space that could be used all year-round. "They had a generous budget but left the design decisions pretty much up to me including the plants and furniture," says Ashley. "The main challenge was making the most of the small space which also doubled as the main entrance to the house."

The solution was to create a walkway-style entry from the front gate with a tall plantar box and privacy screen that gives the pool and alfresco area a sense of separation from the entry gate. I love this privacy screen! It looks like laser cut steel with that weathered, rusted look but is actually fibre composite – a much more affordable option and it looks equally chic. Ashley has these available through his design and project management company Ashley Peverett in different colours and they are not expensive. You can contact him through his website here.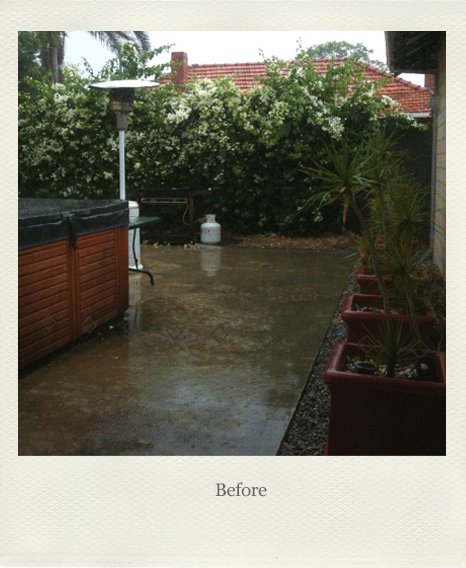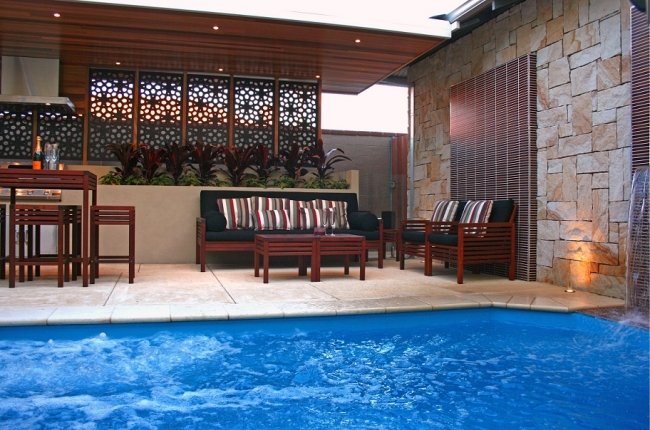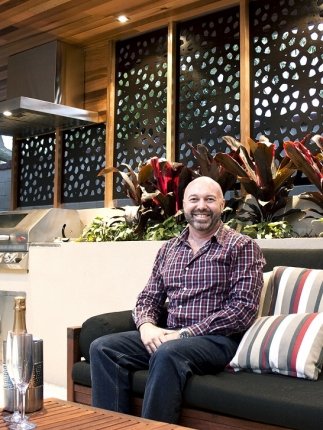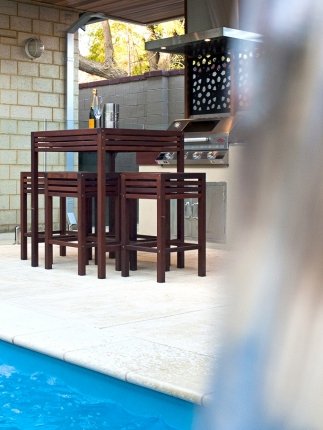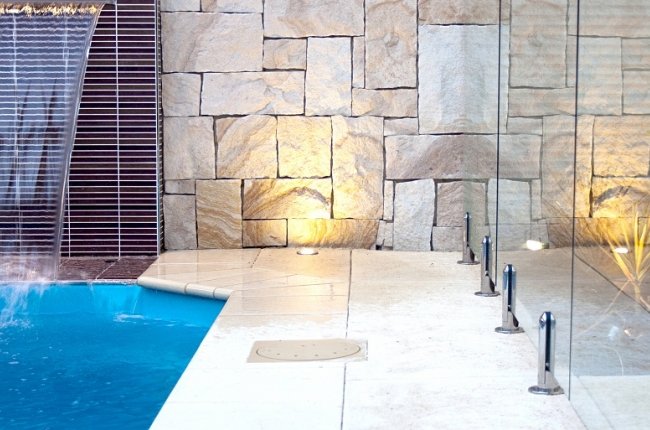 Figuring out the best size pool for the small outdoor area was a bit of a challenge. The clients wanted the pool to be a decent size but because of the limited space available chemical injections had to be put into the ground to protect the foundations of the two-storey house. The decision was made to go for a spa pool, with a spa at one end and deep plunge pool at the other. "It'll heat to 38 degrees in five hours so it can be used all year-round," says Ashley. Nice – switch on the heater when you leave for work in the morning and come back for a relaxing soak. (Or a sneaky lunch break dip).

Ashley went for a sunbed-style water feature. "Sunbeds are a really nice way to add a water feature to a pool - they're not expensive and they make a pool seem bigger," he says.

With work on the garden taking two months, everything was wrapped up just in time for a 30th birthday party. This outdoor area is not large, but the pool is big enough for a nice swim, the alfresco is a decent size for wining and dining and it's gone from a drab concrete pad to unique, modern and stylish. Win.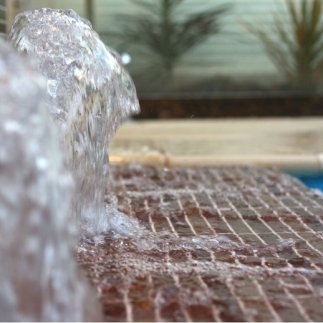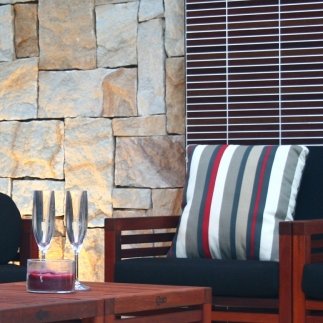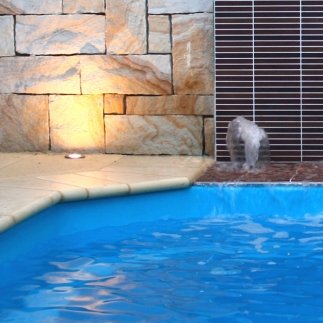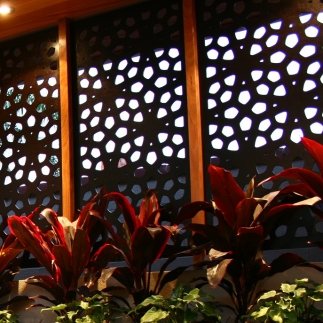 RENOVATING A SMALL COURTYARD? ASHLEY'S TIPS
Make a material board - you could start with a collection of photos, like the above. "One of the most important things is to build a material board. Use samples of finishes and photos of what you're going to do to create the look you want. I purchase everything for a garden at the beginning of a project, right down to cushions. Consider the whole project in your budget."

Consider how noisy your water feature could be. "One of the biggest mistakes I see people make is buying a water blade and have it plunge into a pool. It looks good from inside the house but when outside in a small courtyard people often find it too loud when they're entertaining. Have it run into a sunbed instead." Ashley designed this water feature with jets on the sunbed base, so there is the option of using either style.

Choose a variety of textures for interest and warmth. "Mix different textures of materials but within the same colour palette – try wood, stone and tile together."

Consider liquid limestone for an easy and low-maintenance paving solution. "I really like liquid limestone as there's no problems with weeds, it's easy to do around a pool and it's cool underfoot."
GARDEN LOWDOWN
THE GARDEN
A small concreted courtyard turned into an easy-care, tropical retreat with a pool, barbecue and privacy screen
LOCATION
Lathlain, Western Australia
THE DESIGNER & RENOVATOR
Ashley Peverett, o415 564 856
PHOTOGRAPHY
Cat Lynn of Catherine Lynn Design