A little while ago I wrote this post to share some fun news, that interior designer Nelly Reffet of Twinkle and Whistle was going to cast her eye over The Crap Shack and help us give our home a makeover. Woohoo!

To jig your memory, here's a snap of the gorgeous old surfer's shack Nelly styled that first caught my eye - she transformed it, all on a shoestring budget.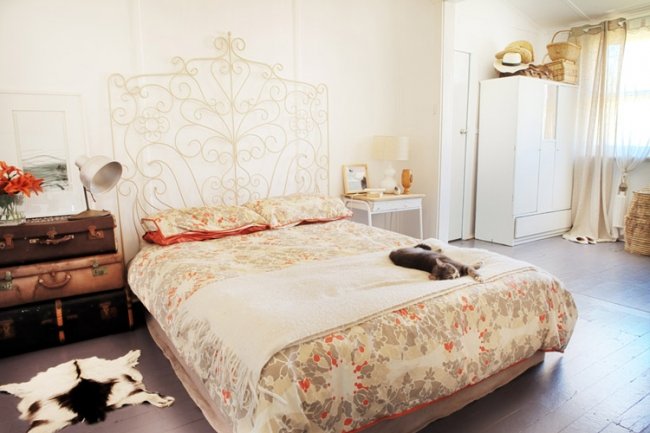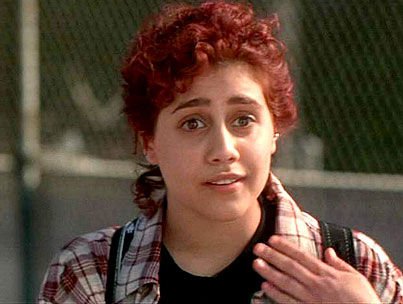 Today I'm going to tell you about the next step in the process of hiring an interior designer – the consultation.
We arranged a time for Nelly to look at our house. "Do not stress out too much in terms of clearing the house, gathering heaps of documents," she advised me. "If you want to, please do, but don't feel like you have to. I can see past the mess if there is any, and I usually don't need heaps of info, but hey, if you feel like writing a novel, by all means, please do!" (Clearly she didn't know me well yet then. I ALWAYS feel like writing a novel).
Nelly says she starts working by coming to the house and taking the time to get to know you and your partner. "For me it's the people who make the house they live in, so no point starting decorating if I have no idea of who you are, how you live, what you like, what you despise, etc. During this first visit, I will also look at your house, take some photos and discuss with you what you'd like to achieve, what your dilemmas are, what sort of time frame you're looking at, etc. I very often make suggestions on the spot already."
"After that, I will prepare a mood board of each room we're styling, along with detailed recommendations - colour, lay-out, lighting, furniture, decorative items. And I am obviously open to your suggestions and feedback: if there is anything you don't like or you're unsure about, please tell me! Communication is capital."
Even though Nelly had told me not to worry about cleaning too much, I did. See, I go into periods of what I like to call 'creative mode' which means the dishes pile up while I write for hours. So the house was messy, as usual.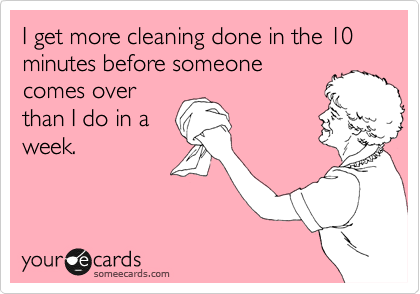 I stormed into the lounge. "We have to clean EVERYTHING," I screeched at Mr Nerd as I snatched the TV remote from his hand with the speed of Beatrix in Kill Bill 2 as she whipped out Elle's eye with her fingertips. Mr Nerd looked resigned but angrily did the vacuuming while our Robomaid got himself stuck in the corner by the fireplace for the 98th time and beeped sadly every few minutes to let us know he was still there.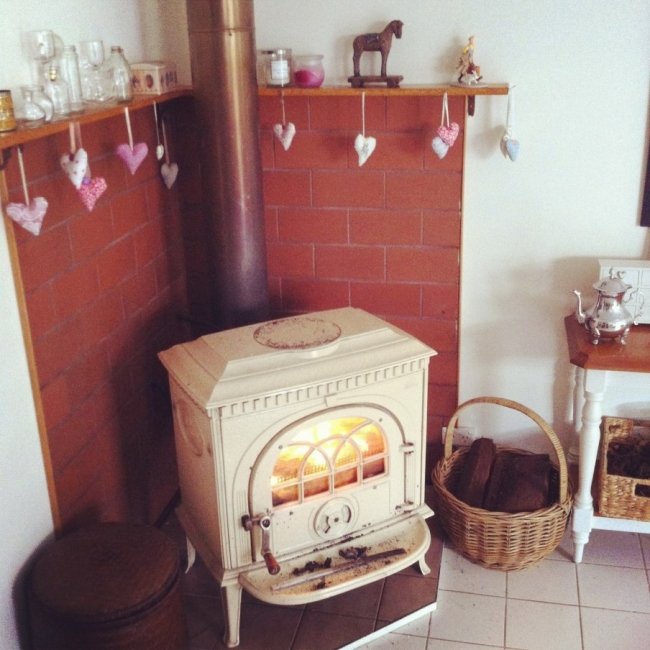 When Nelly arrived, all the cleaning-induced stress dissipated. She was just as I had imagined she would be in person – a lovely French accent, kind and warm yet professional, refreshingly honest and to-the-point. "Expect a lot of very honest comments from my end," she had cautioned me earlier. "Decluttering" and "Why do you keep this thing again?" comes out of my mouth on a regular basis!"

Sounded good to me. I tried to casually herd Nelly into the little shed in the far corner of the back garden so that she could make a comment about the stupid foosball table Mr Nerd has insisted on keeping since high school. But Nelly seemed to mostly be interested in the house. Next time.
Rather than working from scratch, Nelly tries to work with existing furniture that you really want to keep while swapping and updating others. So we pointed out things that we hated and loved as we wandered through each room together. "We love the Chesterfield," "We love our kitchen bar stools" "I hate his sumo wrestler picture" "I hate that cupboard" "That white dog can stay" "Robomaid! What the hell are you eating??" etc.
Now I have to admit it was NOT easy posting up pics of our little old house here, when the kinds of houses I post on House Nerd are always so gorgeous. But you know what? We've all been there, haven't we? Even the best interior designers I know started off in Crap Shacks of their own, and I think most of us have had the experience of living in the not-so-perfect house at some point in our lives.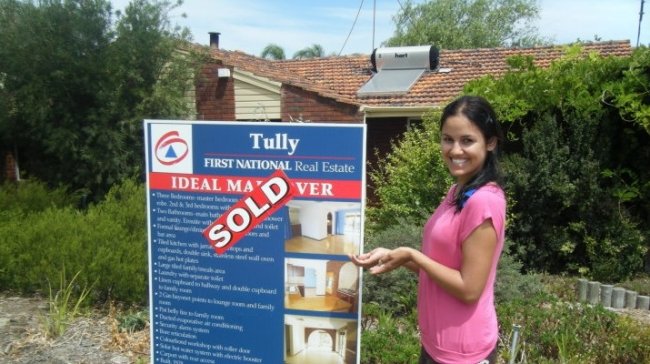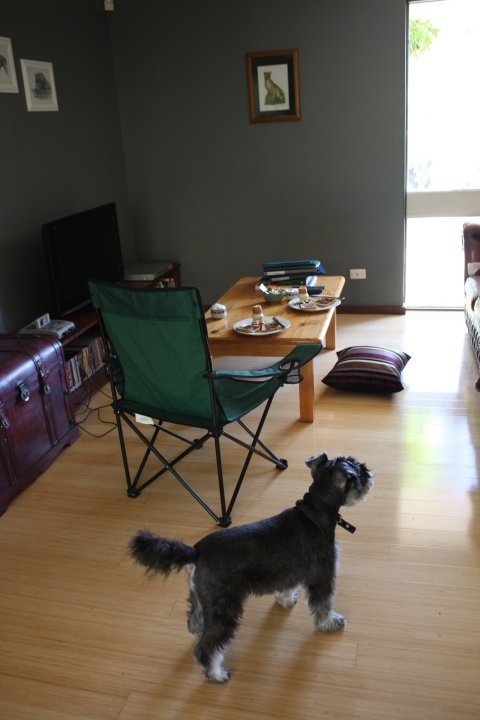 And one of the reasons why I felt so comfortable having Nelly visit was because while she does style high-end projects, she actually specialises in the homes of your average income earner like myself – and says she actually prefers it to the high-end places.
"I love working with "everyday" people and homes," she says. "My services are not exactly cheap, but my difference resides in the fact that I am not afraid to recommend items from big retailers or from the Gumtree, I am always willing to use existing pieces and even create my design around them."
I ask Nelly to be brutally honest about our house. "I felt that you guys care a lot about your home, but that you are a little overwhelmed, unsure of where to start and what to do, struggling to settle on anything and make any decision," she says. "I felt lots of love between the two of you – oh and with Nala too! - and I really felt that your space will have to respect your gorgeous souls - it has to be warm, it has to be unpretentious, it has to be party-friendly, pet-friendly, dream-friendly... LIFE-friendly! I know I'm talking more about your family than about your house but to me, the two are interconnected and I cannot dissociate a house from the people who are making it a home."
Our house was built in the 70s. To give you an idea of its space, there are three small bedrooms, two bathrooms (one a tiny ensuite) our sunroom, an L-shaped lounge room with bar, and an open-plan kitchen, dining and study.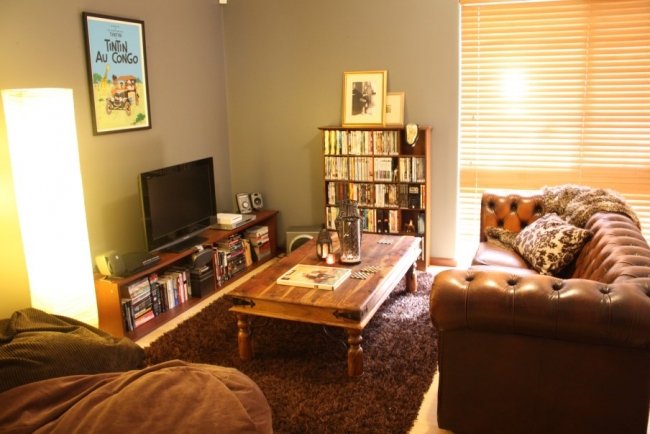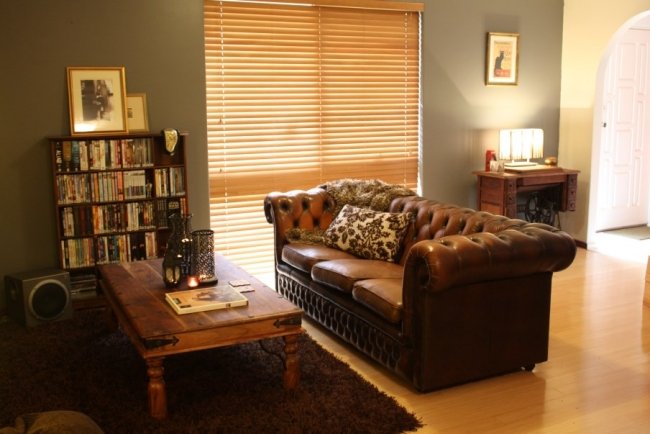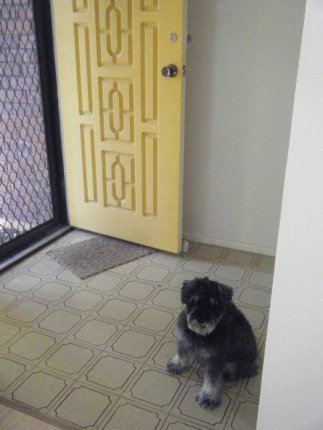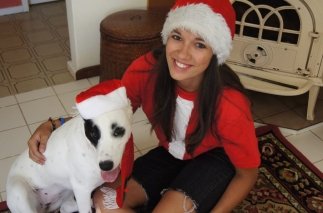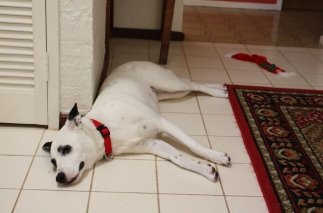 I also got Nelly to reveal what struck her as our house's pros and cons.
THE PROS

NELLY: "I'd say that I immediately thought your house has great bones - it has lots of natural light and fairy large rooms, especially the living areas. It feels open and it is easy to "navigate" throughout the house, which is not so common in suburban houses of that era - most of them are tiny, pokey homes with awkward and/or non-functional lay-out and no soul whatsoever.
"I like the fact that it has some large windows opening onto the sunroom and backyard. And I like the kitchen which is a little rustic, but in a good way, made of timber (not cheap, peeling laminate) and its size is appropriate to your use."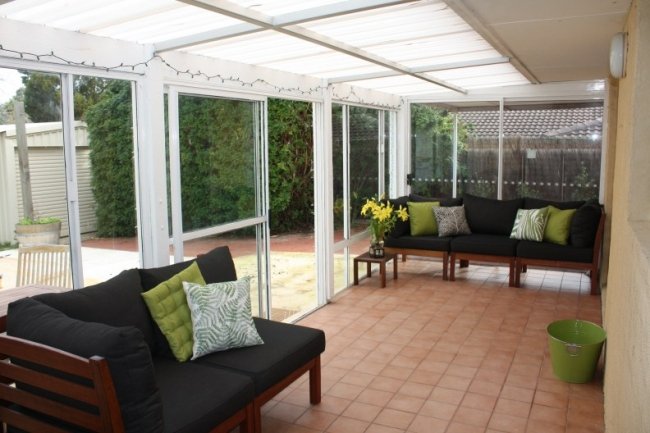 THE CONS

NELLY: "On the not-so-plus side, I'd say the floors - cheap, light bamboo in the living room, white tiles everywhere else. There's no flow between the room and the white tiles make the large, bright living area look cold and almost clinical. The lack of storage is also something that needs to be fixed."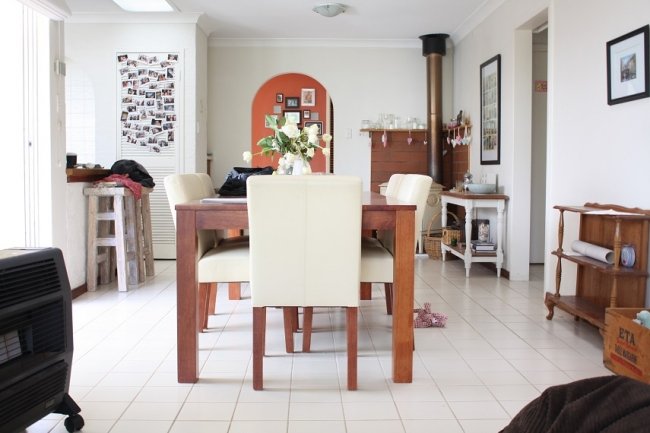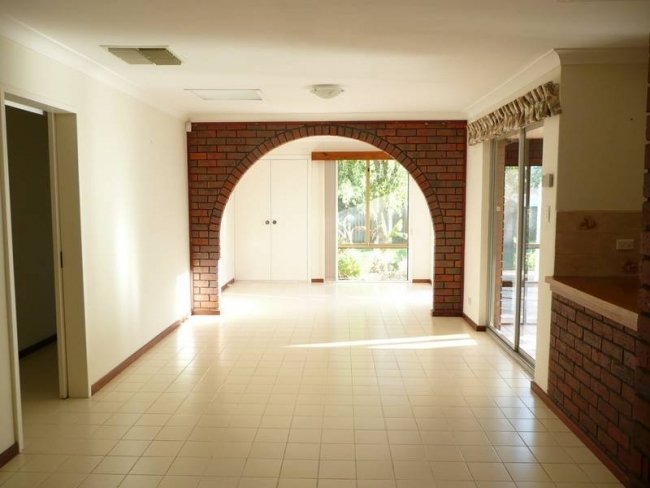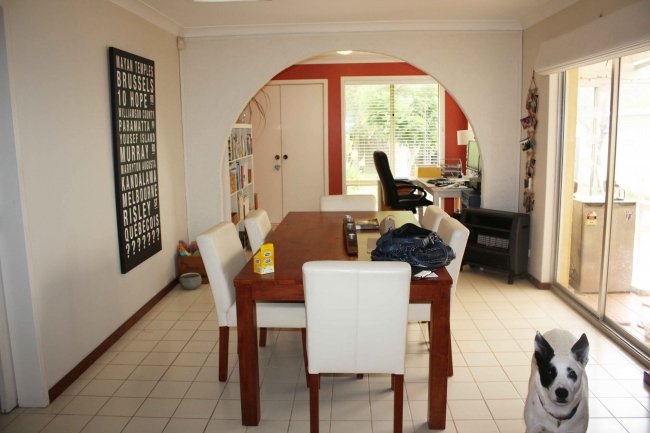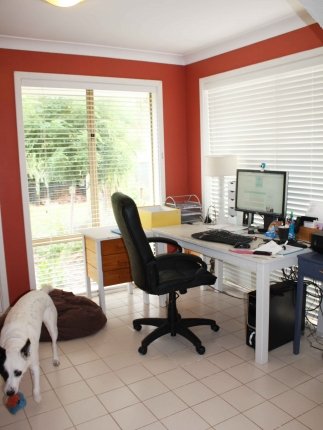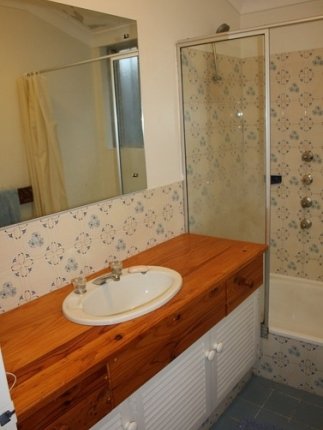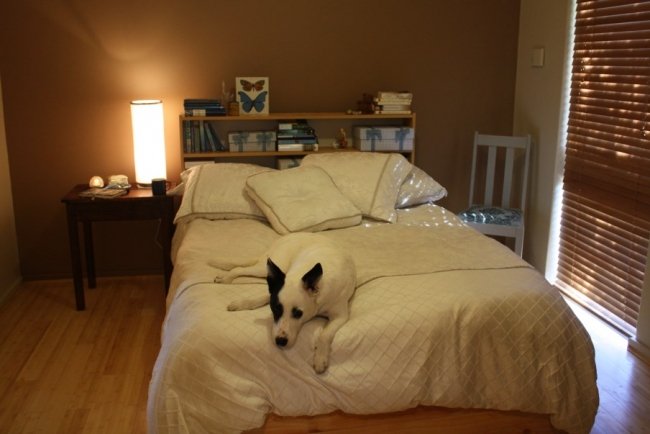 "Furniture-wise, you are like many young couples and/or first home owners - you have lots of hand-me-downs, which are great, because cheap and practical, but, obviously, not much aesthetical thought has been put into them.
That said, you have some good things - I LOVE your Chesterfield sofa (so much style, never out of fashion, beautiful and a rich colour) and the dark timber entertainment unit is definitely of quality! Oh and one last thing that struck me - it seems to me that you have lots of space, even a bit more than you need. Not too sure whether I'll classify this as a pro or as a con... it's hard to get a homey feeling when half the rooms are rarely being used."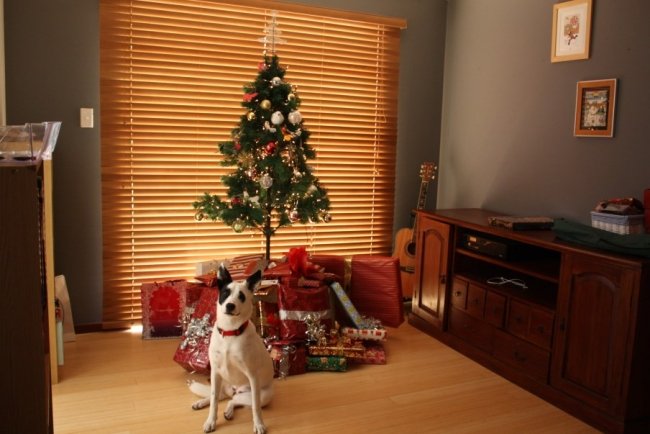 "It is particularly obvious with that part of your lounge, which is adjacent to the kitchen and which has a sliding door (that you never use!) opening onto the sunroom. This part of the room is almost completely empty, definitely not loved. That will change soon!"
Stay tuned for the next segment and the start of our changes! Maya x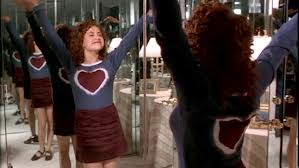 And now I sort of really want to watch Clueless.

You can follow Twinkle and Whistle on Facebook here to keep up to date with Nelly's decorating adventures and her styling tips!