Posted Monday, November 4, 2013 in:
Obsessed With
I love vintage-style bar carts, and I have lusted after the beautiful examples from the Bowerhouse range since the first time I clamped eyes on them.

So when I was at a function and met Natalie Long, the owner of Bowerhouse and the designer behind the most beautiful vintage-style bar carts I have seen, I may have gotten a bit overexcited (champagne) and told her how much I loved her designs. Like, really loved her designs (more champagne).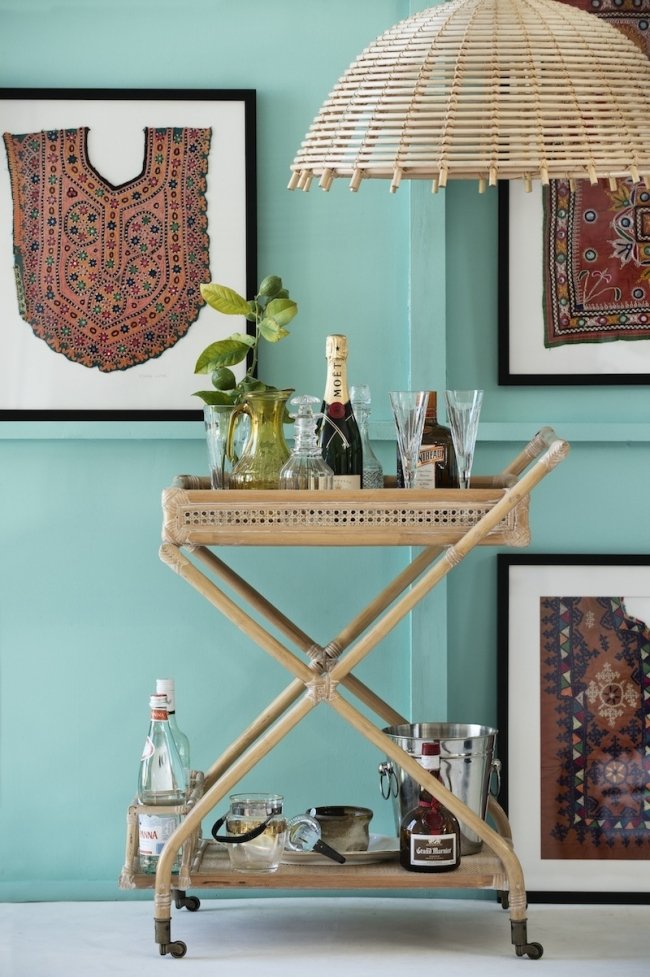 Imagine my delight when at my wedding I discovered that my friends Cat, Chris and Heather had gotten us one of those very bar carts from Bowerhouse, knowing how much I was smitten with them! They had even put it next to the present table at my wedding, with little ribbons tied to its legs. Of course when I saw it (towards the end of the wedding, after a little drink or four) I had to have a photo taken with it looking like… yeah I'm not sure why I posed like that either.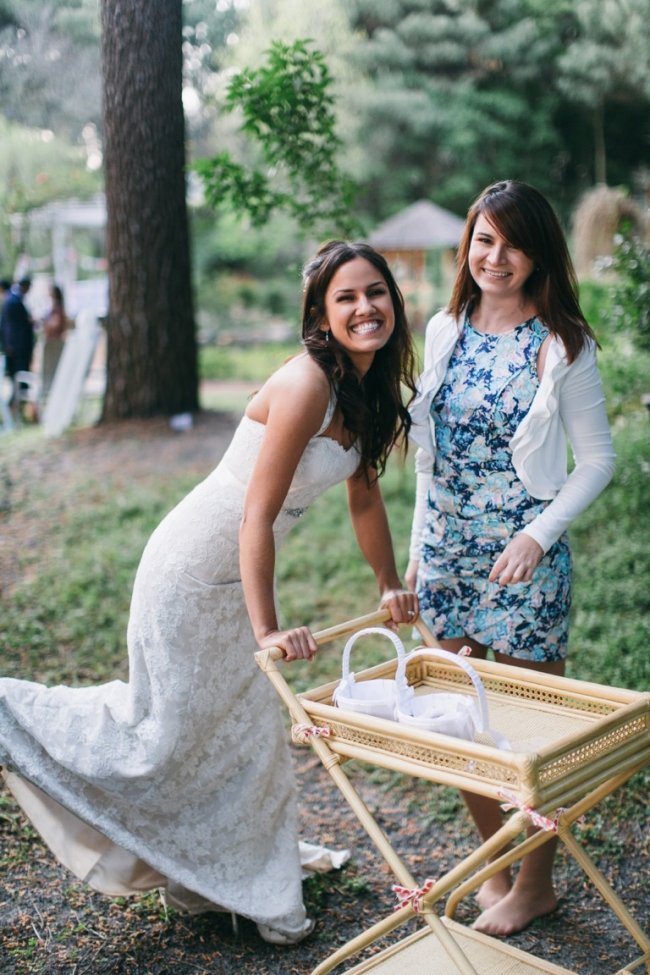 While Perth-based Natalie started off her career in fashion, she has always been into interior design. "In high school I painted my walls in lemon, purple and aqua and made my own calico curtains with stuck-on felt stars," she remembers. "Thinking back it must have looked hideous, but it was the start of my decorating endeavours… it wasn't until I later moved out of home that the bug really took hold and my passion (and thankfully my taste!) has grown stronger ever since!"
I love hearing stories about people who decide to follow their passion – and I loved hearing how Natalie started Bowerhouse. She had been working in fashion production and development all her life, starting off in a role with major surf brand Rusty, where she was thrown in the deep end traipsing through factories in India and China within three weeks of starting her job. And she enjoyed it - but when her 30th birthday came up, she realised she wanted a different challenge.
"After eight years my love of fashion was starting to fade and a passion for interiors and homewares was taking over," she admits. "I always saw myself one day starting my own thing, and once I started to seriously consider it the dream quickly took hold until I could no longer ignore it! I made the bold move to quit my job and give myself some space and time to decide my next move and booked a solo trip to China, India and Indonesia which gave me the inspiration and clarity to get started."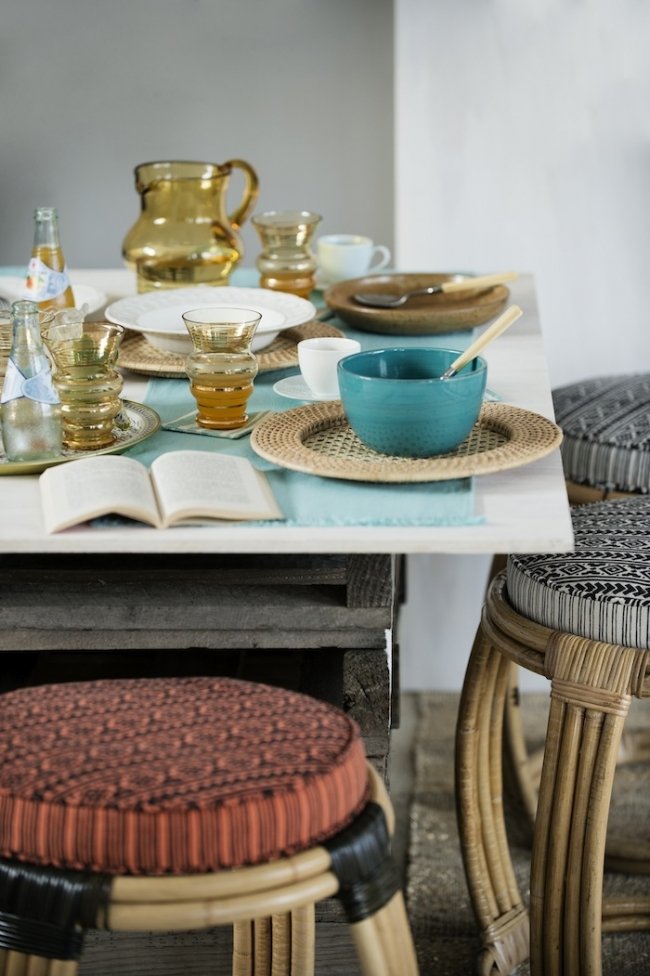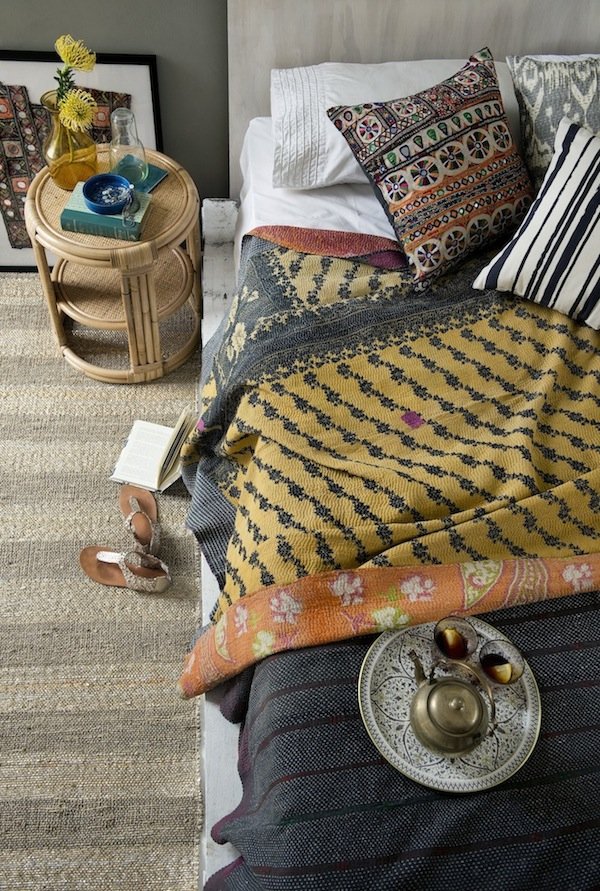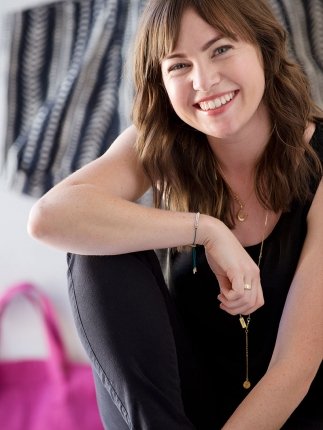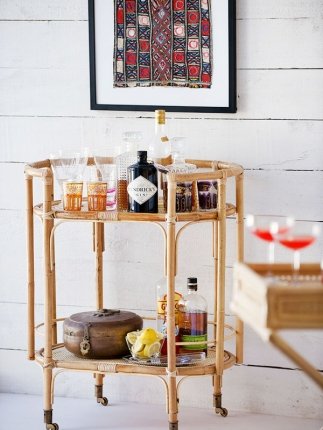 You could say the Bowerhouse journey all began with a vintage bar cart Natalie bought on Gumtree. It was the start of her love affair with vintage-style bar carts.
"It was vintage '80s brass and smoky glass – I loved the sense of fun and glamour they brought to serving drinks and how practical it was to have liquor and glassware on display and on hand rather than having to go digging into cramped kitchen and laundry cupboards," she says.

"The only problem was the '80s look was not working with the rest of our place. When I tried to find a more stylish version I found there was really nothing available and so the seed was planted and I knew I had to produce my own and do my bit to 'bring back the bar cart!' Of course I design pieces that I love and would have in my own home, but I feel it's really important to offer special pieces that my customer will love to own and treasure. I work hard to design beautiful, signature, handcrafted pieces that are not mass-produced and cannot be bought at the big department stores. Nothing I design is 'throw-away' – it's made to be loved, used and enjoyed for many years to come and I think my customers really appreciate this."
"What made you know that Bowerhouse was going to work?" I asked her.

Nat is frank. "To be completely honest I didn't, and still don't! I knew when I started out that it would take years of hard work to build a truly successful business but that I had to give it a go or I would always be left wondering 'what if'. I believed I had a great product idea in the bar carts and I carried out a lot of research upfront, built on my business knowledge and sought out a fantastic team to do the things I couldn't to help me make it happen. Each day in business throws up new challenges and there is no guarantee of success but whatever happens I will never regret taking the plunge and giving it a red hot go!"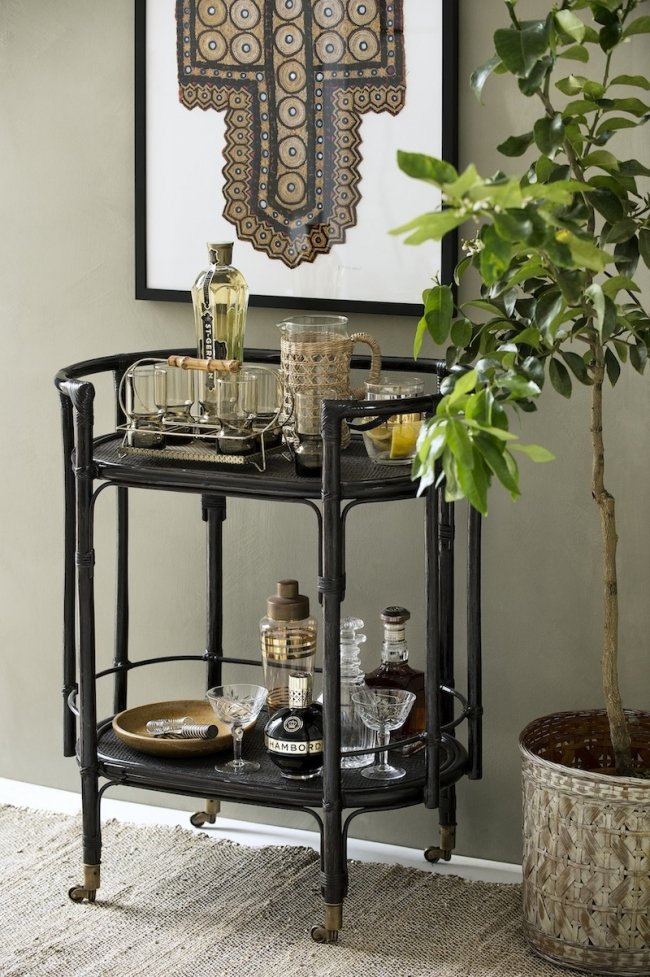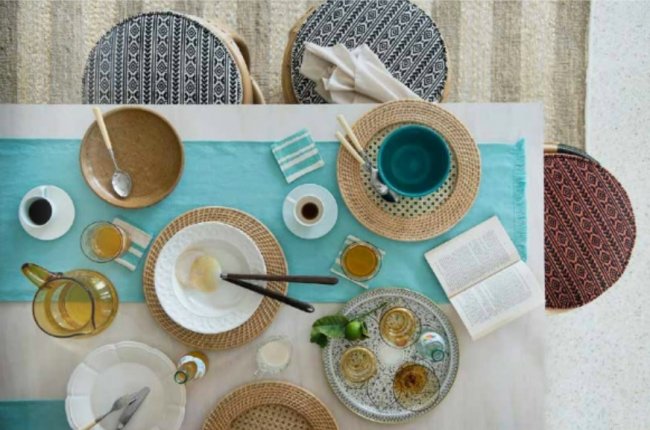 Drawing on her background in fashion production and development to design her homewares and source fabrics and materials, Natalie has gone from strength to strength ever since she wheeled that '80s smoky glass bar cart through her front door. Based here in Perth but shipping her wares all over through her
online store
, she just launched the
Bowerhouse Summer '14 collection 'Haven'
and it's already selling fast.
Natalie has a style of her own (no stick-on felt stars present these days, I promise) and she presents it in an intimate but beautifully edited range – seriously, I love all her pieces. They are the perfect complement to the Australian way of life and our love of easy, casual al fresco entertaining. Her bar carts, kantha quilts, bar stools and other vintage-style wares have graced the pages of tomes like Vogue, Inside Out and Home Beautiful and are in big demand.

I love how her things sit so well in older and more eclectic homes, but they also work beautifully to add some vintage style, interest and warmth to really modern and simple spaces. "To me, home should be a place you love being in, a place that reflects you and your family and tells a story of your life, passions and travels," says Nat. "With our busy lives it can be easy to neglect the spaces we spend most time in, but with a little love and thought home can become a haven from the everyday stress of life - a place to escape, that inspires, a place to enjoy great times with friends and family."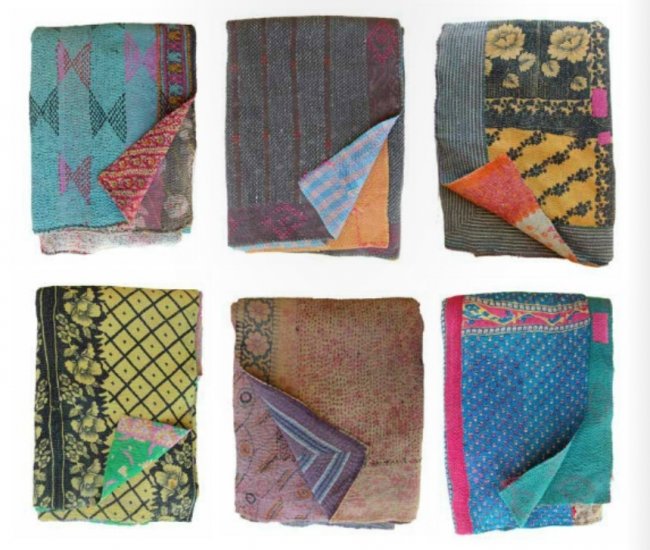 I love also that Natalie is such a warm person - it makes me happy when people who are so nice do so well. And the last thing I love about Bowerhouse? Nat's in Perth! It's great to see more and more designers and small business owners that are putting our city on the design map. So I asked Nat her tips for people thinking of taking the jump into their own business. We can only get better and stronger! Maya x
Q&A – NATALIE LONG, BOWERHOUSE OWNER AND DESIGNER
On launching a small business...


HOUSE NERD: Was it difficult taking the plunge from a salaried job to working on your own?

NATALIE: Yes, there have been lots of challenges - from not being able to splurge on my fave piece from the latest Sass & Bide collection to dealing with 'cabin fever' moments working home alone, but overall I've adjusted pretty well and being able to treat myself to the odd Friday afternoon off reading mags and sipping on mojitos definitely helps!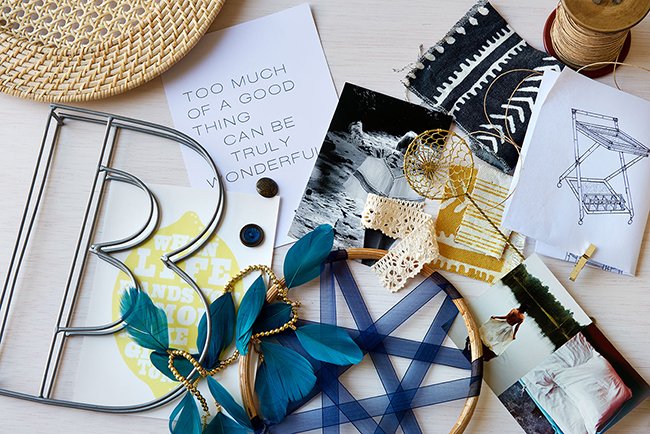 HOUSE NERD: What's your favourite thing about your job?

NATALIE: Honestly my biggest thrill is receiving an email from a gorgeous customer taking the time to let me know how much they love their new Bowerhouse piece, or from one of my 'tribe' of email subscribers who was inspired by my latest newsletter. To know that Bowerhouse is inspiring others to create a beautiful home and is bringing joy to their lives is such a great feeling!
HOUSE NERD: What's the hardest thing about running your own small business?
NATALIE: Working solo can be tough and juggling all the things that need to get done can get overwhelming at times but that is where my trusty 'to do' list comes in handy - I have to remind myself to just keep crossing off one thing at a time. Balancing home and work is also a challenge, it can be difficult sometimes to allow myself to switch off from the business and focus on other things in life but I'm working on it!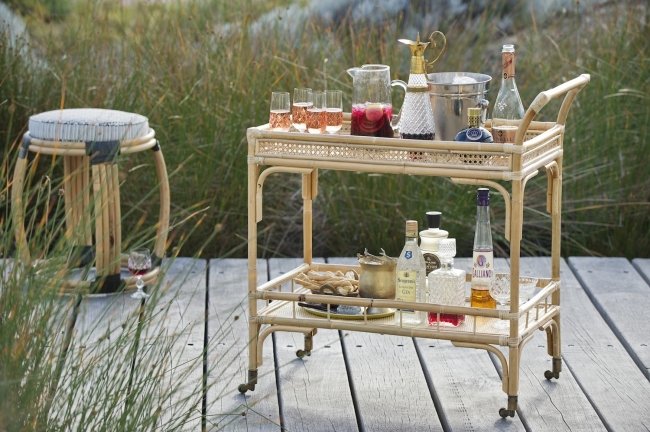 HOUSE NERD: You're a successful businesswoman who has taken the jump from a day job to working for herself - what advice would you give others who also want to branch out and start their own small business?

NATALIE: "I know there are so many girls out there with brilliant ideas, talent and passion but are so scared of taking the plunge into the unknown - my advice is to just start! If you can't quit your job, make the time to really research and plan your idea, can you start small and test your idea at weekend markets or an Etsy store, can you do some freelancing on the side, do you need to take an evening business course to give you some confidence - whatever you do, don't let fear be the thing that holds you back or you may look back in 10 years' time and kick yourself!"
STOREFRONT: BOWERHOUSE
THE STORE
Bowerhouse (an online store) www.bowerhouse.com.au
THE OWNER
Natalie Long
THE WARES
A gorgeous edit of pattern, texture and exotic vintage style that will add colour, warmth and beauty to any home. Pieces are designed by Natalie in-house and made by village artisans in Indonesia and India and range from vintage-style rattan bar carts, Indian kantha quilts, beautiful table runners, cushions, pouffes, artwork, rattan pendant lights and more
CONTACT
Visit Bowerhouse or check out their Facebook, Instagram or Pinterest
You can also sign up for the fantastic Bowerhouse newsletter here - Natalie writes a great blog about her wares, inspiration and the processes of designing and building a house with her partner (her latest post on how to decorate when you and your partner have conflicting tastes made me laugh!) and her newsletters are full of gorgeous, ahead-of-the-curve styling ideas.
STYLING AND PHOTOGRAPHY
Styling by Jo Carmichael, photography by Jody D'arcy.