Posted Friday, May 30, 2014 in:
Obsessed With
Ever daydreamed about owning your favourite shop -- the one you visit all the time? For Calico & Ivy storekeeper Debbie Ogilby, this became her reality.
Debbie is the owner of Calico & Ivy, an iconic Mosman Park shop that is a little heaven for anyone who loves beautiful textiles, sewing, knitting or crocheting. (I know lots of you are familiar with this place already!) Since it was founded in 1982, it has gathered a very devoted following, with some of its customers coming in to pick up sewing supplies and have a chat for 30 years. Debbie was amongst those customers.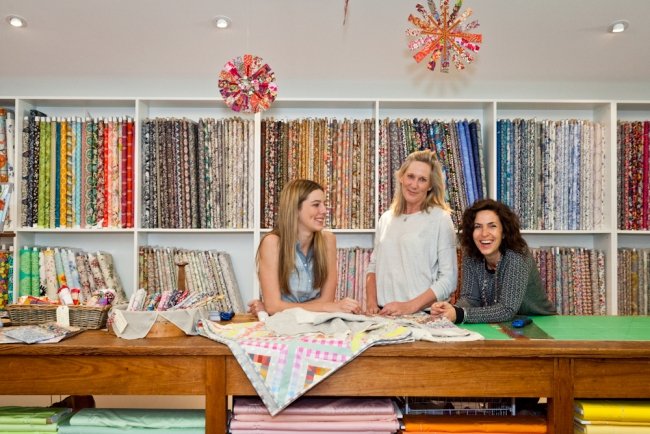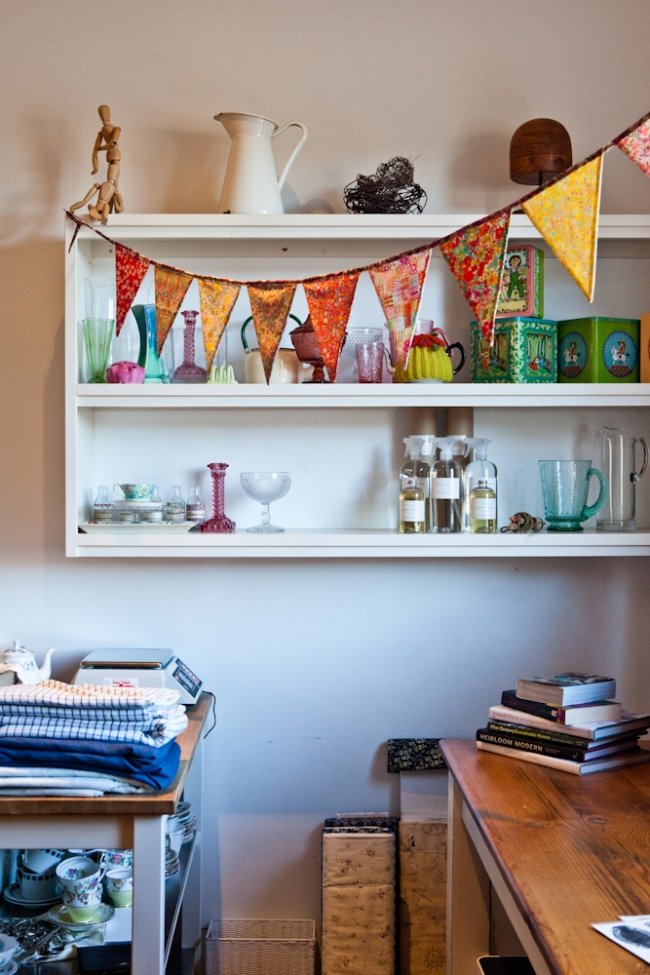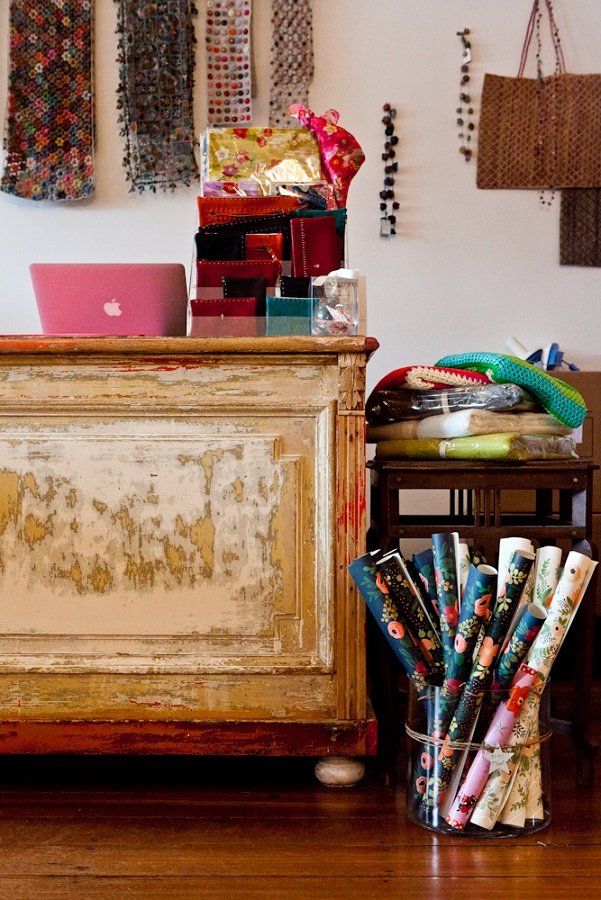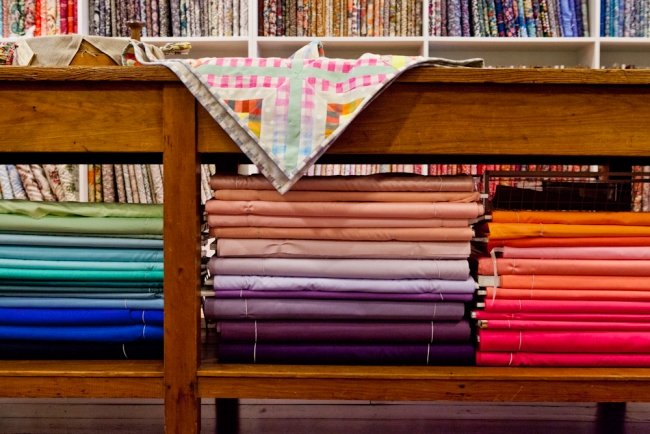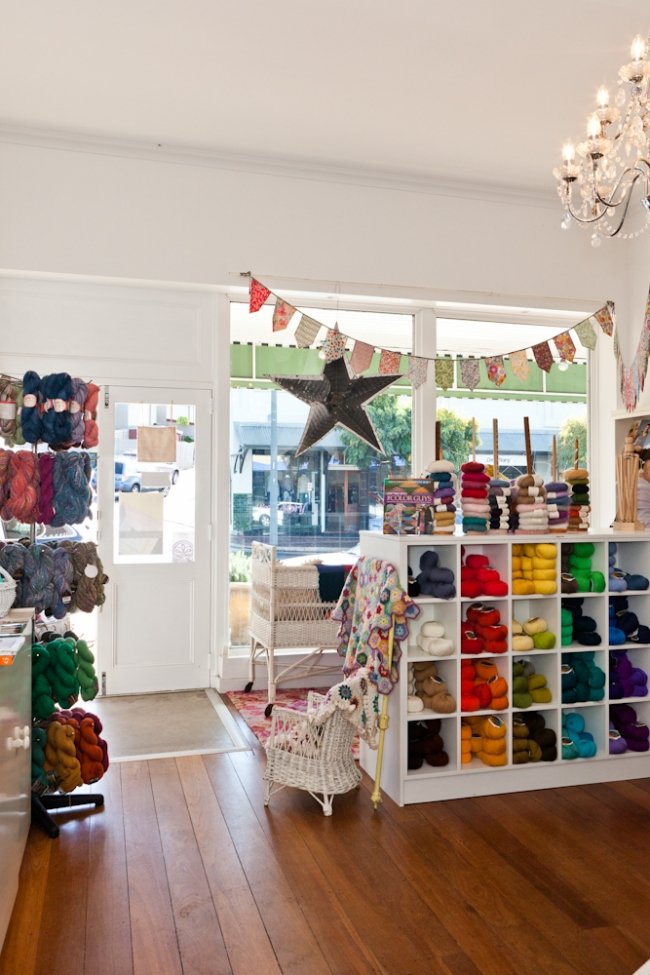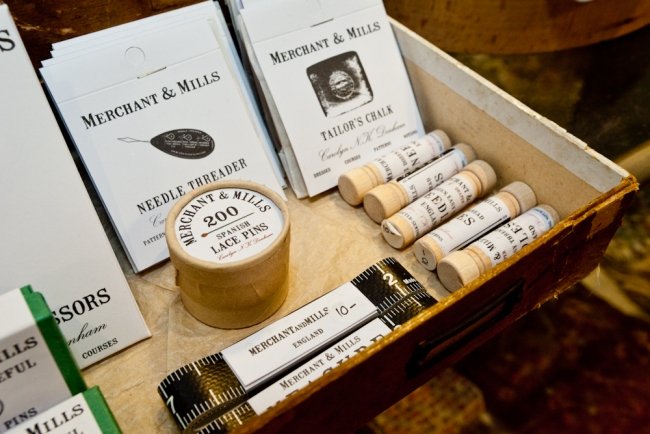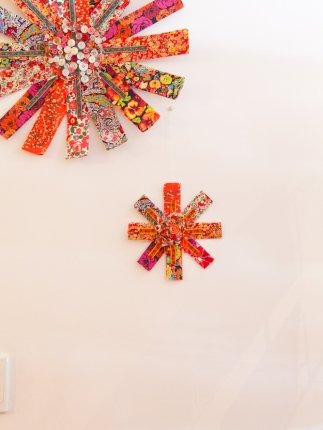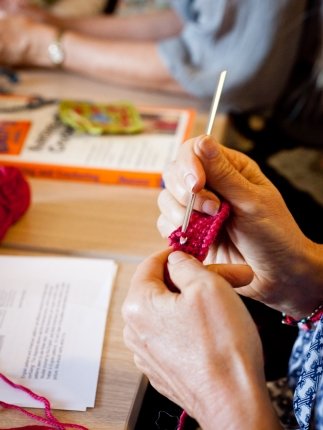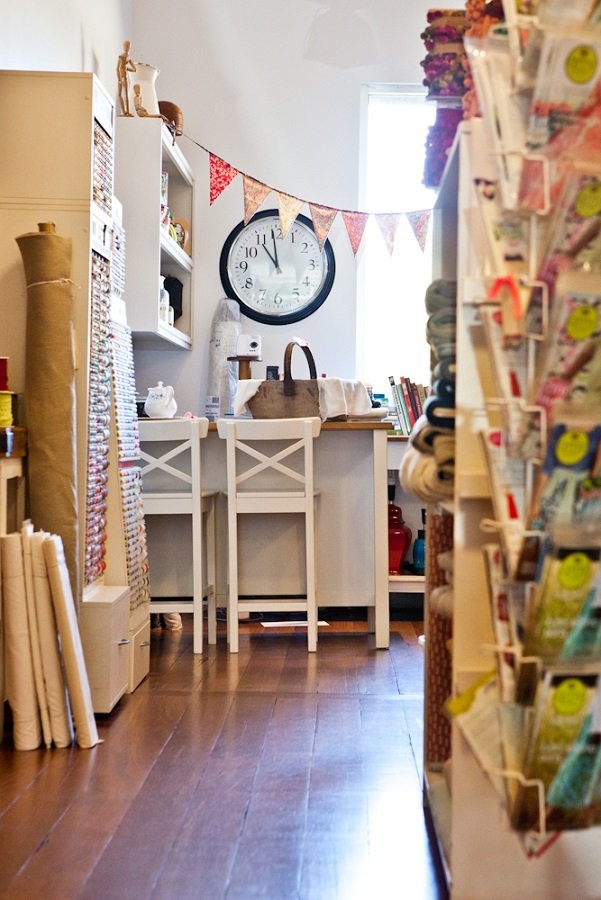 Debbie was living in the Hills and whenever she came to Perth she would try to pop into the shop, then situated in another venue and called The Calico, with her eldest daughter (now 30, then an infant) in tow. "I used to take my daughter there and I always chatted to Jo Brazier, who owned the shop," says Debbie. "I'd been visiting for years when Jo decided to put it up for sale… and she thought of me when she was selling it. I remember her saying, 'YOU'D be the girl for it! You have to buy it!' So I bought it."
Debbie has been a sewing obsessee for a long time (her mother interned under a French seamstress, and taught Debbie all her skills – and passed on her passion for all things textiles). Two years ago Debbie was joined by store manager Tash Jones, who I met doing a house review.
Calico & Ivy stocks not only fabrics, yarns and things for crafters, but gifts too, things like rugs and clothes, and Debbie and Tash also offer sewing and craft workshops. It's a real little neighborhood hub. When Heather and I walked in to do our photo shoot, we both turned to each other and said the exact same thing… it's such a pity Spotlight isn't like this shop! It has character and warmth.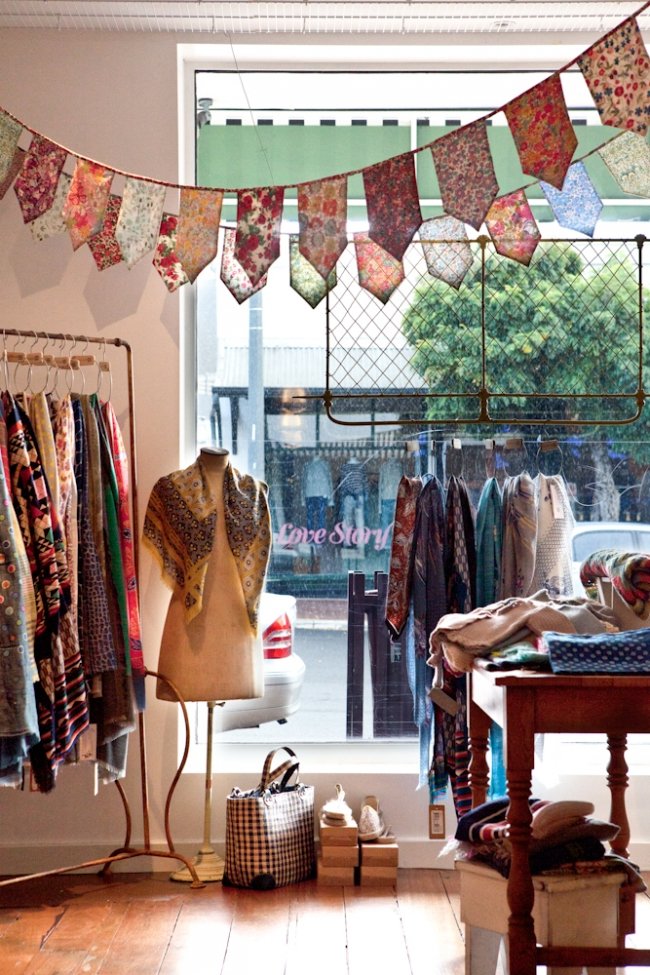 It's a squally day and raining on and off when Heather and I visit, but inside the shop it's pleasant and warm. It soon becomes apparent that popping into Calico & Ivy to pick up some sewing supplies is a regular regime for many of the customers who trickle in and have a chat with Debbie and Tash.
It's nice to come to this shop and see how many smiling customers come in, so happy to be feeding their creative hobby.

Check out the full story here - and enter our competition to win a $50 Calico & Ivy gift voucher!

I remember being in school and being scoffed at a bit, for being that kid who was into arts and crafts and making things. I didn't really care (let's be honest -- I knew even as a kid that I was always too much of an obvious dork to even pretend to be anything otherwise) but there was a time when admitting you were into 'crafts' or making things automatically put you in the 'nerd' basket. Kids acted like people were meant to be too busy or cool to make things by hand (doing what instead exactly, I'm not sure (important kids' stuff. Like playing SuperNintendo. Mind you I did that too). But these days, as our lives are busier and hectic and increasingly based around screens and technology and micro-managing our every minute, I think you can really see how we've returned to our love of making things with our hands again, and going back to simple, uncomplicated pleasures and past-times.
Tash says they have been delighted to see the huge swing towards crafts being embraced again. "I think people love handcrafts because we're such a disposable society now, and making things brings us back to our basics, our groundroots -- to cherish the handmade, to repair things," she says. "There's something so nice and from the heart about getting a handmade gift. As well as that, crafting feels like you're being productive… in a really good way, a happy way."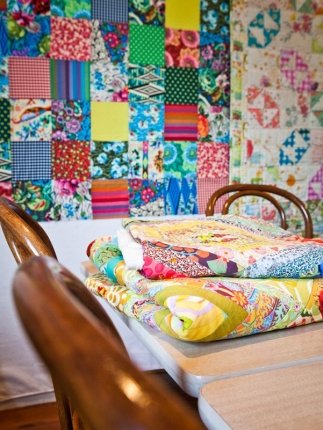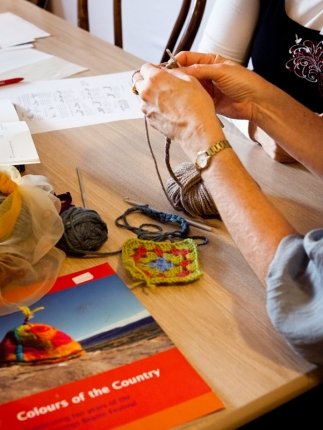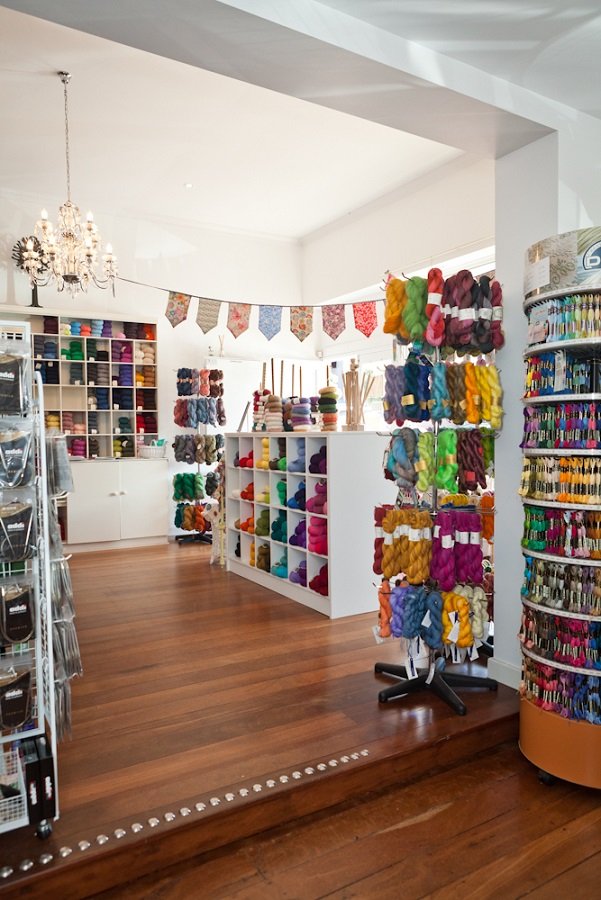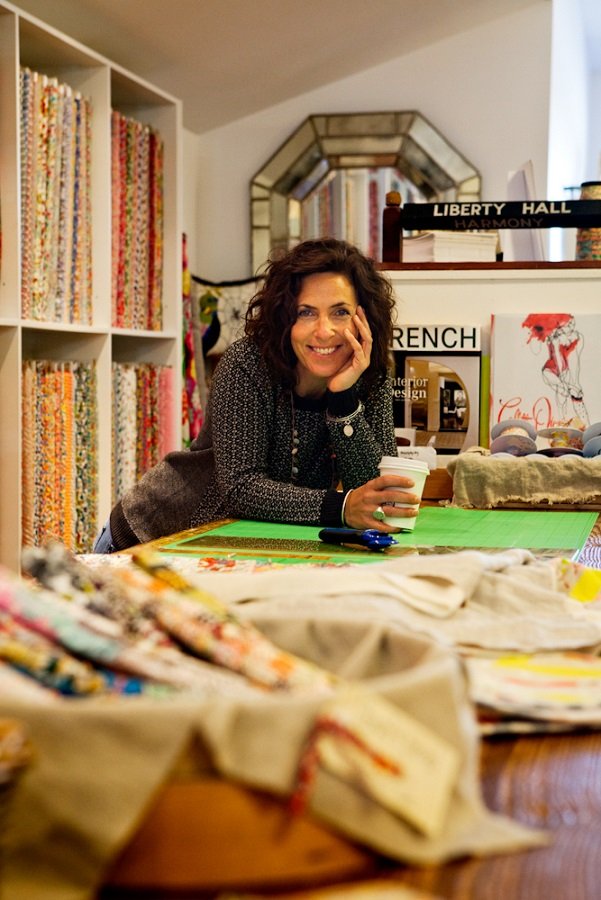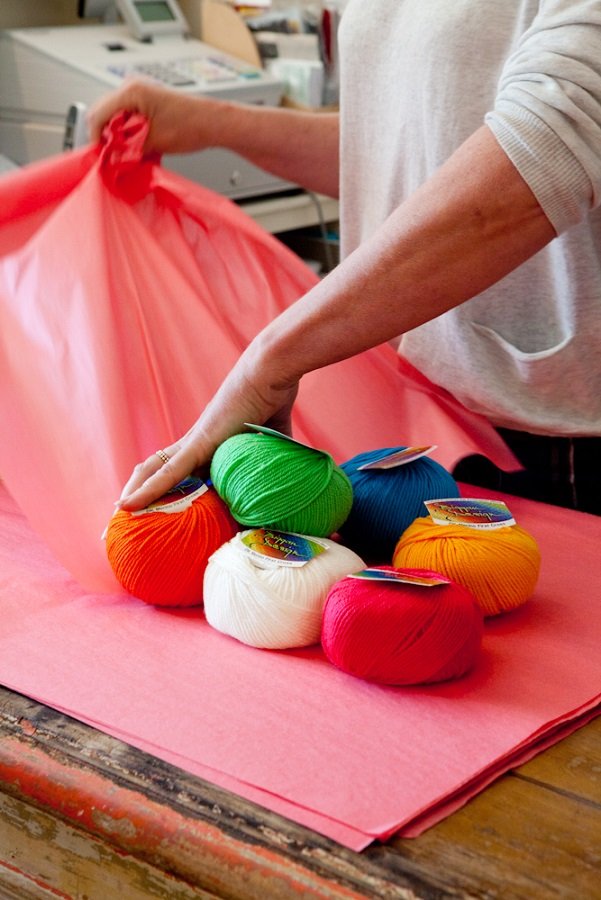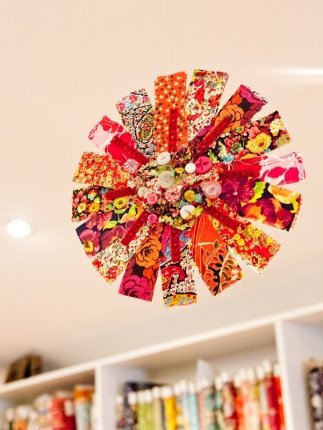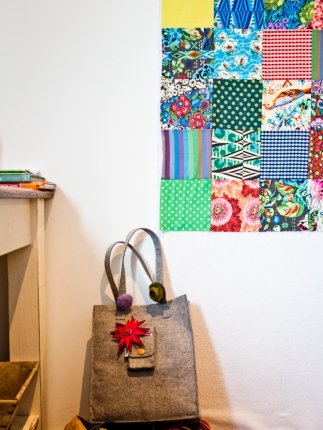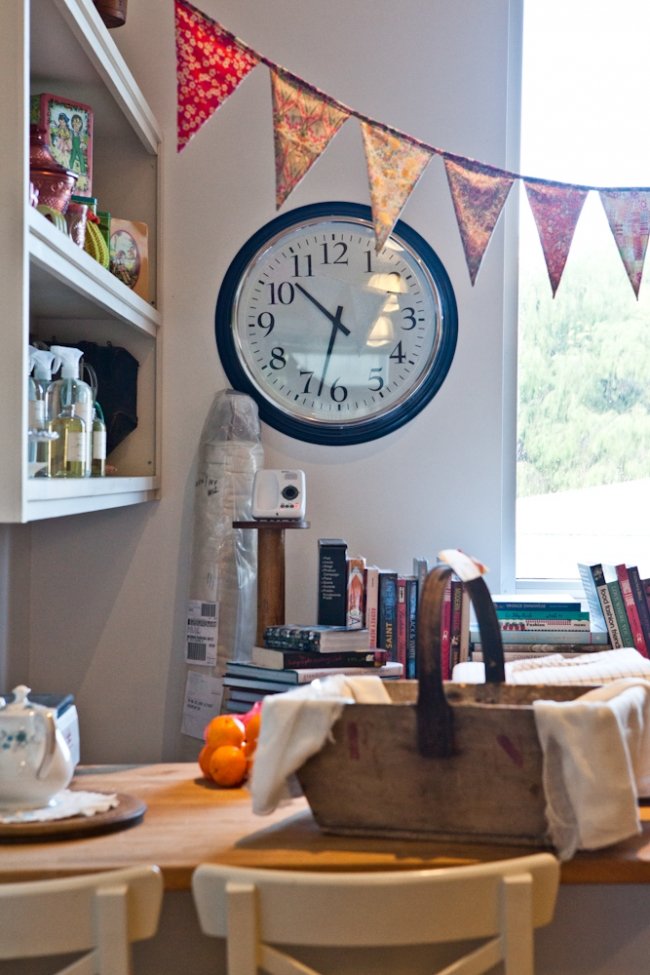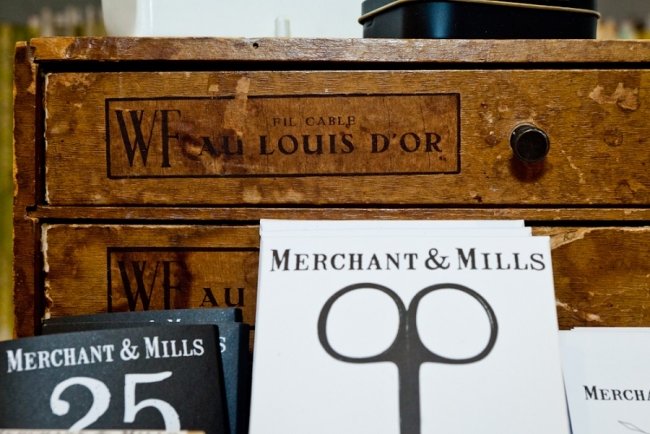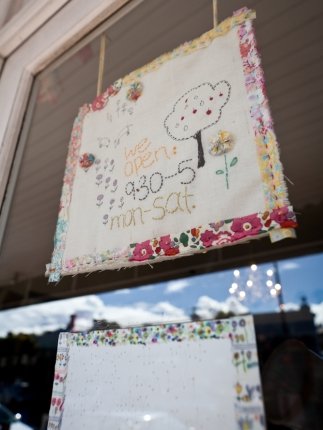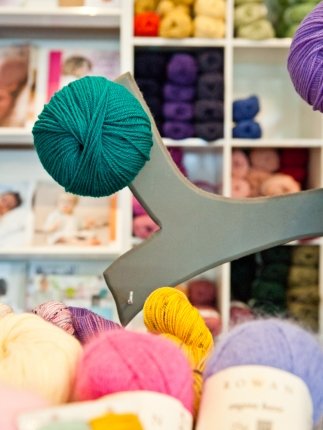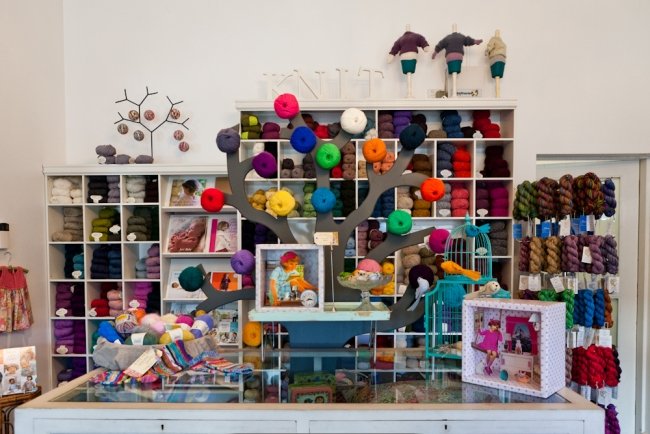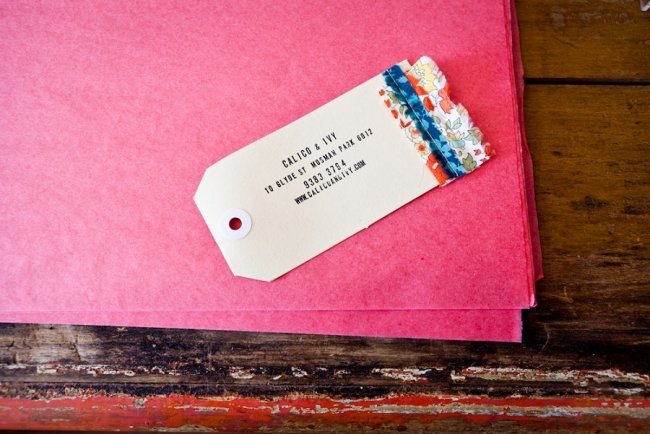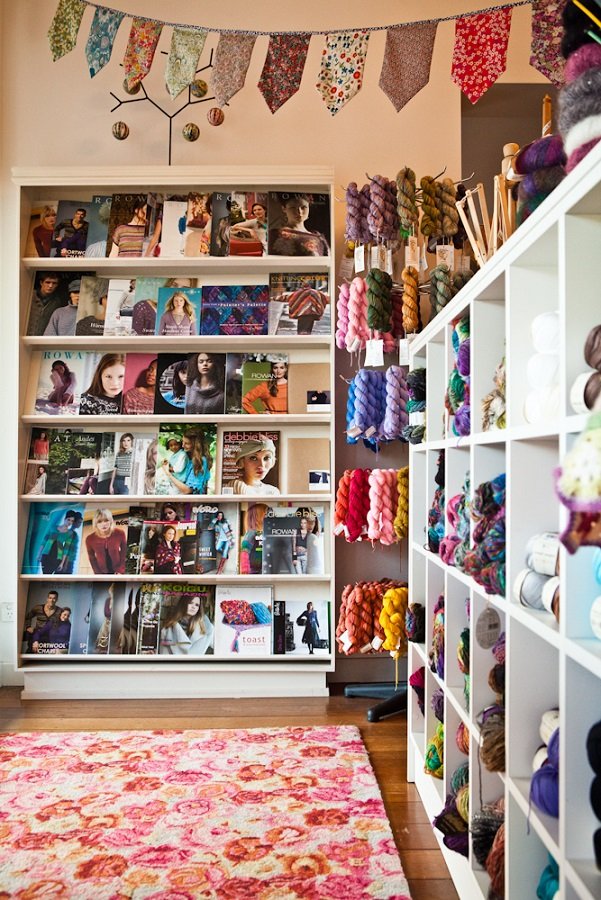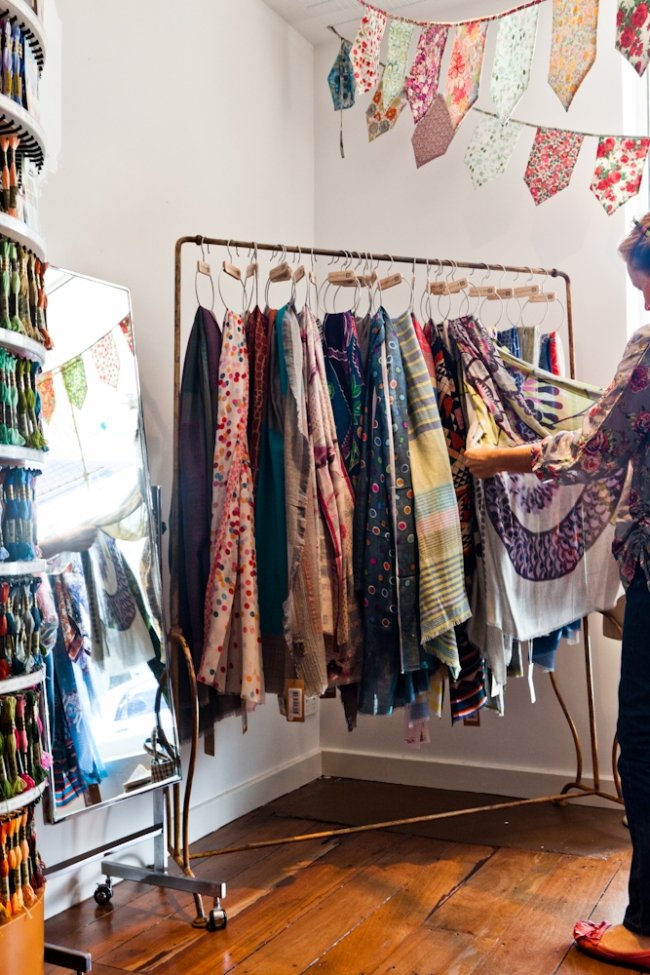 Debbie says they get a broad demographic of people, from mothers to elderly ladies, to girls from school groups, buying for projects.
"And we get boys," chips in Tash.
"Boys?" I say, because the shop is kind of, well, pink and floral.
"Yes, we get two graduate boys from Christchurch," says Debbie. "Seb and Dan. They made a bow tie for a Year 12 ball, and everyone loved it. So many people wanted one afterward they started their own business!" (You can check it out at Freelance Bowties)
They also get young 'uns. "There are actually lots of little kids sewing and doing crochet," says Tash. "Last year was a BIG resurgence in crochet for all ages." They credit the iconic, ever-cool Frankie magazine as part of the crochet love. "We look at some people who come in and say, she's a real Frankie girl," says Tash. Crochet hooks aren't just for crocheters, however. "The other day we had a lady come in looking for the tiniest crochet hooks for her husband's dreadlocks," says Debbie.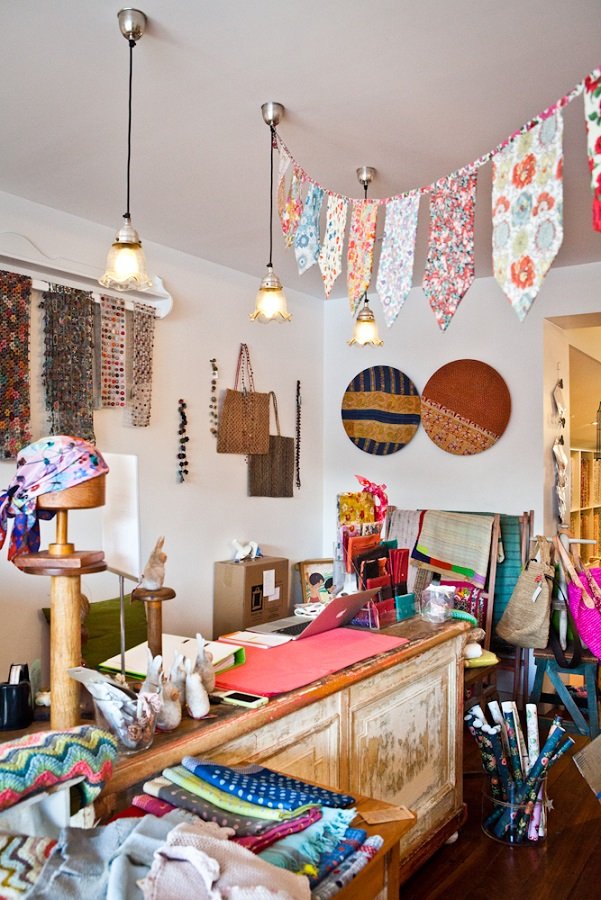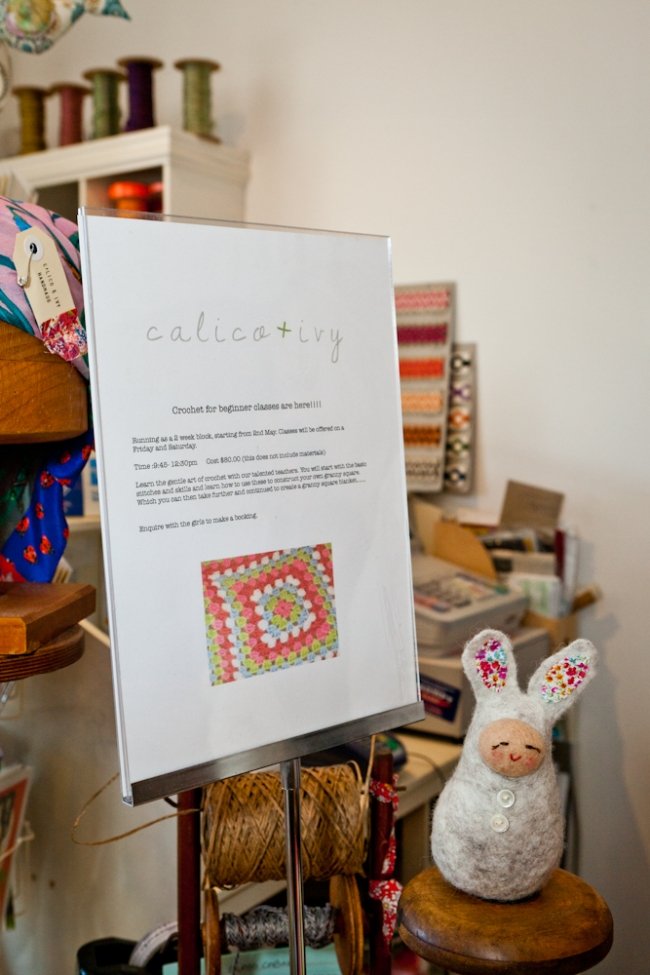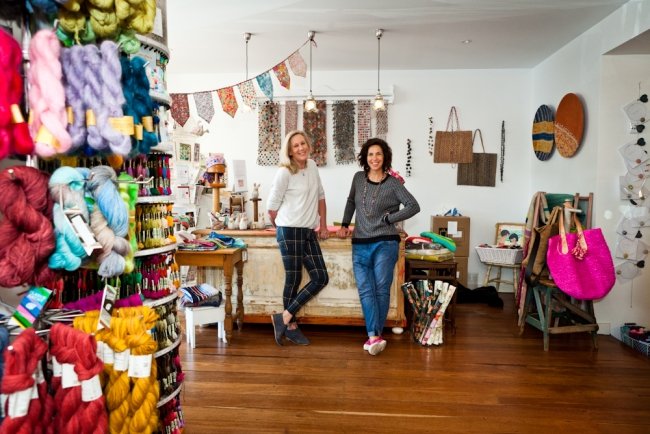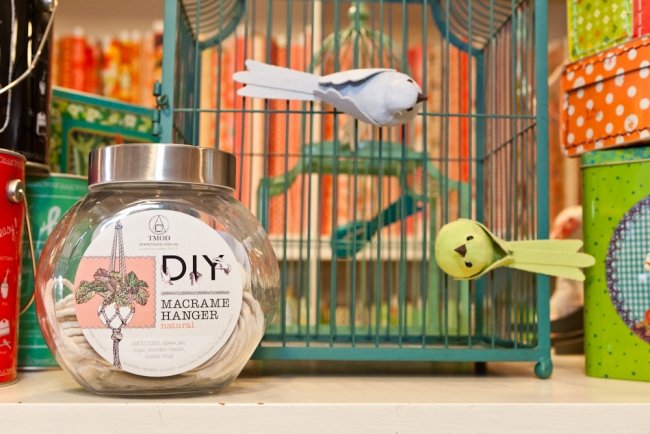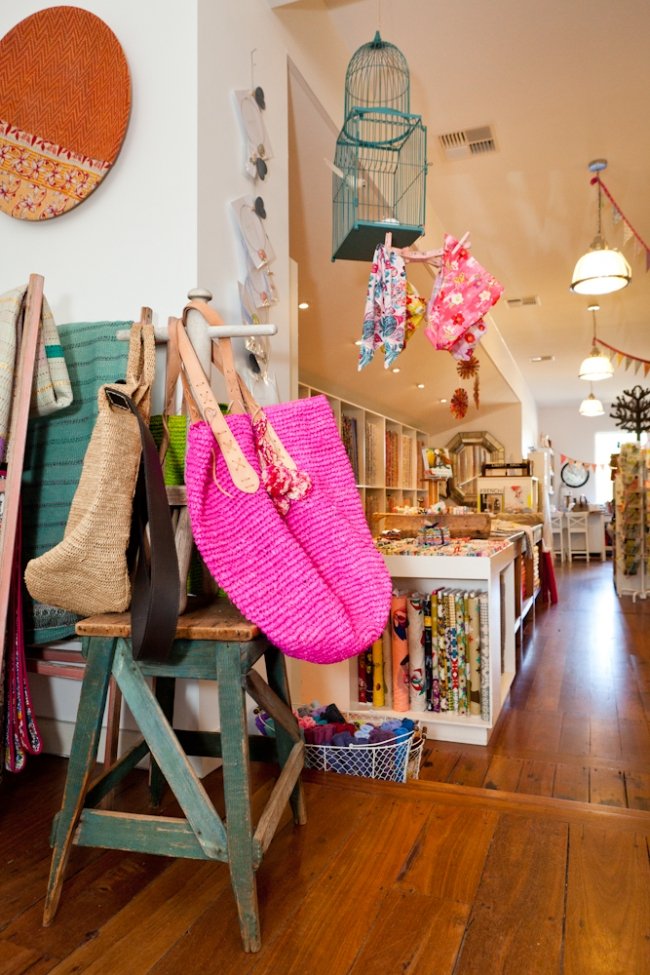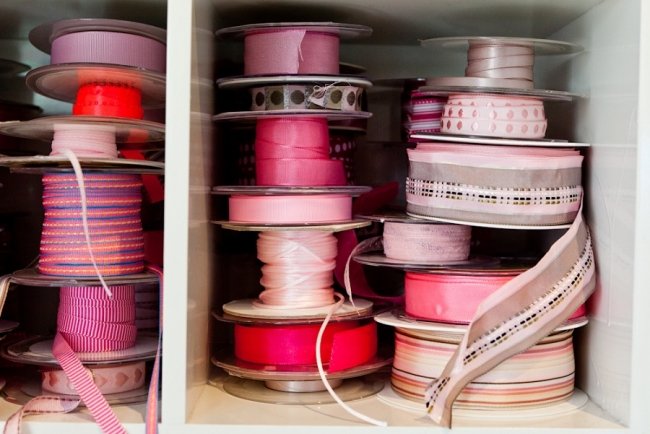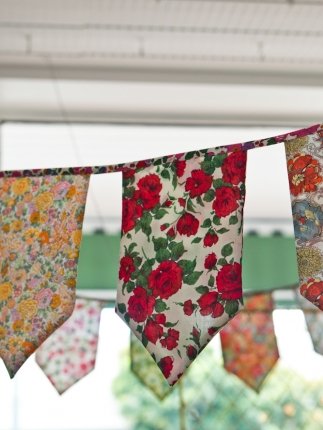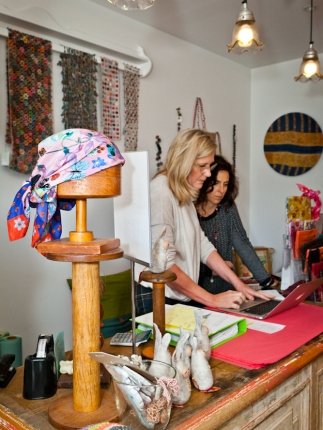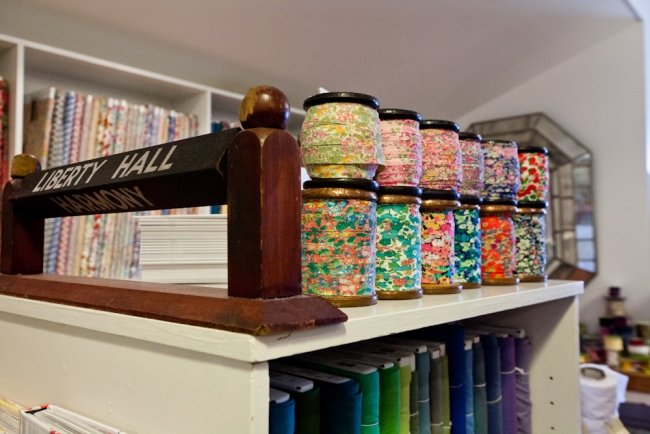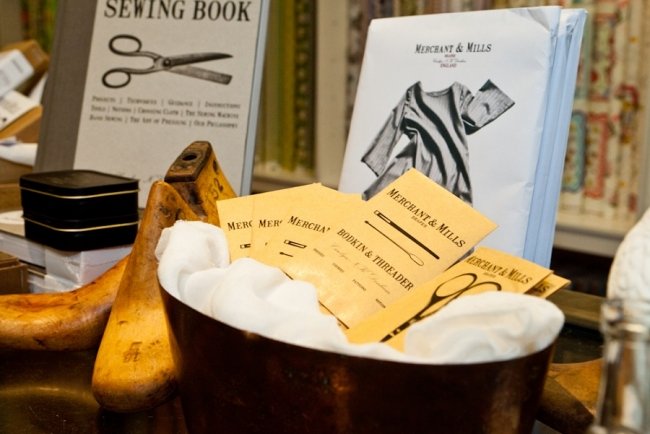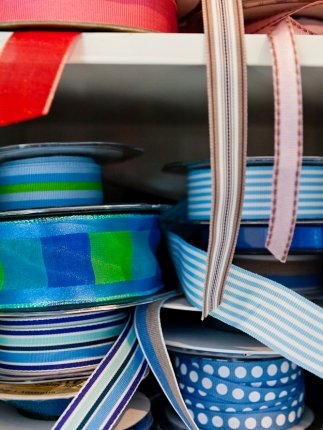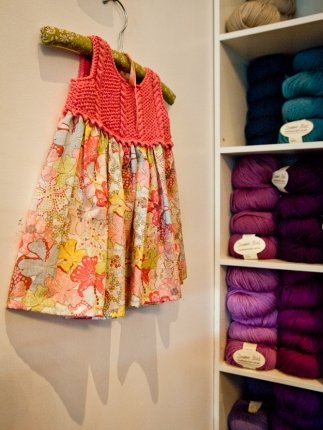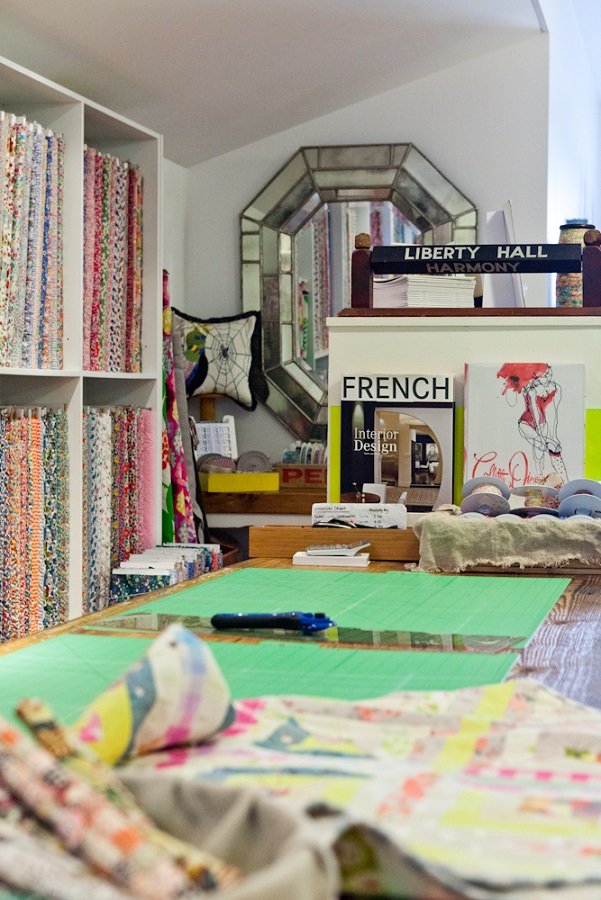 As well as crochet supplies, their textiles are always in-demand - particularly their Japanese designer fabrics, and all of their iconic Liberty prints. "The Liberty has a massive following, especially with patchwork collectors," says Tash.
There's such a nice pleasant vibe here, like going to the house of an old friend who always has chocolate biscuits. At the back of the shop, there is a cute little kitchen and a large table with Bentwood chairs where workshops are held. So long as you have an understanding of the basic skills, there are classes to suit. "We cater for all different levels, with things like crochet for beginners, beginners' patchwork," says Tash. "People come in and leave pretty happy." When we visit, a group of ladies are chatting over coffee while sewing patchwork quilts and knitting, deft fingers flying. "We have really loyal customers who've been coming to the store for 30 years," says Debbie. "And then we get people who come in and say, "I didn't even know you existed." It appears that Tash is the driver behind their media and social media... and the whipcracker in this working relationship. "I just faff along," admits Debbie, "and Tash screams, 'You have to put yourself out there more'." Maya x


WIN! A $50 Calico & Ivy Gift Voucher
Calico & Ivy are celebrating our shared love of the handmade and are kindly offering a lucky House Nerd reader a $50 gift voucher to spend at their leisure. Rope in a friend, get a great coffee from down the road and have a leisurely browse through Calico & Ivy with a gift voucher all yours to spend!

All you have to do to enter is leave a comment telling me:


What sort of handcrafted things do you absolutely love?


Tell me what you have always gravitated towards. Maybe that's ceramics, jewellery, your grandmother's knitted scarves, woodwork, linocut prints, linens, artistic floral arrangements, drawings, big chunky necklaces with beads made from clay, pots, your children's weird handmade Christmas decorations.

Maybe it's a craft you love to do in your spare time - but you don't necessarily have to dabble in this craft yourself. For example, I love looking at the work of clever carpenters, like A Good Looking Man and Ariele Alasko, and Mr Nerd will cheerfully tell you I just need to merely look at a hammer to hit myself on the thumb with it.

Also you can earn MULTIPLE ENTRIES into the draw by liking Calico & Ivy on Facebook and on Instagram @calicoandivy. Just let me know if you've done so!


The lucky winner will be drawn on Monday 16th June, 2014 and announced on the blog so the winner can email me to claim their prize. Good luck!

STORE LOWDOWN: Calico & Ivy
THE SHOP
Calico & Ivy, a fabrics and crafting shop
THE STOREKEEPERS
Owner Debbie Ogilby and manager Tash Jones (right)
LOCATION
10 Glyde Street, Mosman Park
FOUNDED
1982
THE NERD VERD
An inviting, friendly heaven for anyone who loves sewing, textiles, crochet, quilting, fabrics and knitting (and making bow ties)
OPENING HOURS
9.30am to 5pm, Monday to Saturday
CONTACT & FOLLOW
Visit their website, call 9383 3794, or follow on Facebook or Instagram @calicoandivy.
photography
The ever-talented Heather Robbins of Red Images Fine Photography. You can follow Heather's work on Facebook here!