Posted Tuesday, November 6, 2012 in:
Obsessed With
What springs to your mind when you think of the word 'shed'? I think of the dark 1950s ones in my parents' garden, with their dimly lit, cobwebbed corners, makeshift timber shelves cluttered with rusted tin cups and all manner of bits and pieces, dust particles floating in the air picked up in shafts of sunlight filtering through the windows. One of the sheds was so shadowy and dark that when I was little I was too scared to venture more than a couple of metres into it before the sound of a tree branch scratching on the corrugated iron roof had me fleeing in terror for the house.

A shed-like atmosphere might not sound like the most romantic setting for a shop. But will you trust me if I say that it works – and that the result feels like an Aladdin's cave of exciting treasures?

Welcome to Seasonal Concepts. Perhaps one of Sydney's most unique shops, it's a full floristry and styling service as well as an antique, homewares and gift shop with a truly eclectic feel - a couple of items include a vintage Pan Am sign riddled with bullet holes from Saigon, a stuffed coyote, wearing a top hat, and a $35,000 taxidermy giraffe. On a recent trip over to Sydney, I got the chance to check it out. I was enamoured.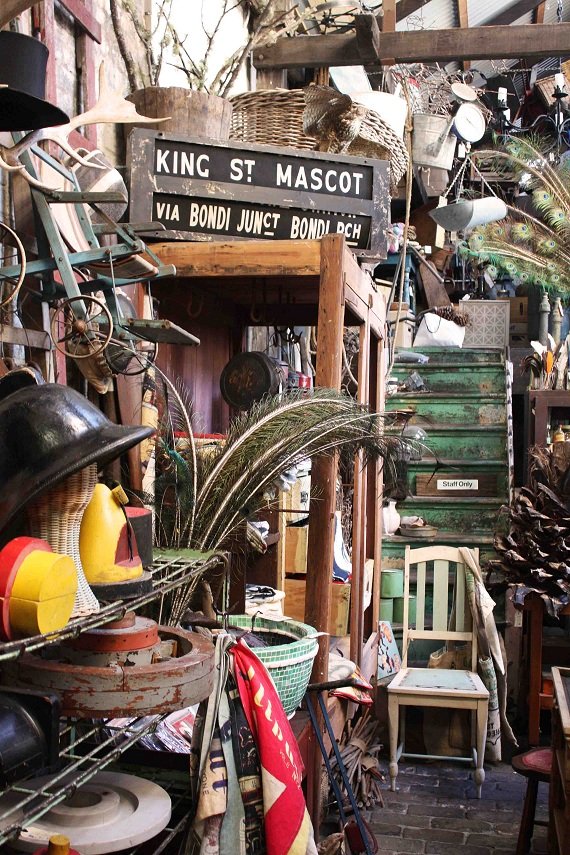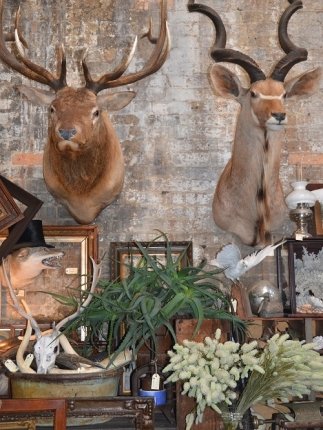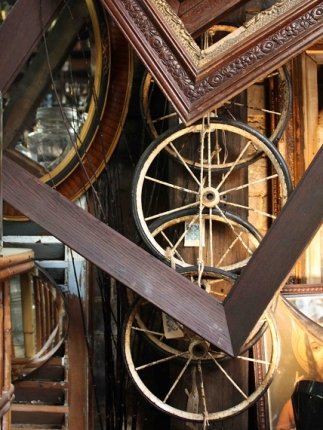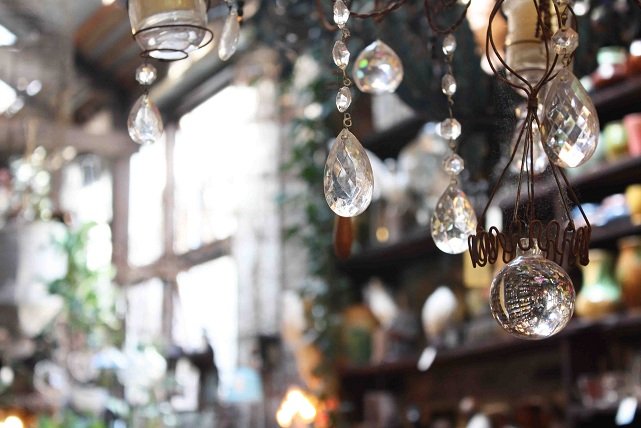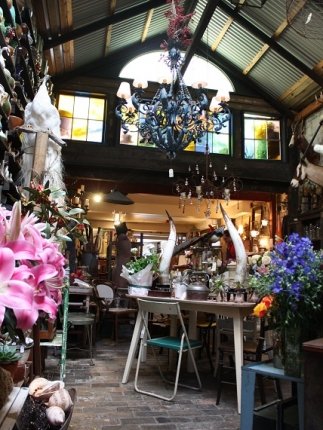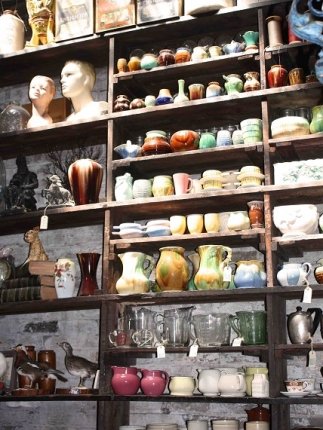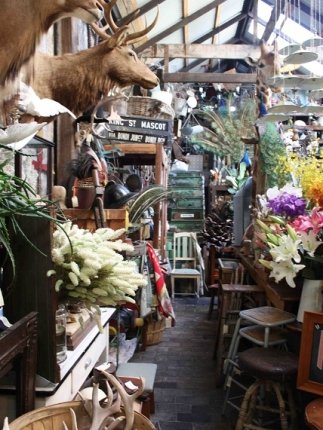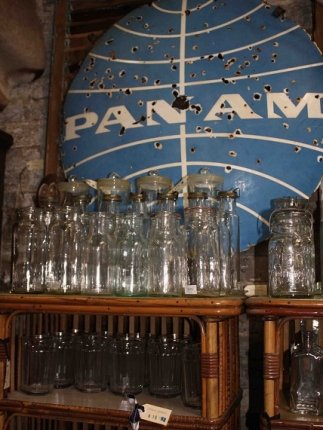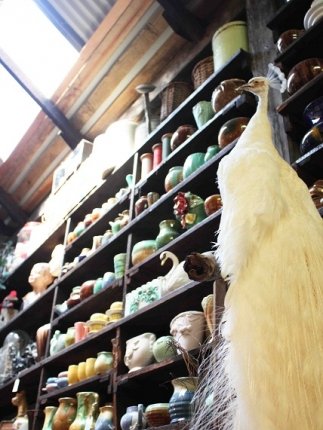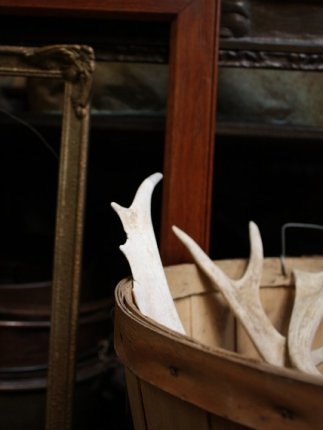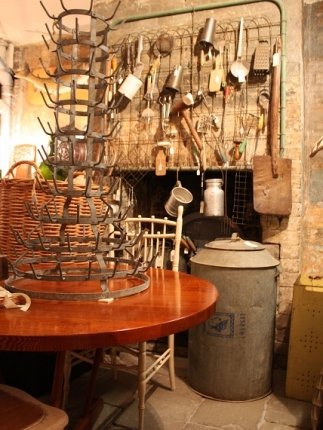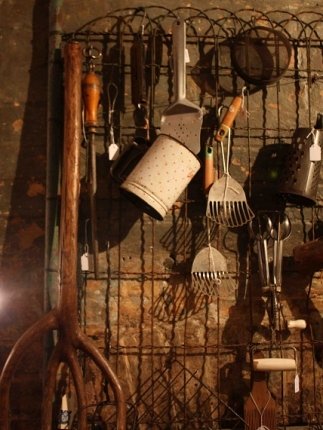 With its dark corners, old brick and dirt floors, industrial light fittings and worn shelves, each one piled with old, interesting things, the store feels like a huge, old, glorious shed. It was one of the main features that co-owner Ken Wallis, who runs the store with partner TR Keller, loved about it when he first walked in several years ago. "I've always had a fascination with old sheds," says Ken. "I am a country kid at heart – I grew up in South Gippsland and always felt very comfortable, more so than anything, in our pre-1950s towns."
Ken and TR opened Seasonal Concepts on vibrant Redfern Street in Sydney. The store's simple, unassuming elevation gives little hint of what lies beyond. The shop is tucked away in an old heritage-listed Georgian terrace house that was built in 1856. "It was converted into a workshop for an engineer in 1926, and he worked here until 1969," says Ken. "He died here on the job."
Dark and low-ceilinged, the front of the shop feels a bit like you're entering a cave. But then it surprises you. A few metres in, it opens up into a big, light-filled timber-framed space with soaring ceilings and worn brick floors – the workshop part built for the engineer in the 1920s. Pre-1950s treasures sit alongside buckets of fresh blooms that scent the air. Despite the bustle of traffic metres away, there is a stillness and sense of secrecy to it.
This is a shop where you can browse for two hours and still feel like you haven't discovered everything. The wares are a unique blend of beautiful, unusual, antique, industrial and vintage with a predominantly Australian focus. It's a gorgeous shop. A woman walks in, perusing the shelves, and smiles at me. Ken calls out to her from behind his old antique register.
"Are you needing any help or are you happy to browse?"
"Very very happy!"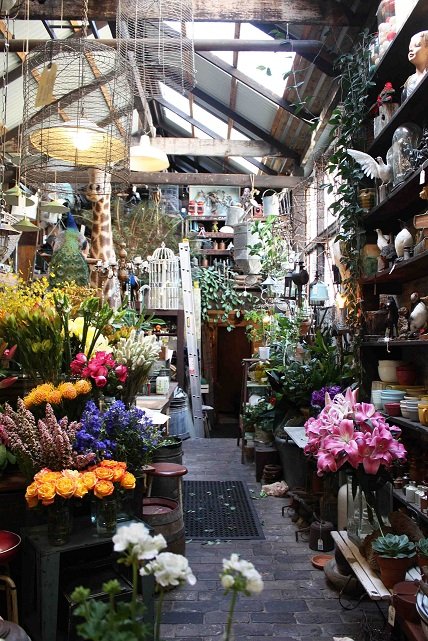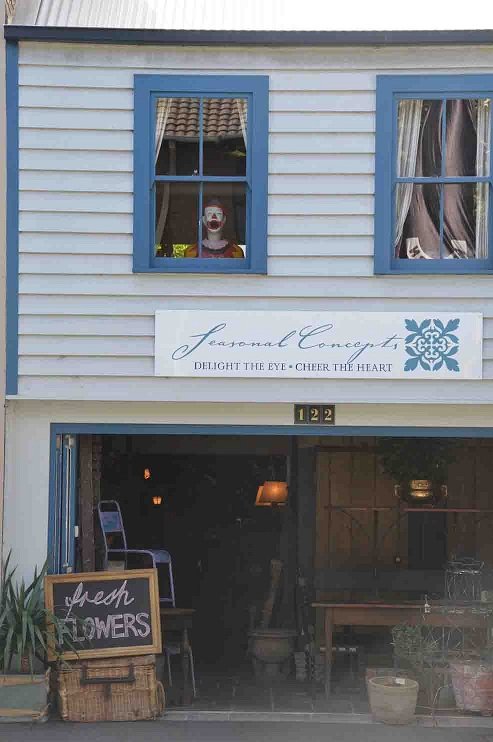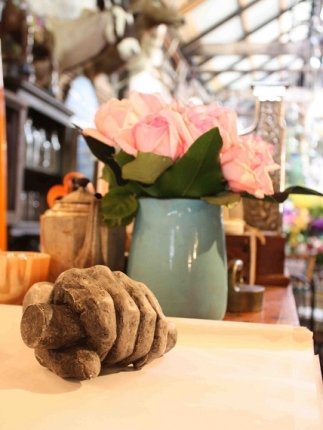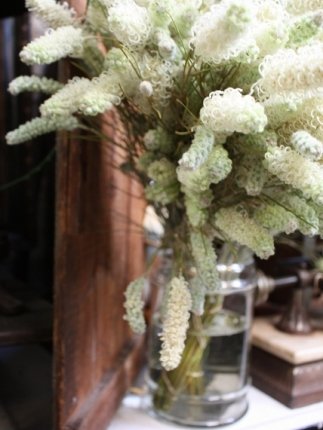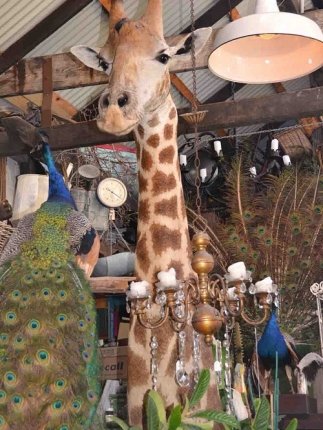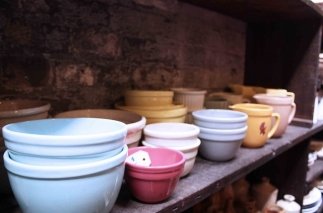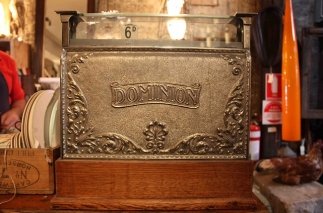 Ken decided to start his business after a solid 25 years in HR. "This was a huge demarcation, to do something with old wares and flowers," he says. "There was a desperate need for floristry to look different, something other than gerberas in boxes tied with ribbons." (They've since done flowers for Lady Gaga).
Many clients are happy to give creative Ken and TR free reign to let their imaginations run wild. With a recent wedding they styled, the bride and groom nominated a 'head' person of each table, and Ken and TR gave every table an individual theme that reflected this person. "One head was a sailor, so we created a boating theme, another head had six boys, so we created a theme using antique boys toys," says Ken. At another table the head was an artist and a painting theme followed. As a themed party fanatic, I love this idea! It's something different and a unique icebreaker.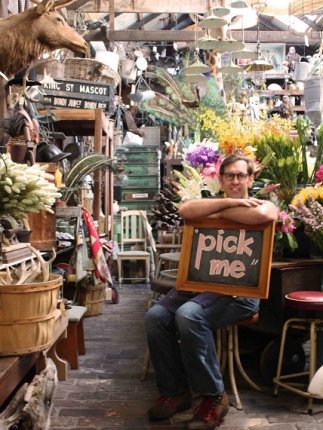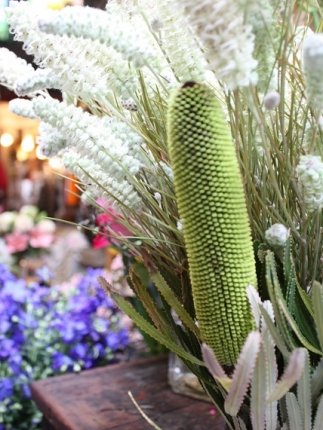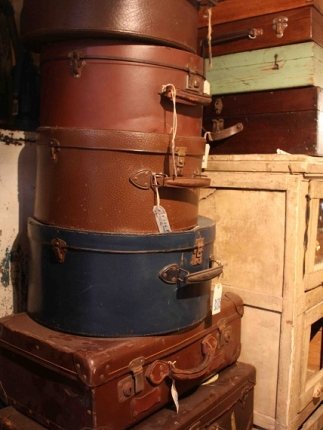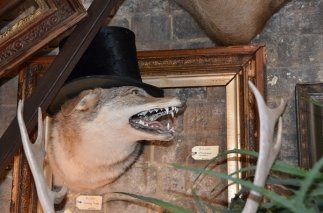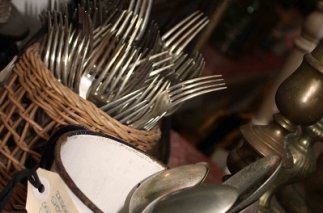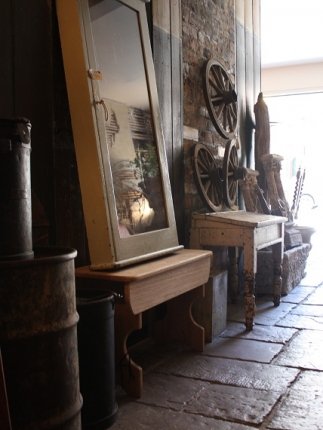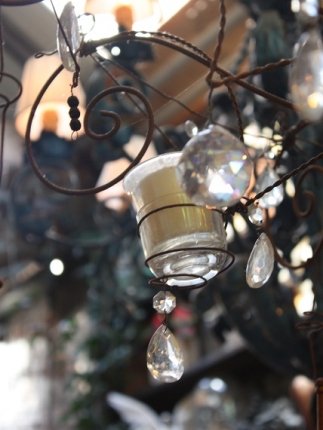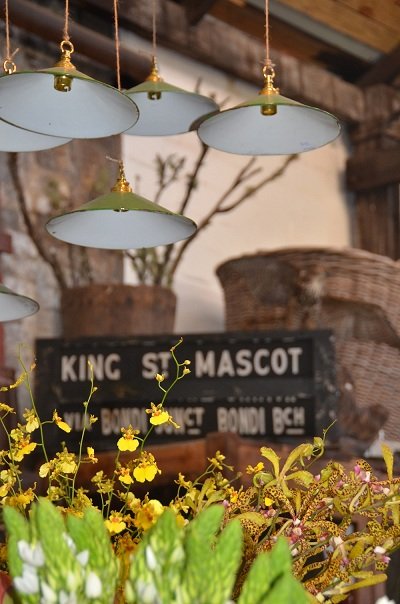 Antique taxidermy animals and birds are one of the shop's most unusual features and available for hire for events and productions. (Many were recently hired out for the sets in Baz Luhrmann's upcoming The Great Gatsby). Amongst peacocks, a stag head and an elderly chicken who sits next to the cash register, Roger the giraffe is perhaps Ken's favourite and the store's unofficial mascot. An old giraffe from Melbourne zoo who died of natural causes, he is available for sale – if you have $35,000.
Ken loves seeing people connect with something in the store, often in a sensory way. "Nine times out of ten it's true love," he says. "You see people walk up to something, like a bowl, and they touch it and then walk around holding it. They have that sense of 'I found it,' – it's a completely different retail experience." Many customers tell Ken and TR the wares remind them of things from their childhood.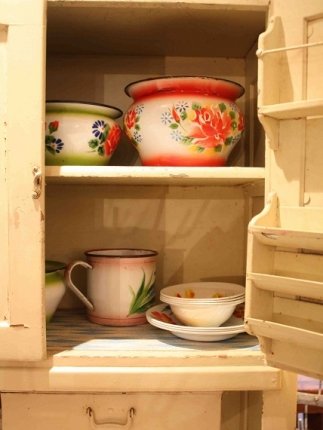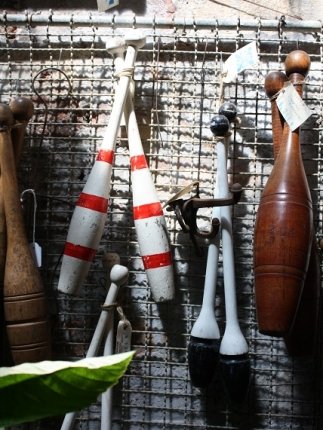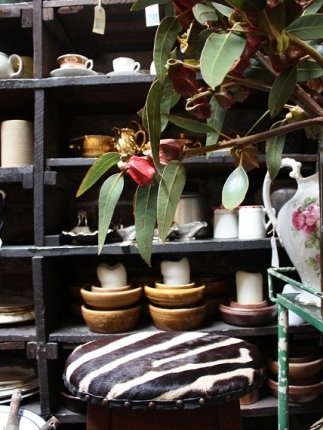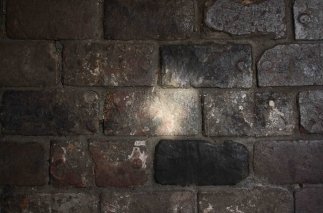 Old enamel ware is popular, says Ken, showing me a shelf of old shearers' mugs. "Experiences resonate with a lot of people," he says. "For example a shearer's mug might remind people of trips to their aunt and uncle's farm as a child."

It's funny that he chooses these cups as an example - Mr House Nerd and I make our coffee in two old blue enamel cups every morning. I had picked them up from a secondhand shop originally just for a camping trip, but we both began using them every day. Months later Mr House Nerd told me he always liked to use them because they reminded him of helping out his best friend's dad with farm work when he was a kid.

They feel good in your hands, and they may just be old, chipped mugs, but just have that lovely, unaffected, rustic honesty to them that I love in a house – and in this amazing shop. If you are in Sydney or heading there, this place is well worth a visit. Try walking away empty-handed (we couldn't).
STOREFRONT LOWDOWN
THE STORE
Seasonal Concepts at 122 Redfern Street, Sydney
THE VENUE
An 1856-built, heritage-listed Georgian former terrace house-turned-engineer's workshop-turned-shop
THE WARES
With a strong Australian focus, the store boasts fresh seasonal flowers and an electic, unique mix of pre 1950s treasures, homewares, natural curiosities, antiques and decorative objects ranging from kitchen necessities to garden items
SERVICES
As well as selling homewares and antiques, Ken and TR offer a full floral service with beautiful seasonal blooms. They also do styling for weddings and events and have a stock catalogue with a vast amount of items for hire or purchase
PHOTOGRAPHY
Lovely Olivia DeRoche - who first told me about this amazing store
CONTACT
Visit the Seasonal Concepts website, call 0430 044 383 or subscribe to their Facebook page.