Posted Monday, April 15, 2013 in:
Home Envy
Before & After
When interior designer and visual stylist Kim Pearson and her family moved into their old Cottesloe home, they knew from the start they could do something with the dark, depressing old garage in a corner of the garden.
Used mostly for storage, the garage had a forgotten feel about it and was cold and full of cobwebs. But with Kim's vision and months of hard work, it is now a gorgeous studio guest house and so warm, inviting and comfortable it has been largely taken over by various children. Can you blame them? I want this place myself.
When Kim first saw the old garage, she could see its potential right away. "We always knew we could do something with it," she said. "It was basically just a big shed with a mezzanine that was full of spiderwebs."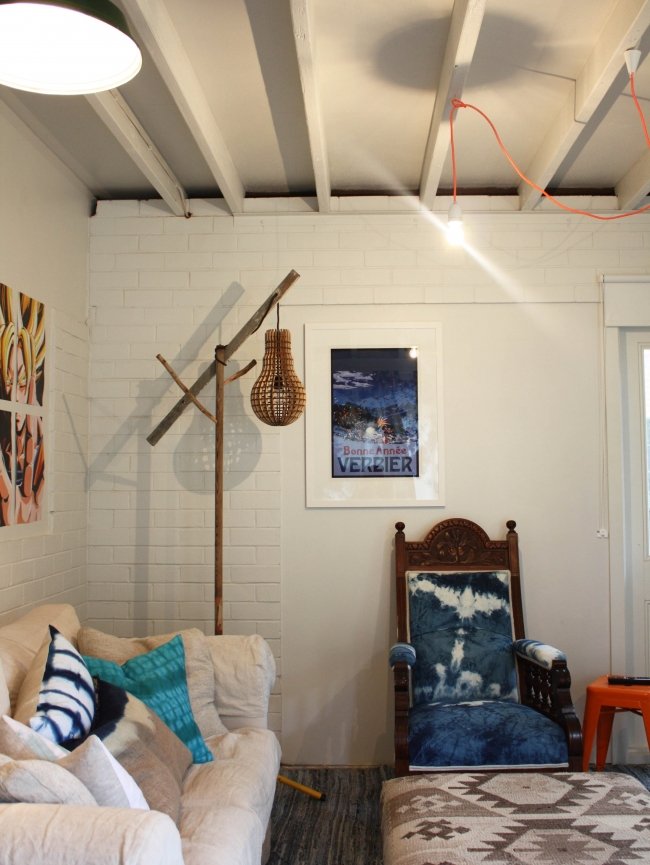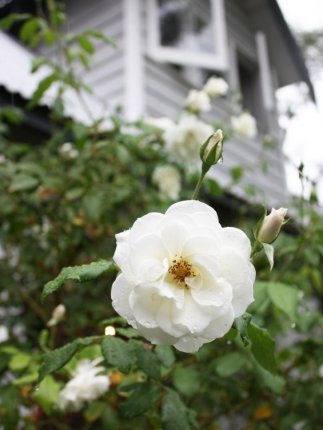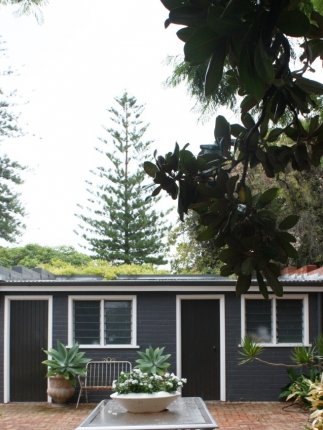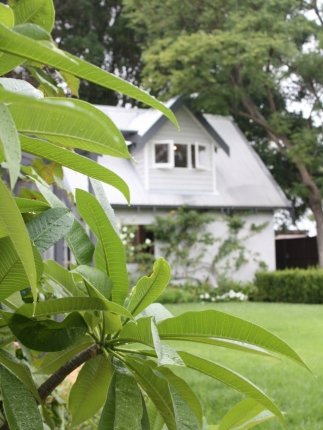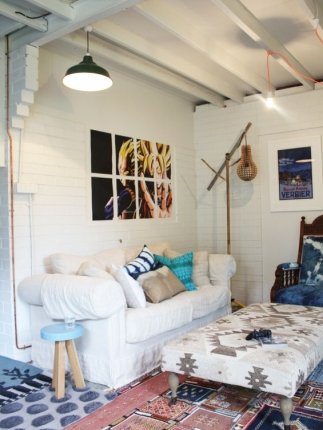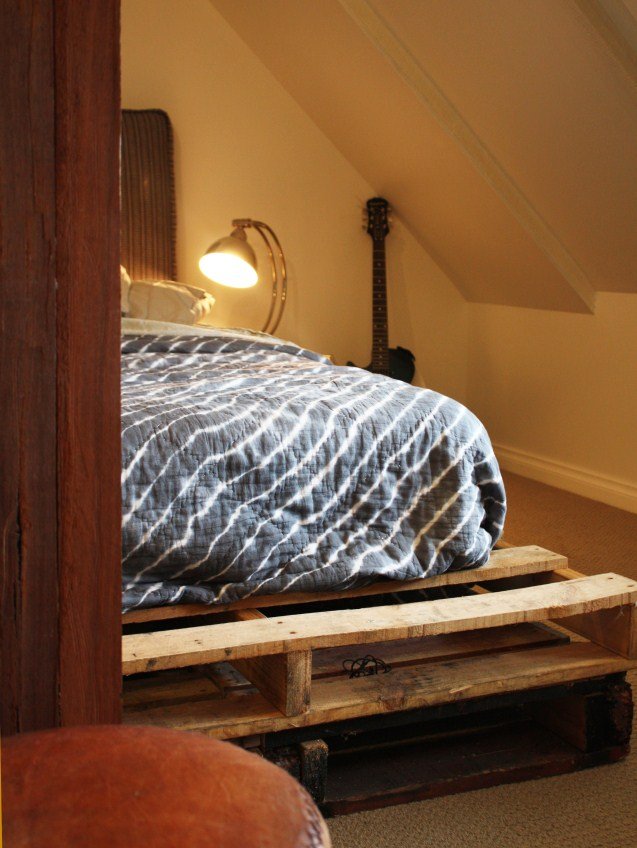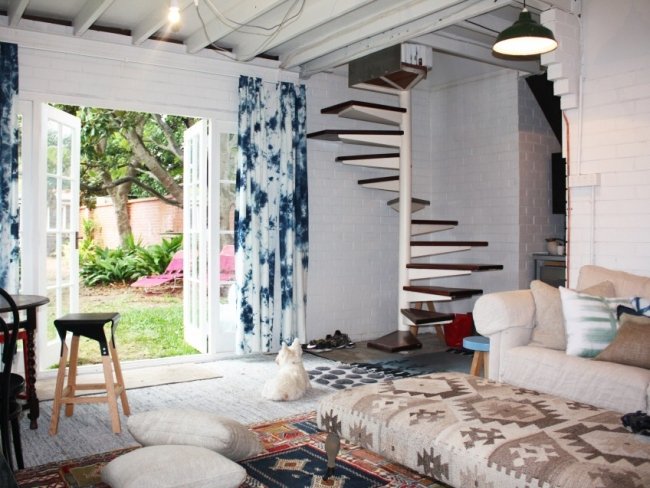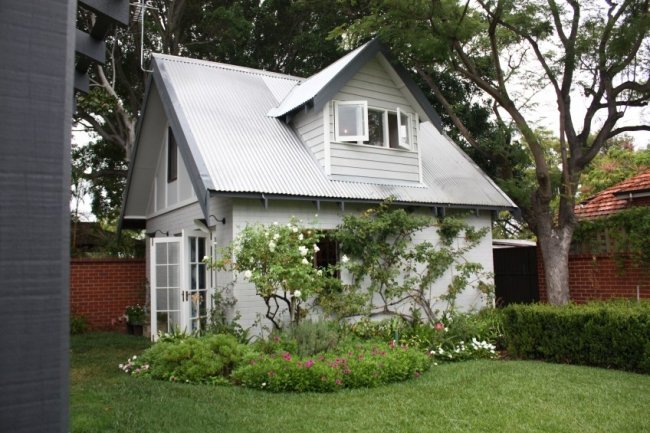 The original portion of the garage was a shed thought to have been built in the 1940s. In the 60s or 70s the shed was extended to become a garage with a mezzanine level for storage, accessed by an old ladder propped against the wall. When Kim and her family bought the rambling old property, internally the garage space was typically 'old garage' and very raw – dark red brick walls, exposed beams, a concrete floor that is now softened by layers of soft rugs .

French doors replaced roller doors and the brick walls received a lick of very soft, silvery grey-white paint, which lightens the space but is not as harsh as white (which Kim says was important as the studio faces the west). To make the guest house a self-contained space Kim added a kitchenette and a bathroom. She has that knack for mixing the budget with the high-end to give a luxe look, demonstrated perfectly here with the black IKEA kitchenette by the bathroom, where she laid a floor of black Bisazza mosaic.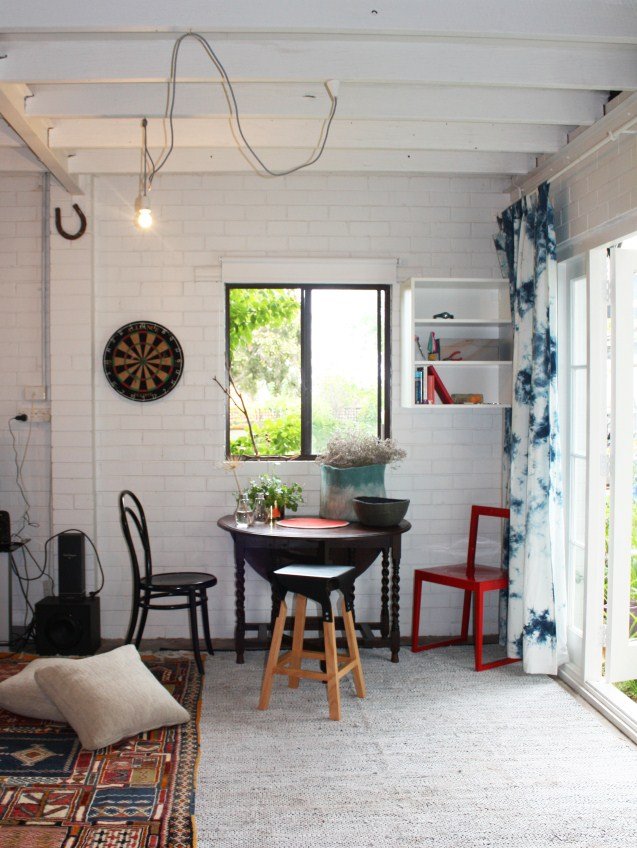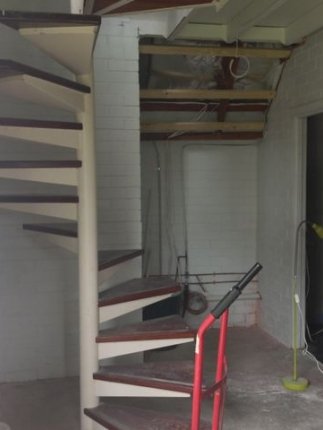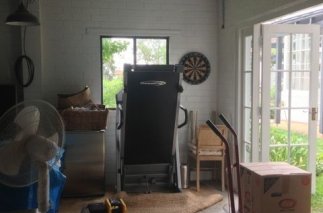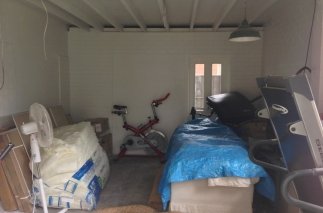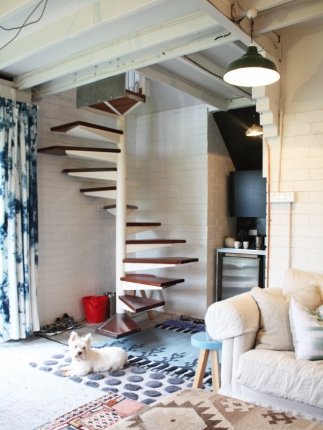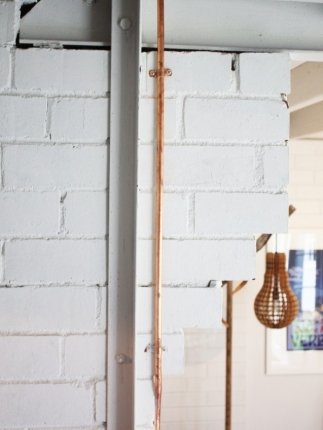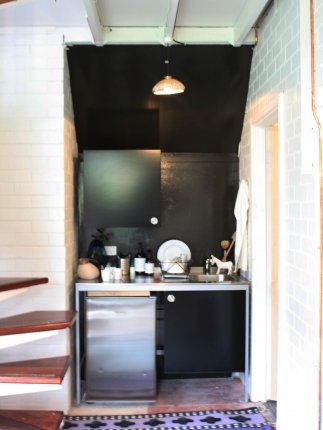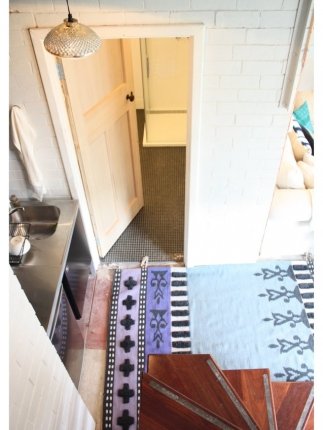 The old ladder leading up to the dark, depressing mezzanine level was replaced with an old spiral staircase her husband spied at a salvage yard in Shenton Park. Perfectly imperfect with lovely little dings and marks that give it character, it looks so good in its position it looks as if it has always been there.
The raw ceilings and walls of the mezzanine level were paneled and painted white to create a light, welcoming space but a timber support pole was left untouched in its raw state in the centre of the room and it nows ties in with one of my favourite features in this room. Ever the visual stylist, Kim created and styled this gorgeous bed for our photo shoot. She designed the bed, made from old shipping pallets, and made it with master furniture maker Andrew Christie.
The little window that was already there in the mezzanine level didn't afford enough natural light, so Kim also installed a dormer window into the roof space. This window capitalises on the sweeping views over the valley from the home's hilltop position and across to the ocean beyond.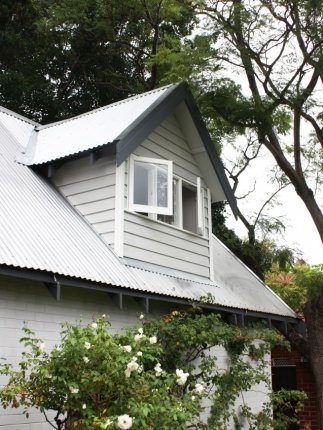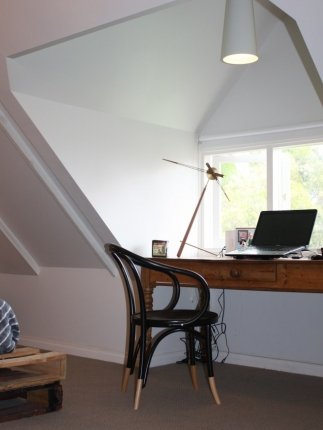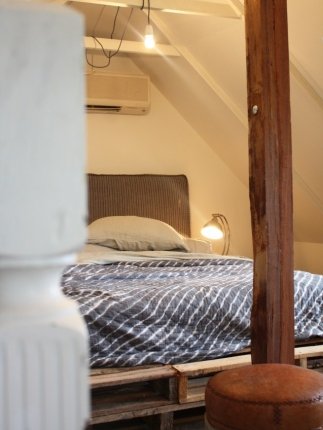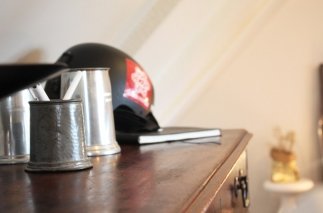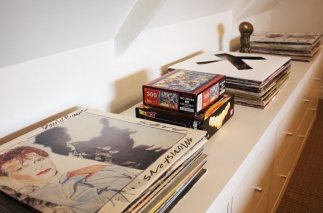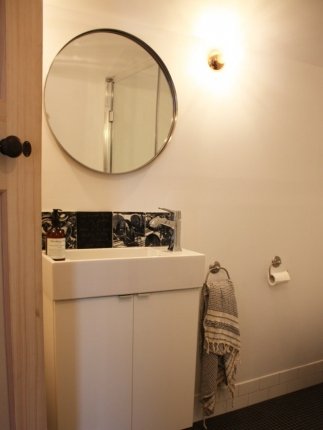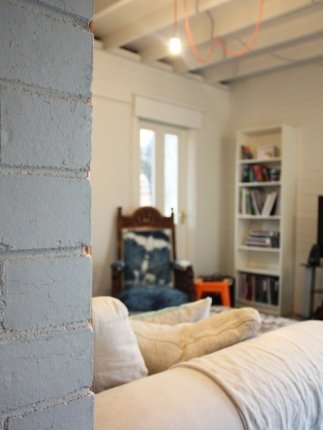 Kim styled the space with a mix of old timeless pieces – like the Victorian chairs from her parents, which she updated by reupholstering them in gorgeous Shibori fabric – with a few contemporary, directional pieces "to groove it up a bit" – like the stunning Mobilia chairs by the dining table.
"What I love about it is that we haven't bought much to do it – rather it's an amalgamation of things we've collected over the years," says Kim of the studio, running her hand over the lovely time-worn writing desk on the upper floor (an ancient potting table that came from the potting shed of her husband's rambling family home in England). "It's also somewhere for the kids to get away and have their own space - the latest census shows that the average age kids are leaving home these days is 26." Although if I had a place like this to relax in I probably wouldn't leave home until I was 40. Maya x
PROJECT LOWDOWN
THE OWNERS
Interior designer and visual stylist Kim Pearson, her family and West Highland White Terrier Tiggy http://kimpearson.com.au/
THE PROJECT
An old 1940s garage turned studio guest house in the garden of the family's 1909-built home
LOCATION
Cottesloe, Western Australia
THE DESIGNER
Owner Kim Pearson Interior Designer. You can keep up to date on Kim's projects by liking her Facebook page here or by following her on Instagram
FEATURES
French doors, concrete floor, mezzanine floor, views from the mezzanine across the valley to the ocean, white-painted brick walls, exposed piping, industrial-style lighting
PHOTOGRAPHY
Me