Posted Monday, October 3, 2016 in:
Home Envy
The words 'minimalist', 'modern home', and 'crawling baby' are probably not words that many people would think belong in the same sentence when it comes to homes. Since we had Little Nerd, I have discovered that there is nothing that manages to compromise the way your house looks and functions than the destructive force of a little baby and all the ugly stuff they seem to bring. Unless you are a styling queen (which I am not) whose house always looks Instagram-worthy, a baby means your house is always going to look messier, more chaotic, for a while at least. Right?
Wrong! As I have now learned, having a baby actually doesn't have to mean you can't have an ultra-stylish, modern, minimalist home – and the new-build house I'm sharing today is most definitely proof.
Built by Weststyle Design and Development, this incredible place in Cottesloe is home to Weststyle architect and general manager Gavin Hestelow, his wife Donnelle, a lawyer and yoga teacher, and their baby boy Ashton, 9 months.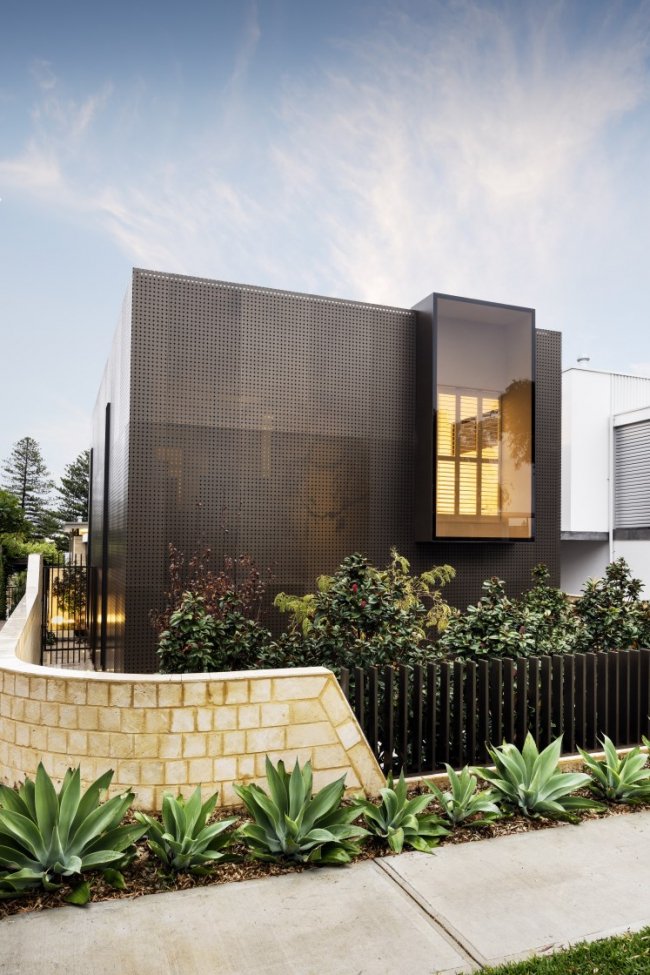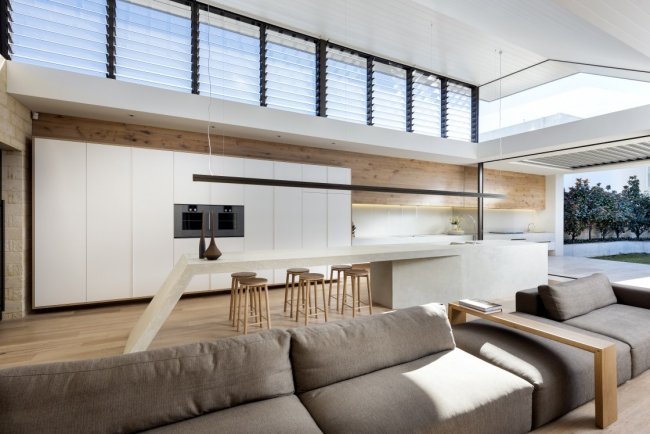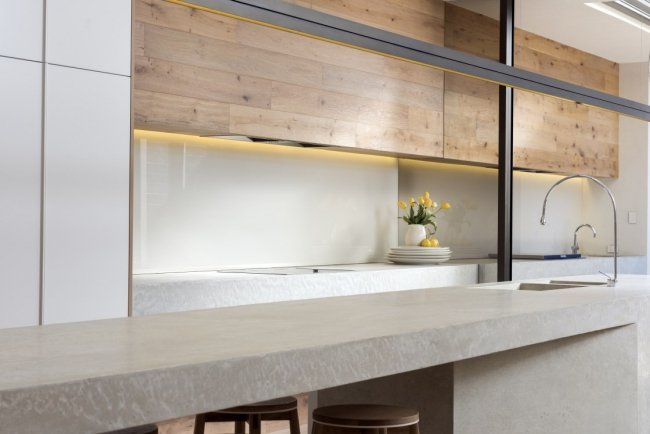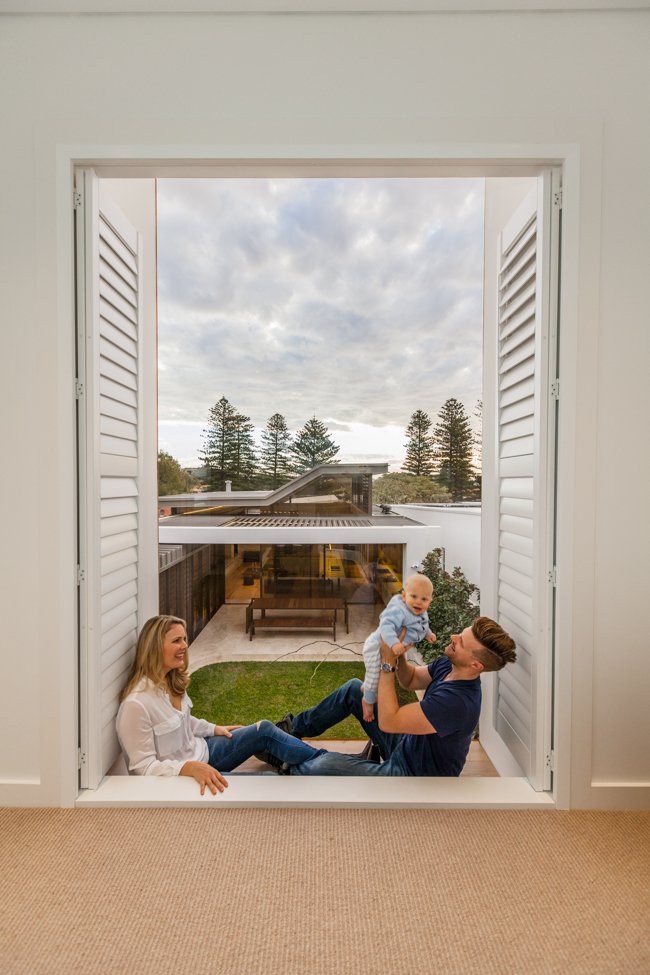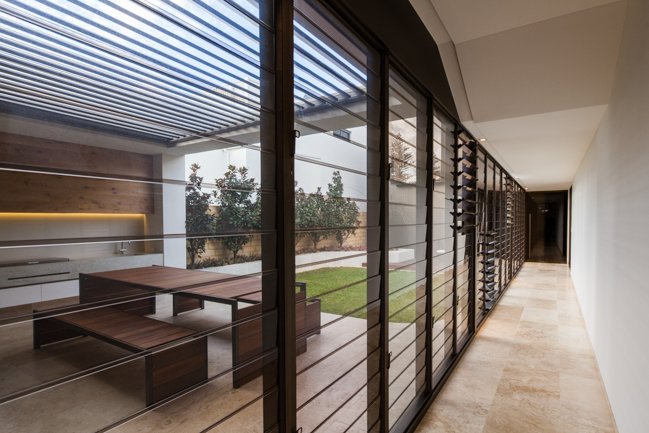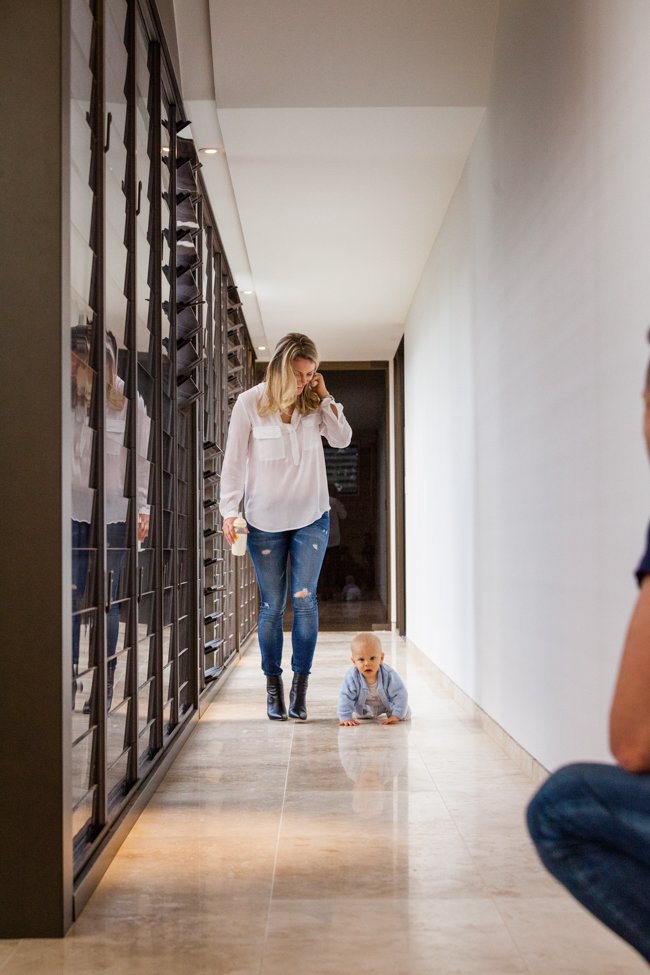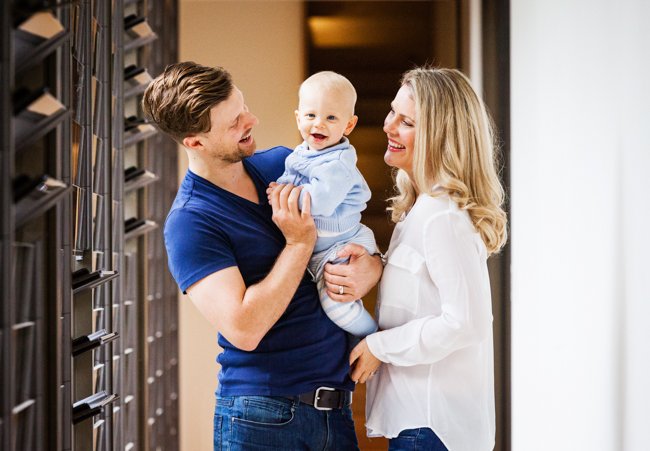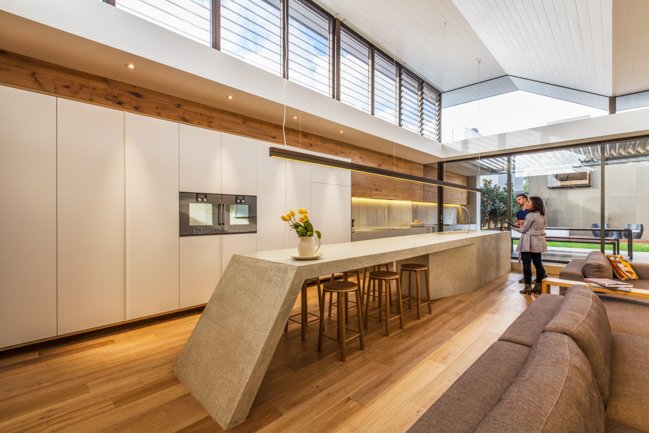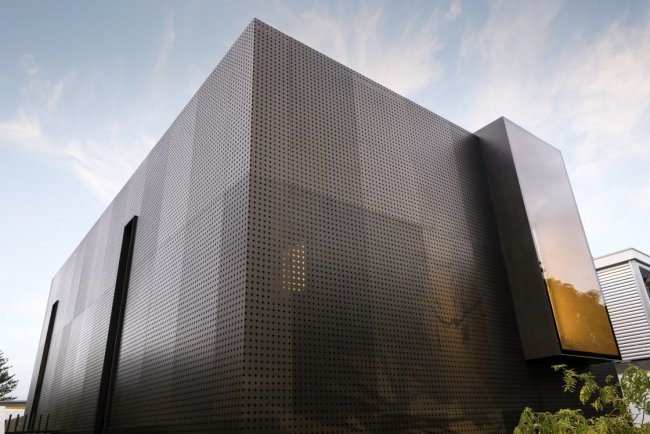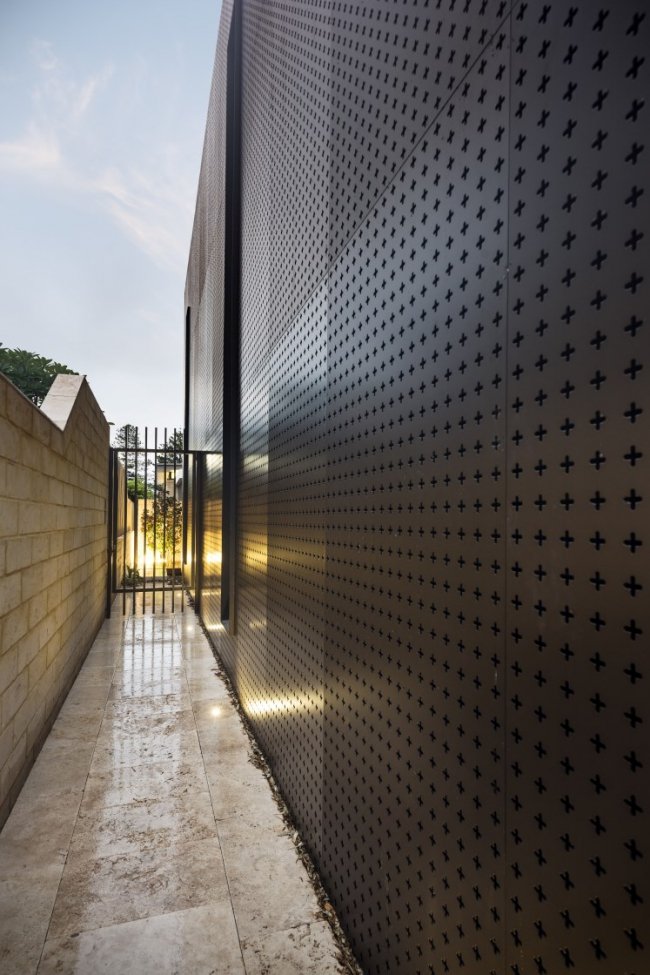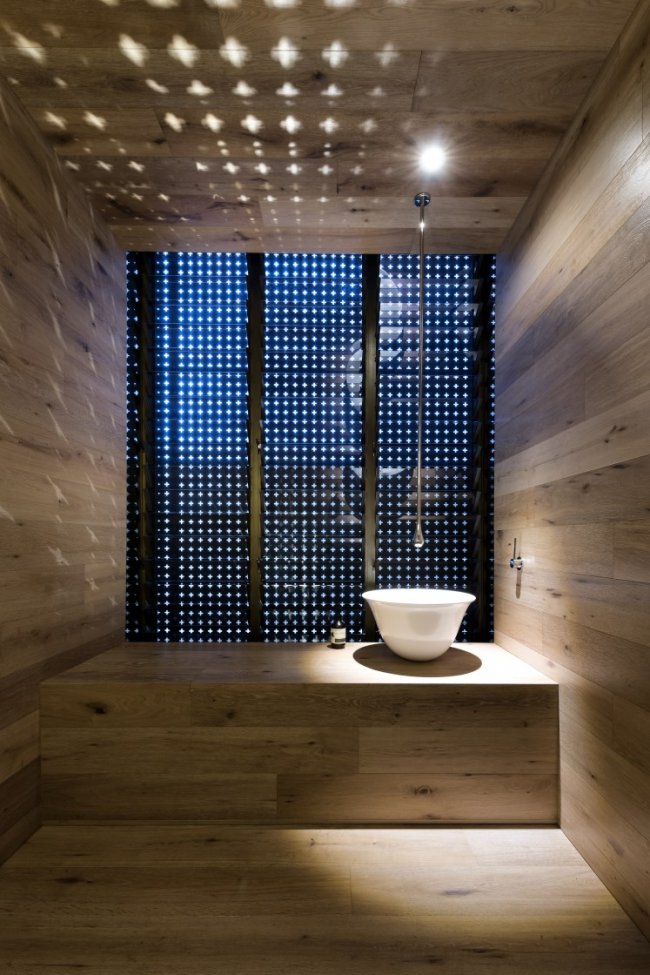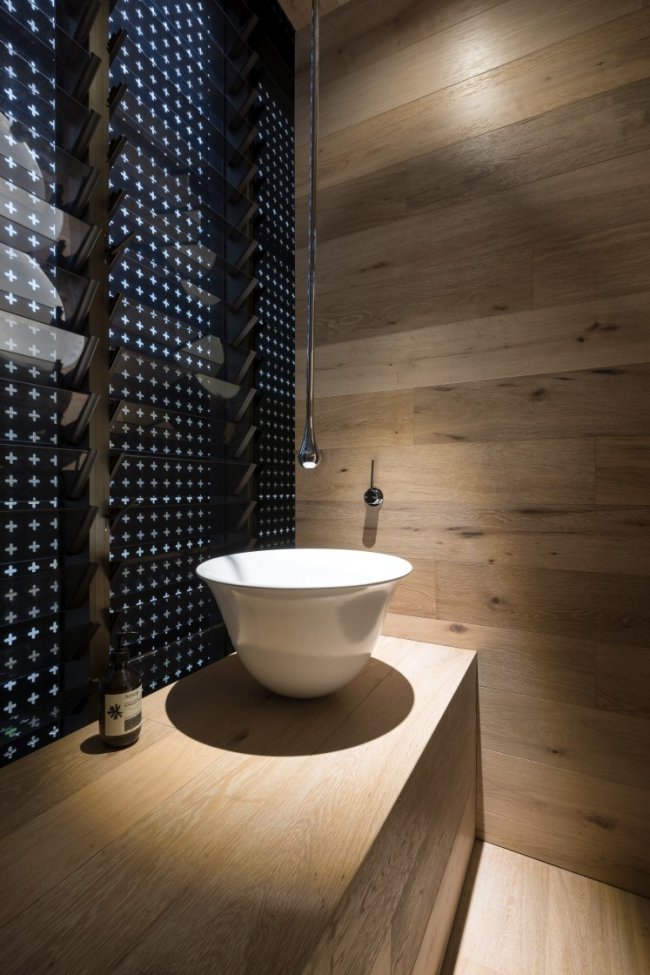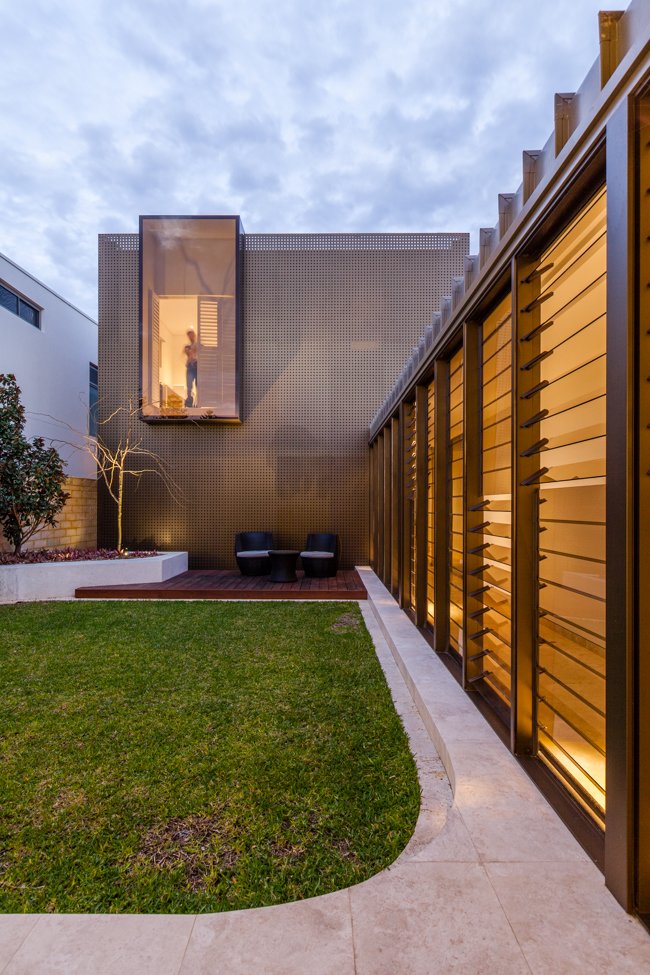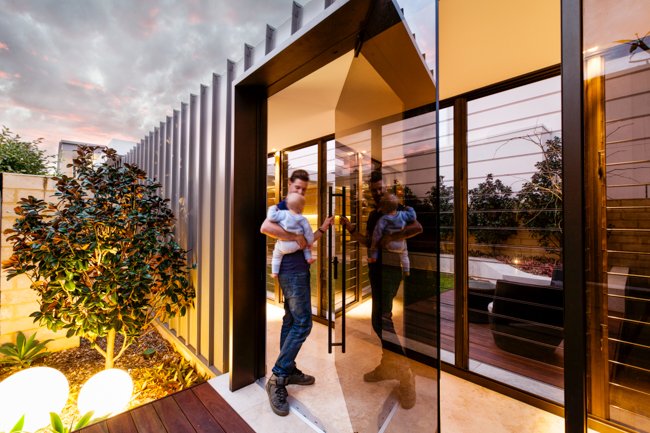 Their house is a stunner, showcasing modern design in a family home with a one-of-a-kind elevation that stops passers-by in their tracks. Passers-by slow down to stare. Gavin had the concept of designing a 'mysterious box' that made people wonder what was beyond while stirring up a feeling of intrigue and mystery.

To achieve this, the house is completely wrapped in bronze powder-coated aluminum screens that give the home a distinctive textured look while also giving it fantastic privacy. The pattern of the screens was inspired by an aerial view Gavin saw of a Cottesloe icon – its famous Norfolk Island pines. At night-time, with the lights on, two 'window boxes' appear to punch out from beyond the screen while in the day, the filtered light that comes through the screens into the rooms is beautiful. It is really stunning – and a very special home.
Gavin and Donnelle (who met while playing tennis when they were 14 and 15 and have been together ever since!) bought the 506sqm Cottesloe block with the aim of building their dream home.

To many people, the long, narrow, 506sqm subdivided block, which slopes a substantial 4m from front to back, might have been a deterrent. But Gavin gravitated to it. "I actually love long, narrow blocks - if the zoning works for them to have a laneway," says Gavin. He was attracted to the site partly because it came with a rear-of-way that could lead to a generously sized double garage hidden away at the back. "I hate garages," he laughs. "Generally if you have a 10m wide block, 6m of its elevation will go to a garage. So laneways are fantastic."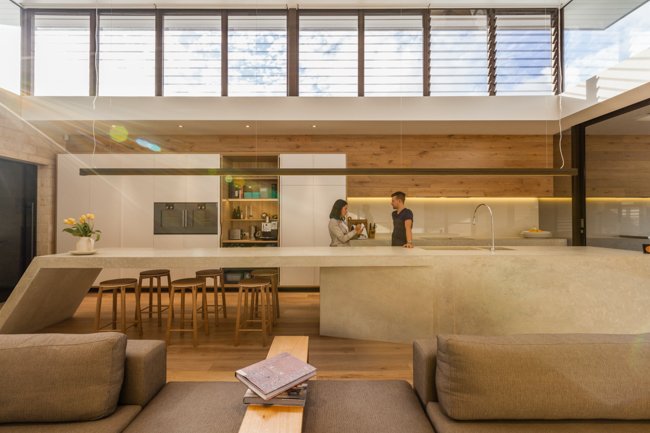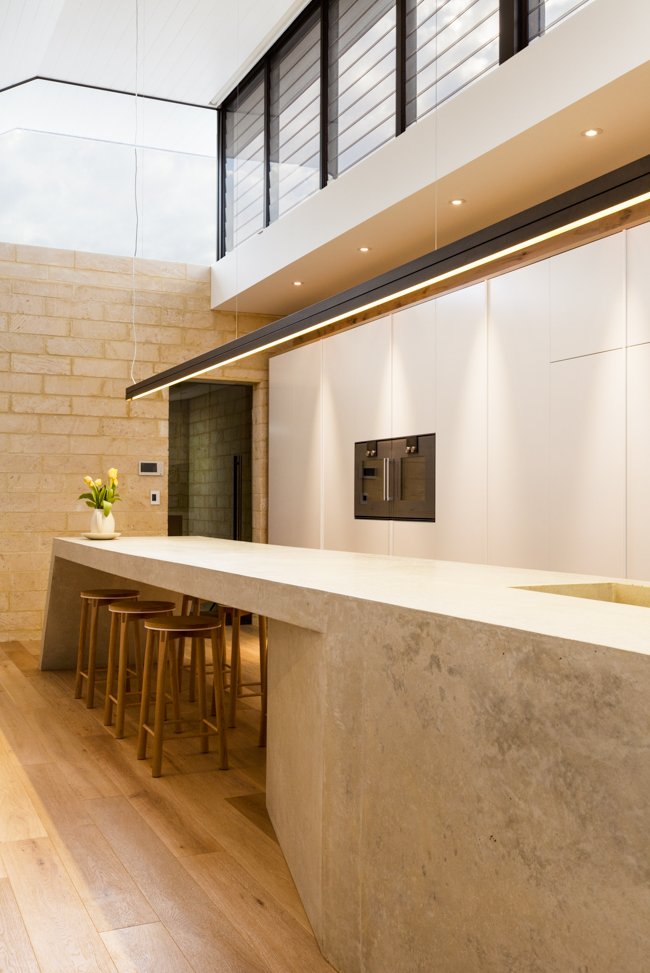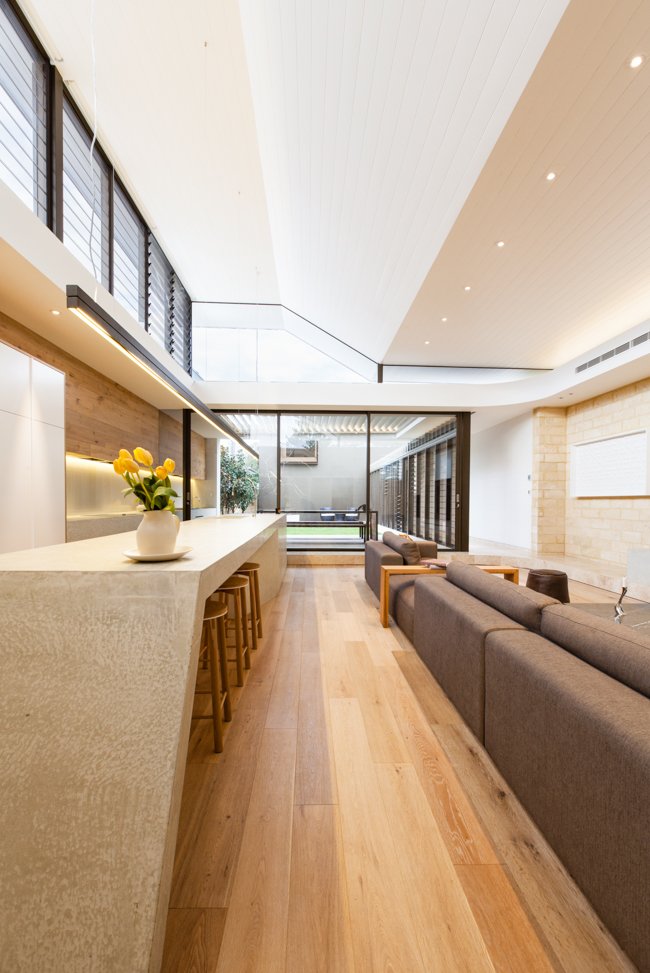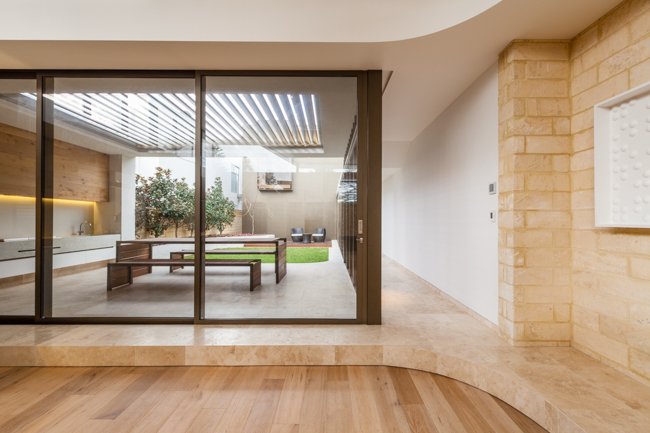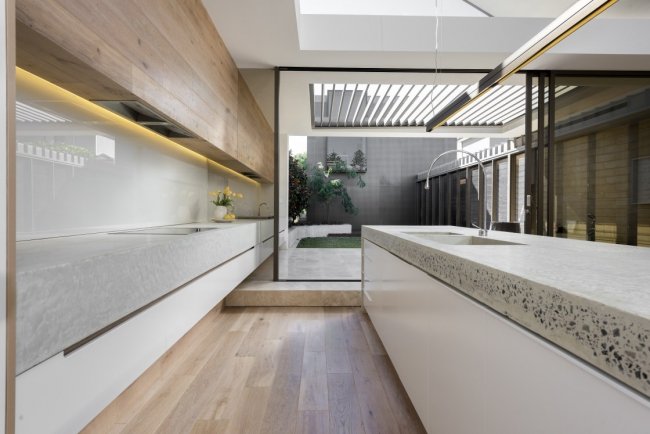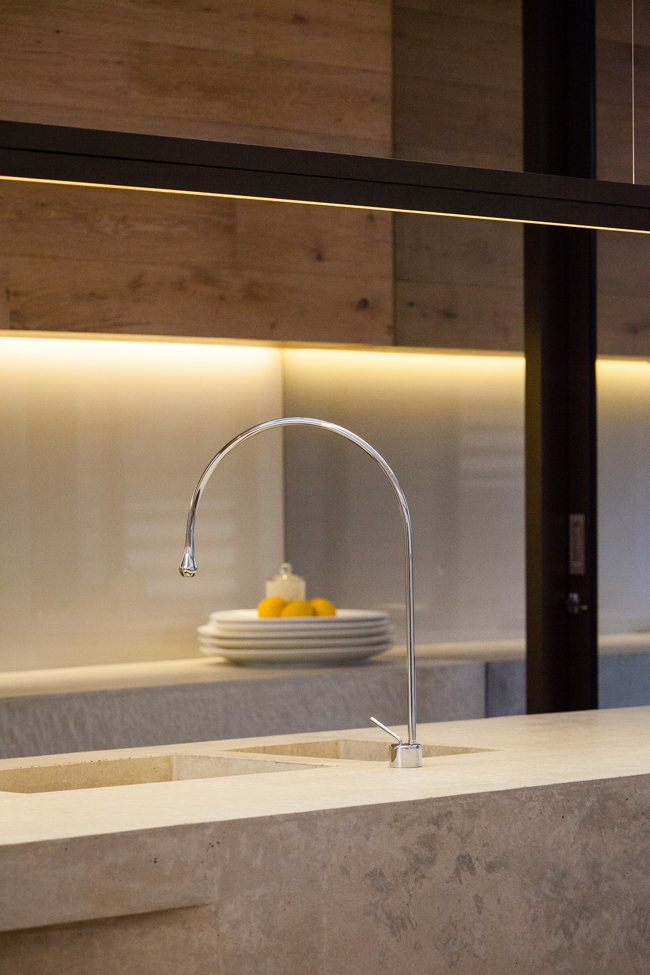 Just 300m from the ocean's edge, the block was a subdivided part of a 1012sqm plot that formerly housed a tiny fibro beach shack. "I didn't want to lose the essence of what that was to this block," says Gavin, "so I wanted our house to reference the traditional Cottesloe beach shack in a modern setting."
The Weststyle home features limestone walls, vein-cut and cross-cut travertine, white concrete, wide oak floors and white-painted timber ceilings that create a beachy interior palette while modern louvered windows are a nostalgic nod to the iconic fibro beach shack.
"Every window in this house is a louvre," says Gavin. "With all these windows open, I can hear the beach." The louvered window also cross-ventilates the home with cooling sea breezes – in summer Gavin and Donnelle do not even need to turn on the air-conditioning.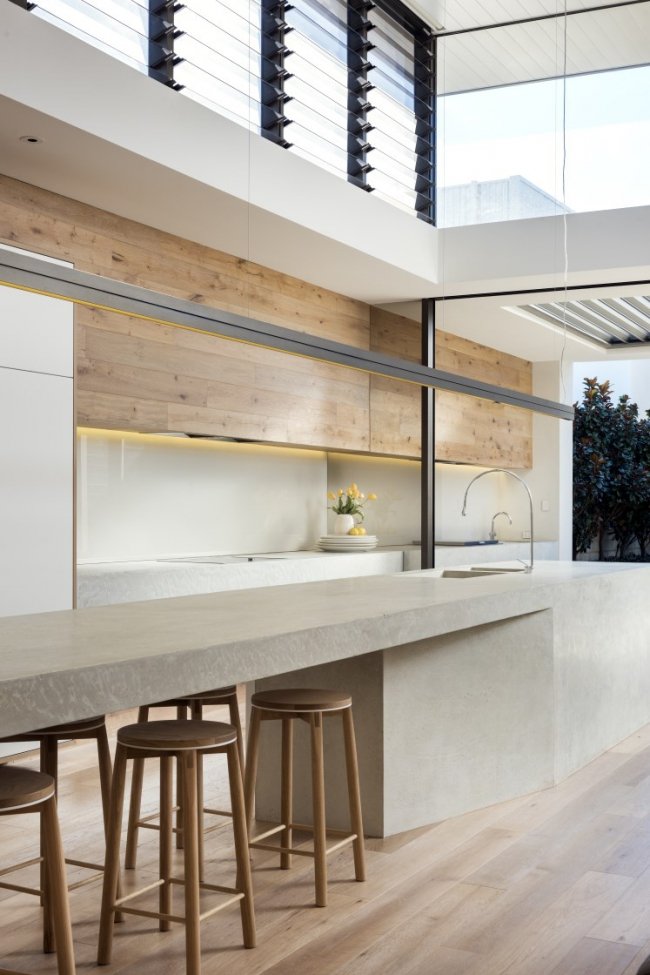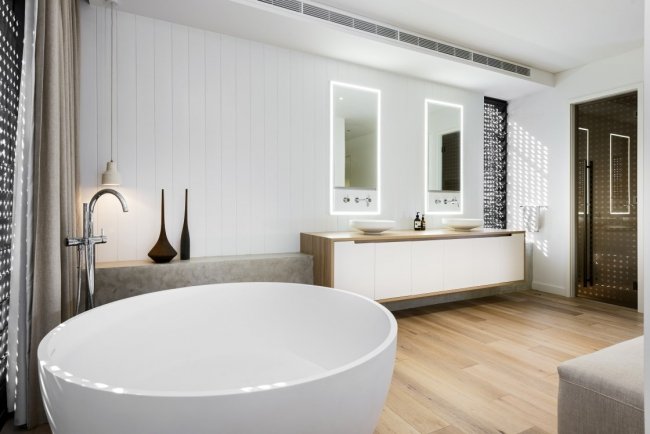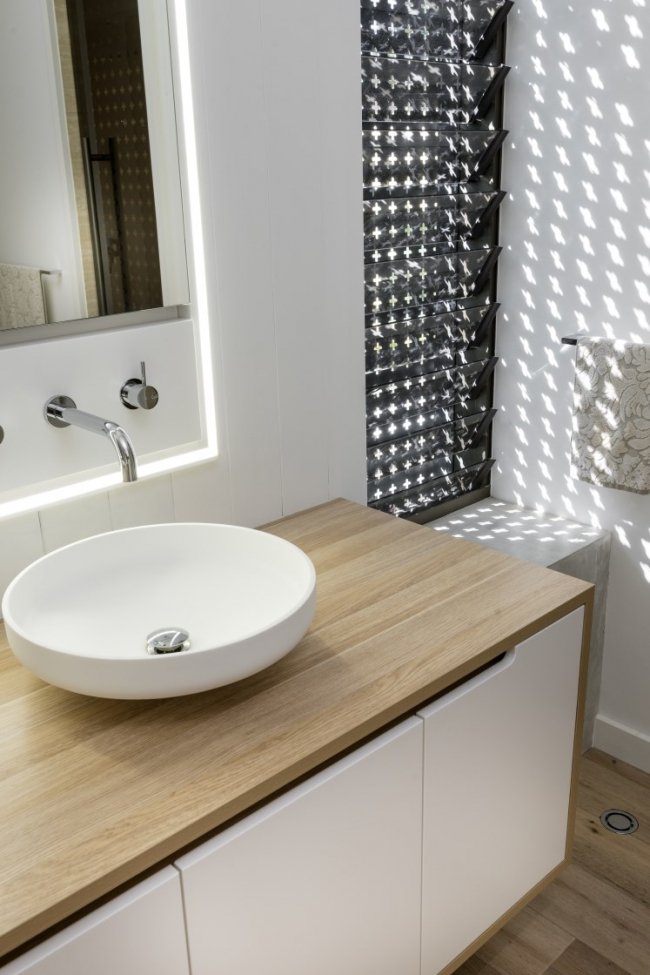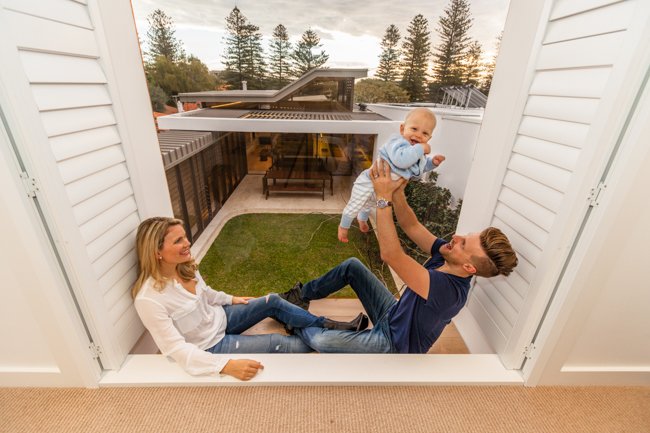 Being a journalist, I always appreciate the incentive a good deadline can bring and Gavin and Donnelle had a fantastic incentive to keep things cracking during their design and build process – they were expecting baby Ashton.
"I was given a deadline to be in for Christmas so we could spend Christmas Day together in our new home," says Gavin. "It was ambitious but we moved in Christmas Eve! There may have been an extension lead from the neighbour to power our fridge until the connection was installed two days later, but I got there!"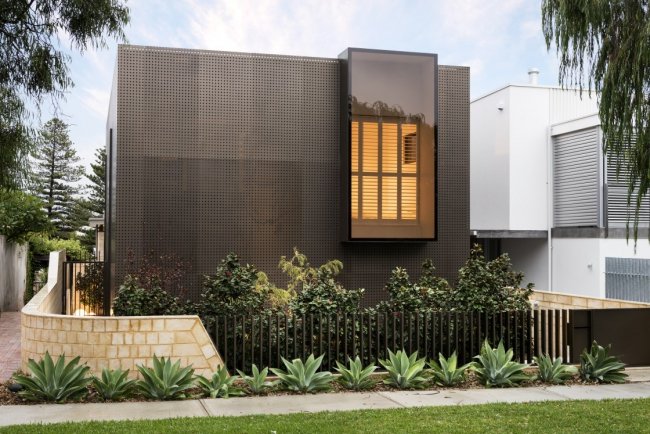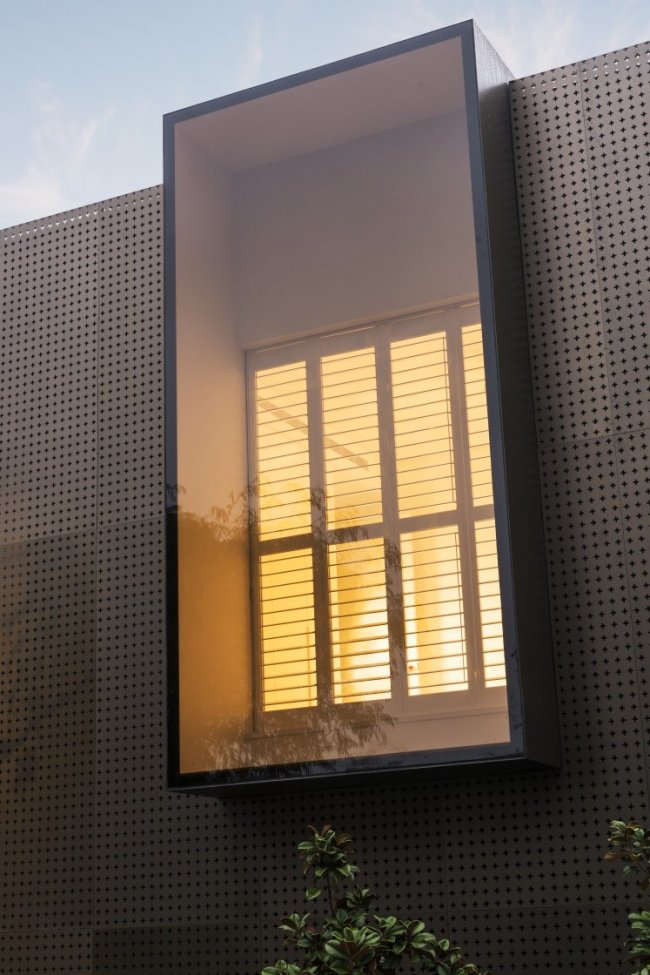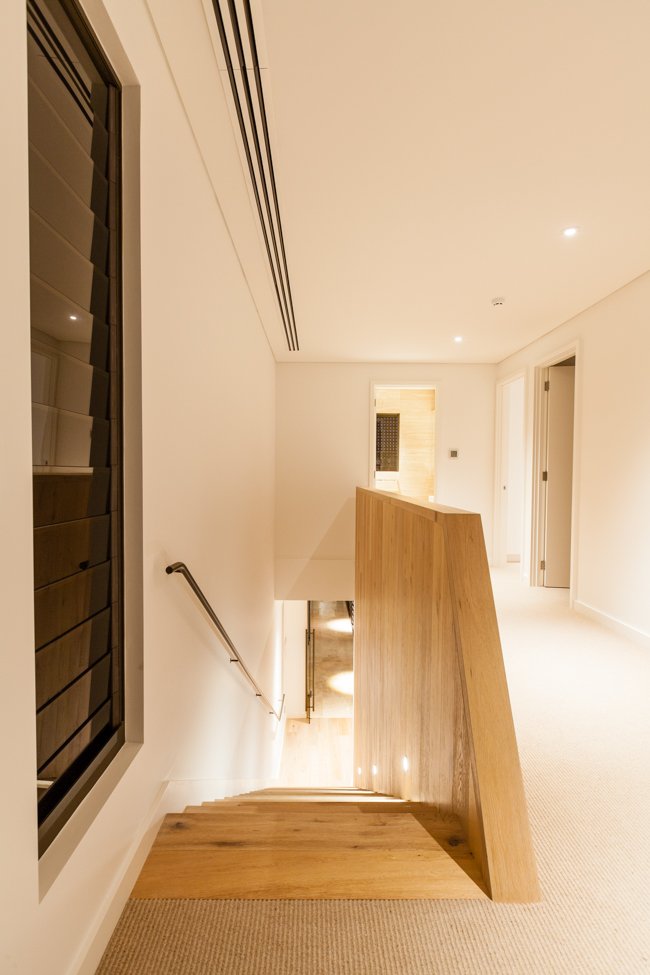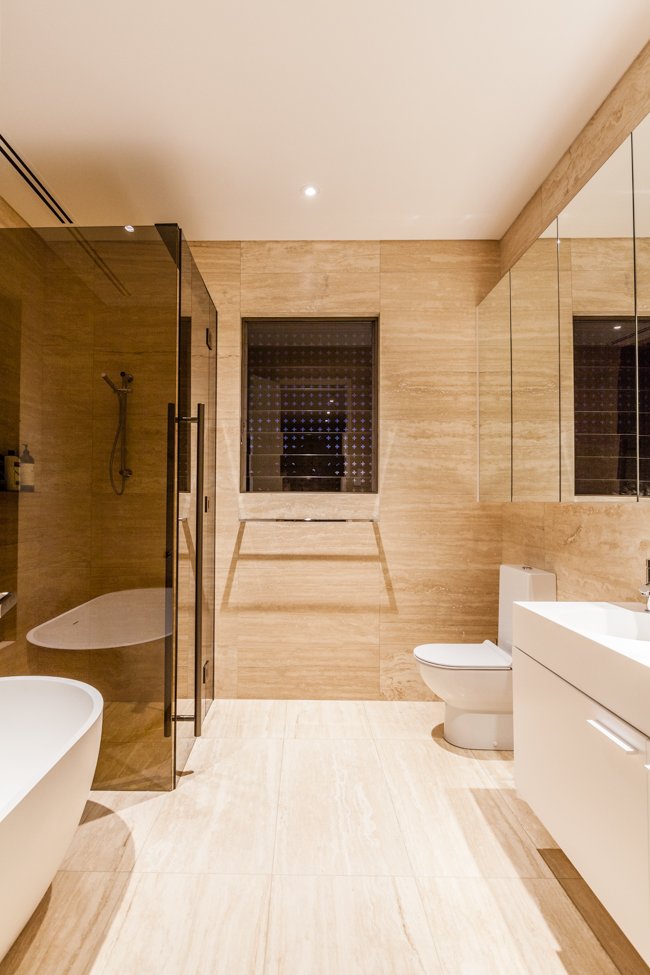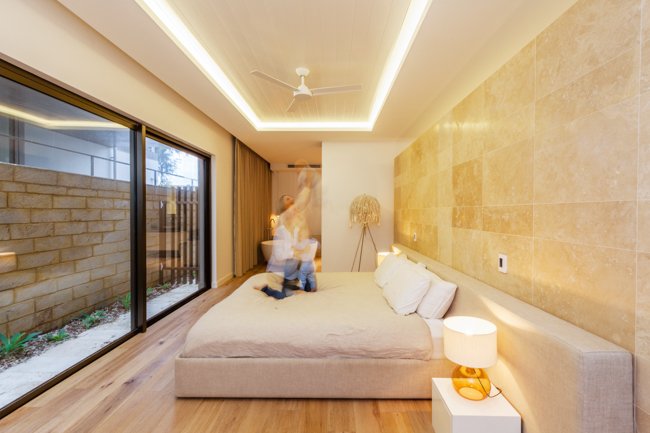 Gavin was very mindful that their new house would have to suit a baby. The finished home is magazine-worthy – beautiful, clean, tidy with strong design features. At first glance you might never think a baby lived here.
I am curious, I tell Gavin. Where is all the ugly baby stuff?
"The secret is a minimalist approach to design with integrated concealed storage," he says. "The storage isn't obvious so it doesn't dominate the appearance but is located with convenience where you need it. Open shelving is great for displaying your favourite things but not the day-to-day items. What easily goes behind a door or in a draw makes your living space look its best with less effort. Also locating the laundry close to the living area and designing it so it functions as a generous storage room allows the living area to be clutter-free with minimal effort for the bigger items such as Ashton's ride-on dolphin."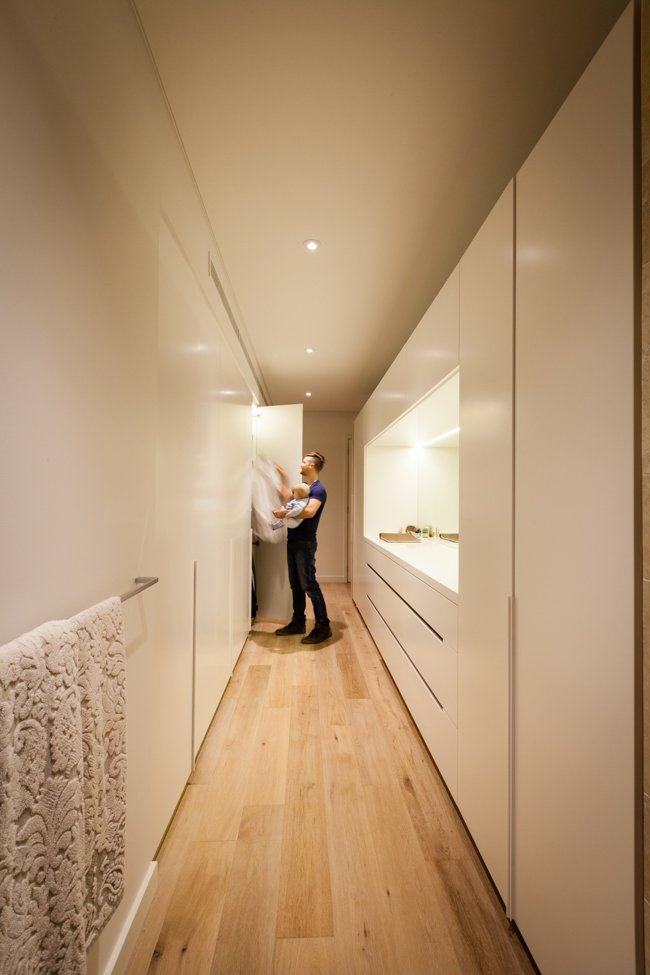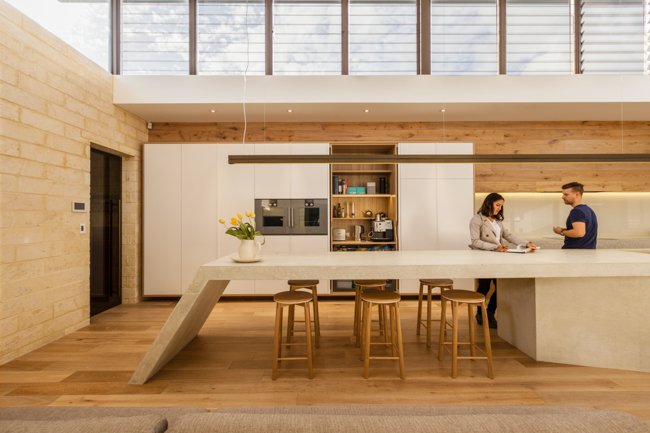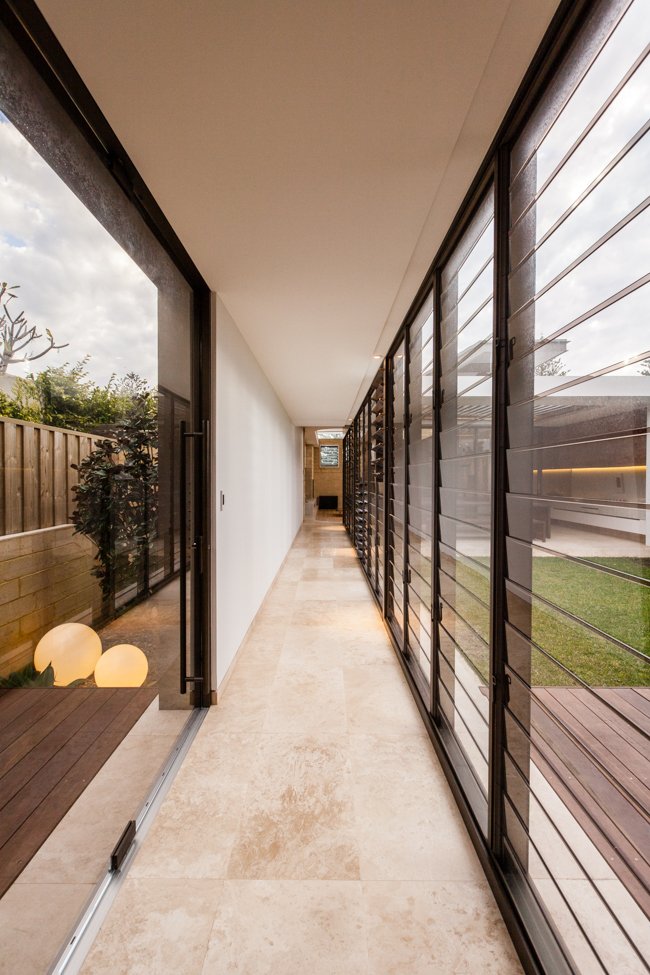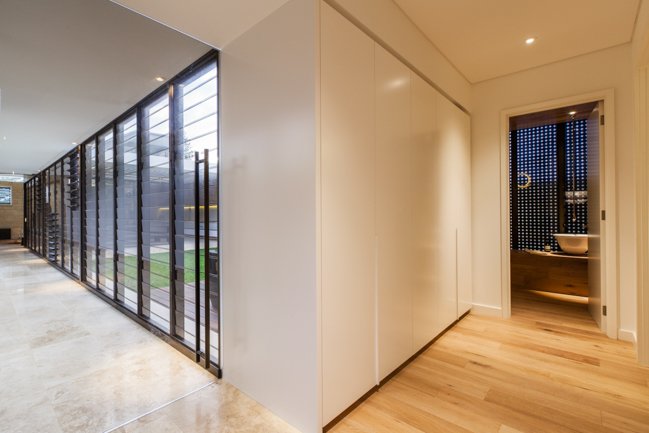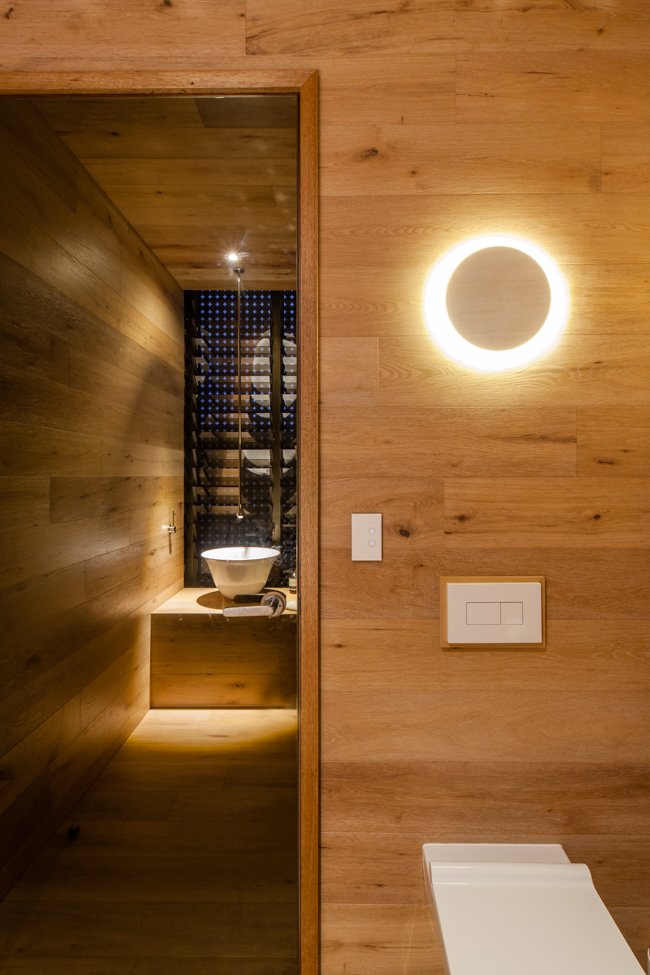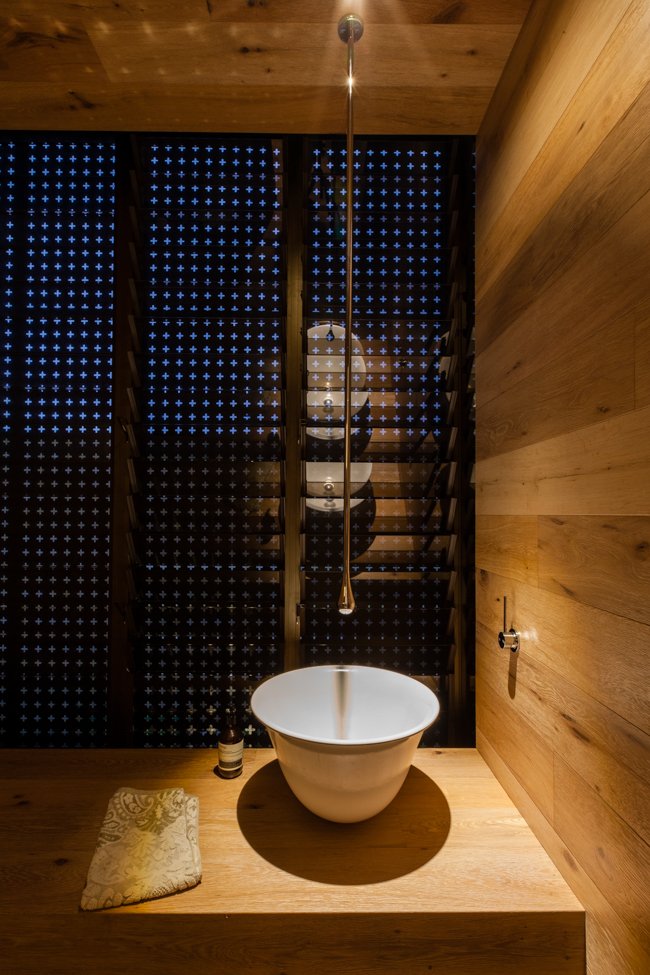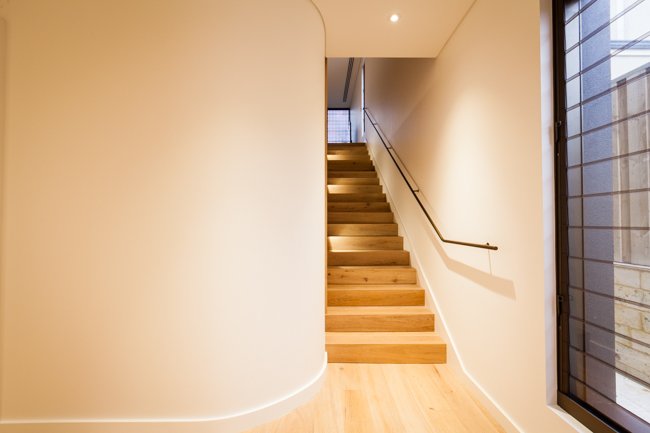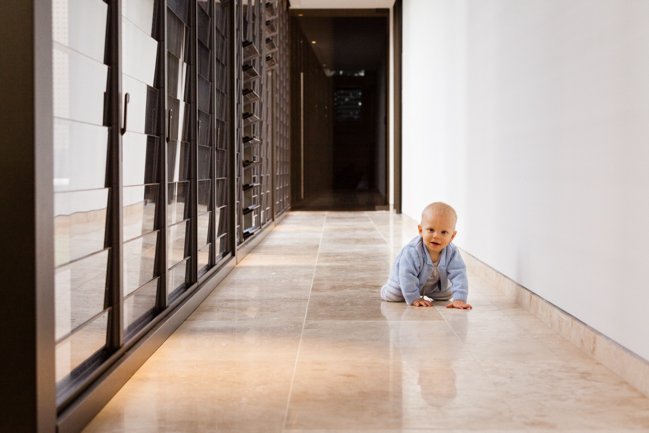 What I also noticed was how comfortable baby Ashton is in his home. When I arrived, I saw the step from the entry into the living space and one of my first thoughts was, "Oh my goodness! How do they stop the baby from toppling over the step?"
My question was answered by little Ashton himself. A capable crawler at nine months, he arrived at the edge of the step and carefully lowered himself down over it, cool as a cucumber, cooing to himself. He also impressed me by clambering down into the awesome window seat of the upstairs study. The house is clearly baby Ashton's playground.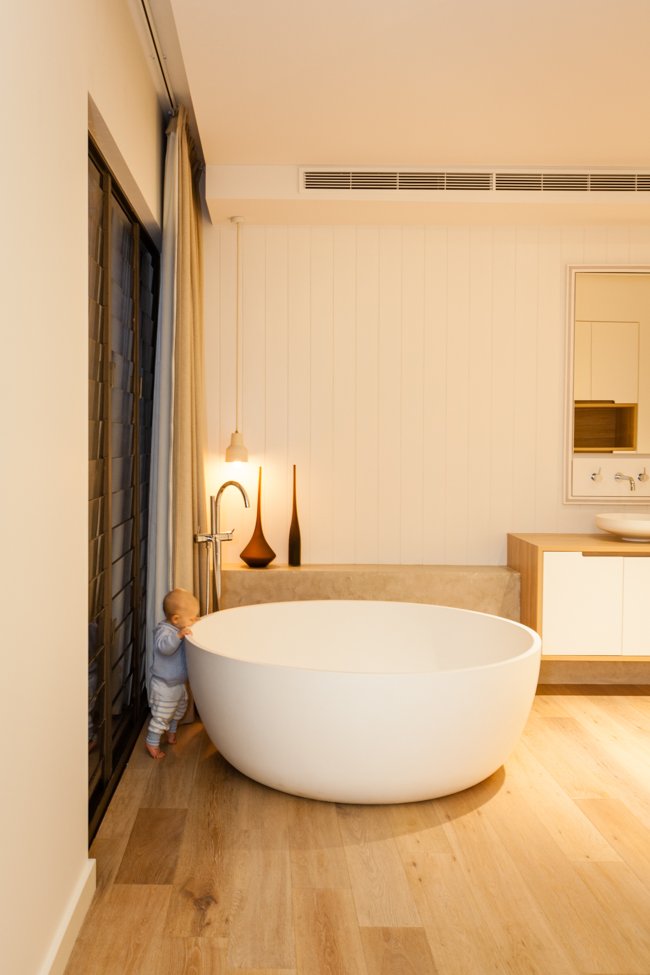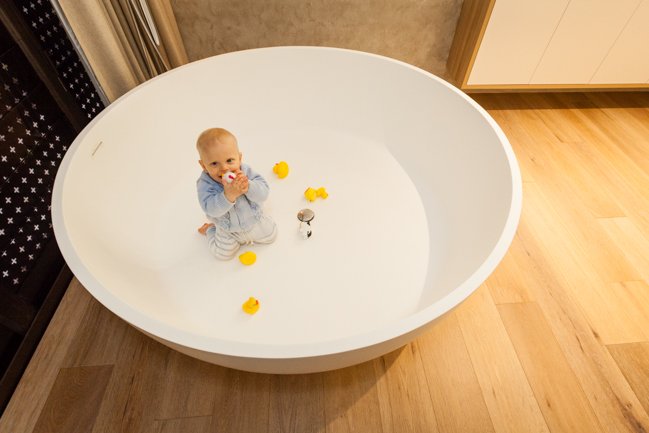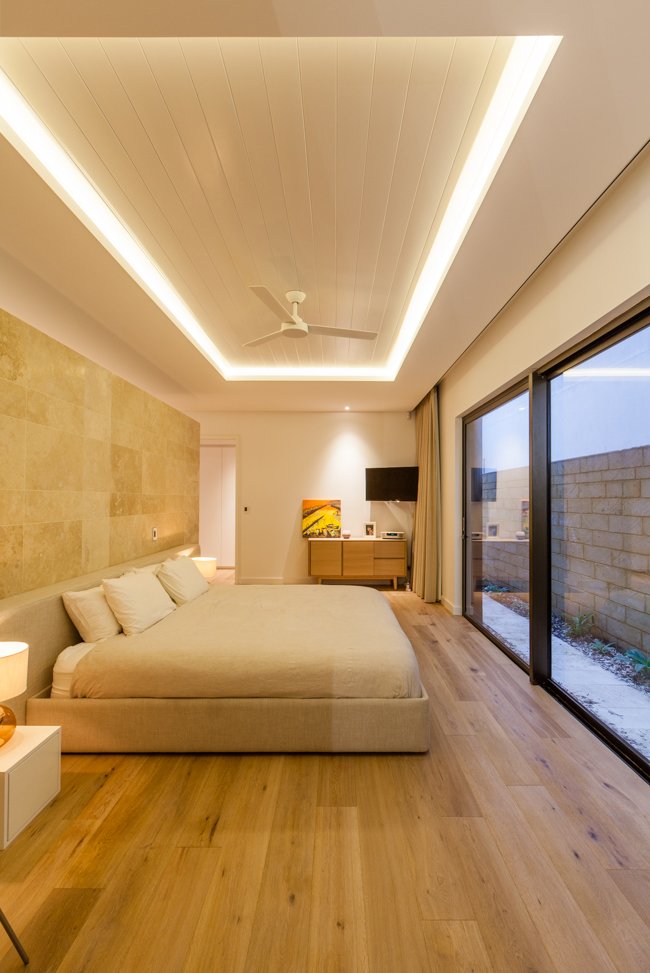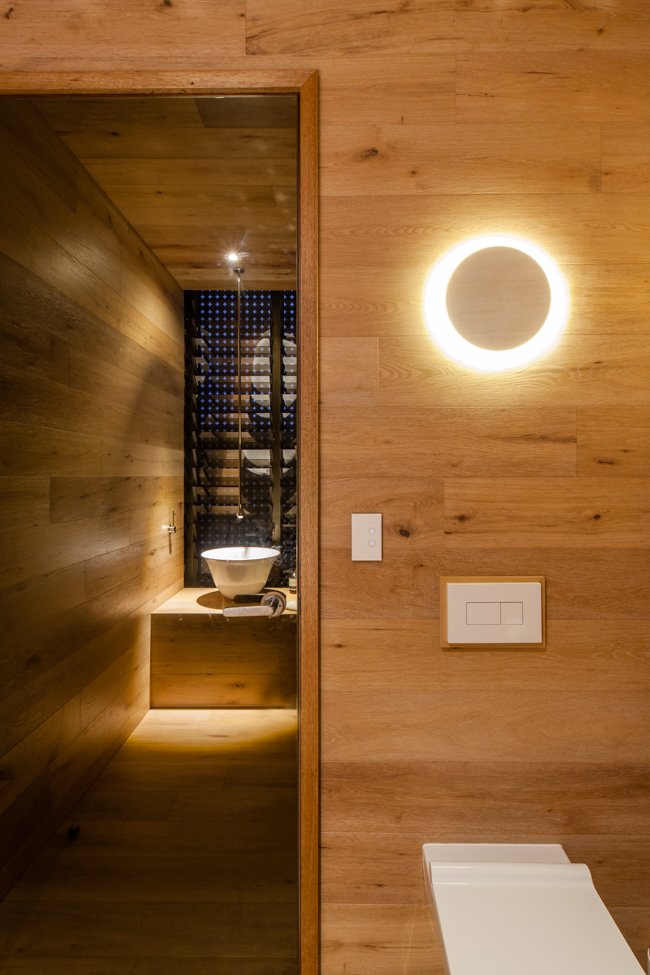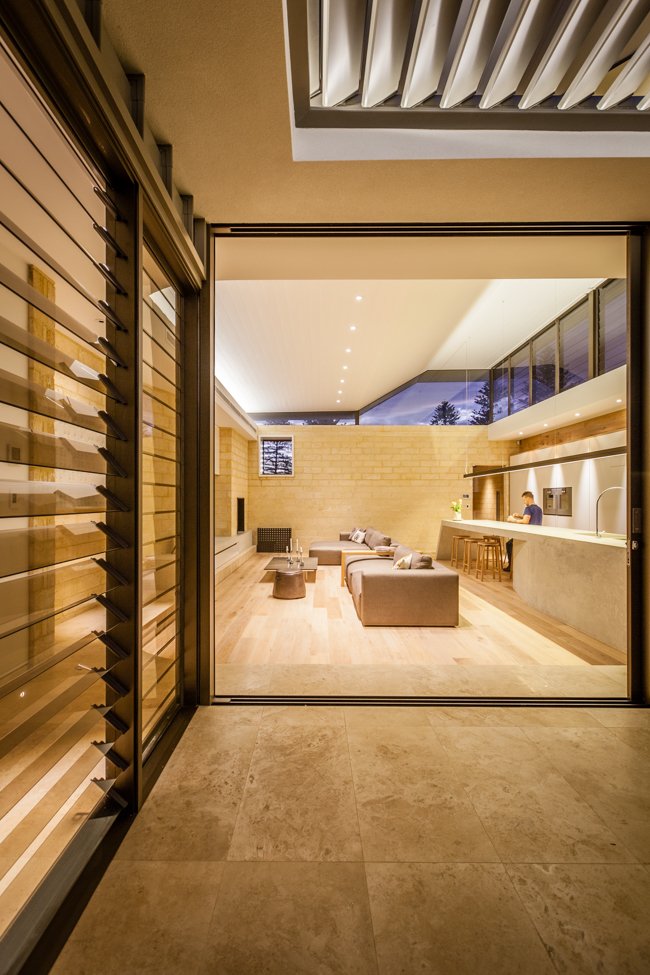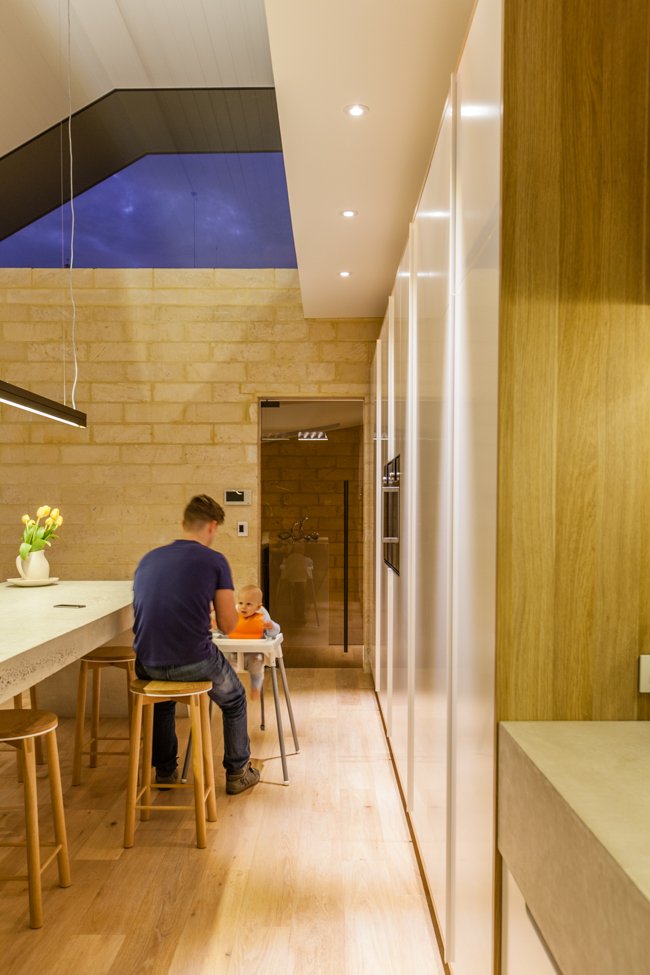 The laundry off Gavin and Donnelle's kitchen is large, with plenty of storage for baby-related items, big and small. Careful material selection is also hugely important if you want to design a modern, low-maintenance family home without compromising on style, says Gavin, who advocates choosing materials that will be durable and kid-friendly.
"A textured matt finished timber doesn't show the scratches like a glossy polished floor," he reveals. "Limestone walls don't show finger prints like a white plastered wall. Bronze glass shower screens don't show water marks like clear glass - better still, eliminate shower screens with tiled walls. Tile your wet areas full-height, because babies like to splash!
"Two dishwashers allow mess to always be out of sight. Integrate your fridges and appliances so that they don't stand out giving a cleaner aesthetic… and don't buy too many toys!" he laughs. Maya x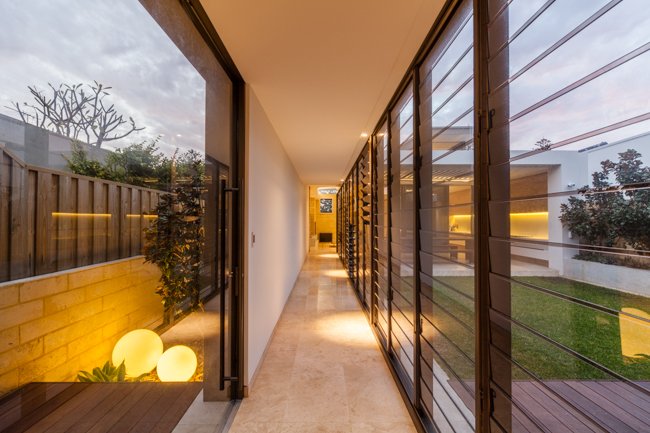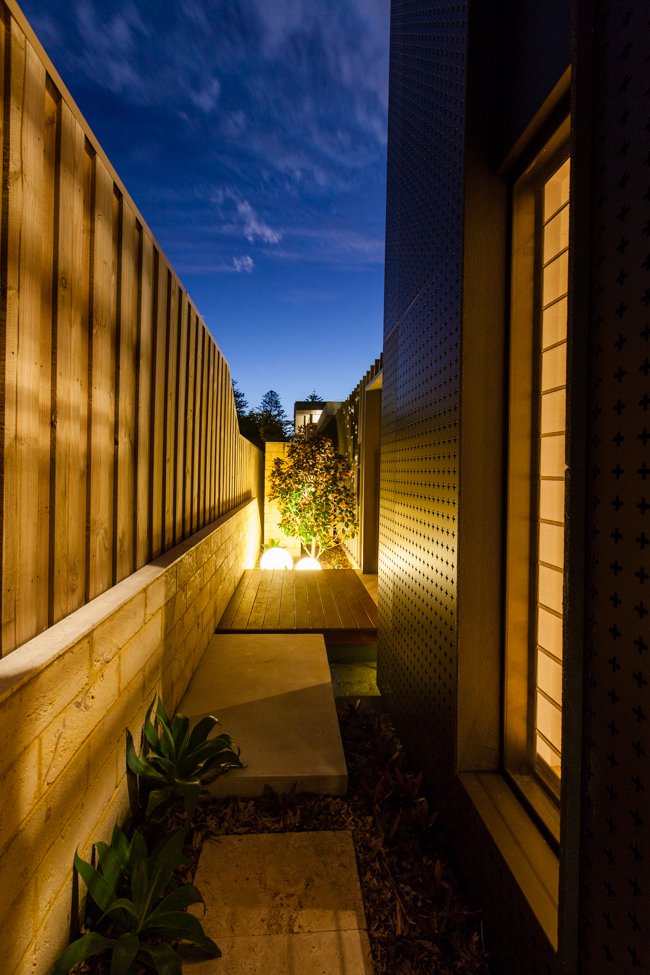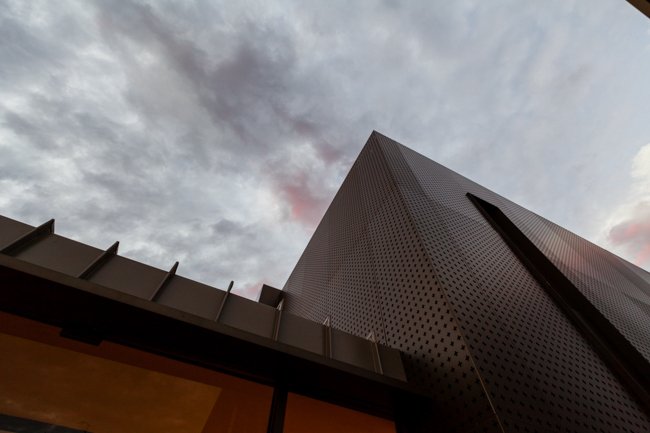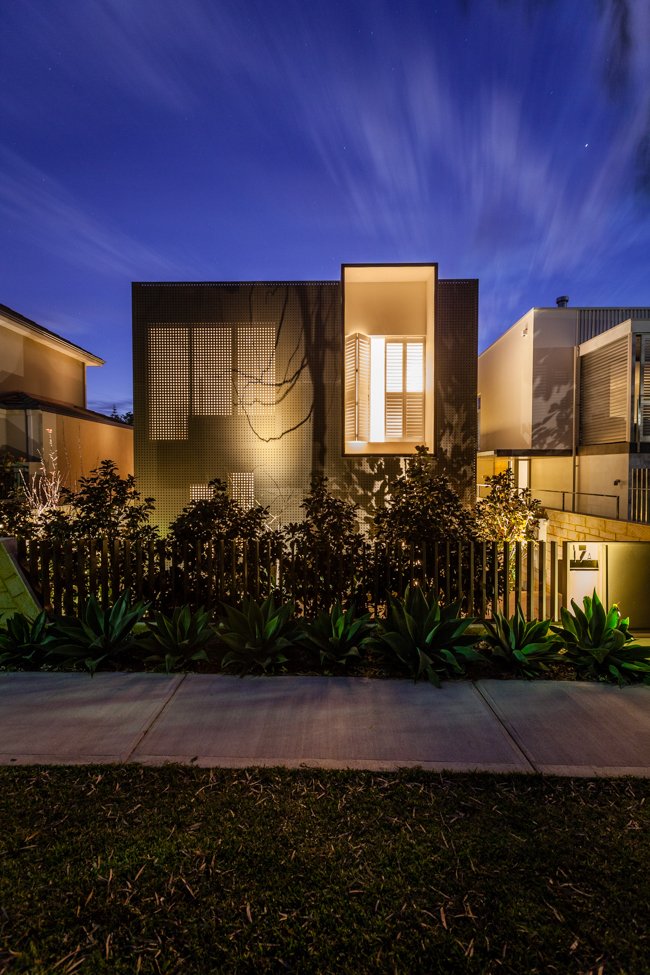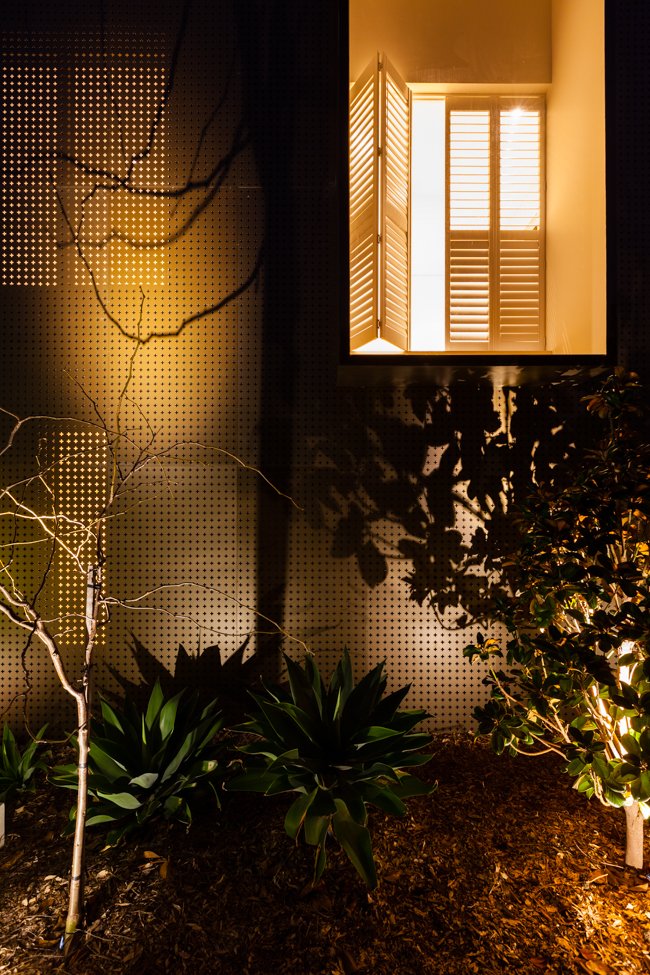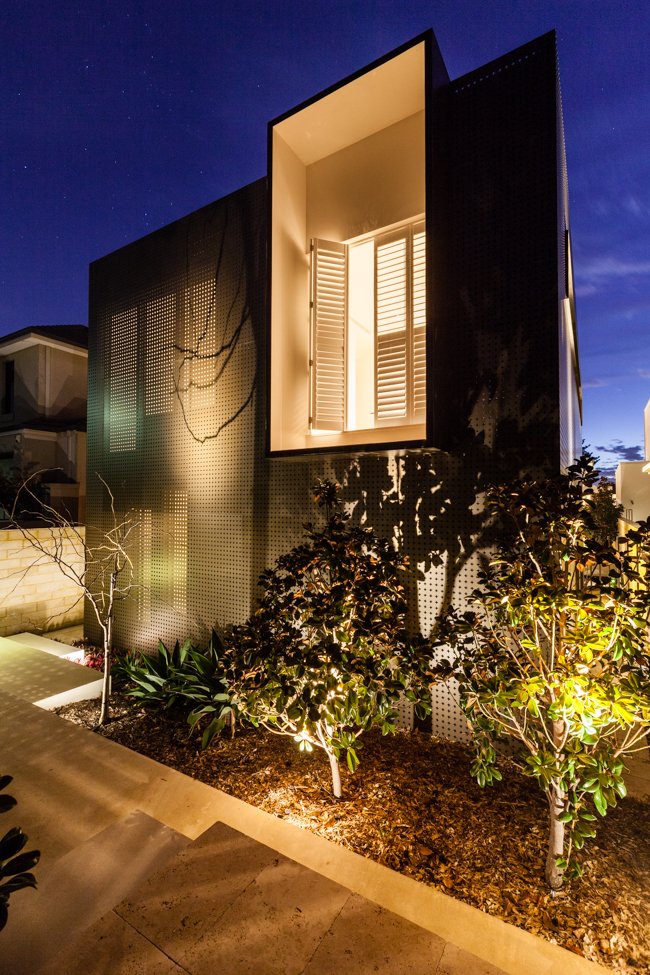 HOUSE FOR SALE! After I wrote this story, Gavin told me they actually just decided to put the house up for auction with ACTON at the end of October! "I know!" he laughs. "Why would we do that, I hear you ask… but there are some great opportunities out there to buy some amazing pieces of land at the moment and being a crazy architect I just have too many ideas floating around in my head. So I need to do it all over again!" You can check out the listing here.

Love before and after stories? You can be updated on other inspiring renovations as well as new home tours by following House Nerd on Facebook, Instagram @housenerd, Pinterest, Twitter @HouseNerd_ or Bloglovin.

HOME LOWDOWN
THE OWNERS
Weststyle Design and Development architect Gavin Hestelow, his wife Donnelle, a lawyer and yoga teacher, and their baby boy Ashton, 9 months
THEIR HOME
An architect-designed, new-build beach house on a 506sqm block that slopes 4m from front to back
LOCATION
Cottesloe, Western Australia
BUILT
2016
THE ARCHITECT & BUILDER
Gavin is an architect and the general manager at Weststyle Design & Development and designed his house. The company also built it
FEATURES
Screened 'box' elevation, four bedrooms, open-plan living, dining and kitchen (with 8m long concrete benchtop!) louvered windows, courtyard garden, alfresco entertaining area, limestone walls, custom-made, bronze powder-coated privacy screens
PHOTOGRAPHY
Heather Robbins of Red Images Fine Photography
www.redimages.com.au
Joel Barbitta of D-Max Photography