Posted Saturday, August 19, 2017 in:
Home Envy
I have always been intrigued by people who pursue one career path, excel in their field, then turn around and decide to chase something completely and utterly different. It's partly because I can't imagine the level of dedication and commitment required for someone to study something completely new, right from the start, and then pursue it as a new career.
Lawyer-turned-architect Sandy Anghie is one such person. I first met Sandy and her husband Michael many years ago, when I was freelancing for The West; visiting homes most days of the week and writing on them. (And in typical Perth 'everyone knows everyone somehow' style, my dad knew them – with my dad and Michael being of Sri Lankan background (and as anyone Lankan in Perth knows, all Sri Lankan people in Perth have some common link somehow!)
Back then, Sandy was working as a lawyer, and she and Michael, who is a managing partner at EY, had just finished building a large two-storey home in Mount Pleasant.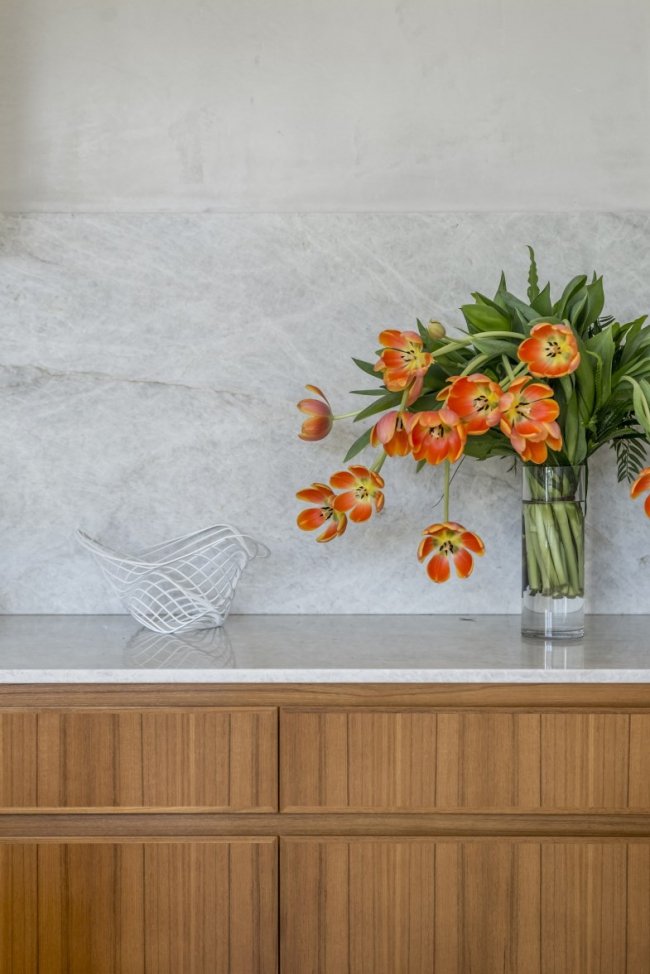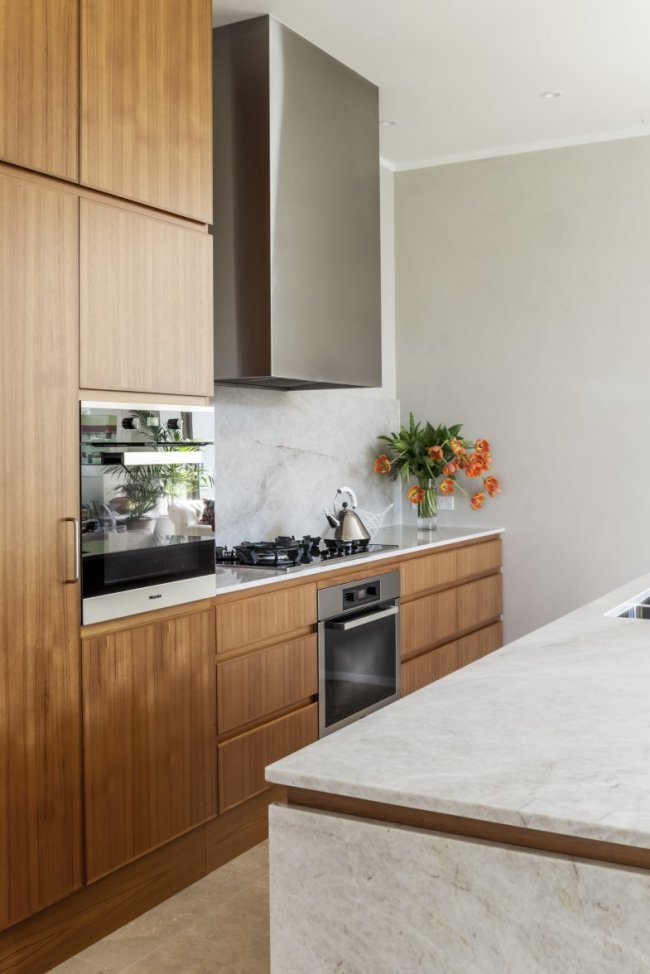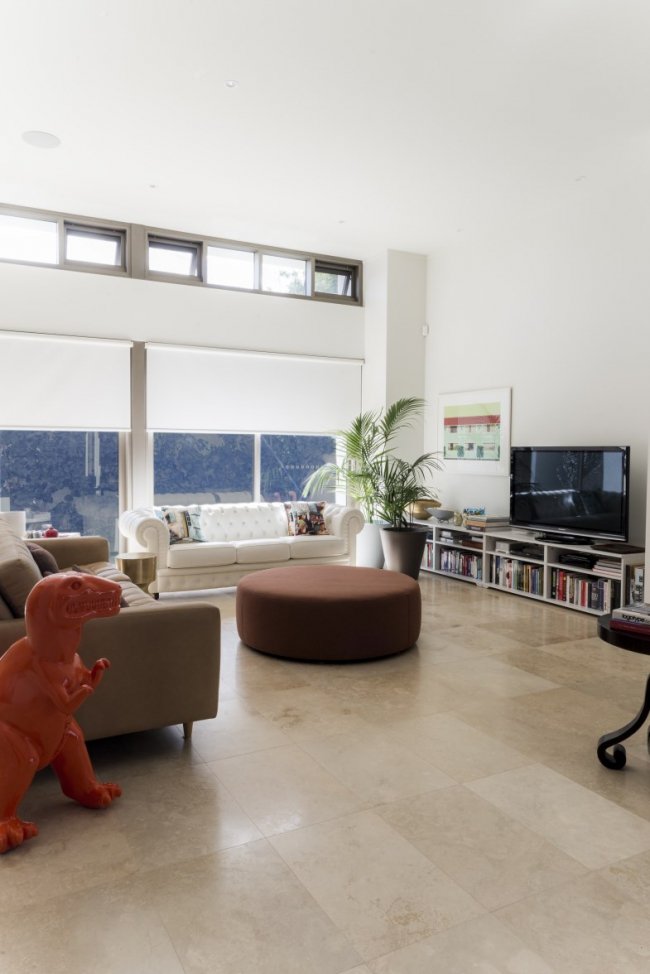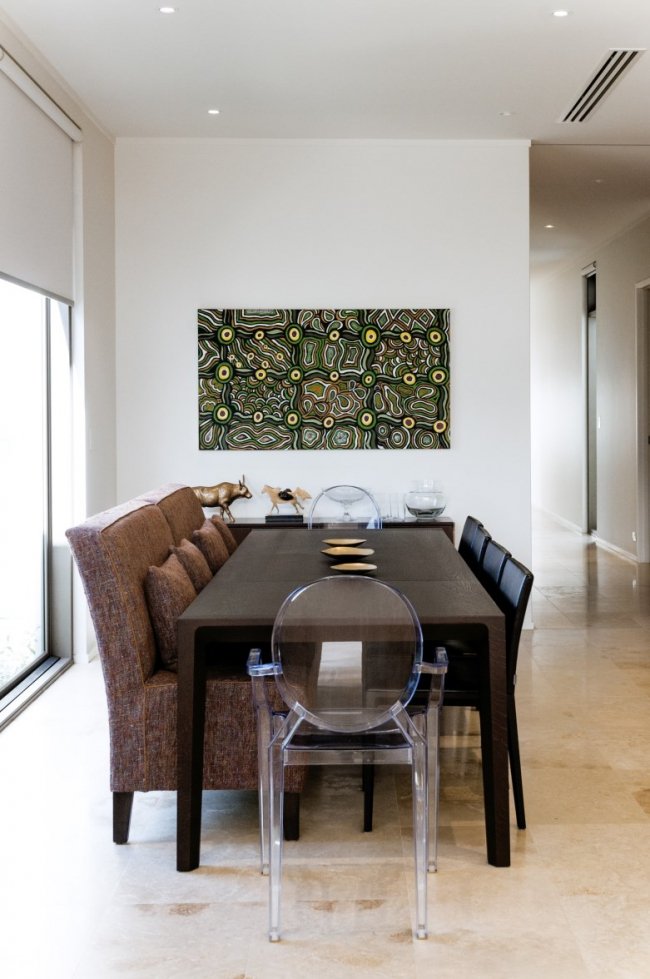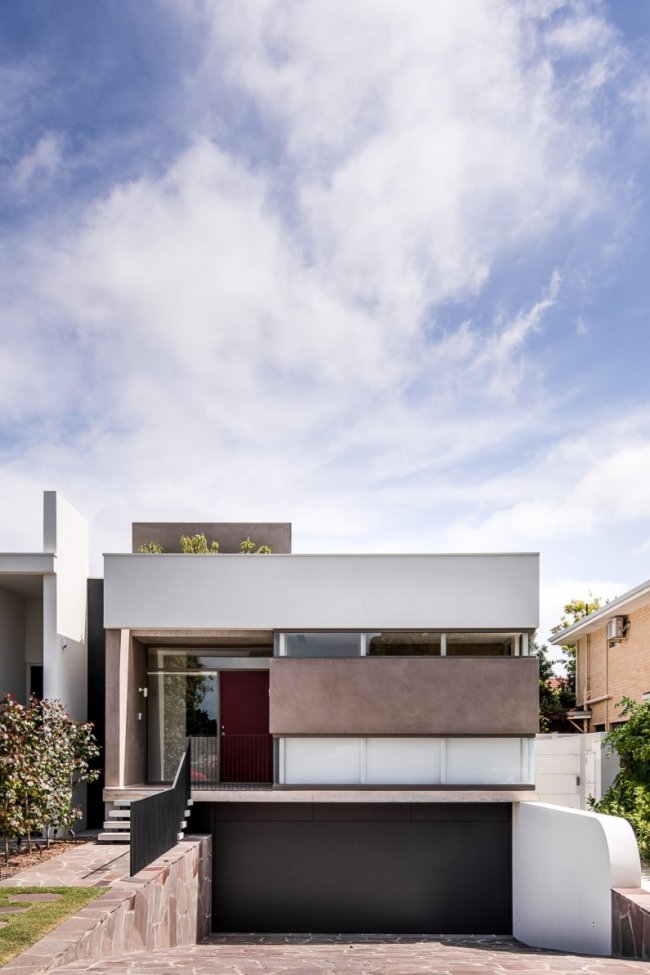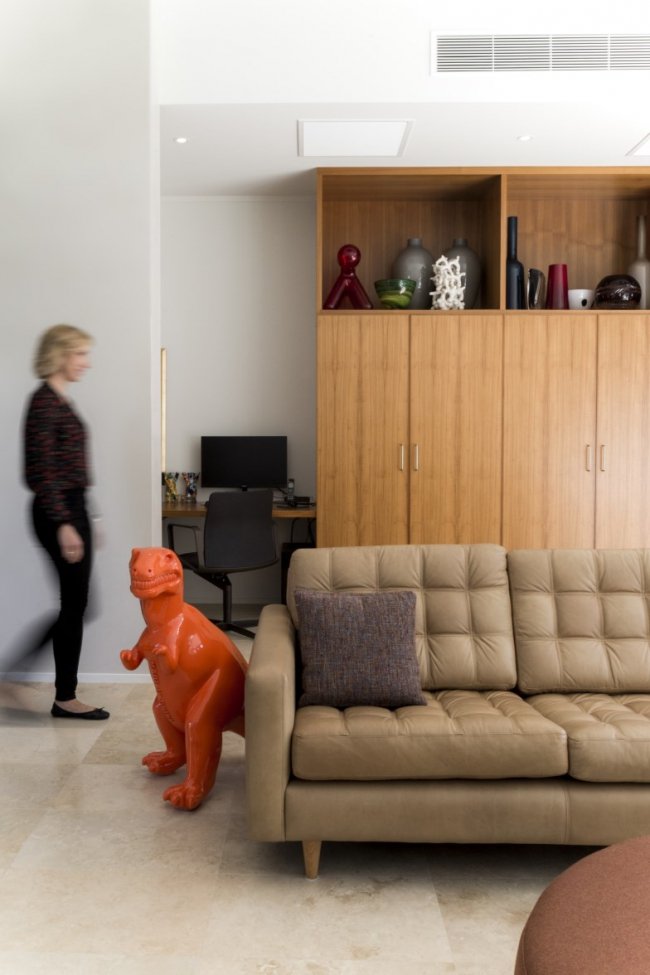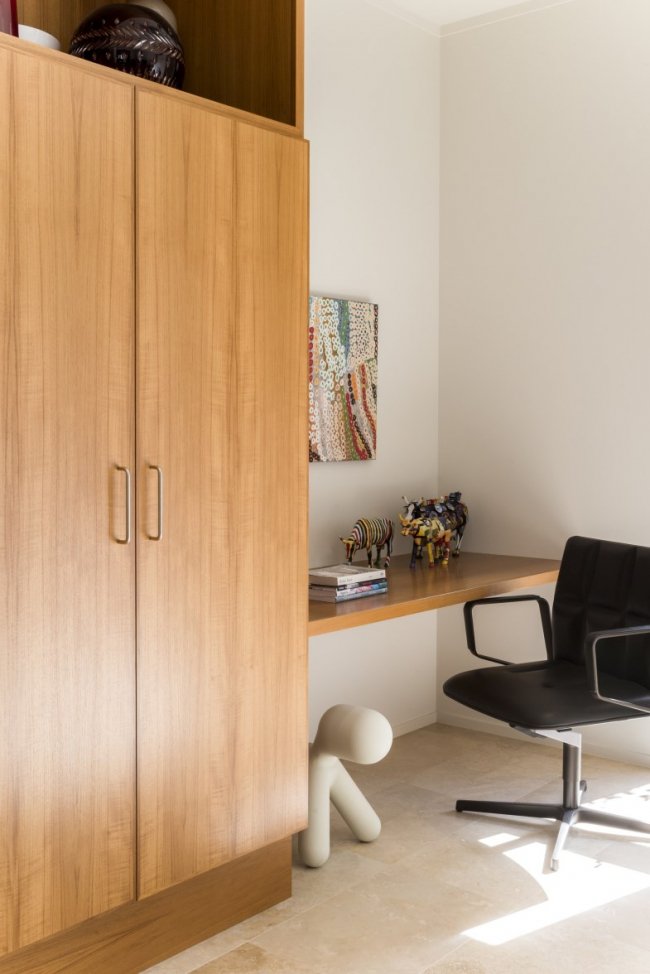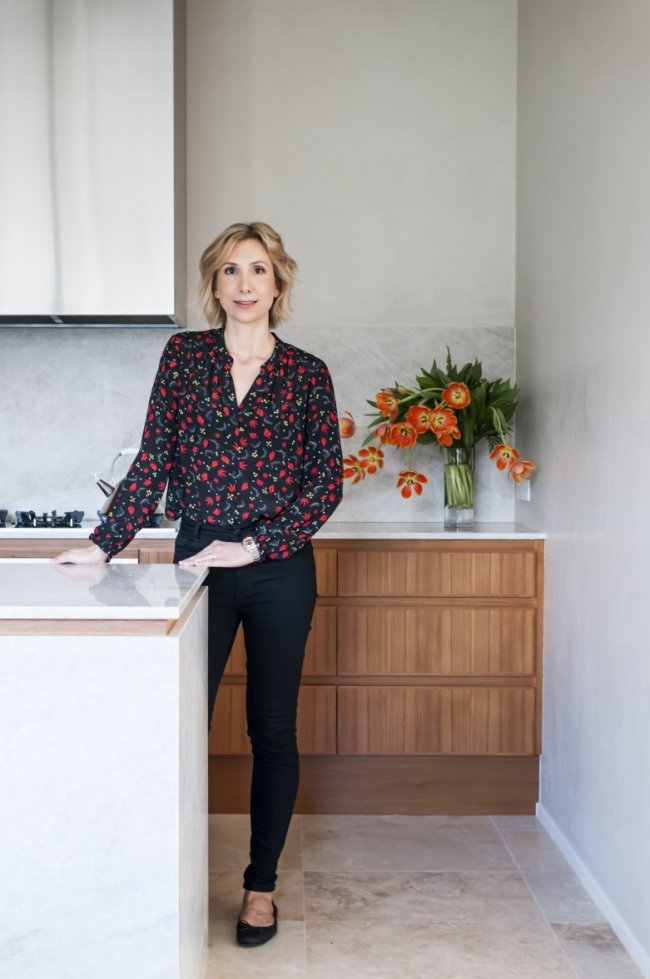 The next time I saw Sandy, she had not only started and finished a gruelling architecture degree while also working full-time; she'd also become accredited by the Board, started her own design studio (Sandy Anghie Design) and had designed and built the most beautiful home in Dalkeith for her and Michael - which I am so excited to share with you today!
No-one needs to explain their fascination with houses with me. But I still want to know – what sparked the big career change?
"I was a lawyer for ten years before returning to university to study architecture in 2006, but I actually always wanted to be an architect," says Sandy. "I finished school in 1991 during a recession and the architecture and building industry were facing considerable challenges, and I was encouraged to study law. I took a year break from work in 2005 when my husband and I built our first home, and after working with an architect on that my decision was made – I wanted to pursue my dream job of architecture."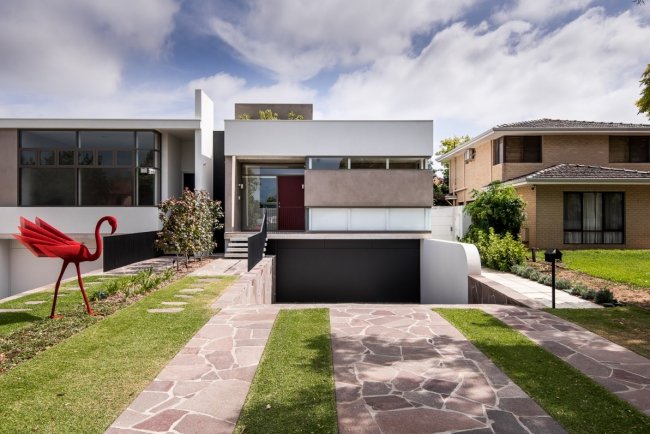 When it came to designing her own house, Sandy drew from the other homes she and Michael had lived in over their sixteen years together, making note of what they had liked and what didn't quite work.

"Our first home was a townhouse in South Perth," she says. "We then built the rather large house in Mount Pleasant. We sold that and then lived in an apartment in Nedlands while we were building this home. The first house we built was too big for the two of us. Interestingly our first townhouse and the apartment were probably the same size, but the apartment felt better being on one level. We had spent several years living in the apartment and liked having everything on one level. So the apartment we were living in became the starting point for the brief for our new home – an apartment house."
The brief evolved, but the most important aspect of the home design was for all living spaces to be accommodated in a single storey – almost unheard of in Dalkeith; where practically all new and modern homes are two-storey. Determined to stick with her gut, now Sandy and Michael both love the relaxed lifestyle the home's layout affords, as well as the low maintenance. "In this home we have the benefit of everything being on one level, but with courtyard gardens," says Sandy.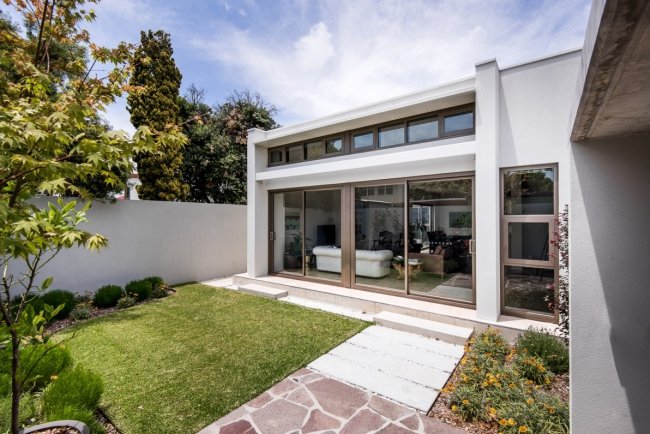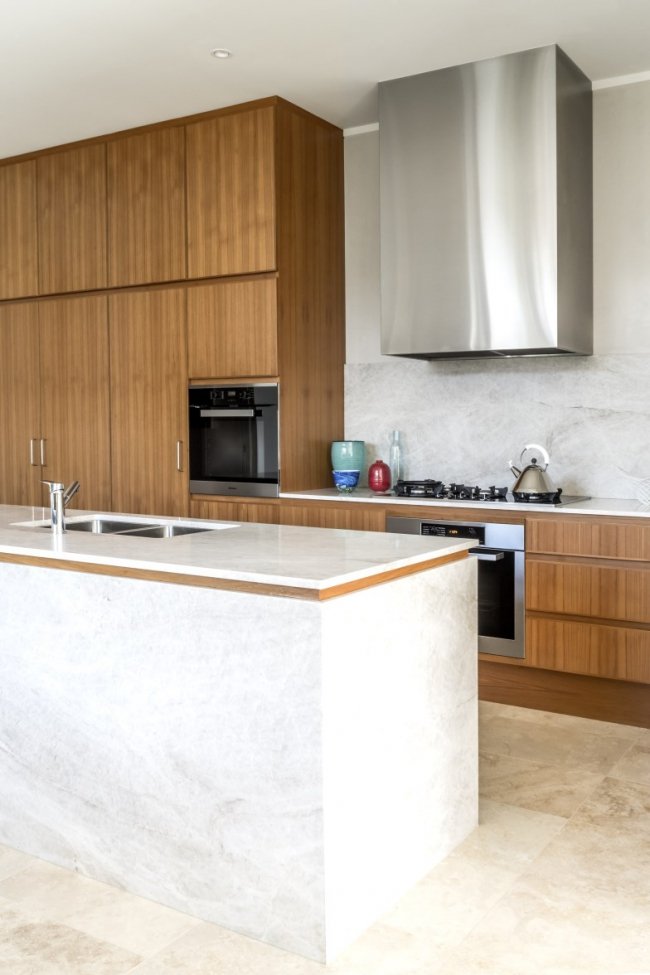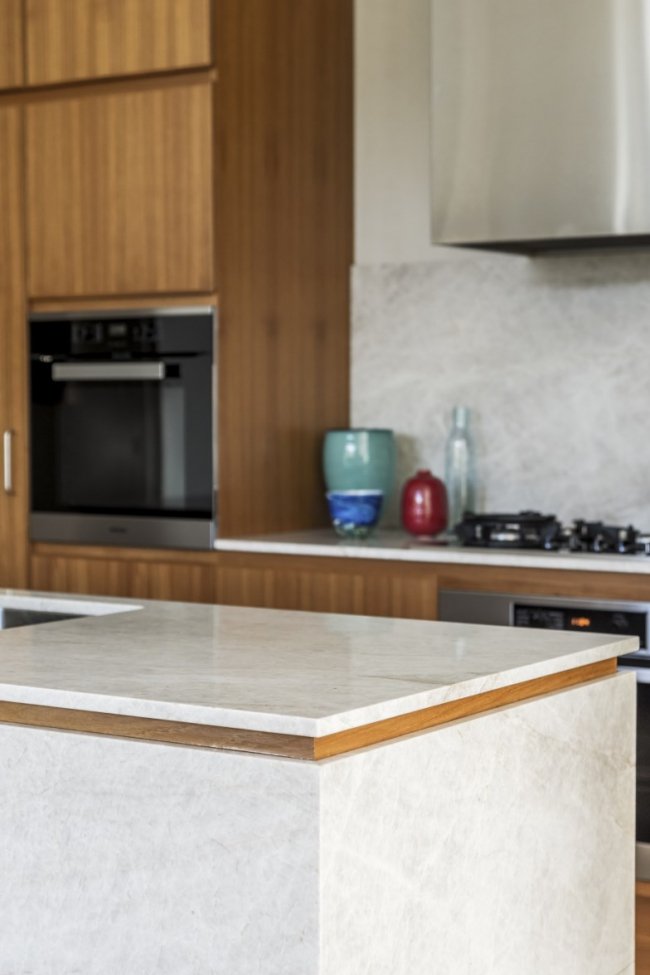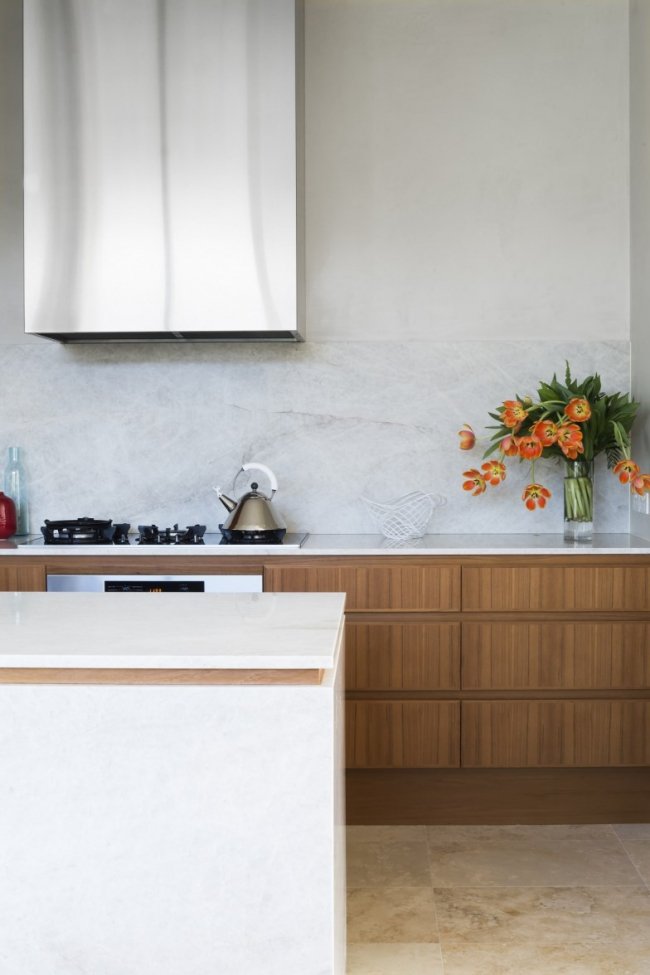 While the plan is contemporary, the home sympathises with the many early to mid-century homes of the surrounding area in its presentation to the street and the detailing of the interiors. When Sandy initially told me over email that the block is 507sqm in size, I was surprised. I knew that was an unheard-of small block for Dalkeith (small being relative); a well-to-do garden suburb where all houses are built on blocks at least a quarter-acre (about 1011sqm) in size. To my knowledge there were no subdivided blocks at all.
However, when Sandy and Michael managed to nab one of the very few subdivided (and controversially so) blocks in Dalkeith, Sandy realised it presented a wonderful opportunity to show how subdivision can work in the area. Her house could be an example of a sensitively designed, beautiful home that provided low-maintenance living for downsizers or empty-nesters, without sacrificing the charm and graciousness of one of Perth's most grand garden suburbs.
Showing sustainability was hugely important to her, says Sandy. "For this house, the principal sustainability initiative of was to provide a precedent for increased density and diversity in a suburb characterised by large detached houses on quarter acre lots," she says. "Currently 99% of the garden suburb is comprised of single detached houses on quarter acre blocks. However, with an ageing population and reduced household sizes, other options are required. While many people in Dalkeith have been reluctant to embrace development in the past, the house provides an example of how increased density can be achieved in a sensitive form, with care taken to ensure that the house is sympathetic to its neighbourhood and context."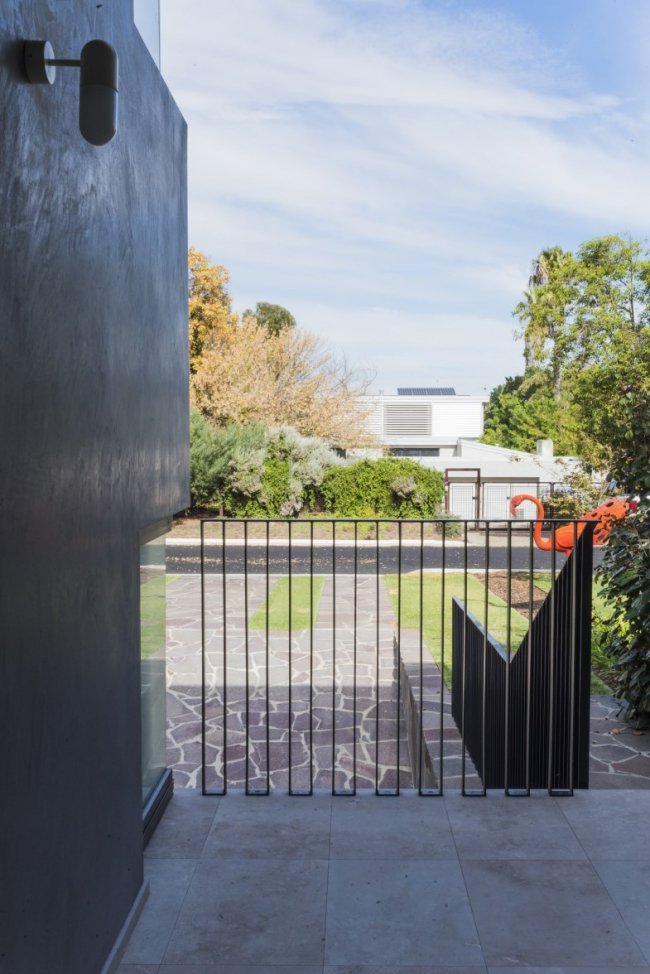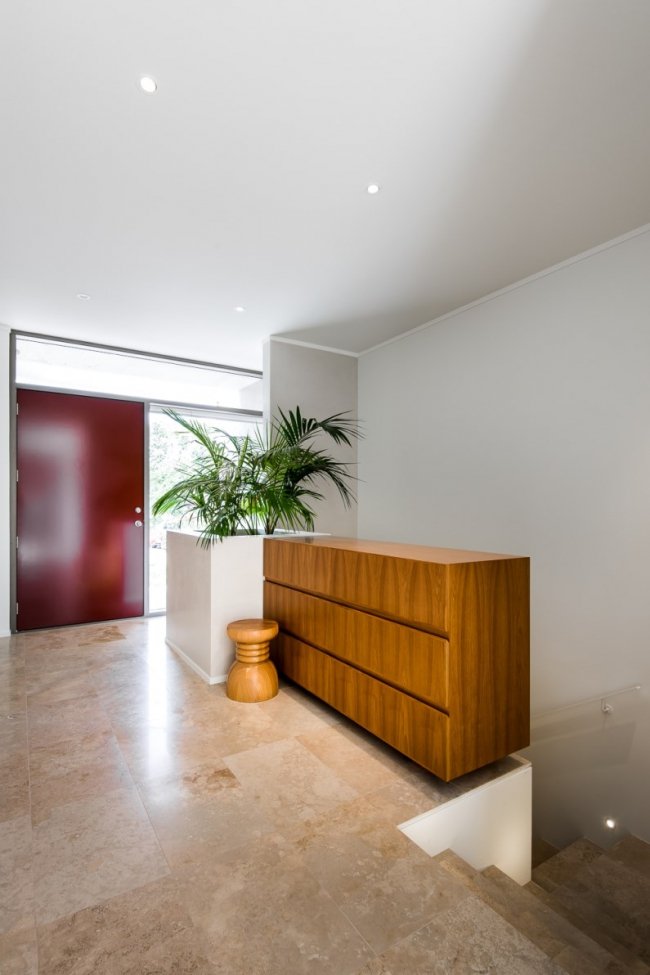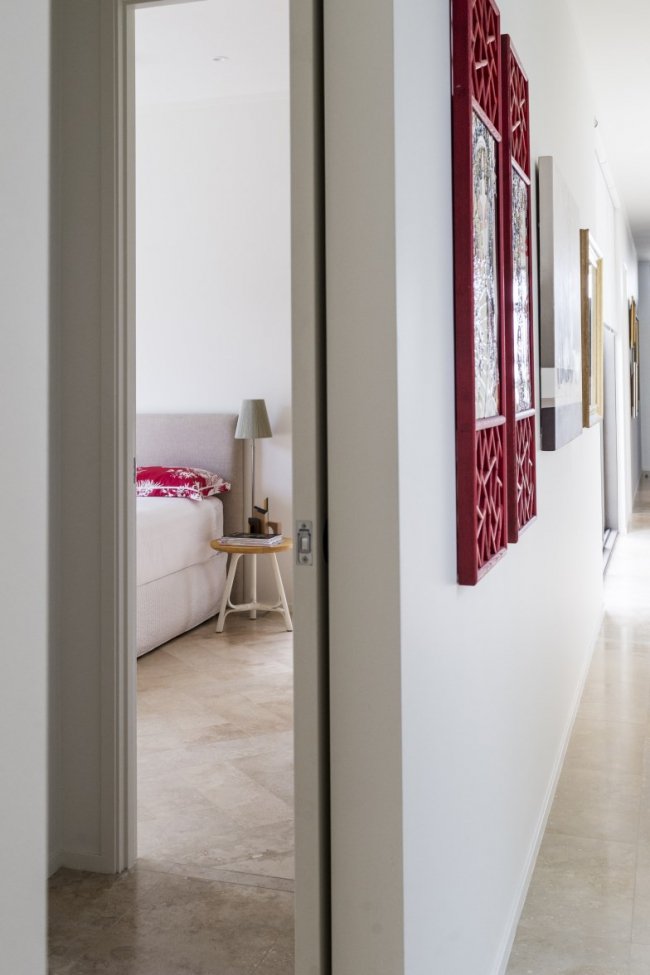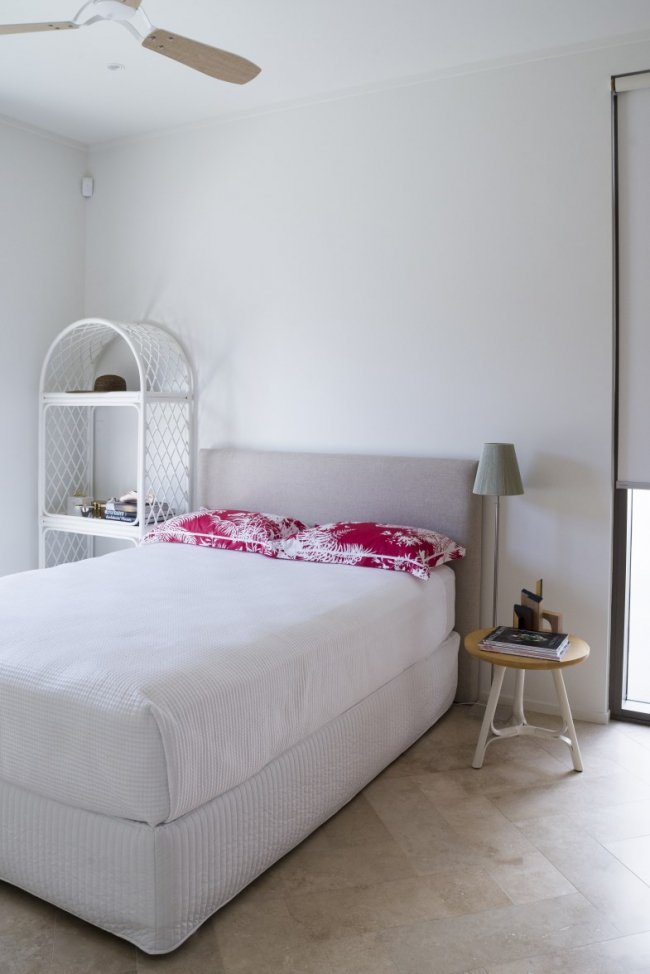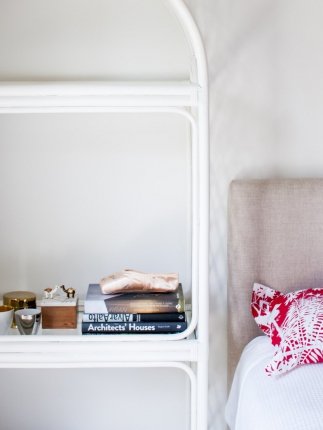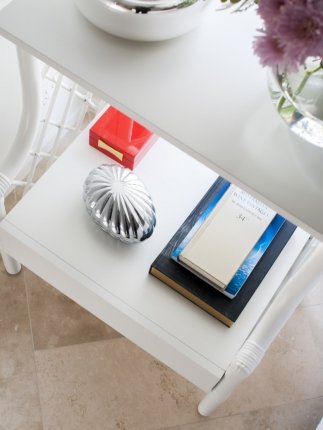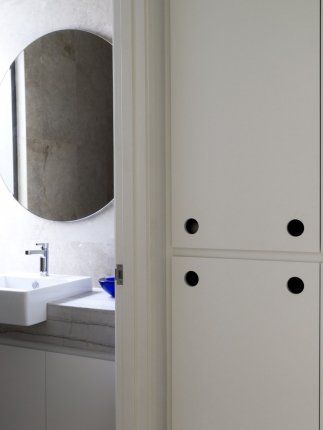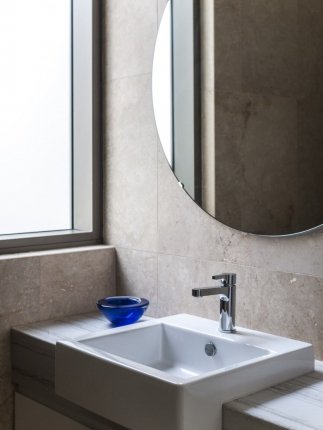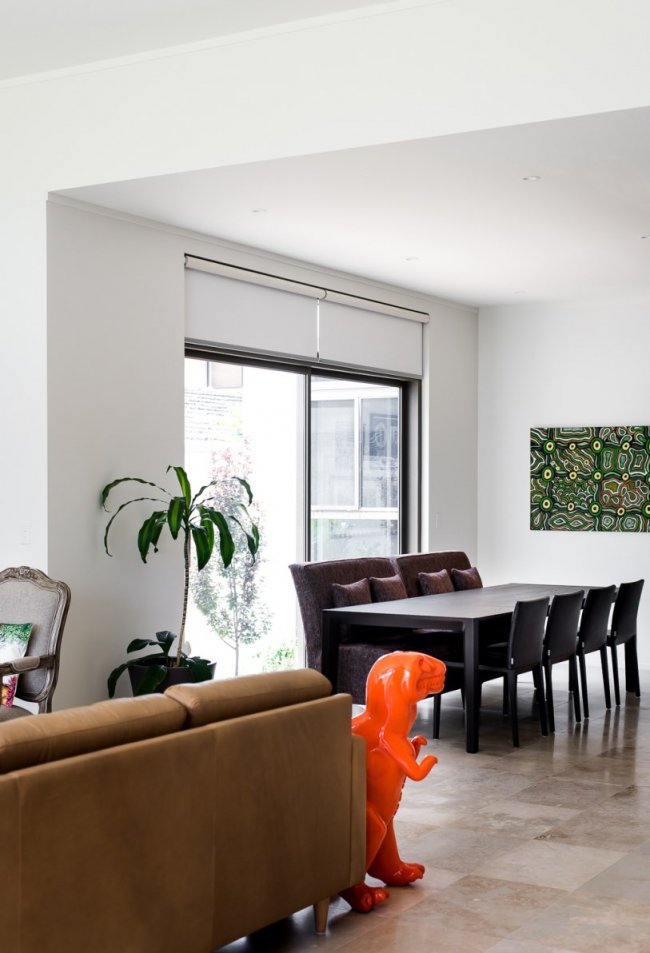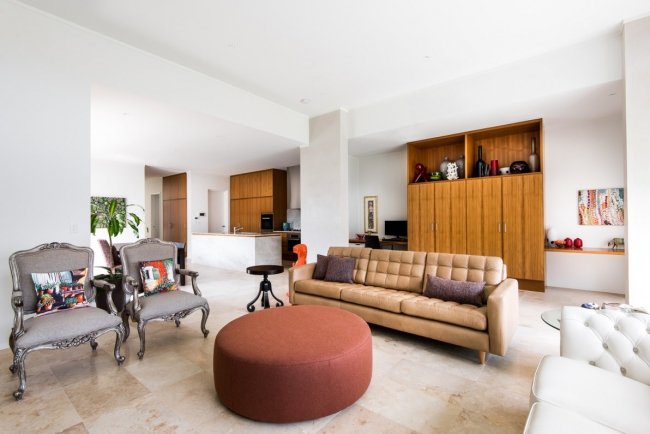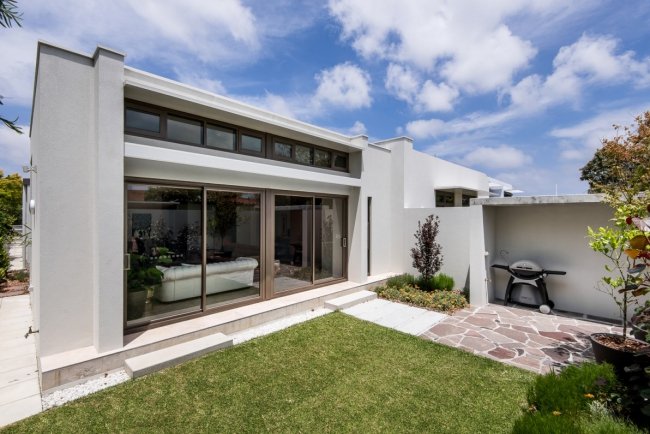 The house is something of an anomaly in Dalkeith – a new, modern home that has all its living spaces on a single level, and is not a McMansion. From early on in the project Sandy knew what she wanted to create – a modern home that sat in harmony with the predominantly older homes nearby. While the floor plan is contemporary, the home sympathises with the many early to mid-century homes of the area in its presentation to the street and the detailing of the interiors.

"There are some beautiful examples of Art Deco architecture in Dalkeith – including Kylemore (1937) on Wattle Avenue and Chisolm House (1939) on Genesta Crescent – and I was definitely influenced by these houses when designing my home," says Sandy. "Elements of the façade of the home which show the influence of local Art Deco architecture are the strong horizontal bands of the parapet and windows, the white-painted render, the concrete slab edge and the steel balustrade."
I rock up to the house, and I can't help but smile. The sedate, effortlessly cool of the elevation contrasts with a quirky flamingo on the front lawn that gives a little hint of what may lie within.
The house is modern, but warm and welcoming, and just a little eclectic. It's actually a very nice representation of Sandy herself; stylish, warm and a little bit quirky, with artwork and sculptures you perhaps wouldn't expect from at every corner, such as the robot bookcase (from District in Subiaco).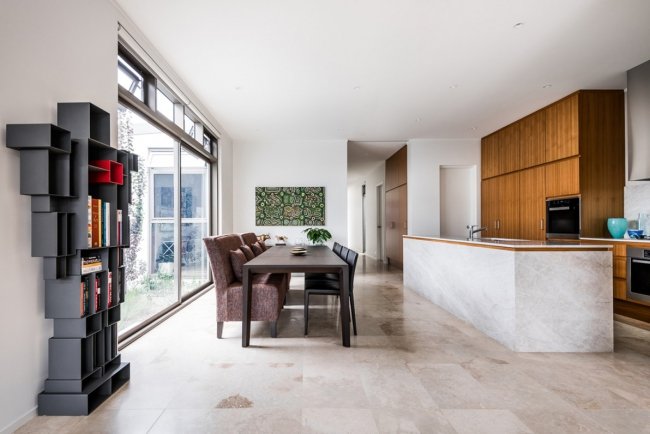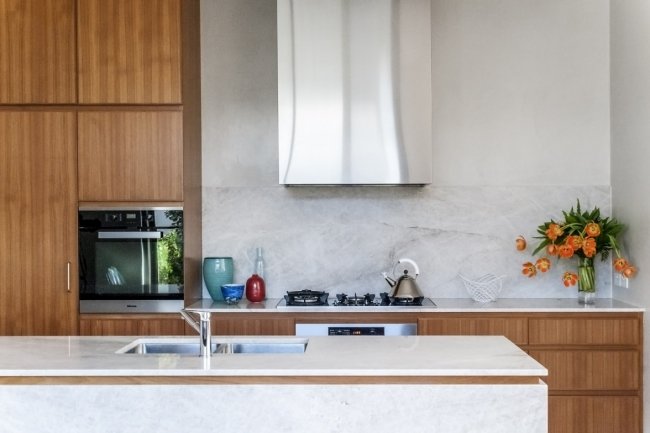 Sandy collects art and sculpture, and has displayed her pieces throughout the home (and garden). "My favourite pieces are my sculptures that I have acquired over the years from Sculpture by the Sea," she says. "I love this event - the idea that it takes art out of the art gallery and makes it accessible, and like to support it by buying a sculpture each year."

In the living area is one such Sculptures by the Sea piece; "Made in China" by Sui Jianguo, an orange dinosaur baring his teeth ("I like quirky things… I saw him and fell in love with him," says Sandy. In the front garden, the aforementioned red flamingo is "Mi No. 5 (14)" by Wendi Zhang. "I also have some smaller pieces – a bronze pegasus and some abstract pieces," says Sandy.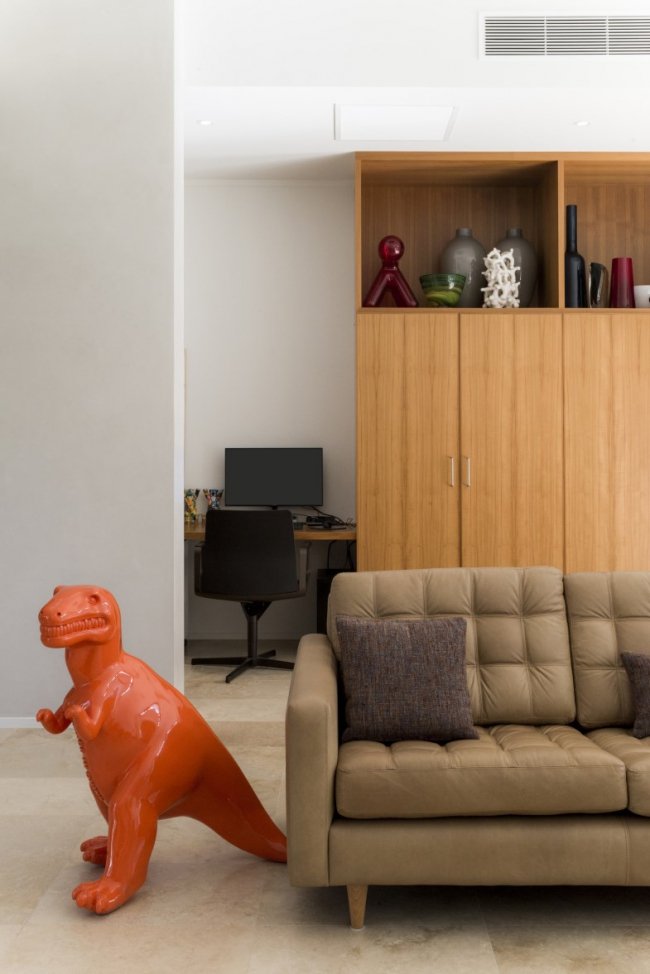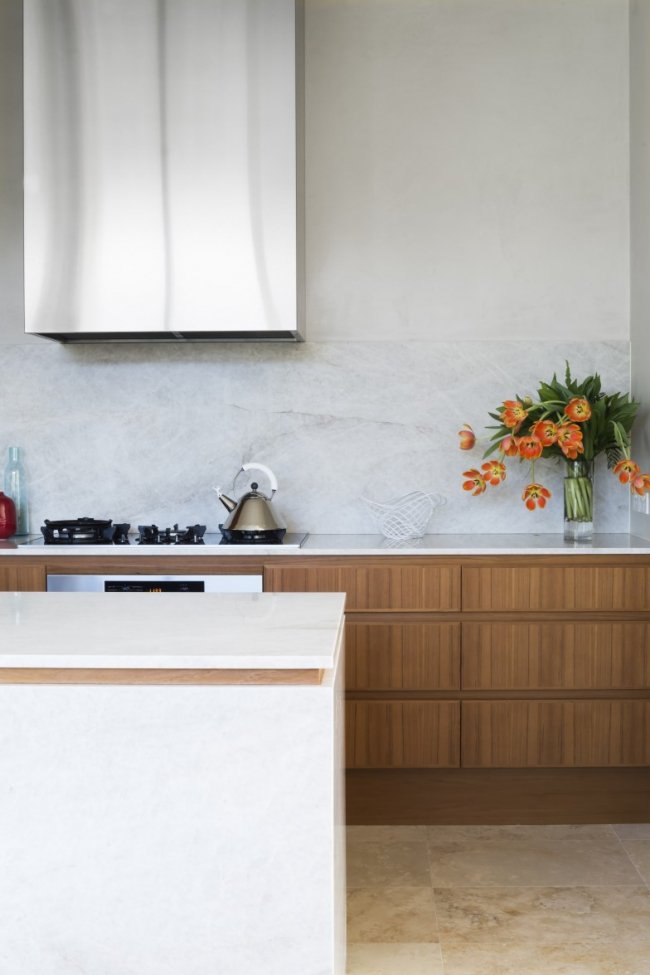 Inside, she designed detailing and use materials to make them feel familiar and engage with the past, and the rooms are generously sized. "I always start designing around furniture," says Sandy, who loves good interior design as much as external architectural form.

The size and proportion of window openings are a nod to mid-century homes, while the use of teak, timber cornices rather than shadow lines, and old-fashioned door knobs rather than levers, also subtly pay homage to the era. "I like the idea of creating a link to the past and sense of place - particularly today when so many older homes are being demolished to make way for new houses and the traditional character of the area is being lost," she says.

My favourite feature of the home is the kitchen, with its beautiful quartz benchtops from Zuccari Stone and handcrafted teak cabinetry that reminds me of mid-century design at first glance. But I also really like the floor plan.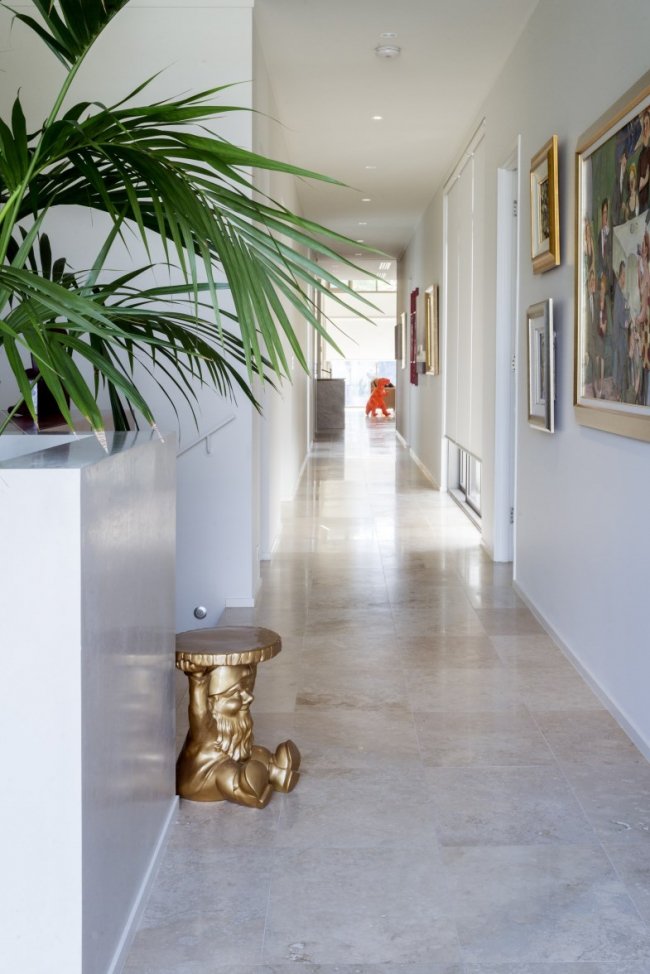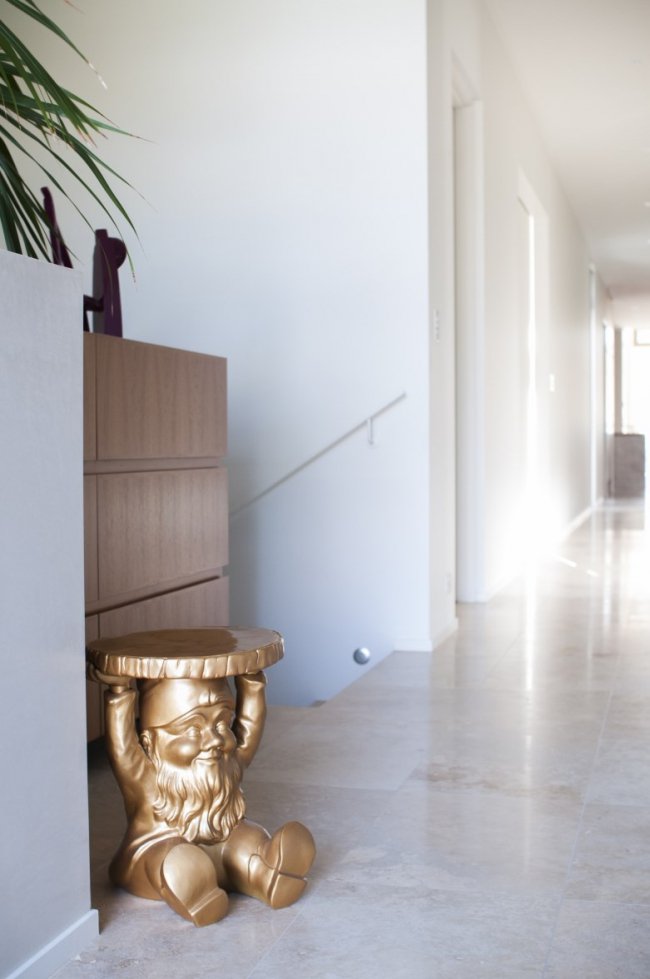 Built by Mosman Bay Construction on a long narrow block, the living spaces of the home are divided into three distinct zones connected by a long corridor – so seen in plan the house is essentially E-shaped. The spine of the E is the long corridor (which acts as a gallery). The three zones are separated by courtyards which provide garden outlooks, cross-ventilation and northern light for all internal spaces; each room feels light, and connected yet private.
The first zone contains a spacious main suite, the middle zone encompasses a second bathroom and two multi-purpose rooms; one a guest bedroom, the other set up as a study/man cave for Michael. "The third zone is the generous living and dining space which opens out to the backyard," says Sandy. The services (including laundry, drying court, storage and kitchen). There is a three car garage, gym and cellar in the basement.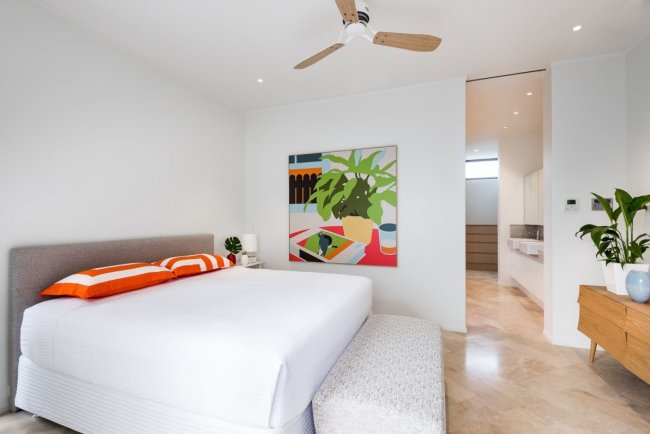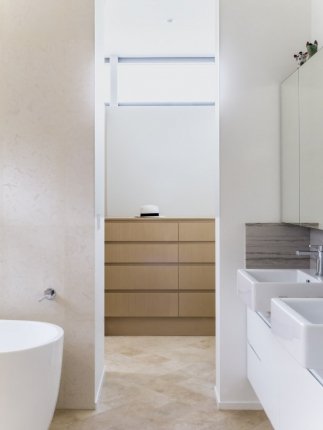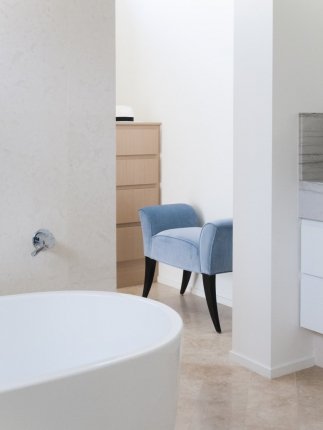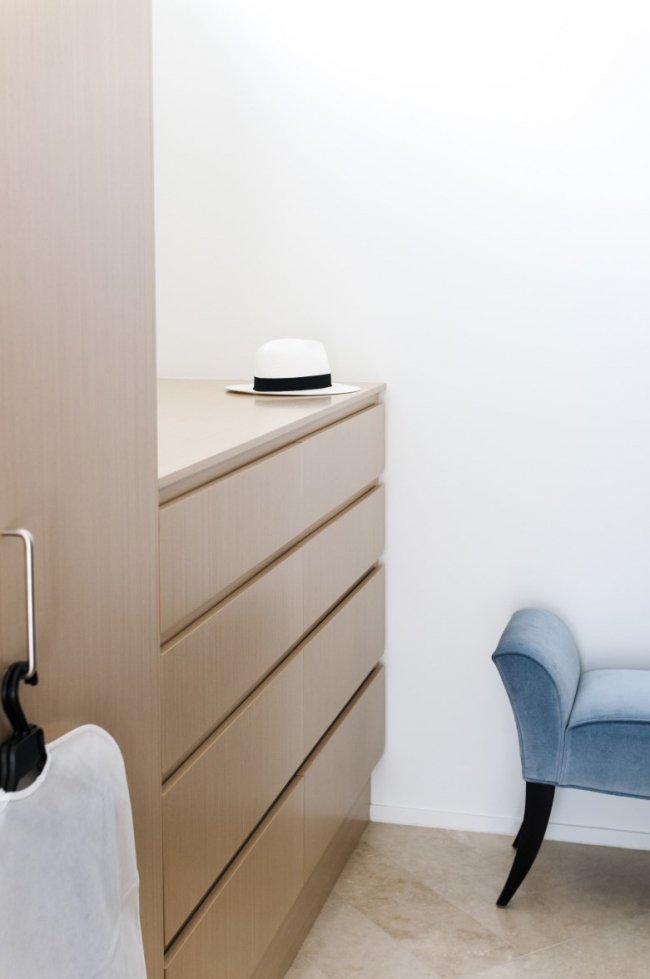 Walking through the house is a pleasant experience, with the journey through the gallery corridor punctuated by courtyards that provide a sense of space, light and depth, despite the narrow block – it doesn't feel like a narrow site at all, and in no way squashed or constricted.

Generous proportions also add to the capacious feel; each zone is articulated by ceiling height, proportion and light, creating spatial variation throughout the home. I have never been a modern home person myself. But this one? I love. It has such a calming and happy feel to it; a quiet, tucked-away retreat to curl up on the couch and relax or write on your laptop to the sound of rain on the roof.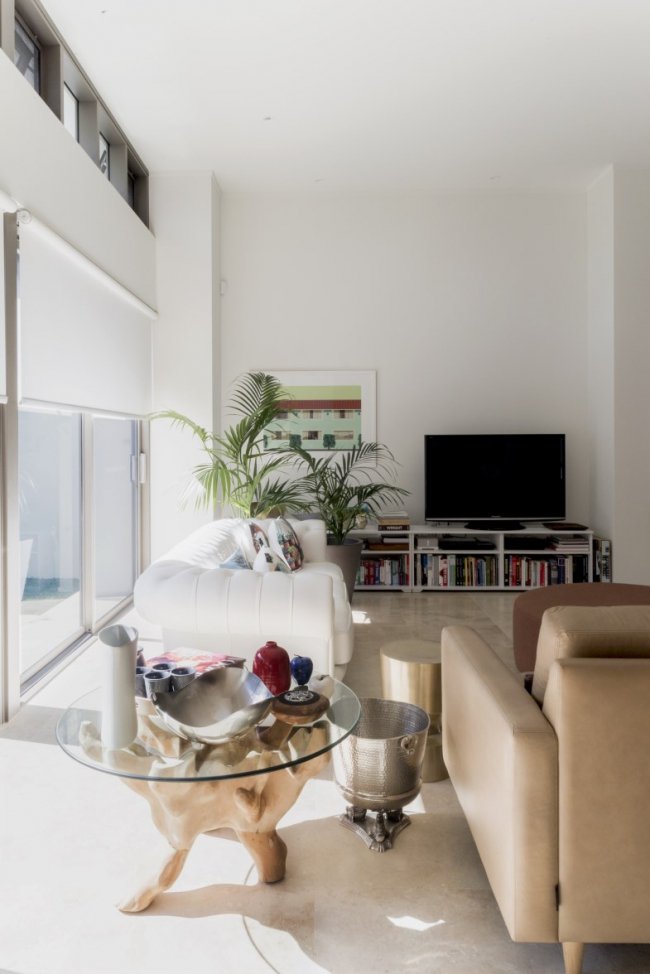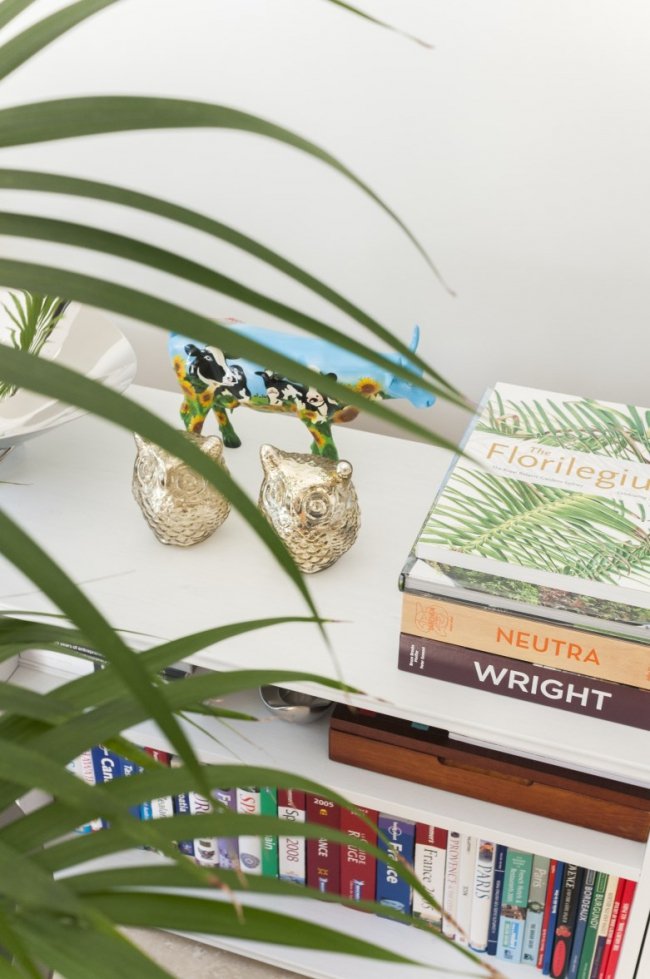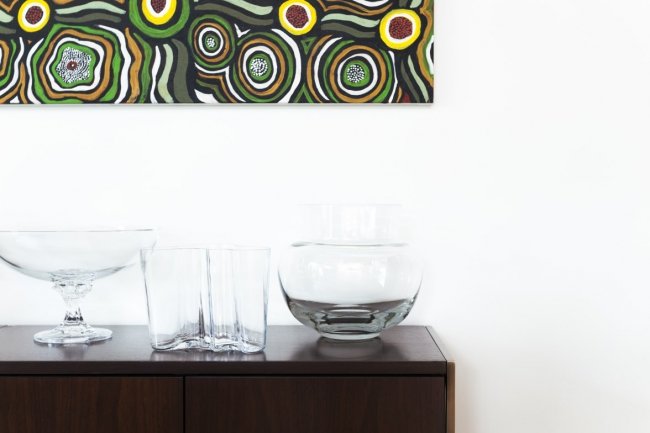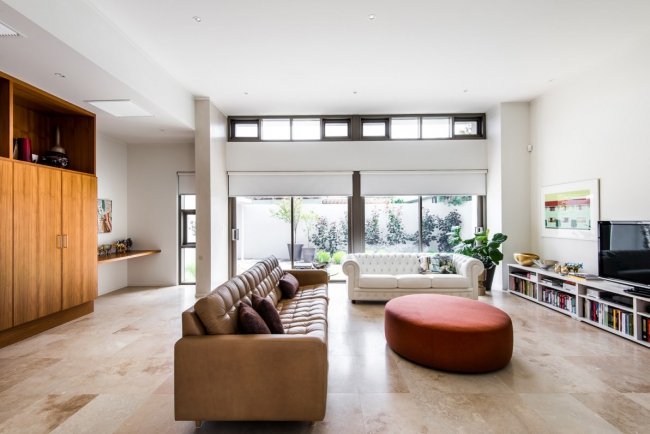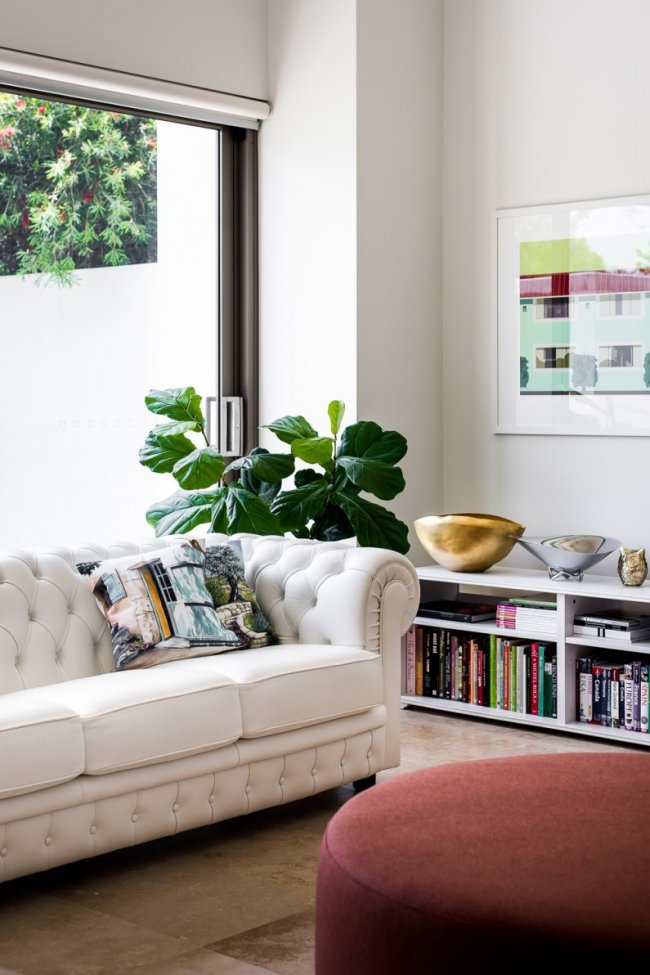 It is raining the day I visit, and beautifully cosy in the house. Sandy and Michael cook and entertain frequently. "Usually it's something casual, like a barbecue in summer, or in winter we often have friends and family over for curry night, with Michael's family from Sri Lanka," she says. "We also just like to relax at home on our own. My husband and I are both quite busy with work, and go out quite a lot. I do like to switch off by watching TV at home - lately reality tv shows!"
Designing her own home has been a great way for Sandy to showcase what she can do with her own design studio, Sandy Anghie Design. While her client projects include new-builds, renovations and additions, she says that regardless of brief, she always applies sustainability measures. These include passive solar design principles, natural ventilation strategies, including high-level operable windows to allow stack effect generated air-flow, high levels of thermal insulation throughout and maximising garden and use of landscaping for shading – all showcased here.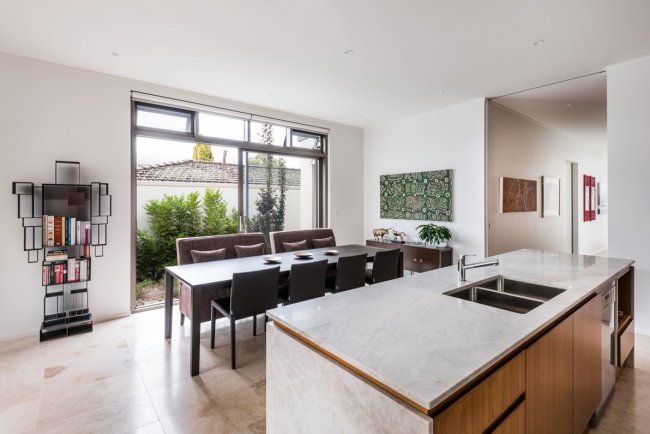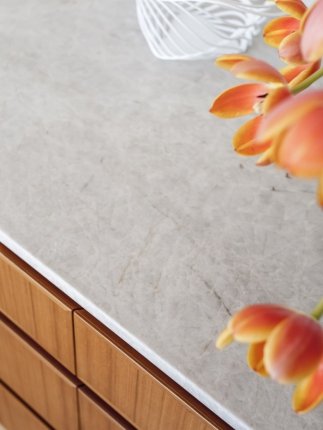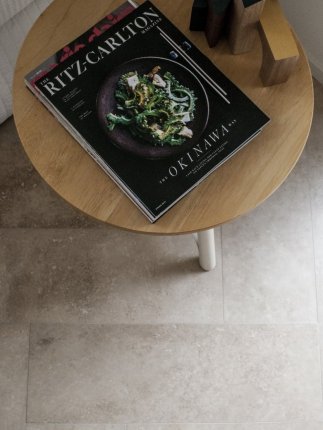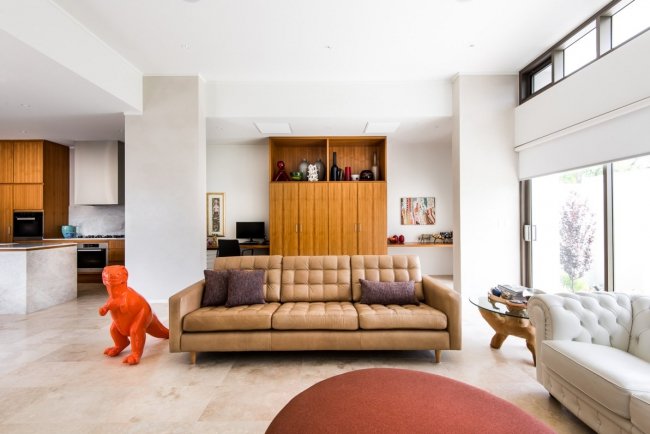 I ask Sandy what advice she would give to people who want to create their dream custom home.
"Think about about much space you really need – inside and out," she says. "I think many people are stuck in the mindset of four-bedroom homes, home theatre, large backyard, and many builders are currently promoting this. The market seems to be slow to respond to changing trends. Two person and single-person households are on the increase – and data shows that single-person households will probably rise by at least 65 per cent in the foreseeable future.
"This house is unique in Dalkeith, but I would like to see even smaller blocks and smaller houses in the area to cater for the ageing population. I cannot see that a person living on their own would want the four-bedroom house on a 1000sqm block."


In terms of how her client homes look, each is different. "Designing homes is personal and for this reason I don't have a set or predetermined style, but work with my clients to ensure that the design for their home is the perfect solution for them," she says. "The home owner should enjoy the design experience and the final product. I think the owner's home should be a reflection of them – what they like. For a recently completed extension and renovation project, my client had an extensive collection of Pinterest images on everything from the elevations to interiors. This made my job so easy! I knew exactly what they wanted and was able to make their vision a reality. They are very happy with the outcome. In contrast, for another project I am currently working on the owners are living overseas and wanted to leave all design decisions to me. It just depends on the home owner." (And the first – and utterly gorgeous - house mentioned, which became named The Pinterest House, recently featured in Elle Décor!)
To me it was evident that Sandy has done so well in choosing a new career, one that lights her up – and good on her. All that hard work (studying full-time while working full-time! Jeepers) has paid off and now she is in a career she truly loves - as well as a special, sentimental home she and her husband really adore. "The home is relaxed and comfortable, which is important to us," says Sandy. "We love spending time at home." Maya x
HOME LOWDOWN
THE OWNERS
Lawyer-turned architect Sandy Anghie of Sandy Anghie Design, and her husband Michael Anghie, who is the Managing Partner of EY
THEIR HOME
A modern, single storey home with mid-century inspired features
LOCATION
Dalkeith, Western Australia
BUILT
Completed May 2015
THEIR PREVIOUS HOME
An apartment in Nedlands; before that, a two-storey home they built in Mount Pleasant. "Our first home was a townhouse in South Perth," says Sandy.
THE ARCHITECT
Sandy Anghie, who runs Sandy Anghie Design, designed the home
BUILDER
Mosman Bay Construction
FEATURES
Three bedrooms, two bathrooms, entertaining courtyards, open-plan kitchen, living and dining
SUPPLIERS AND PRODUCTS
Quartz benchtops in kitchen, Zuccari
Robot bookcase, District
TV unit, IKEA
Picture hanging, The Hangman
Wall art in bedroom, Joanna Lamb
PHOTOGRAPHY