Why on earth would you renovate a room you already like? For us, the answer was improved functionality. With a baby on the way in early June, and Mr Nerd's awareness that he has married a grade A whinger, he decided that putting a dishwasher into our house was an absolute MUST before the baby got here.
Now, you think I would have totally cheered when he announced this, I know. Who doesn't want a dishwasher? Especially when you have a kid? I have never actually lived in a house with a dishwasher. But everyone – especially people with babies – has been telling me it is a lifesaver. My sister-in-law is pro dishwasher, after putting one into her Sydney apartment, and then living in houses without a dishwasher with her husband and their two little girls. "We did high fives the first time Mooch went to sleep and we had a cuppa and a Tim Tam over the hum of the Miele in the background," she said dreamily. That sounded nice. And I had been annoying Mr Nerd about a dishwasher for five years. But as soon as he said we should get one, I was cautious.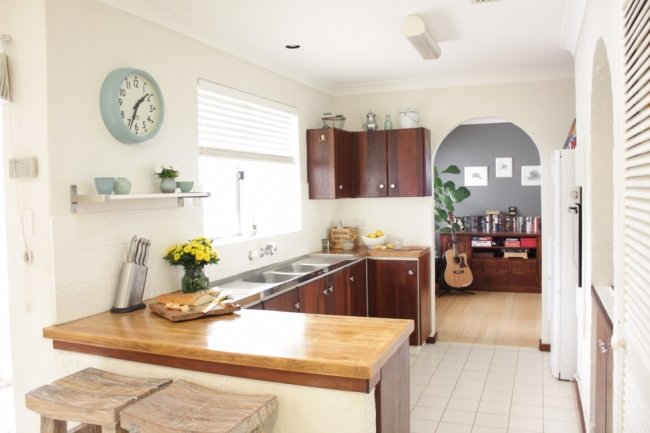 This is because, from our previous dishwasher-related investigations, we knew that because our kitchen is so old and the cupboards are so shallow, if we wanted to accommodate a dishwasher, all the old cupboards would need to be ripped out and replaced with deeper ones. And at (then) six months pregnant (now eight) and in the middle of summer, sweating like a pig in a sauna, I was not relishing the thought of living in renovation mess for months. Two bathroom renovations and a laundry makeover down, I know that completely redoing a room always takes more time and money (and mess) than you initially expect. Plus – we LIKED our old kitchen. "Really?" some people say when I say this, and they look confused or aghast or both.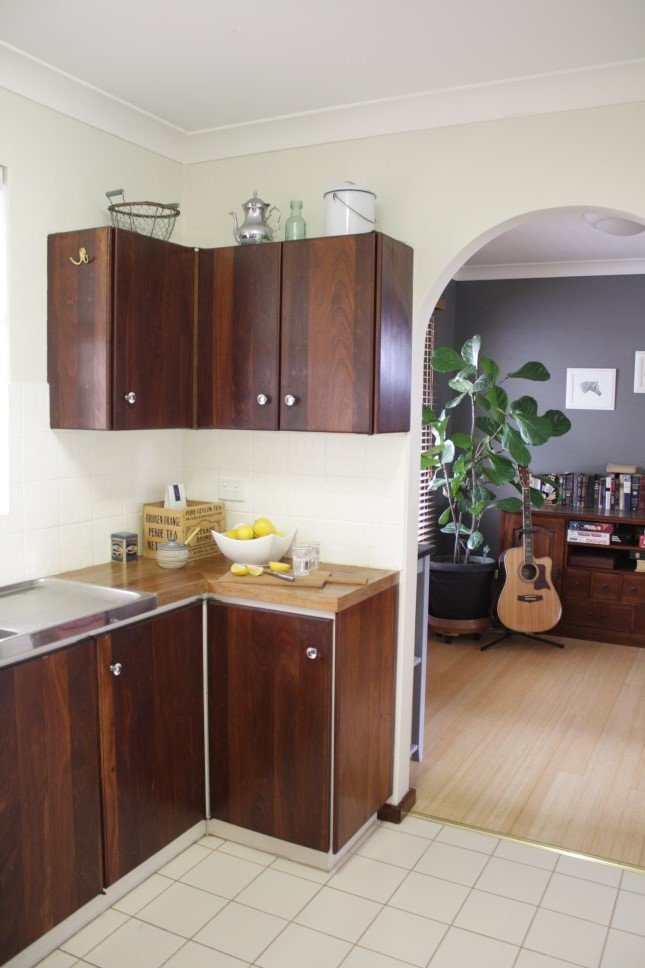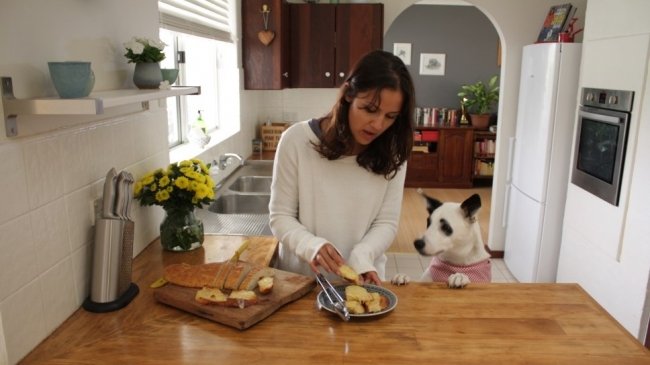 But we did like our old kitchen, me perhaps more than Mr Nerd. It had rustic charm and so many good memories, sitting around the island bench chatting with friends for hours over wine and food. The only thing I didn't like about the old kitchen was the fugly fluorescent light. And the fact that the oven kept popping out of place – it was set propped in a hollow wall cavity surrounded by a glued-on timber panel. The rear end of the oven precariously balanced on two Pisa-esque towers of bricks, and occasionally the oven would slip so it was at a slant, meaning half my cakes came out wonky.

But aside from that, I liked our kitchen. And I didn't want to renovate while pregnant and feeling lazier than ever. Should you renovate a room if you don't HATE it?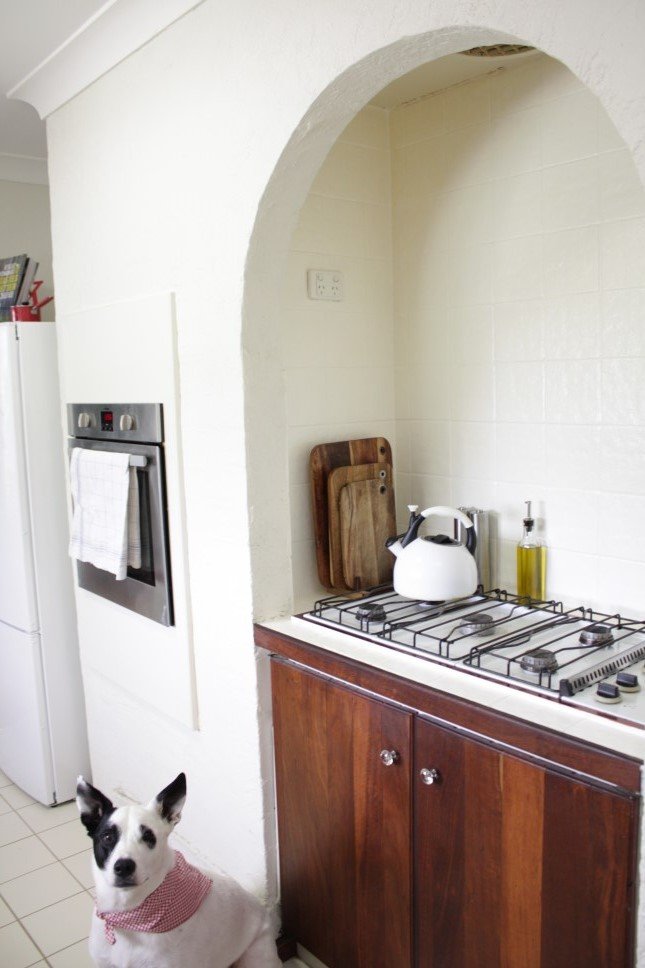 Mr Nerd said yes. "You will complain now," he said, (he knows me well, this one) "but I know you will complain a hell of a lot more if we renovate when the baby is actually here." I wasn't convinced.
It was a dodgy brickie who, in a way, clinched the final decision for us. You might remember my post on how Mr Nerd had an awesome idea to turn the old 70s bar in our house into a walk-in pantry from our kitchen by knocking out a wall and building in a couple of others. He would have done it himself but, with me under the pregnancy pump, and Mr Nerd busy at work, we decided to hire a brickie. Trying to put a lintel in, the guy we hired punched a hole through the wall, straight through the tiled nook above the stove.
Mr Nerd and I stood there looking at the little hole dubiously. I tried to be optimistic. "Well, look, when we get the new windows, we were going to have to remove and redo ALL the wall tiles in the kitchen anyway," I offered.
Mr Nerd nodded. "Well, if we have to re-tile, do we just get a new stove?"
That's because our gas stove top is old and temperamental. I call him Terrence, just in my head. He is a crotchety old guy Terrence. You have to cajole him into giving you the flame. I have the knack but even so, sometimes he won't even turn on for me, and will sulk for ten minutes, and you have to leave and try again later and hope he is in a more amenable mood. I don't mind Terrence, but Mr Nerd had a point. Because the splashback tiling ran all the way around and under Terrence. If the tiles went, Terrence would have to go too.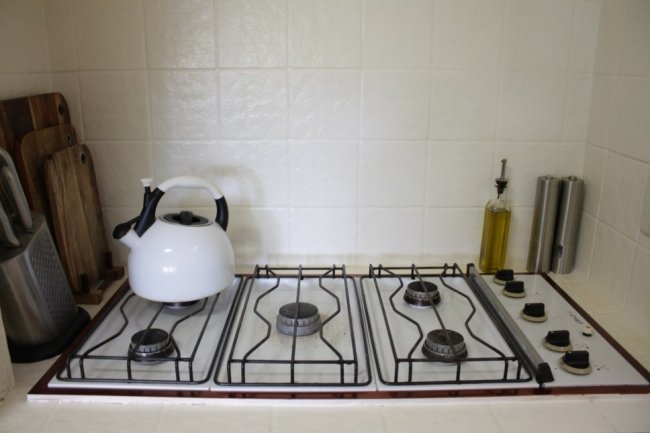 "And if we get rid of the stove," Mr Nerd continued, "do we go all out, and make the most of the oven cavity?" Our small oven takes up a giant hollow wall cavity all of its own, and the oven itself is propped up precariously on those two long pillars of bricks in the wall cavity. It's kind of a weird scenario, and not the best use of the space. "We could turn that cavity into open shelving. And replace the oven and stove with one of those big freestanding ranges. And then," Mr Nerd went on, "if we're doing all that, we might as well get a dishwasher and replace the cupboards. We might as well get all the dust and mess done at once."
He had a point. You know how it is with renovating tasks, they have a domino effect. You start out doing one little simple thing, and suddenly that one thing leads to another thing, and everything extrapolates from there and before you know it you are doing a massive makeover. So, that is how it was with our kitchen. The whole house was already a dusty, dirty mess from knocking out the 70s arches and building the walk-in pantry. It did make sense to just go ahead and start doing it all.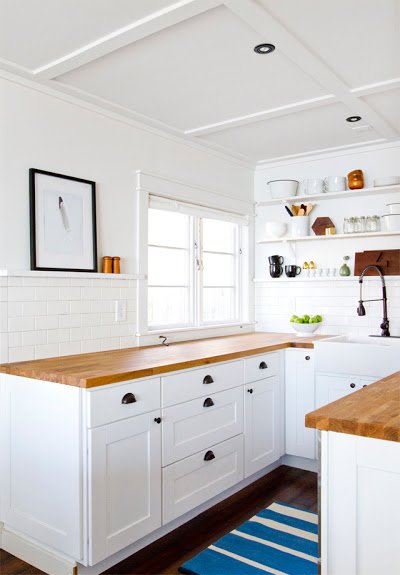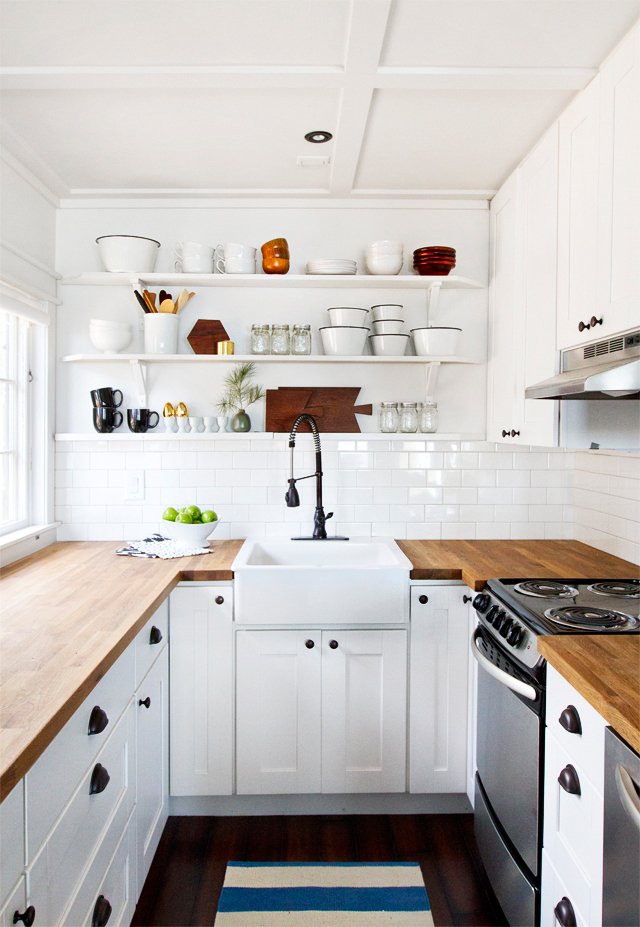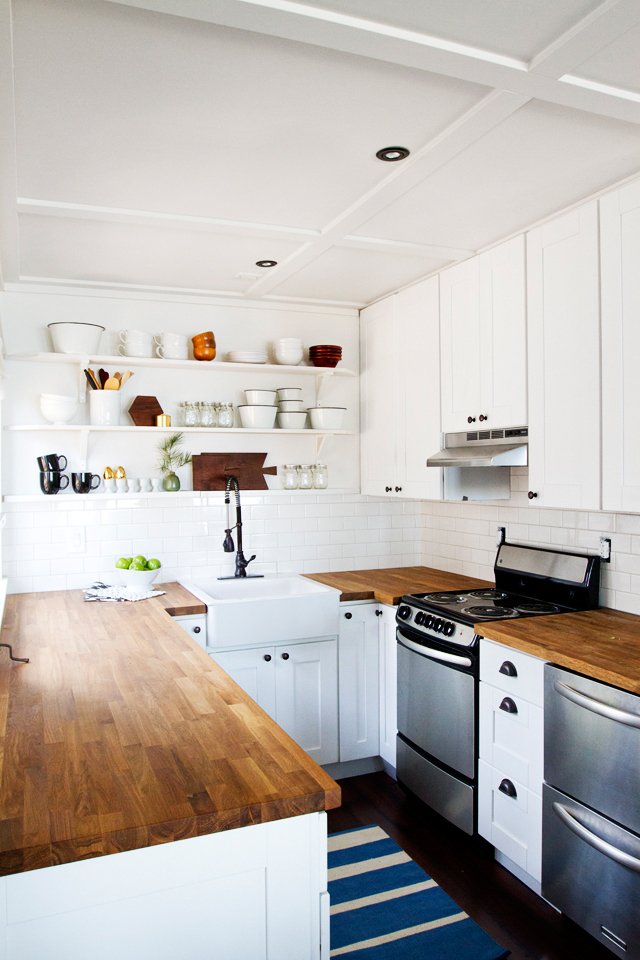 I had two rules – the kitchen had to be done before the baby was here – and it had to be simple. We were not going to be deliberating over things for ages. Classic, white, wood benchtops, IKEA cabinets, nothing too elaborate or trendy or complicated. I didn't trust my pregnancy brain to make any complicated or sexy design decisions. (Today I told Mr Nerd that June came before May, and Saturday night I said to my friend, "What's the name of the black actor in Snakes on a Plane.... Morgan Freeman"). Right now I am still vomiting almost every day and also hastily trying to finish up all my freelance work before my maternity leave in June.
So I didn't feel I was in the best state of mind to make any big design decisions. Simple snap decisions was going to be the way to go! I wanted it all organised by the time the baby landed. (It's probably the Virgo in me, but I am the kind of person who is happiest when everything surrounding her is organised. I like my bills categorised and my clothes sorted by colour and pattern and my takeaway menus organised by cuisine type and my socks in three sections and my spices alphabetised and my DVDs alphabetised and even stickered from A to Z on the spines).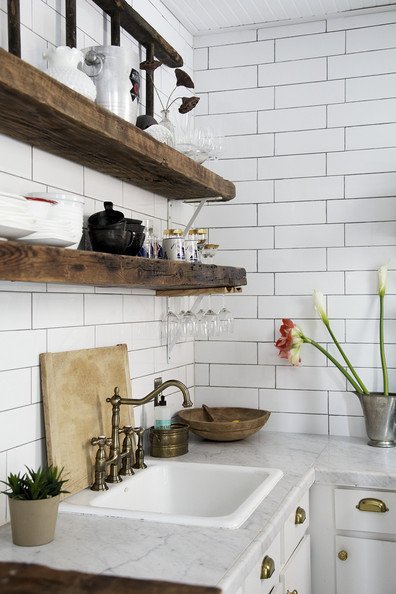 So that is how we are now in the throes of a big kitchen renovation! We have been cooking outside on the barbecue, my mum has been dropping off food, and we've been doing dishes and food prep in the laundry. The house is a pigsty with all our kitchen belongings, books and pieces stored anywhere and everywhere. The lounge is yet to be finished, with furniture piled up in one corner and freshly plastered walls waiting to be painted. The dust seems to resettle on a surface as soon as you wipe it down, and the baby's room is yet to begin, but the kitchen is really taking shape! I wander in there numerous times a day and just stare about. It is going to be SO nice to cook in. (We decided to go with IKEA Lidingo kitchen cupboards with benchtops by a different company. I will be doing a post later on the IKEA kitchen process).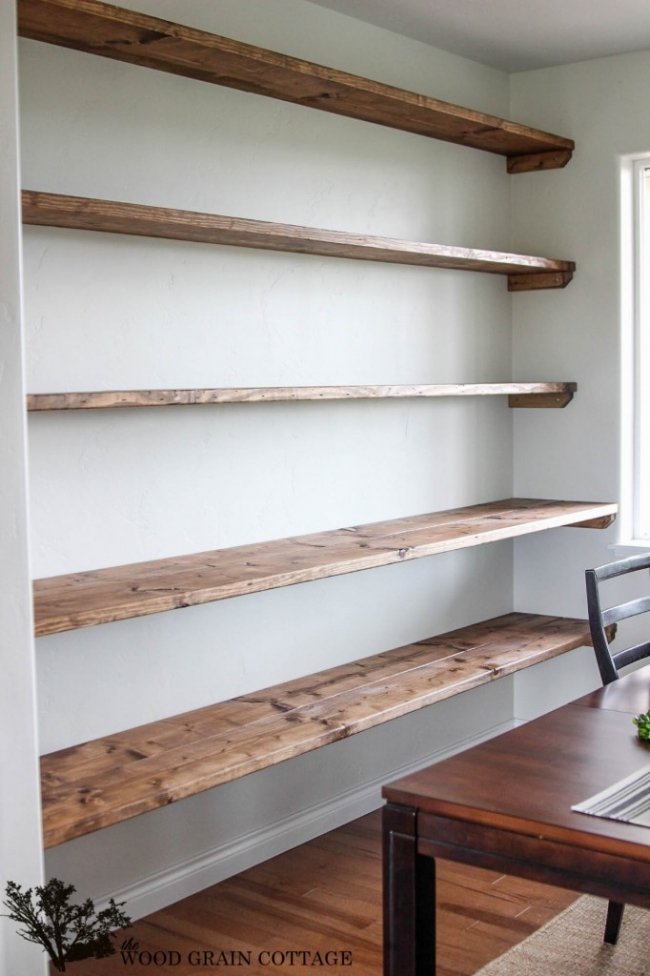 I've had a decent number of crazy hormonal meltdowns during our renovations, don't get me wrong. Recently we spent three solid days of painting, puttying walls, moving furniture and cleaning the house with our family and I wanted to scream at the end of it. But then our plumber came over, and he put in the dishwasher. We don't even have proper benchtops yet, and half of our kitchen stuff is sitting in the lounge, and our pantry is yet to have any food put in it - but the dishwasher. It is an angel from heaven. I know we haven't even had it very long yet, but OH MY GOD. Having a dishwasher is amazing! Initially I kept forgetting we had one and kept washing all our dishes in the laundry sink and Mr Nerd had to remind me that we had a dishwasher. Tonight, I am writing this post to the pleasant sounds of Mr Nerd drilling holes in the wall in the background. I am feeling pretty confident we will get the kitchen done before our baby deadline. (Baby app tells me I have six weeks, three days to go, and baby is as big as a lettuce head). It will be done... and my spices will be alphabetised.
Have you ever started a basic renovation project that ended up expanding into a much bigger one? Do you have a dishwasher? And are your spices in order? Maya x