Posted Friday, August 22, 2014 in:
Home Envy
When Mr Nerd and I drive down south, we inevitably end up daydreaming about getting out of suburbia and buying a place in the country one day. I would write, and have horses and force Mr Nerd to come on trail rides with me. He would have dirt bikes and… do man stuff. When we get back home, we procrastinate on the things we need to do to browse real estate websites instead, and daydream about how we would renovate beautiful rural retreats we never buy.
If we could have a dream country property, I imagine it would look pretty much like this.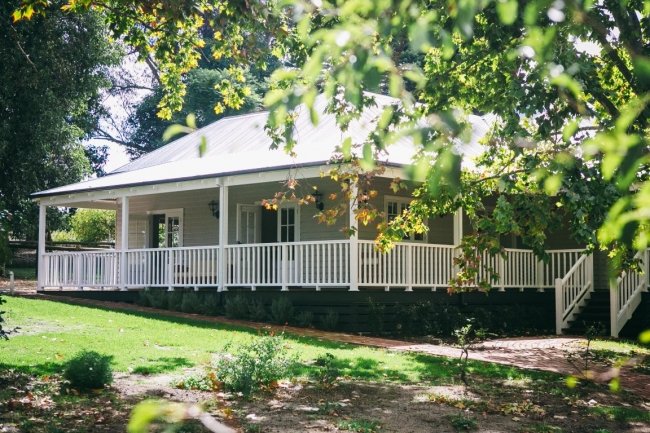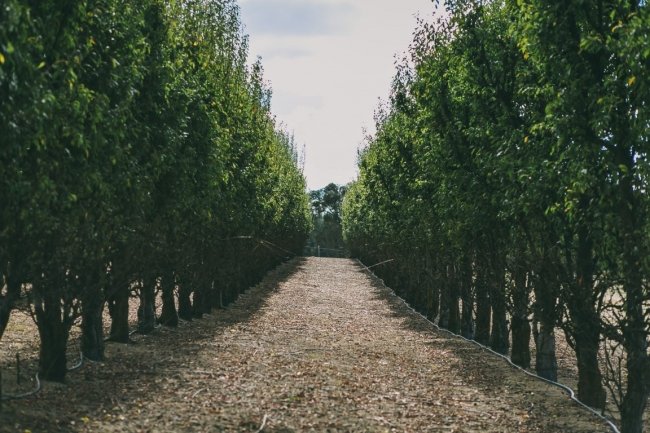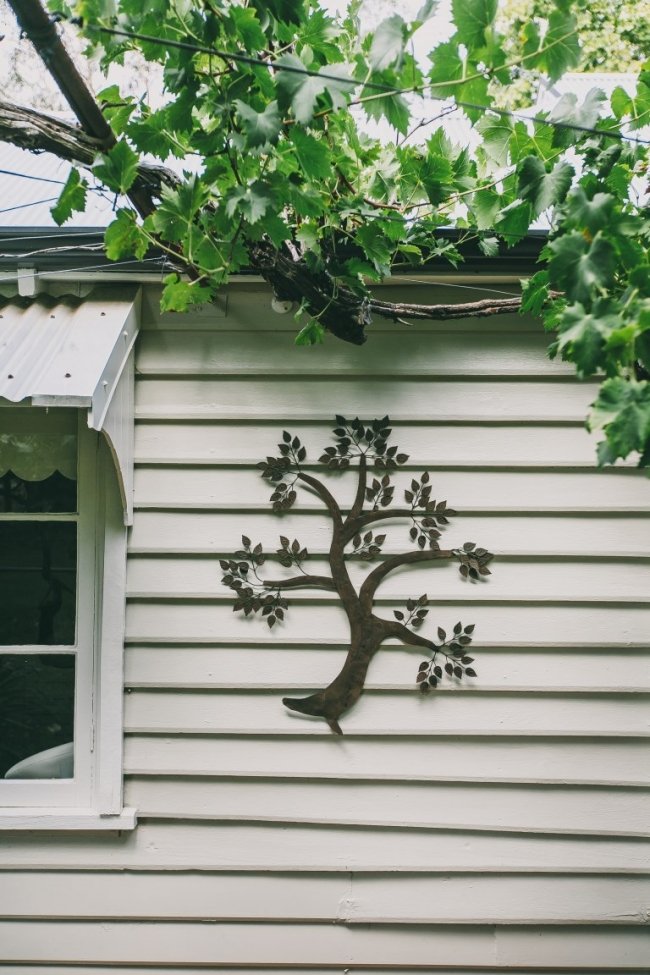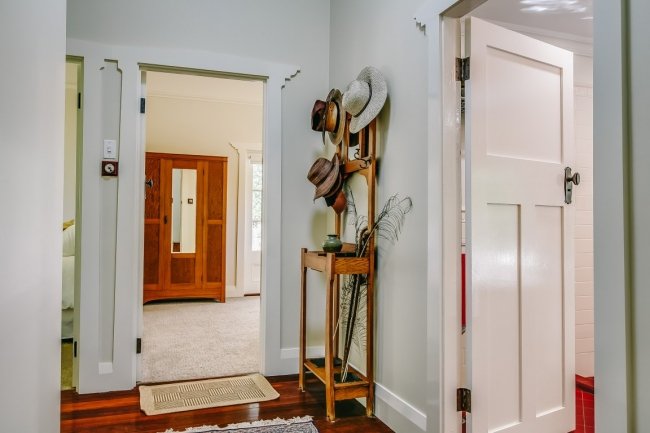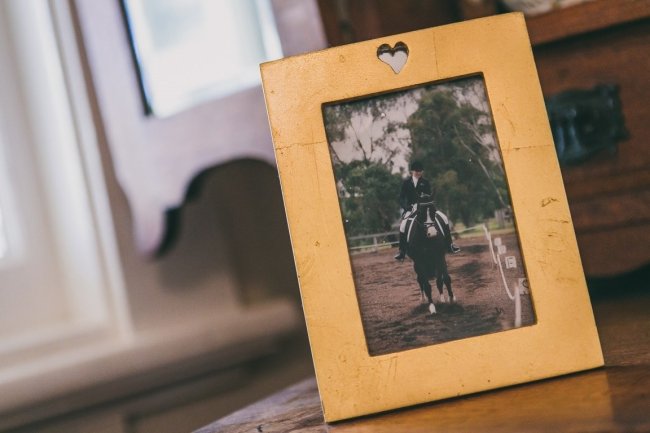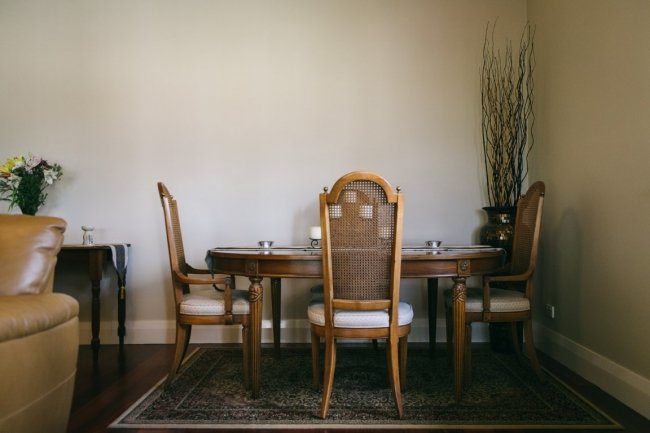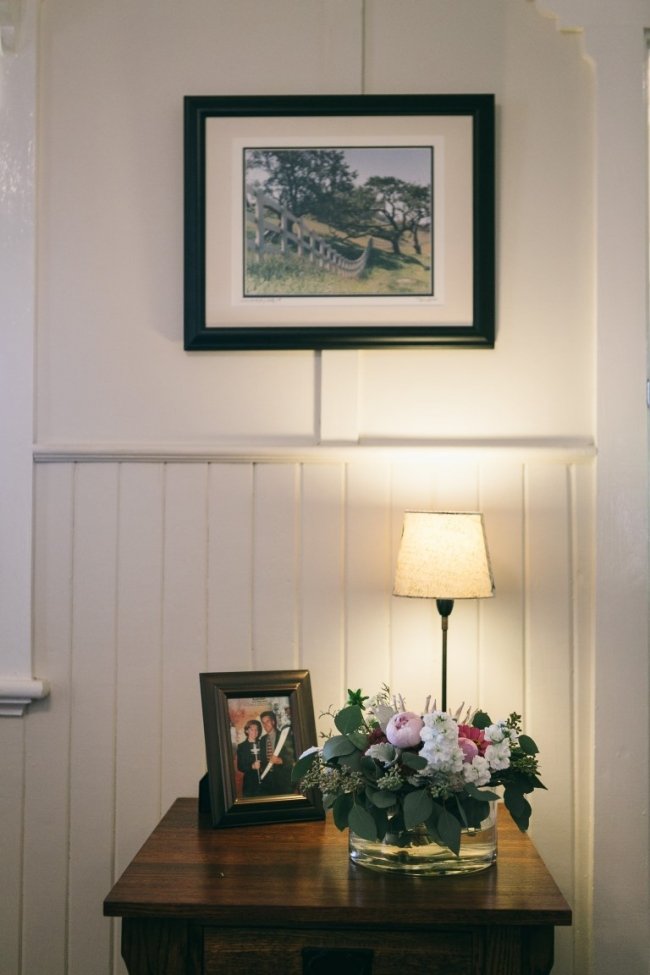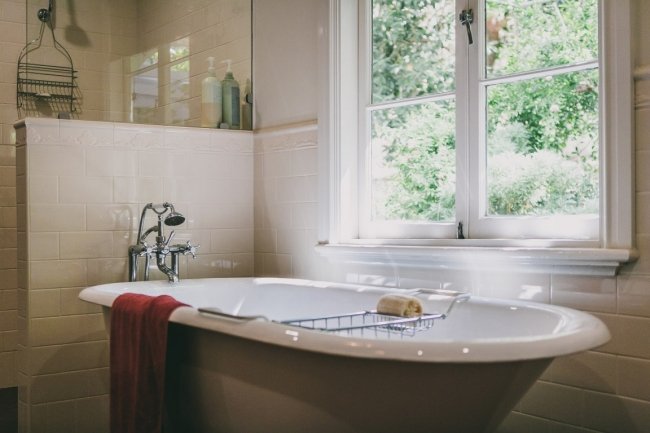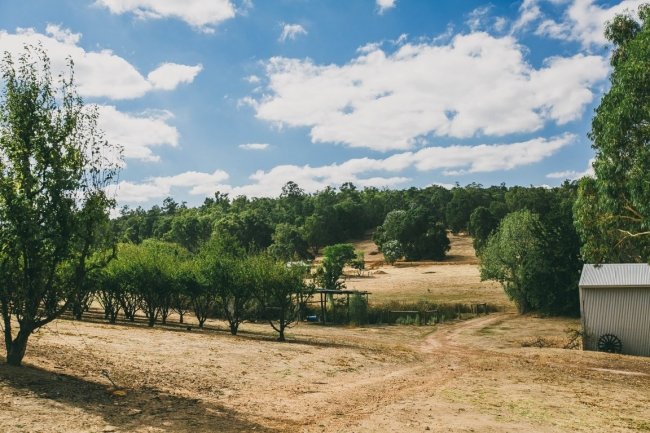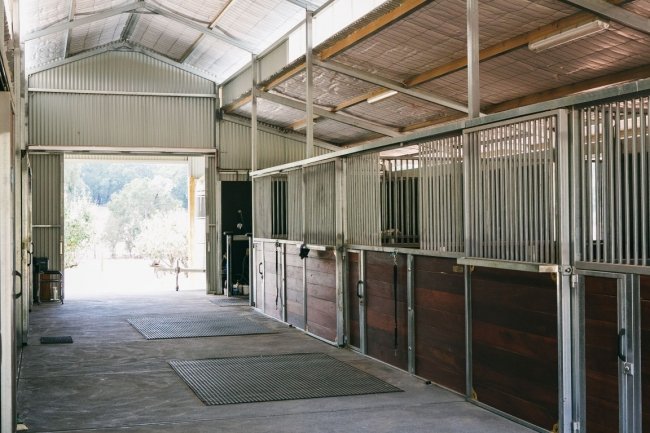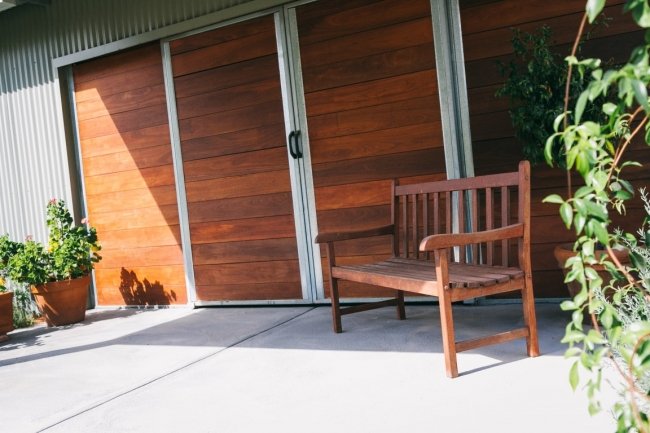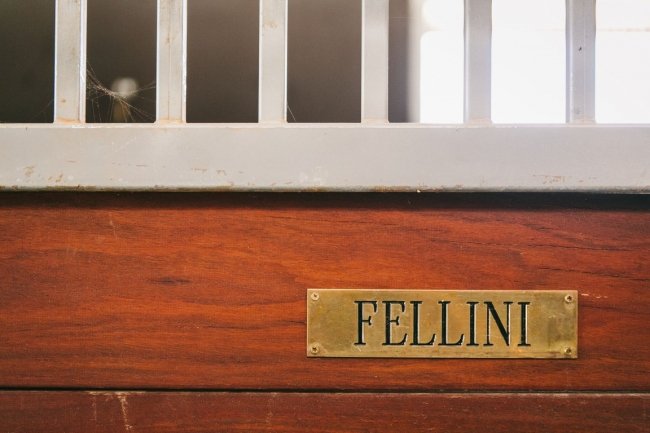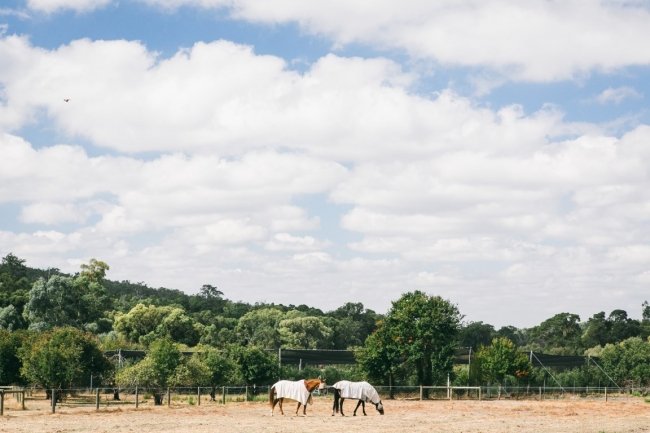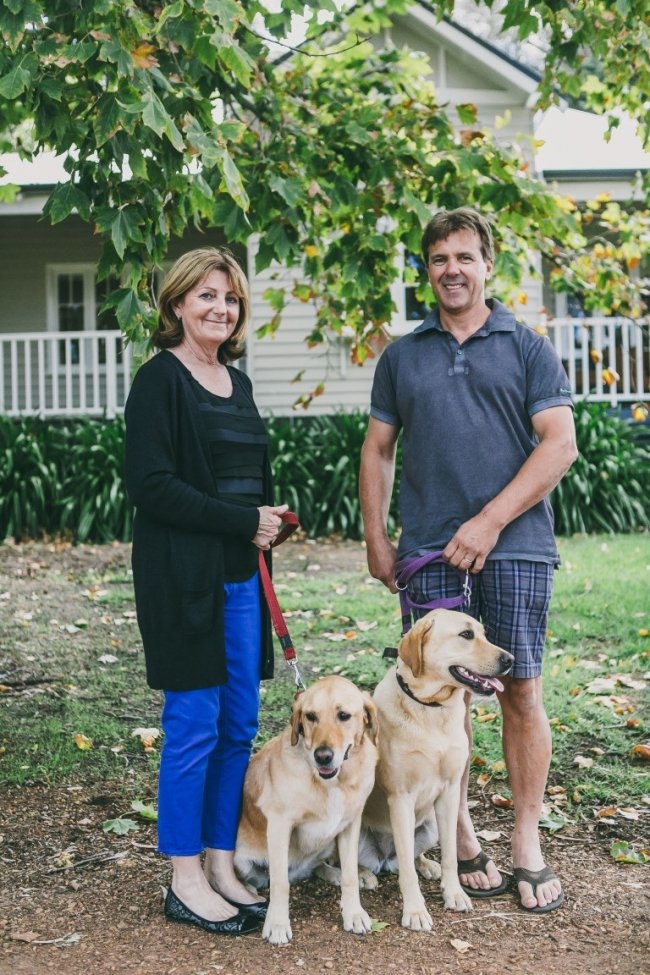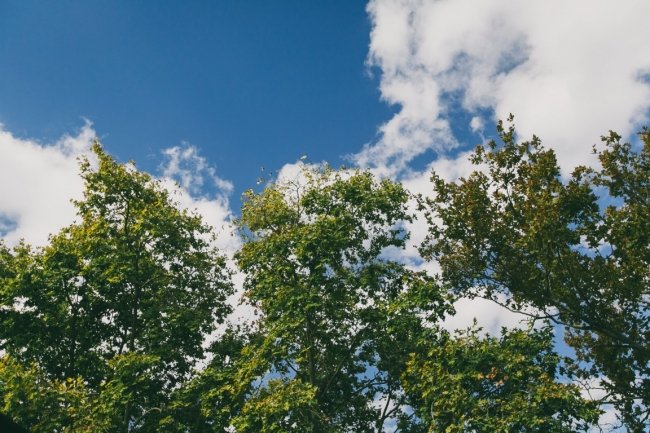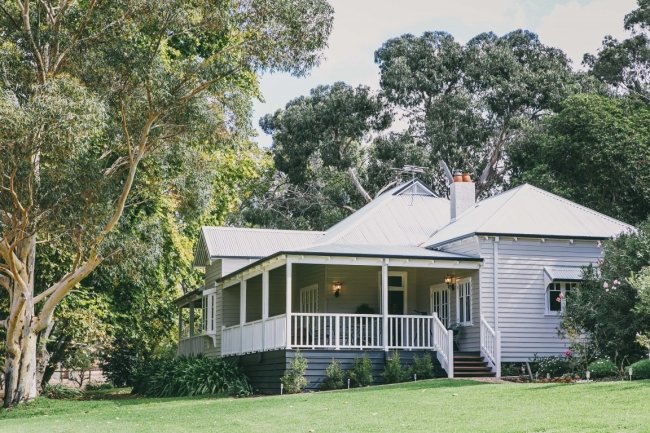 This 1920s weatherboard cottage in Mundaring is the home of Paralympian equestrian Judy Hogan and her husband Simon, who works for Chevron. Renovated and extended by
Dale Alcock Home Improvement
and set on a 26 acre property of rolling green horse paddocks and orchards, the home is just minutes away from historic Mundaring Weir, tucked amidst bushland that I personally think has to be some of the most beautiful countryside in Perth. The farm was originally part of a winery called Mundaring Vineyards that was founded in the 1890s and managed by wine merchant Mathieson Harry Jacoby. It is believed that the farm is also the location of a hunting lodge that was used by John Forrest, WA's first Premier, in the early 1900s. And it is picture-perfect.
Animal lovers Judy and Simon bought the 1920s cottage in 2012, on the hunt for a perfect property for their much-loved Labradors and their horses, including Judy's warmblood dressage horse Fellini. Judy, who was raised in Melbourne, was born with only one hand. She was ten when she started riding and soon started jumping and competing. She got her first horse at 13, and later was asked to represent Australia in the Sydney 2000 Paralympics.


She and Simon have lived in numerous places and once moved to San Francisco, flying Fellini and their dogs at the time over with them. When they moved from California back to Australia after three and a half years in the States, they also brought back a crateful of furniture bought on Craigslist (Australia's Gumtree!) which they still have today.


Judy and Simon settled back in Wooroloo (where they had previously lived for almost 20 years) with their two adult daughters. They love Wooroloo and were happy there, but after a while decided a move was in order. "We'd looked at so many properties," remembers Judy. "We'd never really considered weatherboards though." Yet Simon says once they saw the farm, they couldn't stop thinking about it. "It was just a beautiful property," he says.
The farm was originally part of a winery called Mundaring Vineyards that was founded in the 1890s and managed by wine merchant Mathieson Harry Jacoby. It is believed that the farm is also the location of a hunting lodge that was used by John Forrest, WA's first Premier, in the early 1900s. Before Simon and Judy came along, the house and its orchards belonged to the famous Bunning family, of the hardware store chain.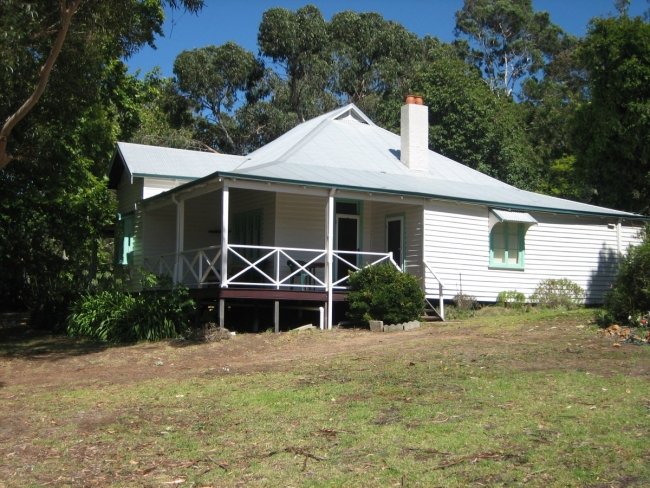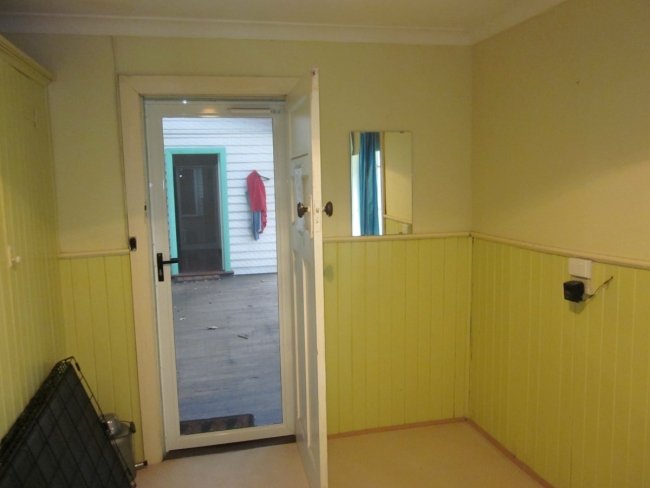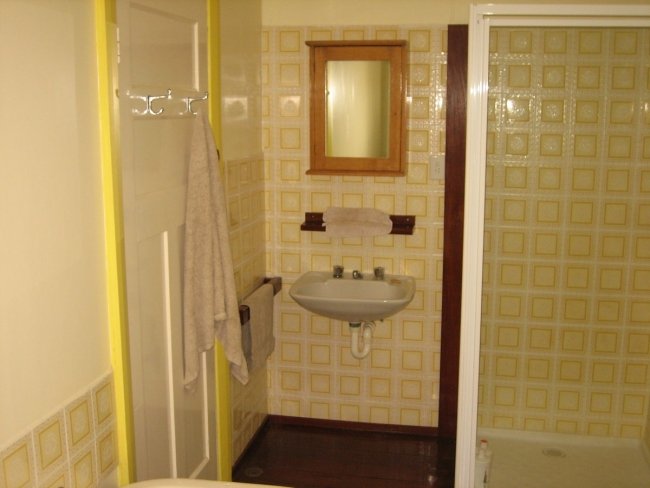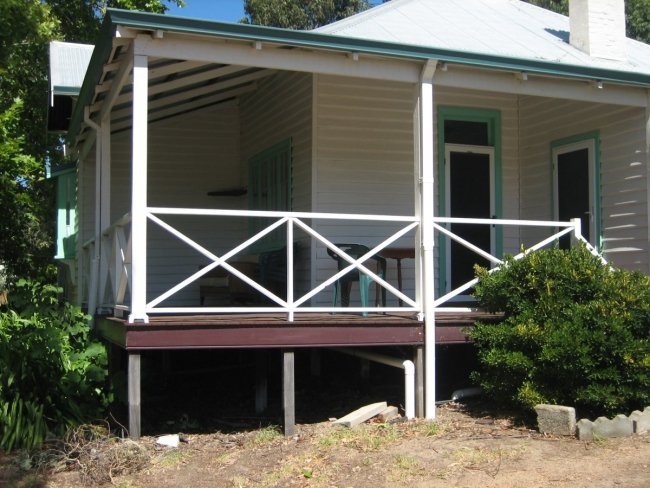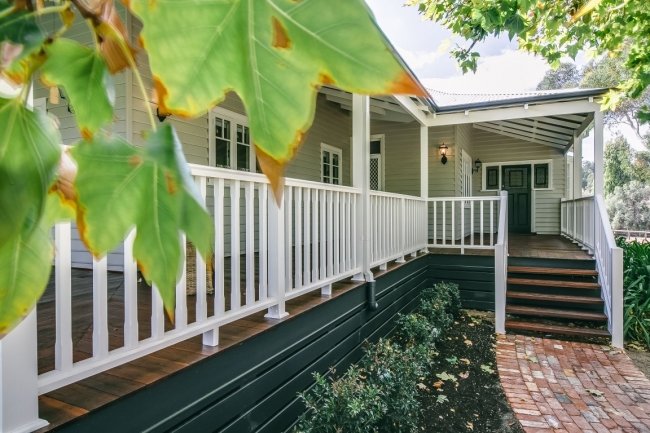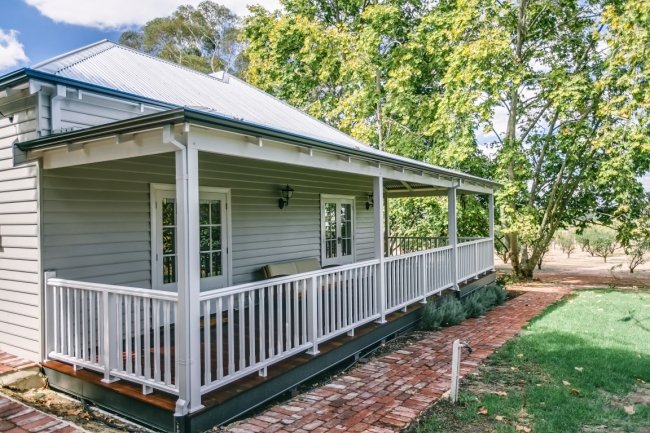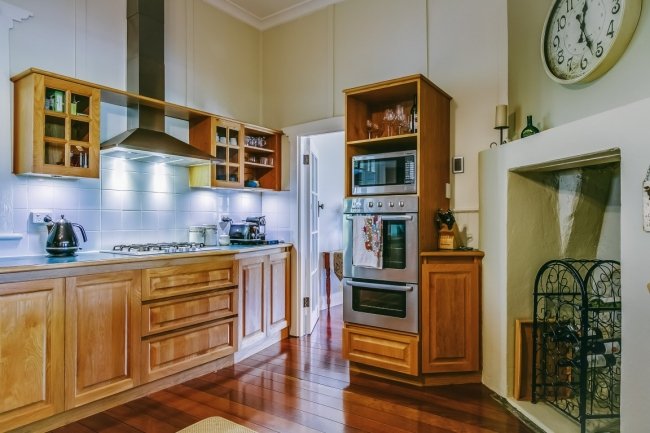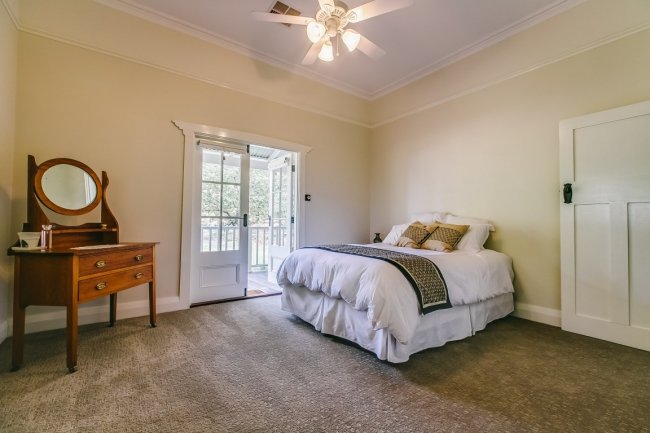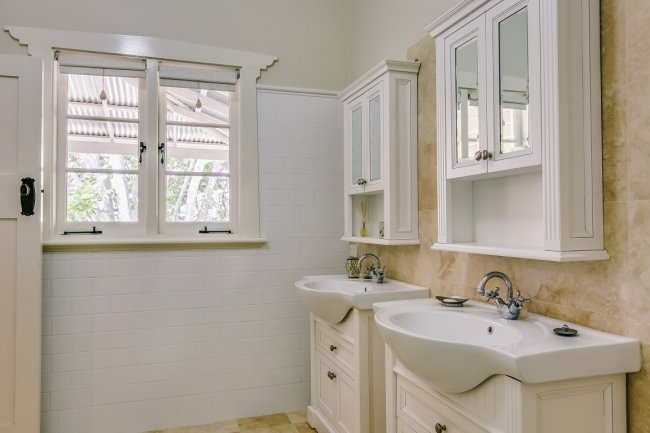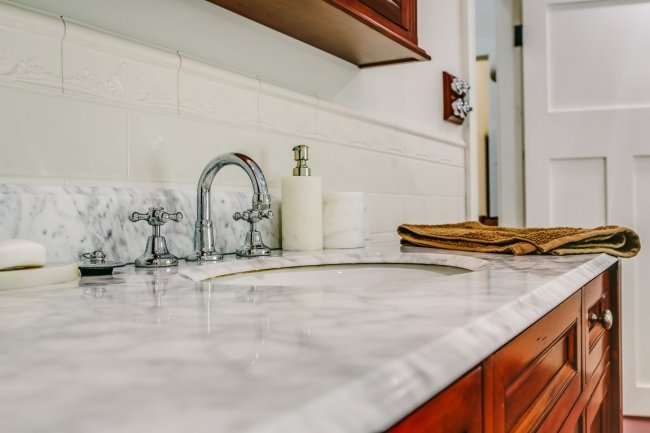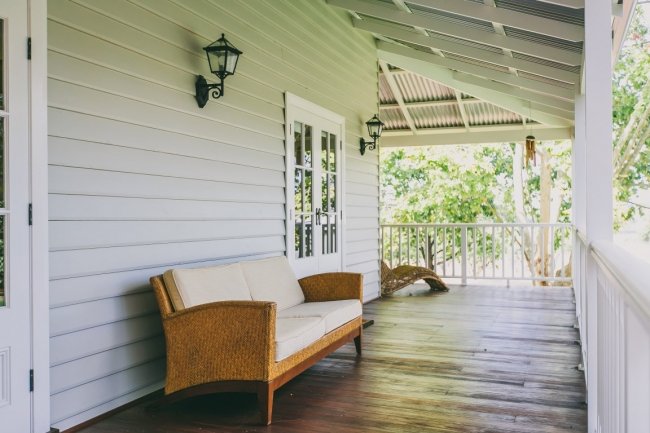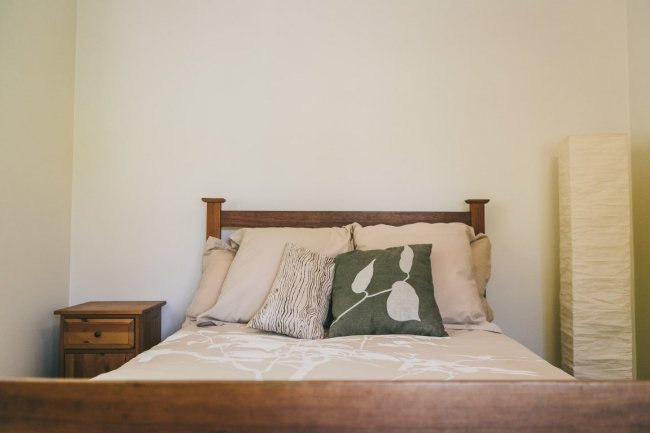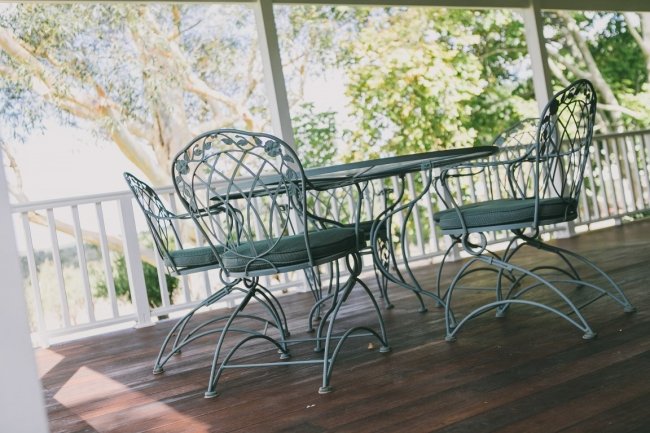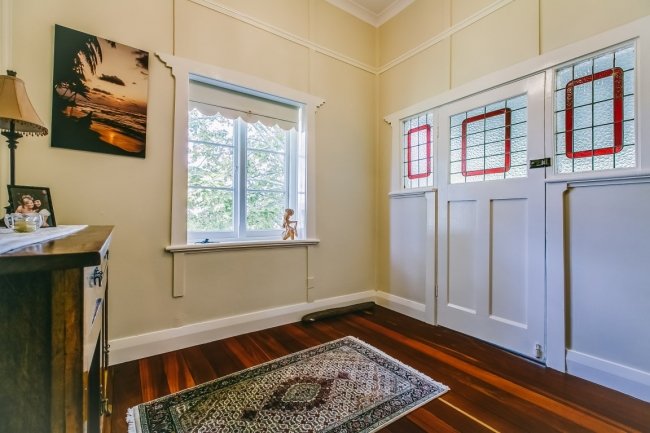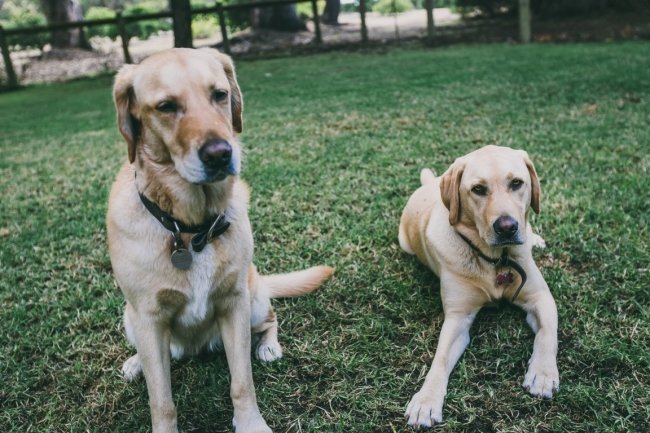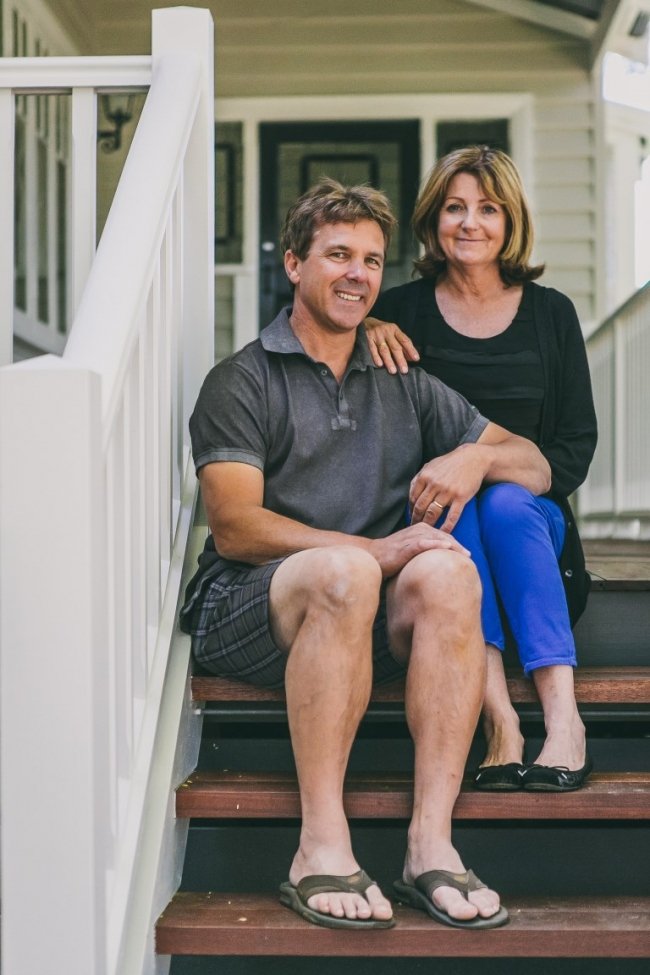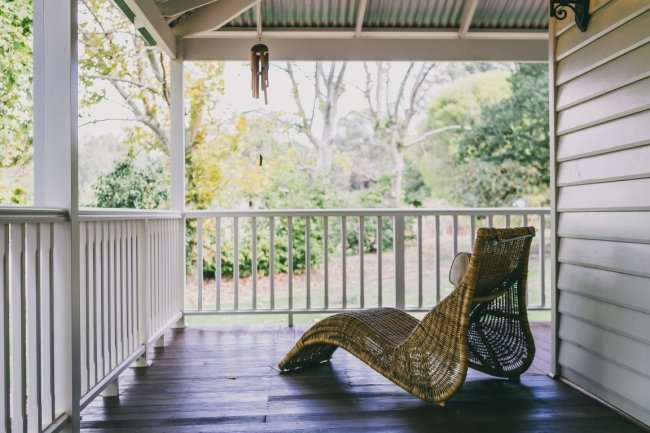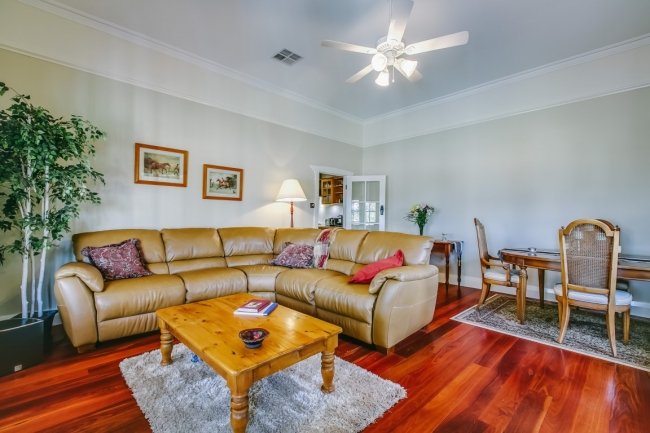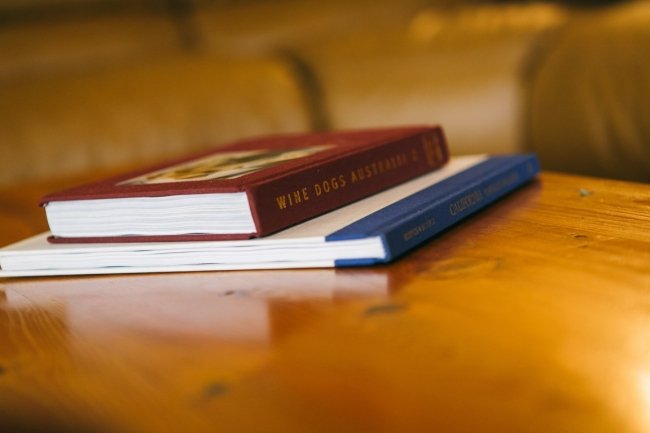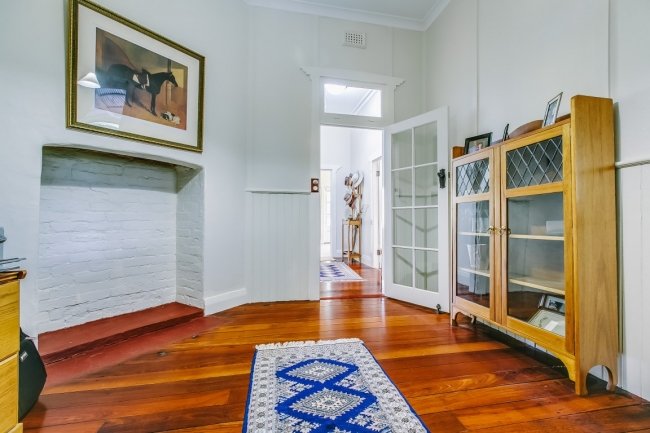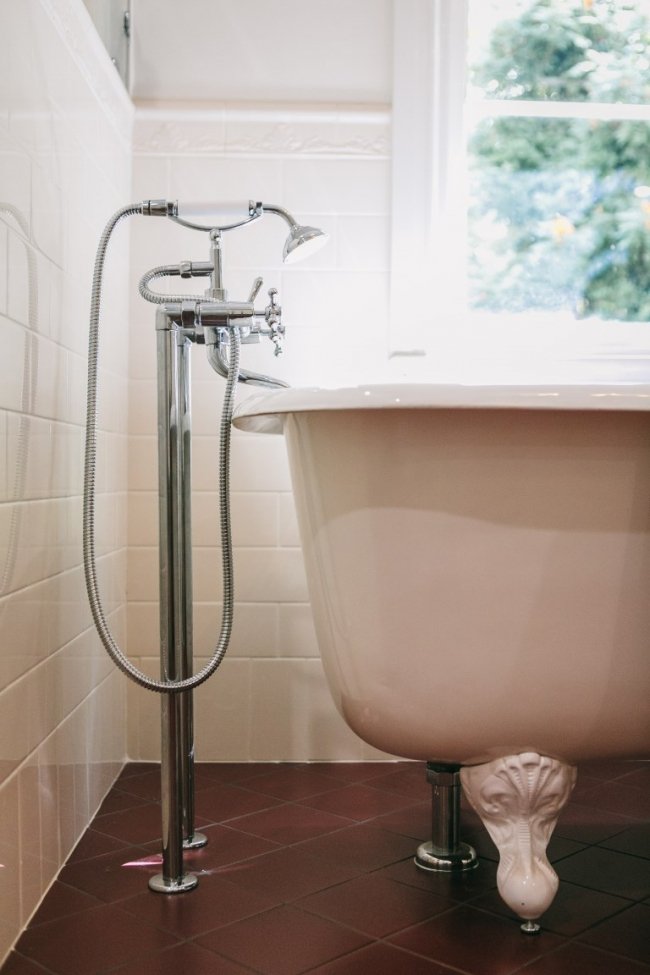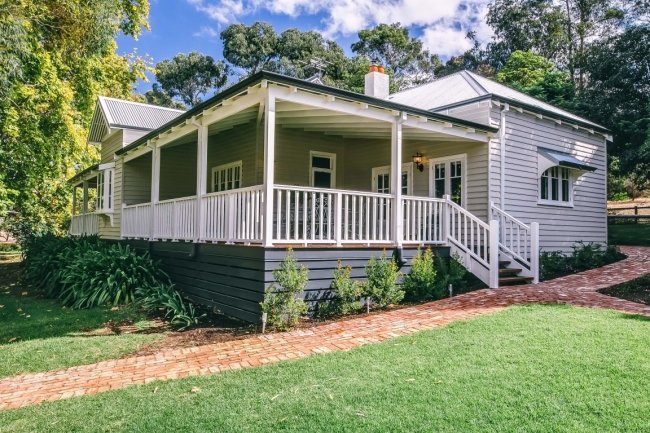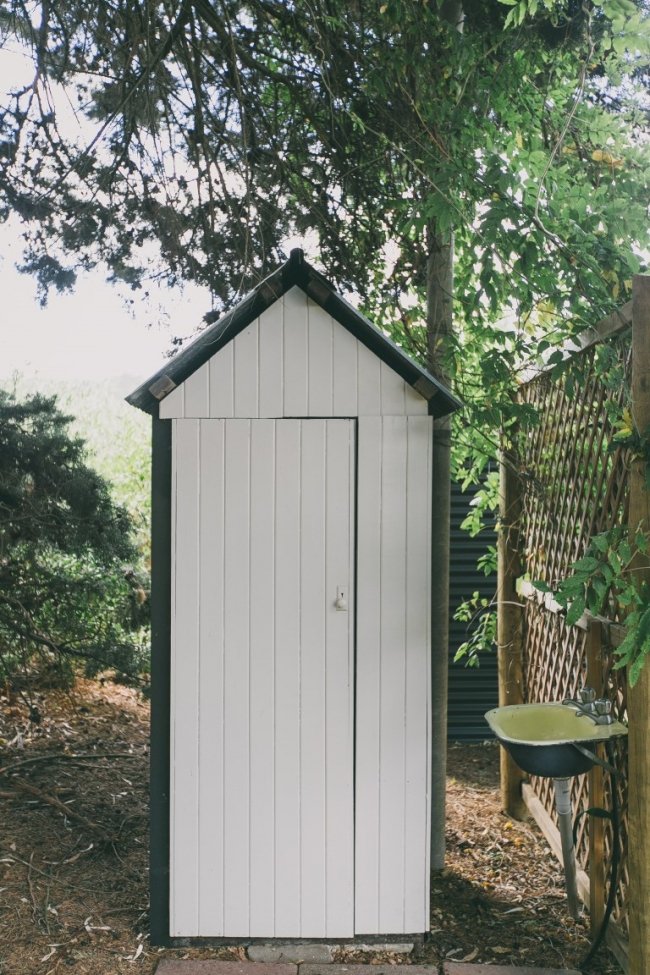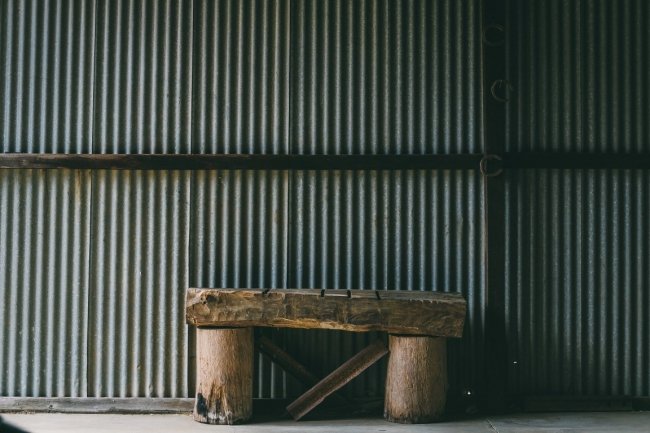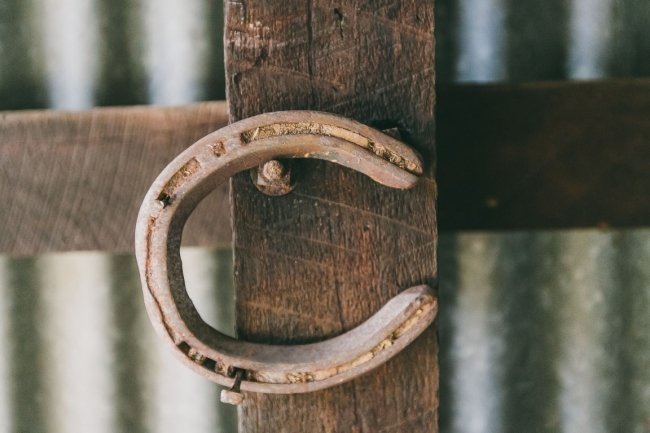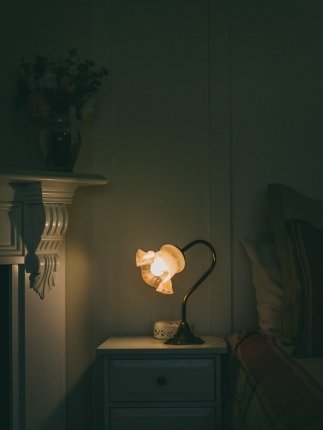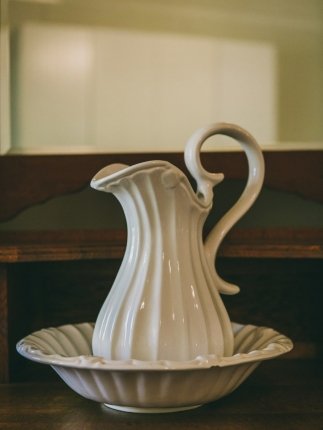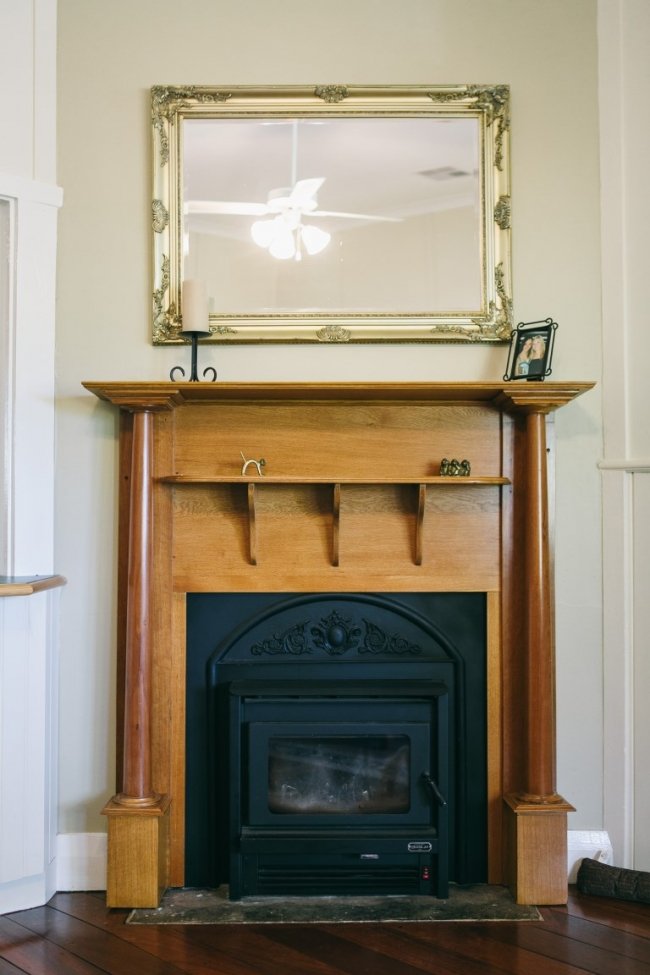 The house was small – so when Simon and Judy bought it, they said goodbye to their daughters, who were living with them. "We didn't get empty nesters syndrome... they didn't move out, we moved them out!" laughs Judy, adding that the new property quickly kept she and Simon busy. "It all worked very well."
The little two bedroom cottage had undergone renovations in the past (including the installation of the oak kitchen) but the Hogans wanted a little more space for themselves and for guests to come and stay. After a year of living in the house, they asked Dale Alcock Home Improvement to design their extension and renovation – all keeping within their $300,000 budget. Judy and Simon says they were extremely happy with the work of the Dale Alcock team. "They were very good," says Judy.
And the place is now picture-perfect. After six months of renovations, the home is now twice the size of the original cottage but the work is completely seamless – looking at it, you simply cannot tell which part is the new and which is the old. High attention to detail of every little element makes it look like it was all built in the 1920s. "It's worked out even better than I could have imagined," says Simon. "People say to us, "So, where does the extension start?"
The work entailed the addition of two new bedrooms, each spacious. "We didn't want four small bedrooms, we wanted three generous-sized bedrooms that each open up to the veranda to bring the outside in," says Simon.
Dale Alcock Home Improvement also added a travertine-tiled ensuite off the original main bedroom as well as a sitting and dining room, with sweeping valley views. Since the renovation has finished, they've enjoyed having numerous people to stay. "We've had a lot of visitors – people from Queensland, Victoria last month and family who just stay overnight," says Judy, who says they were very happy with the work of the Dale Alcock Home Improvement team. "They were very good," she says.
The Hogans' renovations didn't stop at the house – they also commissioned Avalon Stables to build their new stable. If their lovely house made me green with envy, the stables made me want to cry with jealousy! I used to ride and have spent a lot of time in old, dilapidated stables – you know, the kind with corrugated iron walls where the wind screams rattles the windows and screams through the cracks like a banshee, where concrete, hazardous concrete floors make it easy for even the most agile to stack it while carrying a saddle laden down with gear. This stable is perfect (and it has the neatest, cleanest tack room I have ever seen). Judy says they definitely designed and built it to last, and to look just as good in future as it does now, with its solid jarrah walls. Oh, was I jealous. Honestly although I see some of the most beautiful houses in Perth every week, I do rarely get jealous, because I do very much love and appreciate what I have in a home myself - but the farm is just so pretty it almost feels surreal. It's like walking into a setting from a movie (a romantic comedy with Katherine Heigl, or some dreamy Nicholas Sparks adaptation).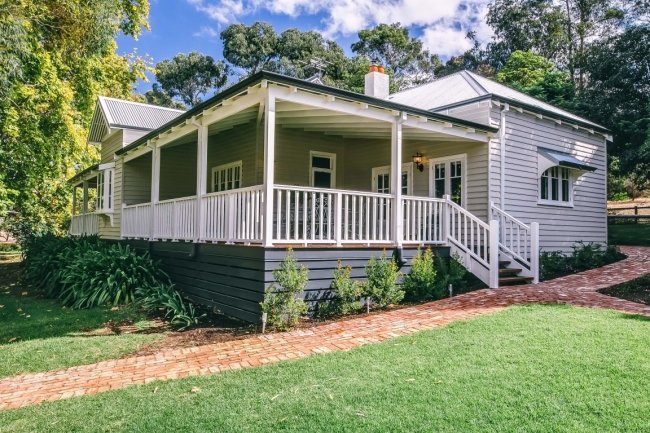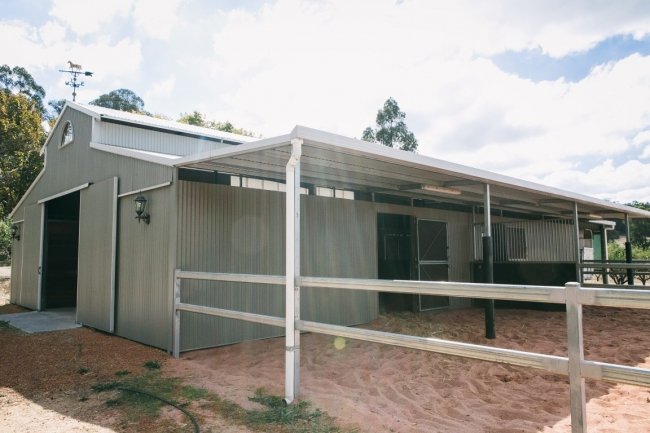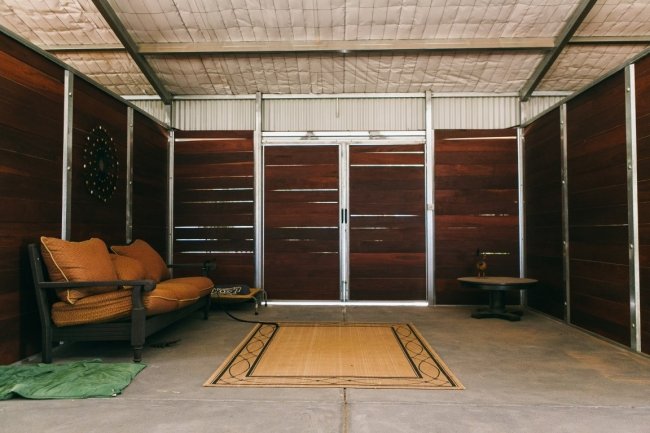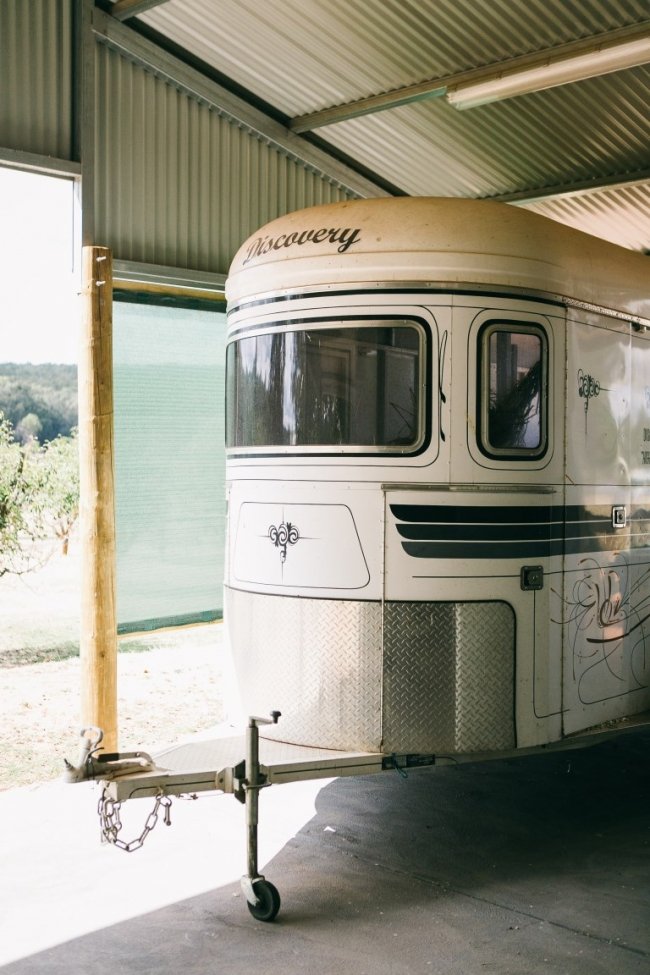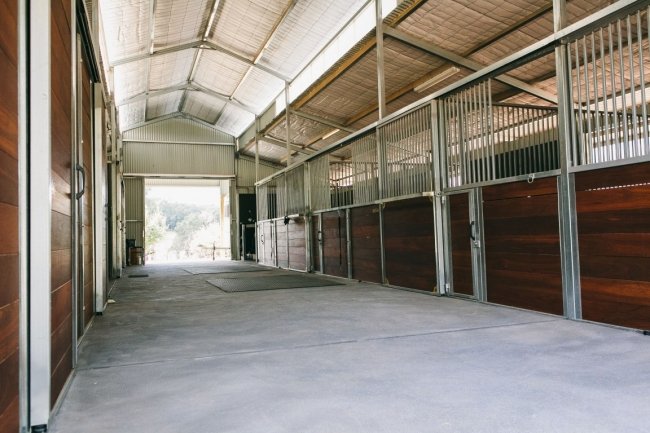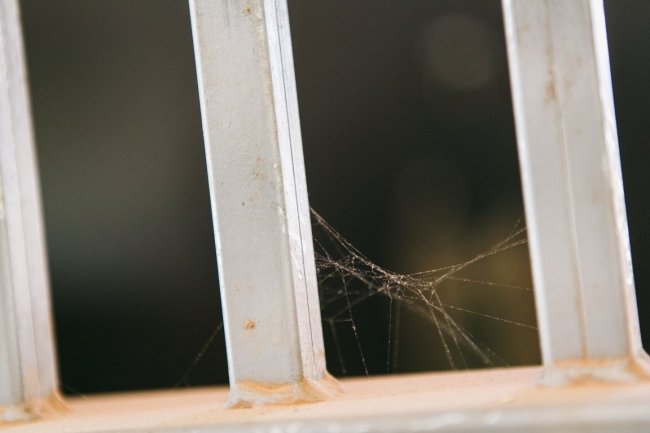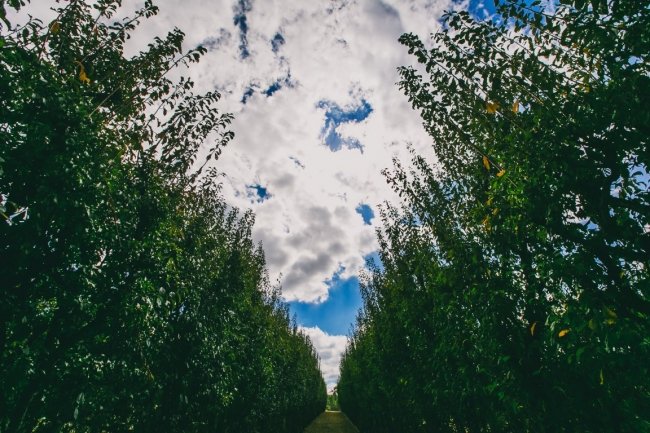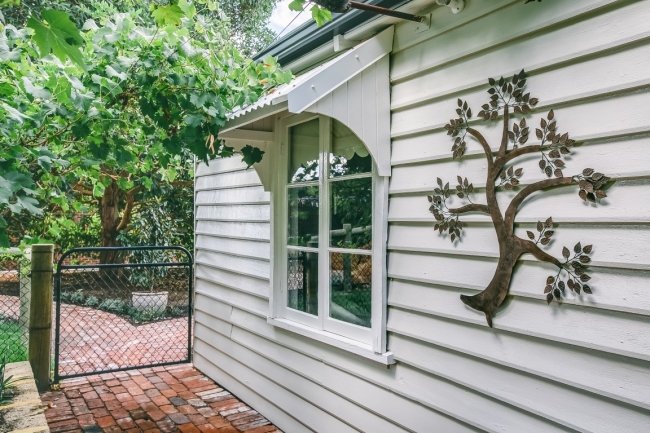 I have always daydreamed of living in an old farmhouse that overlooks beautiful stables and riding arenas. And from Simon and Judy's place, they can see the stables from their bedroom, or enjoy a glass of wine in the evenings on the verandas, while enjoying a view across to the stables while the sun sets behind the forest. This place is perfection – a horse lover's paradise.
It's so pretty that their daughter Kate even had her wedding at the farm in April. What a wonderful place for a wedding! They had 140 guests, a marquee was set up on the lawn; the fruit sorting shed encompassed a bar; wedding photos were taken with handsome Fellini in the beautiful stables. "The ceremony took place under a beautiful old deciduous tree with the house as the backdrop," says Judy. "It really set the scene." It was such a perfect place for a wedding that it even got Simon and Judy wondering if they should hire out the gardens for more weddings in future! I have to share some of her wedding photos, because I think this has to be one of the most stunning weddings I have seen. What a place for a wedding!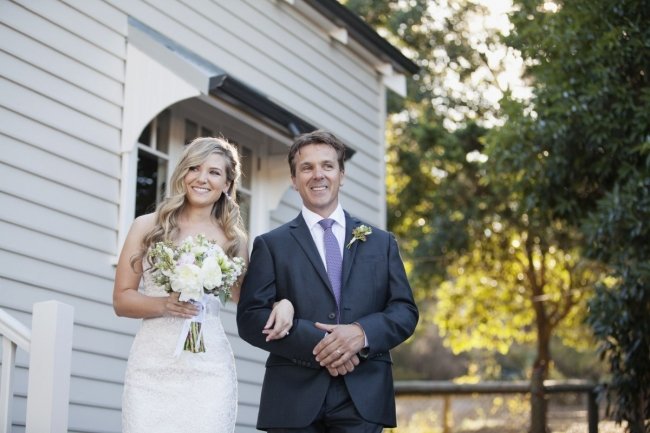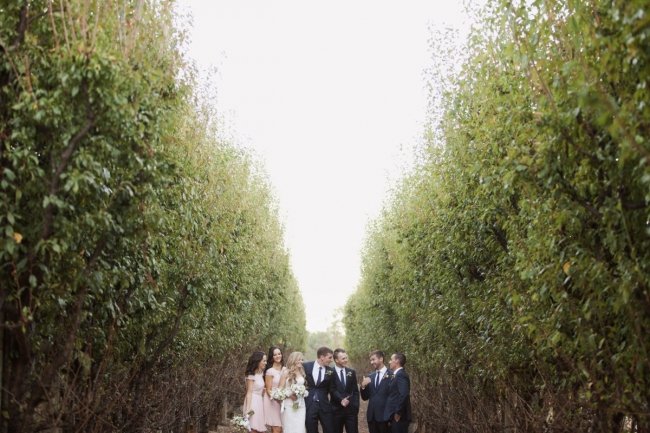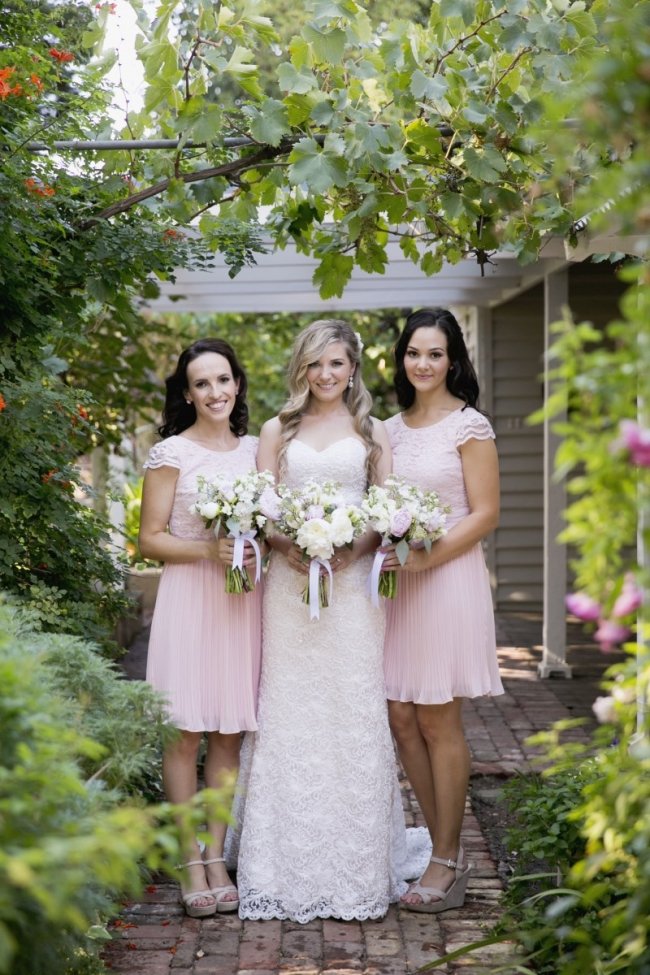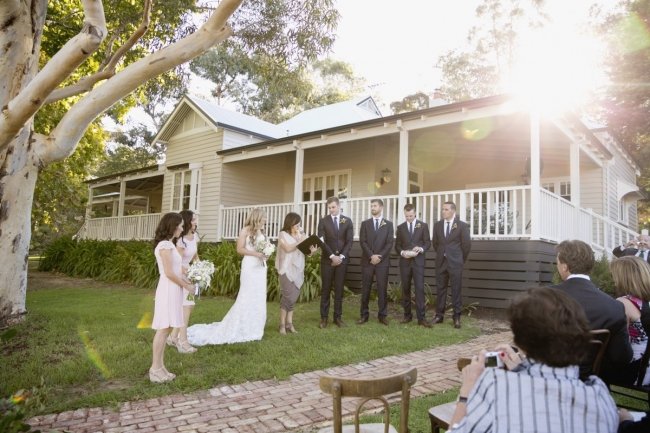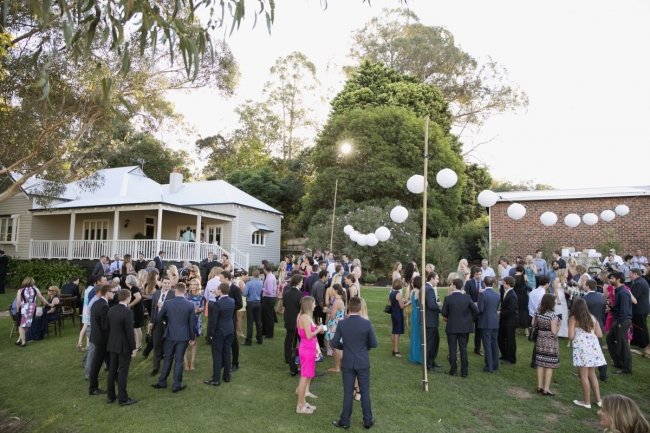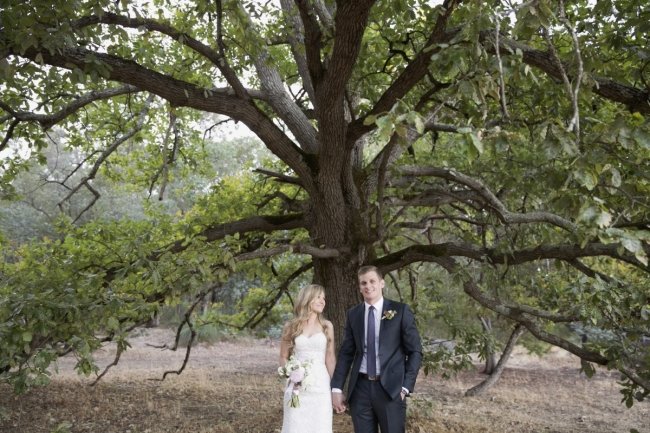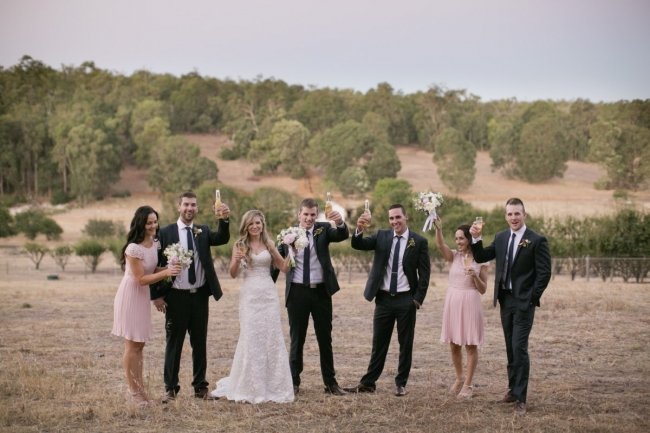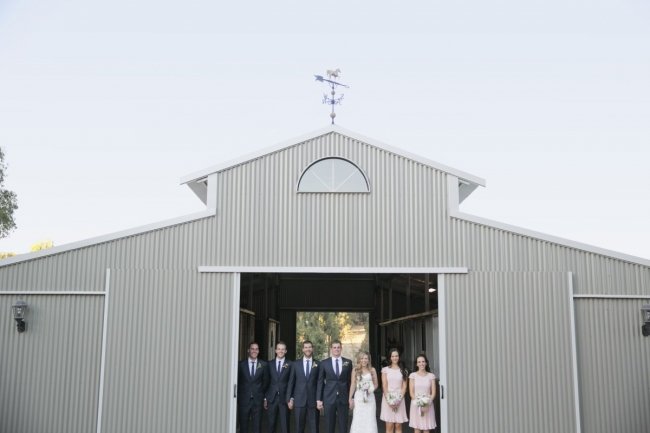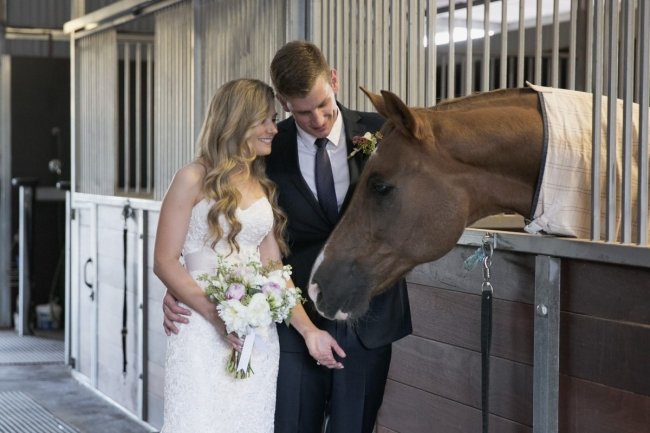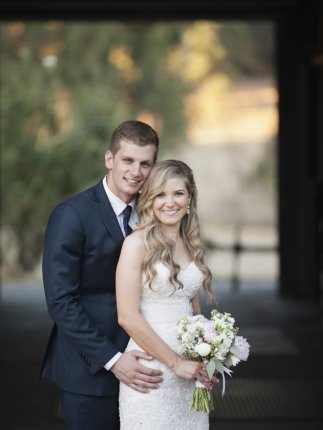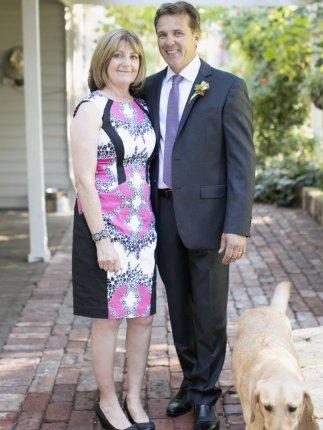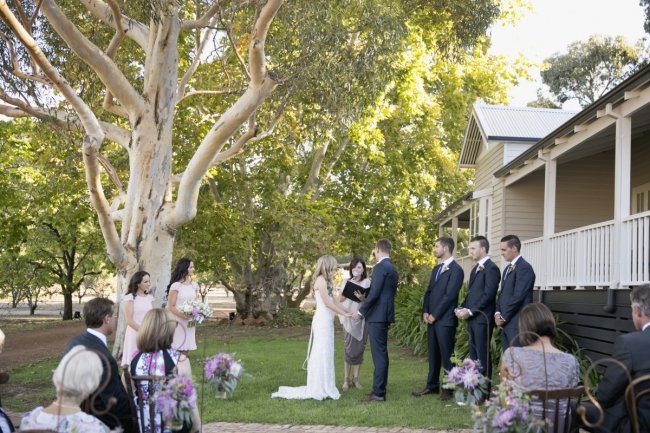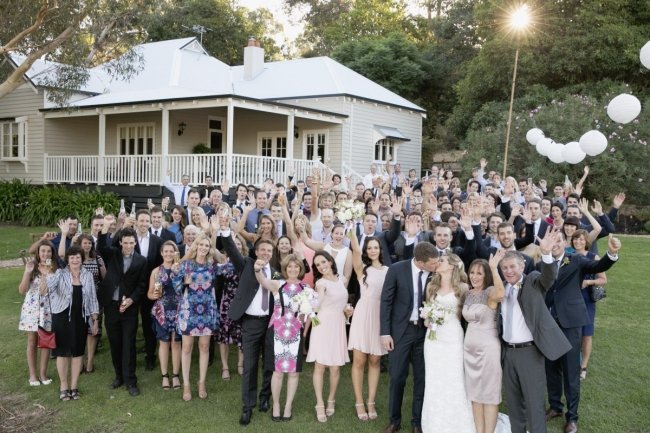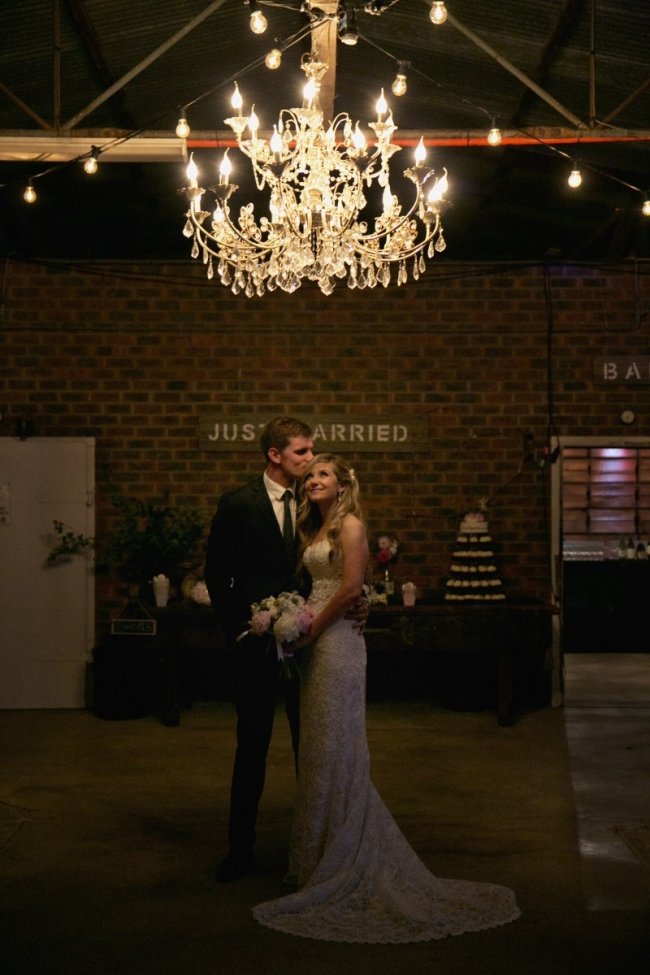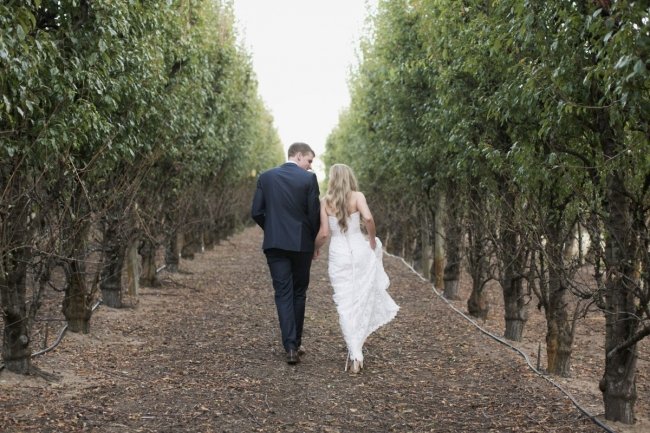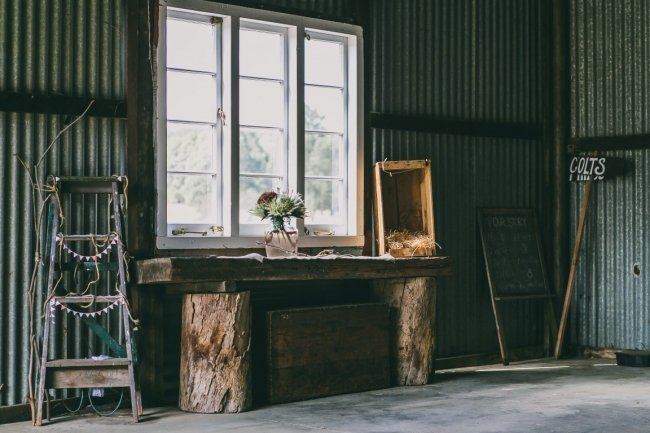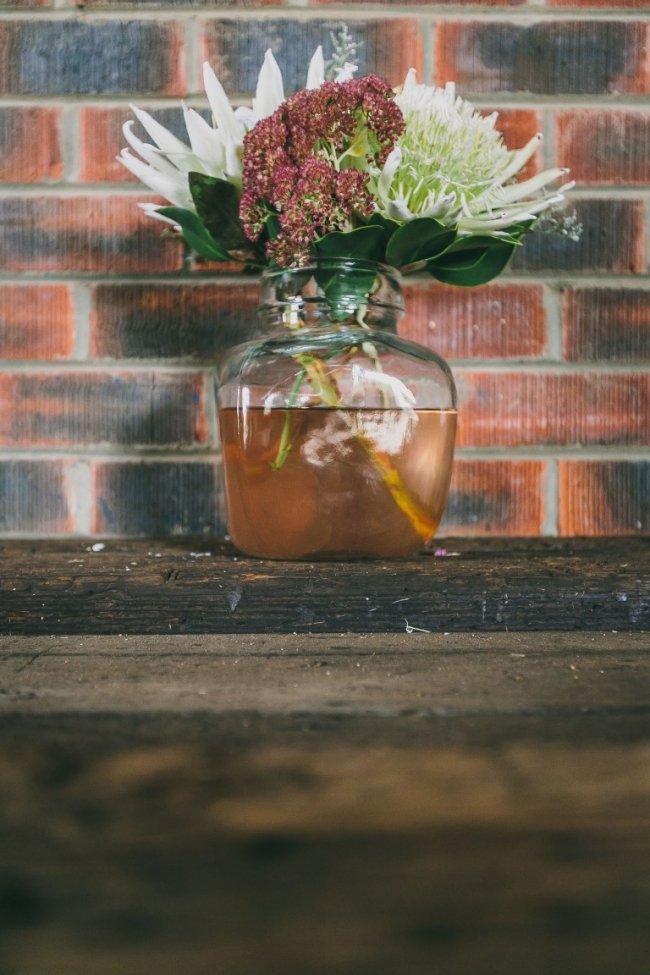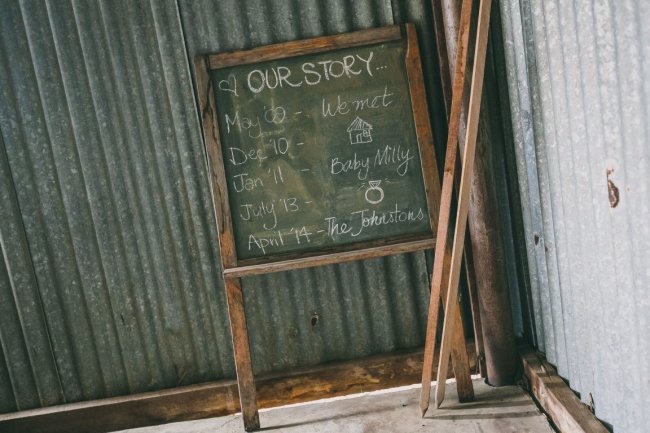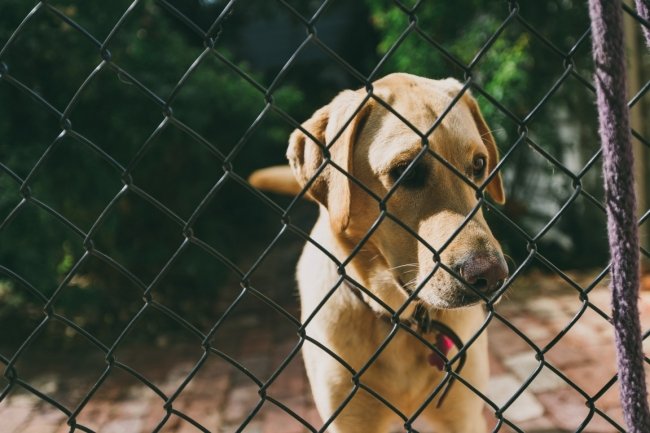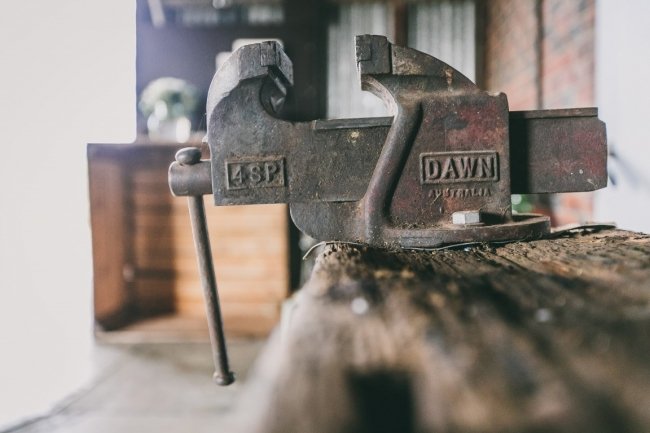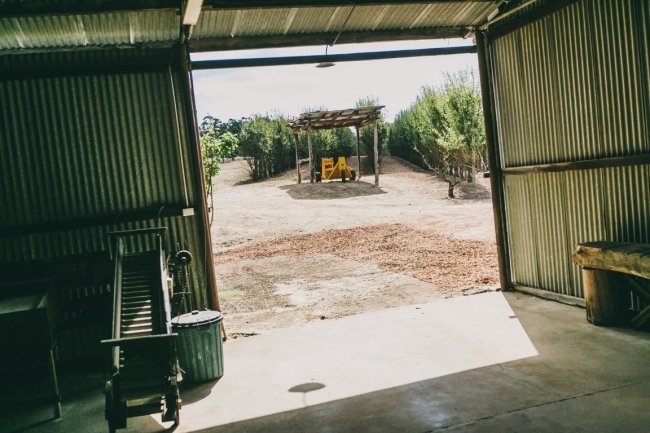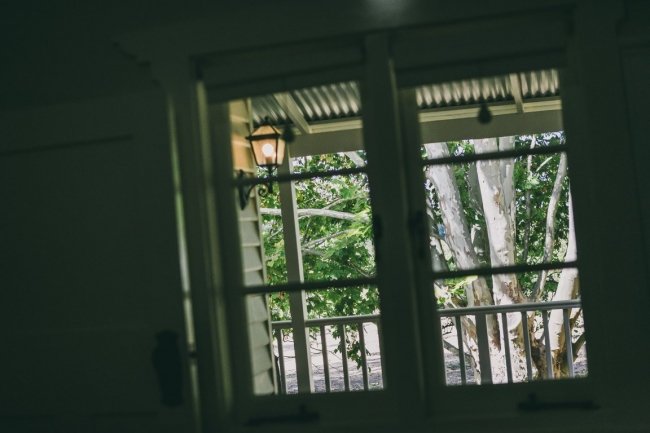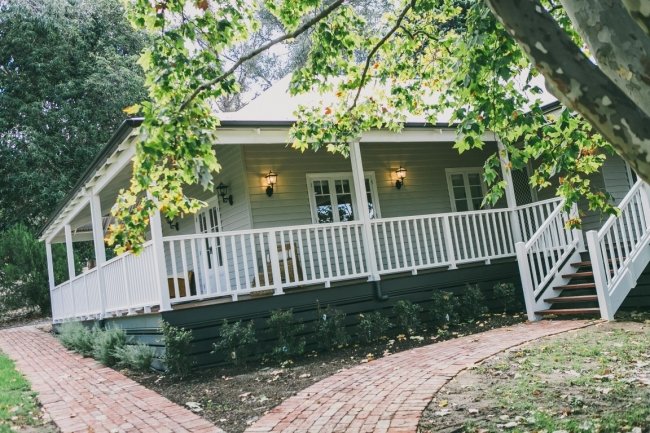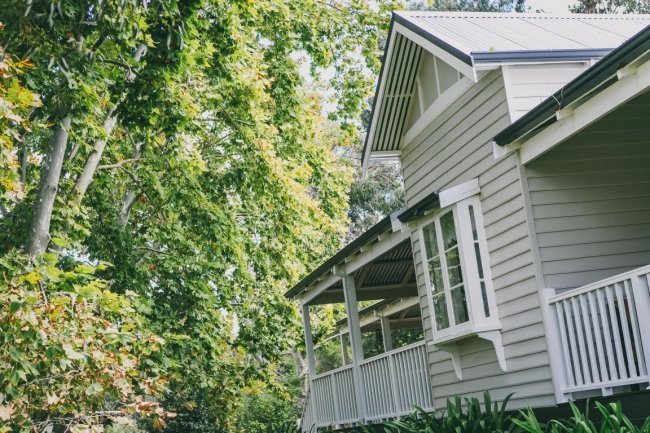 Now Judy and Simon have no plans to leave their beautiful idyll. "It feels like you're living deep in the country but you're two minutes from all the conveniences," says Simon, who as a child grew up in the country, moving every two to three years. "There are fantastic bike riding and horse riding trails."
They are both delighted with the home. "I just love the fact that this house feels as if it has always been here, surrounded by beautiful old deciduous trees," says Judy. "As a horse rider, I ride every inch of this property and I look back at the house in the distance and I see this beautiful old homestead."

Do you live in the country? Or do you sometimes wish that you did? What would your dream country property have? Where would it be? Or do you prefer city living all the way? Maya x
HOME LOWDOWN
THE OWNERS
Paralympian Judy Hogan and her husband Simon, who works for Chevron, who live with their Labradors Sandy, 6, and Ruby, 14 months, and beautiful warmblood dressage horse Fellini
THEIR HOME
A renovated 1920s weatherboard cottage on a 26 acre equestrian property with orchards, the land originally part of an winery founded in the early 1900s
LOCATION
Country Mundaring, Western Australia
PURCHASED
2012
THE RENOVATION COMPANY
FEATURES
Wraparound veranda, weatherboard cladding, jarrah floorboards, three bedrooms, two bathrooms (one en-suite) open-plan kitchen, informal dining and living room, second family room and formal dining, stables, fruit sorting shed, orchards, riding arenas
PHOTOGRAPHY
Home and interiors photography by Marc Ash of Marc Ash Photography (who was our own wedding photographer!) Photos of Kate's wedding by Ali Judd of Fields and Skies.