Posted Friday, August 5, 2016 in:
Home Envy
Obsessed With
Ugh, what a frustrating month July turned out to be! We recently started Little Nerd in day care for two days a week so I could have more structure and time to work. It's been both good and bad.
While he loves day care – the women are lovely, the centre is brilliant and we love seeing all the new things he's been learning – he's been there five weeks now and I have realised that the biggest fear I always had about putting my kid in day care was true. The kids DO get sick all the time.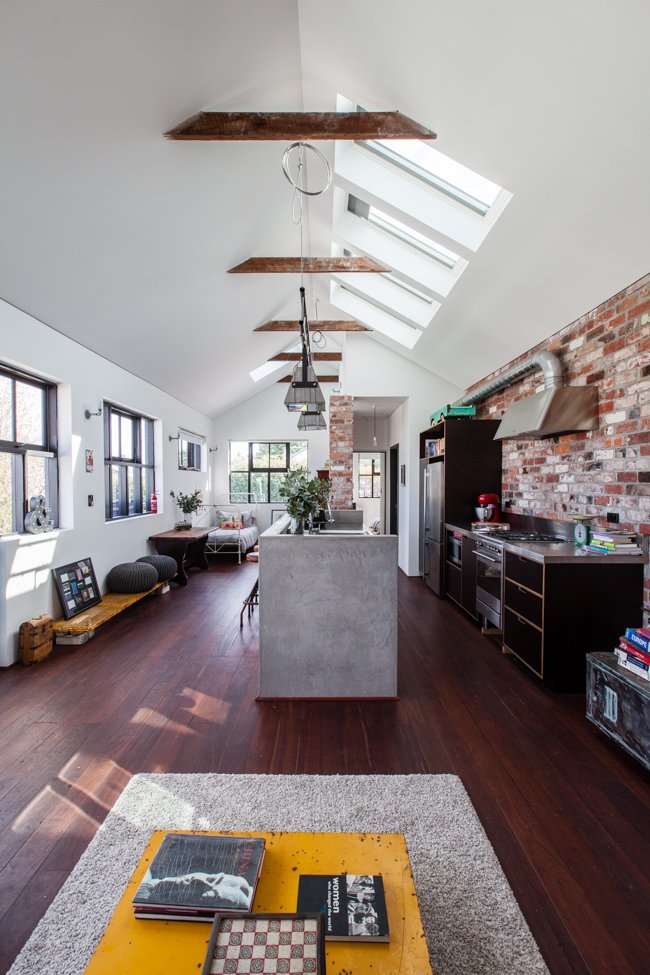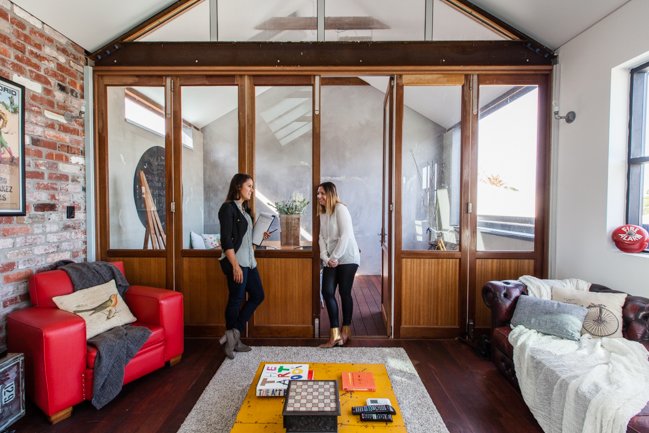 It's a quandary. You put your kid in day care so you have time to work, or just to get things done without a small shouty person throwing toy cars at your kneecaps. But your kid catches things from day care. So they get sick, they can't go to day care and you take time off from work to look after them until they're better – during which time you catch what they've got, and possibly pass it on to other family members too. So everyone is sick, your baby is clingy and grumpy, no-one is sleeping well, you're not feeling too crash hot either and now you're paying for a service but not earning money while also falling behind in your work.

Then your little person gets better - yay! And they go back to day care and you get a good couple of days or a week perhaps and then they get sick again and the whole thing starts over. Childcare and child sickness is a wretched cycle! I feel like I have been sick most of July and woke up yesterday having lost my voice. (Mr Nerd looked quietly thrilled). I know I am very lucky in some ways to have the flexibility that freelance gives, but when you have spent all day looking after a sick baby and you are ill yourself, when they are finally in bed, you are wiped! Last thing I had the energy to do was work.
So long story short, something had to give in July and unfortunately it was House Nerd. But on a happy note, my awesome best frenemy Carly offered to look after Little Nerd for a few hours for me today and so I have had some decent time to blog. So here it is, the promised part two of Two Apartment House – the upper floor apartment of the very cool new home of Carla Karsakis and her husband Ben of Etica Studio! (You can see part one of their story here). It's going down as one of my fave home tours.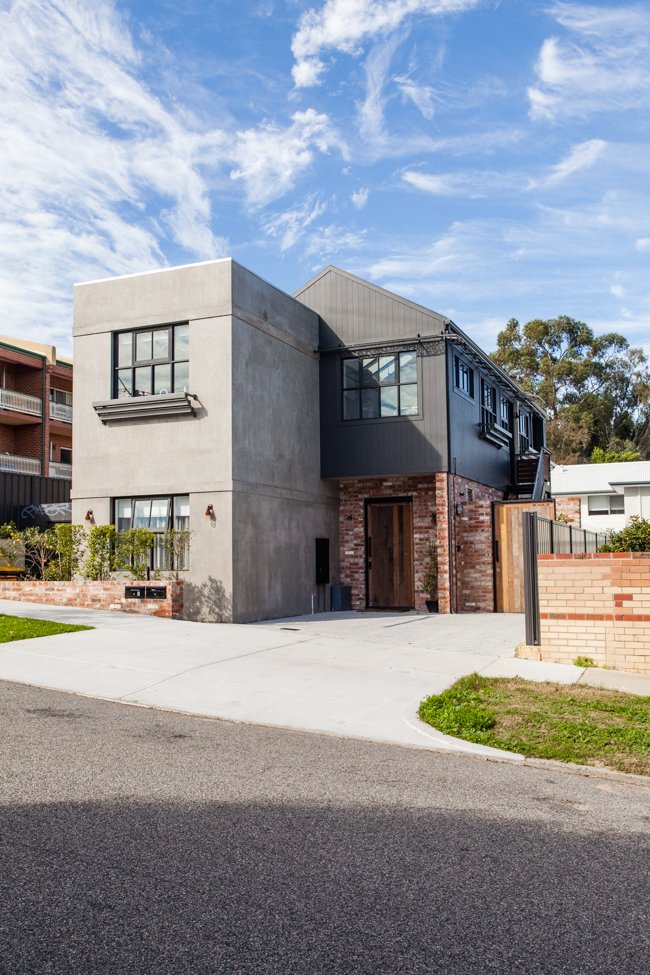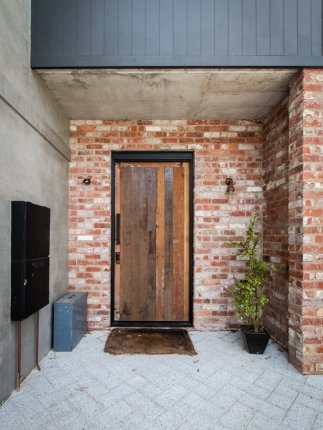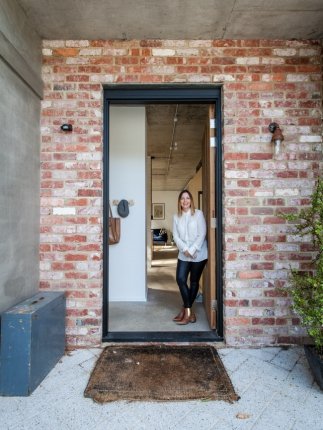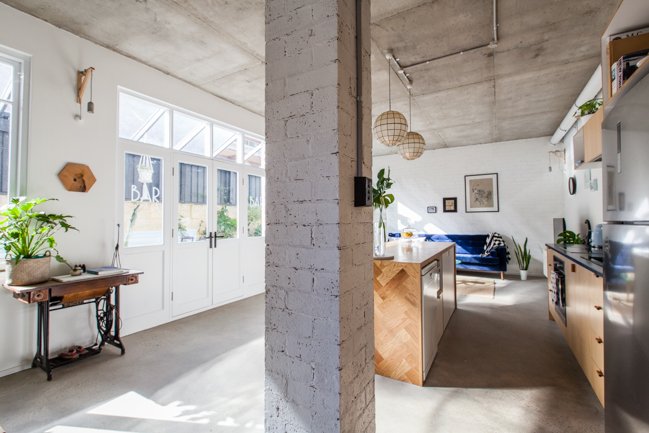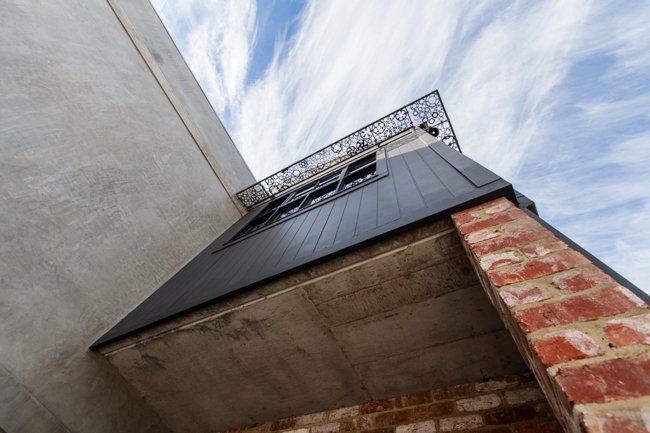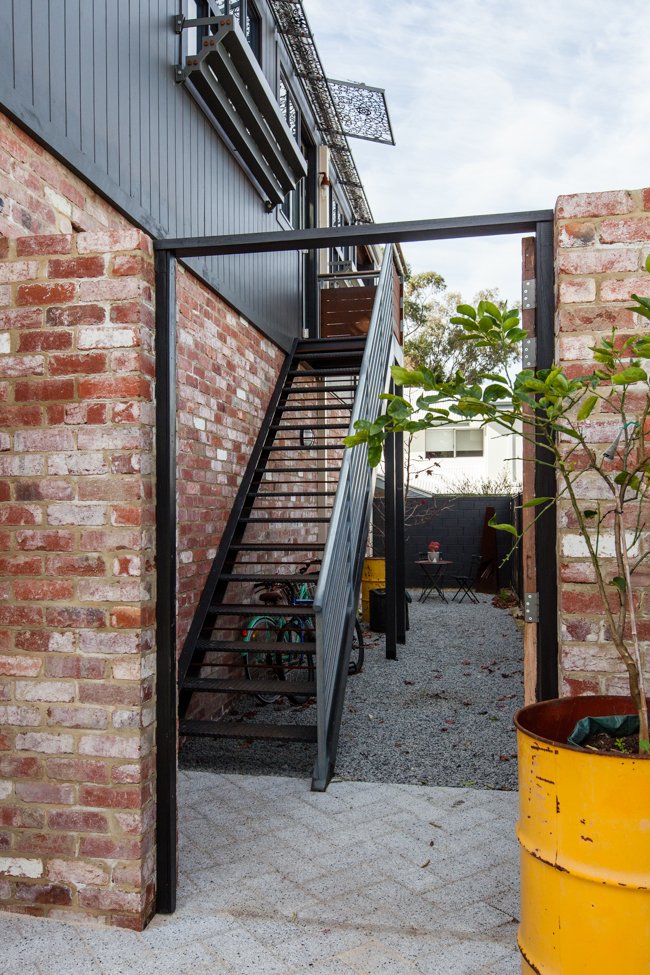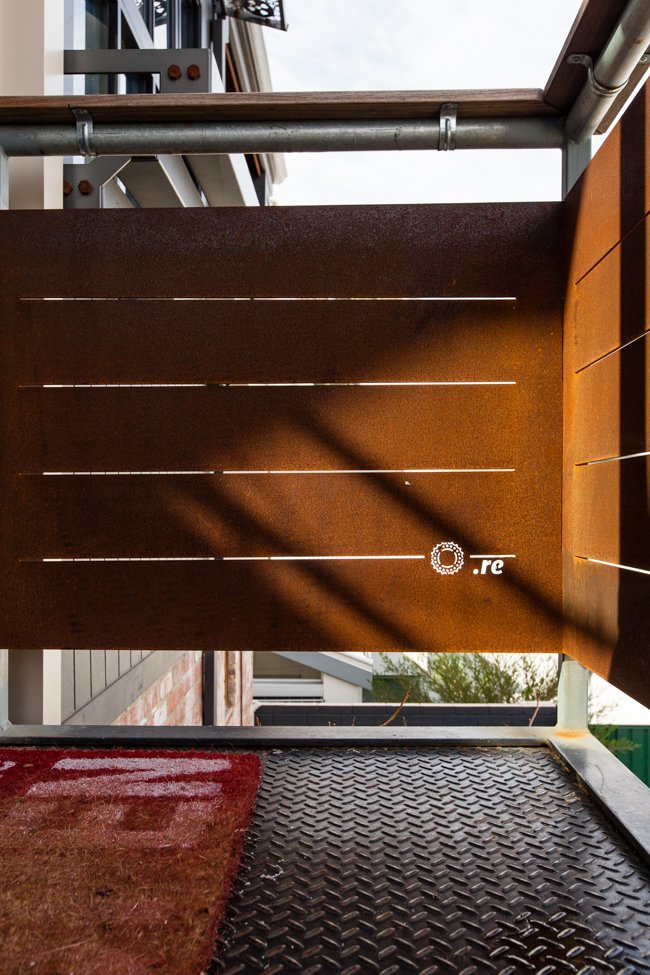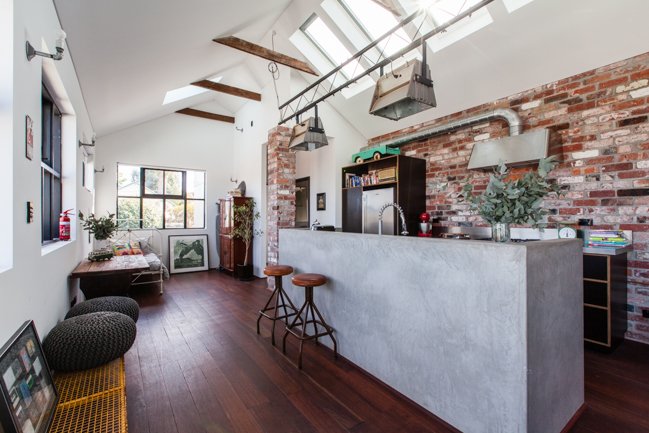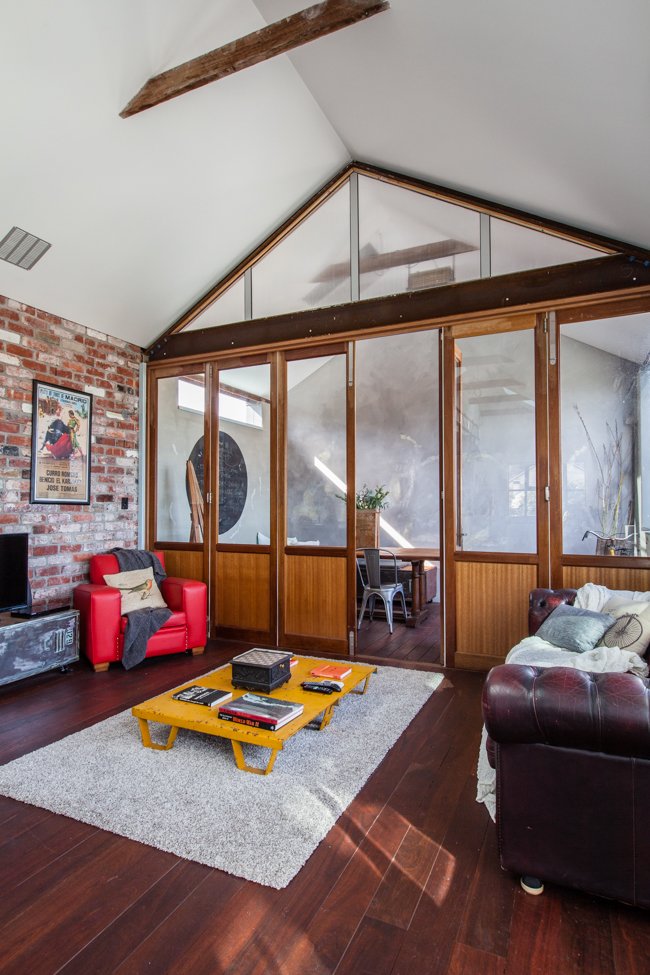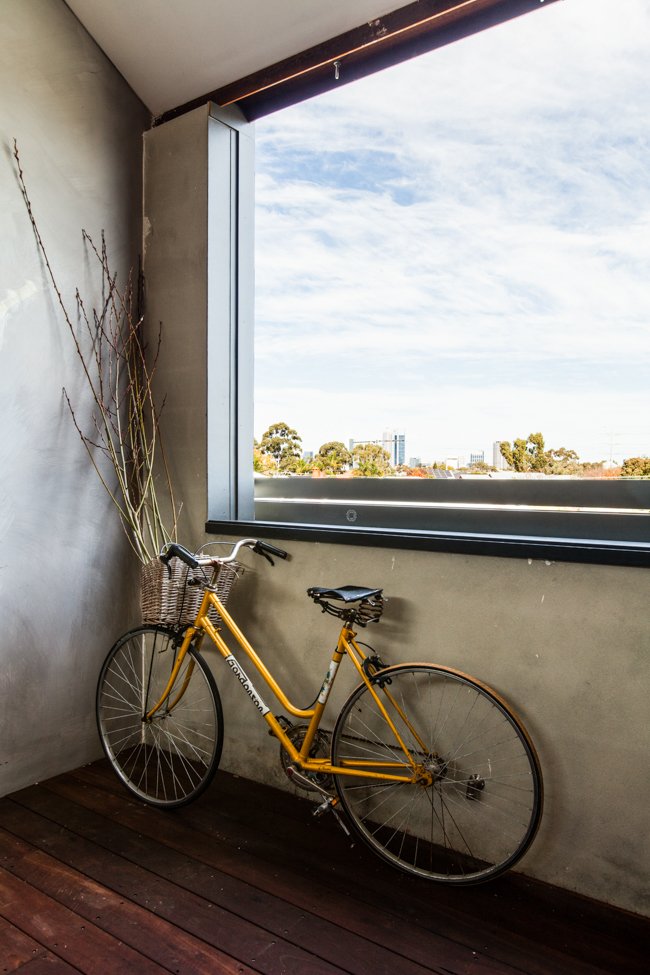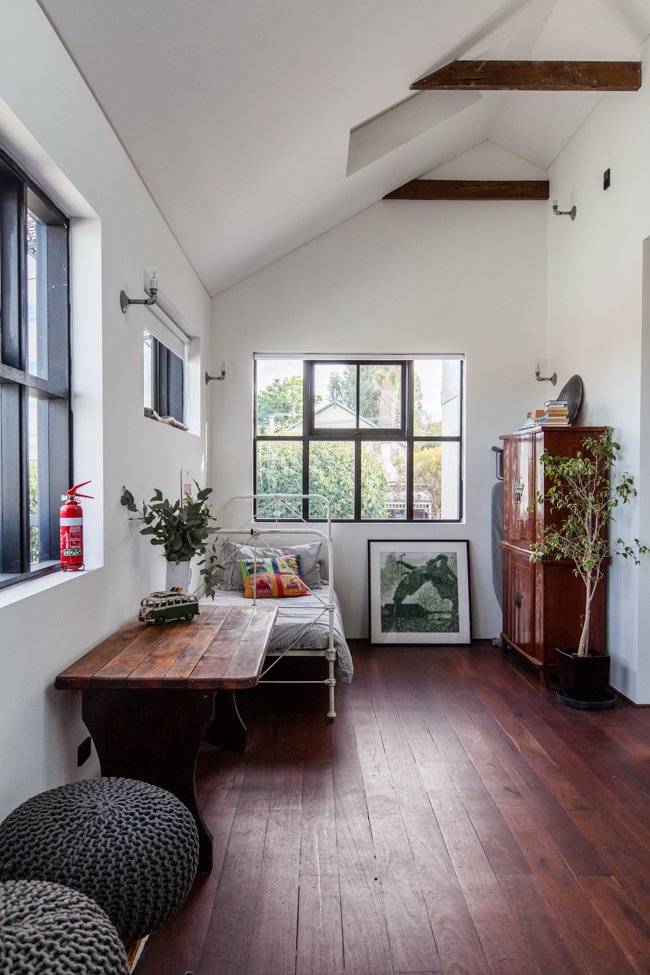 The upper floor of Two Apartment House (which Carla and Ben rent out as an AirBnb) was designed to have a heavy industrial, New York/London feel, and with its recycled elements, eclectic furnishings and a cool view across to the Perth city skyline, it works.

My own favourite features are the awesome architectural screens (made of hundreds of old bike spokes by Respoke!), the exposed beams, the bathroom, the hand-painted Bauwerk feature wall and the industrial recycled windows that make me think of SoHo lofts.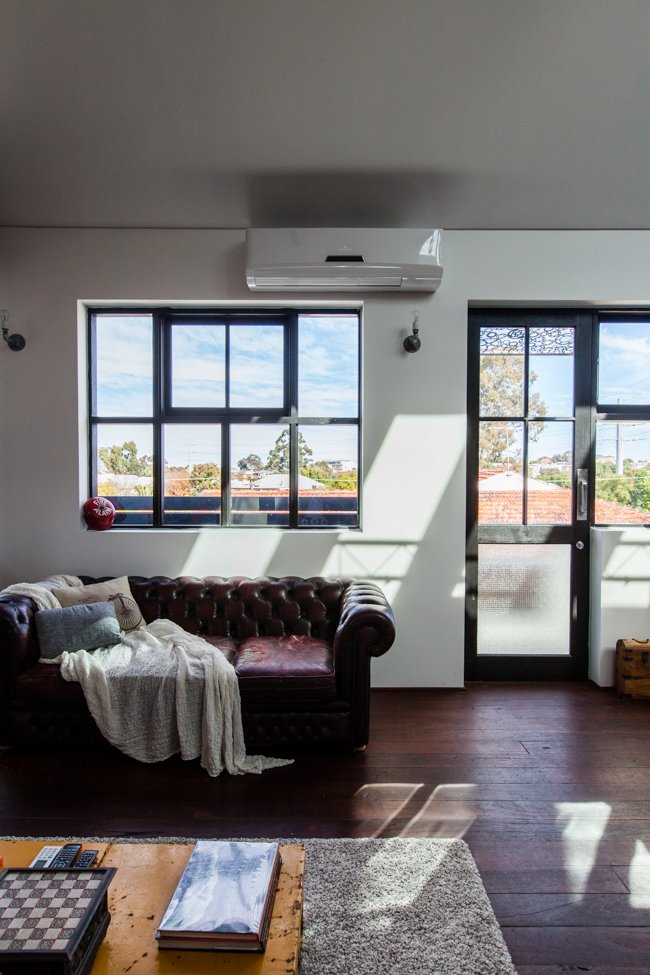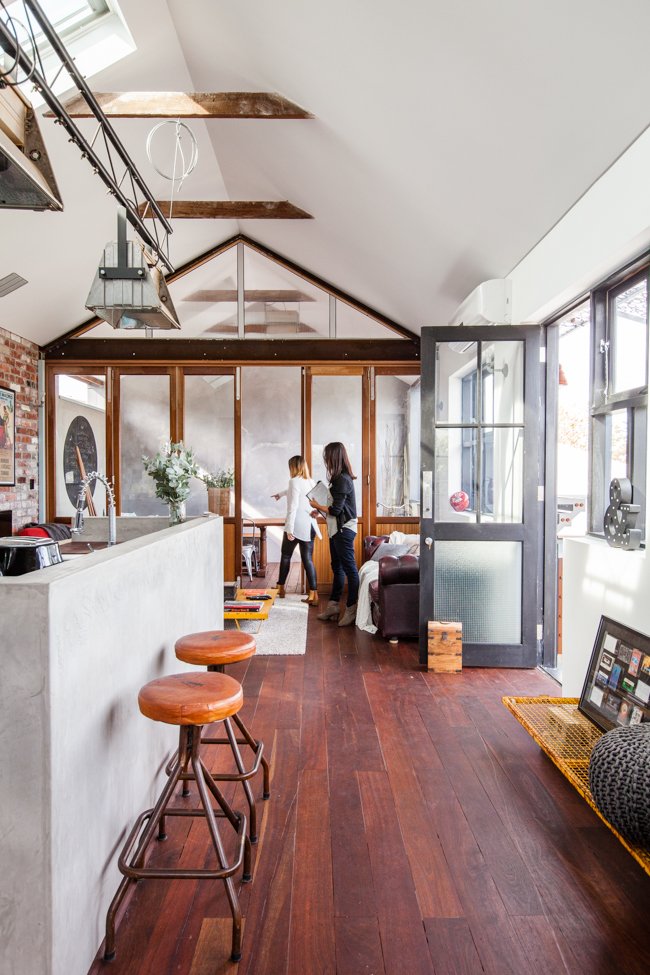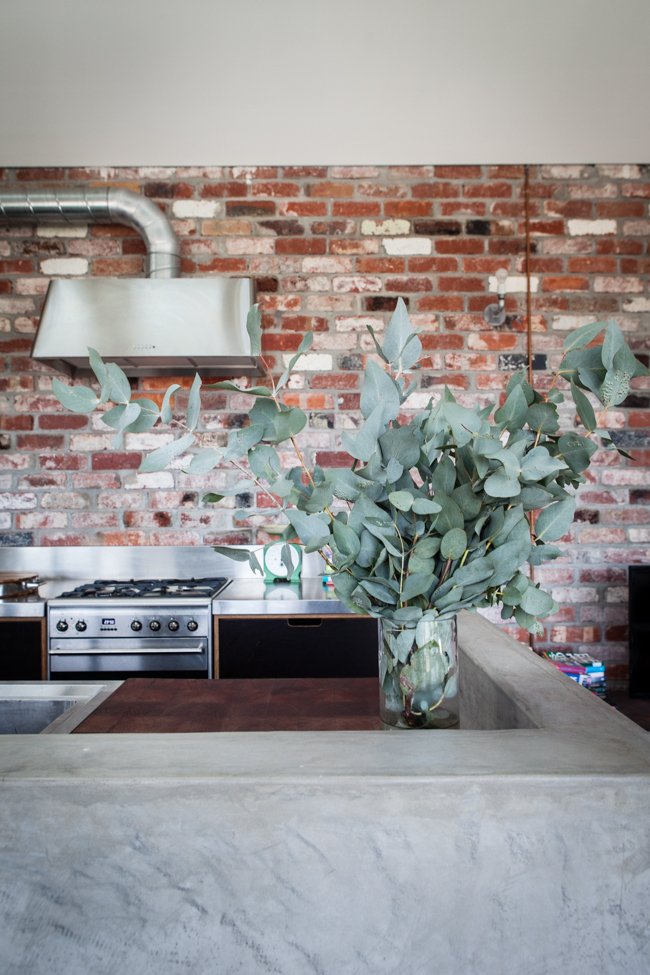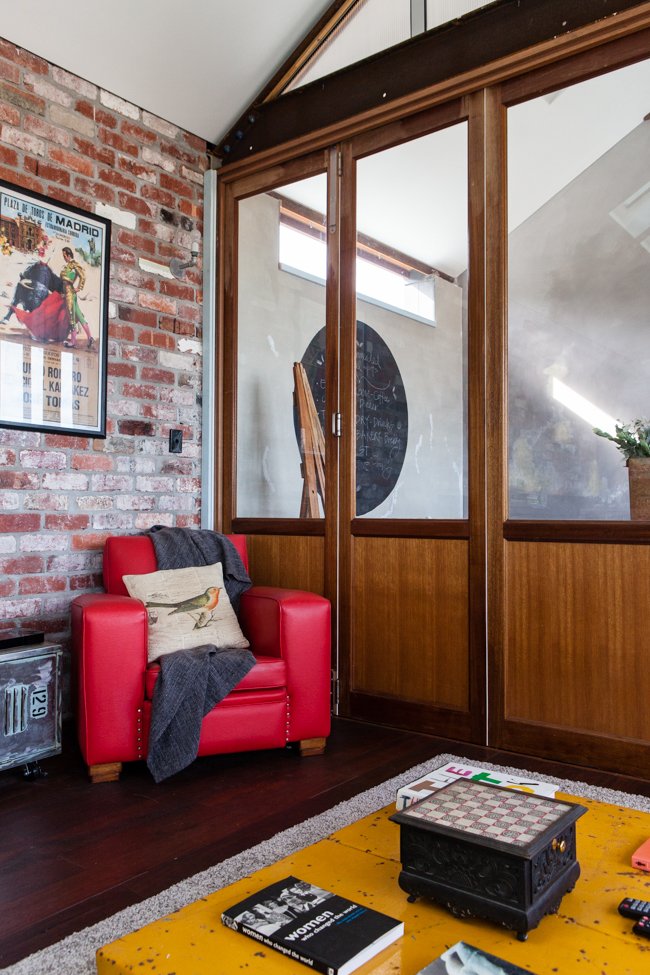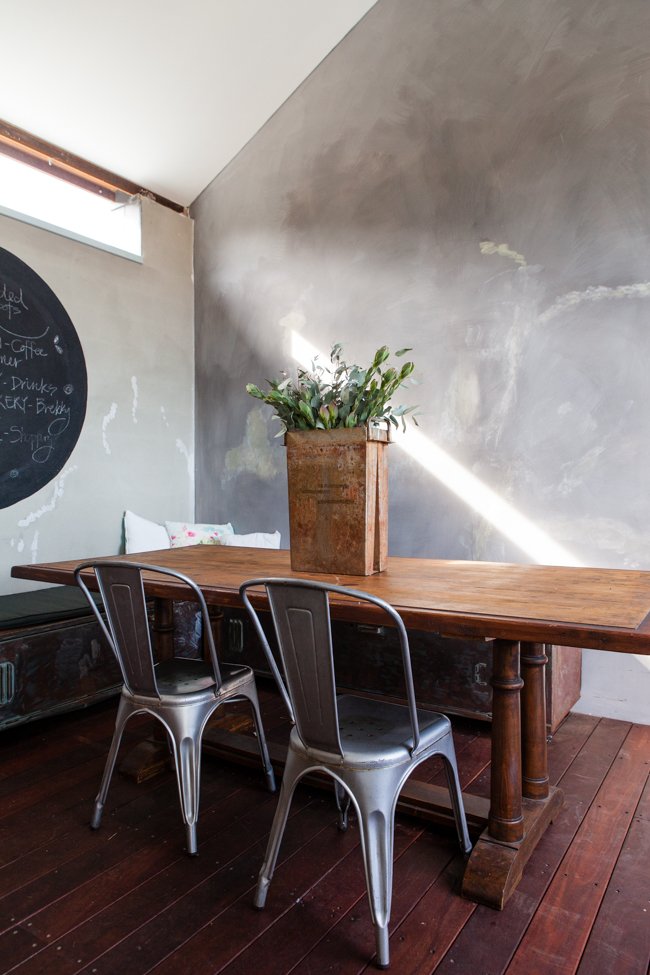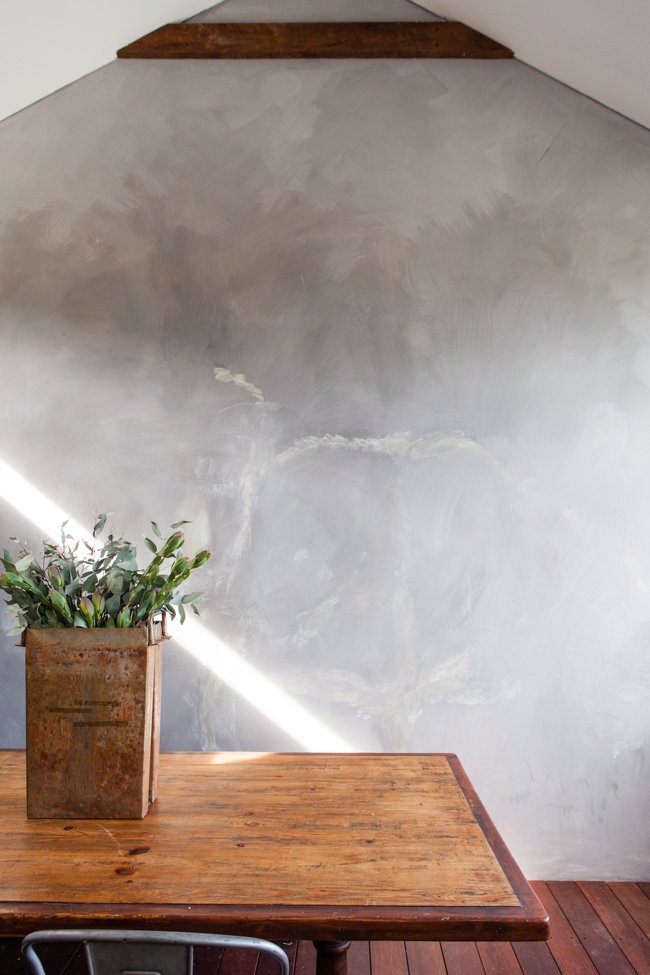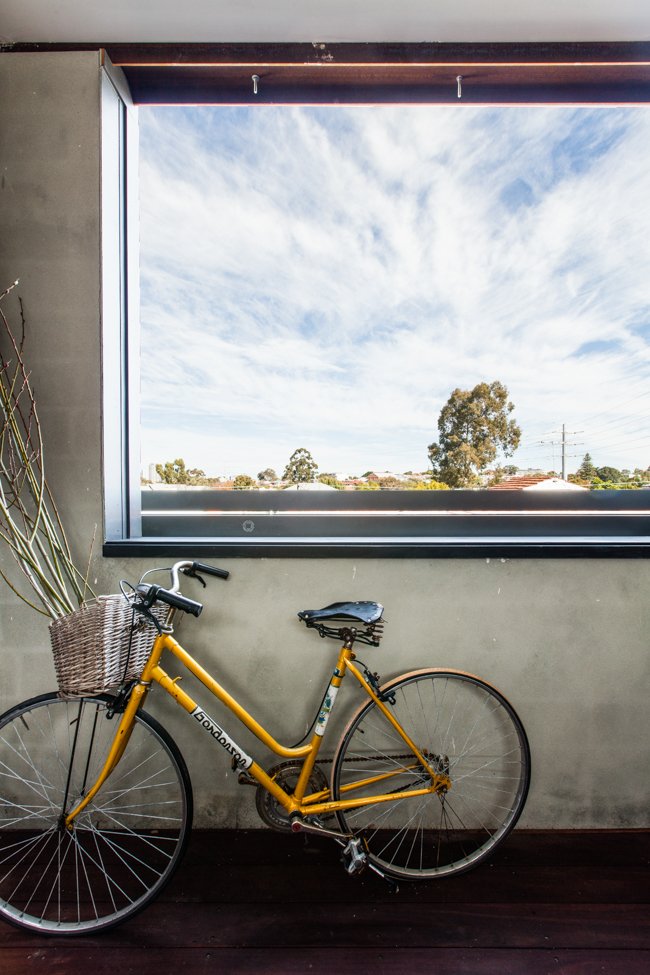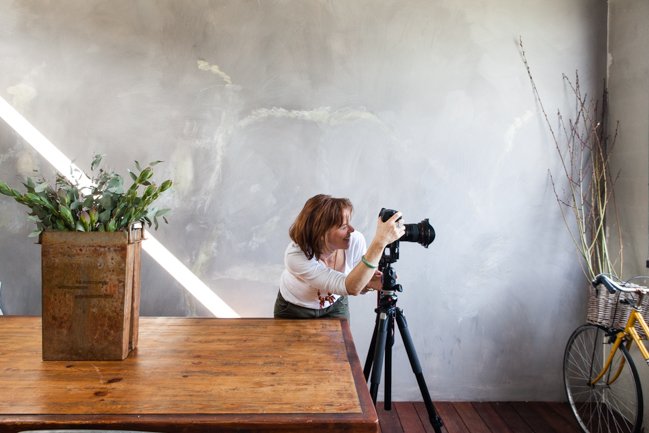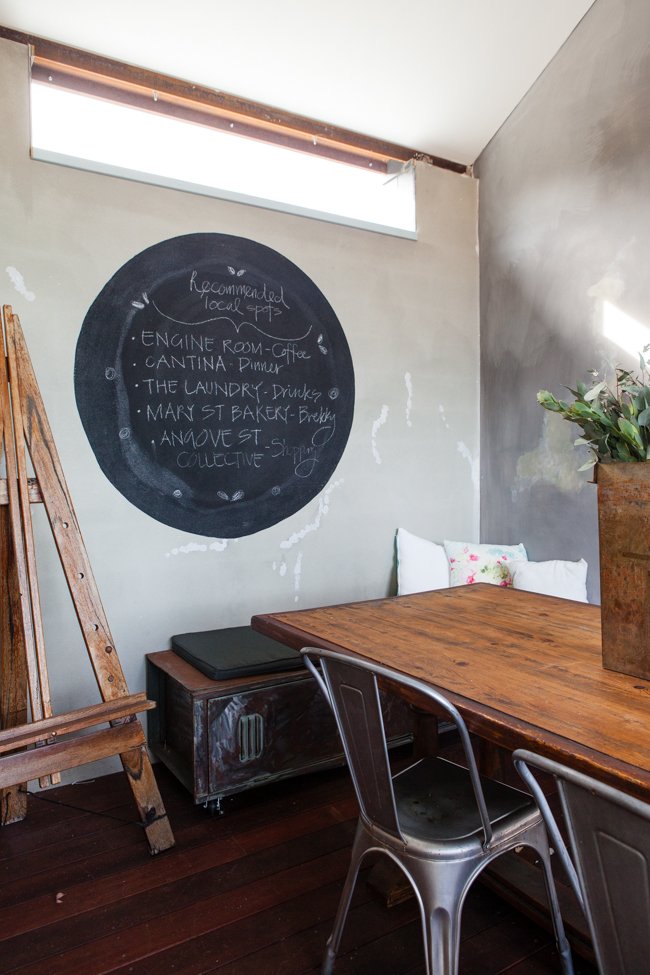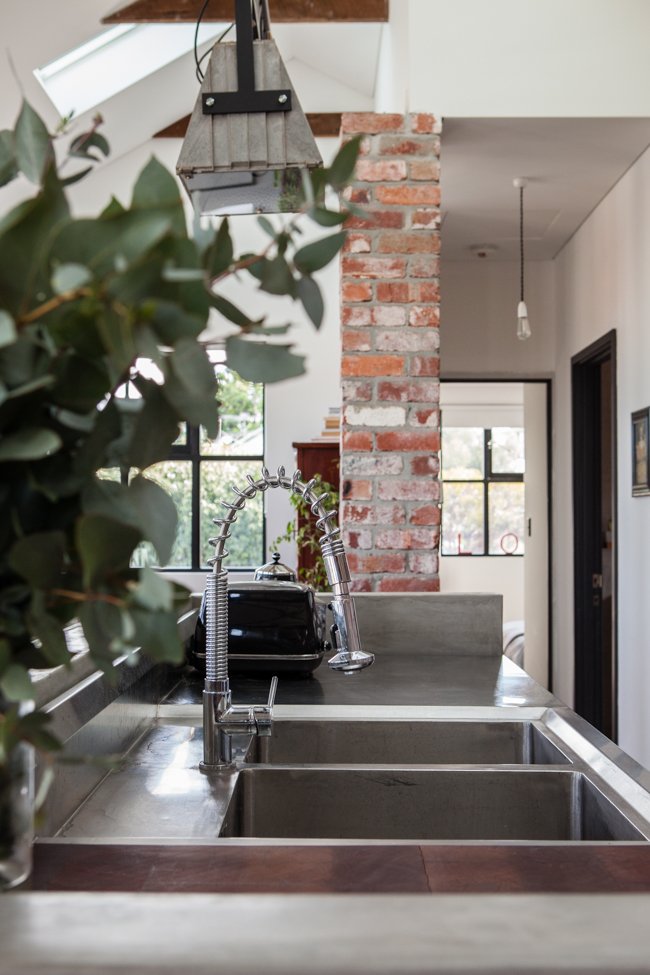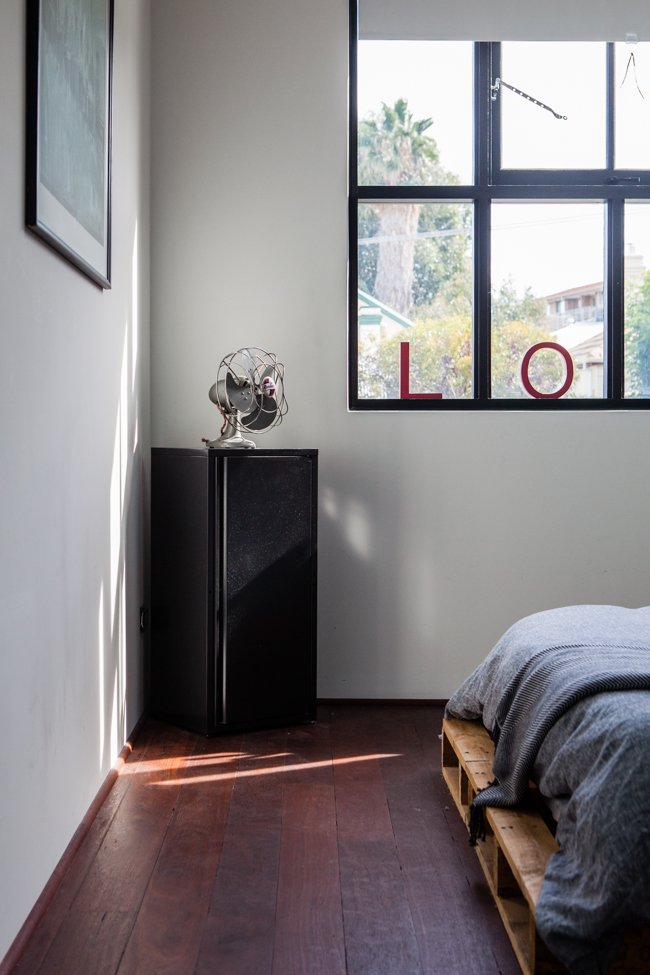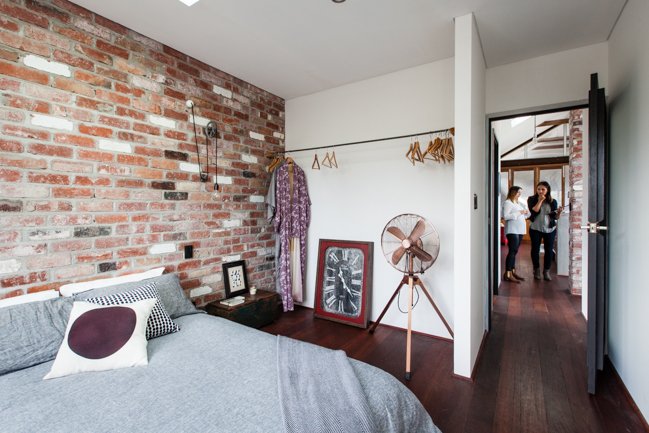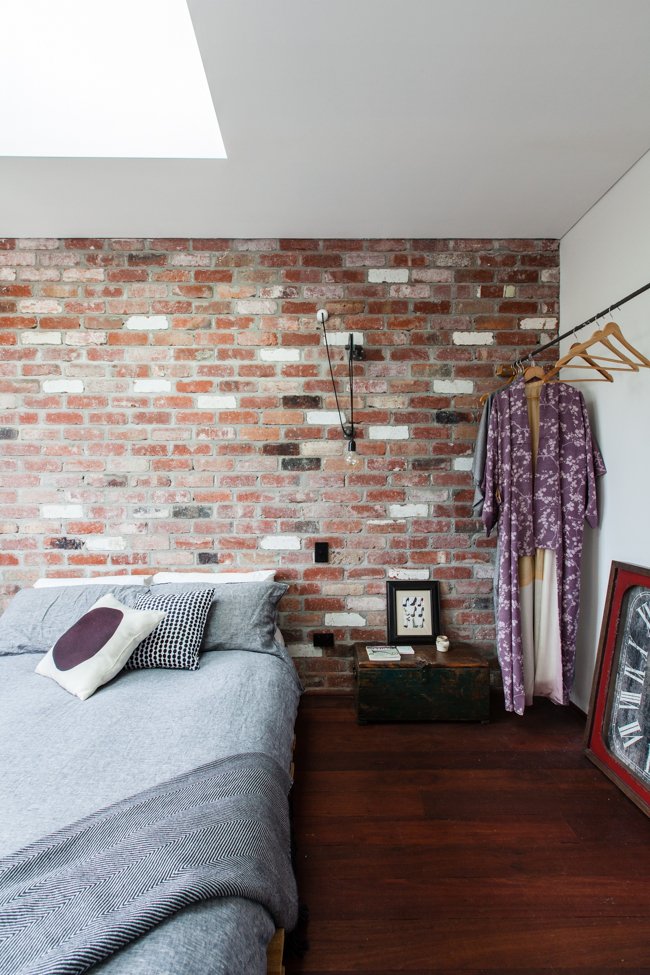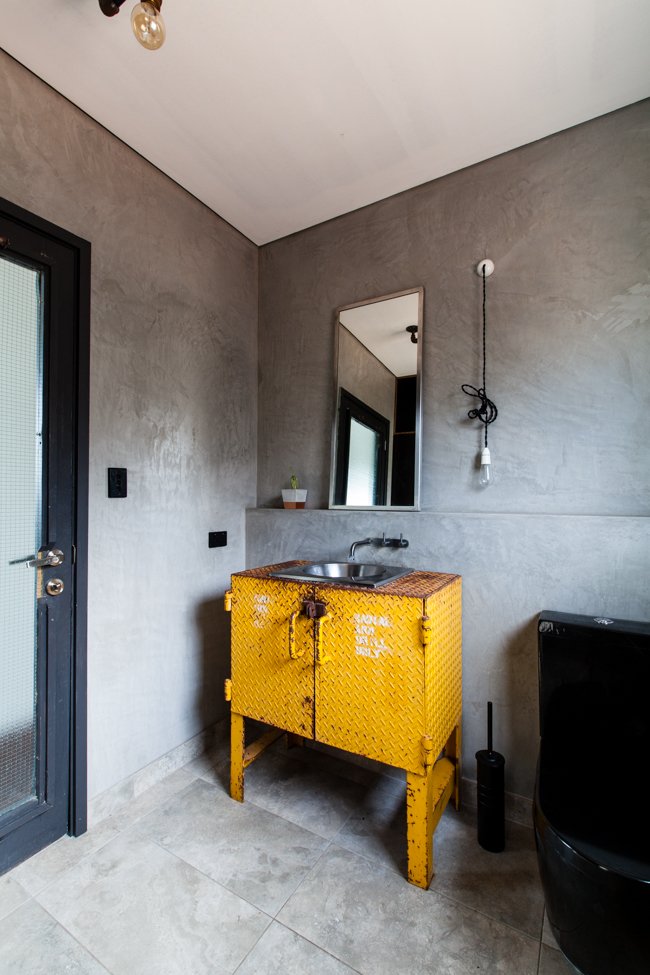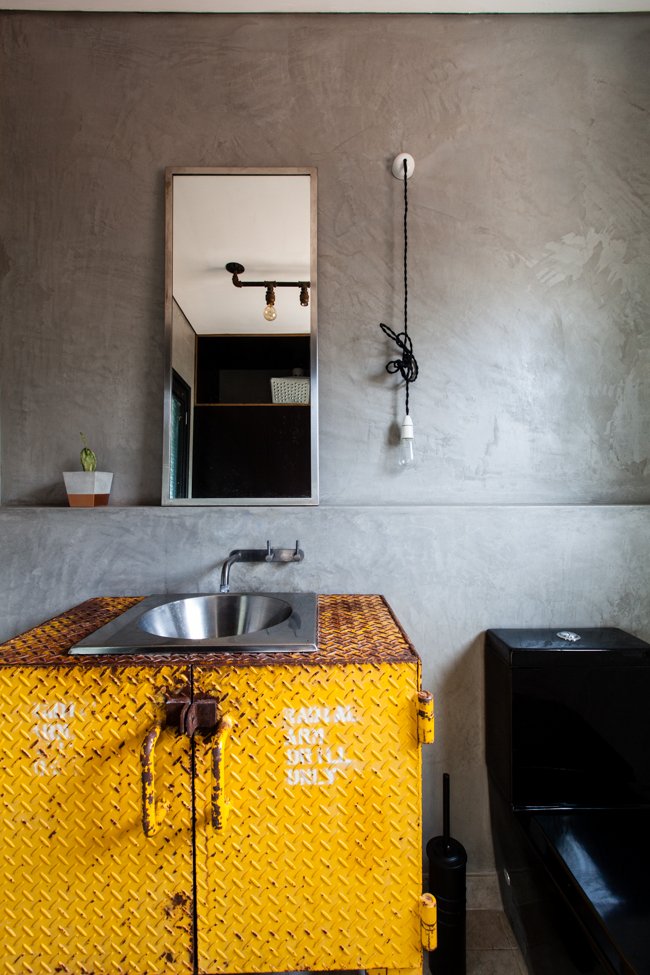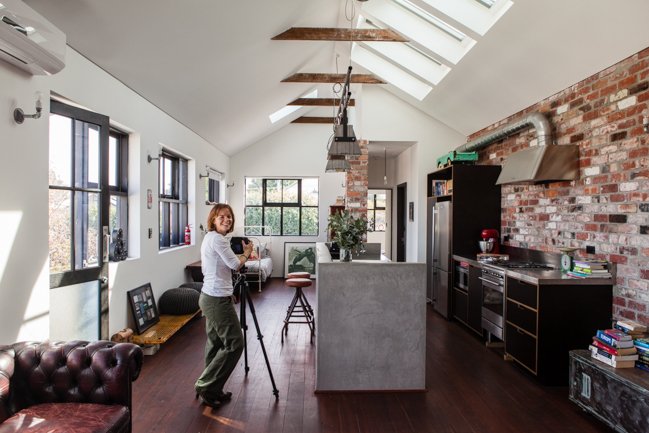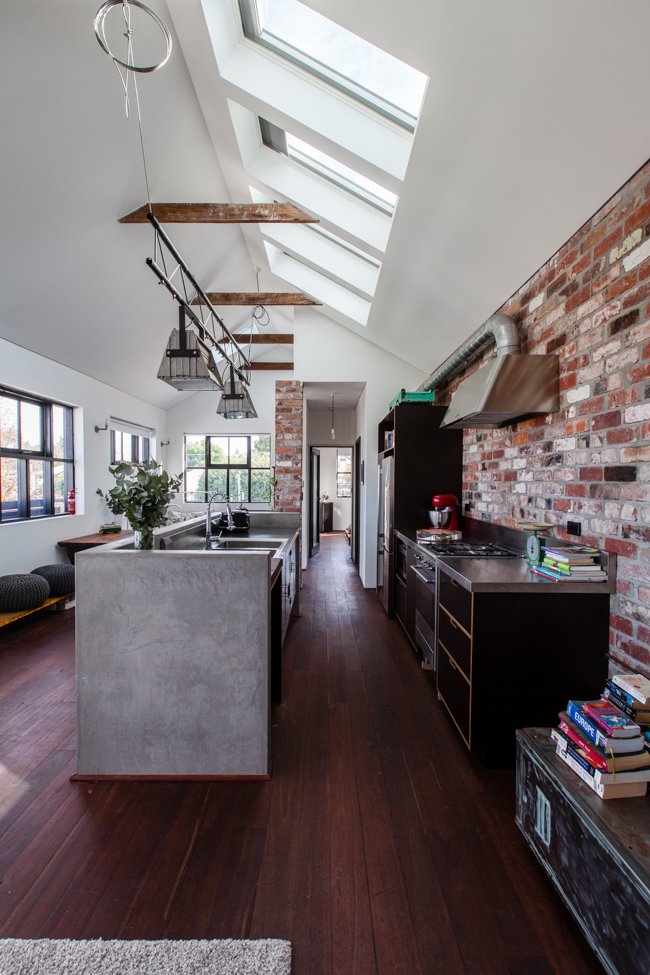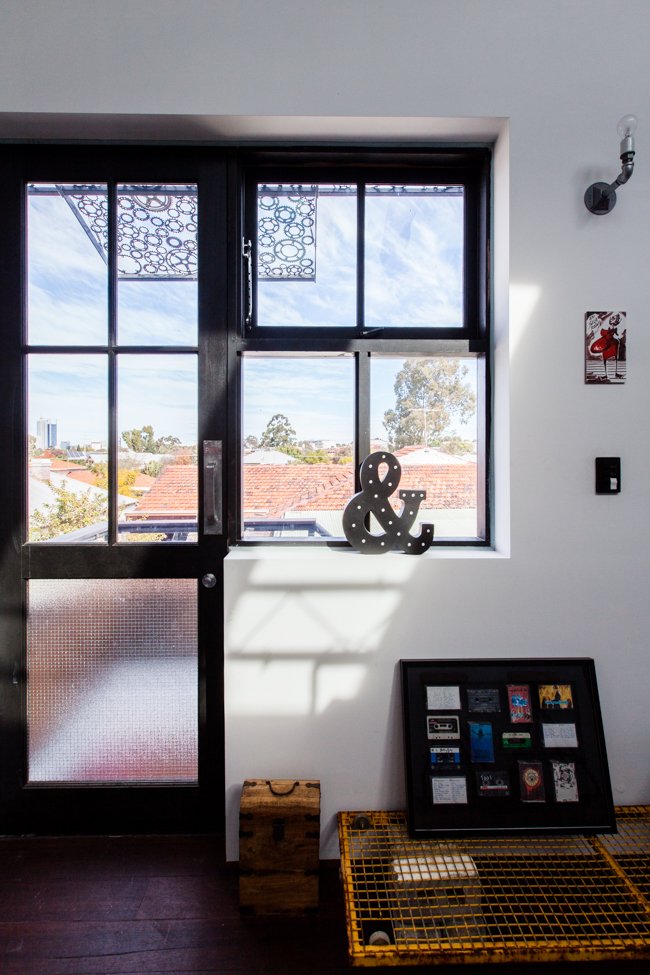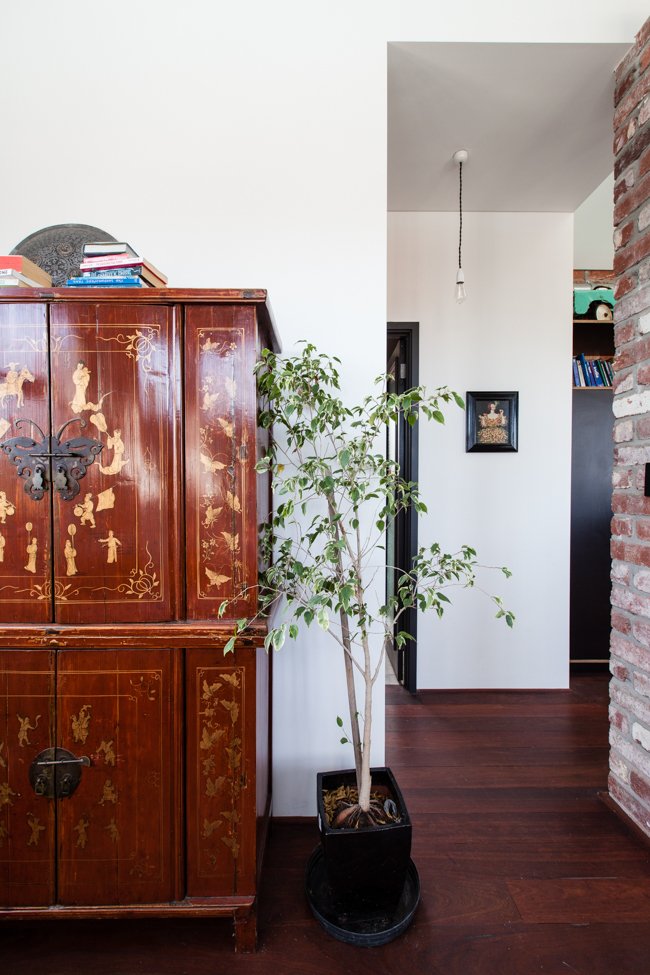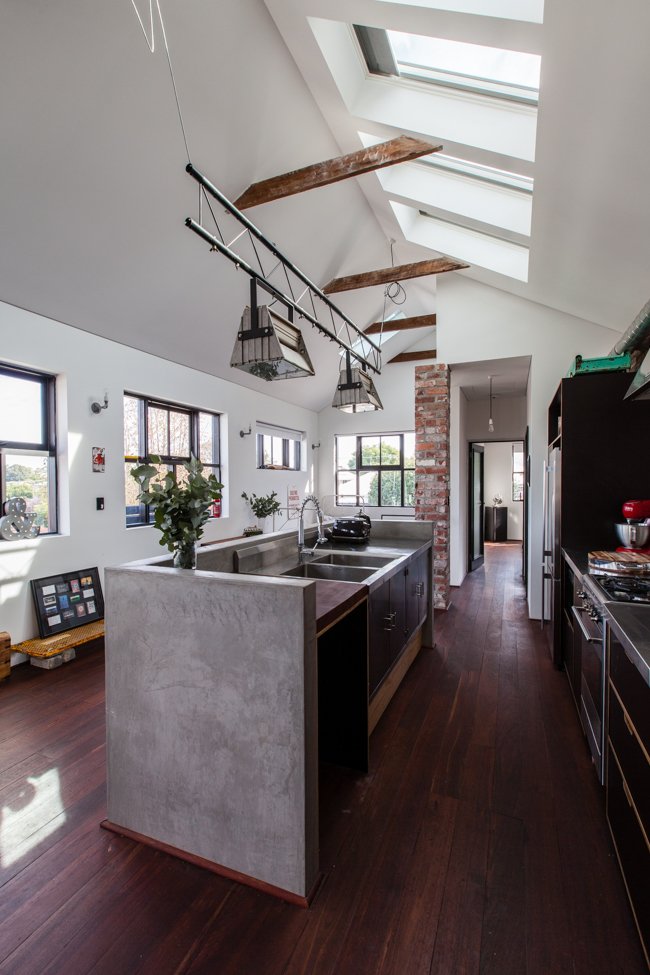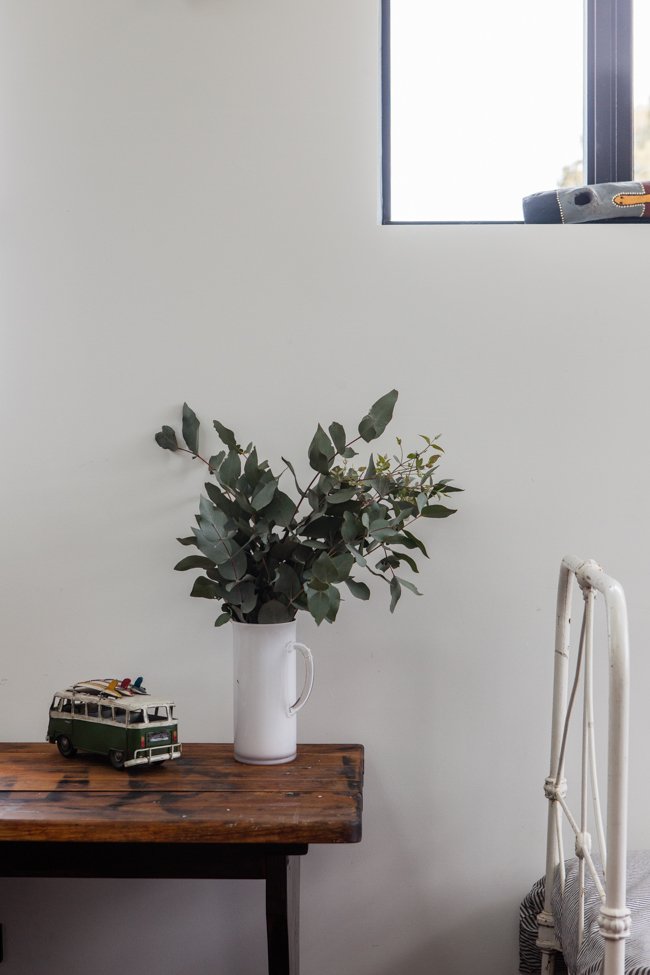 When the first floor apartment is not tenanted, Carla and Ben make the most of it. Carla carries out client consultations here so she can show clients some of the things Etica Studio can do; and she and Ben have dinner parties for friends to a backdrop of sparkling city views. Ben recently had a boys' poker night in the upper floor apartment, which makes me think of that scene from How To Lose a Guy in 10 Days where Matthew McConaughey is trying to hold a boys poker night in his apartment and Kate Hudson's character keeps wrecking it, although I'm sure Carla is nowhere near as annoying ;)
"The top floor apartment is all about the city views," she says. "These have been captured and framed with large black painted timber loft-style windows. The space has a masculine/industrial vibe to it which works well with the cityscape outlook." I'd live there very happily. Maya x

Love this home? You can be updated on other inspiring new houses as well as home renovations by following House Nerd on Facebook, Instagram @housenerd, Pinterest, Twitter @HouseNerd_ or Bloglovin.

HOME LOWDOWN
THE OWNERS
Carla Karsakis, Etica Studio building designer, her husband Ben, and their Mastiff x Rhodesian Ridgeback "sook", Yoko
THEIR HOME
'Two Apartment House', a freestanding, warehouse-style new-build comprised of two open-plan 'apartments' that Carla designed to be examples of stylish, small space living on a small 200sqm inner-city infill block. The two bedroom ground floor apartment has 70sqm of living and 50sqm outdoor living. The 70sqm two bedroom top floor apartment has a 15sqm balcony and 40sqm outdoor living.
LOCATION
Mt Lawley, Western Australia
BUILT
2015
THE INTERIOR DESIGNER
Carla herself
THE BUILDER
Mick Logue
FEATURES
Ground floor apartment: open-plan kitchen, living and dining, bedroom, European laundry, concrete floors, garden courtyard (you can see that part of the home tour here)
Upper floor apartment: (which you can rent on AirBnB)
living and dining, bedroom, recycled jarrah floors, balcony, city views
PHOTOGRAPHY
Heather Robbins of Red Images Fine Photography