Posted Tuesday, November 12, 2013 in:
Before & After
DIY
When lawyer and part-time artist Wanjie Song emailed me, I felt like she was a kindred spirit – a lover of old houses, animals, DIY renovating and a fan of eBay and Gumtree hunting. And I loved her taste in interior design and love of mid-century modern furniture (you can stalk her Instagram here).
Wanjie and her musician boyfriend Isaac (who live with their freaking cute cats Twix and Taro) bought this 1950s Victoria Park cottage earlier this year and have already done this beautiful shoestring budget DIY renovation on the kitchen - which formerly had one of the most, er, interesting tile schemes I have seen.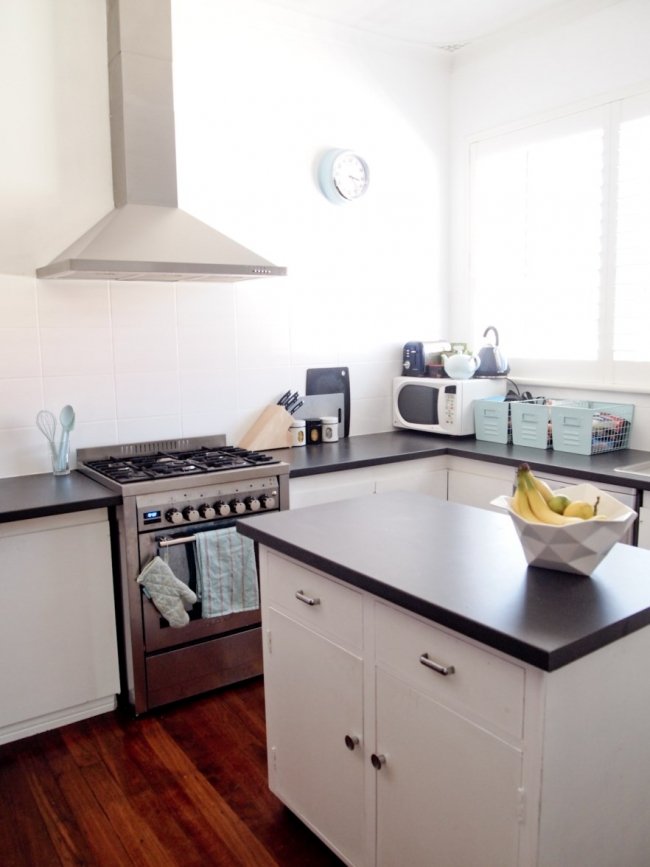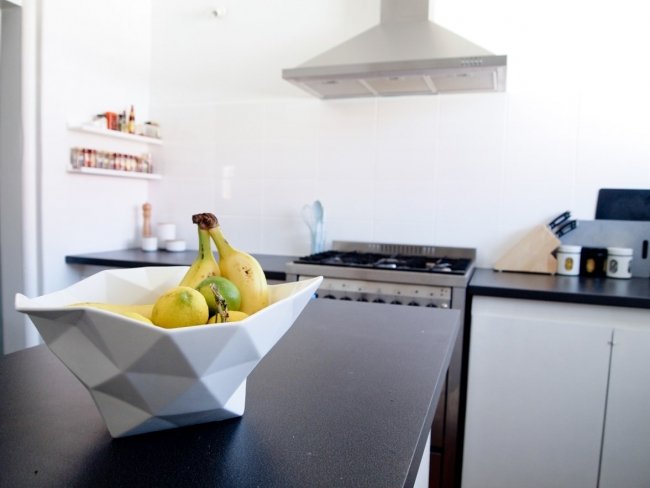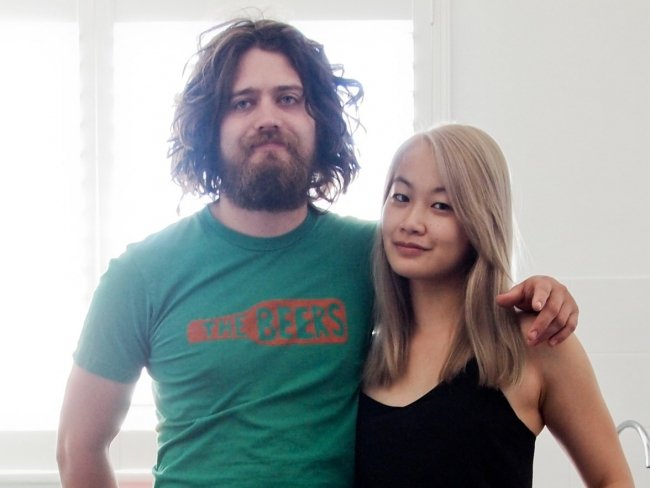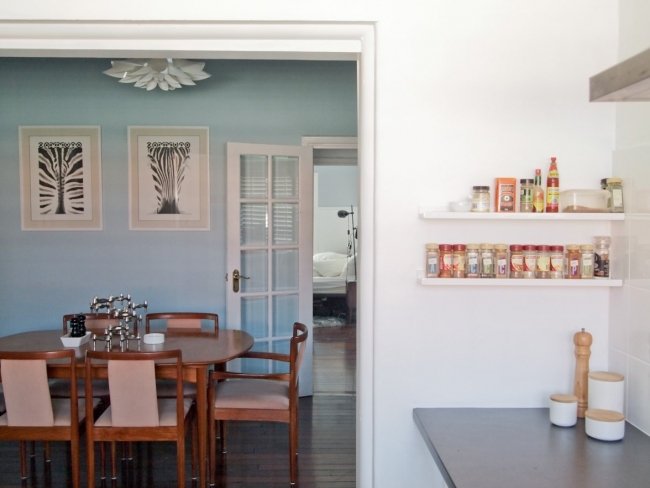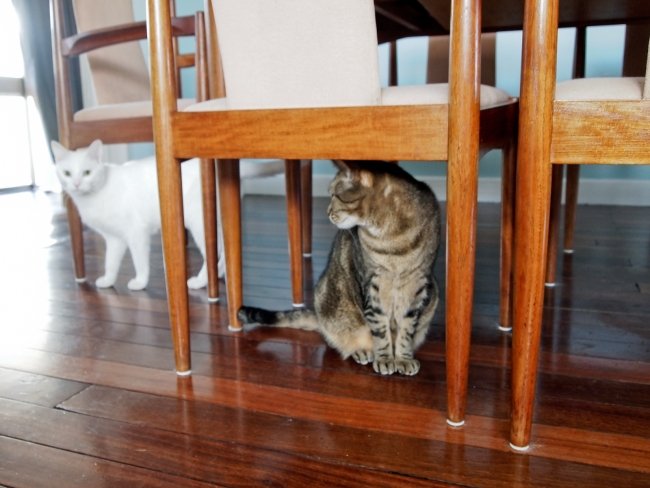 When Wanjie and Isaac first saw their 1950s house, it ticked boxes. It had jarrah floors, high ceilings, great potential... and uh, really weird tiles. The bathroom has feature tiles with realistic-looking CLOWNS on them. "Not even kidding, there are clowns watching you shower," says Wanjie. "There is also a clown watching you while you go to the toilet." Okay that makes me feel weird and I don't even have a clown phobia, like my sister.

And the kitchen had bad tiles as well – a baby animal theme with dark undertones. "The kitchen was a piece of work in itself," says Wanjie. "No clown tiles but there were tiles of fluffy kittens and puppies deviously watching cute ducklings and bunnies, ready to pounce at an opportunistic moment."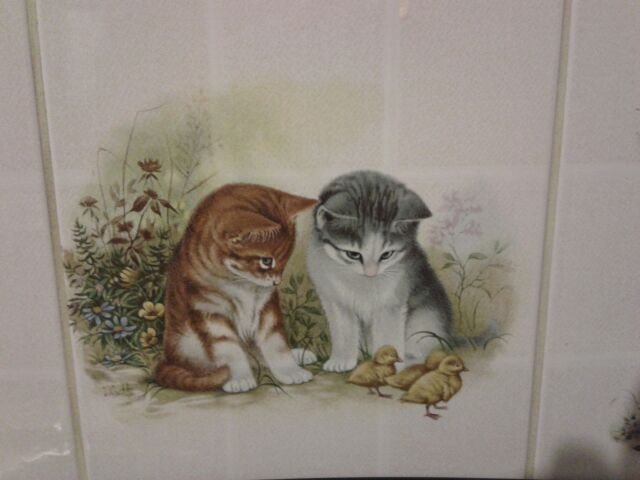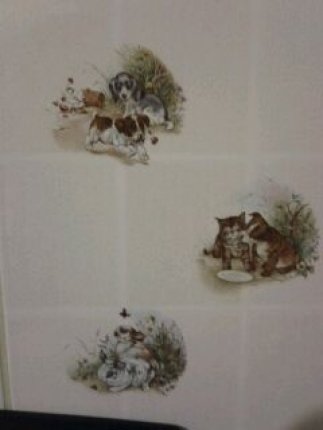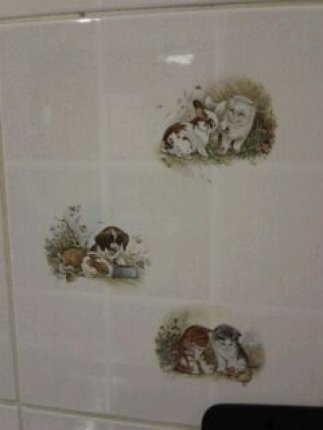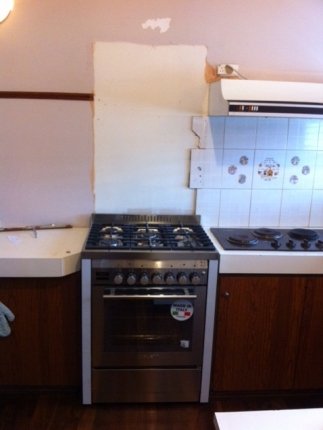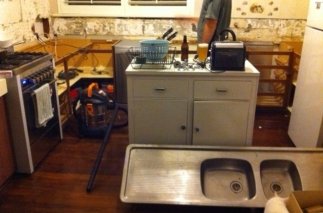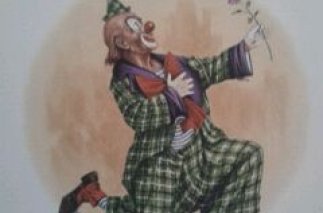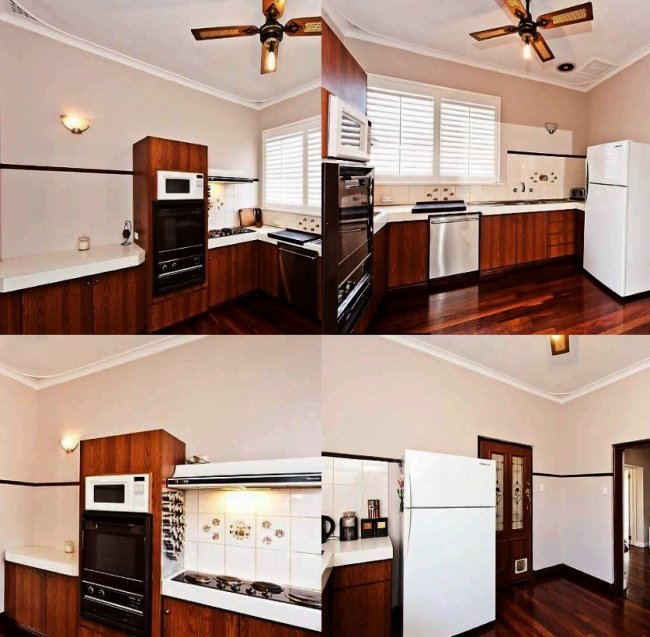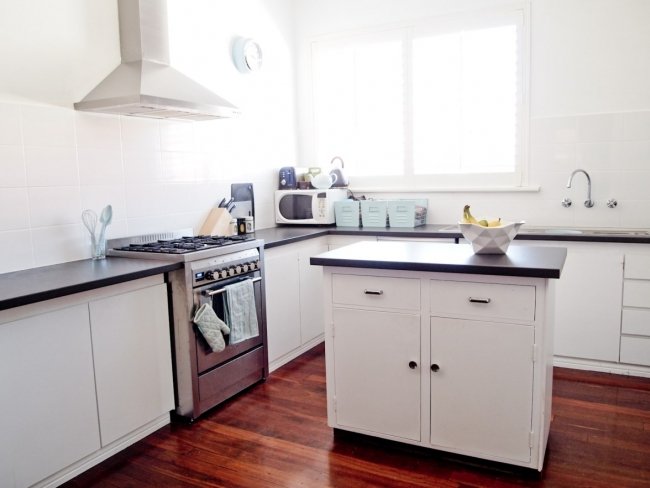 The puppies and kittens are gone – for now, anyway. Wanjie and her boyfriend finished tiling and painting the whole kitchen in a weekend in a mad rush to get it looking half-decent before his mum came for dinner. "Isaac even tiled all day on his birthday... bless!" says Wanjie. "Unfortunately he chucked the kitten/puppy tiles into a hole in the wall and then tiled over it, so now they are gone until the next poor soul who tries to renovate the kitchen discovers them."
I love this reno - AND it cost just $2000 excluding the appliances! I am so impressed, but not surprised that Wanjie managed to do this gorgeous transformation for so little. She is super-creative (she draws, paints and exhibits her art, which you can check out
here
) and she is smart (lawyer. 'Nuff said).
The pair started by ripping out the tall cabinet that previously housed the dirty '80s oven/microwave. "We replaced it with a new Italian 700mm dual-fuel oven/stove which I just love," says Wanjie. "This also involved connecting the gas into the kitchen. Next we ripped out the crusty recirculating rangehood and installed a new one which ducted through the roof."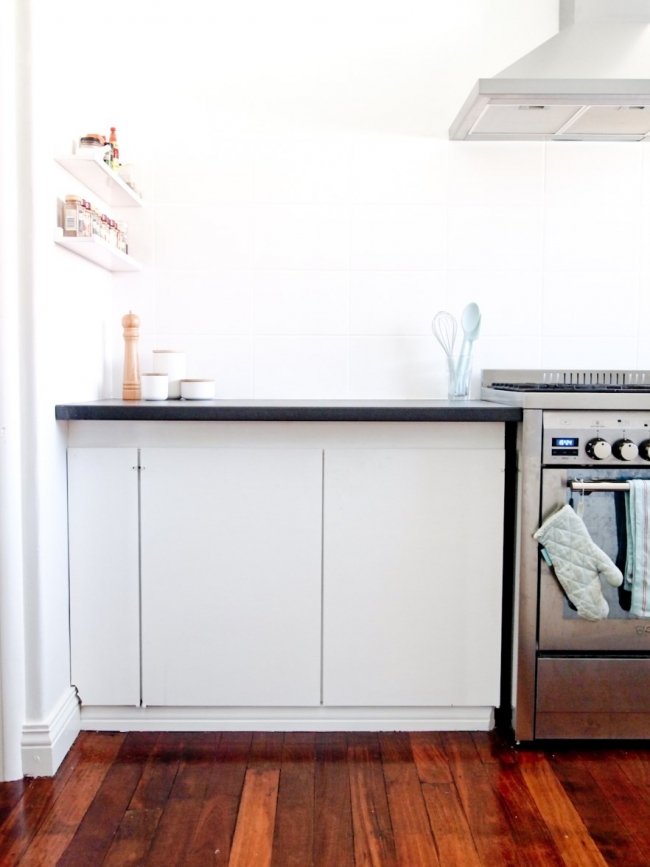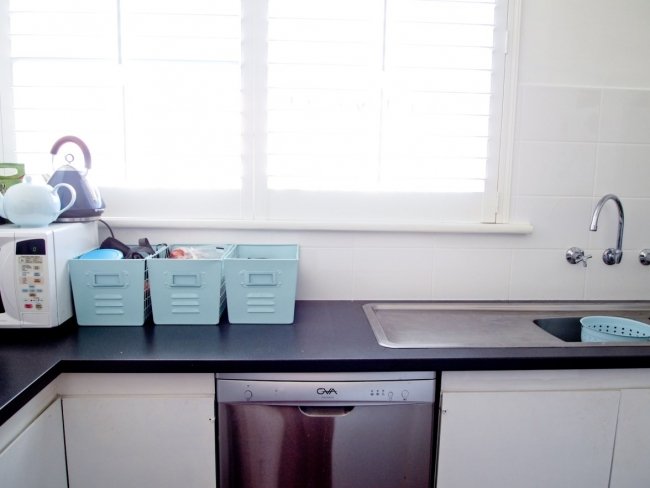 "Then we ripped out the old electric stovetop and installed IKEA 'Pragel' benchtops in black stone effect. Having the new stove over the oven meant substantially more bench space. We kept the old sink because it is the most massive sink I have ever seen (super-functional) and in great nick."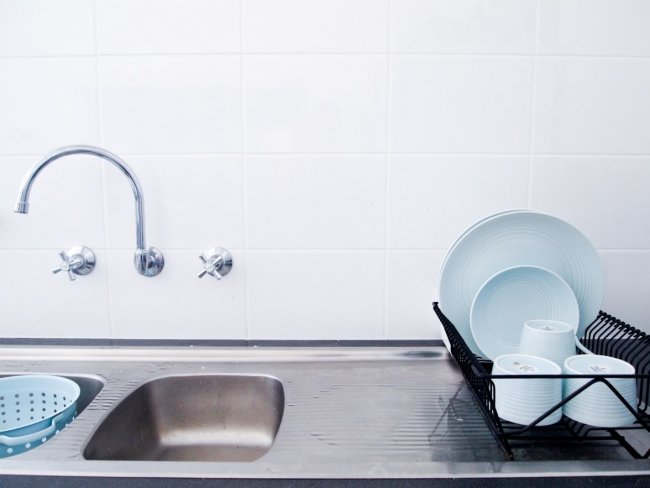 I was really impressed by Wanjie's clever thrifting - the kitchen's new island bench was a steal. "I picked up a vintage solid wood cabinet from eBay for $20, which I painted white (and had benchtops installed on top) which is now the kitchen island," she says. "We then painted the cabinet doors and fronts which were previously peeling wood-effect laminate. There was a hideous 2-inch gap between the tops of the cabinets and the new benchtops so we affixed wooden boards in between. With the white paint it looks seamless.
Then came the tiling and the painting. Wanjie used
Dulux Vivid White
, which they also used throughout most rooms in the rest of the house. This is one of the best 'pure white' paints out there as it works with any colour you want to team with it – Mr Nerd and I are about to do our craft room walls in the same.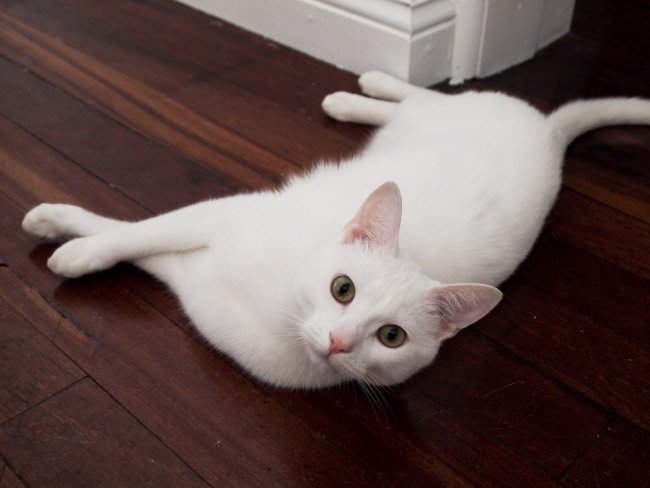 "Lastly we bought some white picture ledges from Bunnings which work great as a spice rack, and changed the tap fittings," says Wanjie. "Whilst I love my place and its character it is a challenge doing the interiors as my style is a bit mid-century minimalist, but it is slowly coming together!" I think it's gorgeous already.
Thanks Wanjie for sharing your awesome renovation with us House Nerds – I can't wait to see your creepy clown bathroom makeover. Maya x
CALLING FOR YOUR BEFORE & AFTERS!
Have you got a before and after project you're proud of? Have you transformed your kitchen like Wanjie and Isaac, revamped your patio, spruced up your sunroom, transformed an old table or chair? Or have you designed and built a project from scratch? From this week on I'm going to be featuring more reader projects - big and small - and I would love to hear from you! You can email suggestions to me at maya (at) house-nerd.com or here. Please include at least four good-quality images and some details on your project and how you did it. When I'm being a lazy bum there is nothing that inspires me to get off my butt more than seeing other people's DIY projects – so I'm looking forward to being inspired by yours!