Posted Sunday, April 17, 2016 in:
Obsessed With
Before & After
Sooo... a little confession from me. Little Nerd is now ten months old, I'm starting to think about the logistics of organising a small party for his first birthday ("If I let him loose on a chocolate cake, will he not sleep for the next three days?" etc) I write a blog called House Nerd AND I haven't finished my baby's nursery. Mmmm. Yes, I am aware of the irony. I am the blogger equivalent of the painter with the house that needs painting. But I totally feel like I am a minority, because I know a LOT of new parents who have totally finished perfectly styling their baby's room, and their baby is younger than mine – or not even born yet.
Recently I came across an incredible new mother who really puts me and my unfinished nursery to shame. Not only did this mum design and renovate the whole nursery before her little girl was even born, she is a quadriplegic who is paralysed from the torso down and can't use her fingers - yet she managed to design and coordinate the entire renovation from her wheelchair using her mobile phone!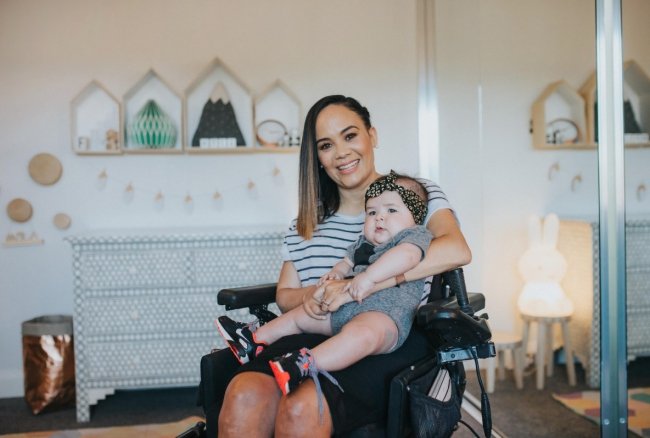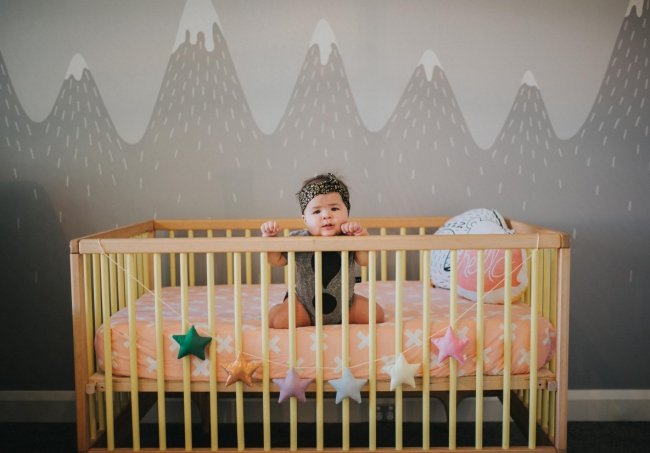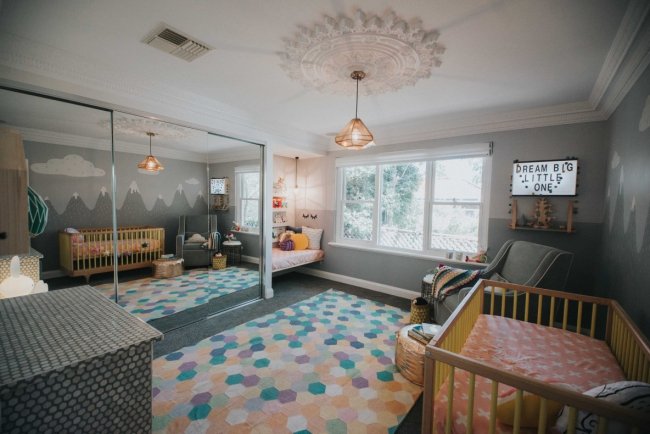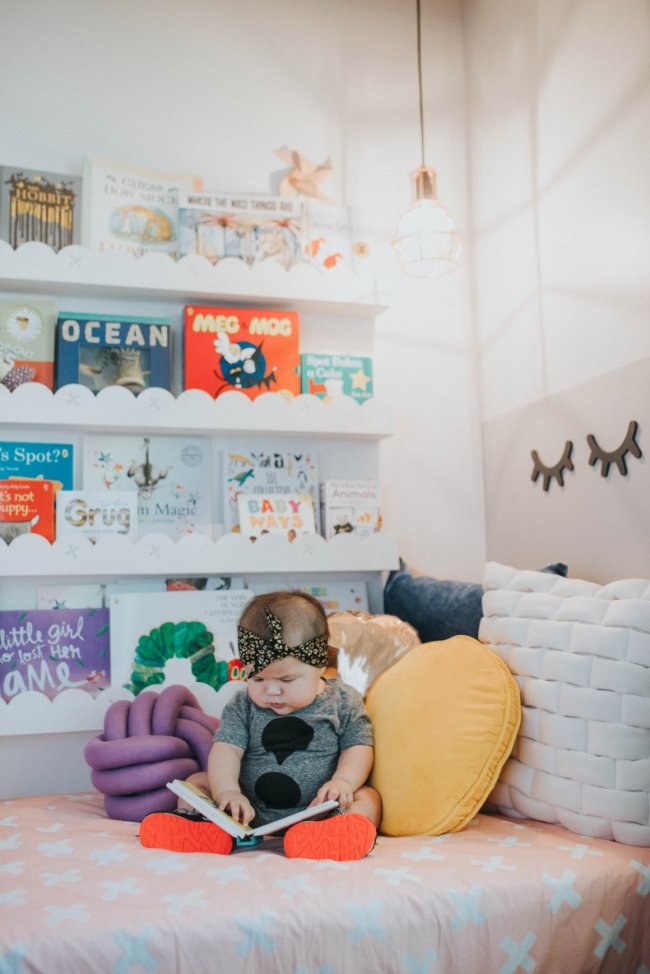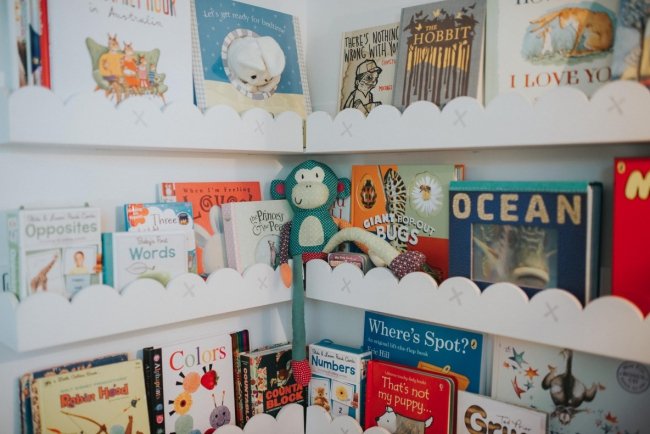 Her name is Jos Franciscus, and she is nothing short of inspiring. Some of you guys will already be familiar with her name or her work. Jos is the director of
Cord
, a massive fundraiser that raises awareness and funds for spinal cord injury rehabilitation and technology by auctioning off the artwork of both emerging and established local and international artists. (
Cord
is coming up this year on Saturday May 28 at Perth City Farm and you can check out their
Facebook page
and get your ticket
here
. It's an awesome cause).
I pretty much began hyperventilating when it came to just organising my own wedding, so I look at people who pull off massive public fundraisers with awe - and perhaps none more so than Jos. Jos, an occupational therapist, was 29 when a vehicle accident in Queensland broke her neck in two places. "It means I have a spinal cord injury, quadriplegia to be exact," she says. "I can move my arms but have no ability to grasp things."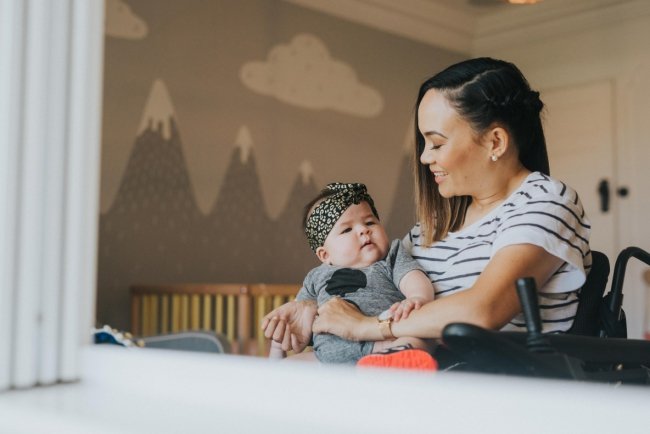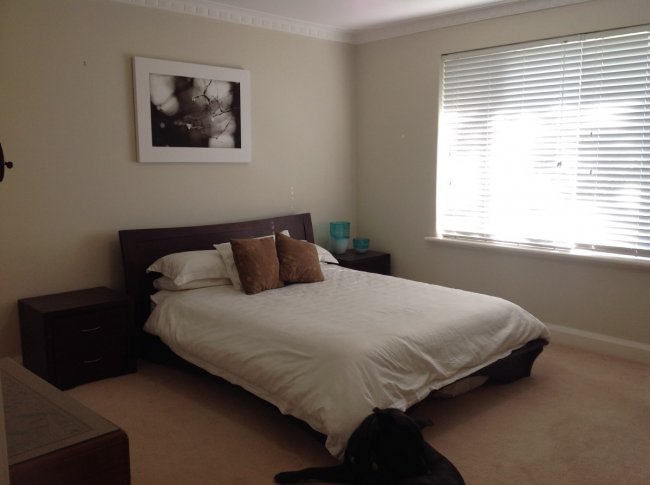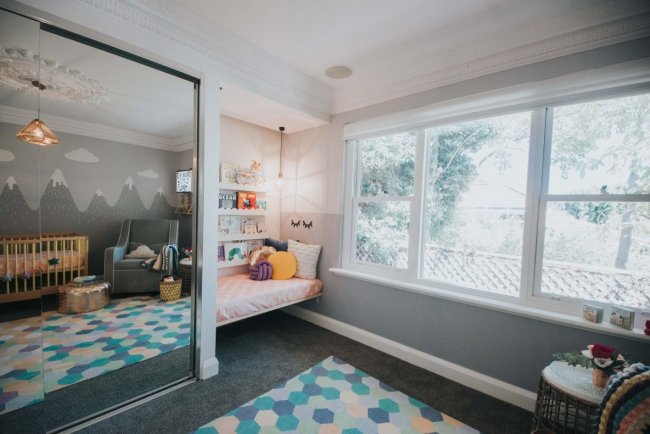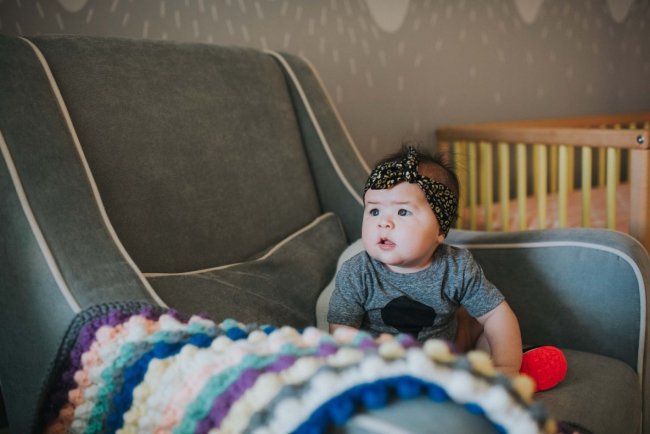 When it came to both having a baby and looking after her, Jos says the challenges have been huge. "We went down the path of surrogacy and have a lot of live-in assistance by our family. But life is good, there's a lot I can do and there's some nifty designs by companies like Stokke which bring the baby up to seat height so we can interact. Not changing a nappy isn't the end of the world either!"
Jos and her husband Michael bought their house in Mt Lawley three years ago. "Following an accident we had in Queensland we wanted to return to Perth," says Jos. "We had always envisaged returning to our beloved neighbourhood of Mt Lawley and so began the search to find a house that would be wheelchair accessible as well as be our 'forever' home."
But finding a heritage house that fitted the bill of being wheelchair accessible was no mean feat. Jos and Michael finally found it in the form of a beautiful Arts and Craft-style home called Ardon Fern (yes it has a name!) that they spotted online. They fell in love with it. "It was built in 1919 by a fairly well-to-do Jewish family," says Jos. "That's about the extent of what we know about its history." Jos and Michael loved the fact that although it is a one level home, it was elevated so it felt like two storeys. "Honestly, the fact that it also had a ramp and an accessible ensuite were really the things that sealed the deal," says Jos. "It meant we didn't need to do significant renovations straight away, which is highly unusual when you have specific disability requirements like I do."
The house was a classic Californian bungalow in the Arts and Craft style with a few hints of the emerging Art Deco influence and also references other different historical periods, including Tudor. In the 1970s the house underwent a series of additions and renovations, including a children's wing and an ensuite off the main bedroom, but luckily they weren't the usual terrible extensions seen in the '70s, so the bones of the house are still in great condition. At 450sqm, it's big – what Jos and Michael needed. "We often have both sets of parents/in-laws rotating and staying with us to raise our daughter," says Jos. "It's a full house!"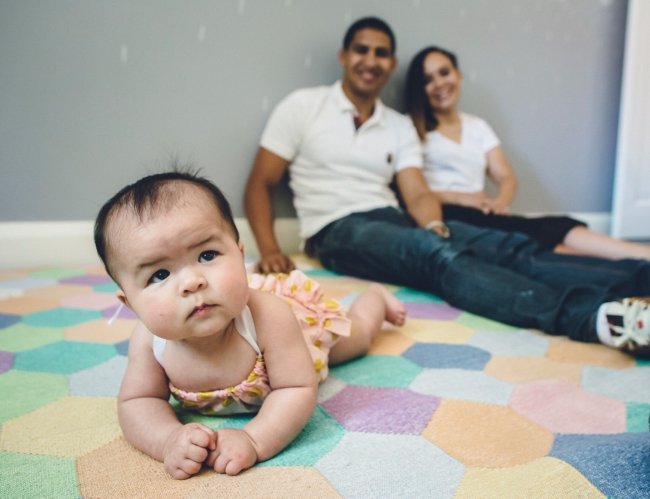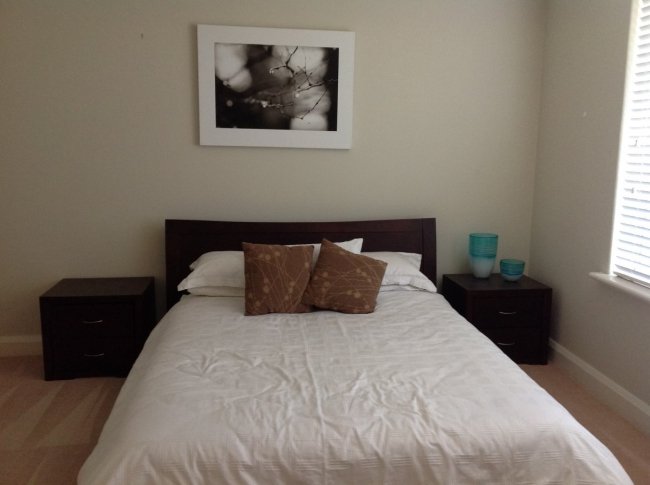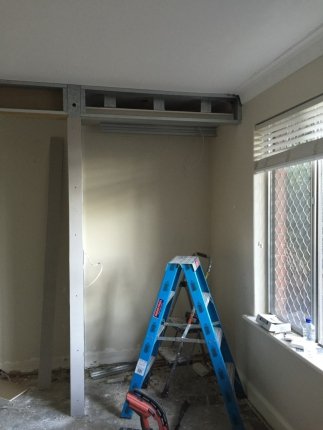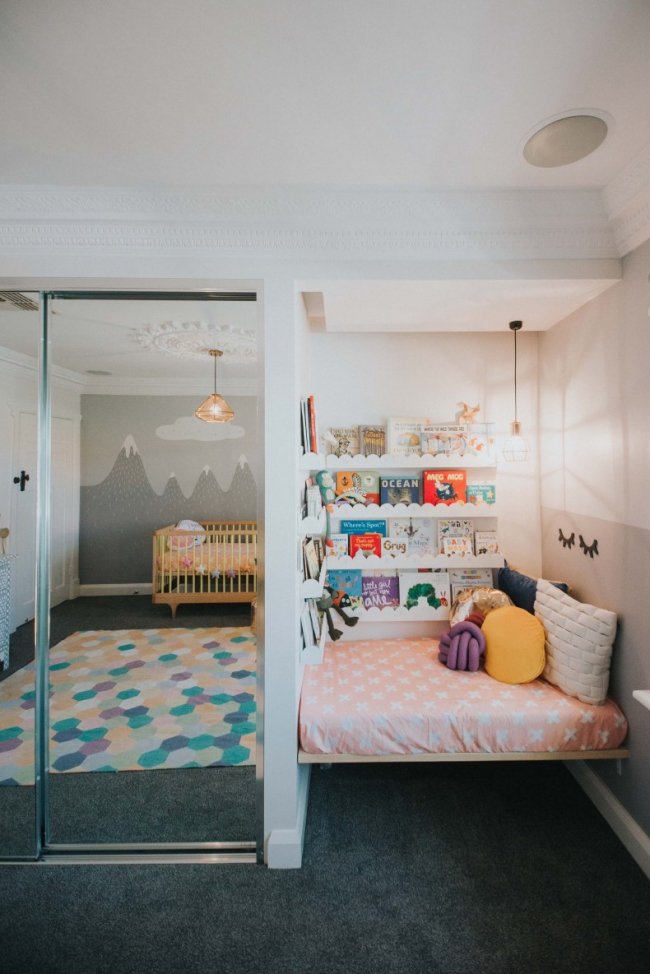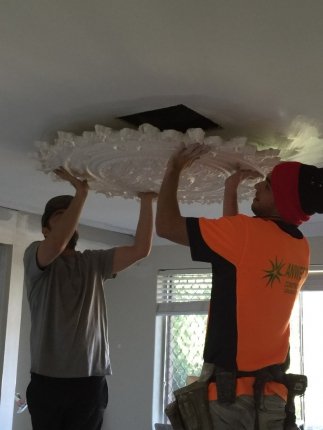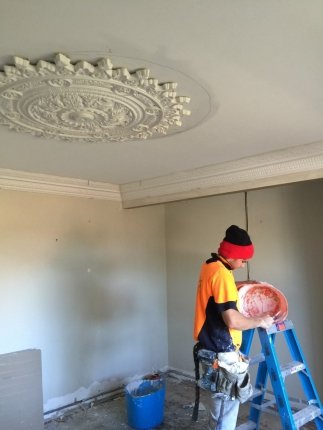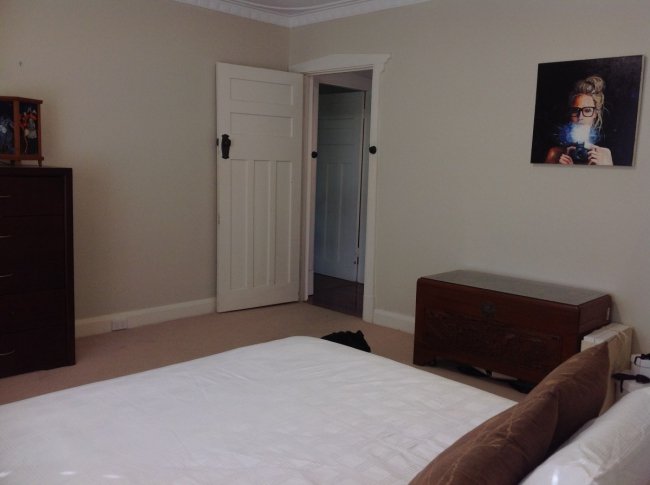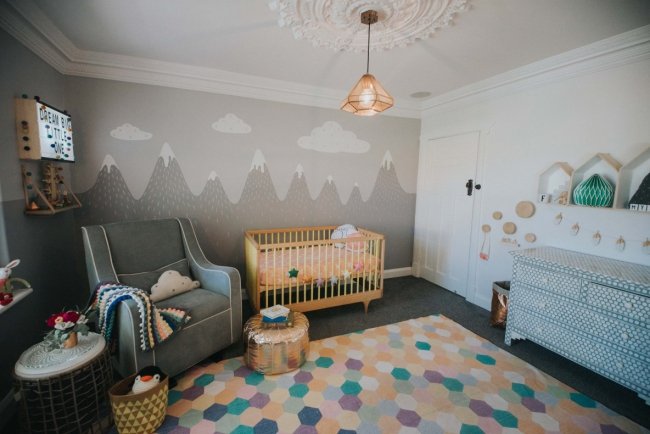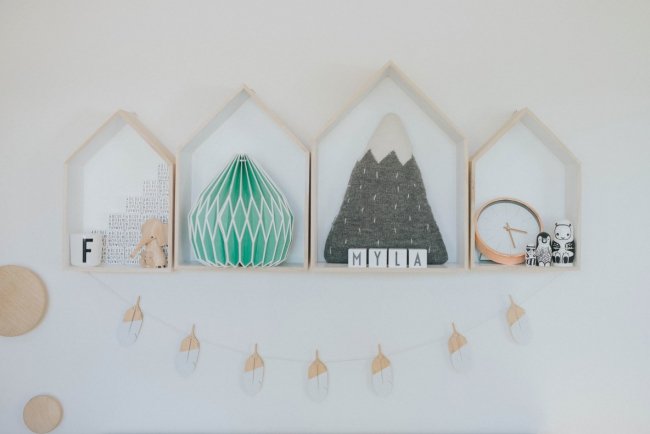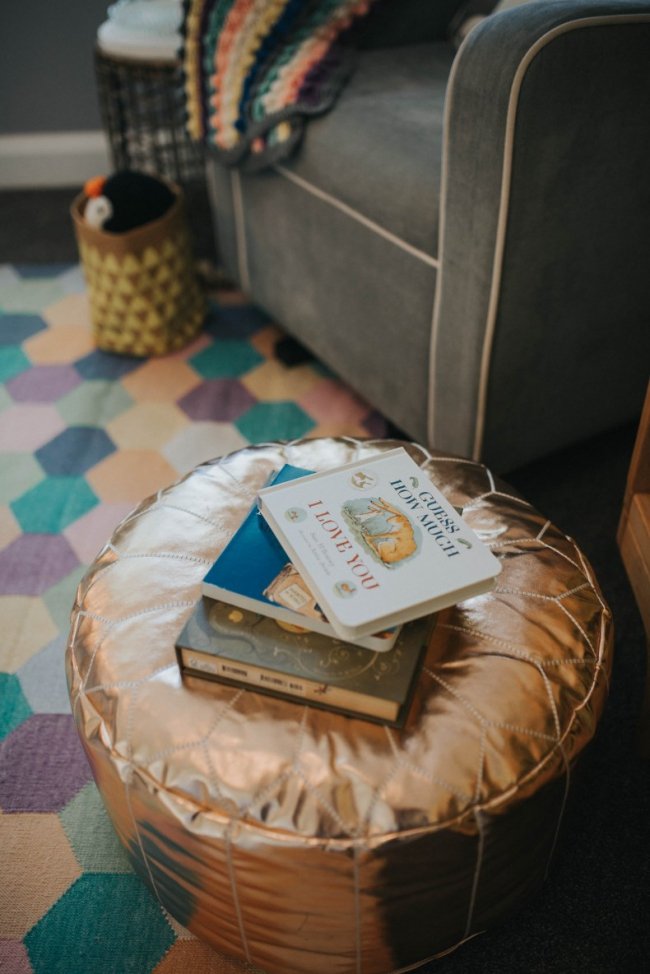 Michael and Jos knew the house would be wonderful for growing their future family, and now they have a stunning nursery for their absolutely gorgeous little girl Myla, six months. But the room they chose to be the nursery initially wasn't quite right and needed a few changes before Myla arrived. "We wanted to restore some of the heritage elements so we replaced the aluminum windows with sash windows, matched the cornice with the original ceiling in the lounge and put up a ceiling rose," says Jos. "Next was storage. Old houses usually have limited built-in storage and our house was no exception. So we created lots of storage."
Jos and Michael wanted to infuse the room with an air of fun and learning while also creating a space that grew with Myla. So they designed a book nook that Myla can use now that can later become a built-in desk – very clever! "The room also needed to be fairly gender neutral as my husband was the one spending a lot of time caring for Myla due to my limitations," says Jos. "I didn't want to torture him with a bright pink room! Plus I'm a big believer that nurseries shouldn't be pigeonholed into male or female stereotypes."
The room makeover, from building in the storage to hanging the final pieces on the walls, took two months all up – and Jos, who is clearly a master organiser, appears to think that it probably could have taken less. (I have not been game enough to tell her how long our nursery has taken. Er, is taking). "Despite having a clear vision for the room, most of that time was juggling schedules between tradespeople," says Jos. "That was one of the biggest challenges - coordinating tradespeople. I've never had to coordinate tradies before. They were all great but timing them all so it flowed well was a challenge at times. The other issue was physical access to the shops to decorate the room. I dropped into LuLu & I in Cottesloe for a few cushions and a side table, and the rest was almost entirely found online, including the cot I found on Gumtree. Love Gumtree! It's the best – it's the ultimate trash and treasure plus it's environmentally friendly to repurpose."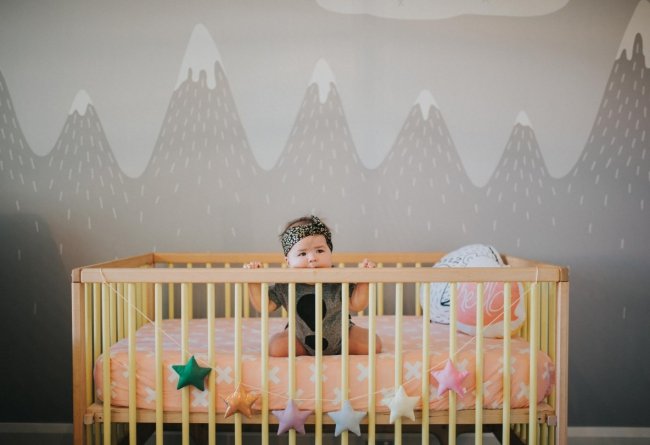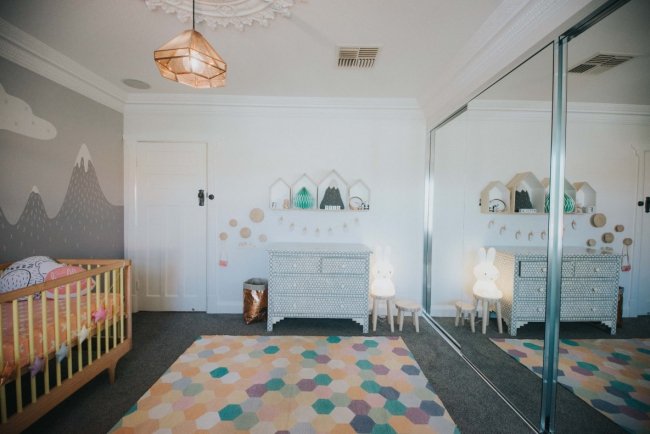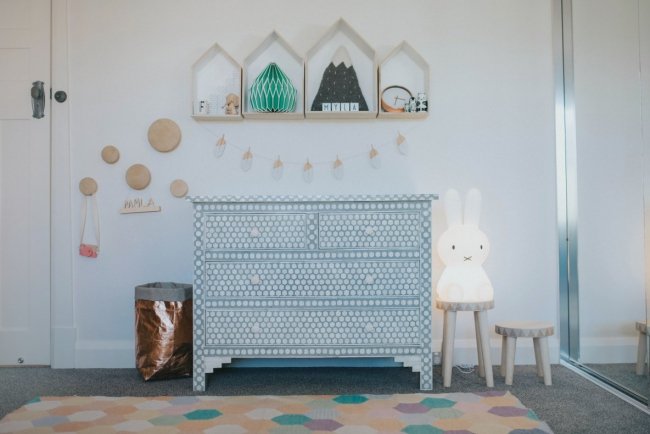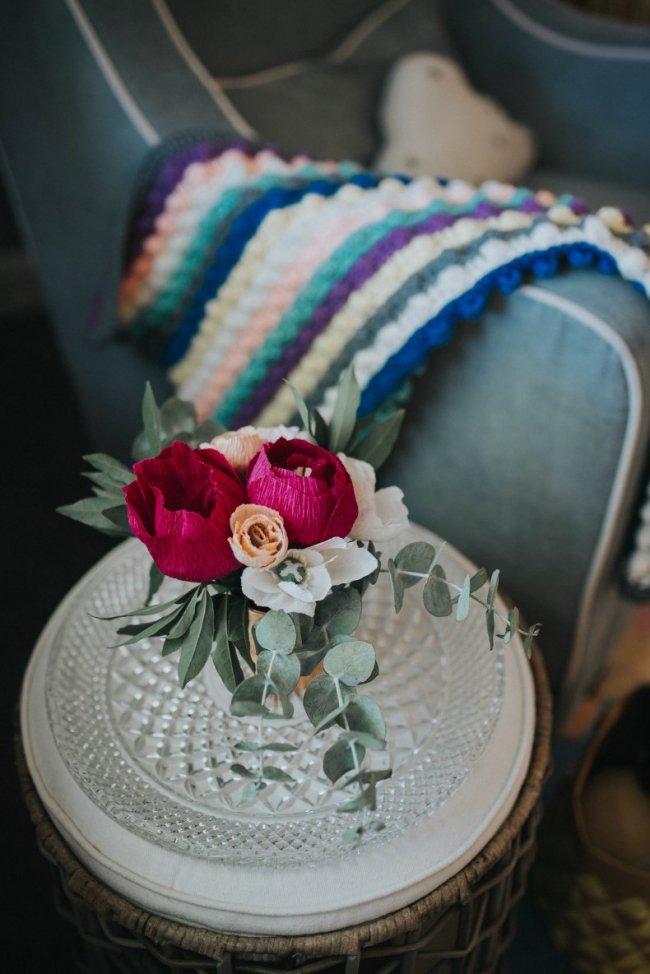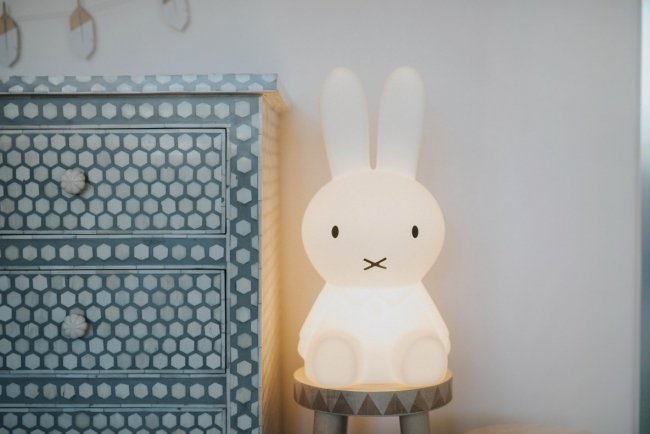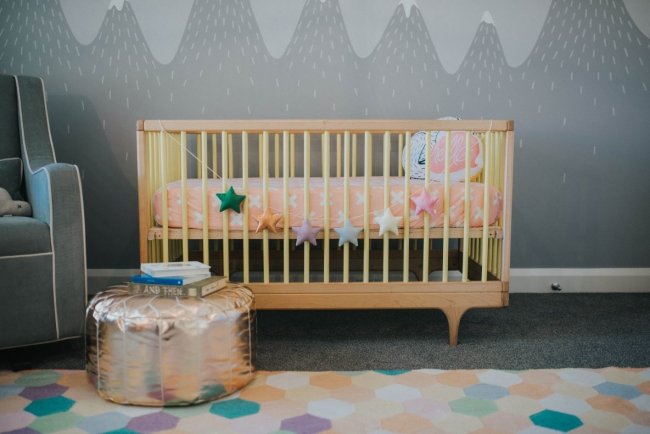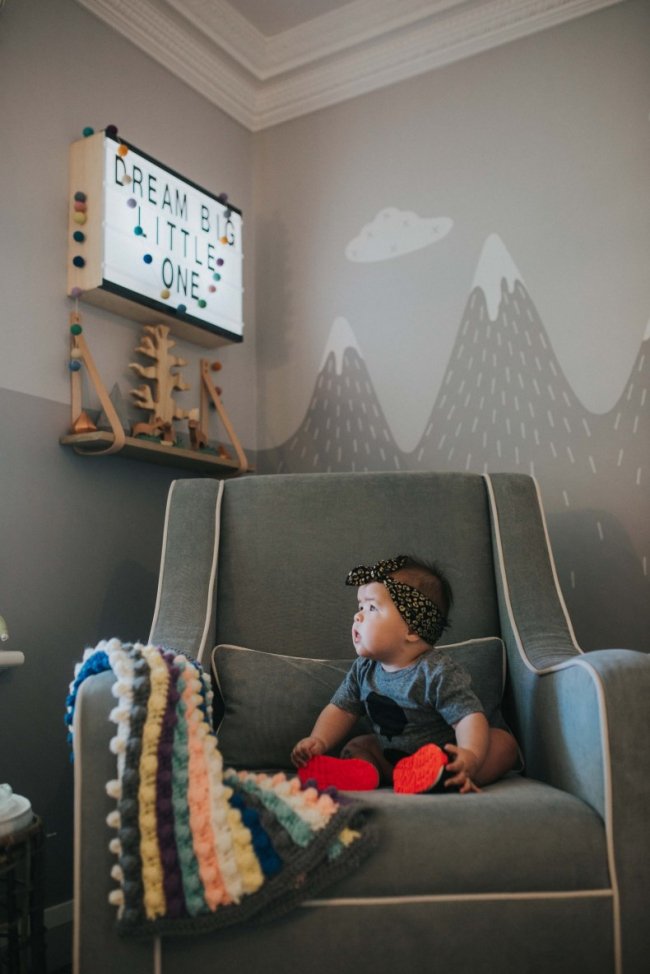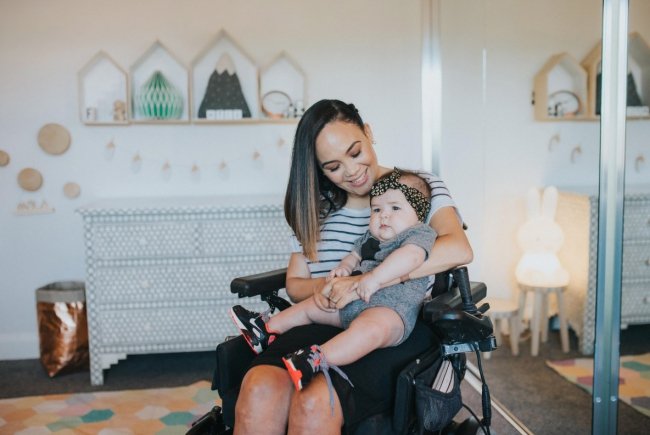 In keeping with the goal of creating a gender neutral room, Jos chose a palette of soft greys with strong pops of colours and rose gold. "I wanted to create a dreamy room that invites both sleep and imagination," she reveals. "It also had to be practical and not too fussy. There's quite a strong modern Scandinavian and Moroccan influence in there – a weird combo that kind of works!"
Jos now consults for children's interiors and is more than happy to give her advice. "If you're doing a nursery, have fun with it," she says. "This doesn't mean it can't be sophisticated as you will no doubt be spending a lot of time there too. Consider how the room will purpose the child as he/she gets older and include that in the layout. With a bit of forethought and preparation, a nursery can become a haven that grows with them for many years to come. Follow children's interior instagram accounts for inspiration and links to where to buy products."
With their old Californian bungalow gradually becoming more and more just the way they want it, Jos and Michael don't plan on ever leaving. "We knew with a bit of work it was something that we could mold to my needs as well as grow a future family," says Jos. "We also wanted to restore it to its former glory as a grand old home and it's been in a constant state of renovation ever since we bought it. No plans of leaving now we're here!" Maya x

Cord's art auction and live music fundraiser, 'Take a Seat', takes place this year on Saturday, May 28 2016 at Perth City Farm. You can like them on Facebook here or follow them on Instagram @cordfundraiser to see some of the awesome artworks that will be going to auction. Tickets can be purchased here.

Like this story? You can see other inspiring home renovations by following House Nerd on Facebook, Instagram @housenerd, Pinterest, Twitter @HouseNerd_ or Bloglovin.

ROOM LOWDOWN
THE HOME OWNERS
Jos Franciscus, director of Cord, and her husband Michael, who live with their daughter Myla, six months and dog, Darnell
THEIR HOME
A 1919-built Californian bungalow
LOCATION
Mt Lawley, Western Australia
THE INTERIOR DESIGNER
Jos consults for children's interiors. To get in touch, email her at [email protected]
PHOTOGRAPHY
Soul of Shu, www.soulofshu.com. You can follow her on Facebook here