Posted Tuesday, October 9, 2012 in:
DIY
Before & After
When interior designer and serial renovator Helen Benjaminsen and her husband Morten bought this two storey, three-bedroom house in Shelley, the plan was always to knock it down and rebuild their dream home.

Just 100m from the Swan River on a generous 843sqm block, the original house had been built in 1968 and extended upwards in 1992. It's dated, dark, daggy and has a convoluted layout that doesn't make the most of the river views. So Helen and Morten, who works in the oil and gas industry, are planning to knock it down and rebuild. In the meantime they are living there for at least a year while they get a feel for the block, design their dream home, get their plans approved by council and find a builder.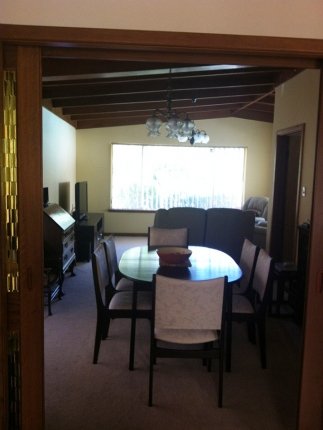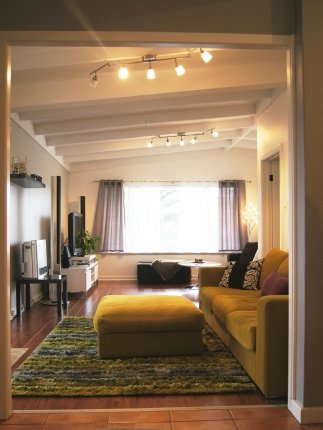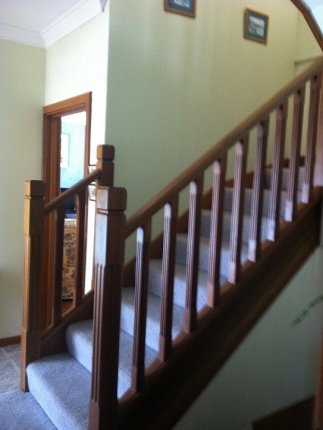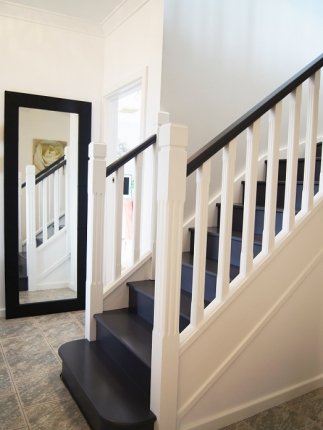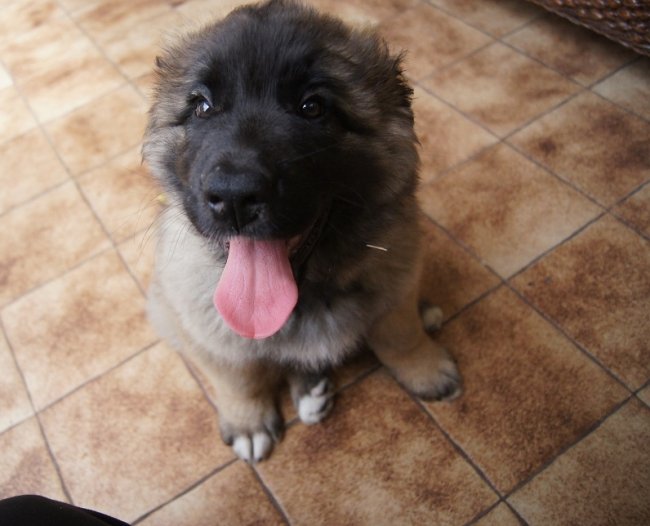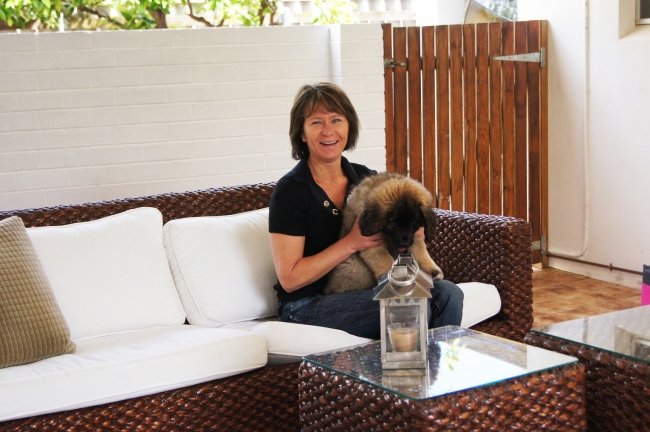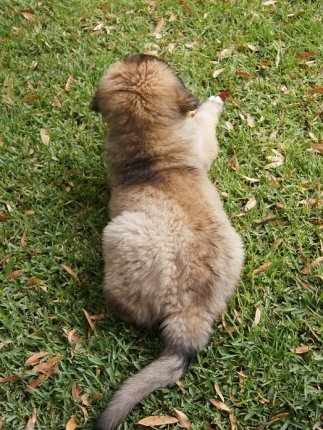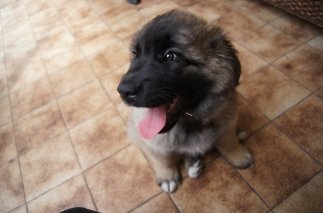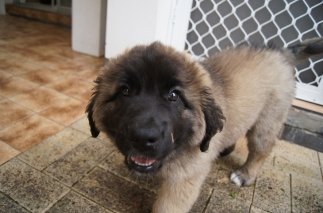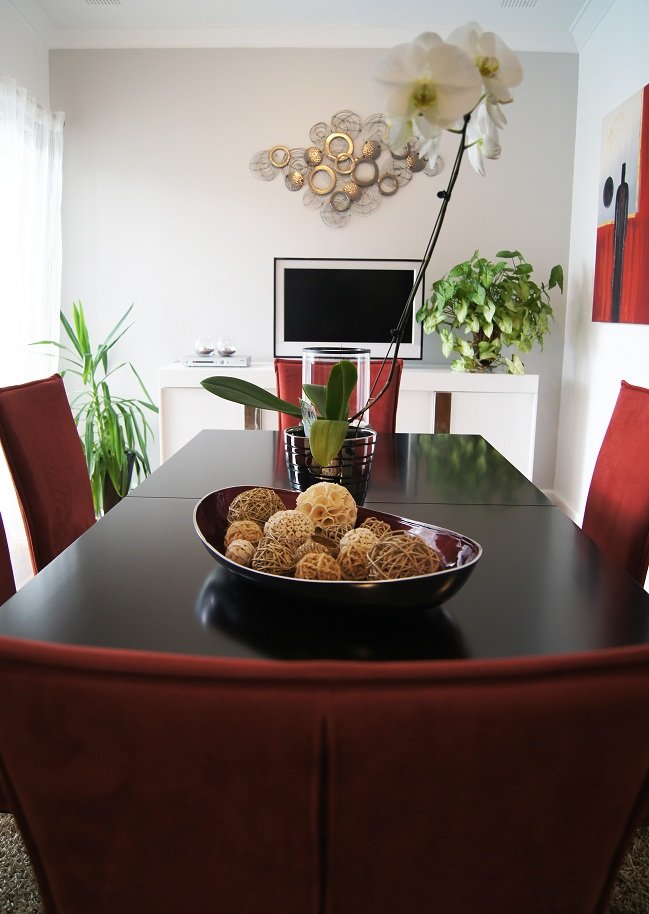 Helen gets a big kick out of giving a home a makeover, whether it is her own place or a client's. So while she designed their dream house, she was keen to give this dark, dated house an inexpensive renovation with simple cosmetic changes in the meantime.
You might be thinking, "If the house is going to be knocked down in a year anyway, what is the point of making minor improvements?" Many of us would just grit our teeth and live with the dark and depressing house as it is... but understand that for house nerd Helen, living in a space she can't stand for 12 months is the equivalent of telling Katy Perry she has to give up makeup for a year. Helen says it would just bring her energy down. "When I first came to Perth as a tourist, I experienced going to a house with fluorescent light and dark brick walls," she says. "I have never felt so depressed by interiors since!"
Lovers of their native Norway's light-filled, modern Scandinavian style, Helen and Morten also like to entertain frequently and wanted to make their current digs as pleasant as they could for everyday living and entertaining while they designed their new dream house. "The plan was to lighten it up to be able to live in it while we work on the plans for a new house," says Helen. "When we bought it the house was dark and dingy with brown everywhere and carpets from who-knows-when!"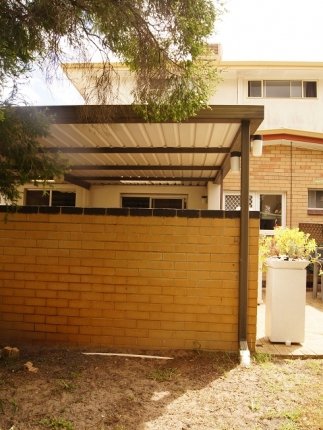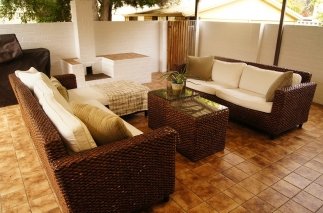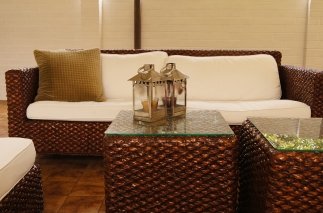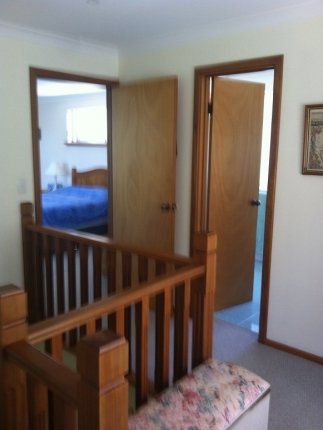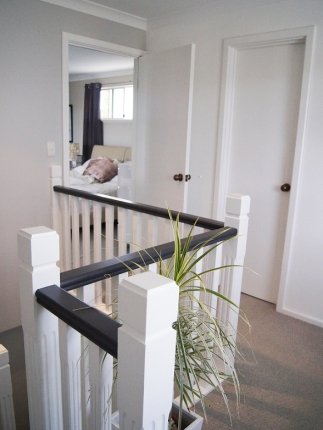 I was so impressed by Helen's cosmetic reno, I got her top tips for easily sprucing up a property on a budget and with minimal fuss. These can be applied whether you want to:
Bulldoze a house but make it cheerful and liveable in the meantime, like Helen and Morten
Do a budget reno on a place to turn it into a rental
Boost your property's aesthetic value to sell it on
Let's start! "First things first, get the place cleaned and the kitchen in working order," advises Helen. "You need food - and wine. Yep, after a day with the buckets come wine o'clock and there is none? Don't think so." (I'd like to add having the number for a good fish and chips shop to this point. It's the best post-reno-day dinner).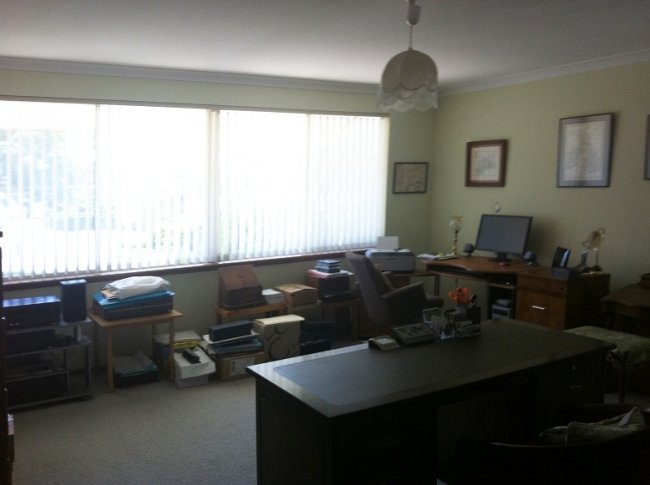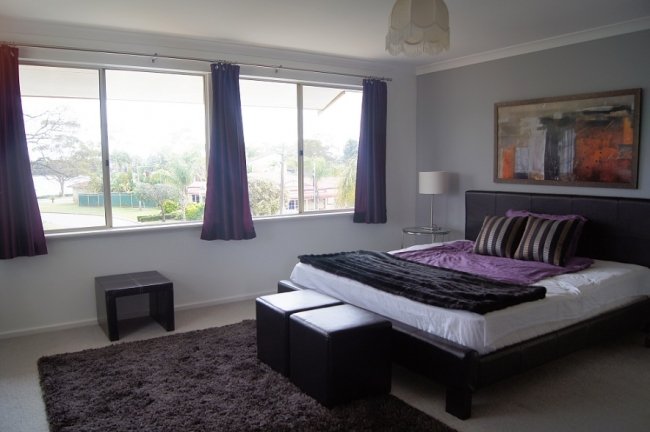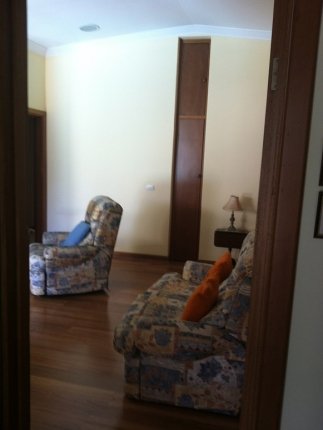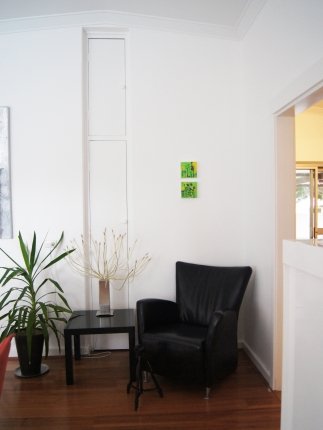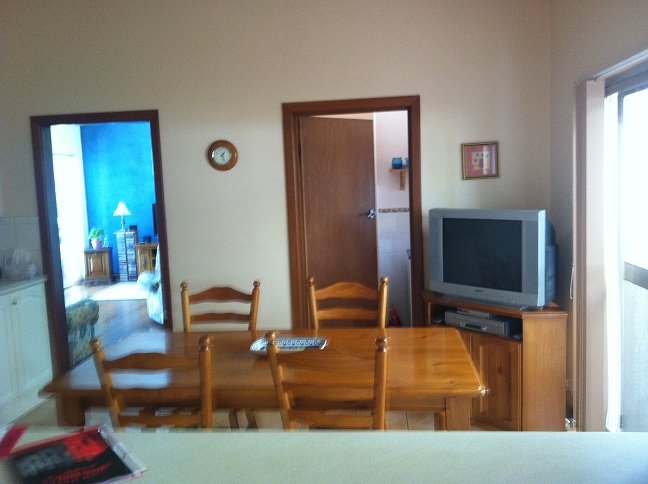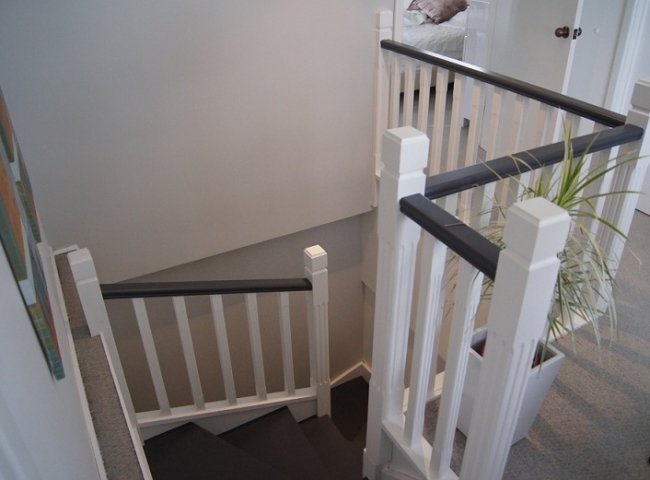 Secondly decide on your paint scheme. Helen went with beige and white in her last house but for this one chose grey and white – her favourite scheme. "It's universal and timeless," she says. She painted this house predominantly white with grey feature walls, but says feature walls are not for everyone. "I do not see the harm in using a normal white and then playing with feature walls IF you like it," she says. "There's nothing wrong with white walls, it is how you dress the room that can make it interesting or not." She painted every single room in the house on her own. I have to say, I hate painting, but Helen's enthusiasm and energy is so infectious, I actually went home and painted after I first met with her!
Helen tore down the house's dated blinds and replaced them with stylish curtains and elegant sheers. I love modern sheers – they always look classy and they are a great way to disguise detract attention away from dated windows. "Throw in new window treatments and your dated house has changed a whole lot," says Helen. "I also ripped out the carpet in the living room and put in laminate flooring."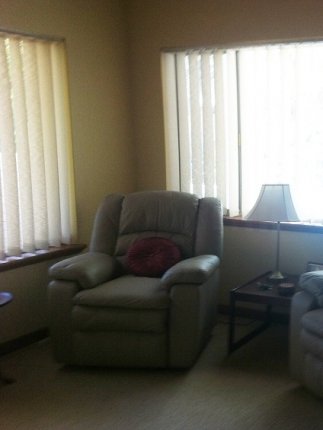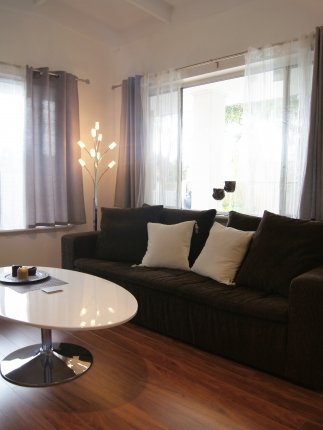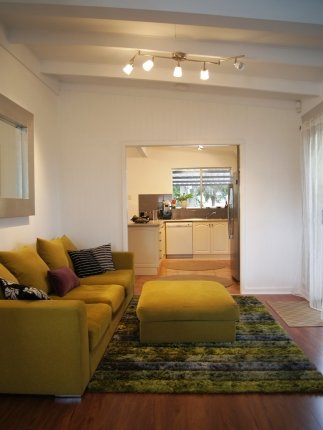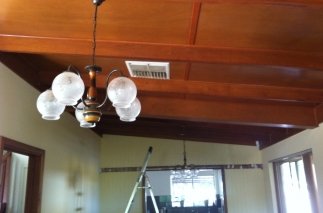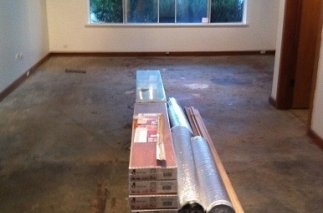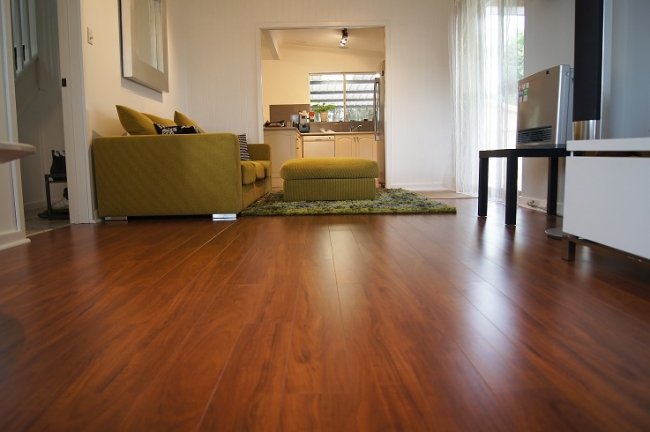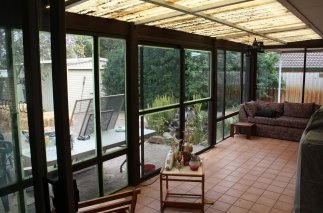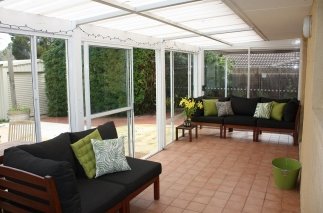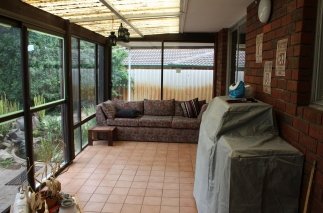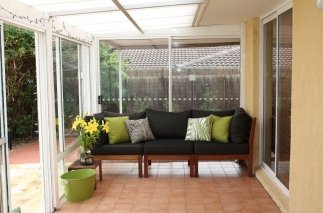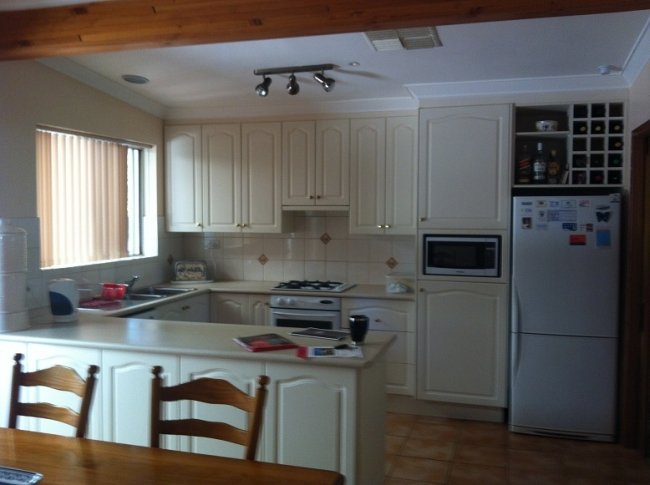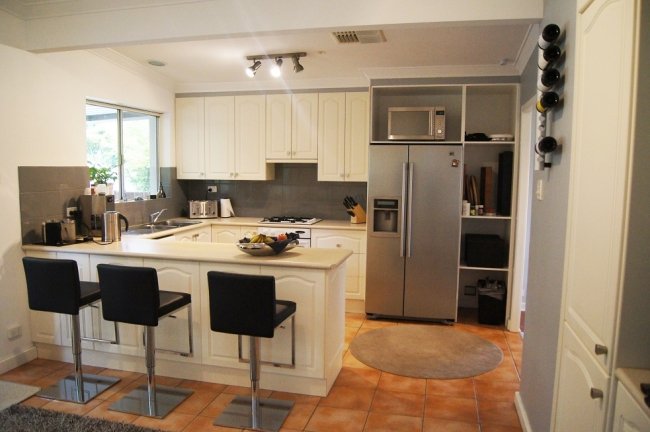 In the kitchen she painted the splashback and replaced the cabinet knobs – the most inexpensive way of giving your kitchen a boost. Furnished with Helen's chic, modern furniture, the end result is a home that is worlds apart from the dark, dated place it once was. In fact, the real estate agent Helen bought the home off was so impressed when he saw the simple changes she had made, he said he thought the house could fetch at least $30,000 more now. Not bad for just a few weekends' work! HN
PROJECT LOWDOWN
THE OWNERS
Norwegian-born interior designer and property developer Helen Benjaminsen of Next Level Home Design, her husband Morten, who works in oil and gas, and their new Leonberger puppy Bindi
THE HOUSE
A dark and daggy 1960s brick house with upper floor extension added in the 90s
THE AIM
To inexpensively brighten and modernise the house with simple cosmetic changes, so that it is a light and liveable home for Helen and Morten (and Bindi) until they build their dream house
CONTACT
Interior designer and renovator Helen does consults and can organise everything from a full home fit-out to room renovations, whether you're the type who likes to get your hands dirty or you prefer to leave the renovating to others! Call 0400 028 650 or visit the Next Level Home Design website or Facebook page.
PHOTOGRAPHY
After photography by Simone Anderson of Four Storey Photography