Posted Thursday, February 23, 2017 in:
Obsessed With
DIY
Nerd Life
"You need a hobby." Mr Nerd didn't just say this, he pretty much shouted it. "You don't have a hobby and you need one."
We were in the middle of one of our lovely shouting matches that make me feel bad for our neighbours, yet at the same time I am not going to be the first one to pipe down because piping down signifies weakness, people. I can't even really remember what we were fighting about. It probably stemmed from something small, like I asked him how the chicken was, and he said it needed more salt, and I called him an ungrateful turd, etc. So basically normal marriage stuff. But for whatever reason, and however we came to it, there he was, yelling that I needed a hobby.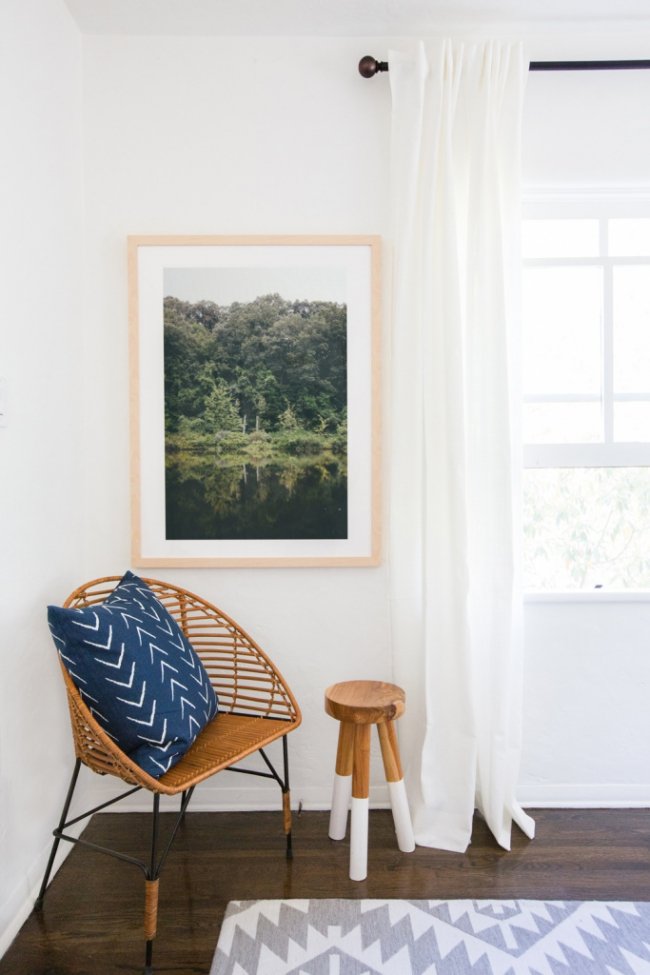 At the risk of revealing the total space cadet that I am (is there such a thing as toddler brain? Because I have it) I don't even remember the context of that argument. All I remember was replying, confused and incredulous, "What do you mean I need a hobby? Writing is my hobby," and he was like, "That's your work," and I was like, "Yeah it's work AND my hobby. That's actually awesome!" and he was like, "No, it's not the same thing. You need a hobby-hobby." I retorted that we have a BABY now, who has time for a hobby when you have a baby? Shall I collect stamps? Start embroidery? Netflix and stalking strangers on Instagram and eating dumplings not count as hobbies? Excuse me.
It is like Mr Nerd thinks that HIS kind of hobbies; racing motorbikes and riding his mountain bike and playing video games and watching dumb viral videos on Facebook, are proper hobbies, and the things that I think are perfectly respectable hobbies – like drinking too much coffee and going on Pinterest - don't count.
Welk I can now smugly say to him that I might have found a hobby. Something that's fun and tactile; out of the house and away from a screen – shibori.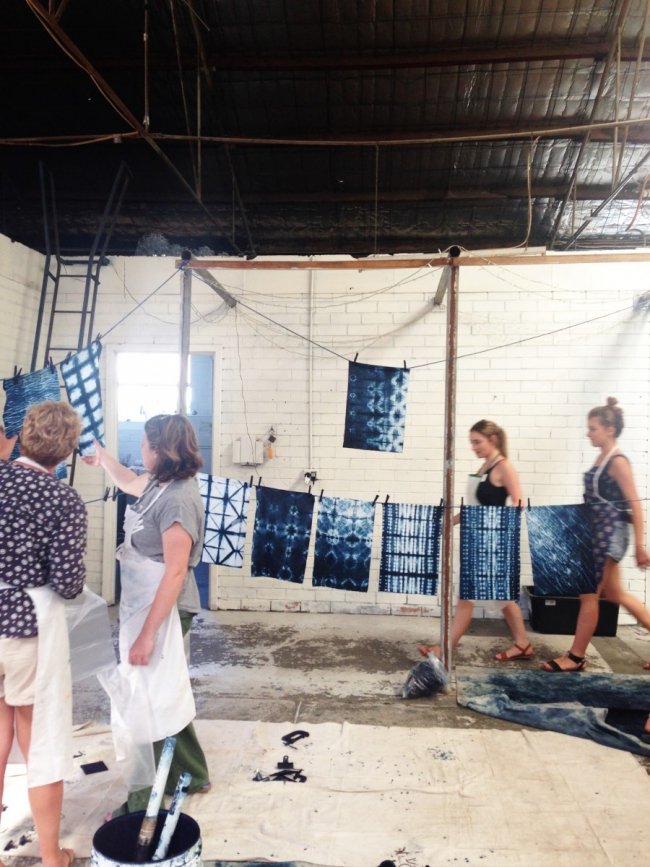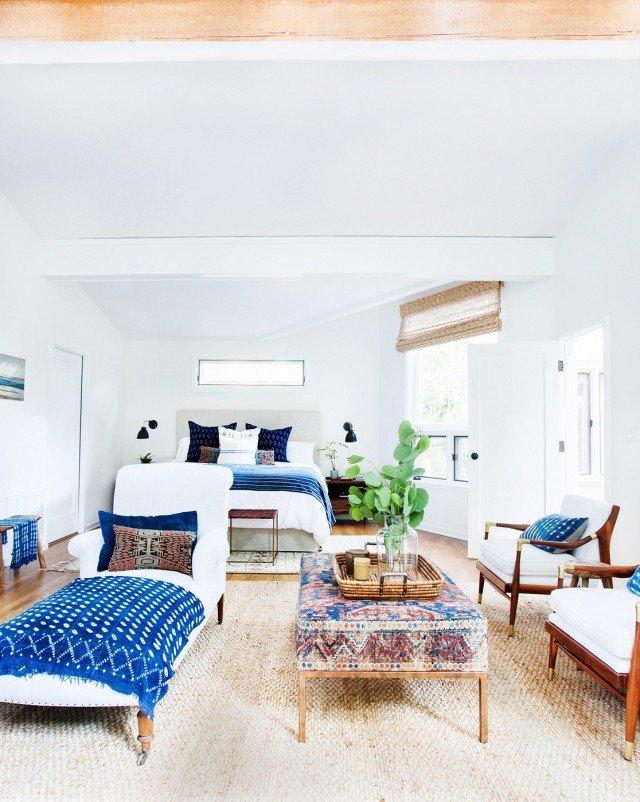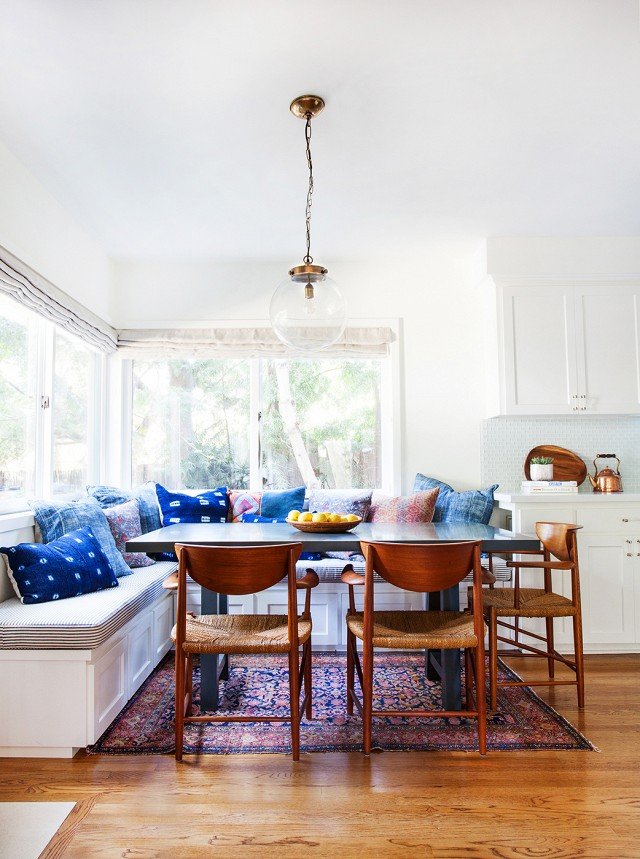 Firstly, I'm not being original here - there's nothing new about shibori. This ancient Japanese fabric dyeing technique has been around since the 8th century, but in recent years it's experienced a resurgence - and for good reason, my friend, Twinkle and Whistle interior designer Nelly Reffet, tells me.
"Although its popularity has been growing for some time - at least four years - shibori could not be more in line with the current trends as we're moving away from minimalist everything and towards more eclectic, bohemian, colour-and-pattern-heavy interiors," says Nelly.
"Beyond the look, it's also a traditional technique which appeals to many, as people re-discover the virtue of DIY and focus more on learning creative techniques than ever - a way to be more grounded in an increasingly digital world where we sometimes feel like we tend to lose touch with who we are, our traditions, our "savoir-faire" and the world directly around us."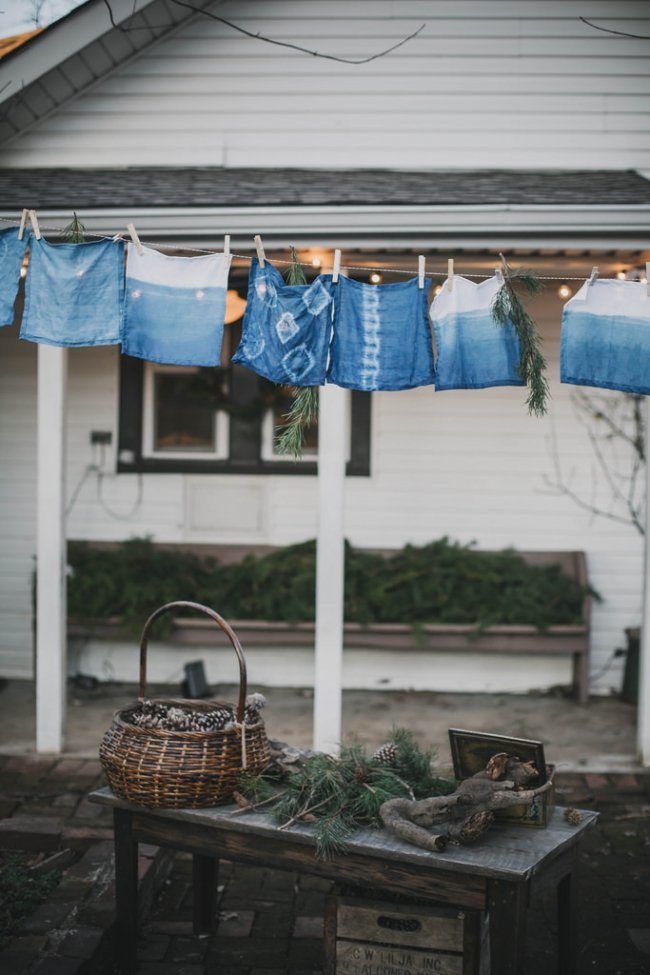 Shibori is very pretty, it's not really that difficult to DIY and it looks amazing used in our interiors. I'd seen it around a bit (thanks in part to my Pinterest hobby) I'd always liked it, I just had no idea before how fun it was to do yourself. I recently took part in a shibori tutorial hosted as part of Stackwood's Handmade Holiday workshop late last year.
We were taught the process by the lovely Tanya of Old Grey House, aka she who shiboris best, and we all had so much fun. I felt like a kid in arts and craft class again. There's something a bit childishly magical about taking your fabric out of the dye and opening it up to see how your design translated in real life, kind of like the grown-up version of making a paper snowflake and unfolding it to see how it looks.
The only not-so-lovely thing about shibori is that when the material is in the vat, the dye smells like my dog's breath after she's gone to the beach. But that's a small price to pay for making lovely textiles for your home… and your mum's home… and your friend's home. You'll probably do it and come home addicted, like me, shouting, "I'm going to do shibori in my backyard. TOMORROW." That didn't quite happen (I always feel full of boundless, vibrant energy after a workshop, and then tired four hours later) but the good will is still there.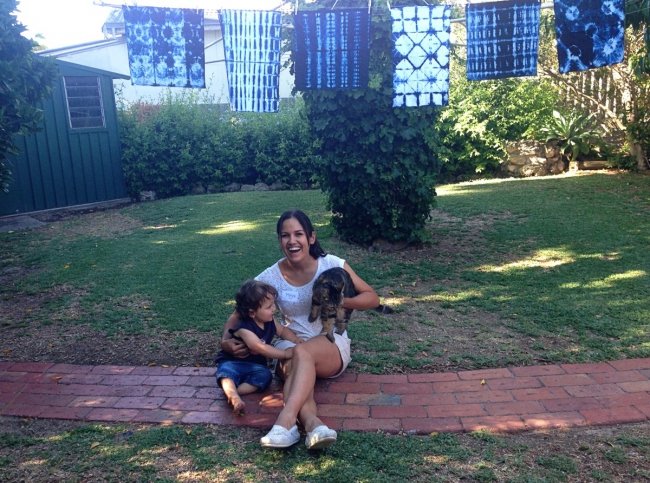 I'm looking forward to putting my shibori efforts into our house. There is something relaxed about the look of shibori that suits Australian homes so well. Shibori is sort of like adding an element that doesn't take itself too seriously to a room, and it works beautifully into a relaxed, uncluttered kind of home, or in a richly layered, colourful, kind of bohemian/jungalow-style space.
It speaks to me especially at the moment because we are in the middle of another very hot Australian summer (I hate hot weather and love cold, miserable, overcast days!) and when it's 40 degrees outside, the interiors I want to have around me are laidback and restful with lots of natural materials and cool whites and calming blues.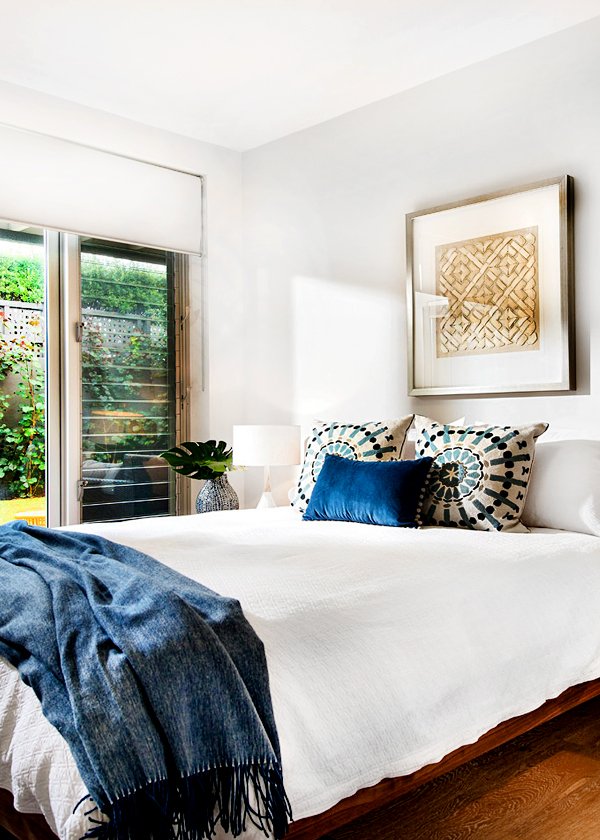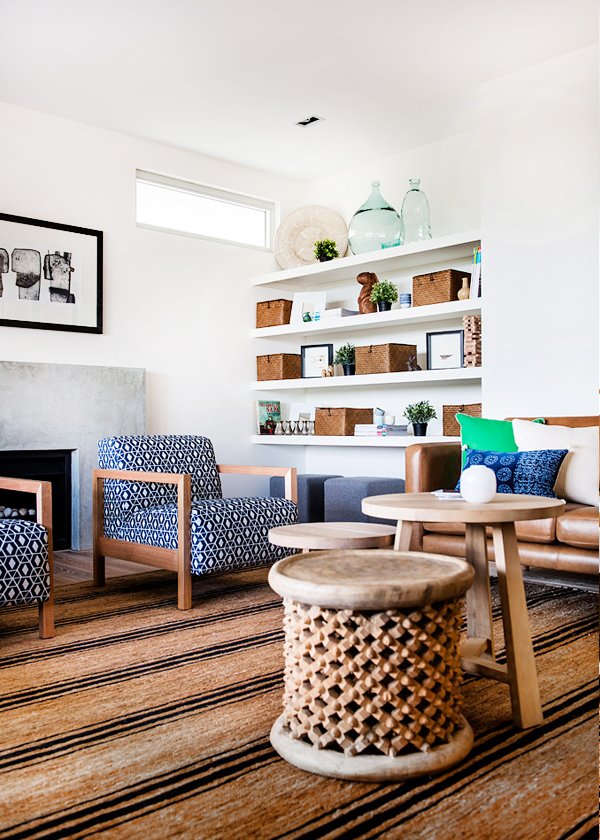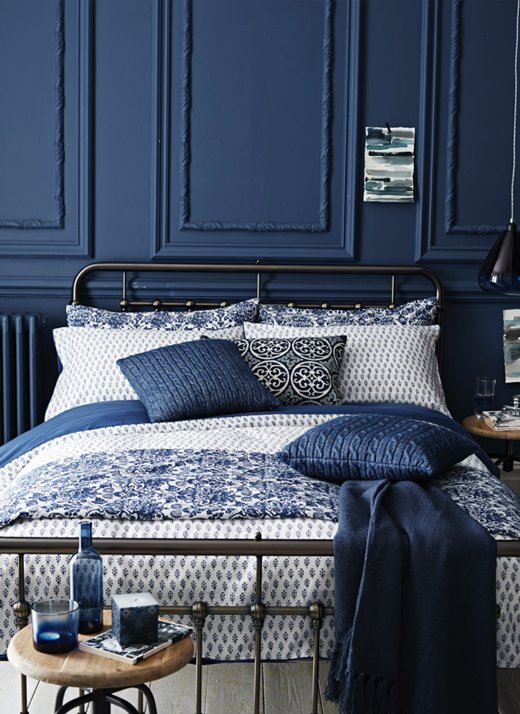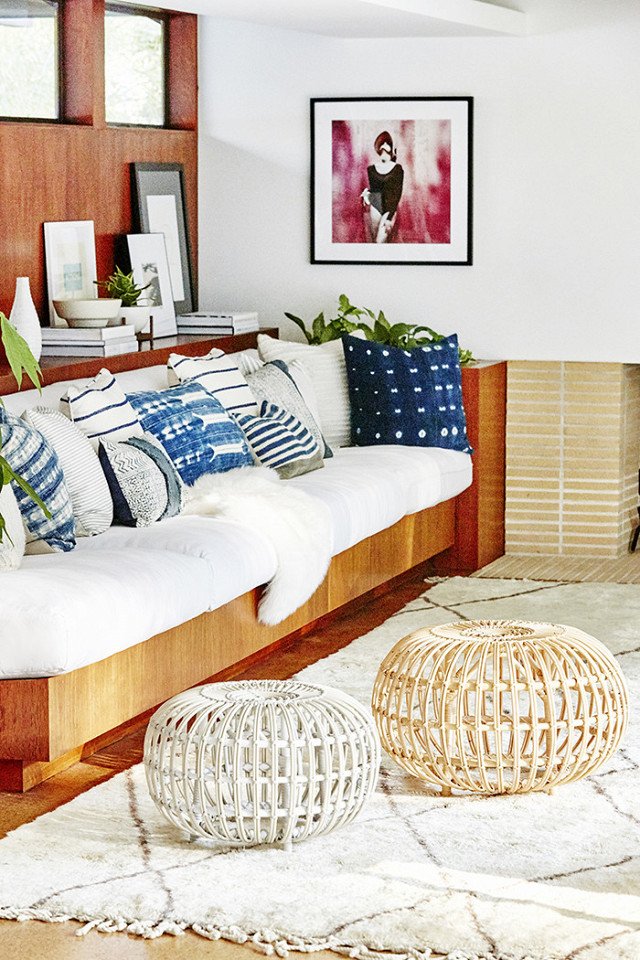 And that's another nice thing about it – that beautiful colour. Recently I realised that while I admire homes that effectively pull off neutral colour schemes, in real life the houses that usually lift me up the most and that feel the most warm and inviting are almost always the ones that feature colour.
Neutral interiors with no colour have been so popular for so long (especially in Australia) but I think it's gotten to the point now where we're almost bored of seeing the same thing so often and now I think we are moving away from neutrals and starting (perhaps somewhat hesitantly, almost as if we have forgotten how) to embrace colour in our homes and lifestyles again.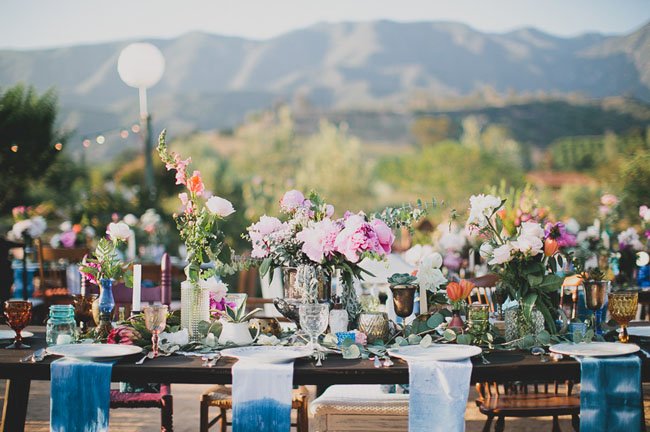 Nelly says the colour of shibori – blue in many shades – is very much responsible for that "subtly chic" look. "It has a simplicity to it that makes it a classic," she says. "But shibori is not just any blue - it goes through the palette of natural, organic blues. Blues that you can find in nature everywhere around you, and just like the sky or the sea, it's the type of blue that goes with everything and anything."
Nelly says when it comes to incorporating shibori in your home, there are two approaches: the neutral one, or the bolder one.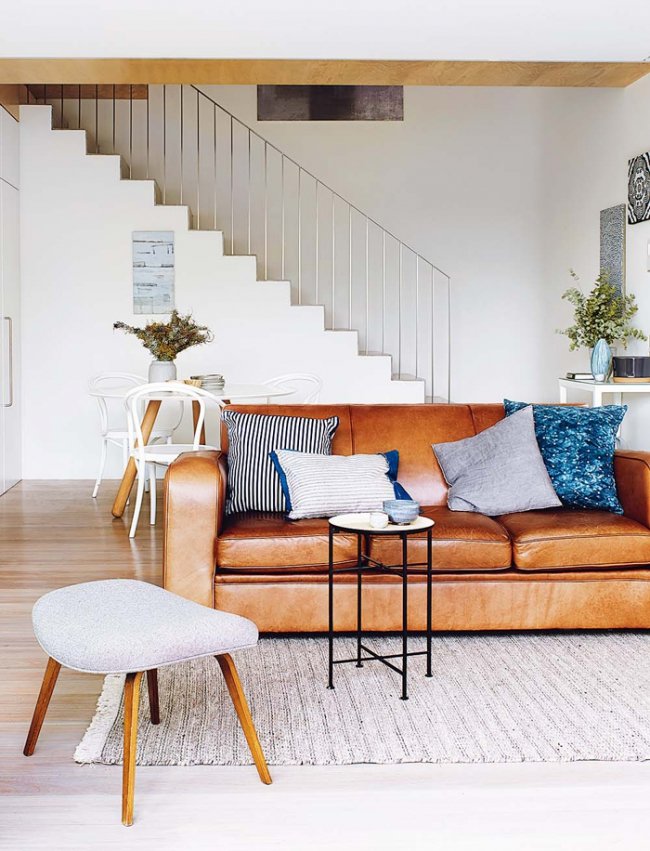 "The neutral one means using shibori as an accent (or even as a centrepiece) in an otherwise simple, cool palette: white, off-white, taupe, charcoal, black, rustic timber (whitewashed or richer, darker tones), and inky blues," she says. "The patterns of the shibori will give rhythm to the room without overloading it. It's the perfect approach for the minimalists within us who are slowly opening up to a more eclectic approach.
"For the shibori pattern to shine, it's best to keep everything else quite pared-back: no other strong pattern, no bold contrasting colour, etc.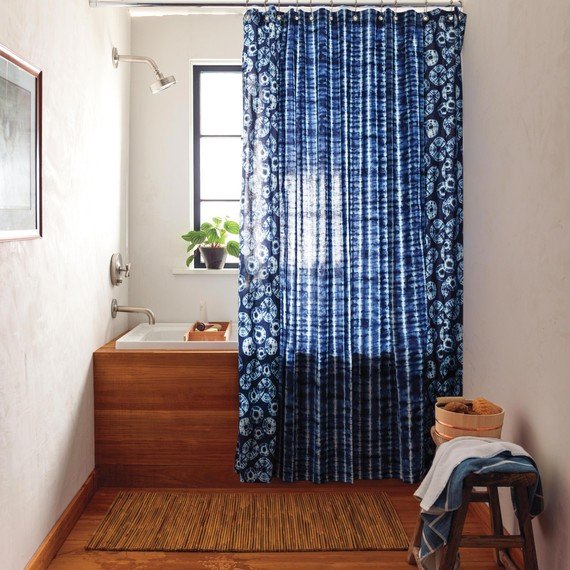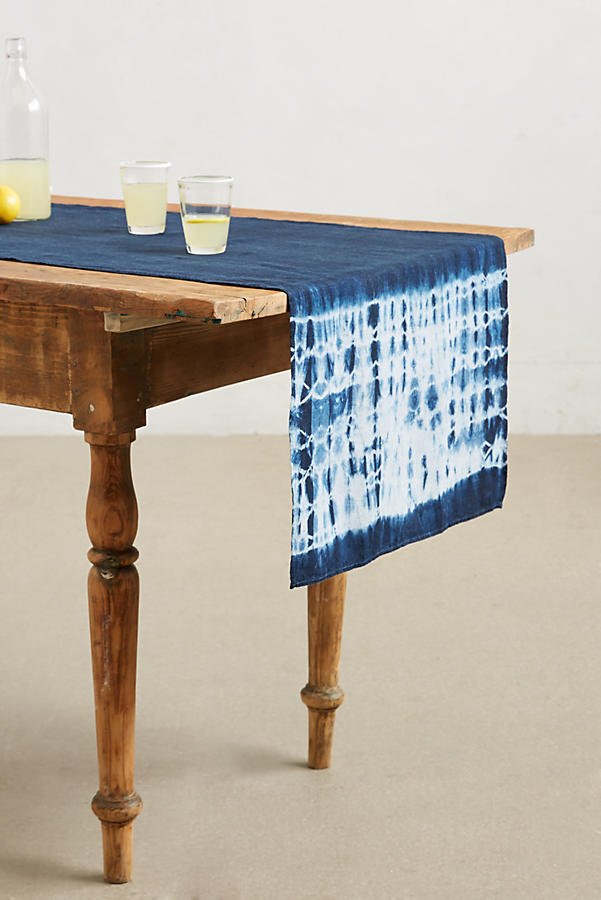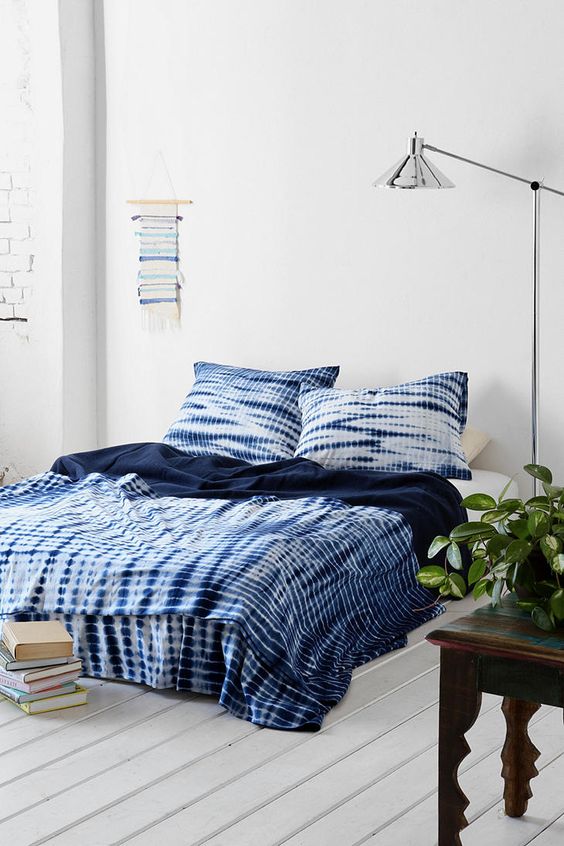 "The other approach is to go bold," continues Nelly. "The aim is to layer colours and patterns for a more global style. In that case, don't be afraid to mix shibori with bold florals, kilims, South American or even African wax patterns. You can also add more texture, by playing with materials such as wool, linen, hemp, velvet, silk.
"As for colour, try to go for earthy tones: terracotta red, rusty orange, bright pinks, etc. Go for comfortable furniture you want to snuggle in, add tons of plants, mix timbers, pour yourself a green tea with mint leaves and pine nuts, burn an incense stick (or a lovely candle) kick back and enjoy."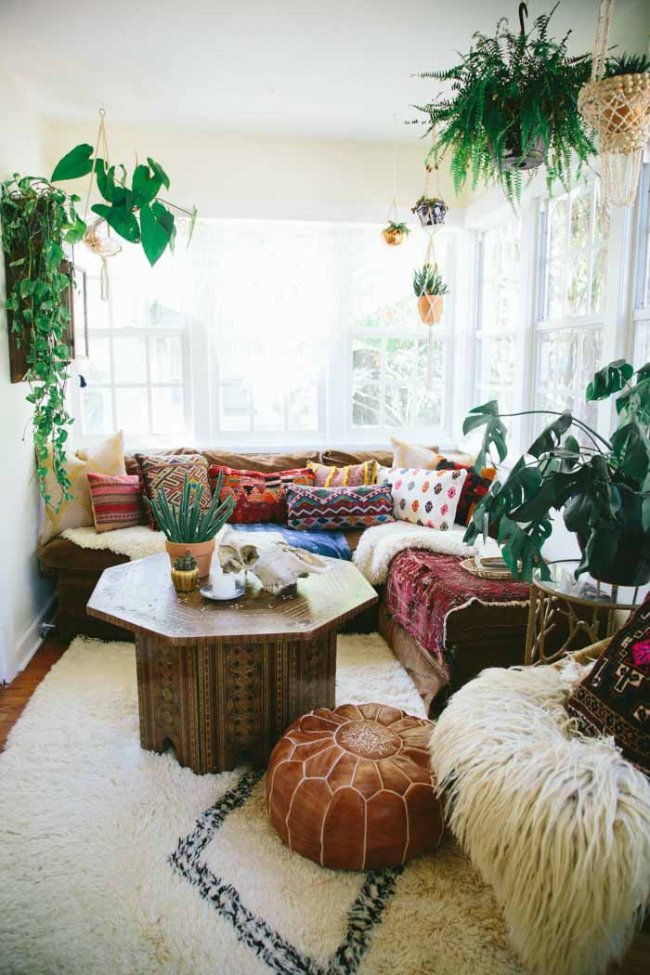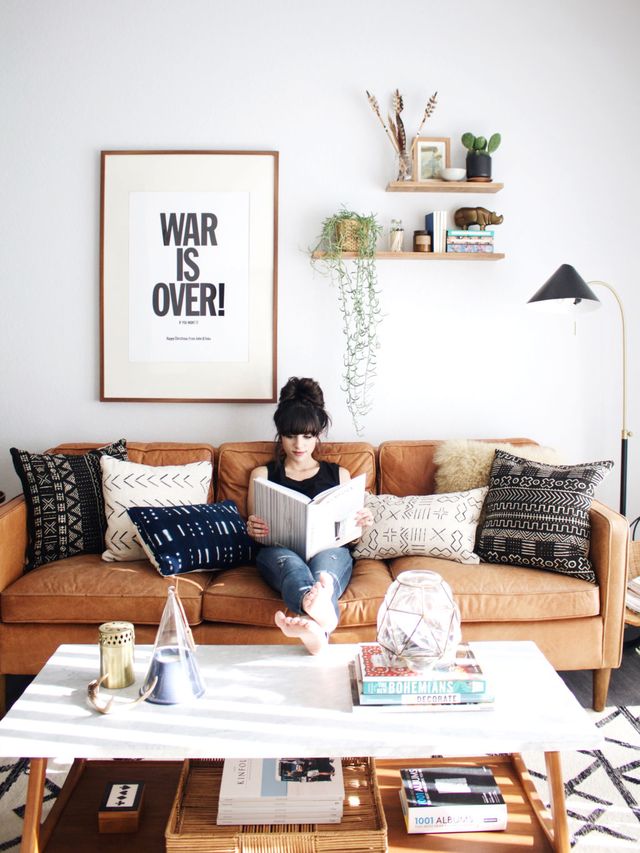 And making shibori pieces yourself is not difficult. The basic process is this:
- You make your dye. You can get dye from designers like Old Grey House or at shops like Spotlight - they sell Rit dyes which can be mixed to make indigo (here's a little guide) (but if indigo blue isn't your colour, really you can use any colour dye).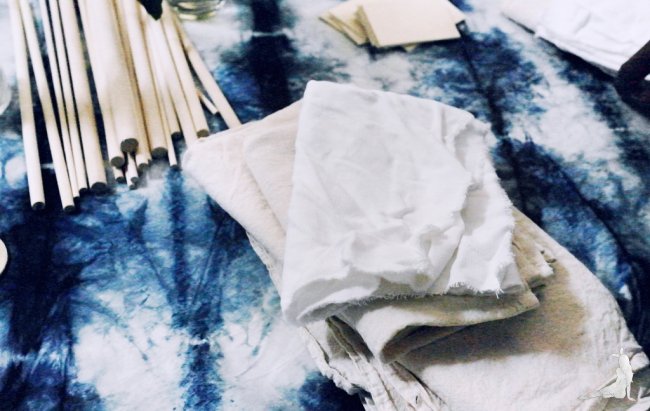 - You get a white cloth (usually cotton, linen, silk or hemp – I've bought a few different pieces from
Spotlight
) and you create your pattern. There are literally thousands of patterns you could make by means of folding, bunching, twisting, tying, clipping with bulldog clips or pegs, whatever. Basically the aim is to make the bound parts 'resist' the dye, so you're left with white patterns after the fabric is dyed. (The word shibori actually comes from the verb 'shiboru' which loosely translated means to press, wring or squeeze)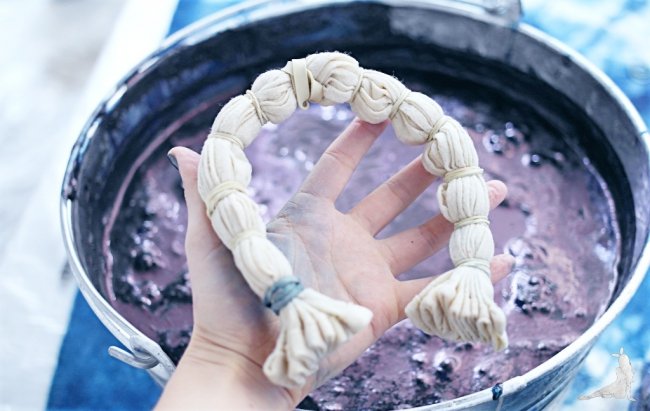 - You pop your piece of fabric in the dye for 15 minutes.
- You take the fabric out of the dye and remove the binding. It's fun seeing what your pattern looks like, whether it's a kaleidoscopic effect or a burst of an unexpected pattern.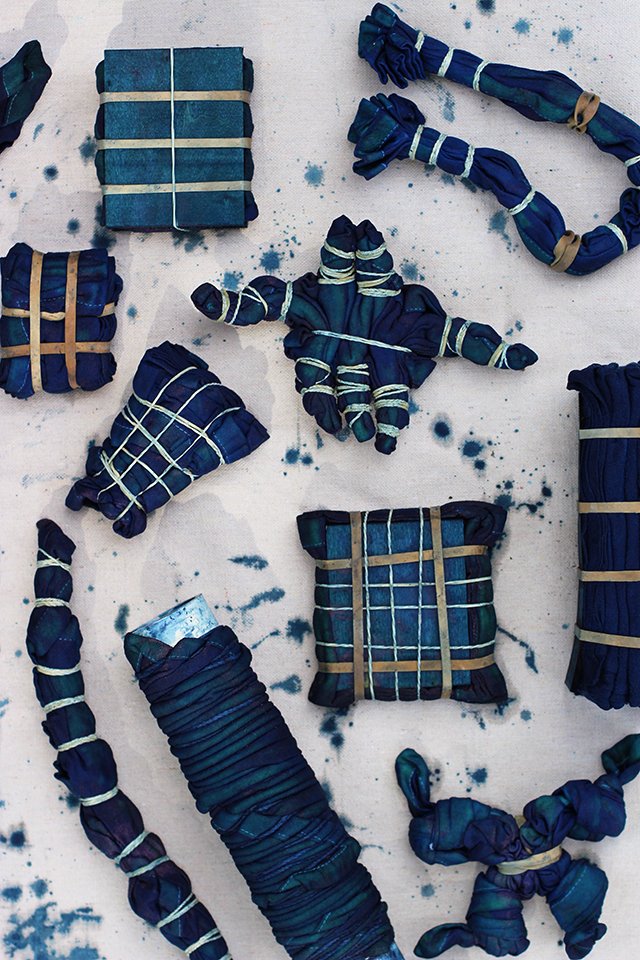 - You hang up your material. Depending on your fabric and pattern, the dye may continue to 'bleed', softening the lines of your pattern.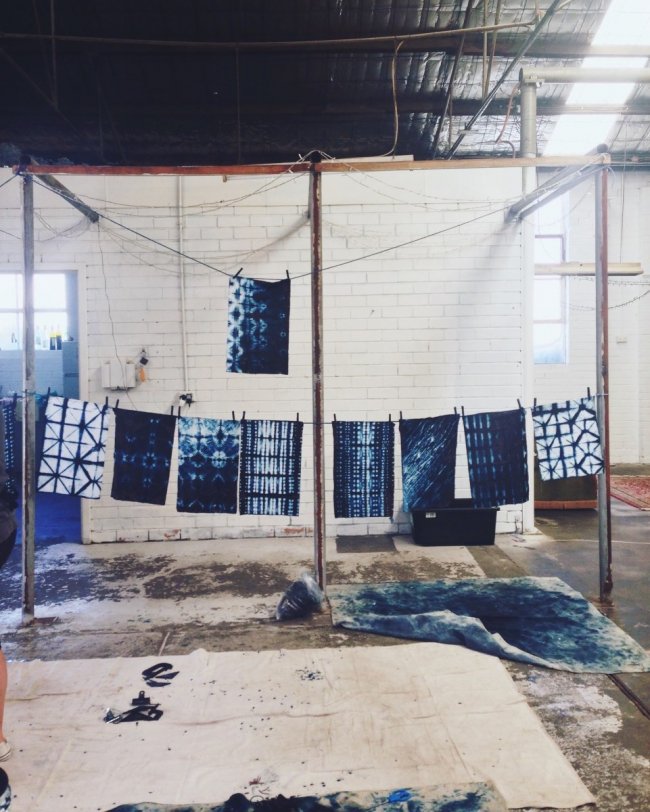 - You rinse it in water and dry it out completely before giving it a wash. It's then ready to use.
A great thing about shibori is that it is hard to completely stuff it up – because even if what you kind of planned didn't quite happen as you imagined it will probably still look interesting (in a good way!) So you can say that there are not really 'mistakes' as much as variations, and I like that. I'm so spacey sometimes. I need a hobby where mistakes don't matter too much! Shibori ticks all the boxes when it comes to 'nice hobby'. You get to work with your hands, you can be creative, get outdoors. AND it results in something pretty you can use or display in the home. So if you love homewares and linen, this might be a nice pasttime for you. I came home from the workshop addicted and started eyeing off every piece of plain white material in my home. Could I shibori that?
I imagined that was how people in the '80s felt when they discovered tie dye. I wore an oversized tie-dye T-shirt as a kid, thinking I was super-cool, like Claudia from the Babysitters Club, until it literally fell into tatters - I had no shame. "Shibori is like the grown up sister of the crazy tie-dye trend of the 90s: still pretty creative and fun, but more refined, more elegant, more... Marie Kondo!" says Nelly.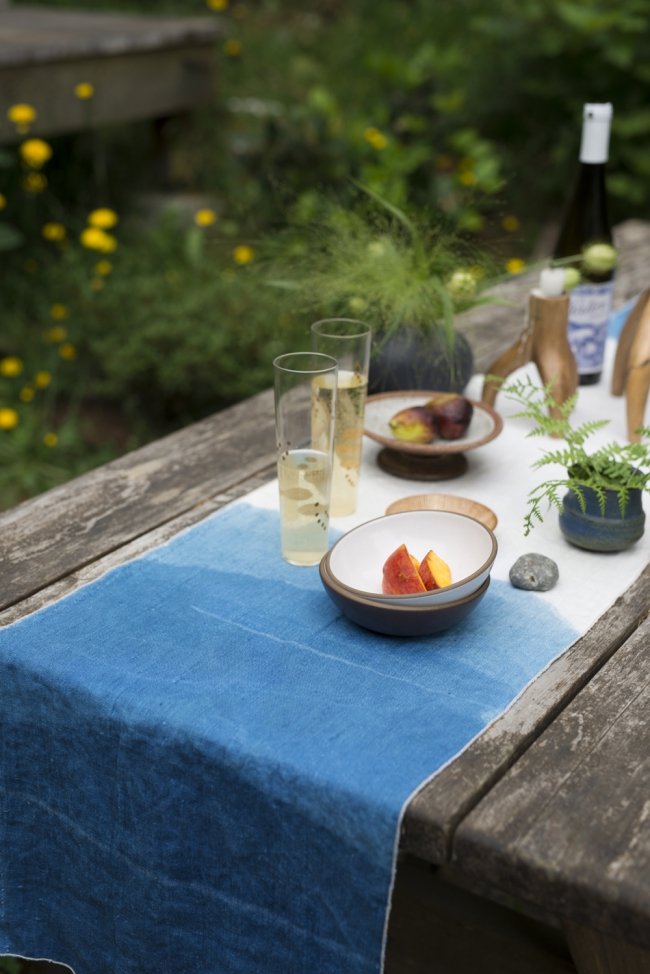 So put this down as my possible future hobby. Yes, I know my sudden love affair with shibori could be exactly like when people who don't exercise go, "I'm going to be a gym junkie!" and then they go to the gym twice and they're like, "Ok that's enough." But for now, I am ready to shibori the daylights out of any piece of white fabric that dares cross my path. I'm envisaging dyeing parties on the weekends; inviting friends round for summer evenings to drink wine, eat cheese and shibori (is it a verb?)
I guess only time will tell if it becomes a hobby. And if it doesn't, I'm still quite happy going on Pinterest, eating dumplings and going through people's houses (strictly in the blogger sense not the burglar one).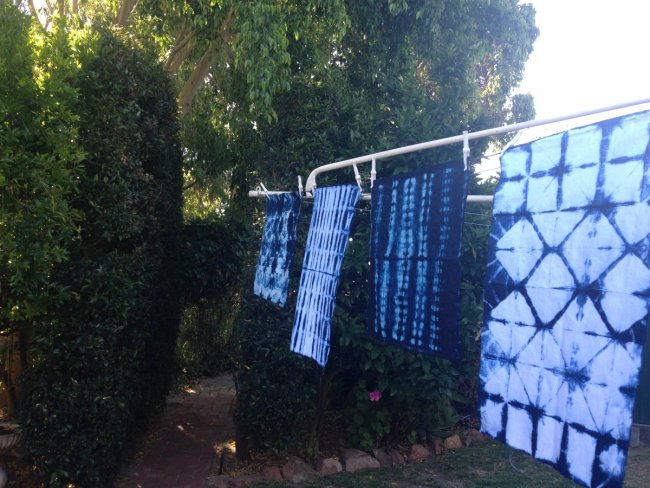 "What are you doing?" Mr Nerd asked me while I was writing this post.
"Blogging. I'm writing a post on shibori."
"On what?"
"Shibori… you know… that special dye I used in that workshop."
"Huh?"
"You know! The special dye I asked you to get me for Christmas. It's called shibori. I'm writing about it."
"Oh. You should call it 'shiboring'."
"Go away."
Before he sauntered off happily I called out to him. "Why did you tell me I need a hobby?" I demanded. "I need to know."
"Huh? When did I say that?"
"You've said this TWICE now. We've been arguing and you're like, "You need to get a hobby and get out of the house."
"Really? I don't remember saying this?"
"You did! Why?"
"I don't know… I probably just wanted you to get out of the house so I can play video games."
Have you tried shibori? What do you do for a hobby? How do you get your spouse out of the house? Maya x

Do you love interior design, real homes, renovations and before and after stories? I love chatting with other house nerds and finding out what they want to read abou on here. You can follow me on Instagram @housenerd, Facebook, Twitter, Pinterest or Bloglovin.