Posted Friday, February 17, 2017 in:
Home Envy
Before & After
When Penny and Mat bought a dark, dated and daggy 1970s home in City Beach, they thought it might be a knockdown job – and their friends presumed they would bulldoze it and build anew, too.
But when Penny and Mat decided that instead they were going to renovate and extend to make it a home for them and their four kids under 12 – while living in the house during renovations - a lot of their friends told them straight-out they thought they were crazy.
No-one could call Penny and Mat nuts now (I don't think!) With the help of local builder Exactus Homes, Penny and Mat have turned a house once destined for demolition into a wonderful, warm family home that combines a light, contemporary refresh with its original character and charm.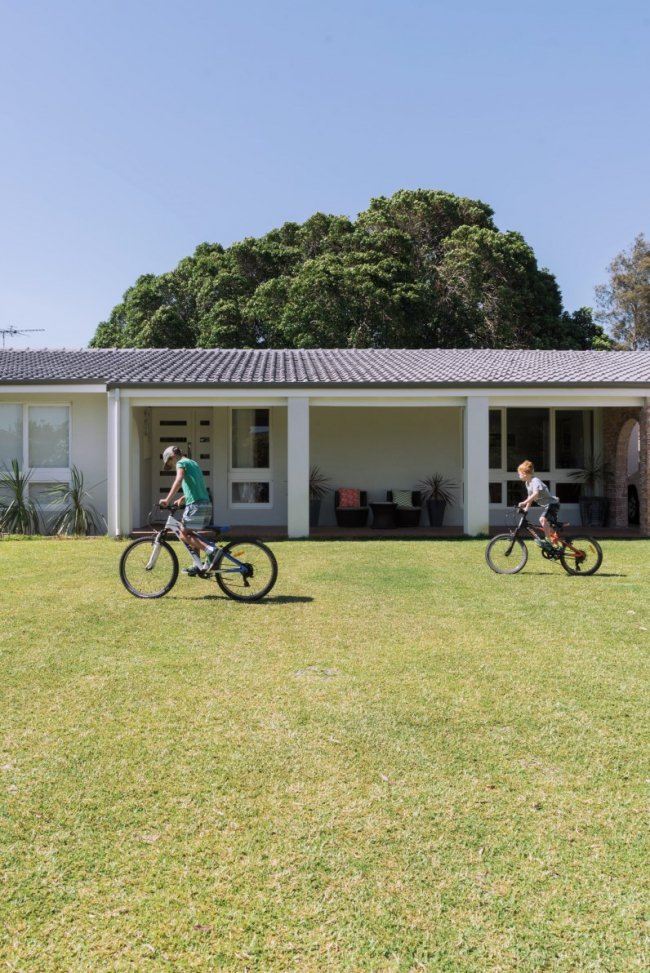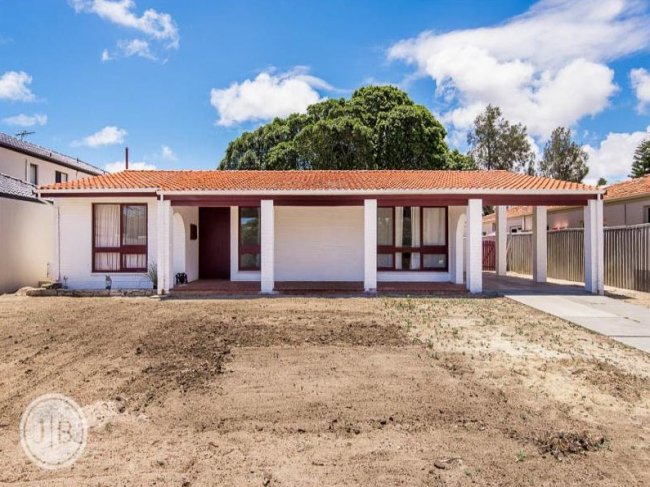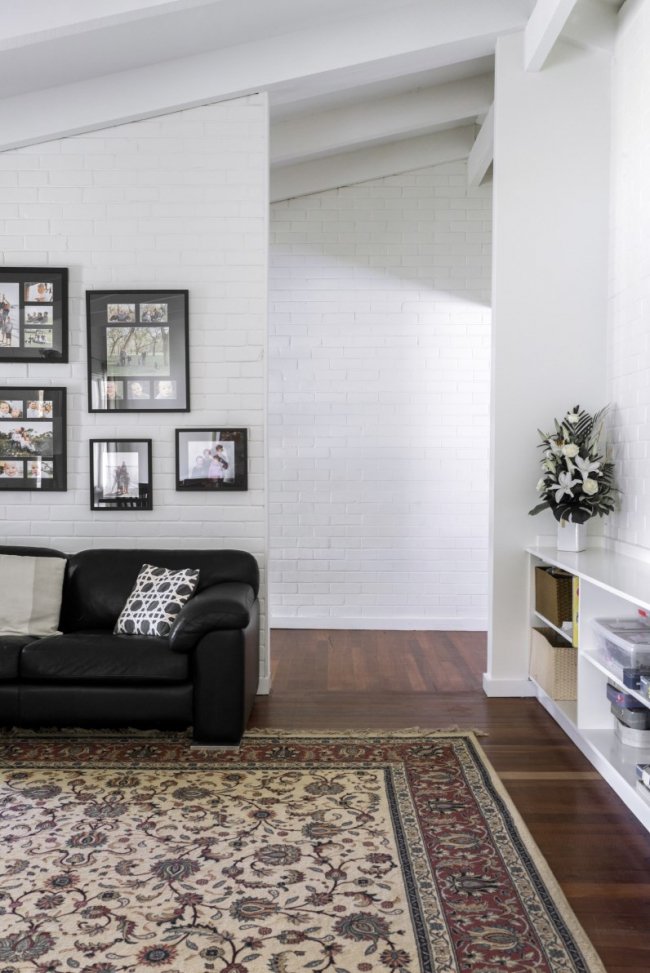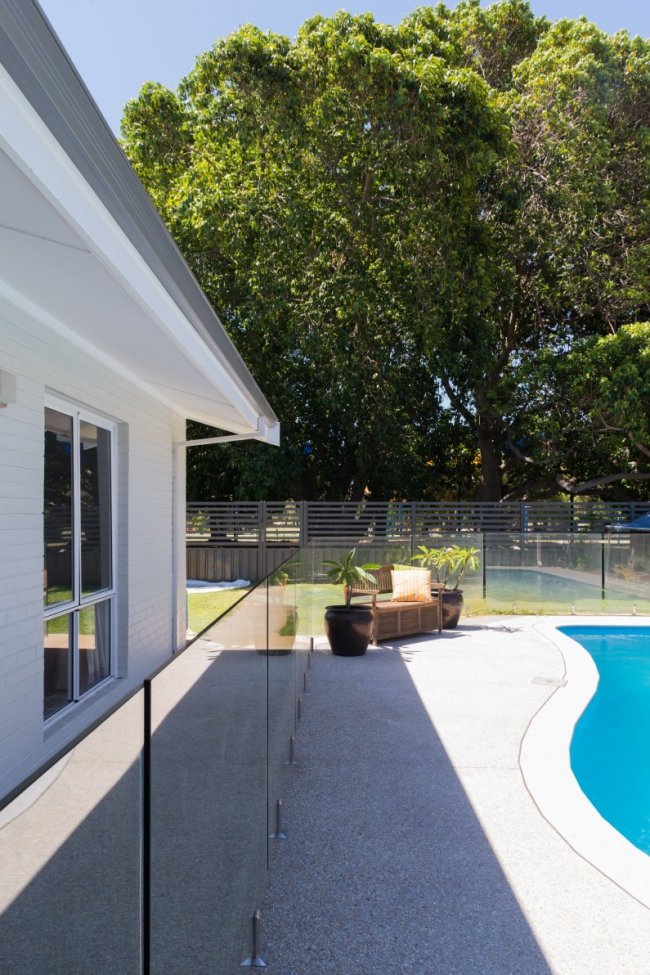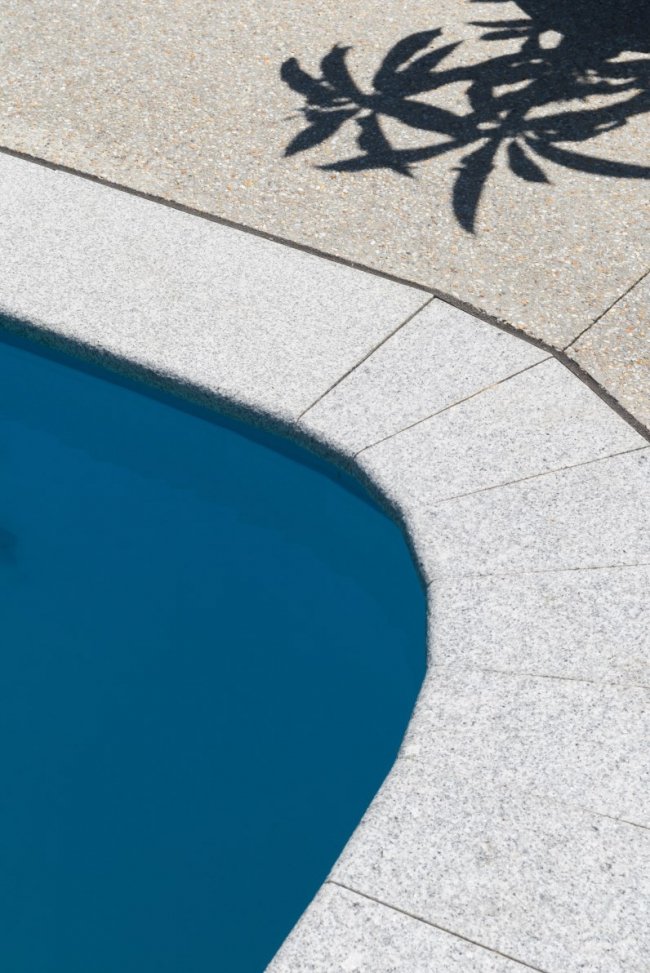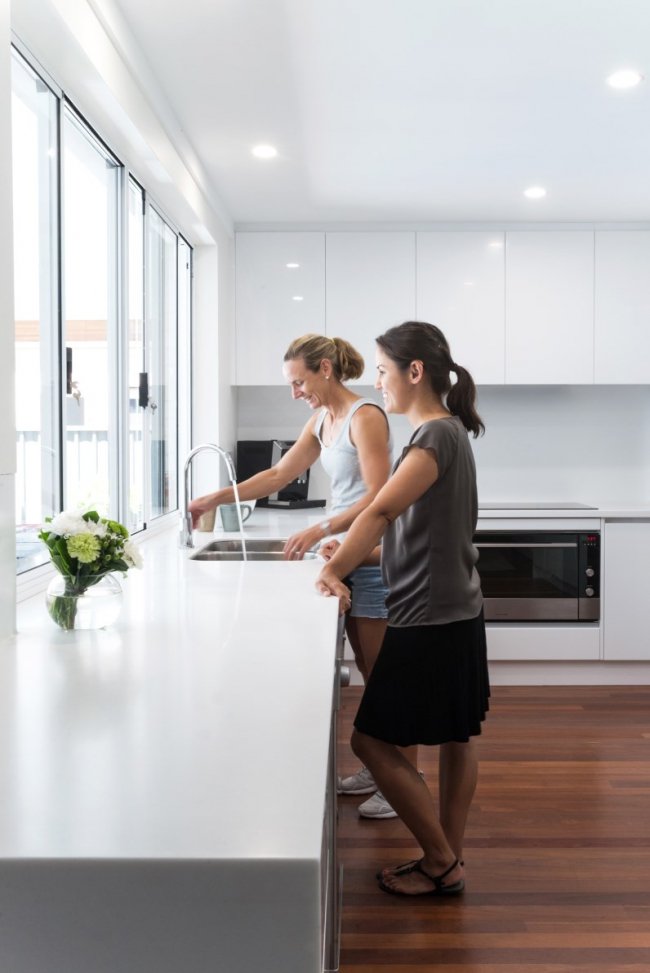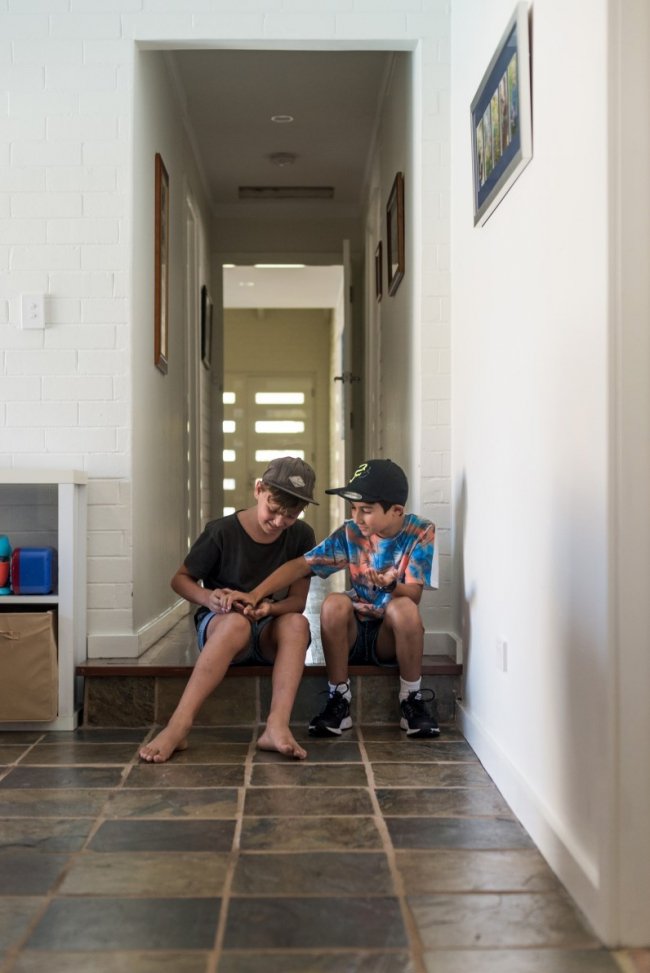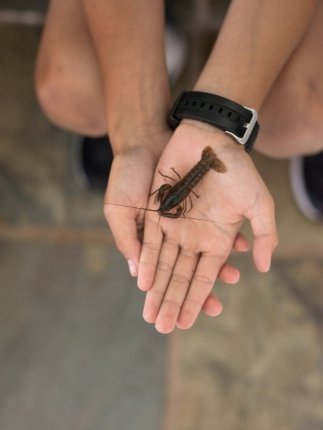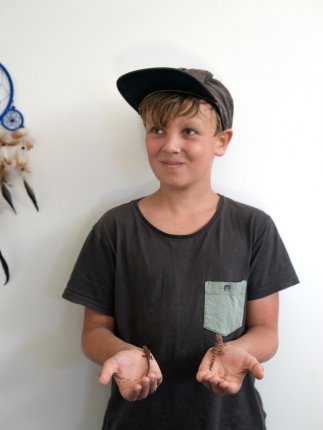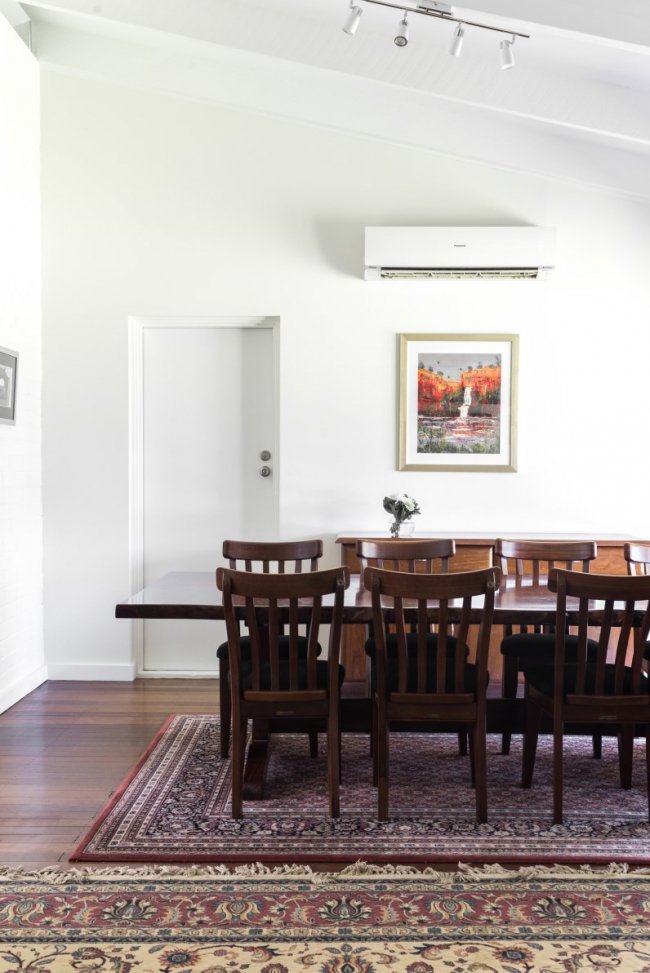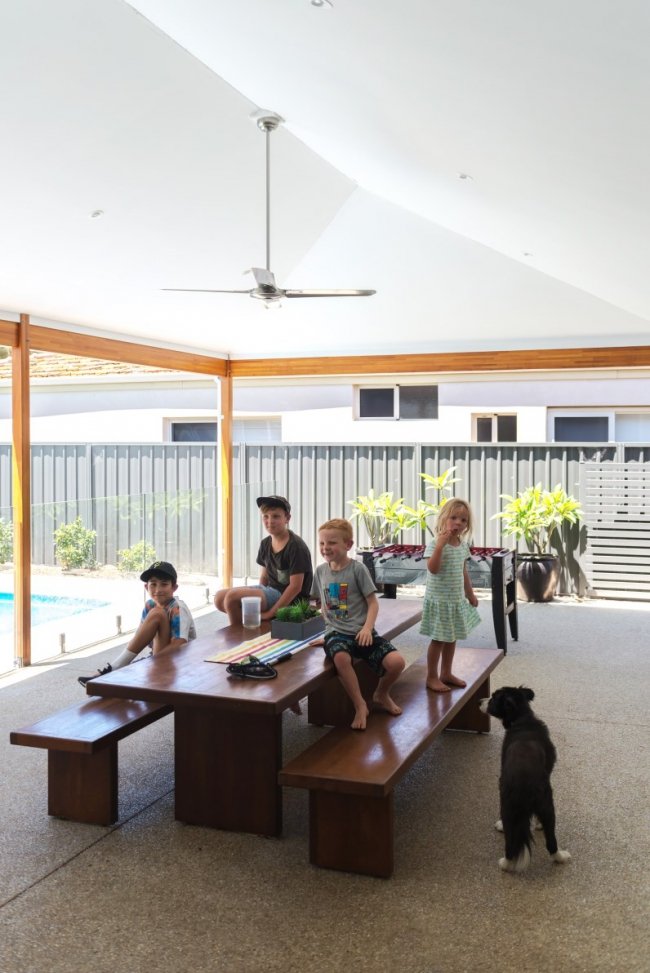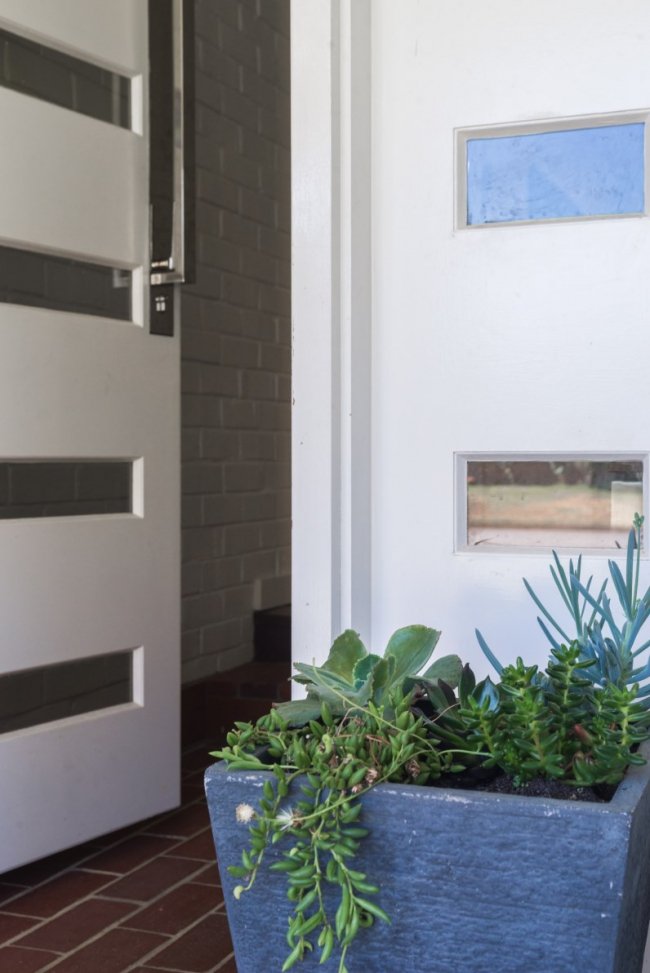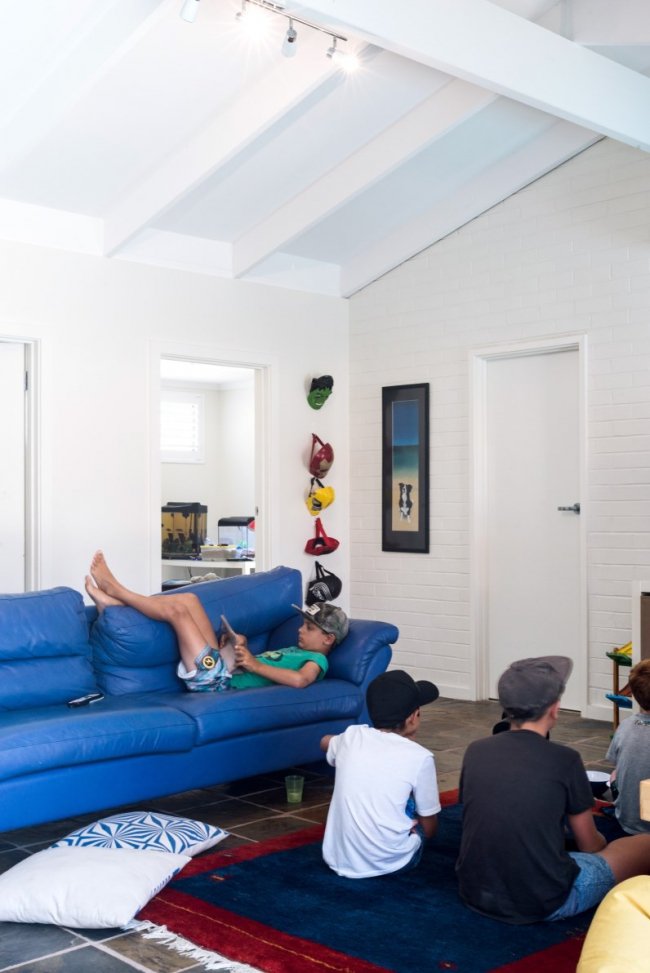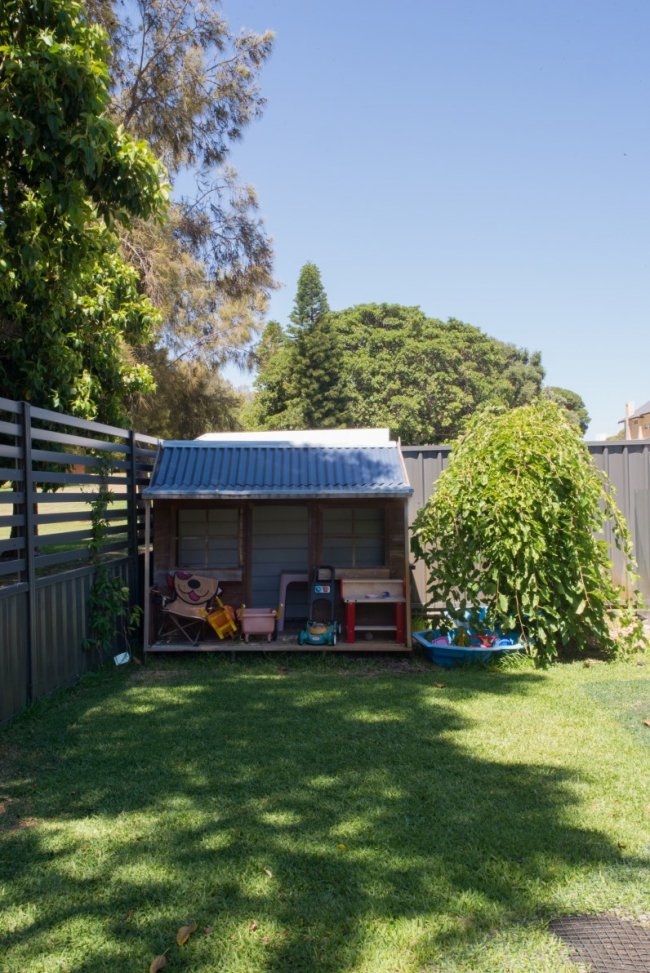 Backing onto a massive park and with a pool in the back garden, it's now a perfect family home for the couple, their four children, Tom, 11, Sam, 9, Ben, 7, and Kate, 3, and two border collies. Just like the family who live there, there is something about this house that is laidback, unpretentious and inviting. It was a hard house to leave!
Mat and Penny met in Darwin through their mutual love of hockey (both are high-level hockey players; Mat has played on a national level). When they began their family, they knew that they wanted the same kind of outdoorsy, free-roaming, adventurous childhoods they each had. Penny grew up on a homestead in the wheatbelt on a massive 40,000 acre farm. I'm such a city kid that my mind boggles when Penny tells me it takes 45 minutes to drive from end of her family's farm to the other. Mat grew up in a Queenslander-style home in Darwin.
"We aren't replicating anything like that with this house, but we wanted to do our best to replicate the freedom we had growing up with the location we have chosen," Penny tells me. "We want our kids to enjoy the outdoors, to be adventurous and creative and, where possible, limit screens. This location and house has ticked all the boxes."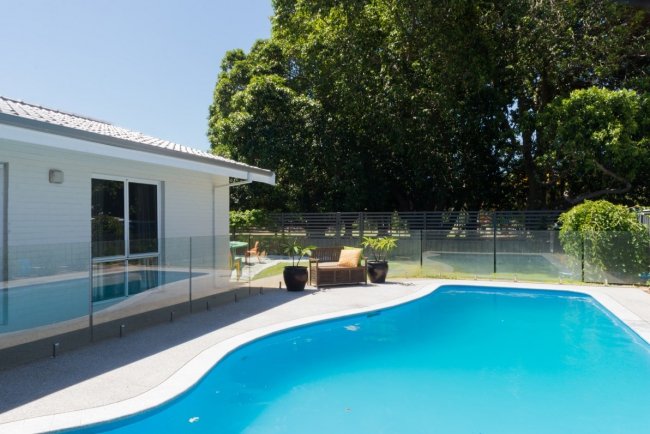 Penny and Mat bought the home for the park directly behind it. Oh, that park! The house backs onto endless lawns with huge mature trees, a playground and playing courts. It is a beautiful spot. "We loved the park the house opens onto," says Penny. "We wanted to buy anything that backed onto the park. This was the only place that came up in our price range. I think it was going to be knocked over, then the previous owners had a change of plan and sold it instead.
"We didn't care too much about the house itself as long as it was in a habitable condition and could fit us all in. We just wanted freedom for our kids (and dogs) to go out and play and explore in the park in a relatively safe environment. We also wanted a quiet, friendly street and close to the kids' school. We found exactly what we were looking for."
But the house itself was nowhere near as lovely as the park.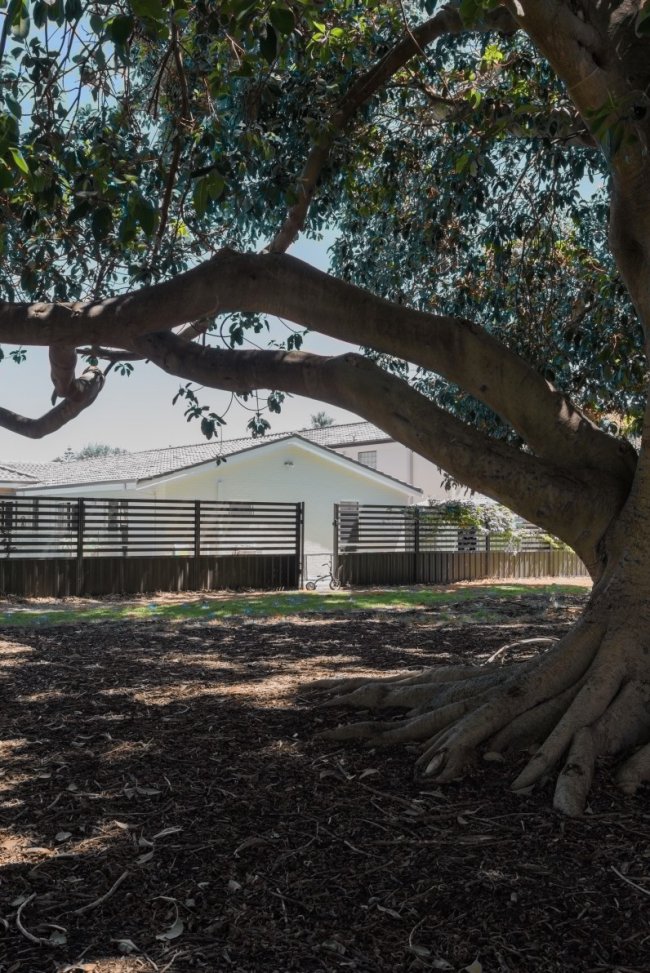 However it was solid. "The house was built in the early 70s and was a very basic, cottage-style single level house with three bedrooms and 1.5 bathrooms originally," remembers Penny.

"It had a separate dining and living, a galley kitchen, lots of archways, jarrah floorboards, raked ceilings, face brick inside and out and a large front yard."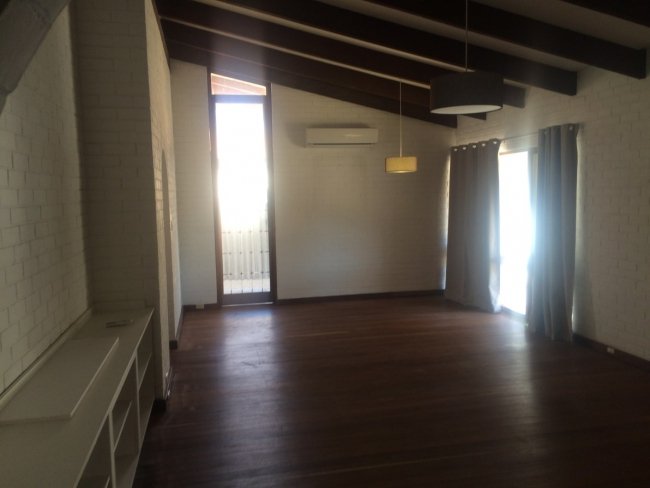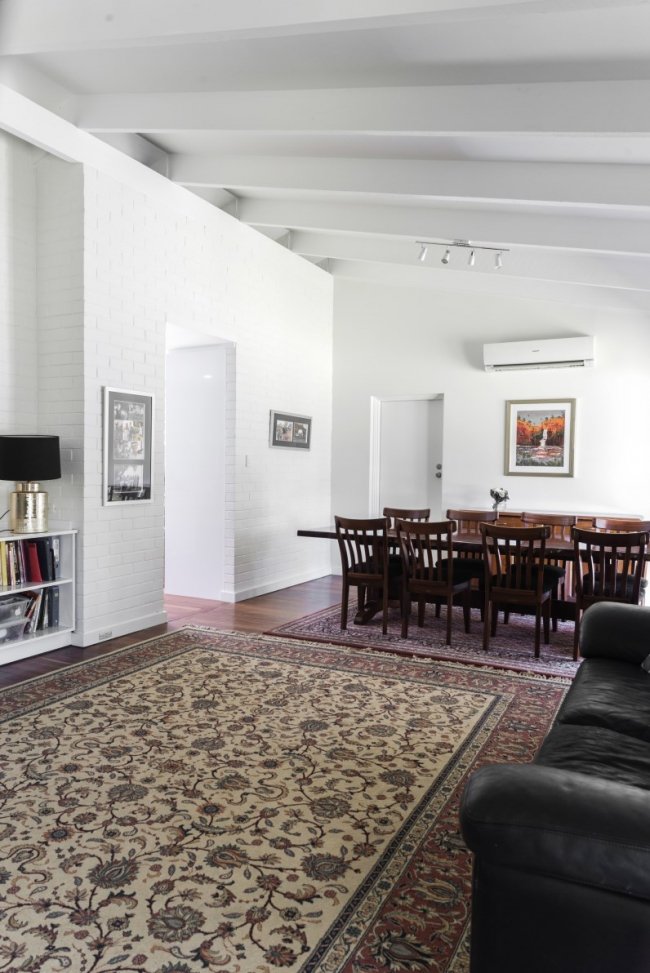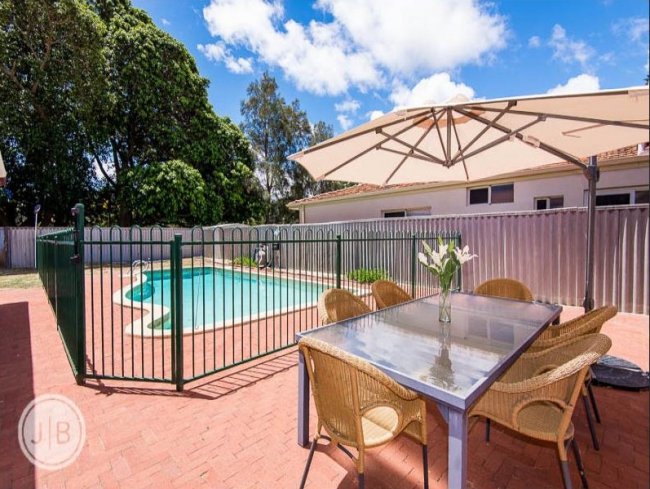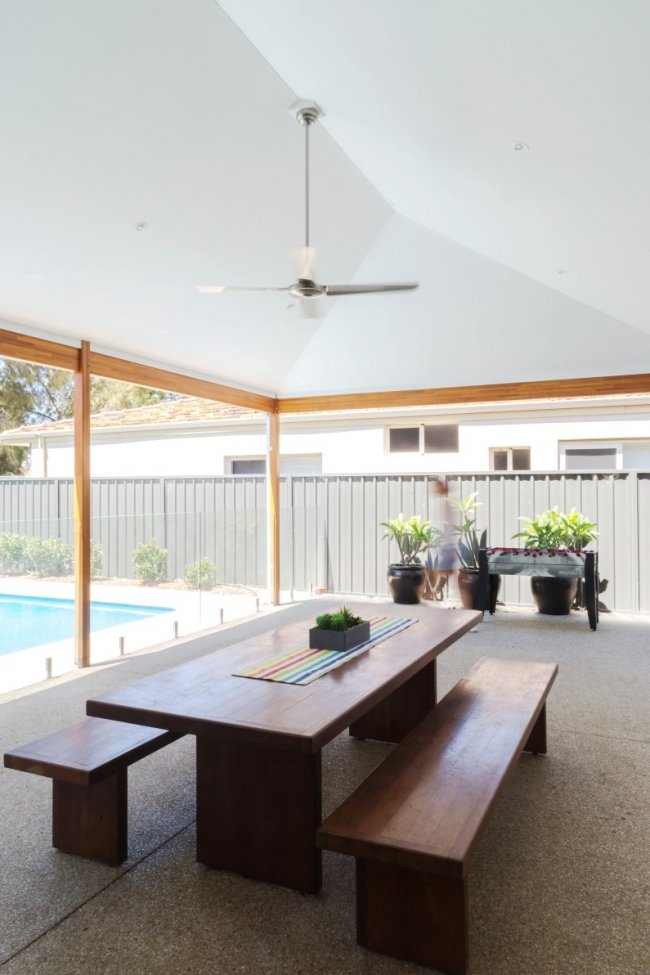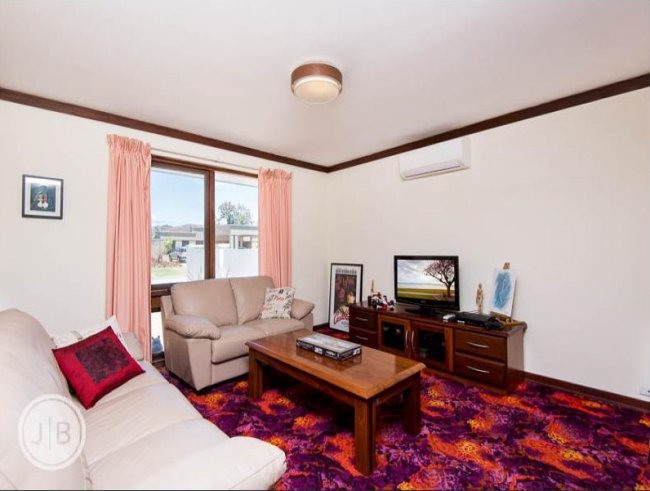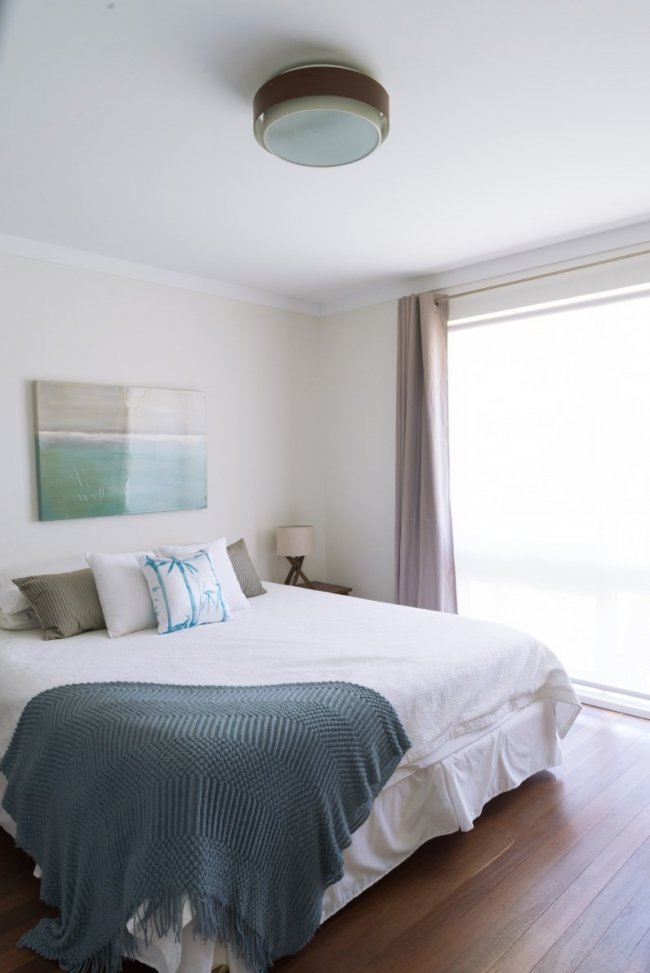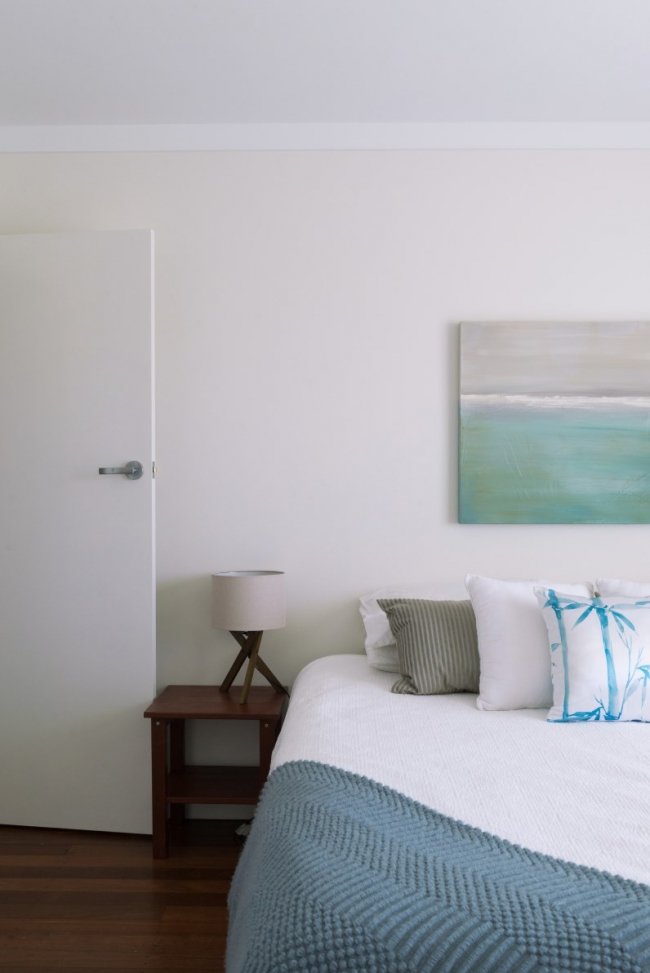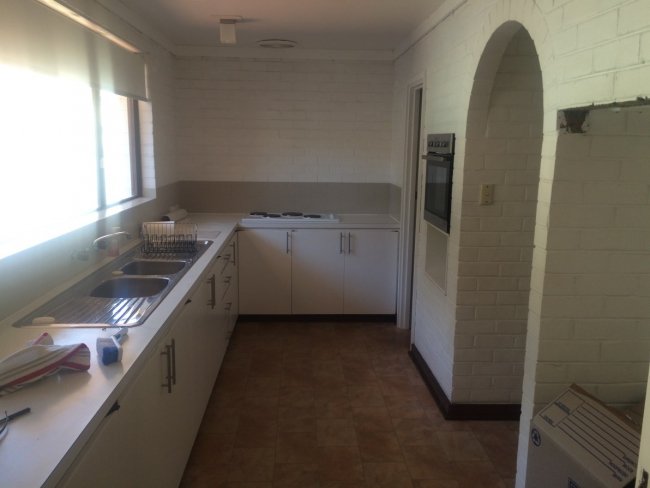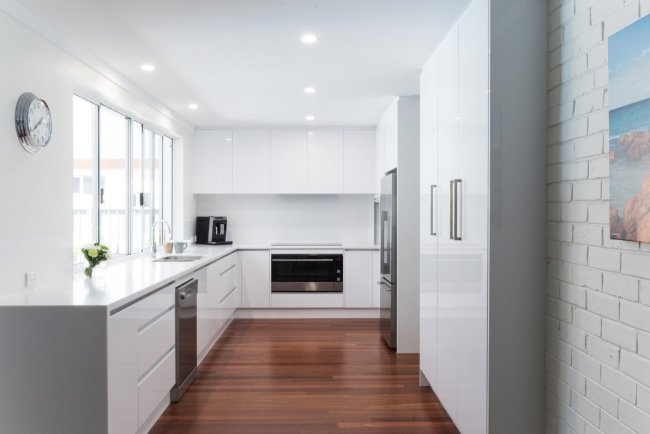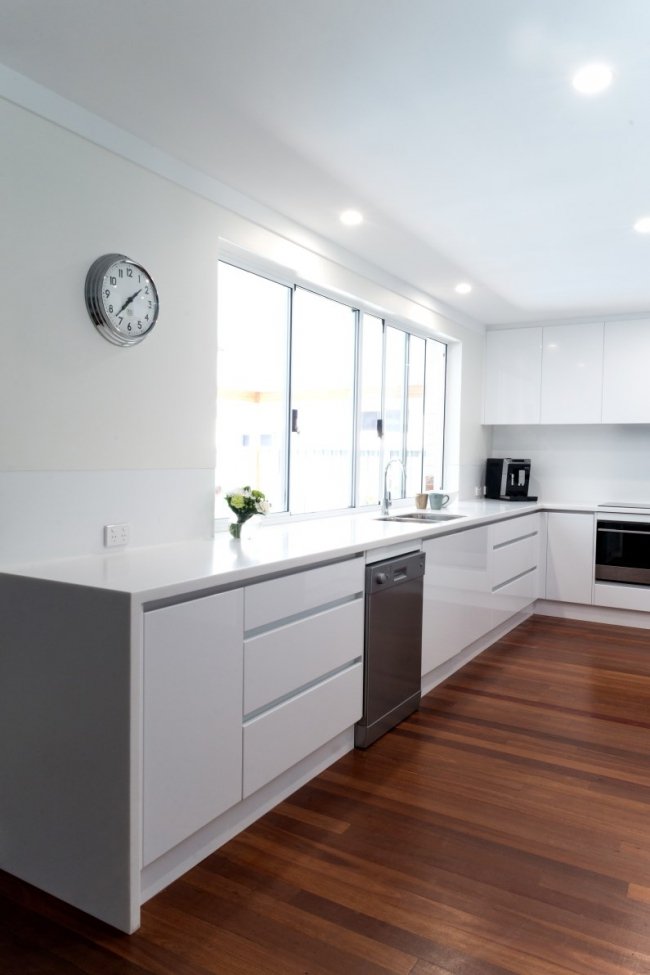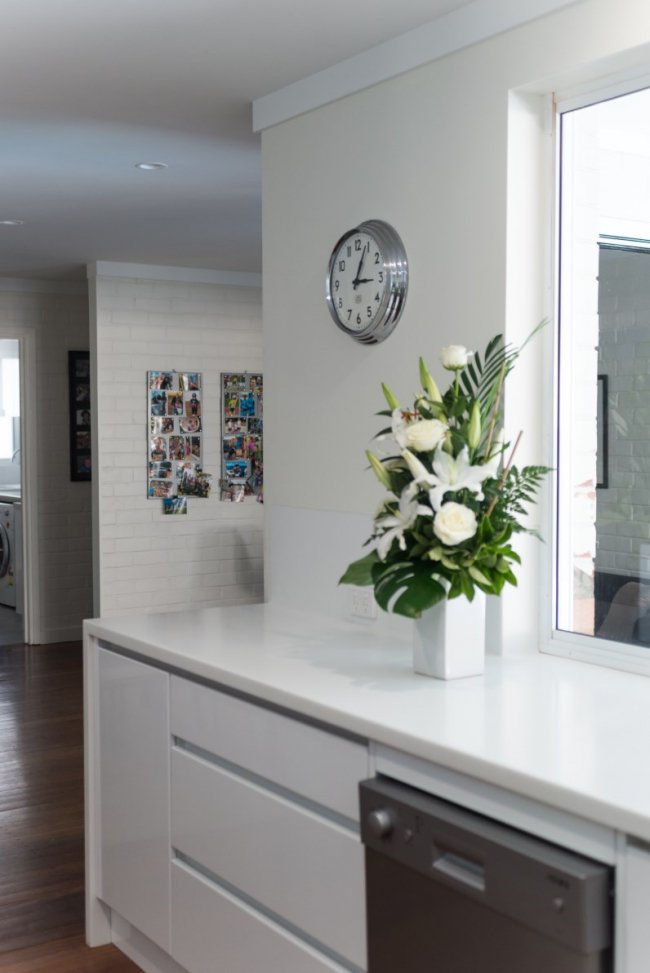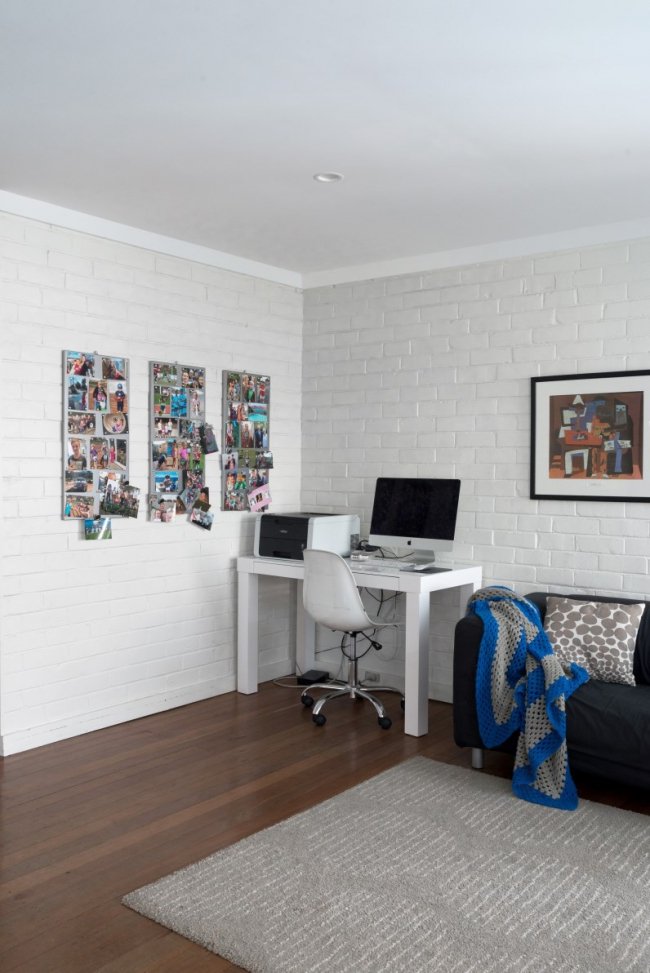 In the 80s the house received an addition; a games room at the rear with a bathroom, exposed beams and nice slate-tiled floors. It had some character, but when I see the before pictures, I'm not surprised that they initially thought the house might be a demolition job.
"It was very, very basic," says Penny of the house. "No garden, no patio, an old pool, no lawn. The interior was very dated, with original carpets. The bathrooms were old and the laundry consisted of a rusted-out sink. The kitchen was old, but it worked. Basically it was a shell of a house! We just figured we could live in it until we decided what we would do with it - which was more than likely knock it over.
"We spent a bit of money putting in lawn and fixing up bits and pieces, just to make it more comfortable. By the time we moved in and started living in the house we grew to love it.
"The floor plan was really good - apart from a few walls, everything flowed and it worked, the house had character and a good solid structure, so we decided to start renovating."
Penny and Mat knew husband-and-wife team Ralph and Sandra Brewer of Exactus Homes through their children's school and had seen their work. They knew immediately they would ask them to do the renovation.
Exactus Homes director and builder Ralph Brewer tells me his company predominantly work on houses in Perth's western suburbs – like City Beach – where the land value is generally high, where knocking down and starting again is an expensive proposition. "We specialise in homes that are 30 to 40 years old that don't suit the way we want to live these days," he says. "We like to have a close relationship with our clients and transform their home to one that they are proud of and love living in. We pay attention to detail and care about the finished job, and clients deal directly with the builder."
"With Penny and Mat's house, it was structurally sound, but didn't reflect how modern families like to live. It had long hallways, not enough bedrooms and a closed-off and poky kitchen. We did all of the building work to handover, and they arranged their own painting and kitchen cabinets."
"Penny and Mat required extra bedrooms – two. They wanted a functional outdoor living area that integrated to the inside dining and kitchen. The kitchen, living and hallway area were opened up to give more usable space. The existing ensuite was converted to a robe, and the bathroom was completely renovated. The laundry too was upgraded."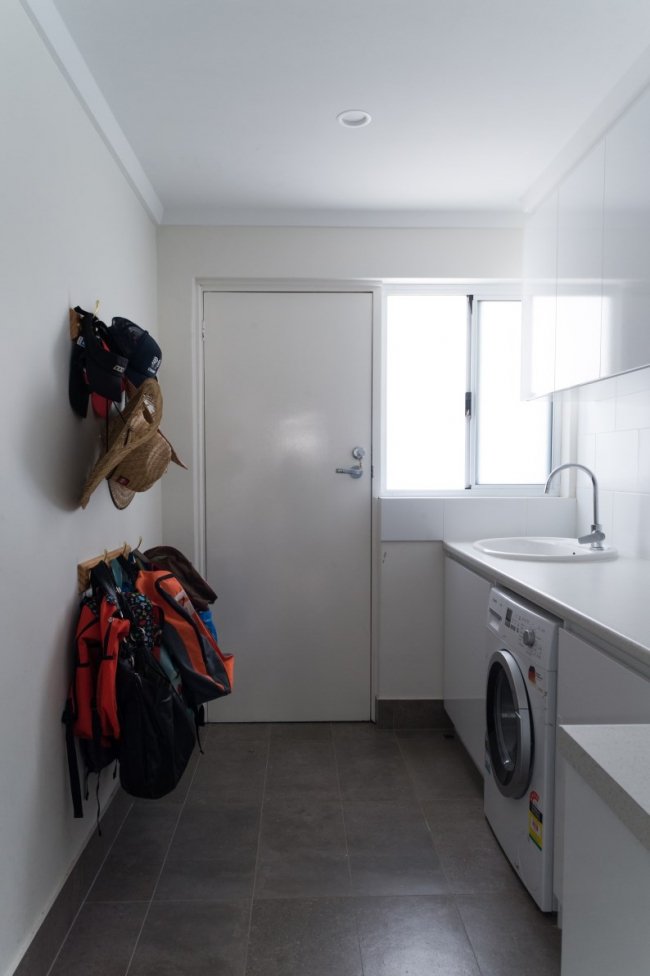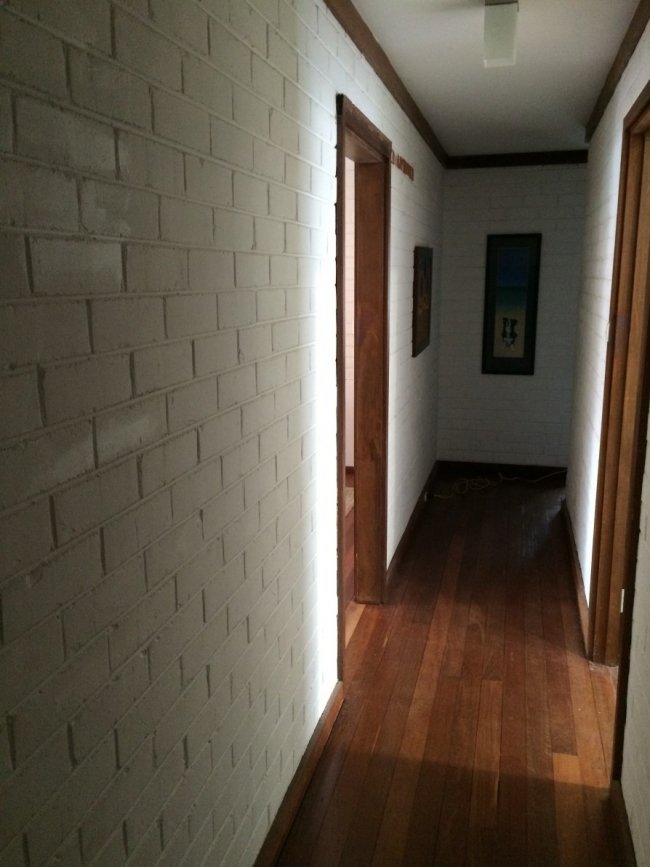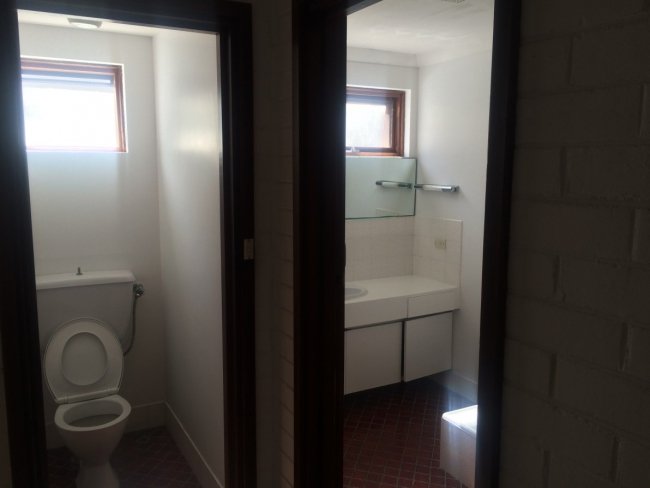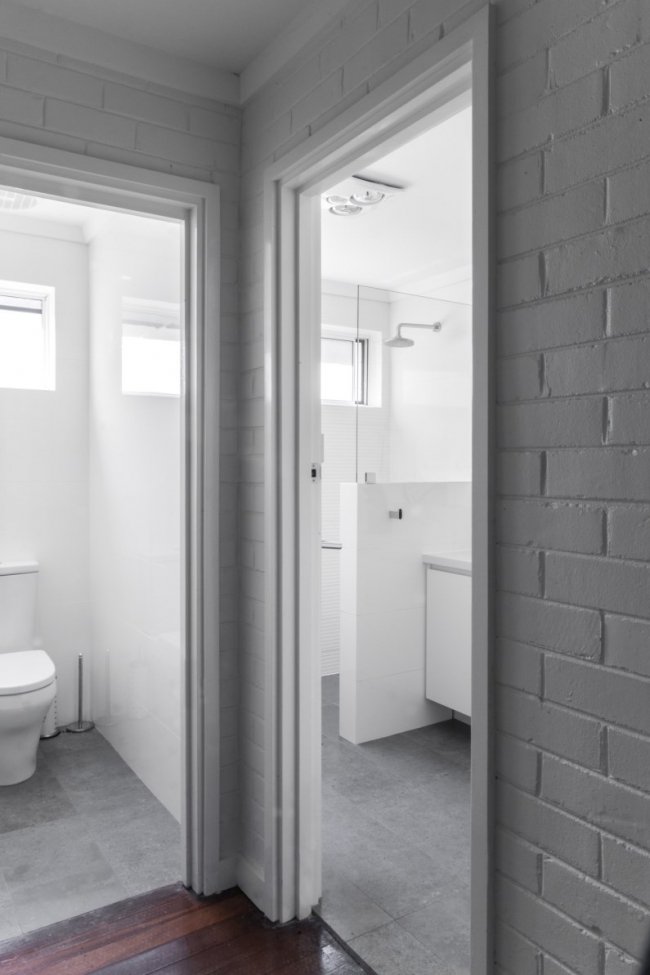 Penny says she and Mat were thrilled with the way the house turned out. "Exactus Homes were outstanding and I can't recommend them highly enough," she says. "They were patient, understanding and delivered on time. Ralph was always contactable and returned calls immediately so any small problems were ironed out quickly. The onsite builders from Exactus were professional and easy to have around. They always left the workplace neat and tidy and safe which was important with kids playing around. They worked around us living in the house and it was fun to see it all come together."
Yes, this family of six lived in this head-to-toe renovation the whole time! I am impressed. I barely cope with a kitchen renovation - how did they not lose their minds?
To start with, Penny says it was decided to do the work in stages, starting with the laundry and the bathroom before adding the fourth and fifth bedrooms, and to try to keep the renovation fairly simple. enny says the process took just under a year and went really well. "We had great builders, excellent communication," she says.
Exactus Homes marketing manager Sandra Brewer says it was not the first time their company had renovated and extended around a family living in the home. "At Exactus we are very considerate of this, and make arrangements for dirty or noisy work to occur at suitable times," she says. "The family had to put up with a bit of inconvenience and brick dust, but it saved them a lot of money in renting. Additionally it was good for the children to see what was involved and learn about the construction process. Penny used to say the noise of the tradesman working helped her toddler Kate have better and longer daytime sleeps! By the end of the project, Kate had a great friendship with "Ralph the Builder"."
When I start to ask Penny about her and Mat's decorating tastes, she makes me laugh because she is so frank and funny about her and Mat being quite indifferent when it comes to interior design.
"We are not house-y people at all!" Penny laughs. "When it comes to things like choosing tiles, I just want to go to a bathroom shop, have someone show me two tiles and say, 'Pick one!'" We just wanted a functional and comfortable home for us and our children and pets. We wanted something the family could grow into, something bright, light, easy to clean - a house we weren't precious about so the kids could use all the space and we wouldn't be stressed over damaging things. Our interior is very simple, we shopped at Freedom, IKEA, Spotlight and Gumtree!
"Ali Synnot from Style Residential did a great job with her interior design advice. Choosing tiles, colours, paint etc… stuff like that freaks us out! and choosing when you have no real idea is time-wasting. Ali did a great job and understood our taste (lack of!) We don't care too much about brands or the latest trends as long as things don't break and look okay it is fine by us. We were happy with all our choices."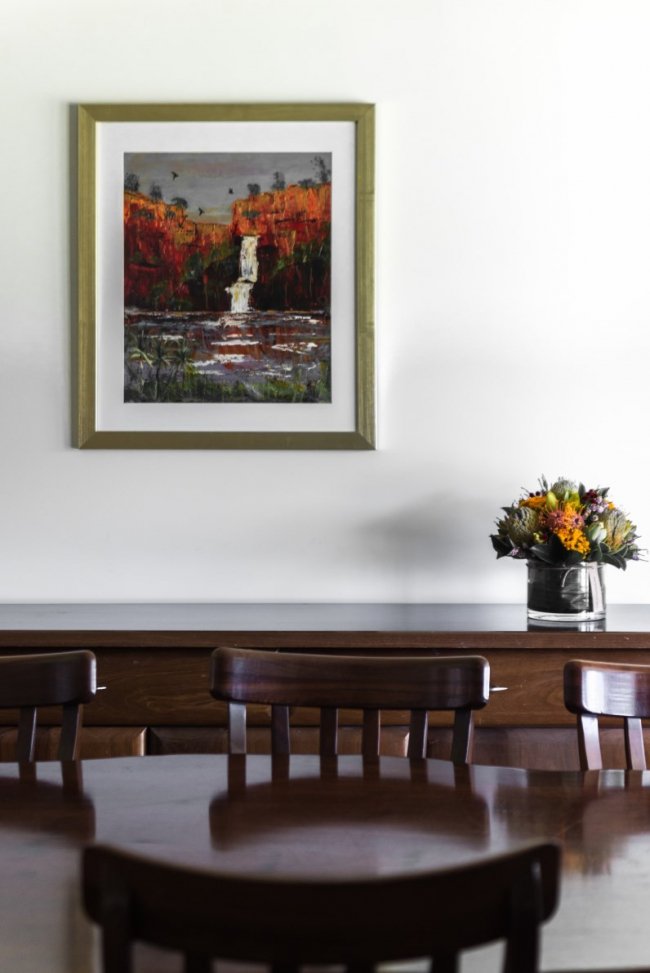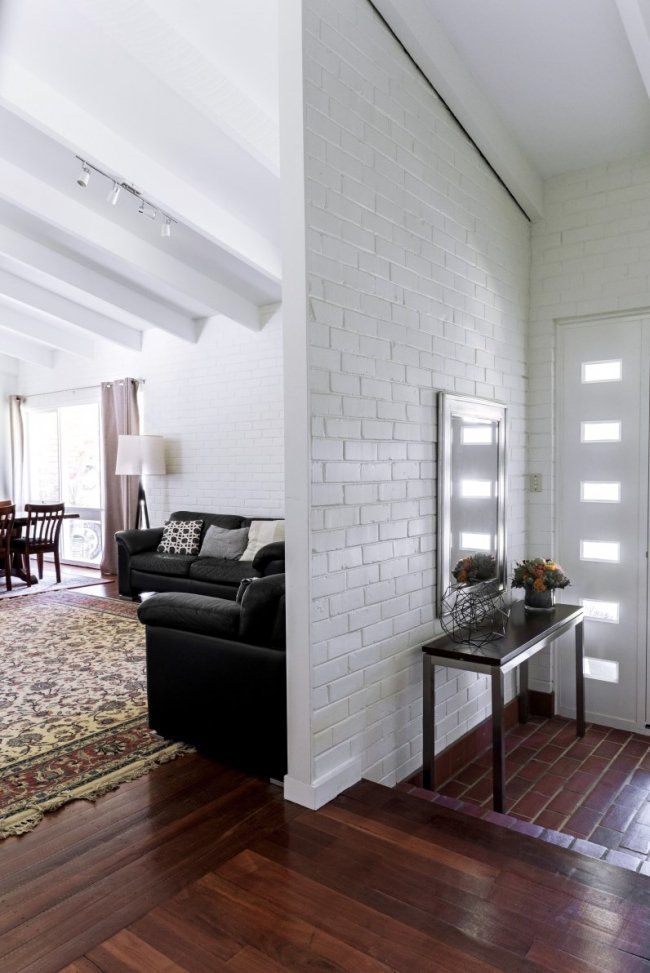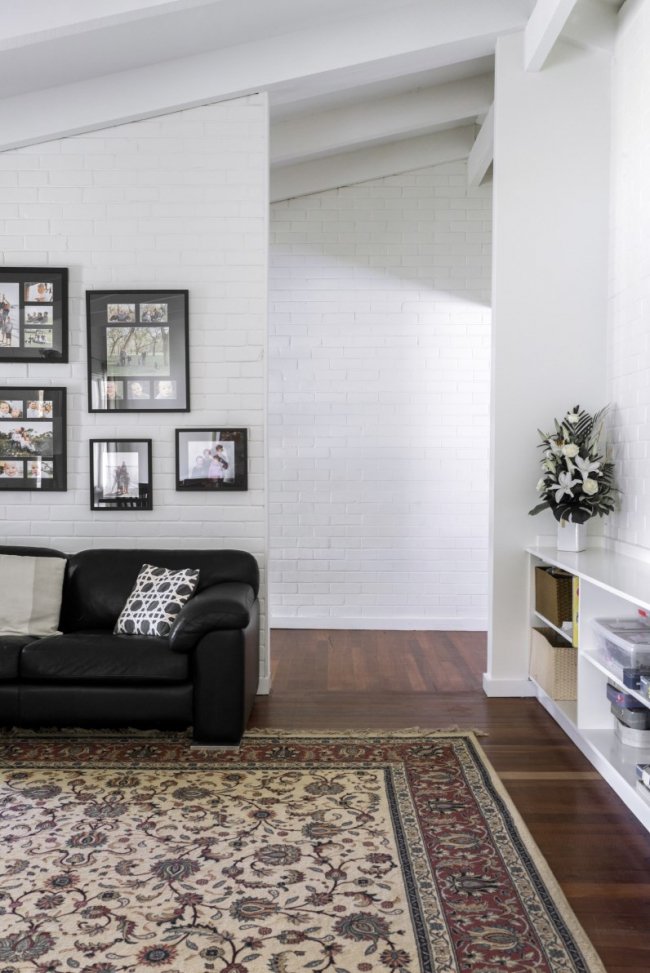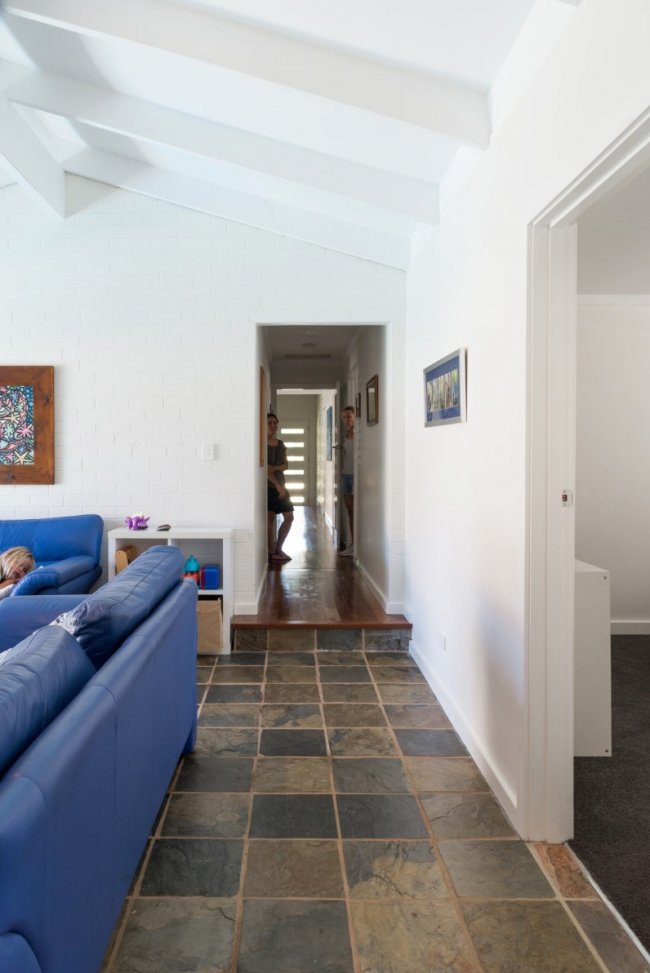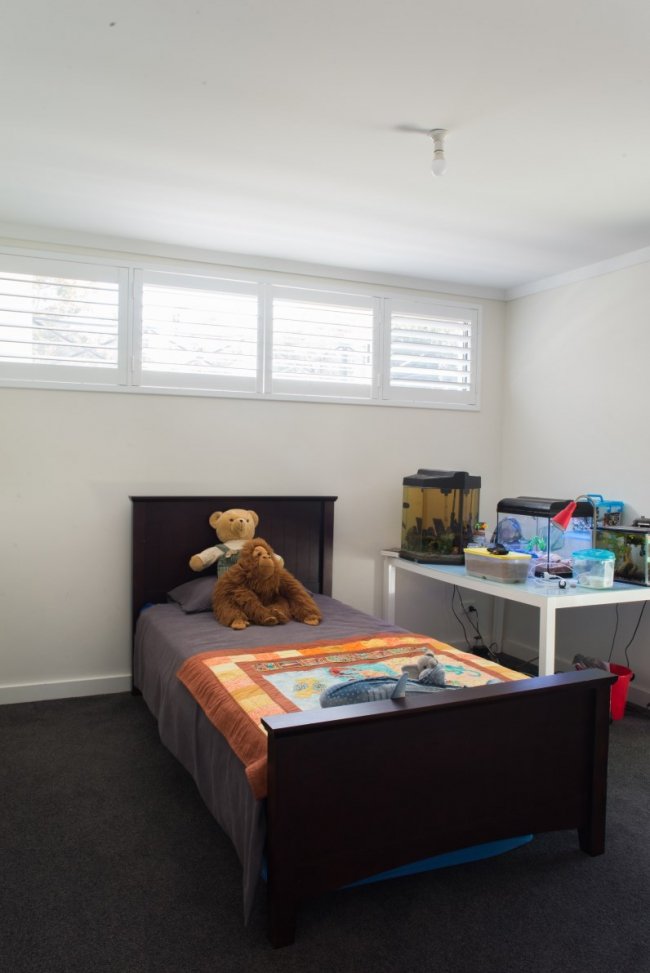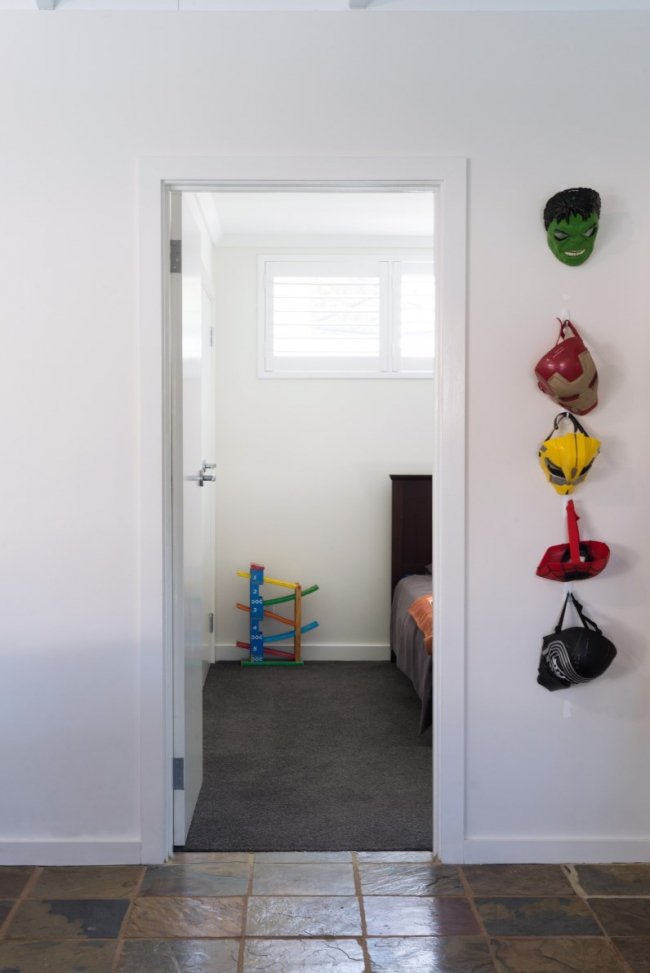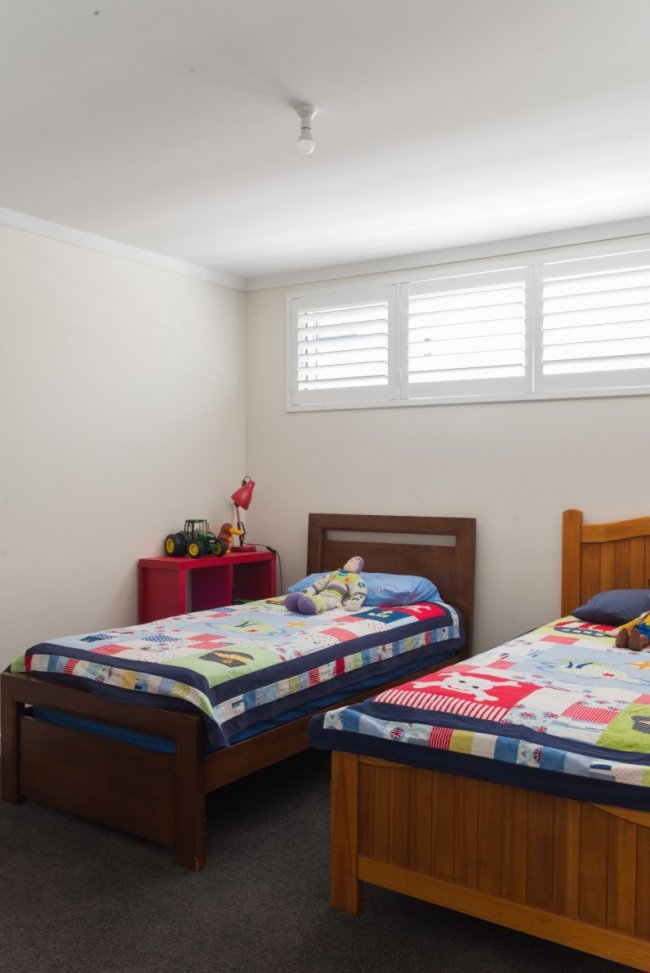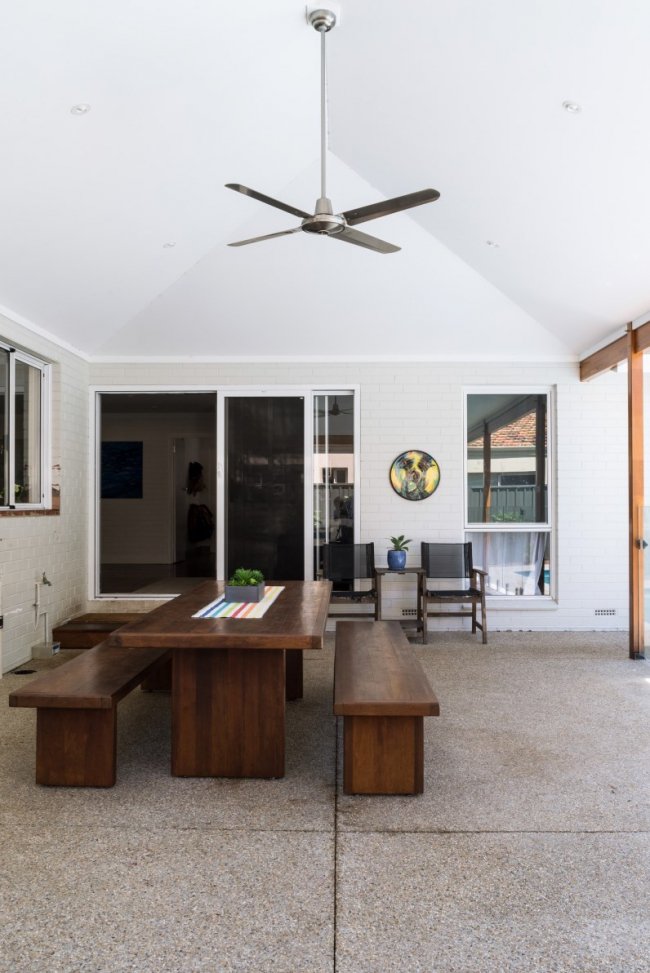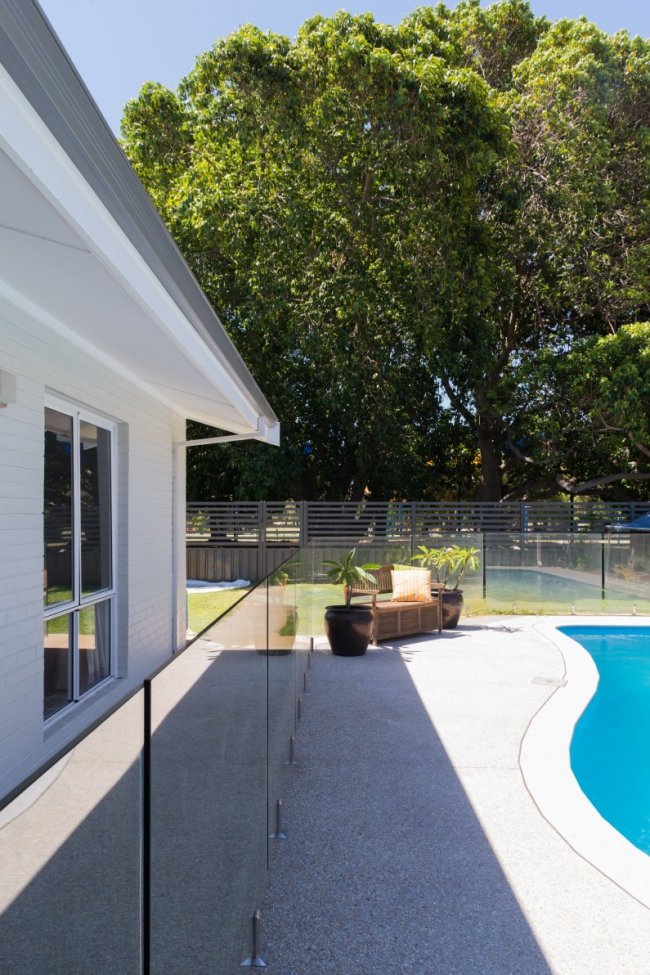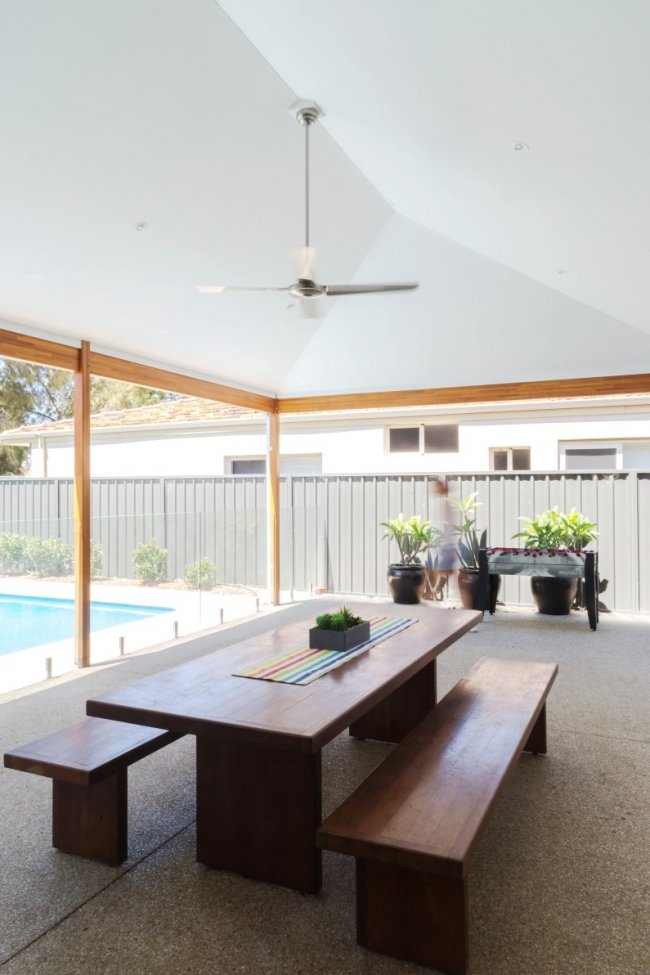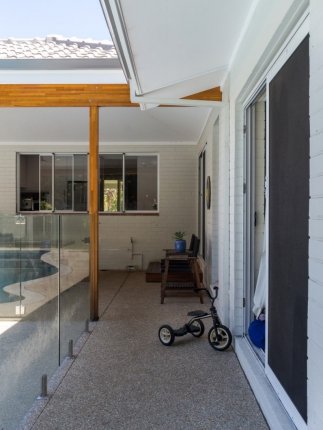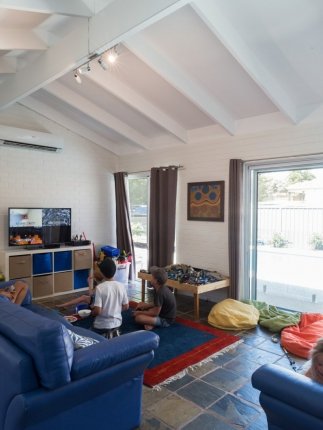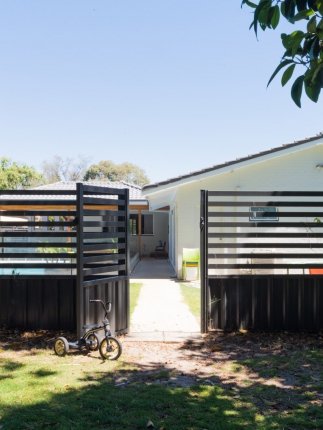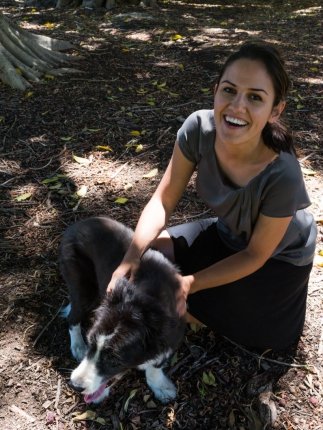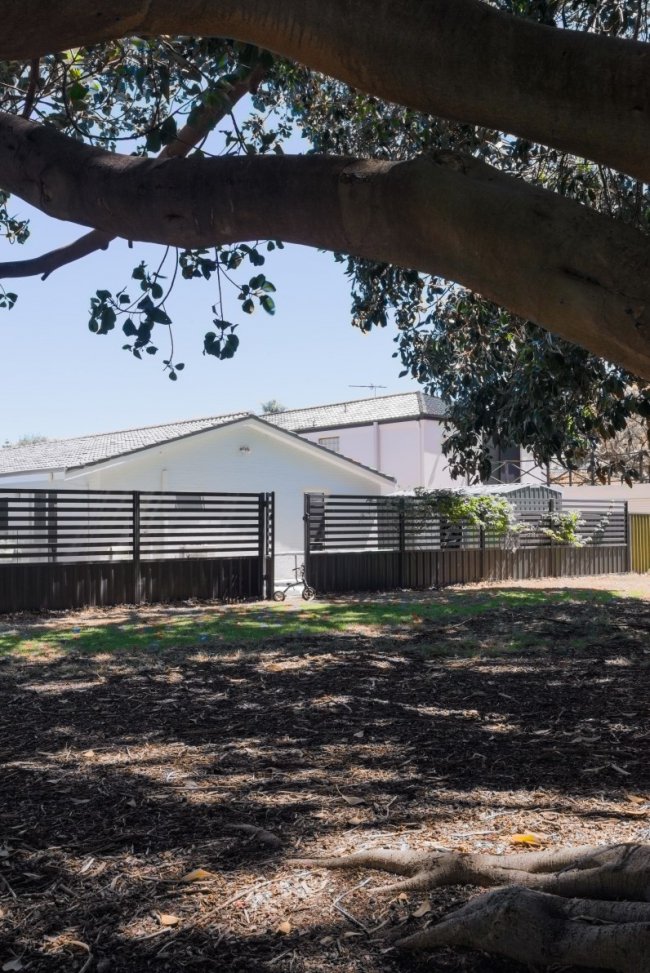 Unfussy, unpretentious, homely yet lovely, this house reflects the laidback family that lives here. They love having people and kids around, visitors are frequent and often impromptu; the kids are social and friendly and often have their friends over. "We love outside and this house is set up to move easily between the inside and outside, we wanted the park to be an extension of our backyard," says Penny. "We wanted to maintain some separate living areas so everyone had somewhere to hang; it has worked perfectly."
Managing to score a house in their dream location has paid off – Penny says the entire family is so happy with their dream parkside location. "It's a quick walk down the park to the beach, close to school, a quiet street, easy to walk to Empire Village shops for coffee, dinner and shopping," she says.
"We love the park, the space, the friendly neighbourhood, the dog walking crew in the park, the neighbours, and the kids live close to friends and family!
"There aren't really any downsides - I guess there is a lack of privacy but we aren't private people and the kids love being able to see who is out in the park and on the street, they are very social."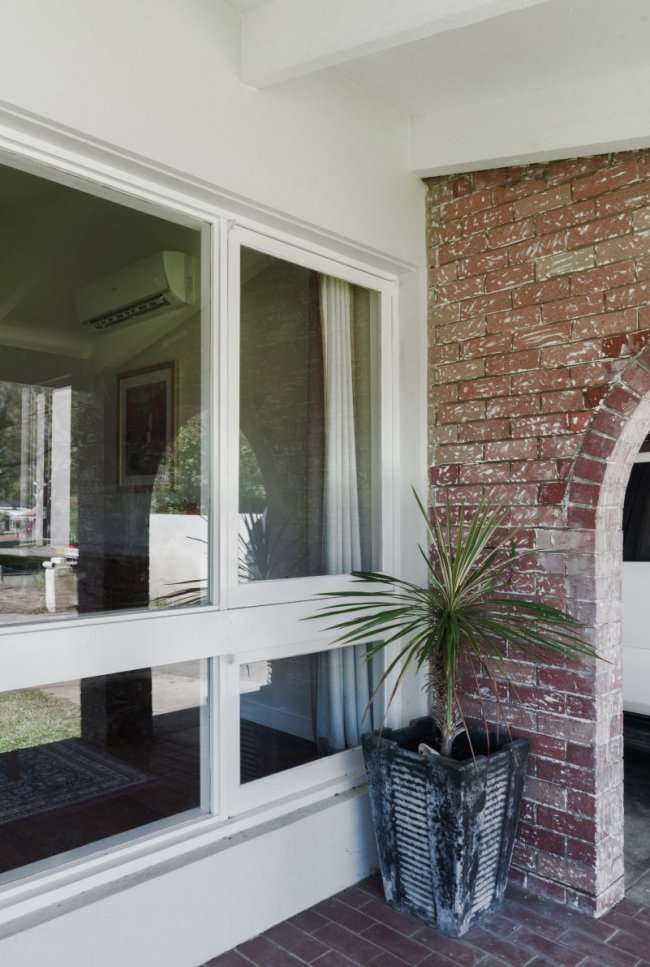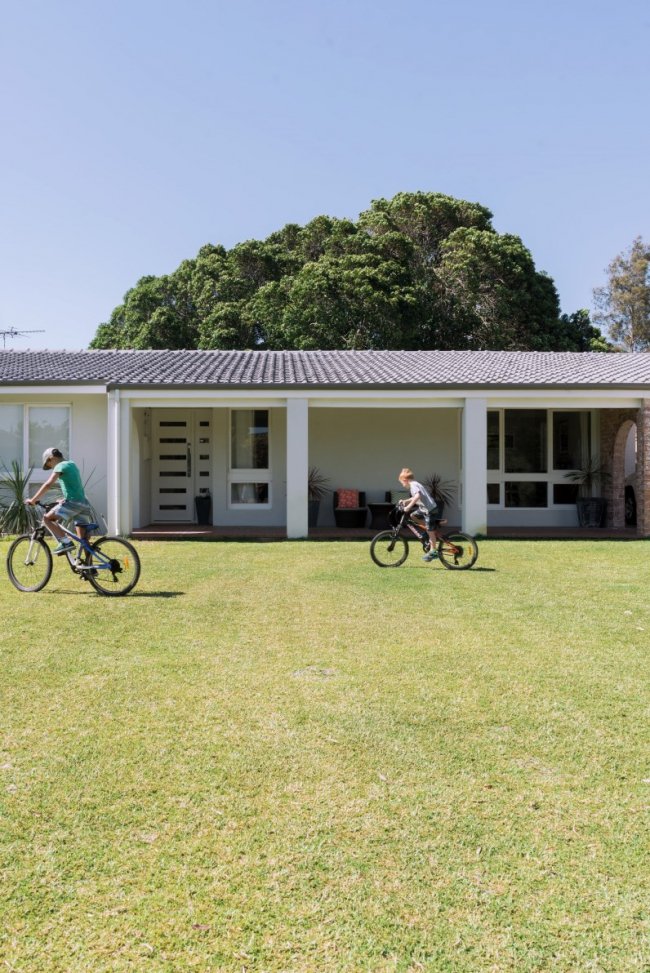 Wanting to renovate your own 1960s, 70s or 80s home? I ask Ralph if he could share his top tips.
1. Decide your budget.

"Worrying about what things cost can be a bit futile as the costs vary so much," he says. "As a general guide, we say adding a room to a house can cost $50,000 to $70,000. We also have general guides to the typical cost of kitchen, ensuite and alfresco renovations which we provide on our website. The budget should be what you feel comfortable you can finance, and consider what you are adding to the capital value of your property. Many local real estate agents can give you an opinion of what your house may be worth if you extend or renovate. By starting with your budget, you can then determine what's possible. That leads to our second tip."
2. Decide what you want to achieve.

"You need to think about what's important to you. If you are outdoor people like Mat and Penny, a new alfresco is going to have more impact and reward than a new luxury ensuite. By starting with a budget it's then possible to go down the priority list. A new kitchen might be a must-have now, but the bathroom update might have to wait a couple of years."
3. The best place to start is to talk about what's possible.

A good builder with experience, like Ralph, will be able to walk around your home and give ideas about what's easy to achieve, and what is complex and possibly expensive. They can also give you ideas of pricing. "At Exactus we are happy to give "rough prices" which are indicative of what it may cost," he tells me. "Only if you are happy with that, we will proceed down the formal process. Our process can be viewed here. We have our design consultant, Kerry Needham, who has decades of experience in home renovation, and she is able to sketch out rough plans and suggest new ideas that you may not have thought of."
It might have once been deemed a demolition project, but right now, Penny says there is nothing they would change about their lovely house. "As the kids get older, we might try to upgrade a few features, but right now we are enjoying living in what we have," she says. "It's easy and fun and very stress-free - we have no desire to build a new house. New stuff causes unnecessary stress for us!
"When the time is right, we have another stage to go – we will add a granny flat under the exisiting roof line for a parent or teenage kid, visitors… or down the track for us to escape the kids!"
You can see more of Exactus Homes' renovation and extension projects on their website here, or follow them on Facebook, Pinterest or YouTube.

Do you love interior design, real homes, renovations and before and after stories? I love chatting with other house nerds and finding out what they want to read abou on here. You can follow me on Instagram @housenerd, Facebook, Twitter, Pinterest or Bloglovin.

Would you have bought a 'diamond in the rough' house like this one? Have you ever lived through a renovation project with kids in the house as well? Maya x