I felt like I was going back in time a bit when I went to visit this little house – a tiny 1960s cottage in a quiet country town. And it is gorgeous!

This red brick cottage is home to interior designer Hayley Kessner, 31, (known as Hayley Gemma) and her husband Chadd, 38, a builder and construction manager. Hayley and Chadd live with their three children, Jaspa Reef, 10, Sascha Fynn, 9, and Scarlett Grace, 3 – as well as their Great Dane Behemoth (Bo for short) and a clan of former battery chooks.
Hayley's family was one of the original families to establish the town of Byford, a once-small but now quickly growing country town. "I grew up in the next suburb, and all my family and friends are here," says Hayley. "At the local shops, everyone knows each other and says hi. It's a lovely place to live."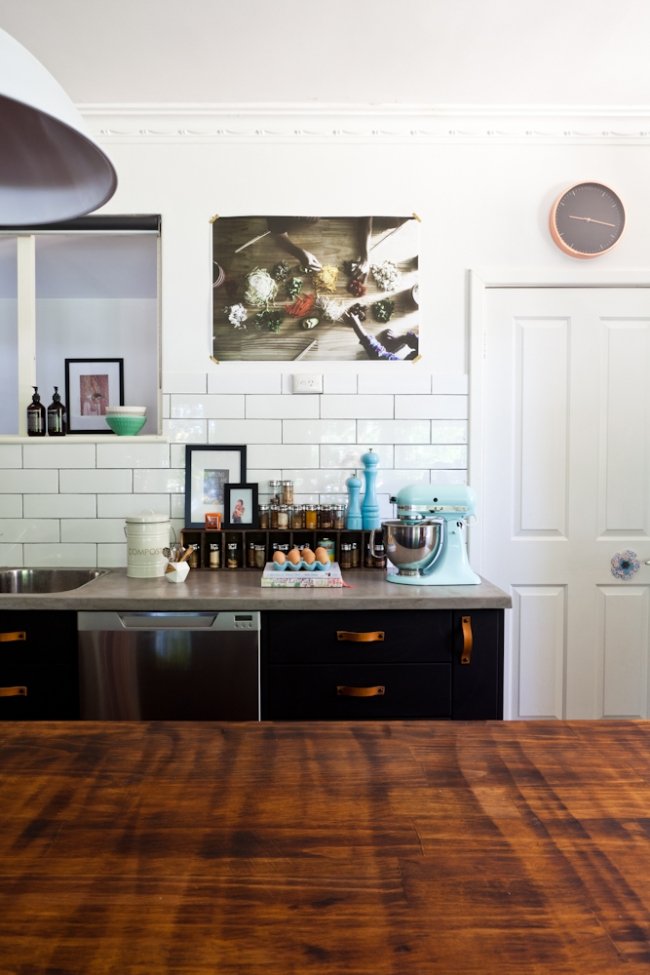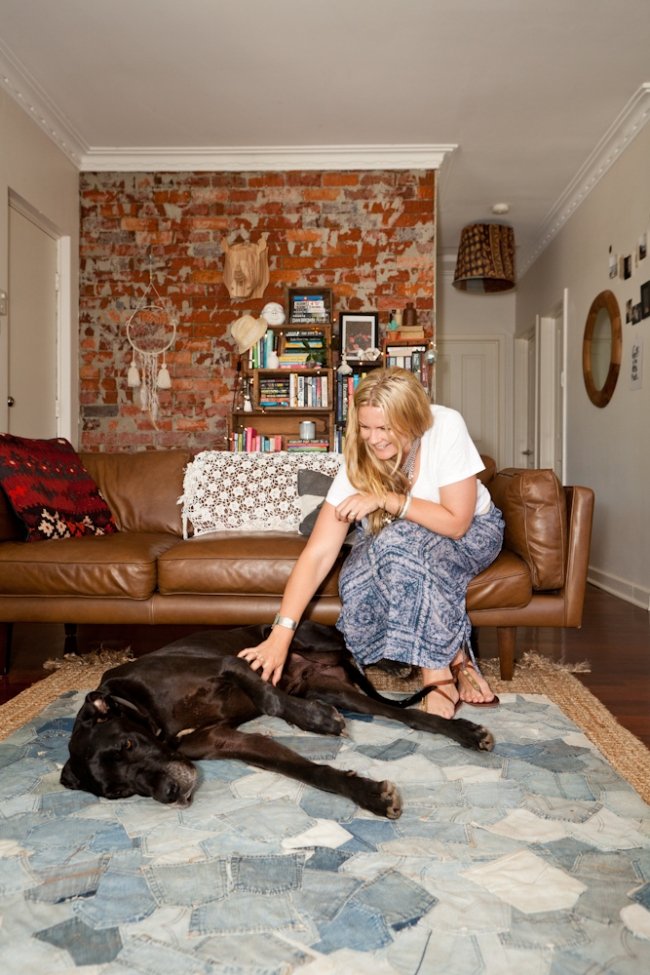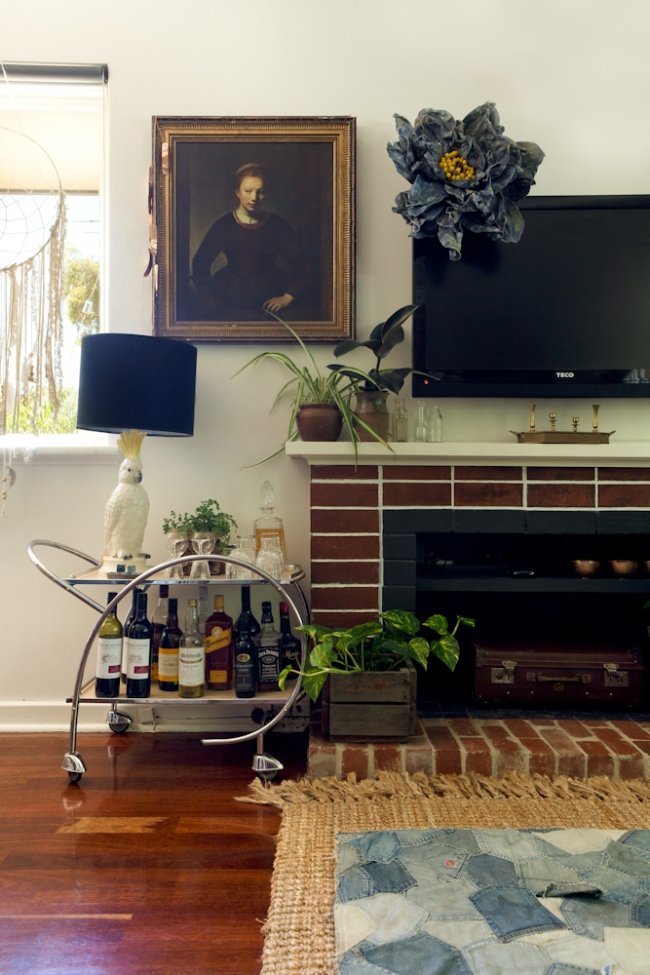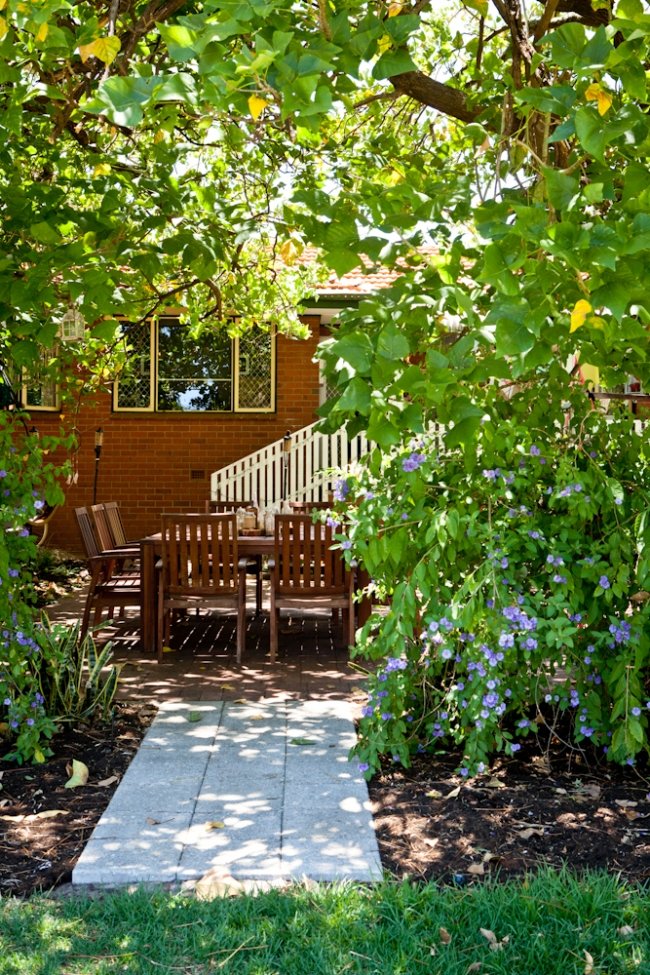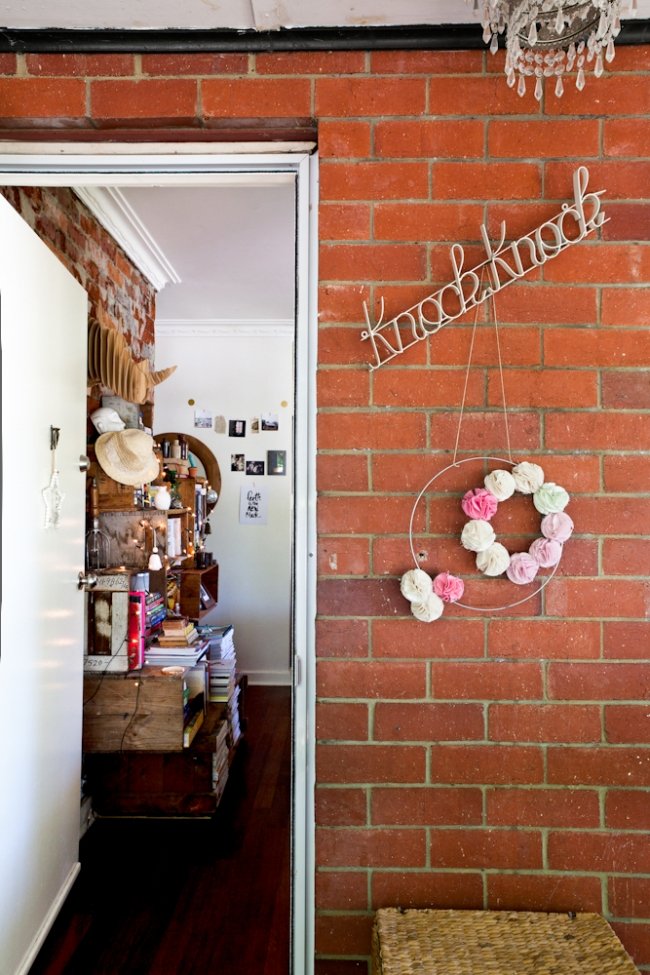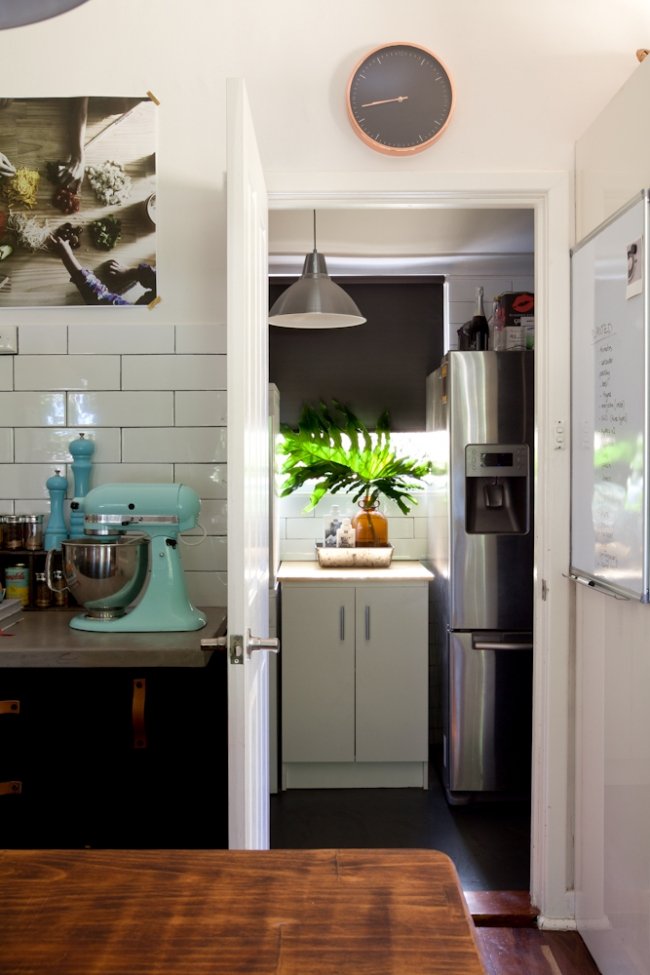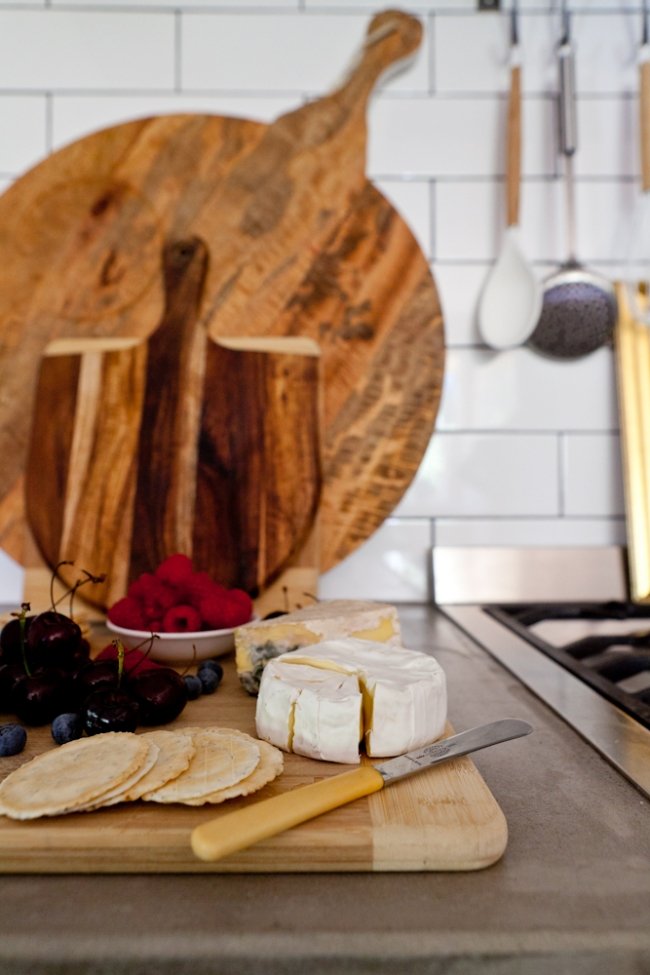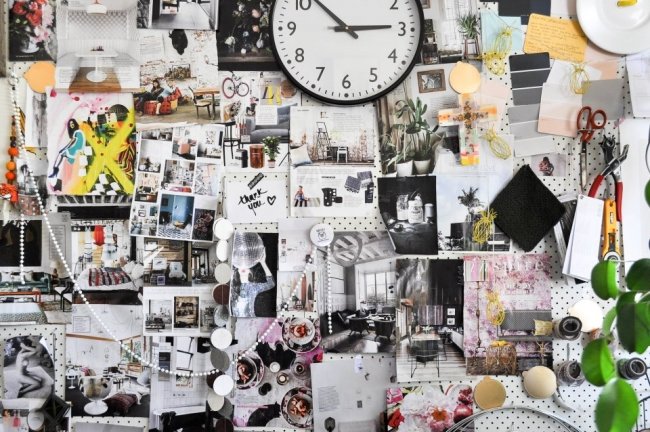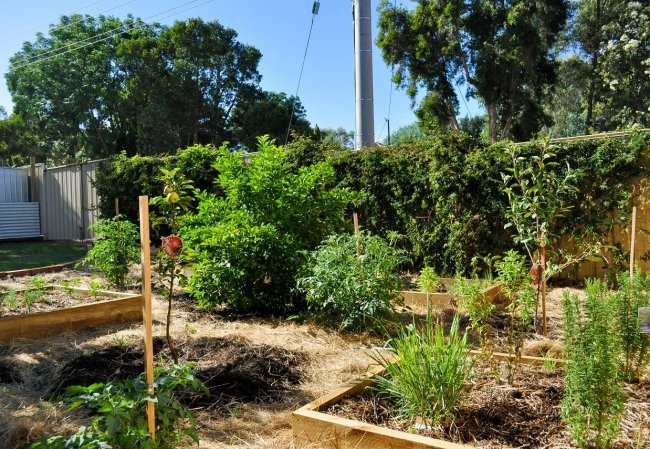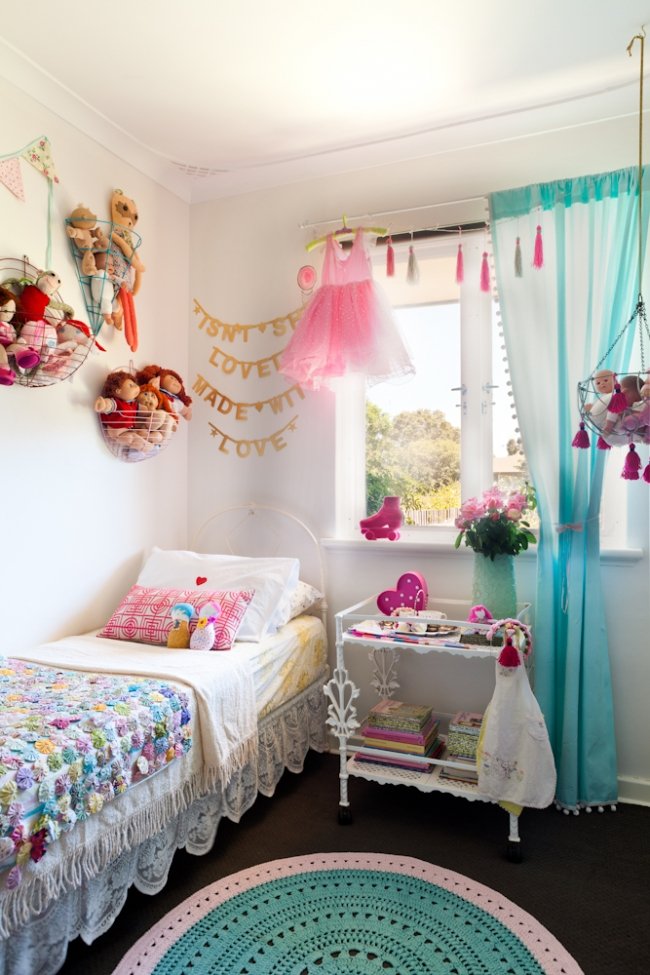 Hayley and Chadd bought the house in 2009. A brick and iron cottage built on lots of land in 1968, the house was one of the originals in the town, and fairly typical to the houses that were built in that era.

But what sets the home apart from the others is the pair of giant flame trees in the front garden. "The trees are irreplaceable – they are the first thing I loved about the home," says Hayley. "When we bought the house, it was really old and shit, but I loved the trees so much that when I walked through the garden I said to Chadd, 'I don't care what the inside looks like. This is our home. I love it!'"
But the tiny house needed a lot of work. "The home was in dire need of some love," says Hayley. "We had heaps and heaps of work to do straight off the bat - all living in the house with three and four-year-old boys!" The jarrah floors had been painted over with house paint (the occupants had also actually painted AROUND the furniture) the layout was all wrong, the ceilings were sagging and the whole house had to be rewired."
They started out by knocking out the wall between the kitchen and lounge room, subsequently ripping out and replacing the entire kitchen. "We have very recently finished stage two of the kitchen, which entailed painting all the cupboards black, fitting leather handles that I made, installing a butcher's block benchtop for the island andpoured a concrete bench top over the existing laminate," says Hayley. (More on that experience in the captions!)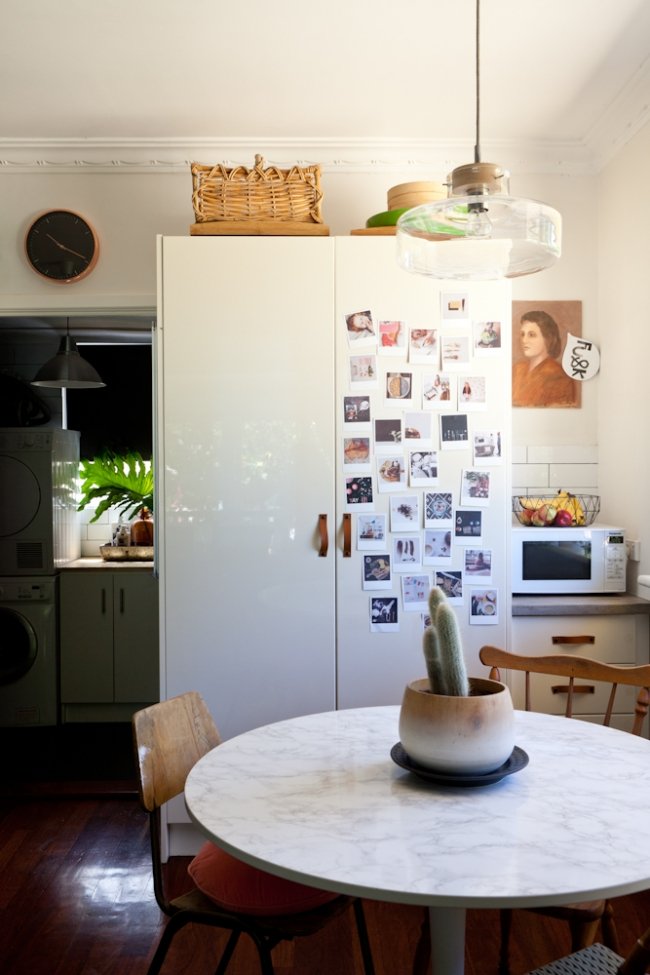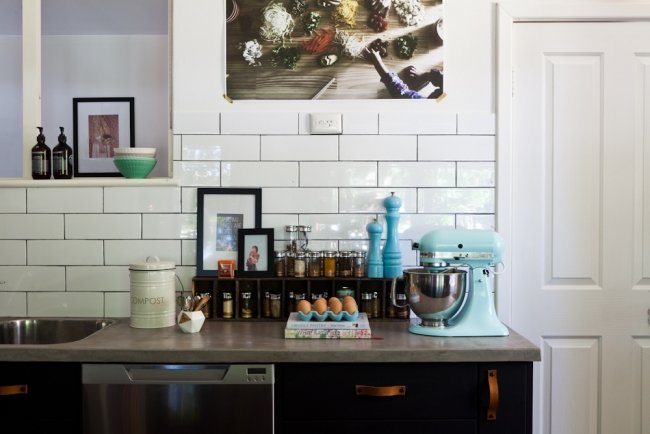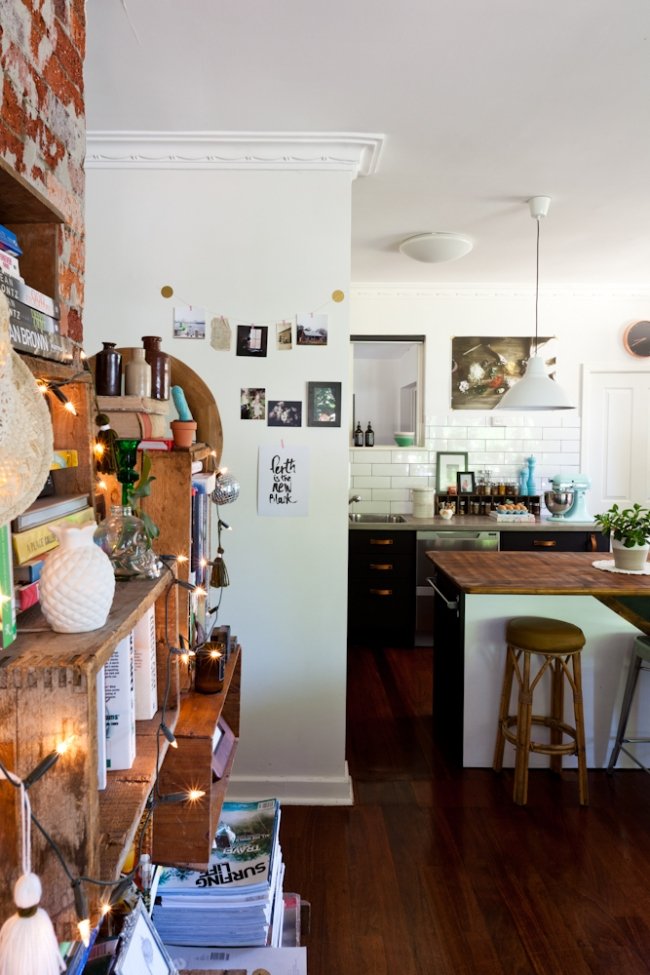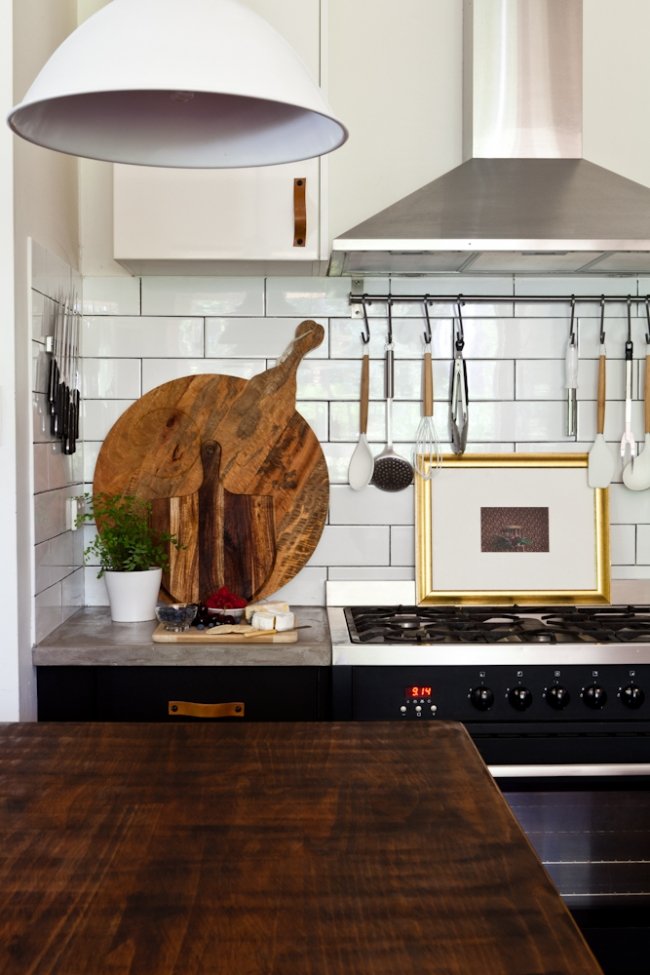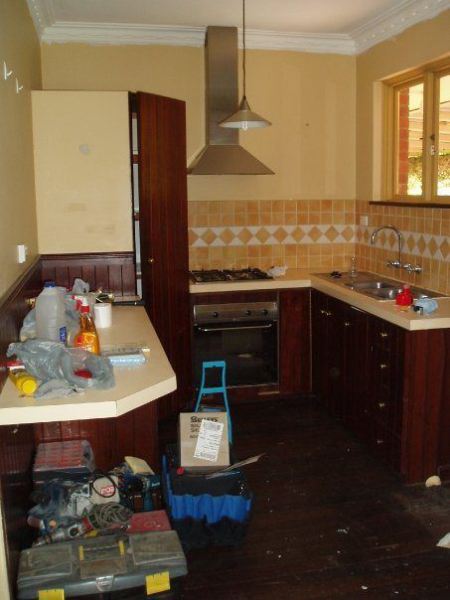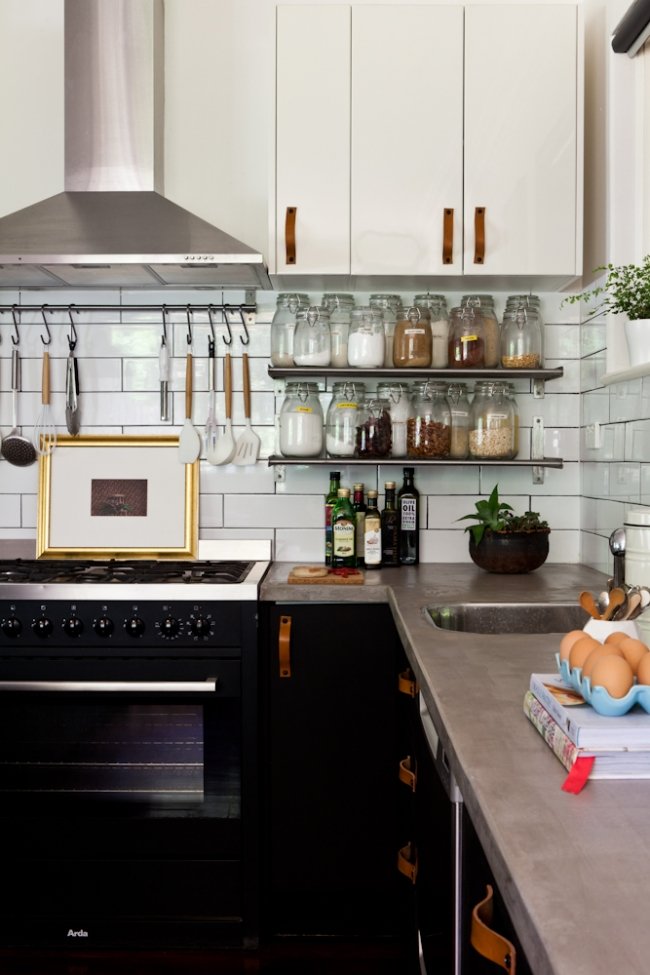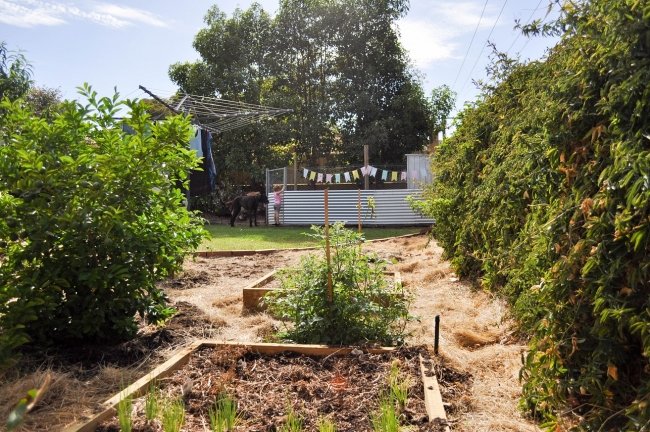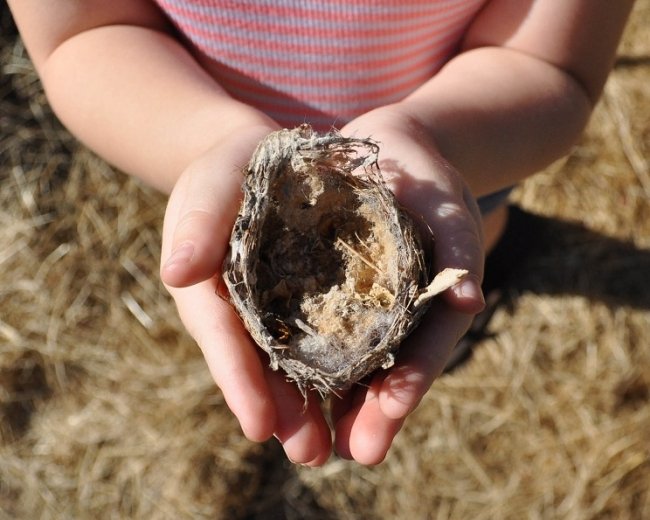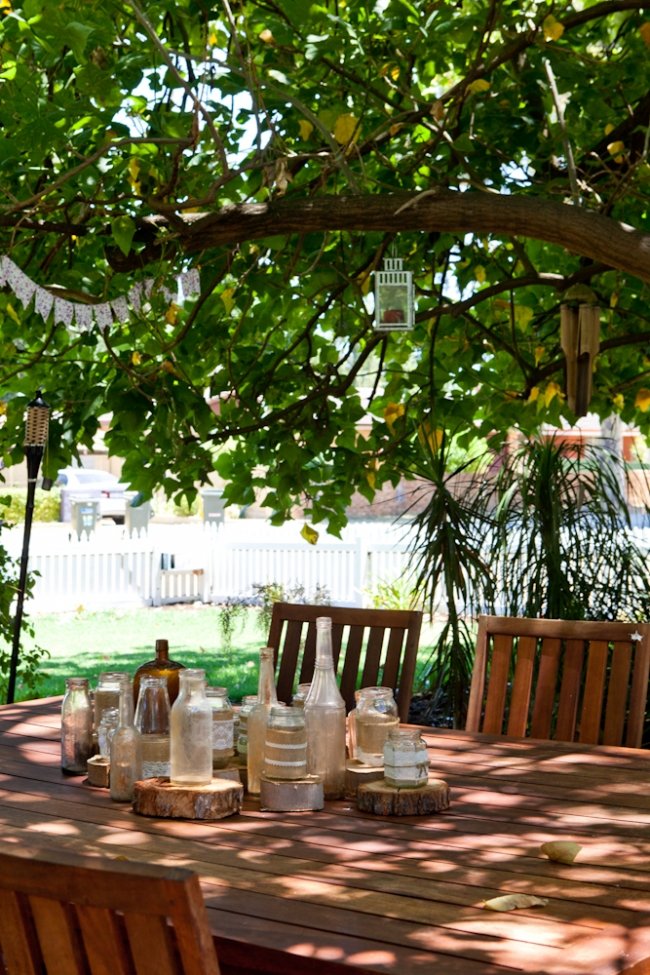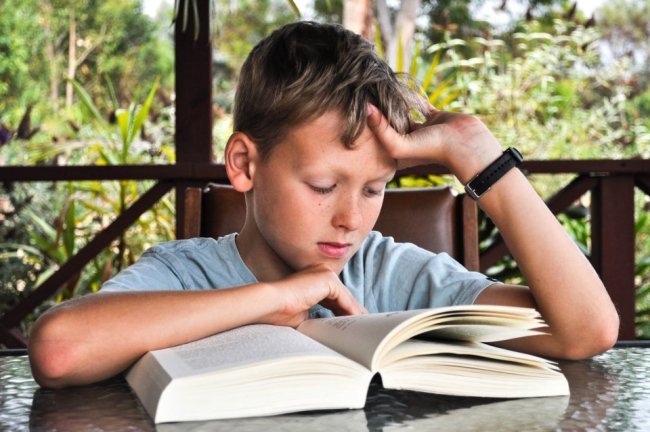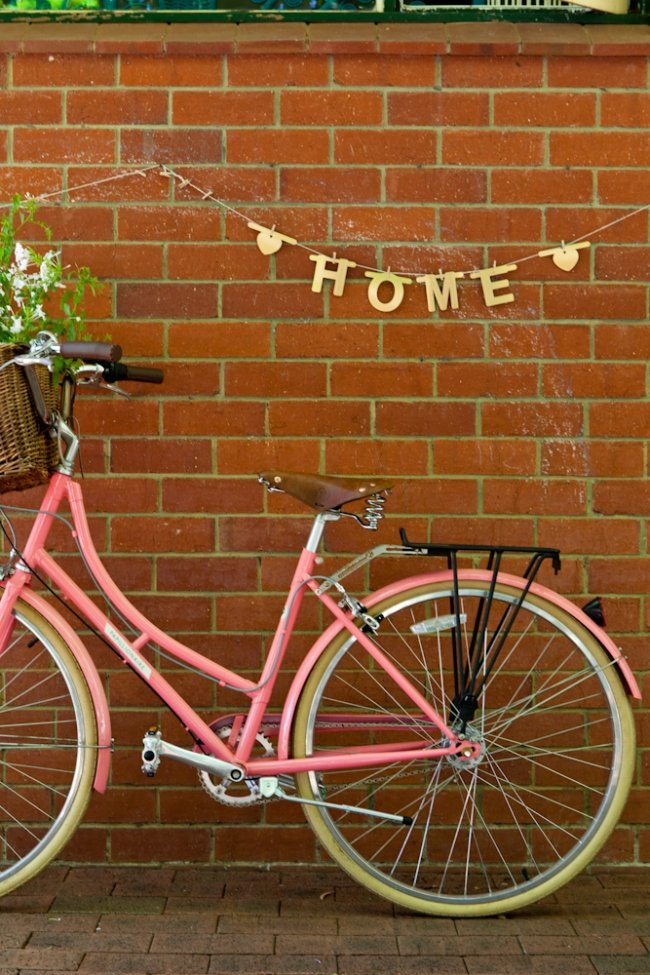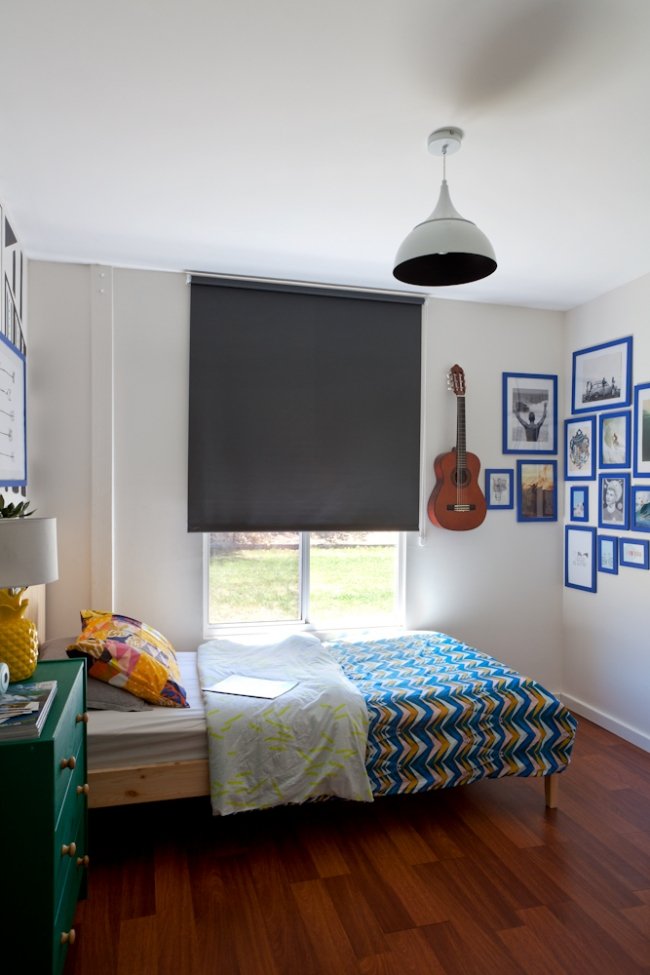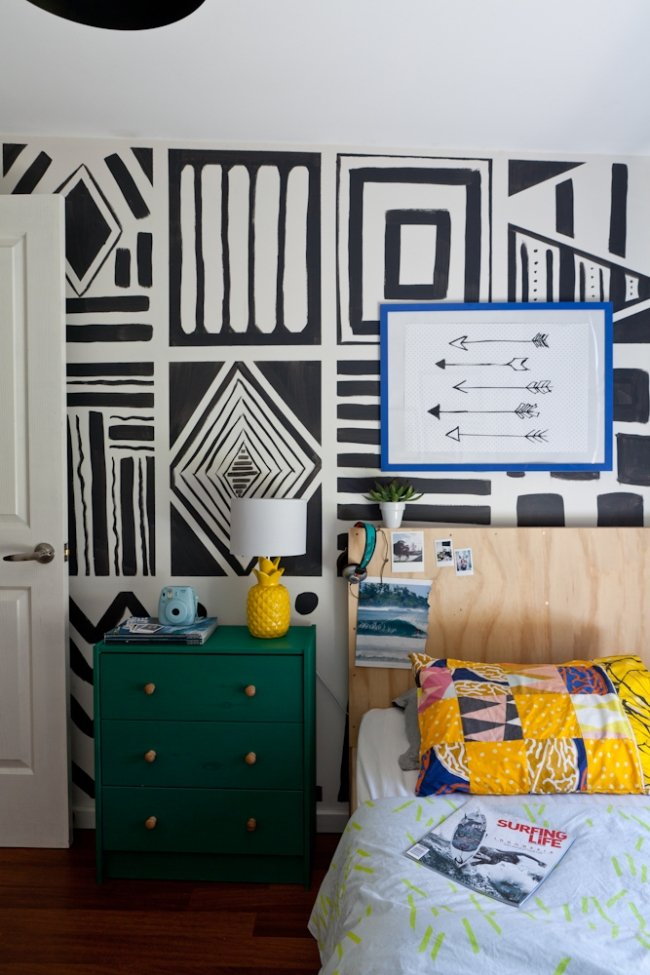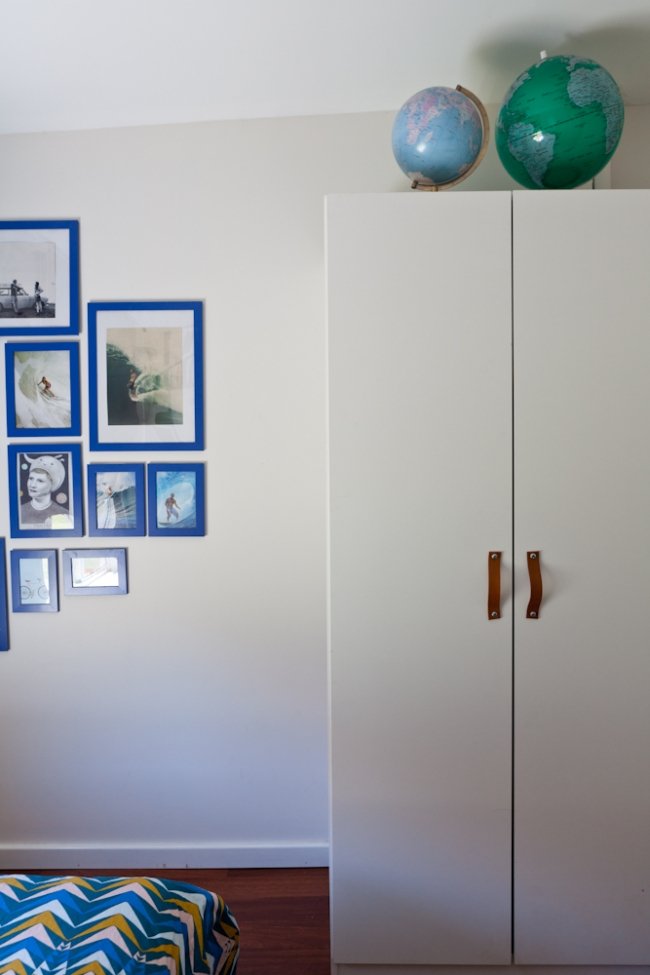 Hayley and Chadd have not lived in the house all the time since they bought it. "We have rented it out a couple of times since then - we have moved around a lot due to the nature of my husband's work (and the fact that we love an adventure) but we are back for good now," says Hayley.
She and Chadd have a pact – they will go where adventure or opportunity arises for them. When Hayley was accepted to do a Diploma of Interior Design at CATC in Melbourne, Hayley and Chadd decided to relocate the family to live in Melbourne for two years so Hayley could pursue her dream of studying there. In the meantime, Chadd continued to work FIFO – flying from Melbourne to Perth to rural mine sites up north every two weeks and back. It was a fun time, but not the easiest, with three kids under ten and family all back home in WA. But within her first semester she was elected Student Representative, offered an Internship at Hirsch Bedner and Associates and was asked by the school's program manager to redesign all the break out spaces within the Melbourne college campus. "I knew then and there that I had made the right decision," says Hayley, who graduated with the top award of Interior Design Excellence.

And now with Hayley's eye for interiors getting noticed by interior design bigwigs like Megan Morton and Design*Sponge, and a recent nomination for the Australasian Design Graduate of the Year title, it's clear that it was a risk worth taking.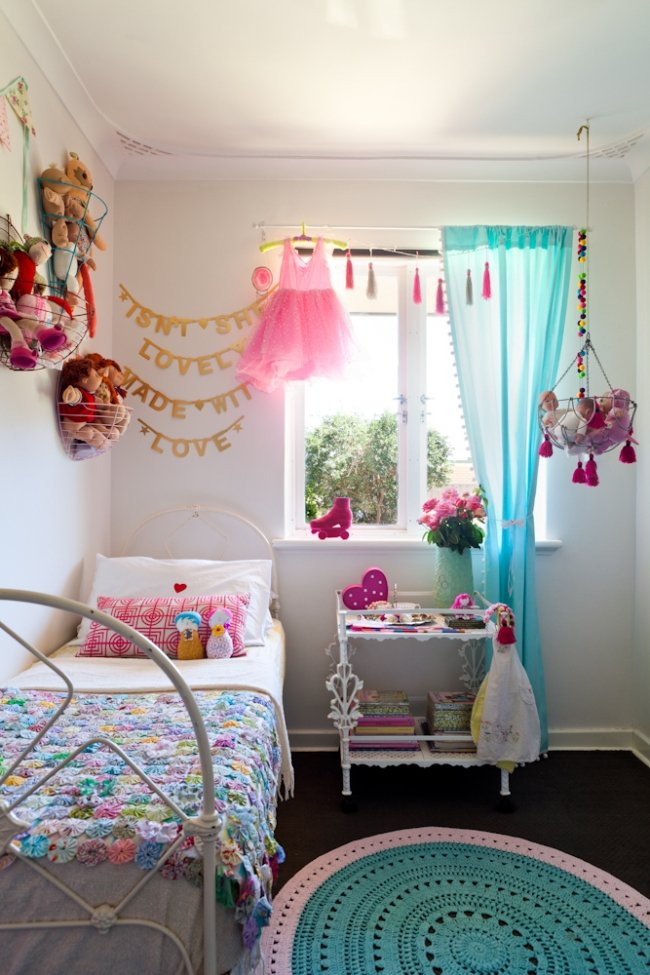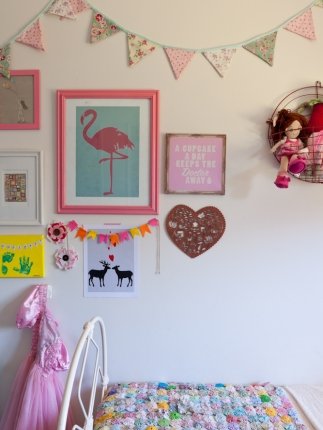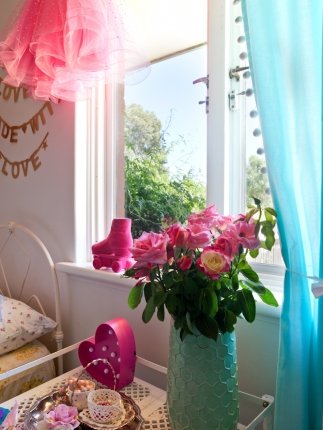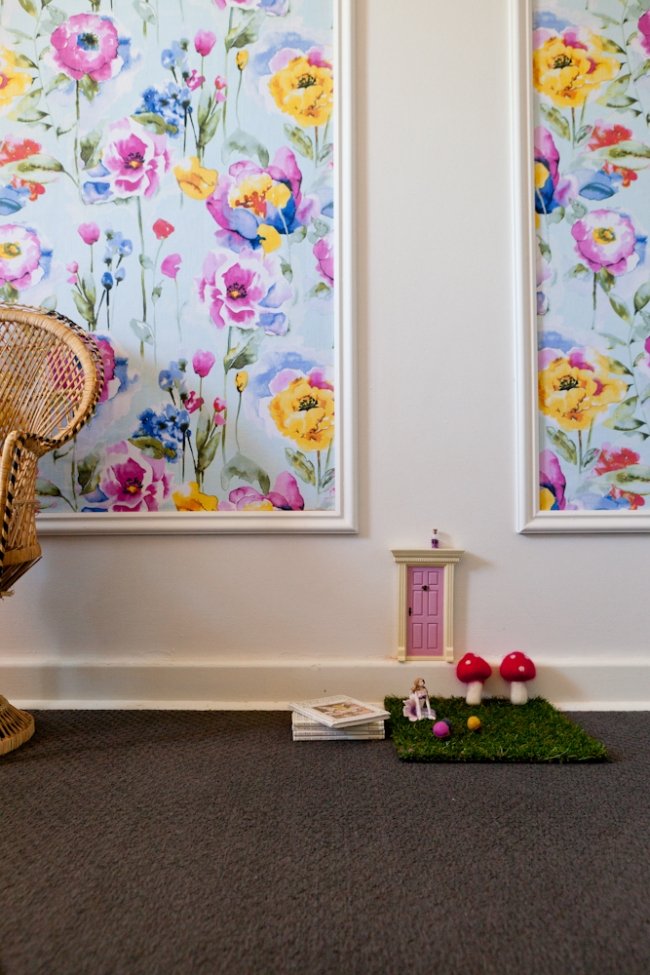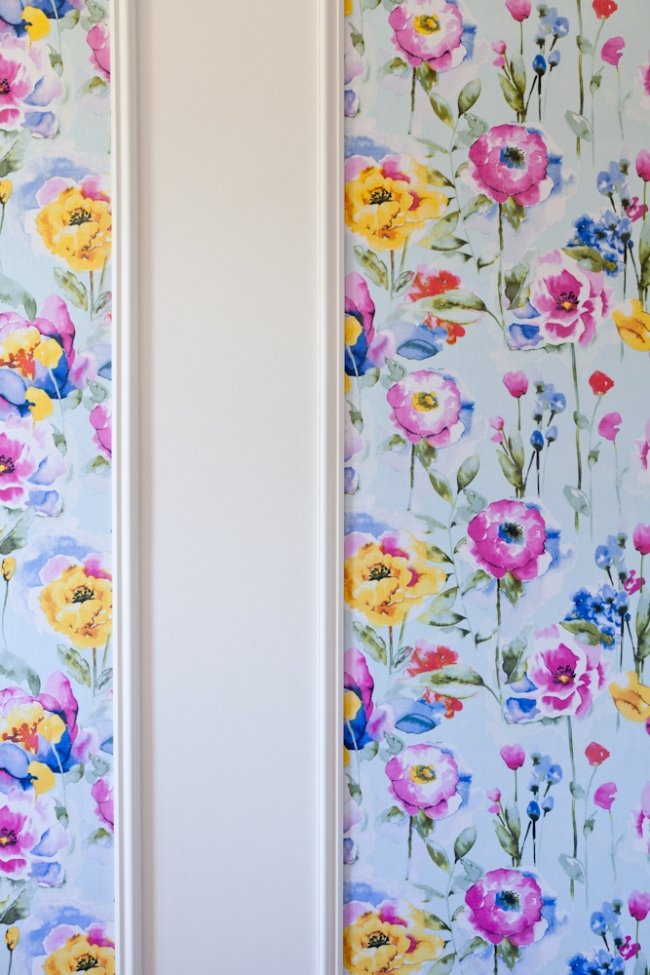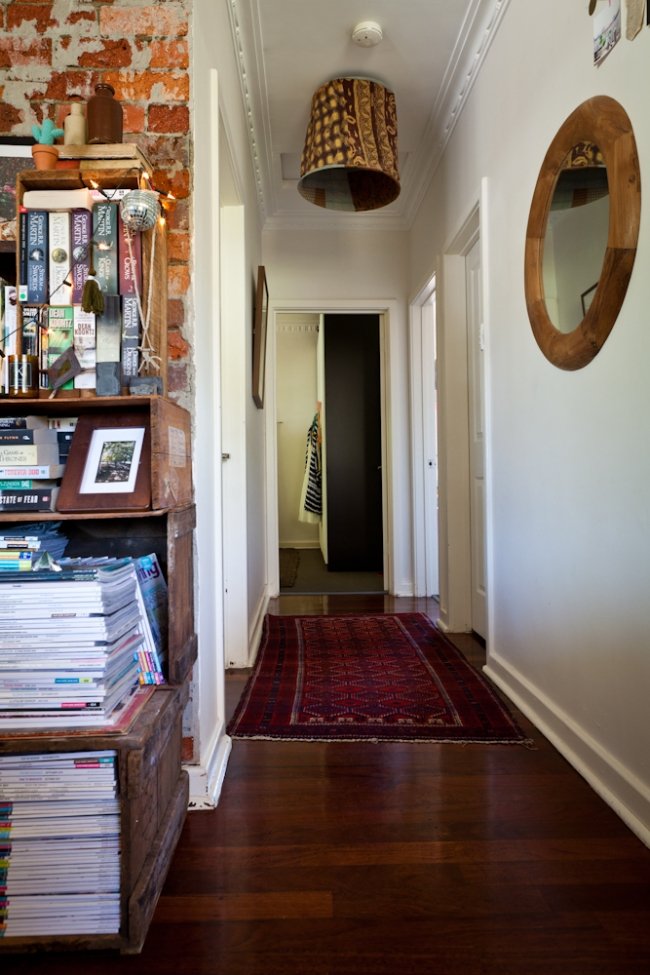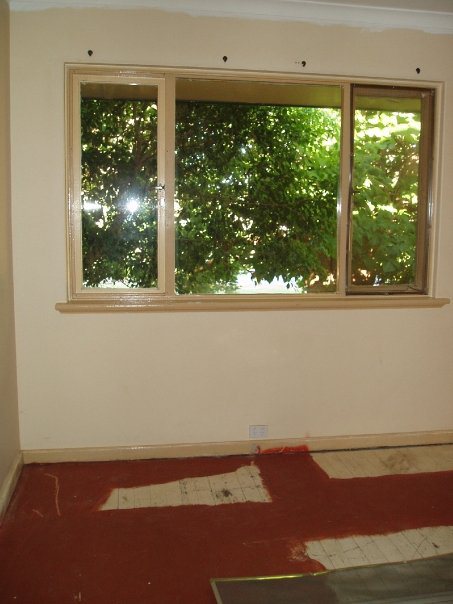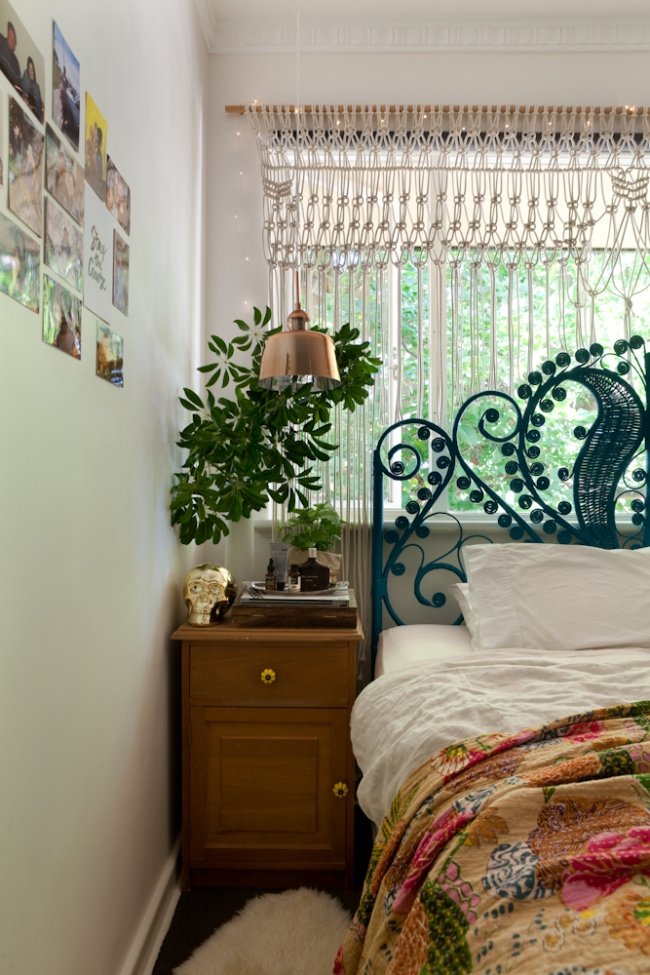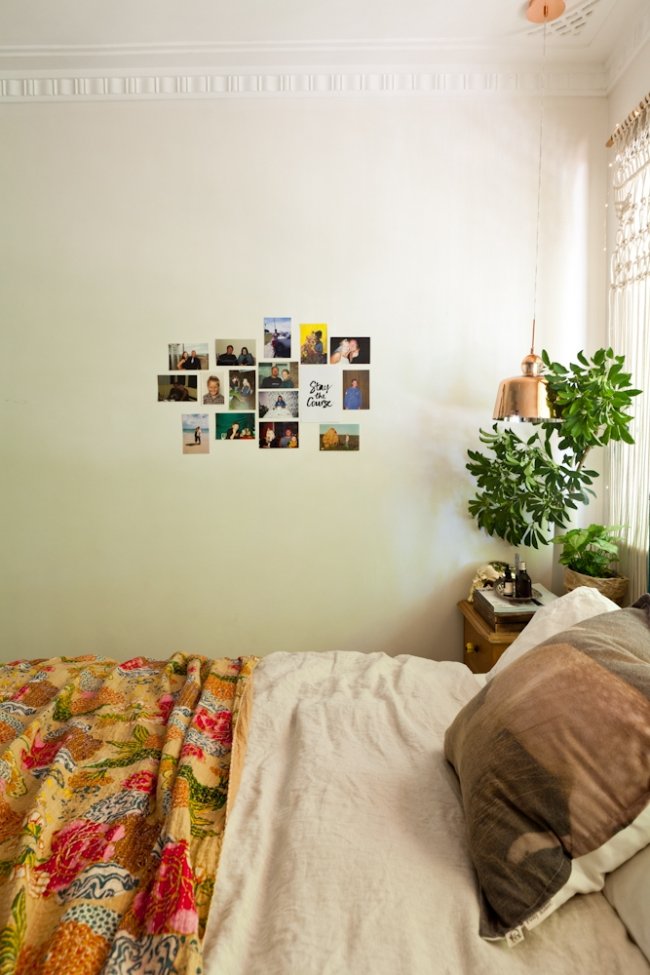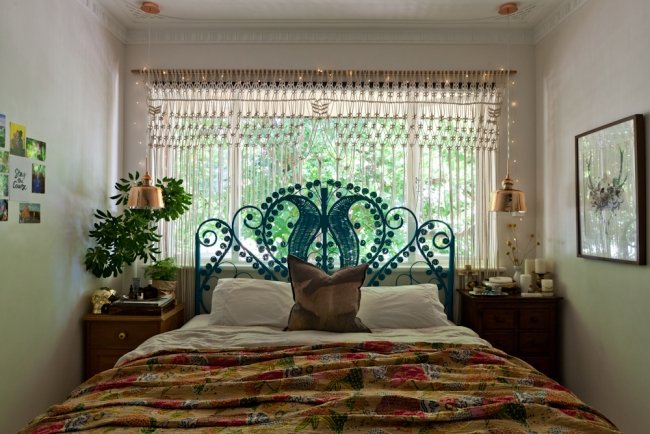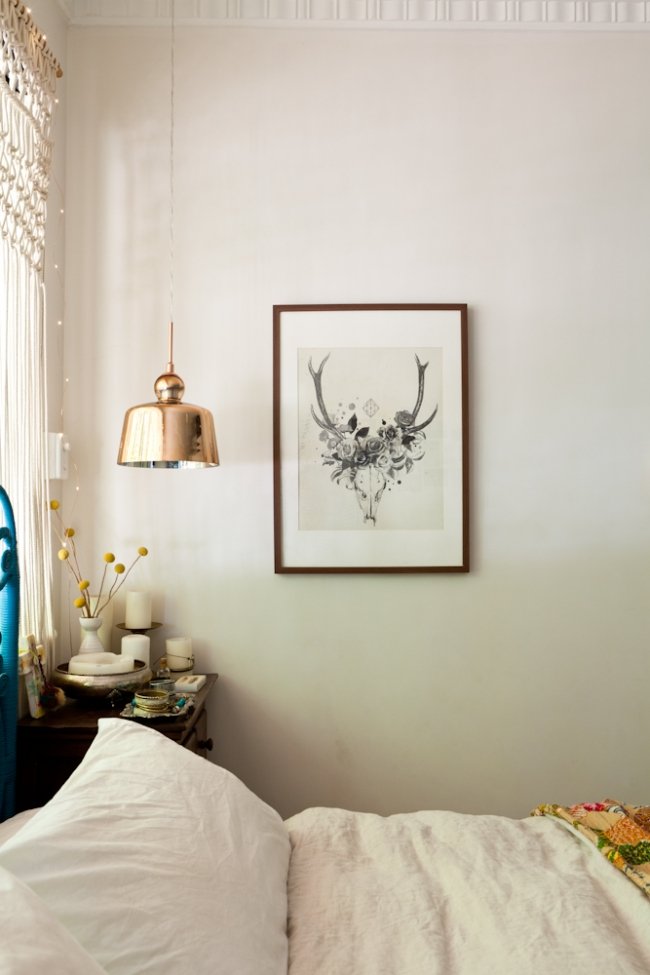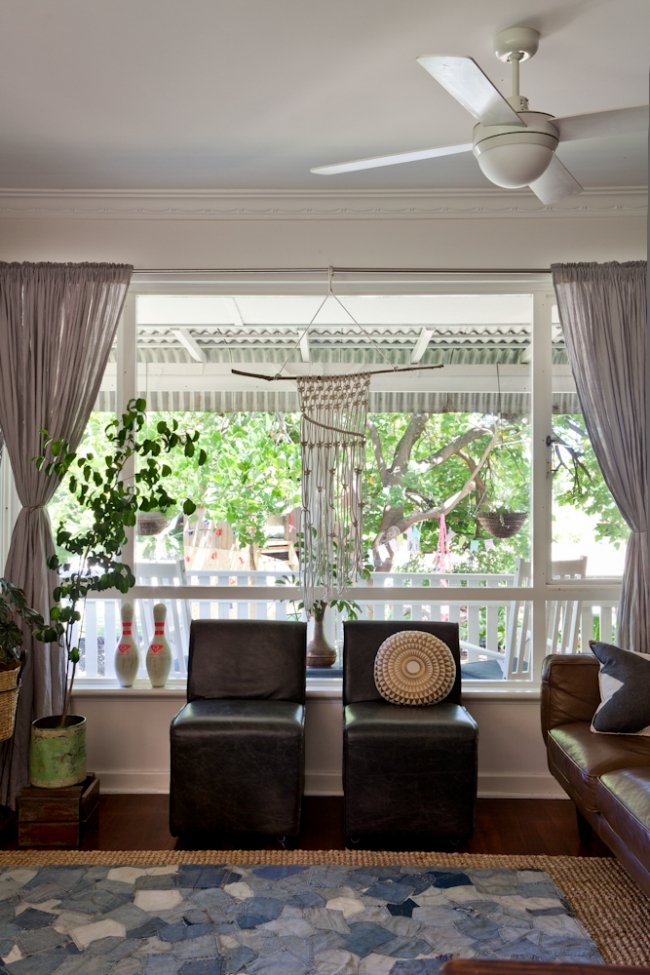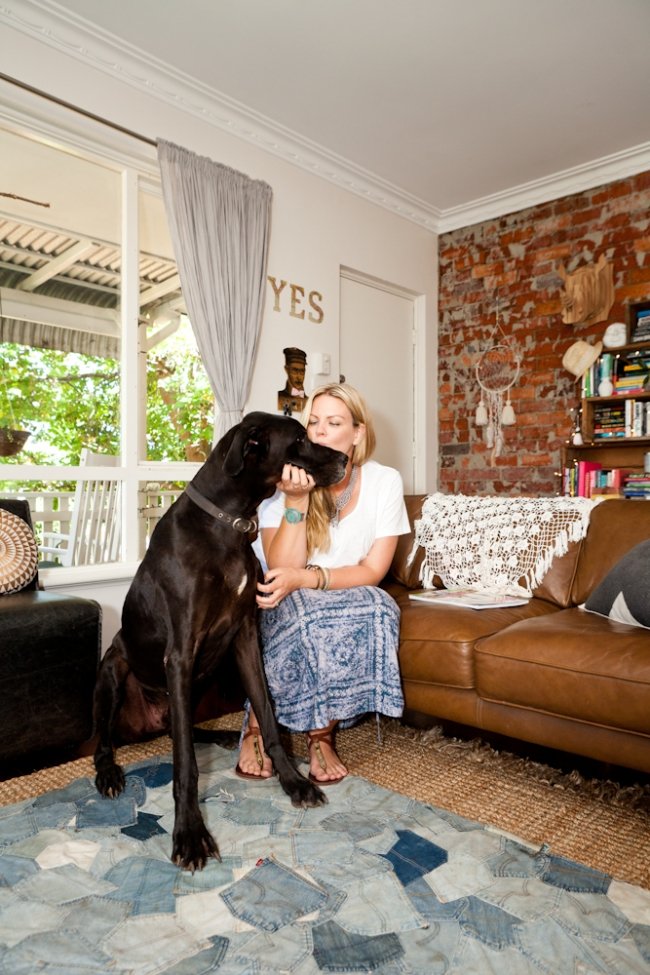 The house is tiny for a robust family of five – with a less than 99sqm footprint on its big 1700sqm block (complete with orchard, a kitchen garden and chook pen). "For us, I wouldn't want a house any bigger really," says Hayley, who loves that the kids spend a lot of time playing outdoors, with cricket games on the front lawn. One of my favourite things about this home is how much Hayley, Chadd and the kids utilise their beautiful front garden – where they spend almost all of their time at home.
Have you ever noticed how much the outdoor areas of our houses have changed over the years? Forty, fifty years ago - and before then, too – our houses were designed so that the main outdoor area was almost always at the front of the home, in the form of a veranda, deck or porch. It was out here that people would sit, have a cup of tea in the morning or a cold beer in the evening, start up the barbecue or chat to neighbours passing by. I think you could even argue that it was safer back then for kids to play on the street, with the number of people who would spend time on their front verandas giving the neighbourhood a communal 'watched over' feel. My mum and dad always sit out on the front veranda of their older home and read the paper and sew or have coffee with friends – even though they have since now built a much larger deck out in the back.
The past few decades, we have been retreating - to the backs of our homes. Outdoor areas are almost always situated in our back gardens these days. We seem as a whole to want more privacy, more quiet, and now it is common for new homes to have a small entry portico, with space preserved for the backyard alfresco, perhaps a fall-out effect from smaller blocks. Sometimes it seems a pity in a way - because there is something that to me seems so homely and friendly and safe about those old suburbs like Guildford and Palmyra where people still sit out on their front veranda in the evenings, watching the kids play in the front yard or having an after-work drink. It's a part of our housing history that will probably eventually be gone, and I think that's partly why I like this house so much. "I sit out the front almost 24/7 when I'm home," says Hayley. "We all have lunch and dinner out there a lot. It's the kind of town where you know everyone. Everyone who walks past stops and has a chat – or sometimes a beer!" Maya x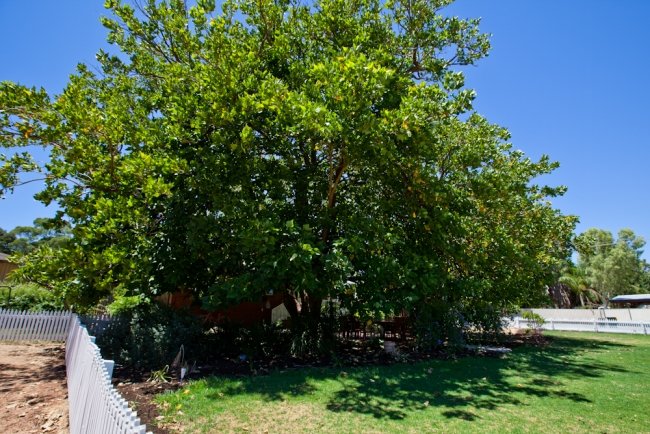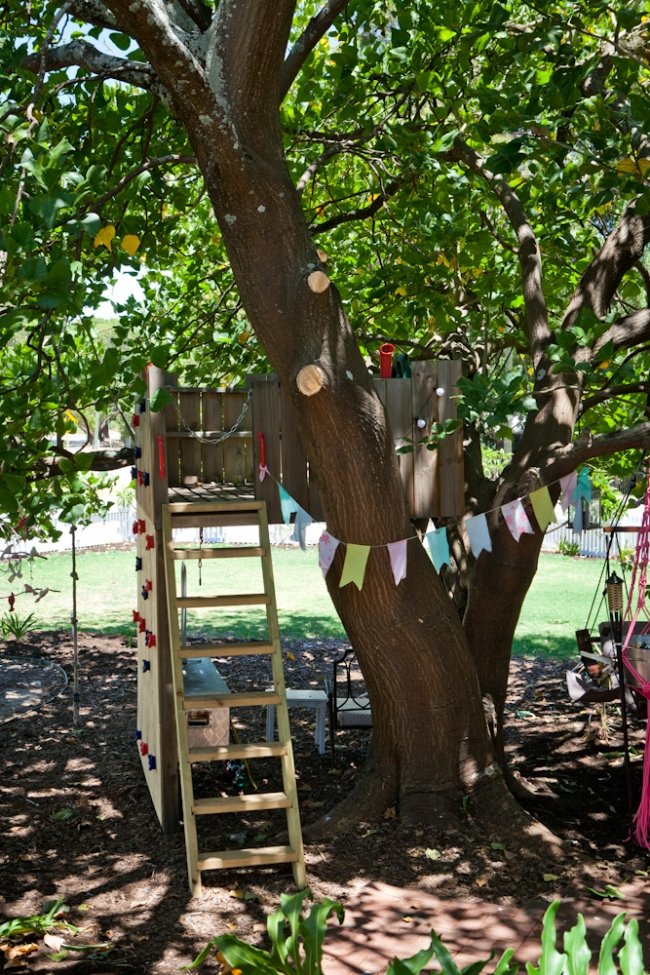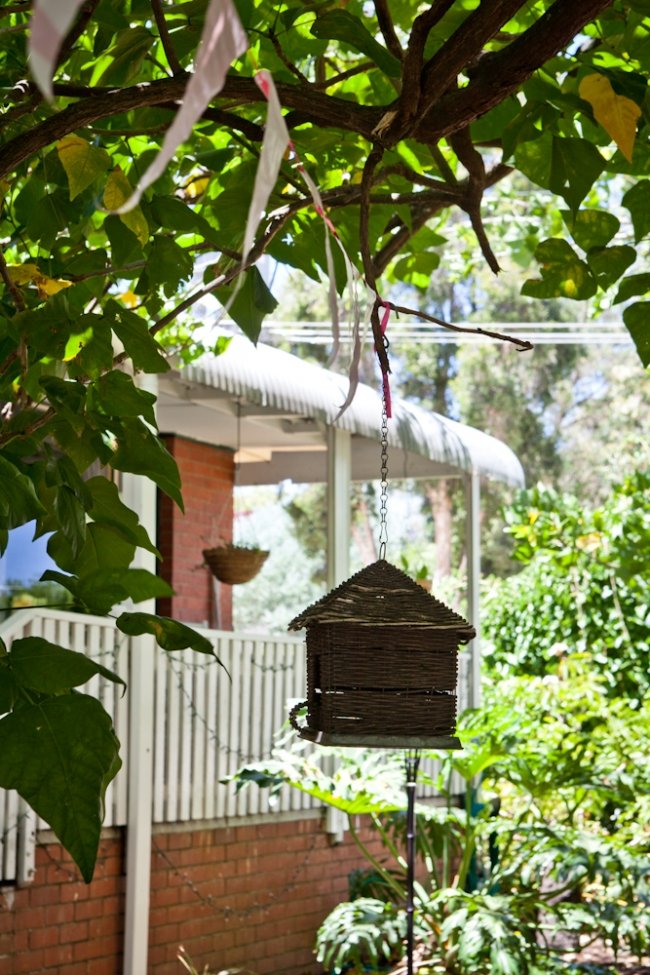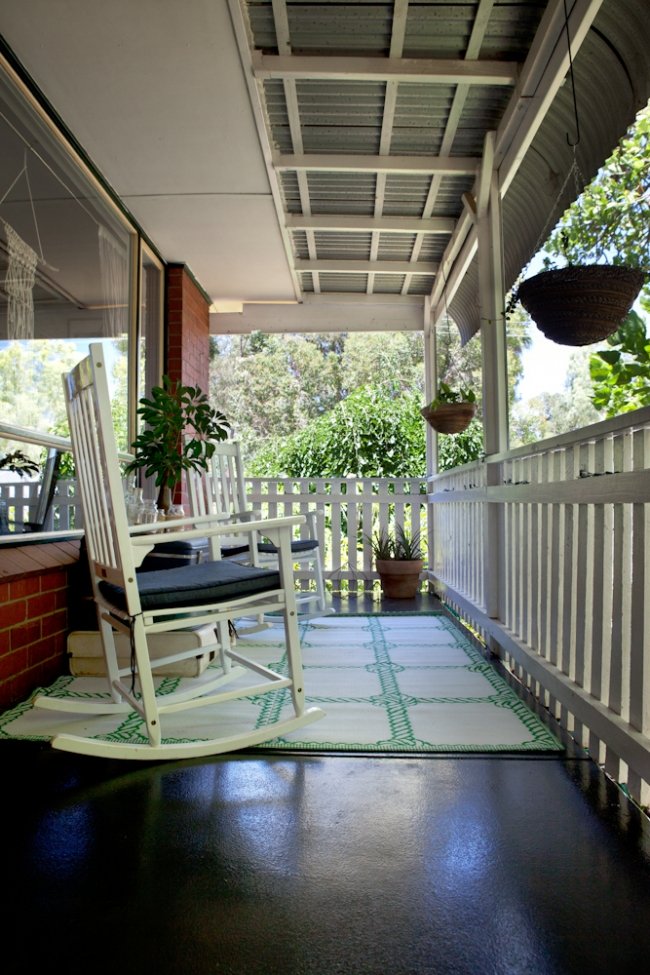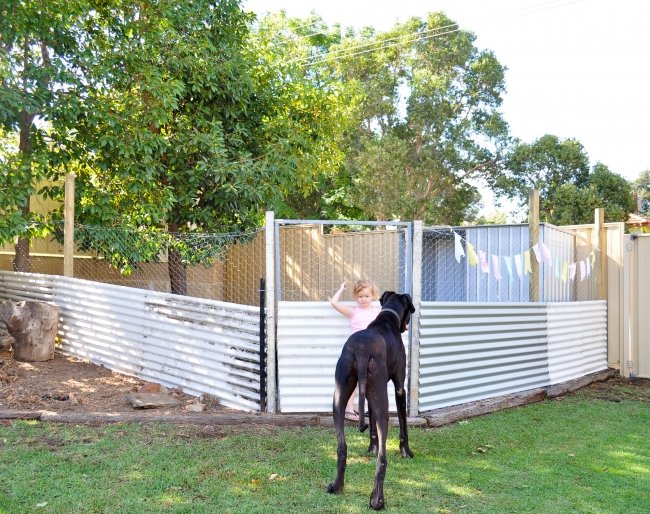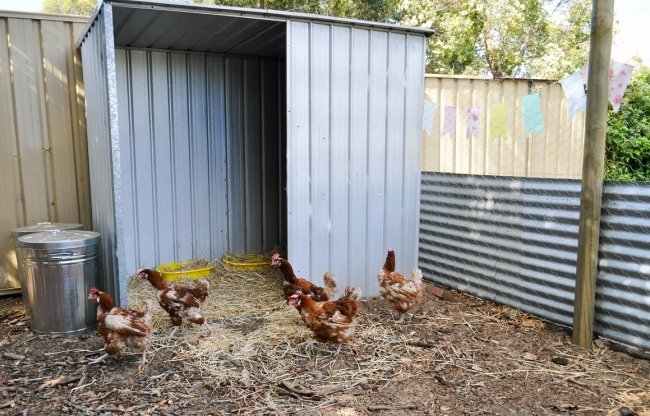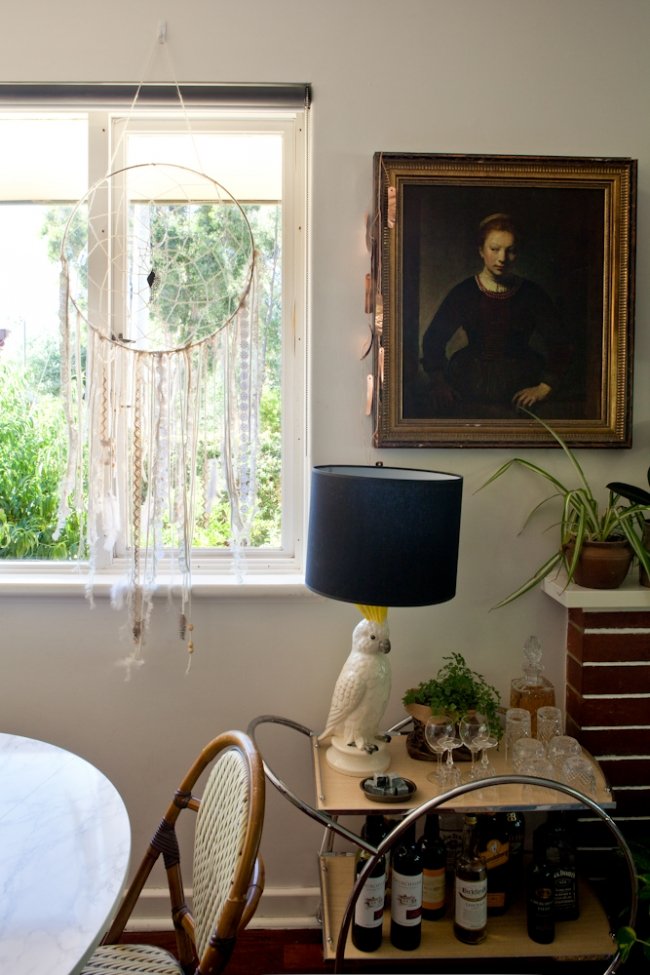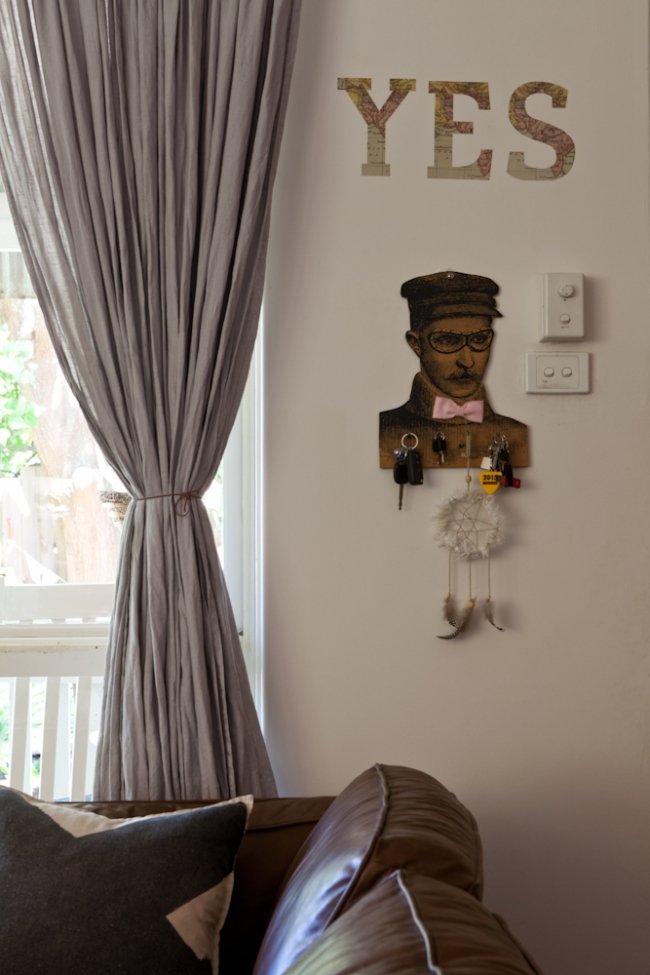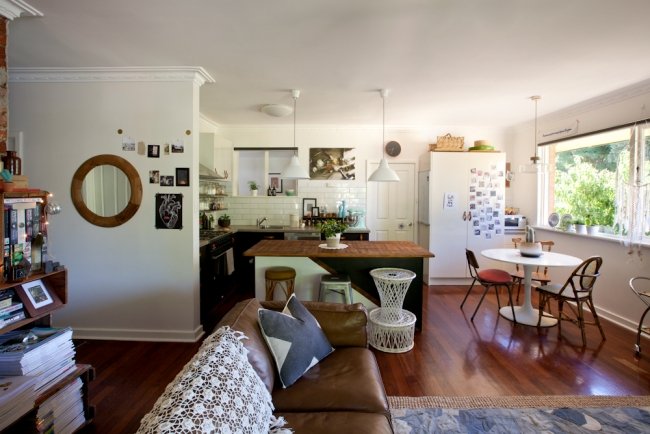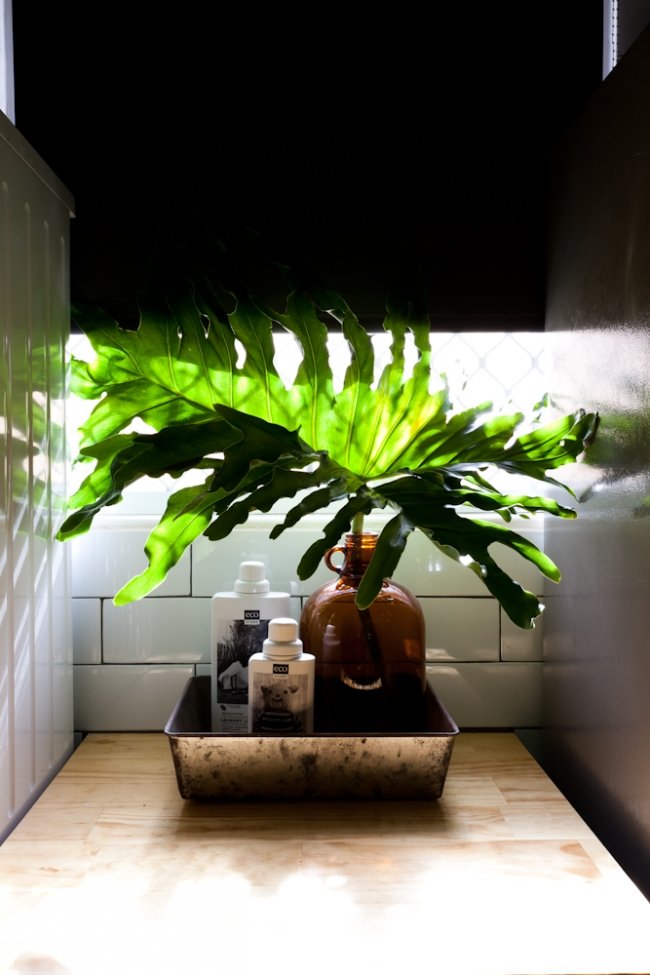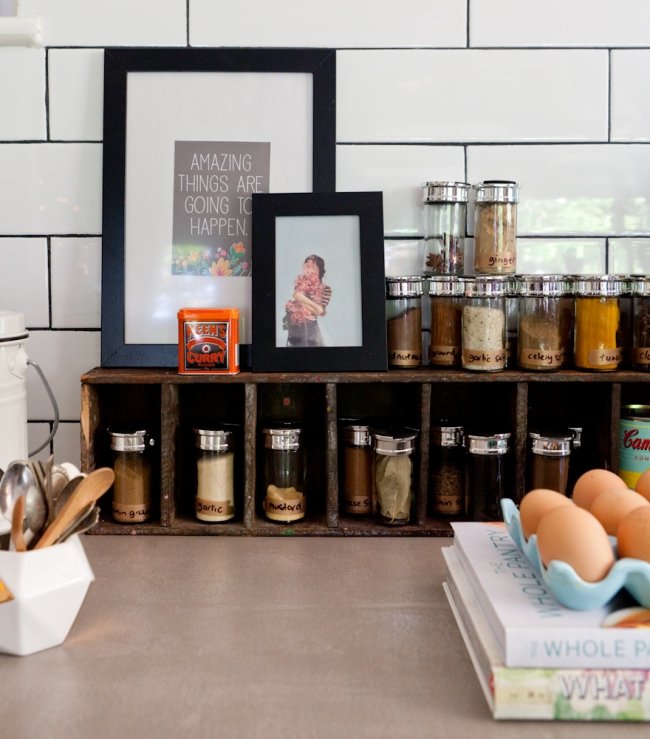 HOME LOWDOWN
THE OWNERS
Interior designer Hayley Kessner, her husband Chadd, their three children Jaspa Reef, 10, Sascha Fynn, 9, and Scarlett Grace, 3, their Great Dane Behemoth and a bunch of former battery chickens.
THEIR HOME
A 99sqm renovated 1960s red brick cottage
LOCATION
Byford, Western Australia
PURCHASED
2009
THE INTERIOR DESIGNER
Hayley Kessner (you can follow her on Instagram over at @hayleygemma )
FEATURES
Three bedrooms, bathroom, front veranda, open-plan kitchen, living and dining, laundry, kitchen garden, orchard, herb garden, chook pen
PHOTOGRAPHY
Heather Robbins of Red Images Fine Photography (you can follow Heather on Instagram over at @redimagescomau )