Posted Wednesday, November 21, 2012 in:
Home Envy
Many people steer away from buying steep blocks, preferring the relative straightforwardness of designing and building on a flat site.

But when Jumeirah Luxury Homes owner and builder Heath Davies first spied his City Beach block, which slopes a whopping 4m from the street to north-facing rear, he jumped at the chance to buy it, knowing its steep slope actually gave the site huge potential.

The result is a truly spectacular home with the wow factor and an element of surprise beyond its colossal front door.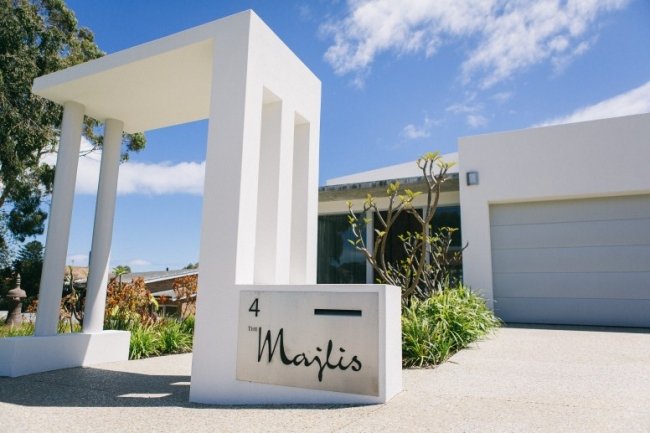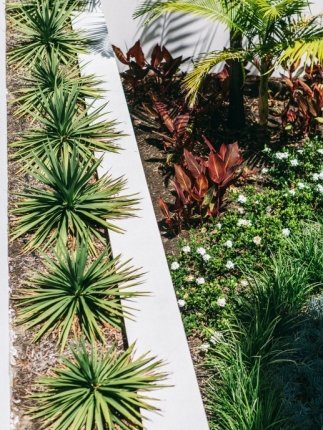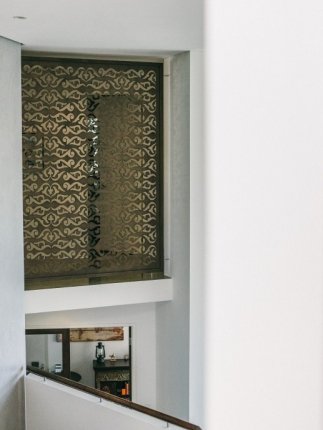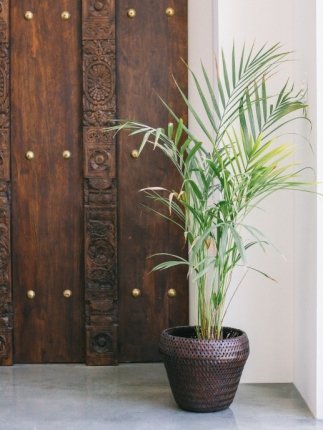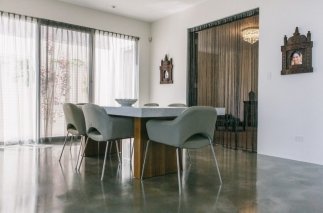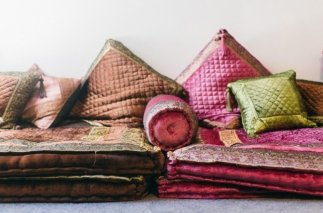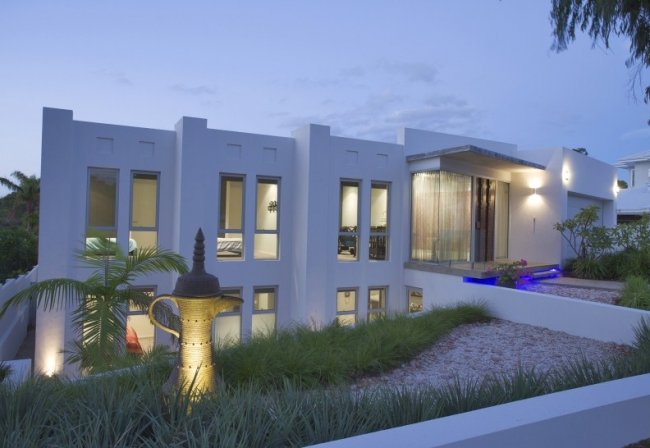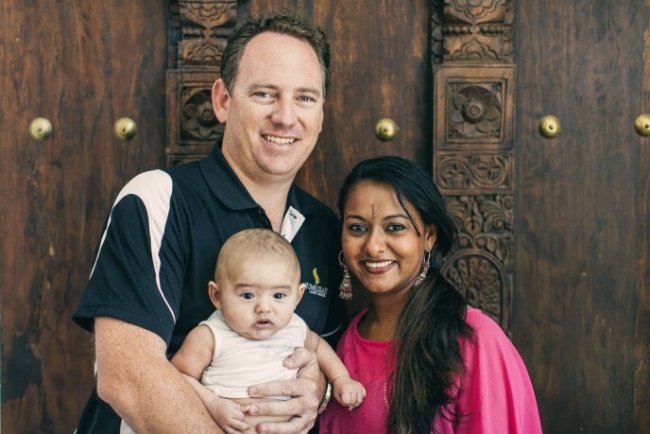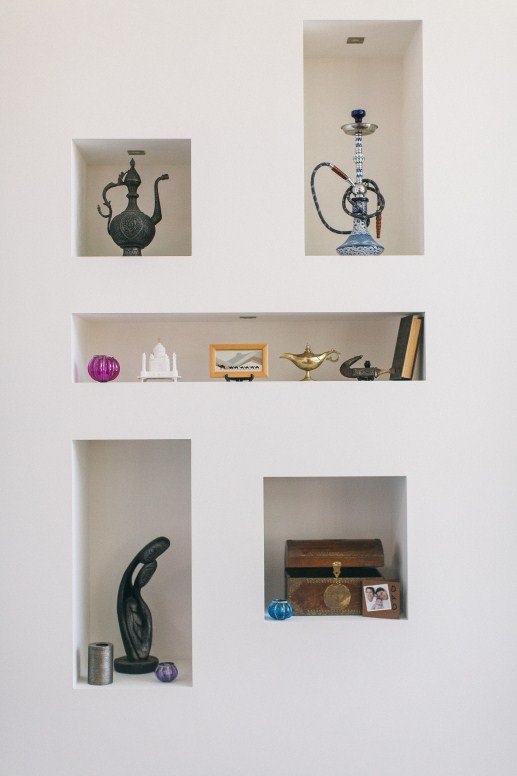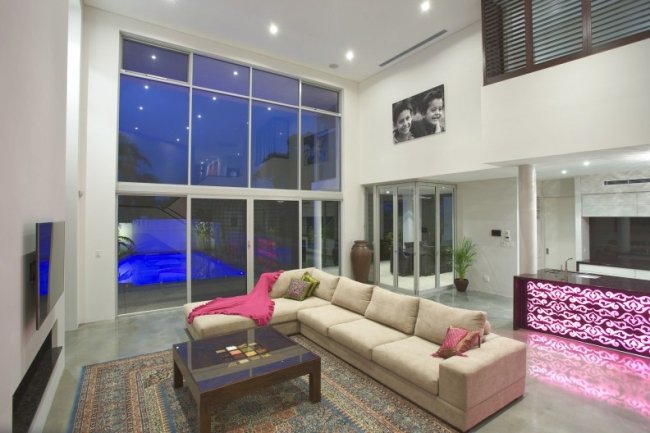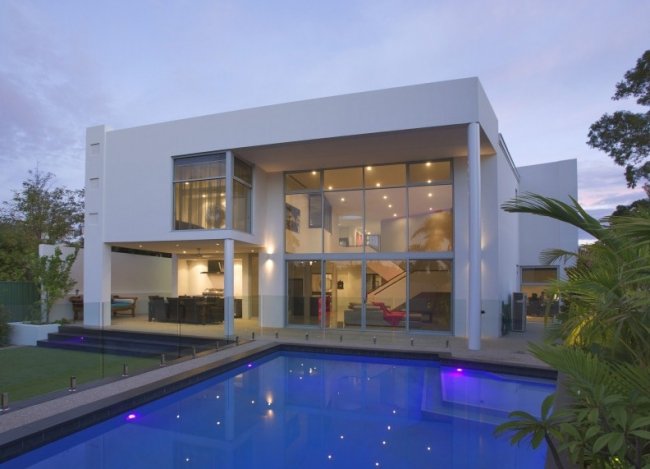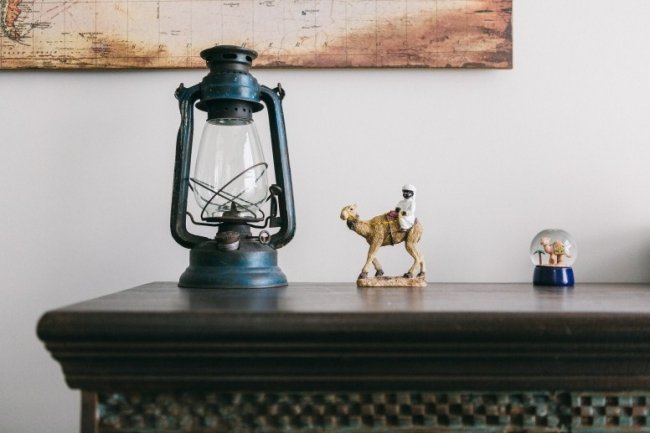 Heath and his wife Sangeetha, who live with their three boys Jevaan, 9, Jaruis, 6, and new baby Jayan, 4 months, moved into this gorgeous home in Christmas last year. Named The Majlis, the house at first glance looks like a single-storey residence from the street.

But when you open the huge rosewood front door (hand-carved in India and weighing in at a mammoth 250kg) the home's surprise hits with the entrance foyer flowing down a grand staircase into a spectacular, north-facing open-plan kitchen, living and dining an entire storey below. A two-storey tall wall of windows gives an outlook across the pool set amidst tropical gardens and the treed valley views beyond.

Rather than being deterred when he saw the steeply sloping block, Heath says he knew the site represented an opportunity to create a unique floor plan and a home with the wow factor. "With a sloping block you get a canvas that you can be creative with and do something that's not so standard," he says. The result is an entrance foyer that has first-time visitors' jaws dropping.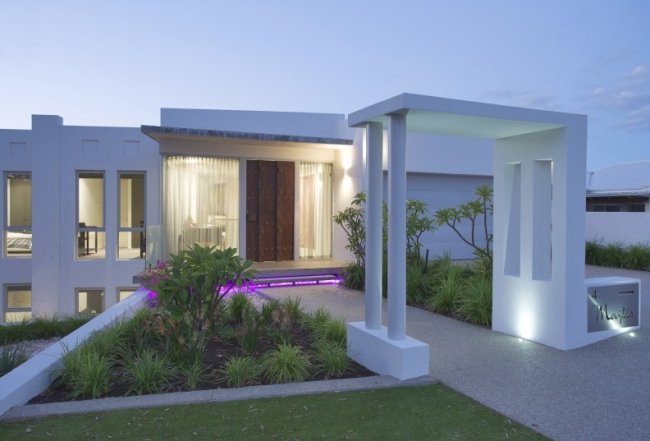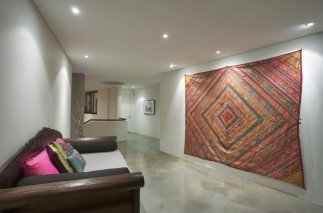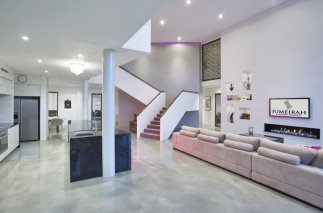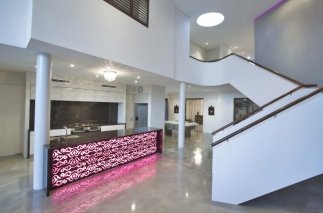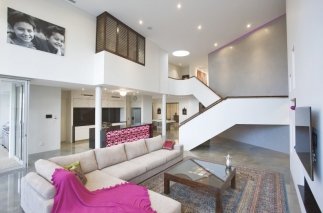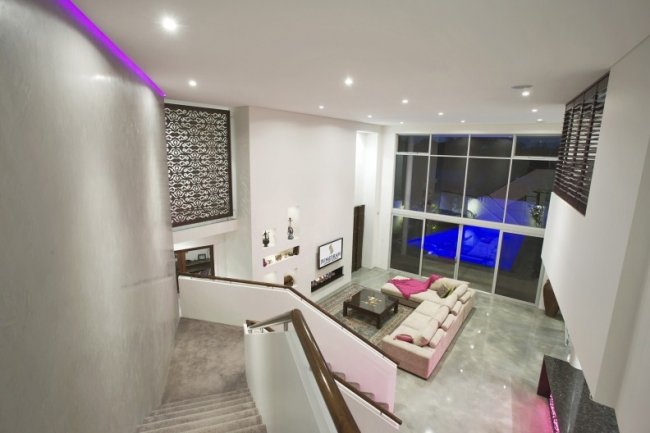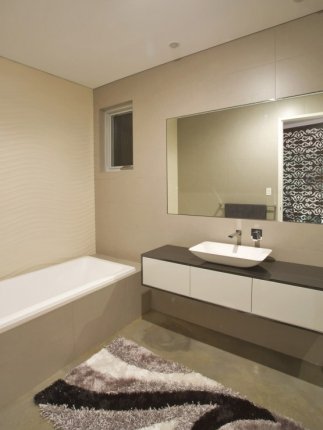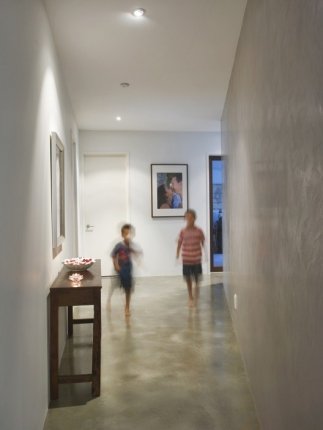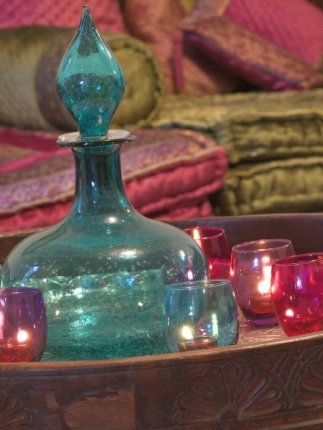 With its huge rooms, uncluttered spaces and lovely polished concrete floors, an element from grand Indian village homes, it is the kind of house I know I would have had a ball running about in if I was a kid. "It's a great house for hide-and-seek," says Heath.

It is also used as a modern mansion should truly be used - for night-time lazer tag. "The kids have these Nerf lazer tag guns and we shut all the lights off at night and they play… well, we join in," Heath reveals. "It's probably more of a kid fun house than anything else." Who wins? "They sort of gang up on me," Heath admits. "Sangeetha gave me a black eye once when she was on the boys' team. Those things can really hurt."

Look past the black eye and bullying and believe me when I say Heath and Sangeetha are clearly very fond of each other. They met in Sangeetha's native Dubai, when she was working in the building industry and Heath was sent over by former employer Multiplex. He worked there for two and a half years before he and Sangeetha finally met towards the end of his stay. "We looked at each other for six months," he said.
Sangeetha laughs. "You need to say that we met in the office, not in a club!" she tells me.
"Well she asked for my number first… for 'business purposes', apparently," Heath says, rolling his eyes as Sangeetha raises an eyebrow. They married not long afterward and Sangeetha moved back with Heath to Australia to start their family here.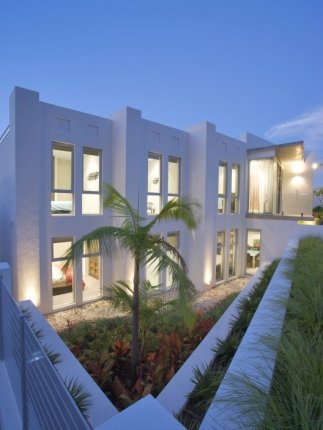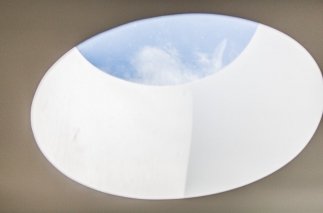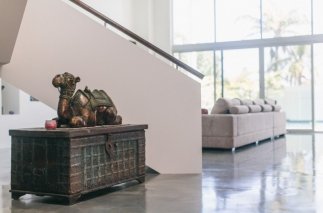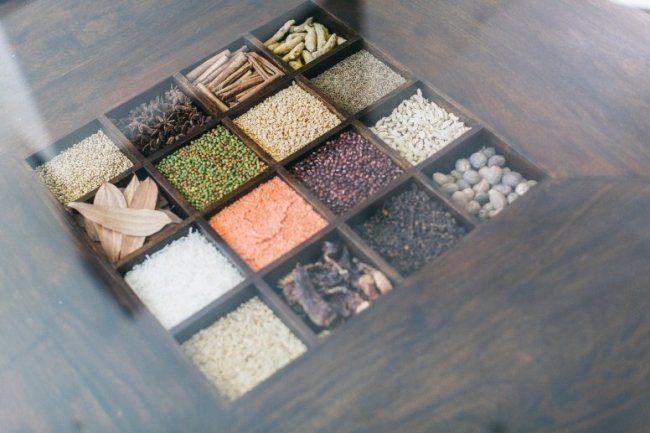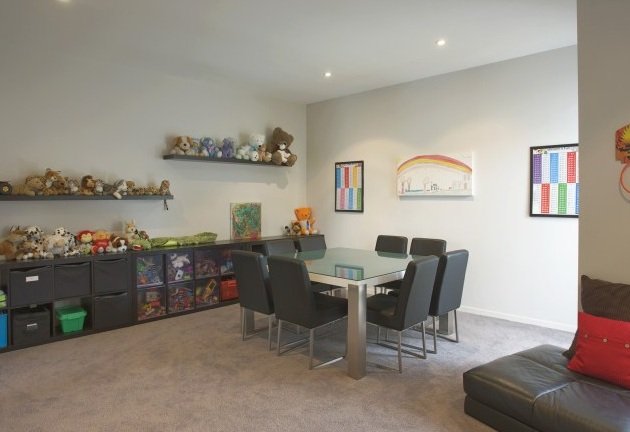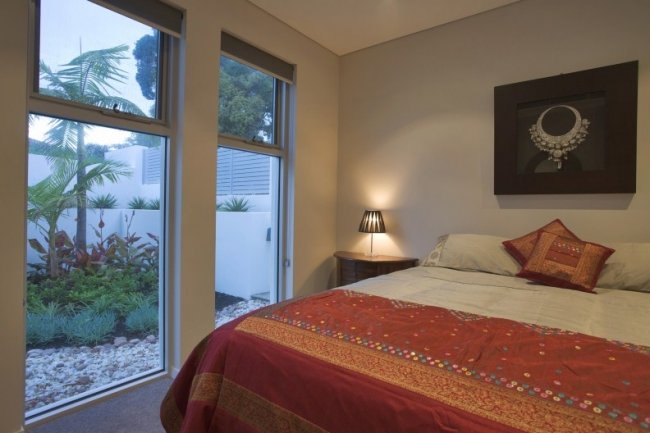 The Majlis is a fusion of this couple's backgrounds – contemporary, light-filled Australian style for Heath, exotic elements from Dubai and rich jewel tones for Sangeetha. Many of the items were treasures they found in Dubai or had hand-crafted in India, such as the huge rosewood front door.

I think that you can tell when people have been happy living in a home – and although it is just a year old this home has that loved, happy feel to it already. One of the things I love most about this home is the sense of connection through the zones. Although it's a very big, five bedroom family home with numerous wings and different places you can get away to for privacy, Sangeetha and Heath say you don't feel disconnected, with features like glass doors to the boys' games room and the study allowing for quiet and privacy yet still that feeling of a family being connected. "It's a really family friendly home," says Heath.
HOME LOWDOWN
THE OWNERS
Heath Davies, the director of Jumeirah Luxury Homes, his wife Sangeetha, and their three very good-looking sons, Jevaan, 9, Jaruis, 6, and baby Jayan, 4 months, as well as their golden retriever Zion and very aloof, somewhat strange ragdoll cat Ziggy ("When he looks at you, you know he can't be trusted," says Sagneetha of Ziggy. "He never relaxes his smile.")
THEIR HOME
A grand, new five bedroom home that fuses contemporary Australian style with exotic elements from Dubai, built on a site that slopes four metres from the street to the back
LOCATION
City Beach, Western Australia
COMPLETED
2011
FEATURES
Hand-tinted polished concrete floors, 250kg Indian rosewood doors, custom-made laser-cut screens, pool with water feature, tropical garden, wadi-inspired courtyard, open-plan living, dining and kitchen with scullery, three bedroom wings, study, boys' games room, theatre room, dumbwaiter
THE DESIGNER AND BUILDER
Jumeirah Luxury Homes, Heath's boutique building company, 9386 3466
PHOTOGRAPHY
From Marc Ash of Marc Ash Photography and Jumeirah
THE SELLING AGENT
The home is on the market with Adrian Abel of Abel McGrath Property Group, 0410 564 304 or 9286 3655