Posted Sunday, April 21, 2013 in:
Nerd Life
Hey amigos. Hope you had a decent weekend.

I haven't had time this weekend to complete a decent feature so I thought I would put up a little nerd life update in-between posts. Kicking off with…
THE WEIRD PLANT DEBATE
Okay so this is just getting ridiculous.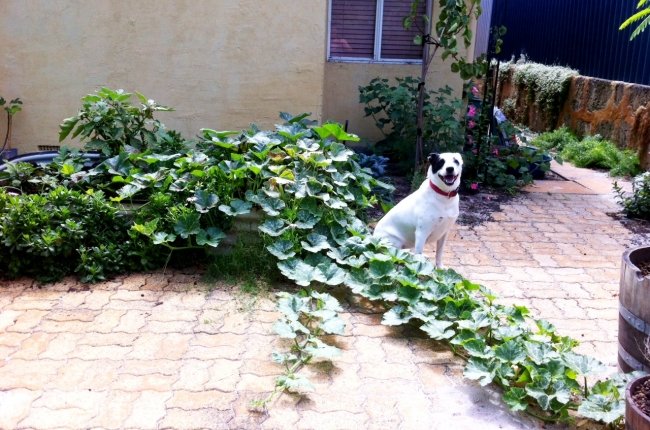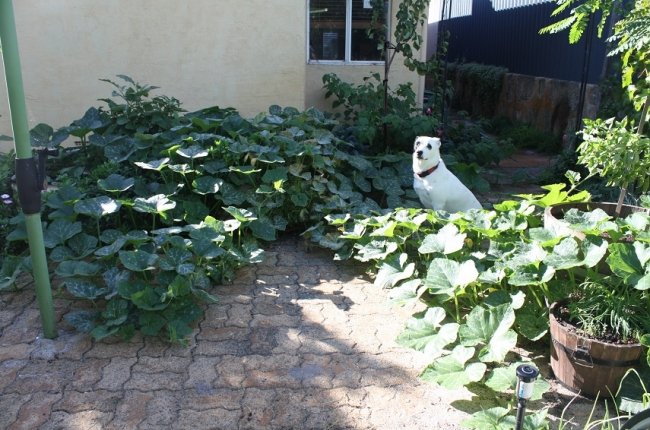 Remember when I told you about the huge mystery plant that sprung up overnight in our vegetable garden? It has rapidly gotten even more monstrous in size. It has also started to wrap its tendrils around all the other plants in the veggie patch it can reach – and it chokes them, in some cases snapping their tiny stems, as I found out after a particularly rainy couple of days. Even Nala doesn't like to go near it anymore. She seems unhappy.
When I asked people what they thought the thing in the picture was, the suggestions came flying:
Zucchini
Pumpkin
Cucurbit
Gourd
Cucumber
A triffid
A dog
The beanstalk from Jack and the Beanstalk
Rockmelon
Audrey II from Little Shop of Horrors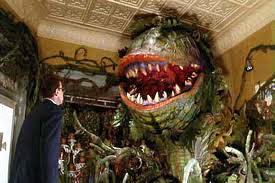 Then on Friday night I went to hang out the washing (yes, I have exciting weekends) and I was suddenly filled with a growing sense of dread. I turned around the corner to the vegetable garden and dropped my washing basket, filled with horror.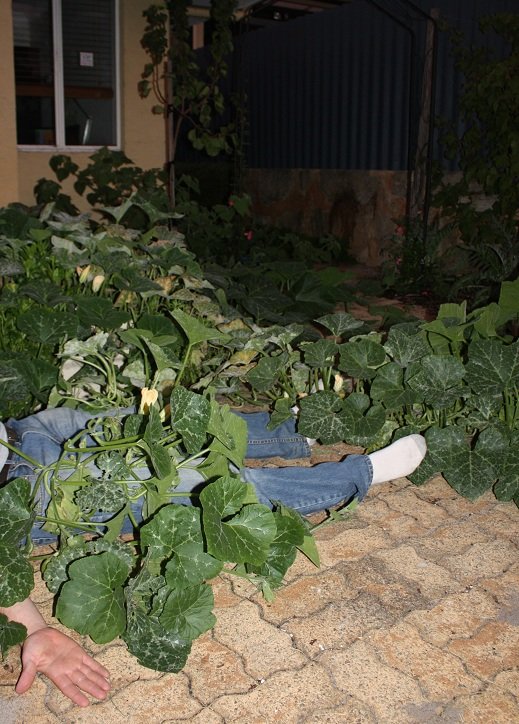 Ok it actually took me about half an hour to convince Mr Nerd to be in this photo. I tried to get Nala to lie there and pretend to be dead too, but she just looked at me all sadly when I "shot" her in the veggie patch. (You can shoot her with your hand in a gun shape making a "pew-pew" noise and normally she'll drop to the ground and lie motionless. It's her favourite party trick). But she doesn't even like being near this plant anymore.
Anyway so far the stupid thing (the plant, not Nala) has not produced anything even remotely vegetable-like in appearance so I cannot prove what it is. I think I will actually cut it back before it takes over the entire garden. It's hard to even put the washing out now because the plant is covered in prickles.
AUSTRALIAN WRITERS CENTRE – BEST AUSTRALIANS BLOG COMPETITION
As some of you already know I am DYING for House Nerd to win the People's Choice Round in the Best Australian Blogs Competition and to get votes I have been sucking up to everyone I know.
"What's that on your face?" said Mr Nerd yesterday, looking concerned and peering intently at me. "Why… your nose is brown. Aw, my little brownnoser." He honked my nose.
"GET OUT OF MY OFFICE I'M WORKING," I screamed as I shoved him away, accidentally pinning something on Pinterest with my elbow.
Someone won't be getting thanked in my acceptance speech, that's for sure.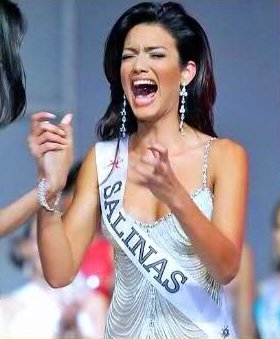 Oh by the way... you look really good today. Did you do something to your hair? Vote for House Nerd? The People's Choice Round doesn't close until next week Tuesday - just click the link and make sure you click done at the end! xxx
PAINT NERD
You know you're a house nerd when you get ridiculously excited about… cheap paint. On Friday I went to buy ceiling paint to redo our flaking bathroom ceiling. Not in the mood for hunting and capturing a specimen from that rare species, the helpful Bunnings assistants (
homo bunningis
), I popped into Solver Paints instead and saw that they had a stack of half-litre mistint paints for sale. The colours were so gorgeous, I thought I would buy a couple – but when I found out each can was only $1.10, I grabbed a whole box! I was so ecstatic, I could tell the nice sales girl was laughing a little as she helped me carry them to my car. (And also.
She helped me carry them to my car.
When was the last time someone at Bunnings helped you carry something to your car? I think that person they employ at the entrance just to say 'hello' and 'goodbye' could be put to better use, that's all I'm saying).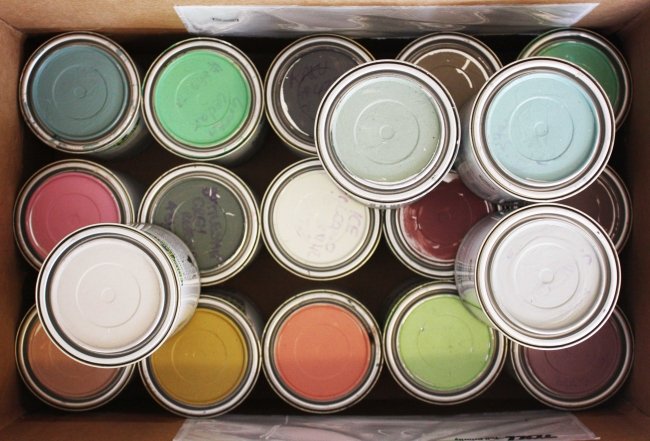 I am always buying little cans of paint for furniture projects and they usually cost at least $20 to $30 and then I usually don't even use all the paint – now I have a whole bunch of gorgeous colours. (Can you just picture a whole bunch of old mismatched chairs painted in these delicious fruity hues and sat around a table in the garden?)
So if you're after just a little paint for a piece of furniture or a small feature wall, give Solver Paints a call (sorry). Here's a pic of my very first furniture redo – a crappy chair I found by the side of the road that made Mr Nerd groan when I carried it home. We now keep the chair in our bedroom and ironically Mr Nerd now uses it to hang his clothes.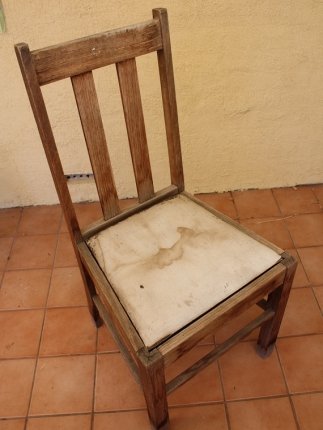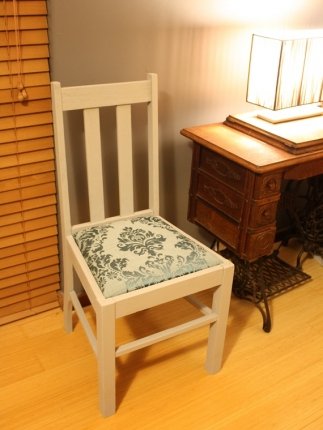 HOUSE NERD STORY UPDATES
Here are some of the features that will be up on House Nerd soon – just as soon as I have the time (and brainpower) to write them well enough to do them justice!
An old house with a poltergeist and ten cats, dogs and a parrot.
A gorgeous Palmyra renovation by a couple from The Block.
A modern Coogee cottage renovation that is one-of-a-kind.
A Scandinavian interior design range.
A peek into gorgeous little homewares shop Bower in Swanbourne.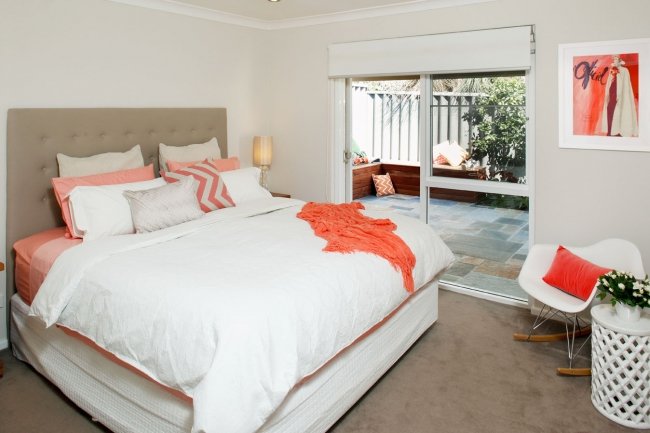 OUR BATHROOM RENOVATION
A few people have inquired as to how our bathroom renovation is going. Well in the past four weeks progress has been made and it has now gone from looking like a bomb hit to looking like a slightly larger bomb hit it.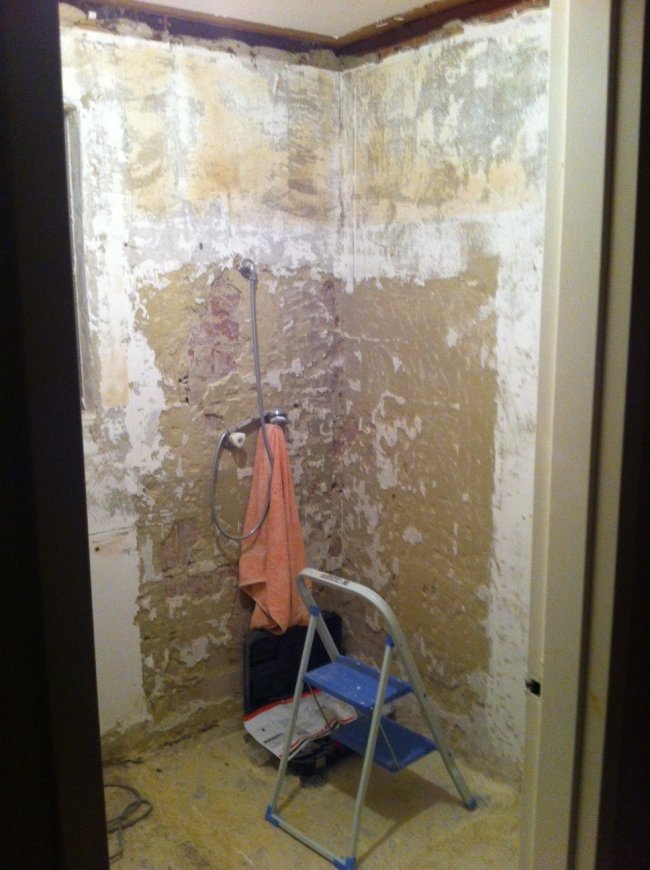 This is because Mr Nerd works up north on a FIFO roster so work cannot go on while he is away and I am not going to chip at wall plaster in his absence, and he also has not been feeling well. Please wish him well and hope that he gets better soon so I can have the lovely new bathroom I deserve. Maya x