Posted Tuesday, March 25, 2014 in:
Nerd Life
Before & After
Our House
So if you read my story on my junk room-turned-craft room, you will already know my guilty secret. I can take quite a loooong time to get around to properly designing a room. Years, even. Yes… shocking.
But I must defend myself! Mr Nerd and I are first home buyers… and when it comes to renovating and decorating our house, we take our time. We save up for each part of our renovations, and do it bit by bit. With furniture, we save up for pieces that we really love and in the meantime we make do with hand-me-downs or vergeside finds… even if that means using some not-so-nice furniture in the meantime… even for years. Or even… using camping chairs.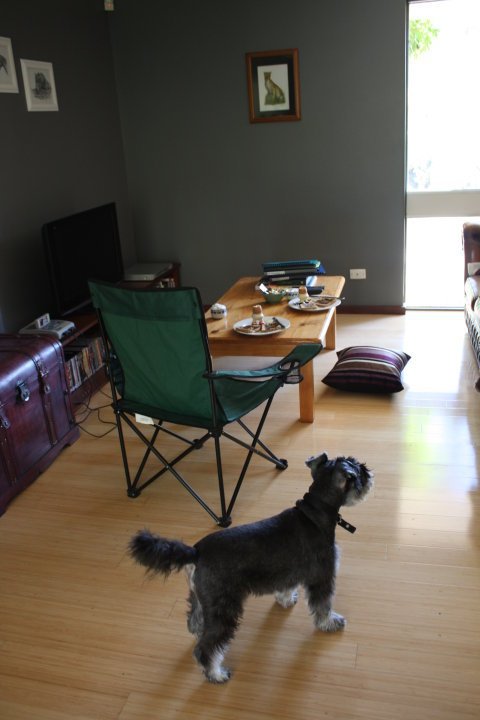 When I bought The Crap Shack, I naively thought the whole place would be furnished and styled (and beautifully so) in a year, tops. BOOM. That was the sound of reality hitting, my friends. A writer's budget + a former rental house that needed a lot of work = a home that years down the track STILL isn't finished.
But what I have learned is that if you have crappy stuff when you start out, when you slowly replace them with nice things, you really appreciate them! So I'm happy using hand-me-downs in the meantime rather than spending money on something that's "just for now."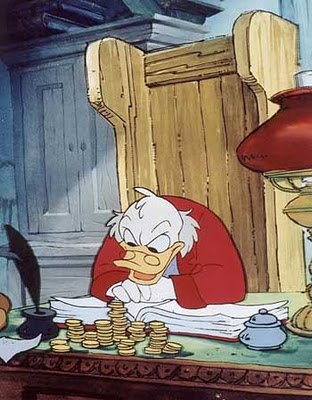 Plus you know what else I have discovered? When you buy something that's 'just for now', years later you will STILL be using it. That 'just for now' piece will hang around like a bad smell. In my first week of living out of home, I spent $30 on an ugly melamine chest of drawers from a secondhand furniture store. Here it is. Look at it. (You can see our old ensuite in the back). Isn't it bleh?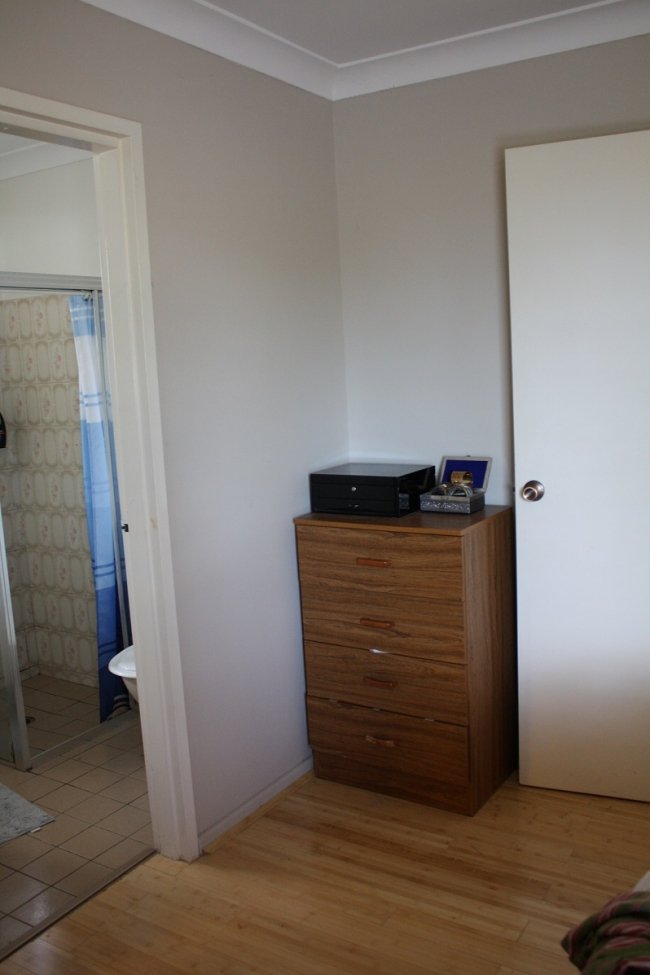 I bought it cos I thought, Hey I need some more storage, and this is the cheapest thing in the shop (I can't believe I once paid $30 for something so shitty. This was before I 'rediscovered' secondhand markets) I thought, I'll replace this in a few months with something I really like. THREE YEARS LATER that sucker was still with me like a party guest that won't go home.
Anyway now that I have defended the shabby chic (mostly shabby) style you will notice in our abode, onto our bedroom.
OUR BEDROOM MAKEOVER – STEP ONE
Here is, sadly, the only 'before' picture I have of our bedroom when we got the house. (I am kicking myself for not taking more. This was Before Blog, when I didn't have enough foresight to take tons of before photos). The bedroom was so bad, not even the real estate listing had photos of it!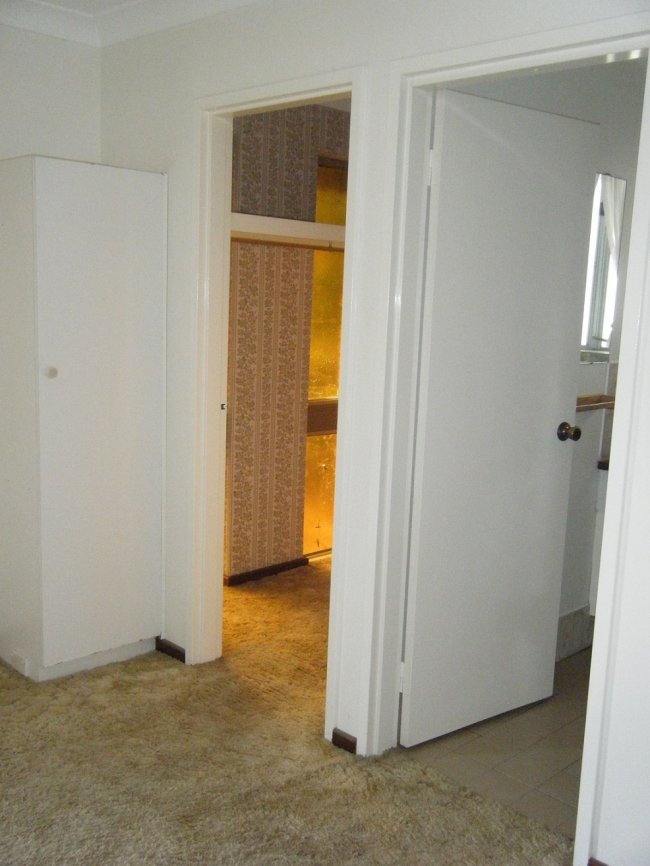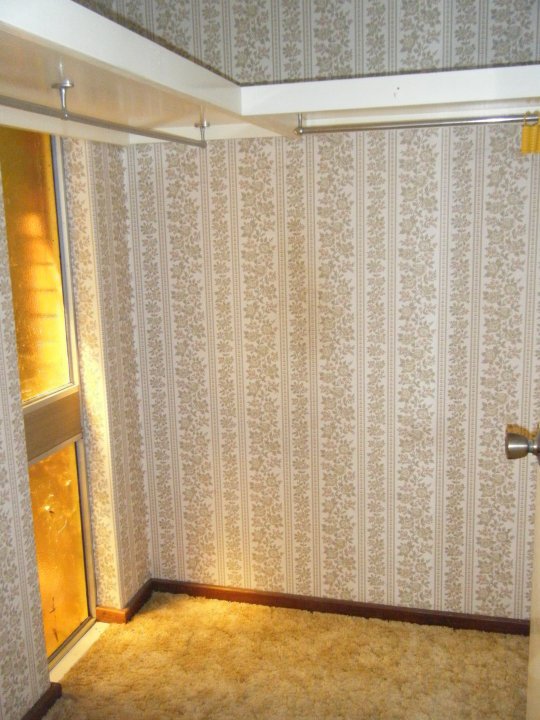 There were dusty fabric blinds, musty-smelling shagpile carpet from the 70s that you smelled as soon as you opened the door, and a walk-in robe that was covered in brown, faded flowery wallpaper. (The robe still has its original yellow glass windows). I stripped the walk-in robe of its wallpaper, all the walls got a lick of paint and we replaced the blinds with made-to-measure cedar ones bought online.
The shagpile carpet HAD to go. Before I moved in, we ripped out the carpet, which instantly made the house smell better when you opened the front door, and Mr Nerd carefully cut and laid bamboo floorboards. We had been going out for about 6-7 months at this point, and these photos make me smile because he looks so young! Hehehe. He will kill me for putting these up and probably force me to take them down when he sees this, so please enjoy them while you can.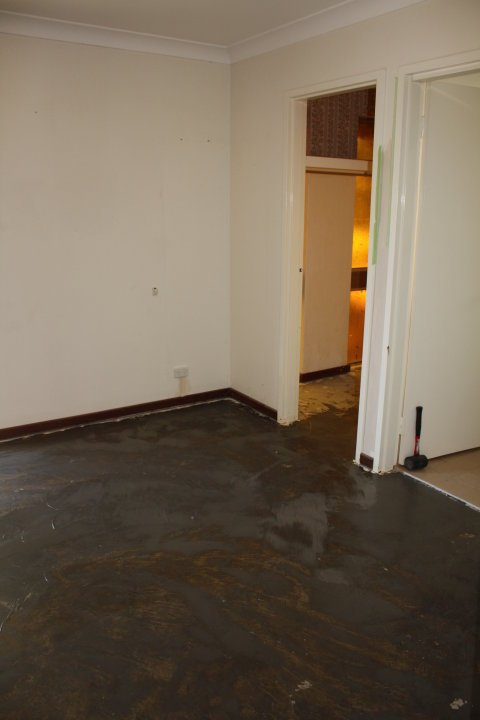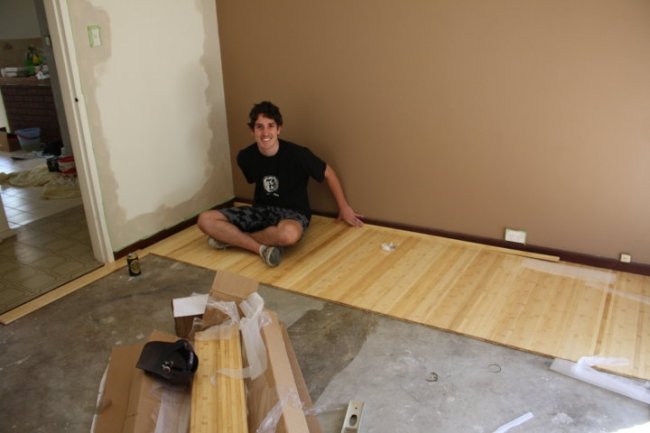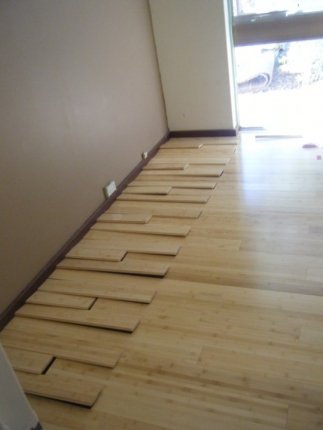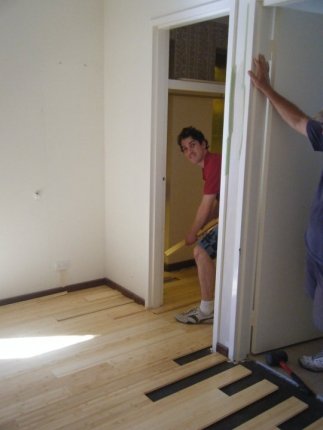 THE FURNISHINGS
My mother donated to me her own bedroom suite with chest of drawers. That is the old melamine and chipboard bed that was my mother's own bed. From the 80s. Incidentally, the same era I was also conceived. Take from this what you will. Yet I must stress, I had a different mattress.

Anyway, despite the 1980s bed, already the bedroom looked much better, as you can see below. Not styled, but it was liveable and relatively pleasant, yes? And my Big W daisy bedspread clearly does so much to enliven a space.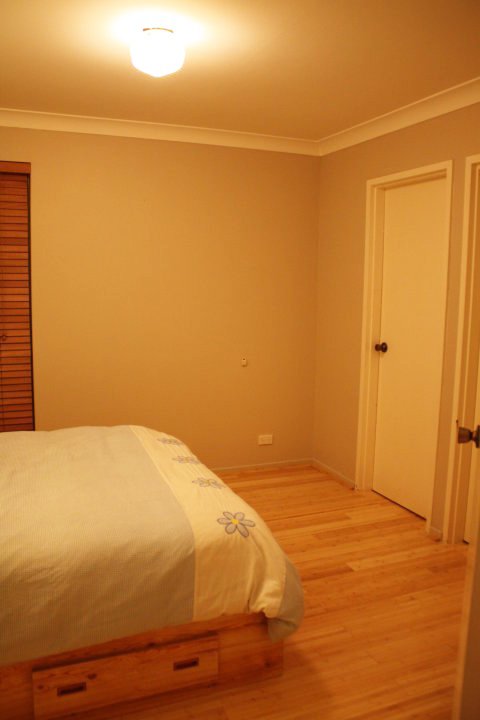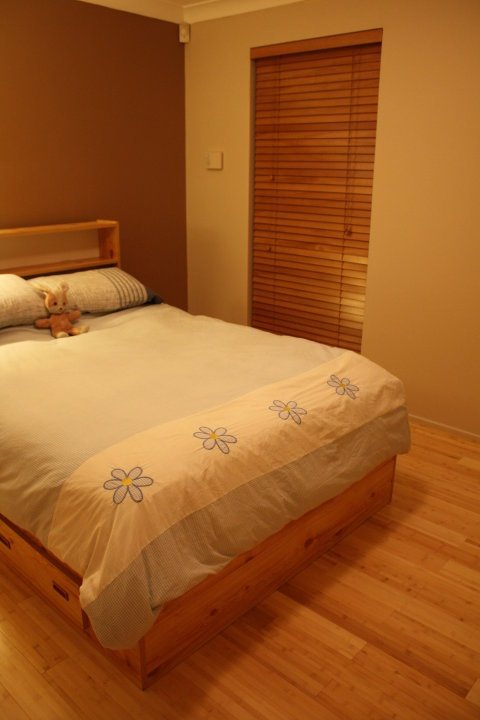 WELL THAT WAS THEN
Let's fast-forward a few years.

Not long after these photos were taken, Nala moved in. Then Mr Nerd moved in. And then we all became… well… more slovenly.
In the event of full disclosure, I am going to show you some yucky bedroom photos. I am even prepared for a few disgusted readers with perfect homes to drop off the grid, but here is our rather awful, untidied bedroom after about three years of daily life in The Crap Shack.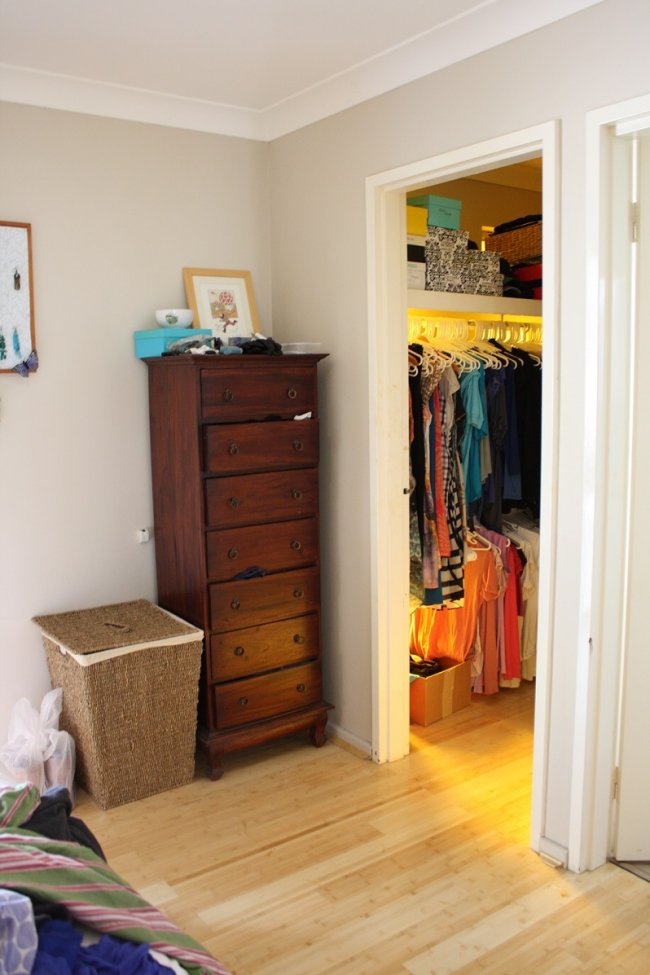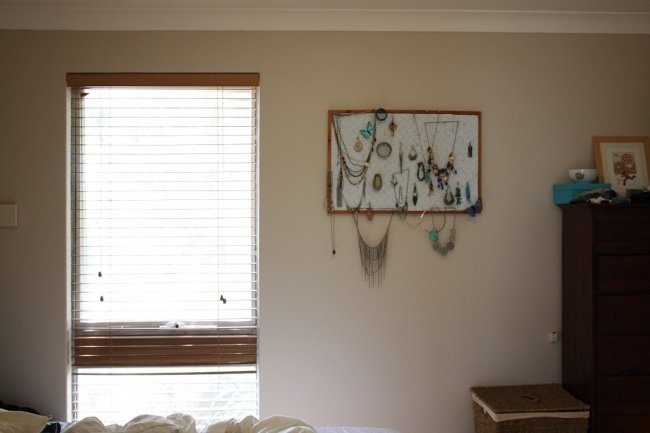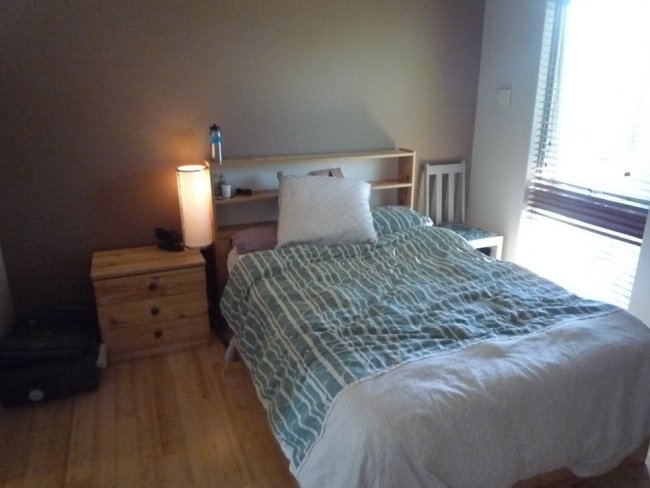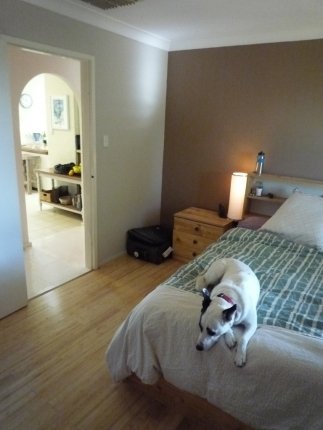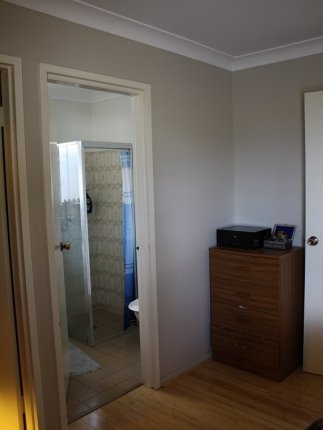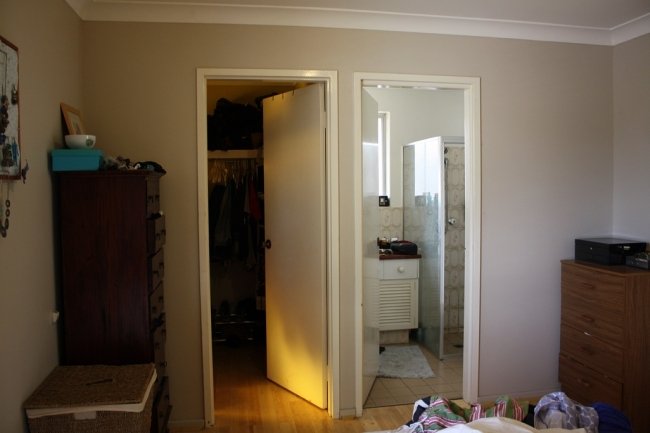 How bad is it, huh? In fact, looking back on these photos now, it reminds me of when you are looking on realestate.com at all the houses in the under $400,000 listings, and you see a place with really bad photos like this and you're like, "Eeeesh," all appalled, and then you say wisely to your husband, "Well we shouldn't buy THAT house because clearly meth addicts live there," and then you sniff and shudder and disdainfully flick to the next listing.
Well, WE had the creepy crack den bedroom. You can't see in these photos, but our ceiling light was a bare fluorescent lightbulb, hanging gingerly from the ceiling, for more than three years. This room was awful. But other things in the house just seemed to demand our attention (and our money) first. Like the dodgy old drains that kept clogging. And turning the carport into a garage. Repaving the backyard. Rendering over the 70s brickwork - inside and out.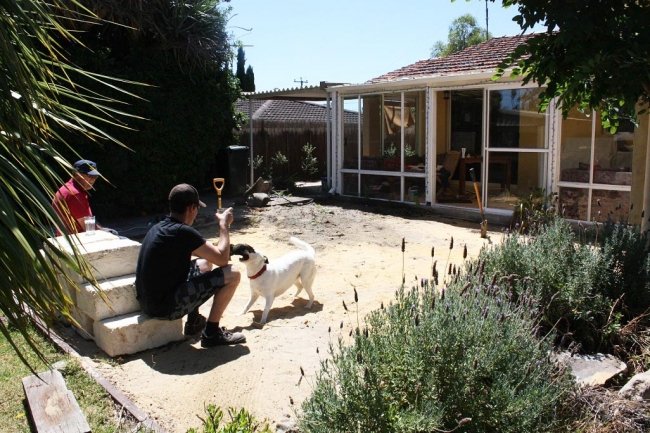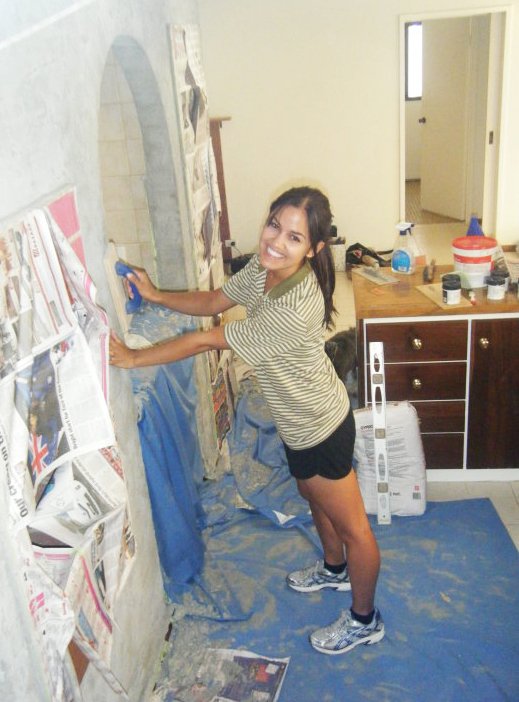 And fixing the creepy sunroom. Digging out the mosquito pond. Renovating the horrible ensuite. But then finally, it was time to do our bedroom. And now it is finally done! One more room in the Crap Shack can be ticked off! And honestly, it feels SO GOOD. Our nice bedroom makes us feel so happy.

I am trying to write shorter posts (and more of them) so I'll leave you with a little glimpse of our bedroom for now... more on how we gave it a makeover very soon!

What about you? Have you taken years and years to 'do' a room? Are you happy to wait and save to buy things you want or to renovate, and live with ugly things and hand-me-downs in the meantime? Or is living in ugly spaces your worst nightmare? Is it worth it to you to buy nice things for your house now and pay off any debt as time goes by? Does your house also have a touch of crack den chic? Maya x