If you have been reading along on here the past few weeks, you'll know that we recently began to give our depressing bedroom a makeover. That included painting it from top to bottom. Now that sounds simple and easy enough, but it wasn't. We had to:
- Paint the walls (twice – more on that later)
- Scrape, patch and repaint the flaking ceilings
- Fix and repaint the flaking cornicing
- Paint the skirting boards and beading
- Spray paint the aluminium window
- Spray paint the air-conditioning vent
- Paint the three doors (entry door, wardrobe and doorframes
And all this painting took a long time.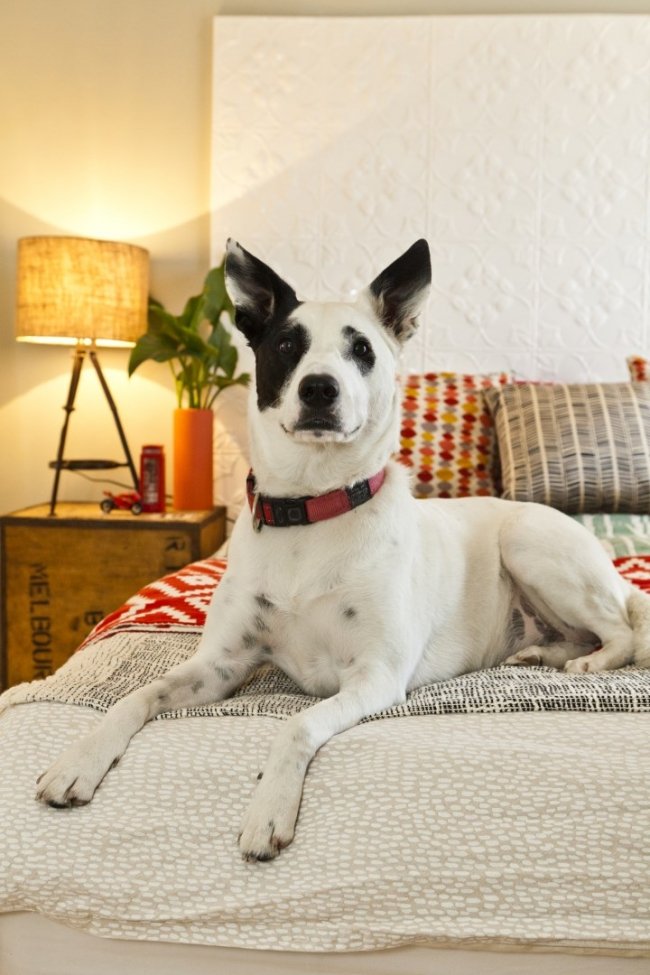 Oh wait, and when I saw "we" did this work… may I just point out that it was me and my sisters who did all this painting. Not Mr Nerd. In this house, I'm the one who paints, Mr Nerd generally just wanders into the room every so often, munching on the last Tim Tam and pointing out a spot I'd missed.
I have to say this, because so often on here I'm like, "Hey guys! WE gutted the bathroom" or "WE built a limestone wall in the front garden" or "WE climbed on the roof and fixed the holes" or whatever, and really it is just Mr Nerd. So this painting bit – it was all me (and my sisters). A girl has got to take credit where credit is due.
Anyway if you saw my last update on our bedroom makeover plans, you would have seen the moodboard my clever interior designer friend Nelly Reffet from Twinkle and Whistle did for us. Nelly then came up with a styling guide, which outlines the goals and the planned 'feel' for a room, and breaks down paint colours, patterns, materials and pieces of furniture that would work and where to source them from. "I picture the feel of your bedroom as bright but soft, with subtle colours overall and an occasional hint of brighter hues, and a well-balanced mix of soft materials and more industrial/masculine ones," she told me.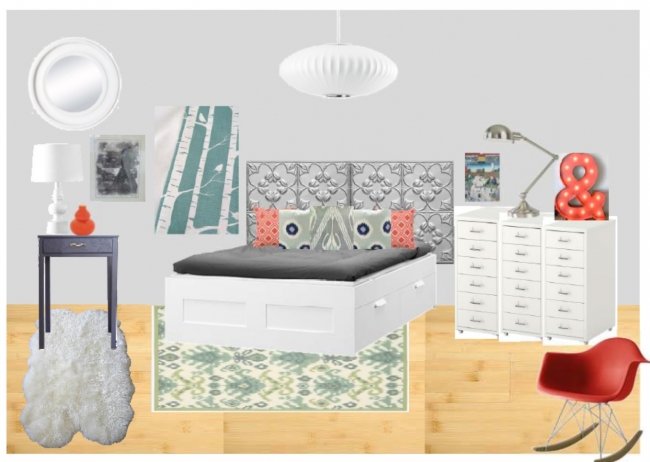 Nelly suggested painting the walls a light grey/green in a low sheen or matt finish, such as Dulux Spanish Olive or half-strength Dulux Still. It is the kind of colour, she told me, that goes really well with warm, bright accent colours. And she chose the paint colour so that it would work perfectly with the ONE thing in our bedroom we already had that we actually liked – the Moochie Lou bed linen made for us by Mr Nerd's sister.
Mr Nerd said the painting of the bedroom was on me so I rounded up my sisters to help me paint. I have two younger sisters, Natasha and Simone (you would have seen some of her photos on this blog). My sisters like to take every chance they can to turn a simple occasion into a small party. I knew they would make painting fun. Like when we bought the Crap Shack and they 'helped' me paint the living room.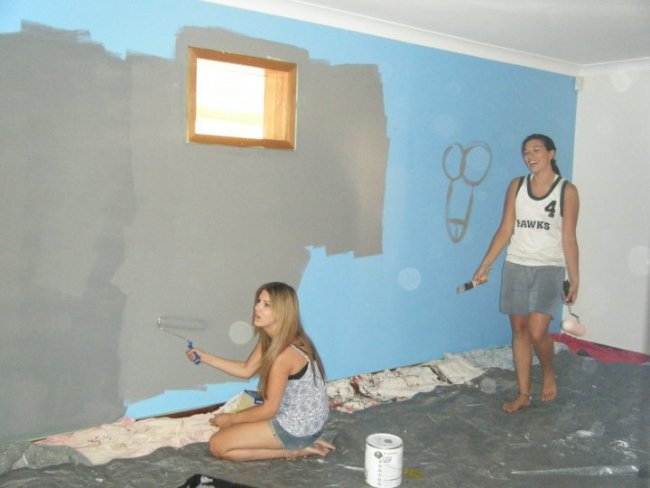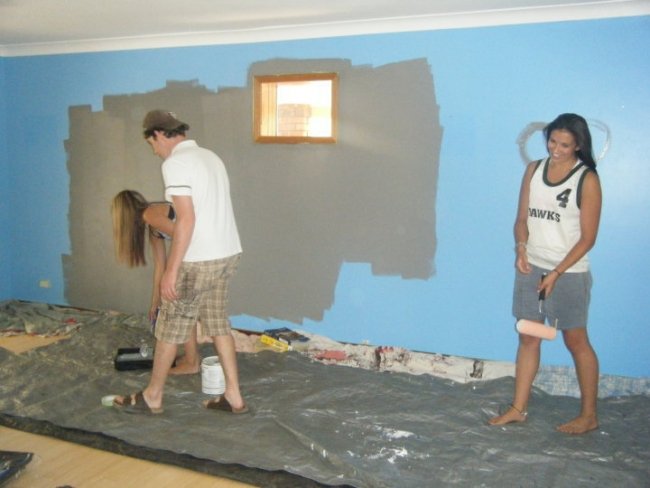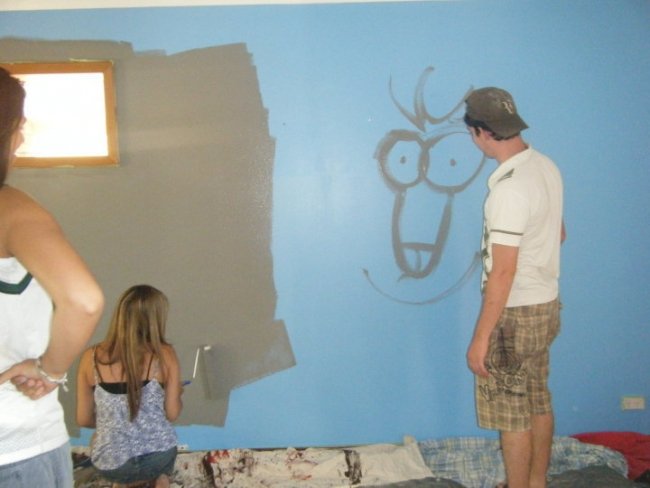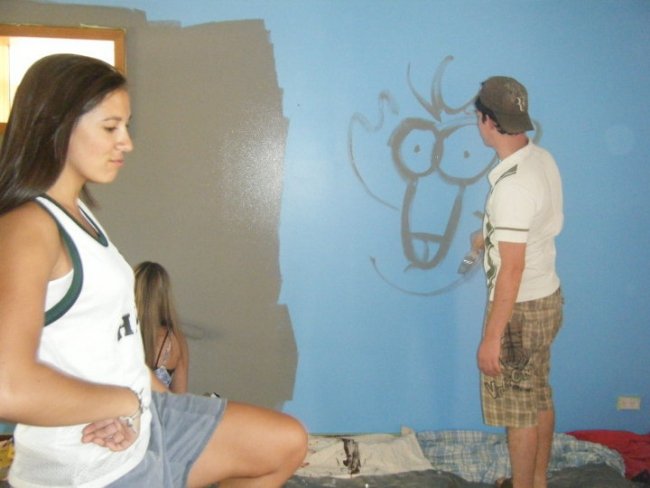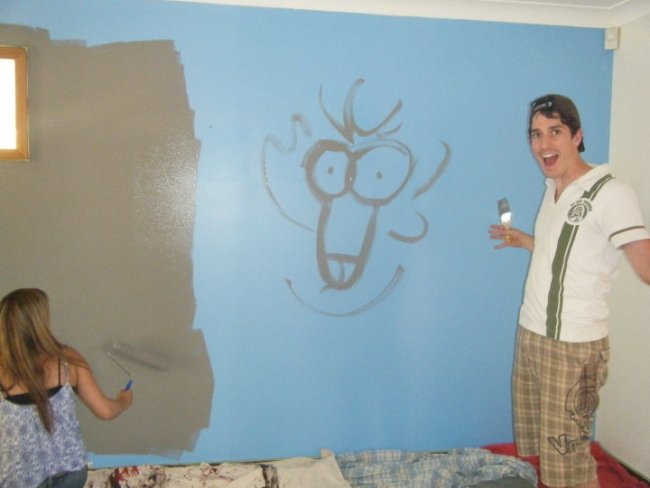 My sisters pretty much always have a good time. Meanwhile, I am the typical solemn eldest child, forced from a young age by my parents to "look after your sisters" and keep a watchful eye on them, as every scrape on their knees was inevitably my fault (and sometimes it was, because I pushed them over).
In general, I feel like I have grown up to be the solemn, boring one. Sometimes I feel like my sisters are like this: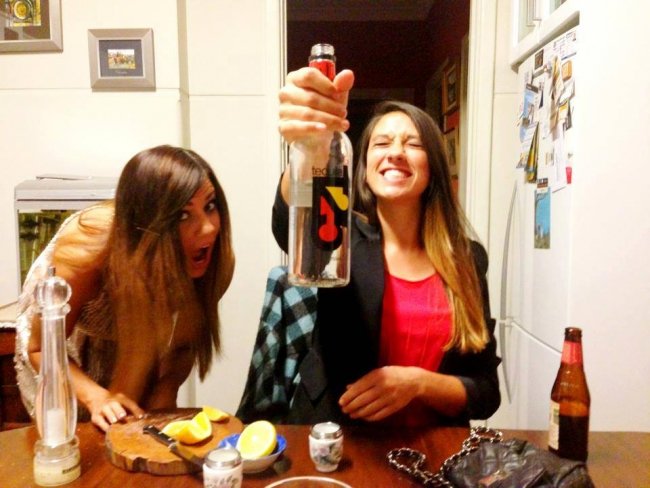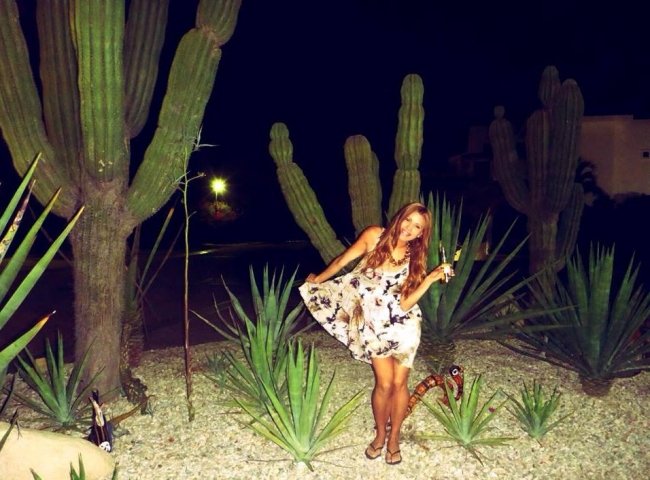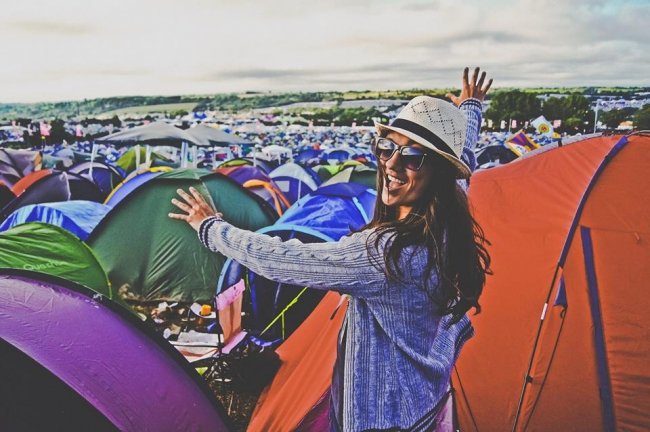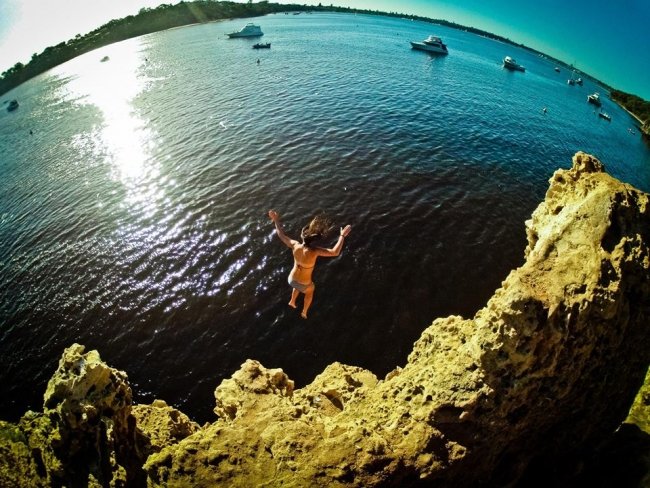 and I am like this: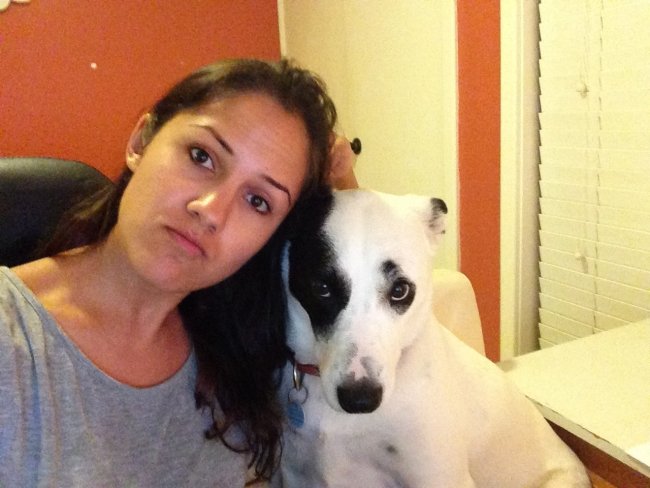 Where I am always working, my sisters constantly astound with how many holidays they manage to take. At family things people always go to me, "So where are the younger two now?" Even now, my sisters are in Vegas. No, Cabo. Actually, no they left… I can't keep track. Wait, I'll check Facebook.
Ok. They are in Orlando. At Disneyworld.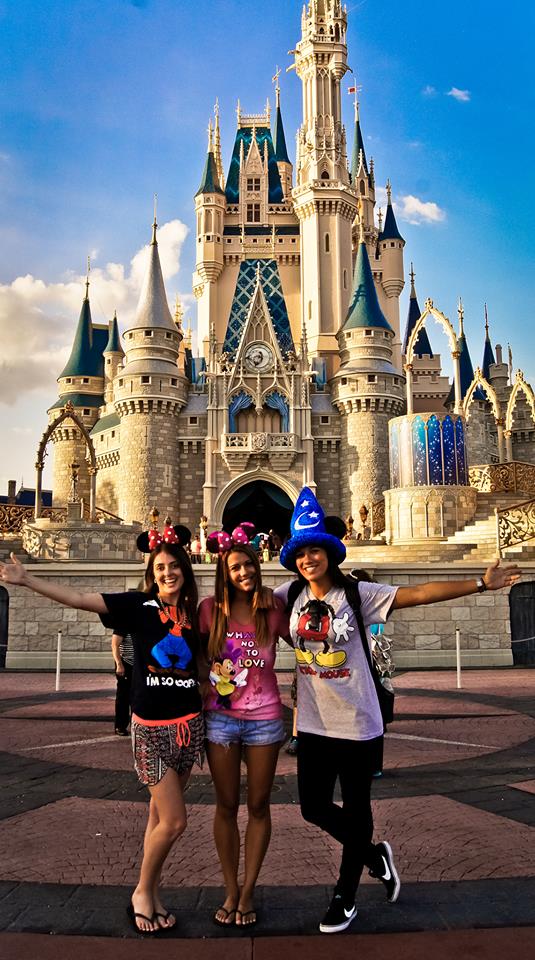 It's ok. Hang on I just got a bit of a dust in my eye.
Anyway, when I decided to repaint our bedroom, my sisters were here - and they were happy to help. We went to Bunnings to get our Dulux paint in Still. I was all ready to get this paint. But then when I was at Bunnings looking at the pretty, enticing wall of paint swatches and my eyes flicked over. Just a couple of swatches to the side of Dulux Still. To this beautiful duck egg blue colour. I LOVE duck egg blue anything.
"Ooooooooh! That colour is pretty," I said, pointing. My sisters agreed. It WAS a pretty colour. And it was only a little bit more blue than the colour Nelly had recommended, I reasoned. It would still look good. I feel a bit dim-witted but I can't remember exactly what it was called. But I bought it, and we went home and started painting. As soon as it was on the wall I started having doubts about it. But I silently said nothing and shouldered on, kind of like when you're at the hairdresser, and she's cutting or colouring and you're like hmm that doesn't look right, but you're too scared of your trendy hairdresser to speak up and then yep at the end you have sideburns like a man, only you're not a man.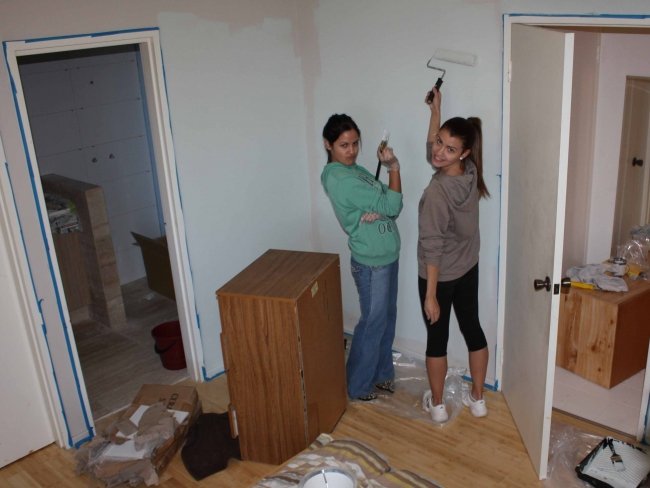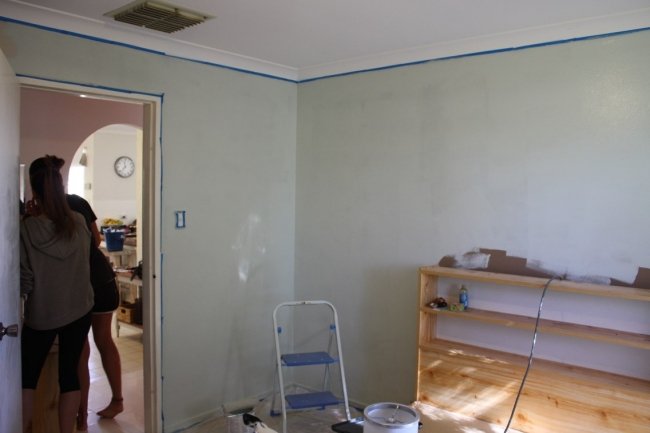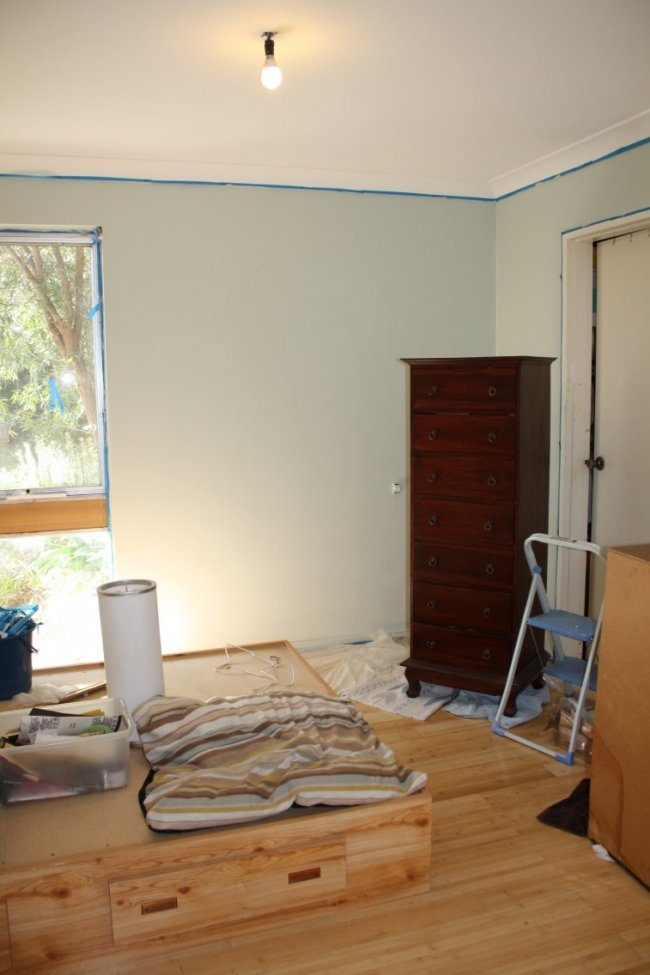 My doubts were confirmed halfway through when Simone stopped painting and stared at the wall. "I feel like I'm painting a nursery for a baby boy," she said.
"Don't say that," I snapped. We soldiered on and finished painting. Well, we only got a little distracted, when we thought it would be a good idea to paint our faces (it wasn't).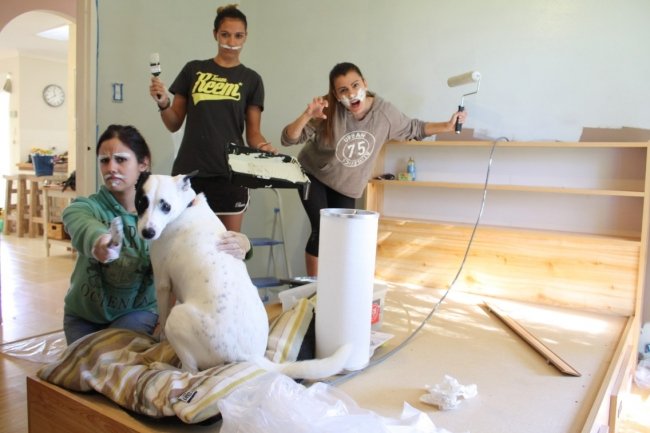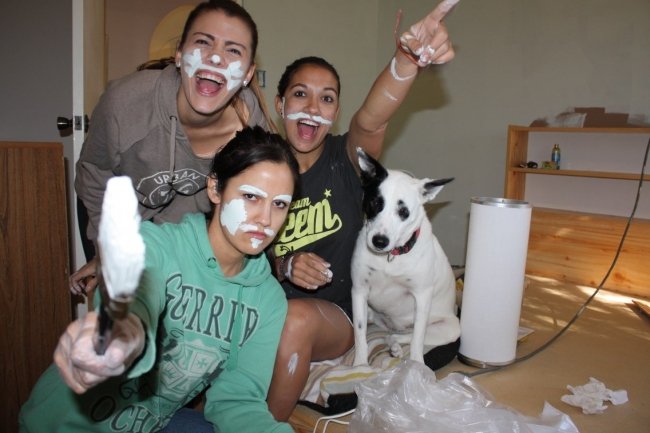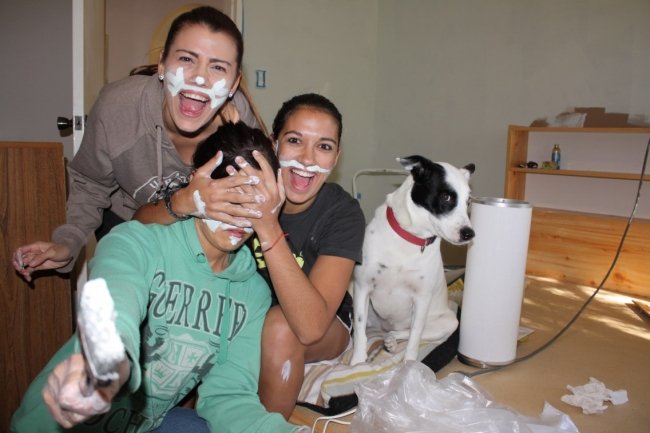 I hung new curtains (ugly greenish ones I regretted buying the day I brought them home. They looked blue in the packet. When I hung them up, they were green).
I put in splashes of red like in Nelly's moodboard and tried to style the room. But it didn't work. The wall colour was beautiful. But it just did not go with our Moochie Lou bed linen. Or with our golden-toned bamboo floorboards. Or with our honey-toned travertine bathroom. Or with my horrible green curtains. It just didn't look right. Never mind. It was just a shock having a different colour, I told myself. It would grow on me.
Mr Nerd came home to a freshly painted bedroom and green curtains. "TA-DA," I shouted.
He visibly winced.
"What do you think?" I cried brightly. Too brightly. "Doesn't it look great?"
He had paled. "Is that the colour Nelly picked?" he asked me.
"Not quite," I admitted. "I picked this. It's slightly more blue. Kind of like duck egg blue but not quite."
"What is it with you and your crazy duck egg blue?" he said.
"It's my favourite colour!"
"Oh god, and you changed the curtains," Mr Nerd said in horror. "And they're green."
"I like green curtains," I lied.
"It looks like a nursing home," Mr Nerd said bleakly. "I feel like an old lady called Ethel is going to knock on the door and ask for her room back."
Oh man, I was so mad. "YOU'RE AN IDIOT," I shouted at him while really inside I was secretly thinking hmm yes, it is like a nursing home room. "You don't know anything. It looks great."
"It really doesn't. You're going to have to repaint." He plunked himself down on the bed with a sigh.
I seethed. I really don't enjoy painting. Especially not after I just spent hours painting something.
"Well I'm not repainting it!" I shouted. "I spent HOURS painting it this way." I added some tears for extra effect.
Mr Nerd is no longer swayed by my tears in the slightest. He says he has realised I cry at everything and so my tears have mostly lost their effect on him. He likes to recount the time he told me he ate my piece of the Budapest log he had gotten from Miss Maude's and I cried because it was my piece and the last piece, while he just laughed and laughed like the evil demon he is, and then it turned out he had just hidden my cake behind the sofa while I was in the kitchen.
Where was I? Ok. Months later, my sisters and I finally repainted the bedroom. This time, painting was a more somber affair. Although we did crank the soundtrack to Frozen. And then when it got dark we ordered pizza and drink wine.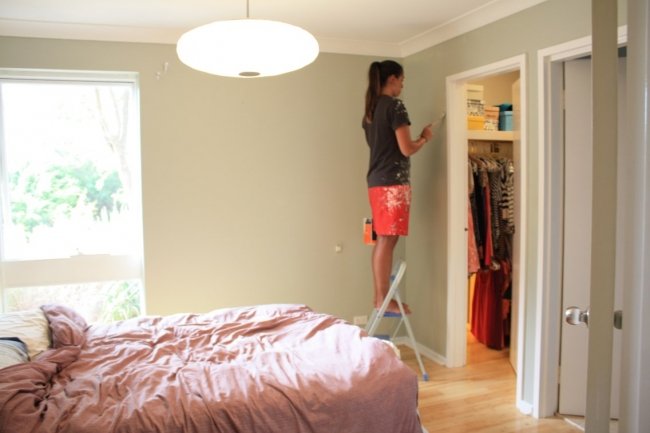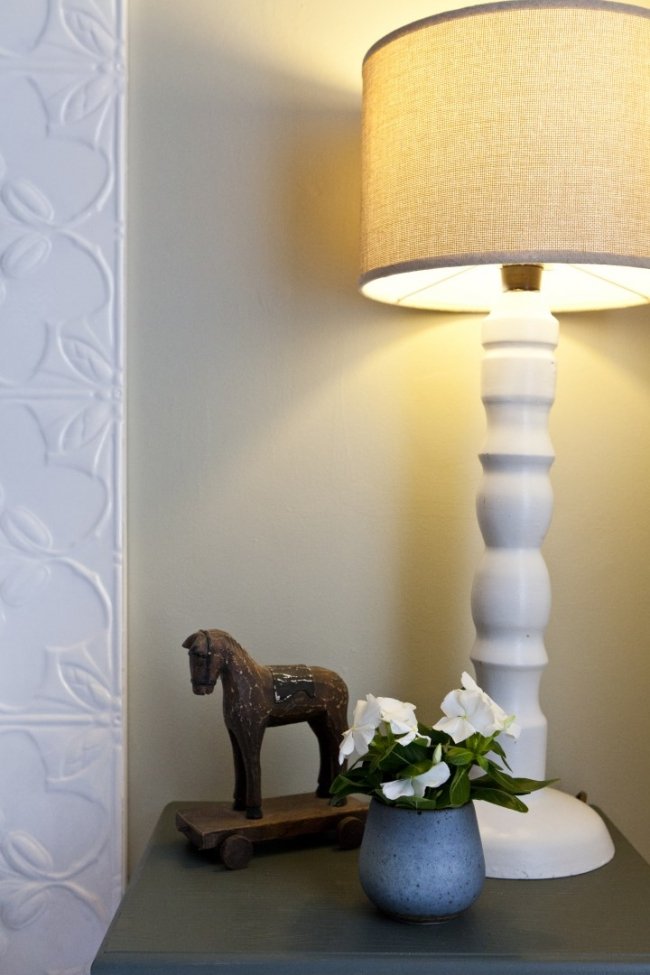 This time the paint was Dulux Still in half-strength, like Nelly originally advised. And oh my goodness. Mr Nerd and I LOVE this colour. Through the day and in different light, it changes from beautiful green to putty to grey to silver but it always looks lovely. It's masculine, but not too masculine, and looks so lovely with our new white linen curtains.
So here's what I learned:
- Use sample pots.
- Trust your interior designer friend's advice.
- Don't get swayed by another pretty colour when you're faced with an alluring paint chip board.
- Look at how a particular colour will go with your floorboards, your light, your bed linen.
- Stop being lazy. I must admit, I have often been like, "But I can't be bothered doing a sample pot because then I'll have to drive back to Bunnings again…. I'LL JUST BUY THE GIANT TUB OF PAINT NOW THANKS." But let me tell you, it's a hell of a lot more work and time if you have to repaint an entire bloody room.
- Yeah, use sample pots.
Here's what else we did in the room:
I SPRAY PAINTED THE WINDOW
I spray painted our dated 1970s aluminium window a gloss white. Don't you just LURVE that faux wood panel in the before? If you're thinking of doing the same, tape and cover up the surrounding areas really well (spray painting always has more backspray than you would think!) use a primer like Flood ESP Easy Surface Prep and a spray enamel paint such as one of the ones from Rustoleum or White Knight. It's not going to be like a brand new window but if you are on a budget it is worth the effort – the window makes the room look so much brighter and it costs next to nothing.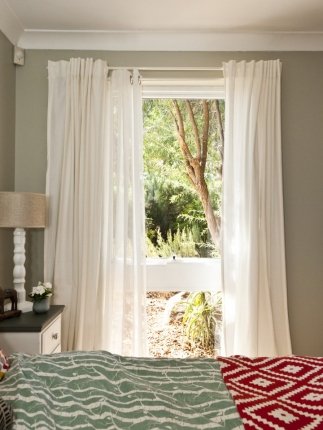 I FIXED THE FLAKING CEILINGS
Our ceilings had begun to flake. It doesn't look too bad in this photo... but when I started scraping, huge pieces began to fall off. Some of the patches were the size of my hand. After I scraped off the old flaking paint, I filled in the gaps with SIKA Fine Surface Filler, sanded it to smooth it and painted the ceiling and the cornices. I outlined how to fix flaking ceilings in this previous post.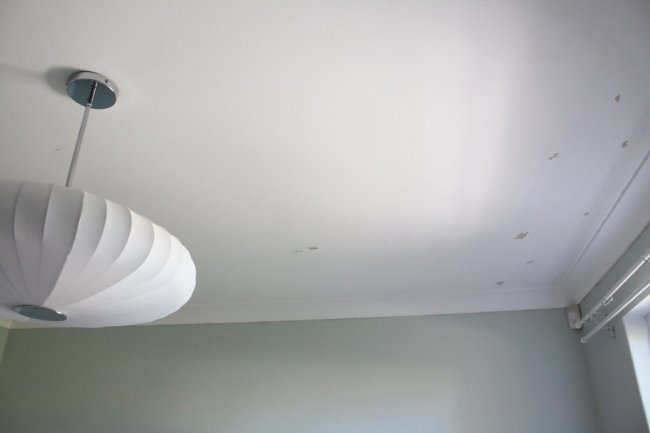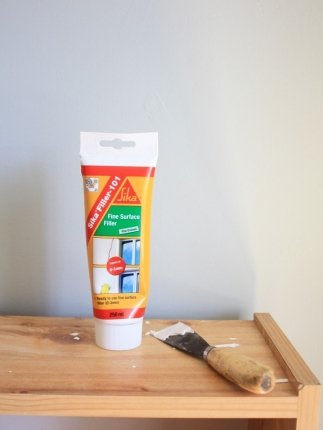 AND I SPRAY PAINTED THE AIR-CON VENT
I know, I lead an exciting life. You would not think that something so little as spray painting your air con vent (remove it first, yeah?) would make such a noticeable difference in a room, but it does. I seriously wish I had taken proper before and after photos. Our air-con vent had been a gross, creamy beige colour before - it looks like new now. Take yours off, give it a wash in soapy water and spray paint it a vivid white.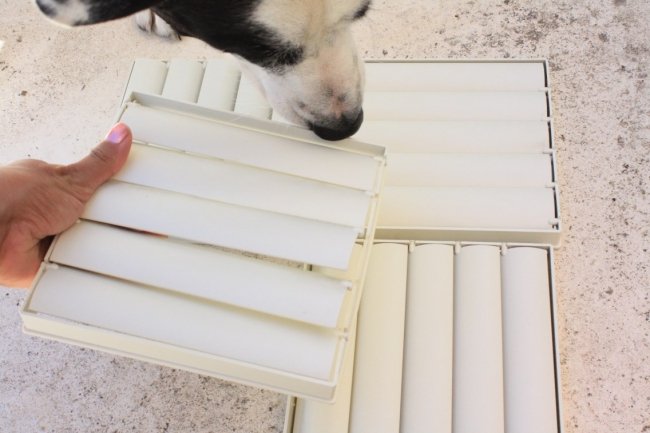 WHY YOU SHOULD PAINT YOUR DOORS A GLOSS WHITE
If you want to brighten, lighten and 'lift' an old room, I fully recommend you paint your skirting boards, door frames a clean gloss white. Nelly advised us to paint the doors and the skirtings in Dulux Vivid White in a gloss or high gloss finish. The results look wonderful.
Painting the three doors in our bedroom, the door frames and the skirtings took a lot of time. But painting in such a beautiful crisp glossy white has made the BIGGEST difference to the room.
Before they had been a dated off-white with traces of wood glue on one of the door frames from when we put in the bamboo floorboards.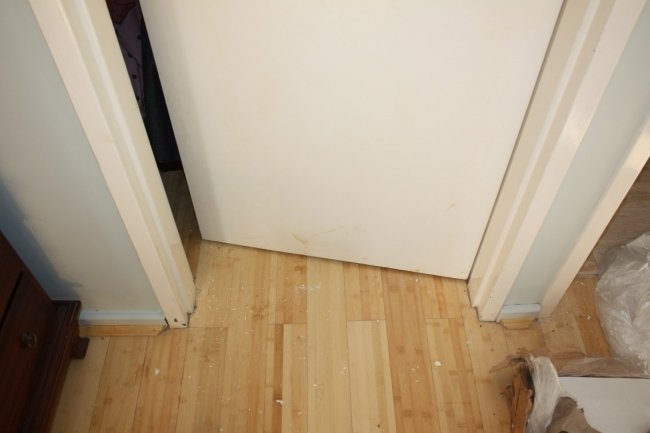 Now the light bounces off the high gloss doors and frames, giving the feel our very small (3m x 4m) bedroom is bigger than it is. And the contrast between the satin finish of our old plaster walls and the high gloss of the doors and skirtings is lovely. It makes our old crappy bedroom look more expensive somehow. Abigail Ahern, who is a bold, brave, kooky UK interior designer who I just love, bangs on a bit here about pairing glossy finishes with rougher ones and why it works so well.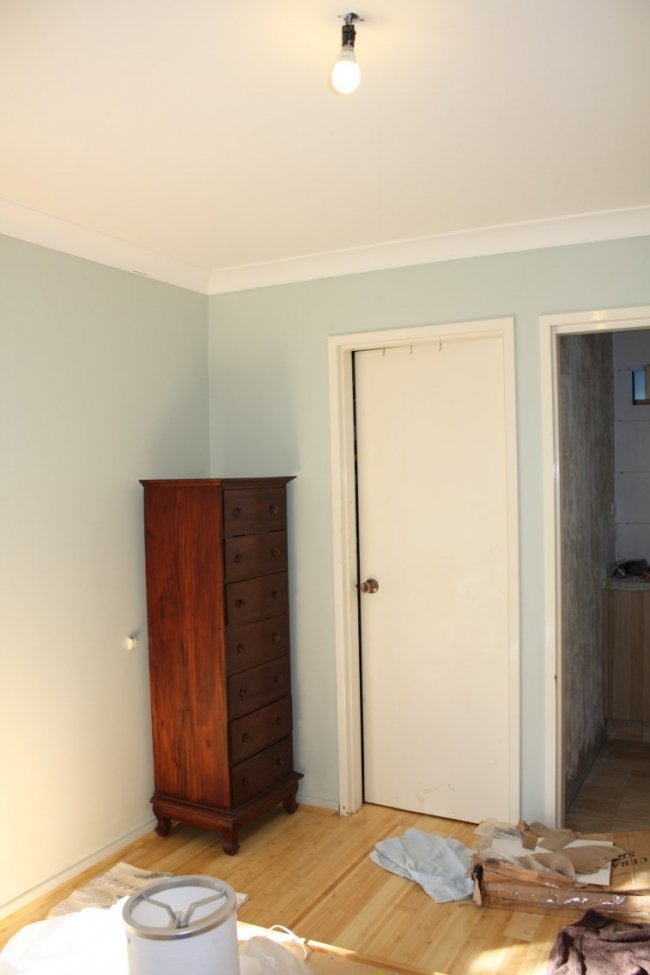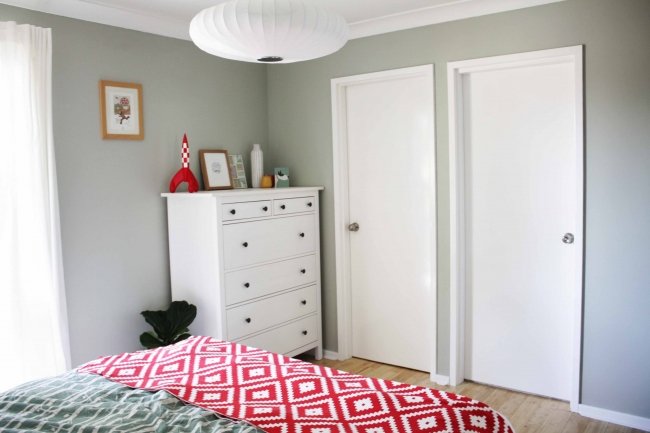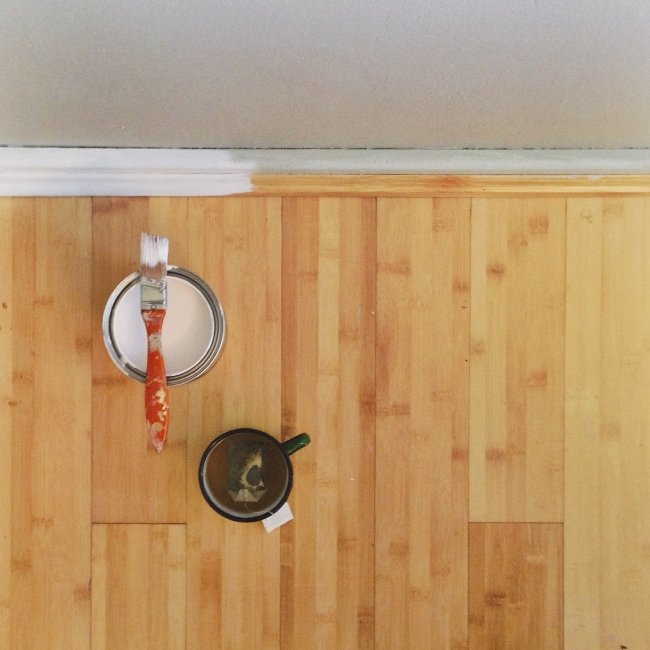 The skirtings also got a white gloss makeover. Nelly recommended we paint the bamboo beading in gloss white as well, to add interest to our plain skirting boards. I used
Dulux Superenamel
in high gloss for the doors and skirtings and it looks great. Make sure you get your local Bunnings or
Dulux
expert to explain the best way to paint your doors (there is a method to it. I can tell you if you want but right now I am feeling too lazy). Every time I have a serious paint question I always go to see Jim at the Bunnings in Myaree. He is a very kindly man and I have never met anyone who is so knowledgeable or passionate about paint. I have been pestering him since I was a teenager.
A little note, I know some people are wary about high gloss paints because they tend to highlight imperfections and little bumps, nicks etc. Our own house is not perfect. Some of the walls are actually out, which drives my Mr Nerd mad, and because of this our skirtings aren't quite perfect, and some are nicked, etc. It actually doesn't bother me, because I think, you know what, our house is an older house and it is never going to be 'new house-perfect' unless we spend a small fortune on it - and I don't want it to be either! I think you make the best of the home you have without, and if it has tiny flaws, it has flaws. But if this is the kind of thing that would drive you nuts, I would take it into consideration!
Next time I post about our room I'll do a full bedroom reveal and after that I'll do a DIY post on how we made our pressed tin bedhead that I LOVE. Stay tuned guys because you can win an amazing Forty Winks bed valued at $3299!

Do you love painting? Don't love it? Do you have a friend or a family member that helps you make mundane house or garden tasks fun? Maya x