Posted Sunday, February 8, 2015 in:
DIY
Nerd Life
Before & After
Our House
You might have once heard an interior designer say, "Every room needs a bit of black." It's long been an adage amongst design types. A bit of black is often the ingredient that takes a room from blah to pulled-together. It can add a bit of polish, a crisp contrast, and can help other colours to pop. Black can be a perfect finishing touch or a great base.
One of the things I have been longing to do for ages in our house was paint our entry hallway black. For years, it was pink-orange. Some might call it a coral, but to me it constantly reminded me of lipstick in the 80s. I pinched the colour from my in-laws' house, where they had a little hallway painted in the colour, and in their house the pink looked REALLY good. My in-laws had had a colour consultant come over, and look at their art and their furniture, and tell them what colours would suit their home. I was 24, had just bought my Crap Shack (which had white and sky blue walls), and that pink paint colour looked really good in their house, so I bought some for our house.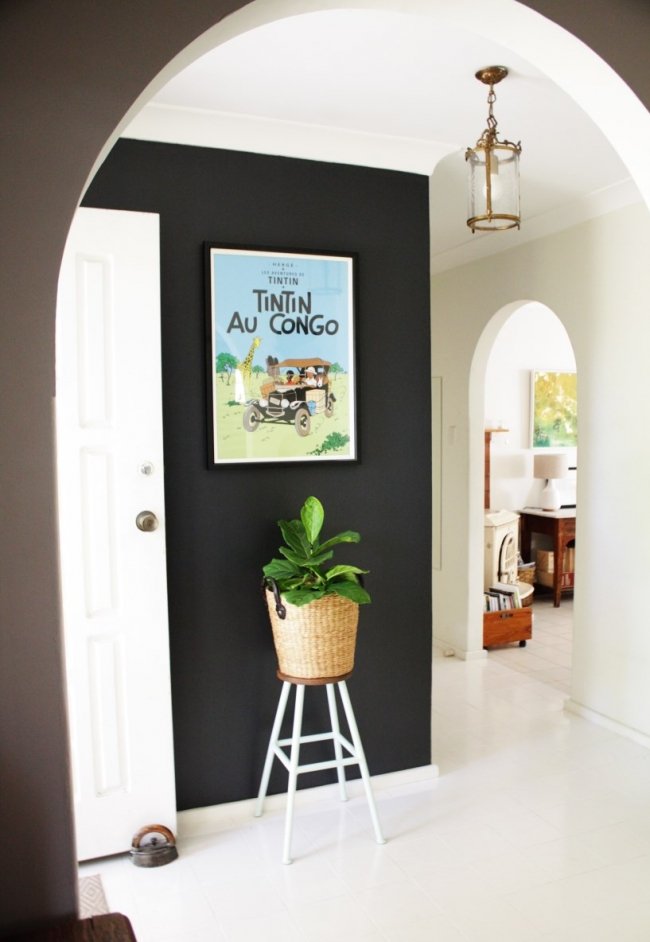 Well, I hated that paint the second it started going up on our walls. But still, I lived with it for four years. Four years!

Partly because I was a first home buyer, and too poor/stingy/lazy to buy new paint, partly because I was just going to grit my teeth until that bloody paint colour grew on me. It never did. I just hated it even more. Lesson learned - just because a paint colour looks good in someone else's house, with their furniture, does not mean that paint colour will look good in your house, with your (crappy) furniture.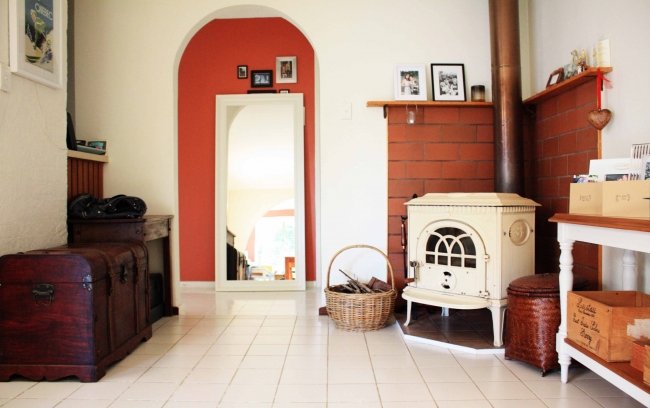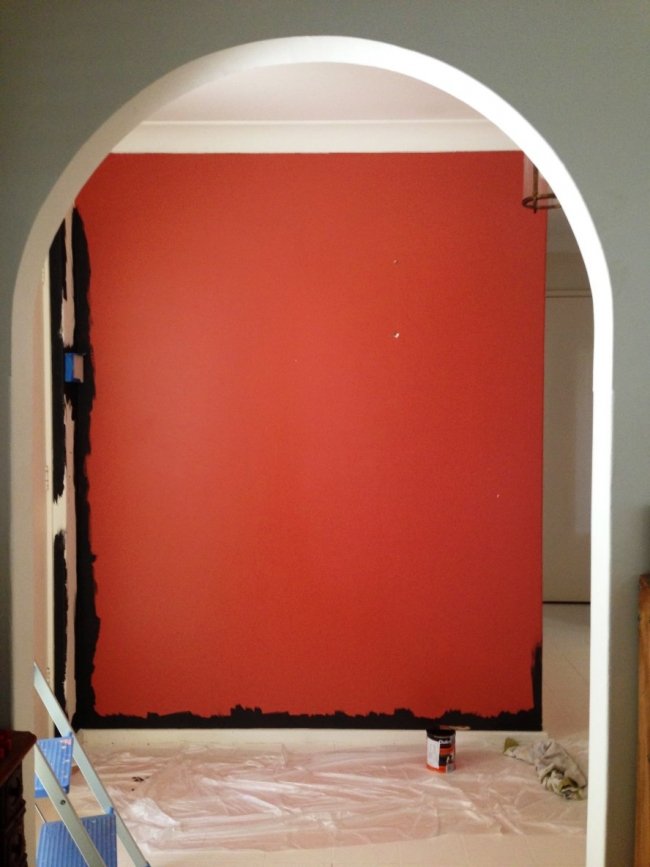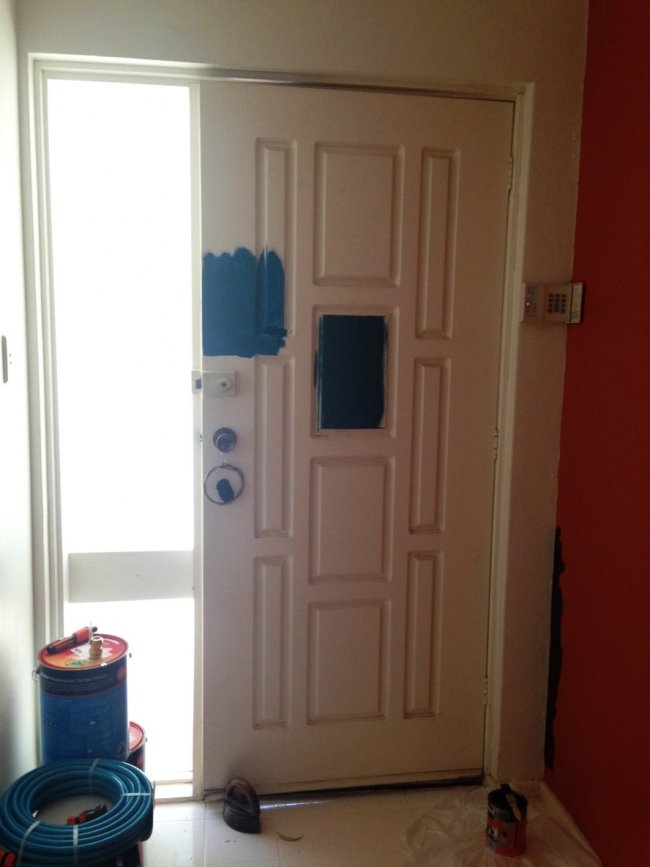 When my interior designer friend Nelly Reffet of Twinkle and Whistle actually suggested black in our hallway - she recommended Dulux Domino, which I have seen used numerous times before indoors and outdoors to great effect - I was thrilled. I had always wondered if black would suit, but er, as you guys know, I have been very wrong about my choice of paint colours in the past, like when we did our bedroom.
But Nelly has a great eye for colour, she has that raw French confidence and she made ME feel confident.
"Painting walls black is a very bold choice that can really add depth, luxury or even fun to a space, depending on how it is accessorised," she says. "It is however quite tricky. To make it work, it is advised to do it in a room that receives lots of natural light. If not, the result may be much more gloomy than sexy... if the room is very small, it is also best to use it as a feature wall, as opposed to painting the entire room like this.
"However, if you are after a super-cosy space where you feel disconnected from the rest of the world (like a study or a meditation room), where you can retreat and concentrate, do not hesitate to paint all the walls of a tiny room black! It will feel like a cocoon. Use white on all trims and doors though, so your space can visually "breathe" and add some good lighting (desk lamp, floor lamp, etc) that will contribute to the cosy feel while also providing much-needed light."
Mr Nerd was initially dubious. "Black?!" he said. He didn't mind the pink. Yeah, I know. "Yes," I said. "I think it will look awesome." So I went to the Dulux store, bought a small tin of Dulux Domino, spent a Sunday painting while playing Full House re-runs in the background, and I loved the outcome immediately. It was so deeply satisfying to see the last of the 80s lipstick pink! It was one of those projects you finally do and it is so super-simple but you love it so much that afterward you can't stop grinning at it weirdly.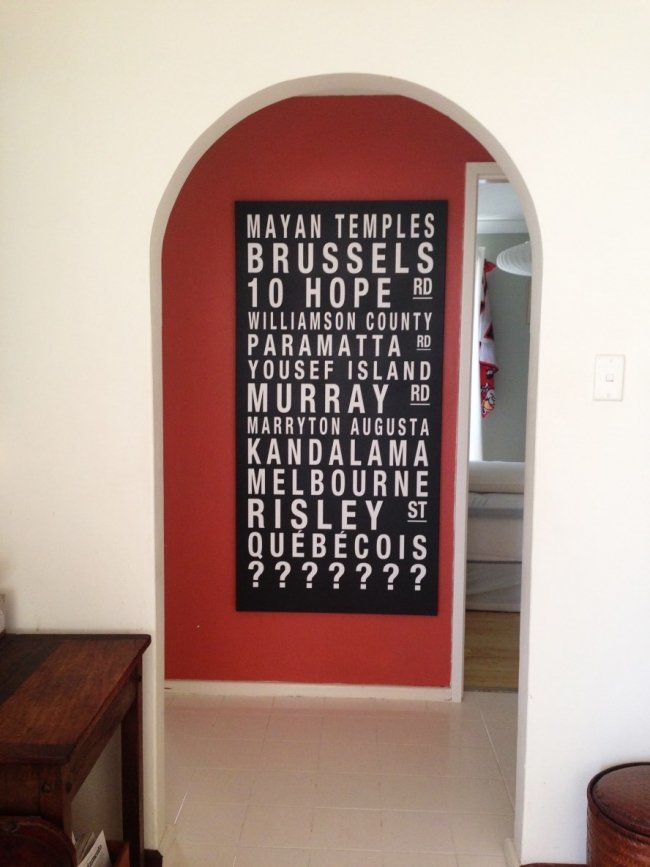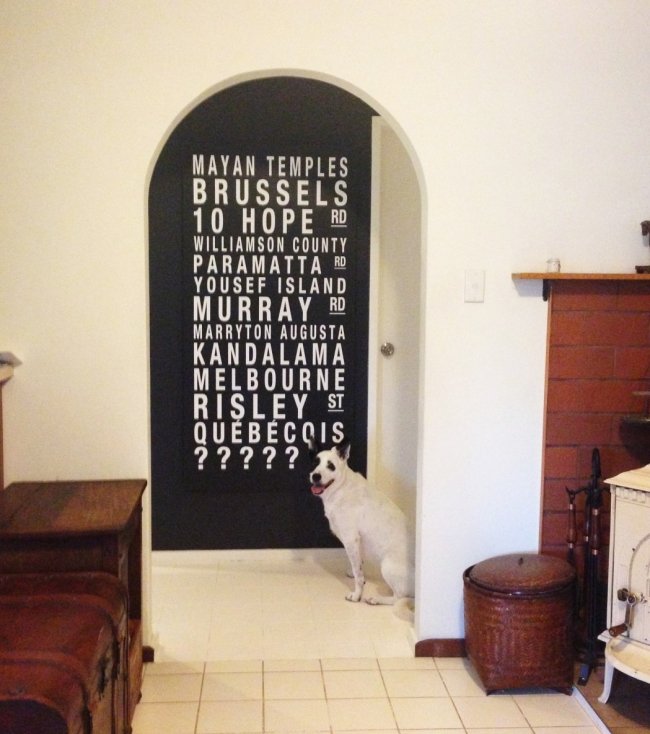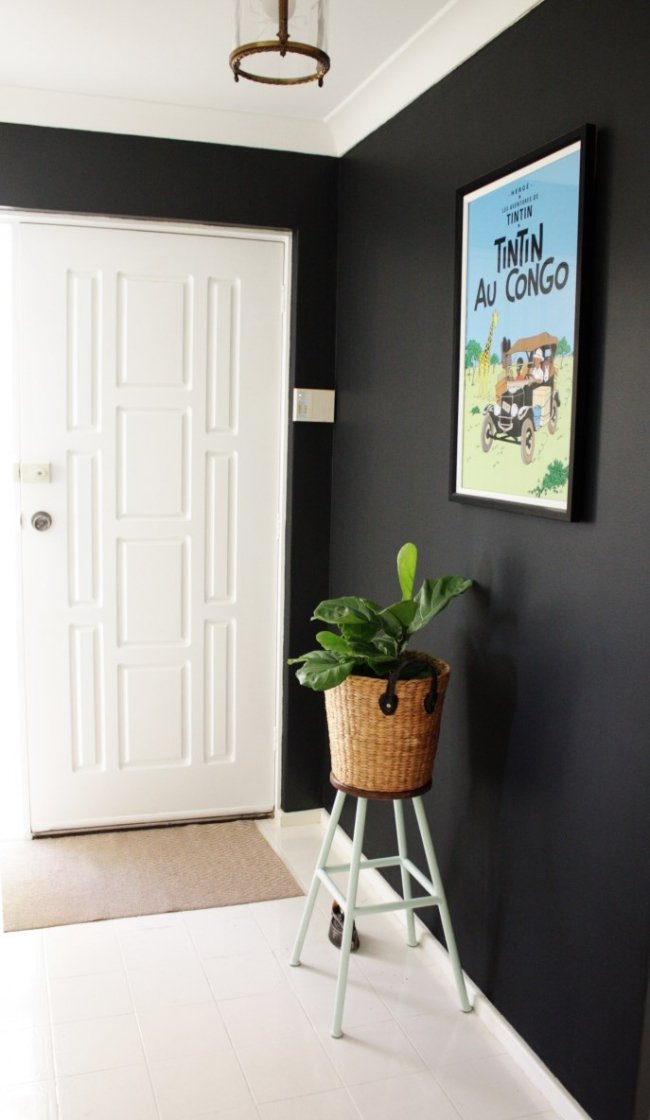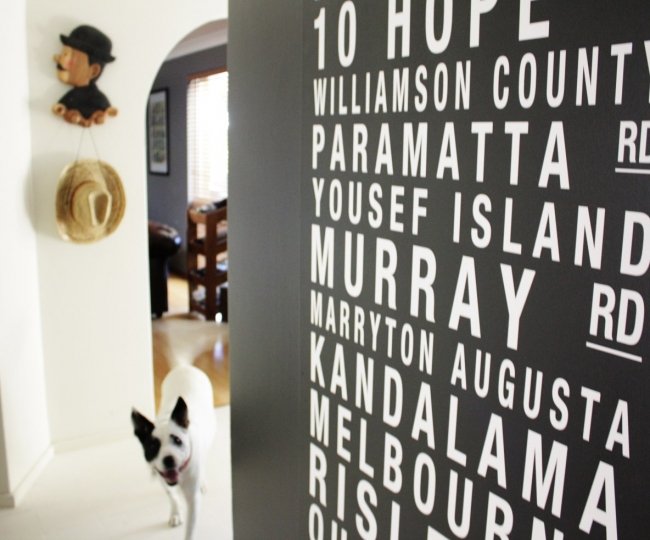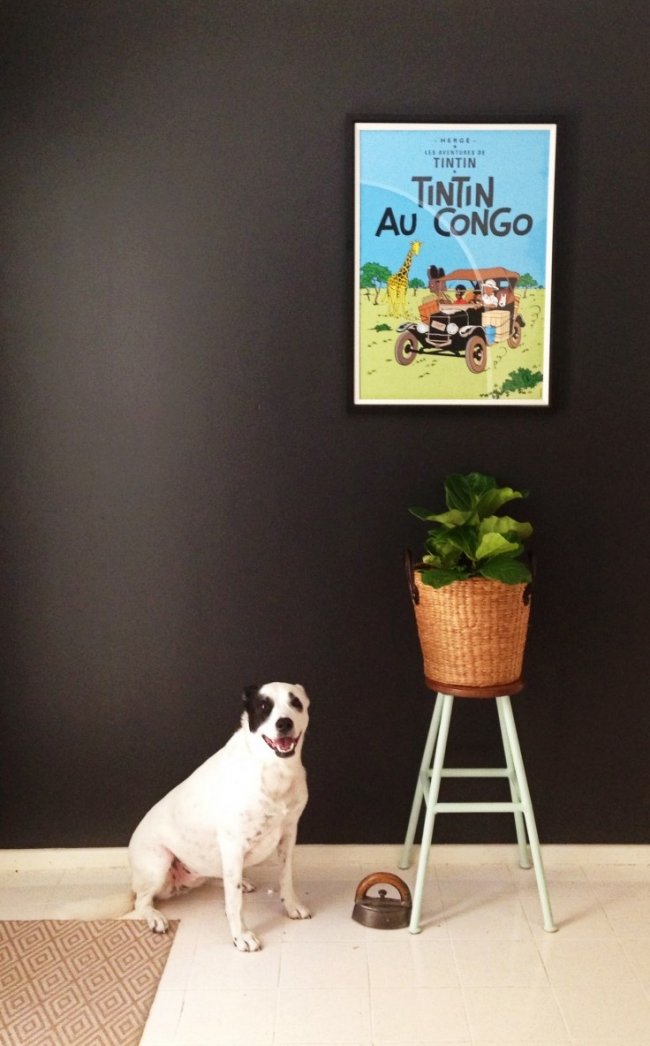 The hallway is far from finished though. The ugly floor is getting replaced eventually, so will the pendant light, it all needs proper styling and in general a ton more work. In fact, it needs so much more work I thought I'd turn the camera the other way and show you.

See that gross space behind Nala's head? That is the REST of our hallway, which is our current renovation project - turning our former 1970s bar into a scullery/walk-in pantry.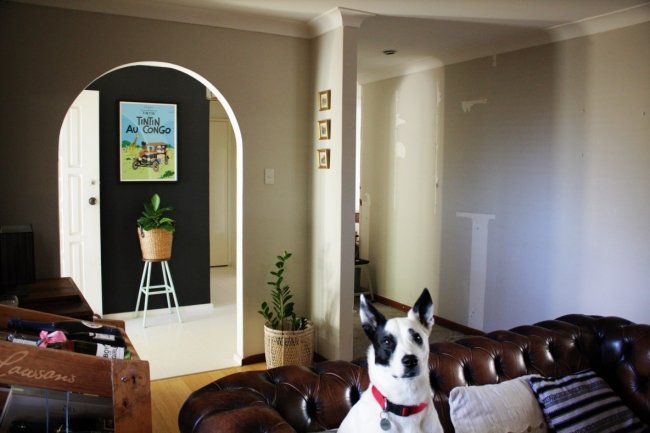 "You have a bar in your house? Cooool," a 21-year-old guy I met on a famil once said enviously to me when I said our house came with a bar, but he had delusions of retro kitschy coolness. Smack bang in the centre of our house and connecting to our living room, hall and fireplace/dining area, our bar is the major eyesore of The Crap Shack. Here's a photo of it about two or three years ago.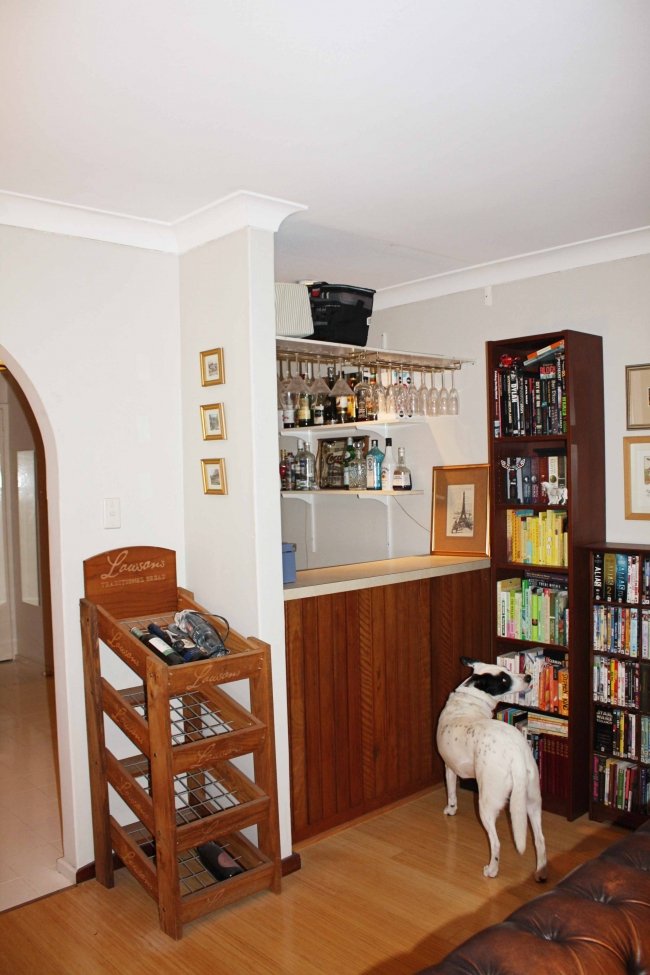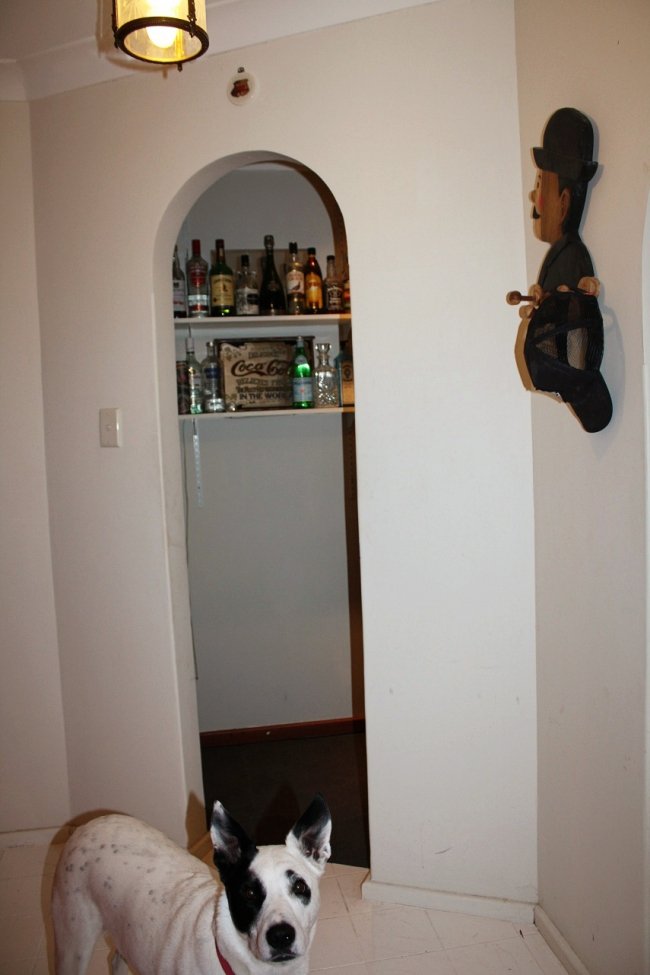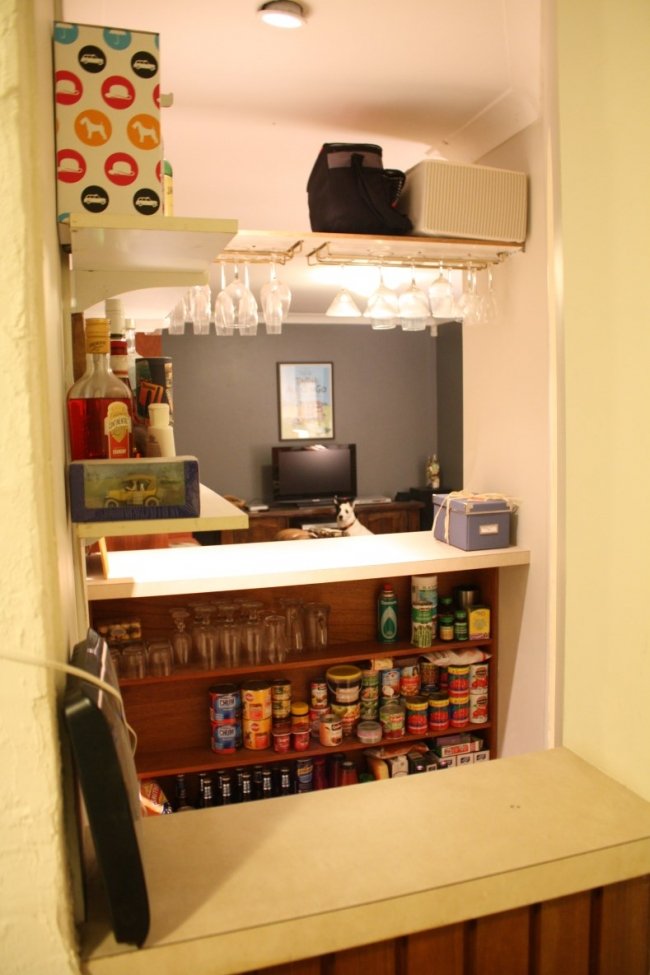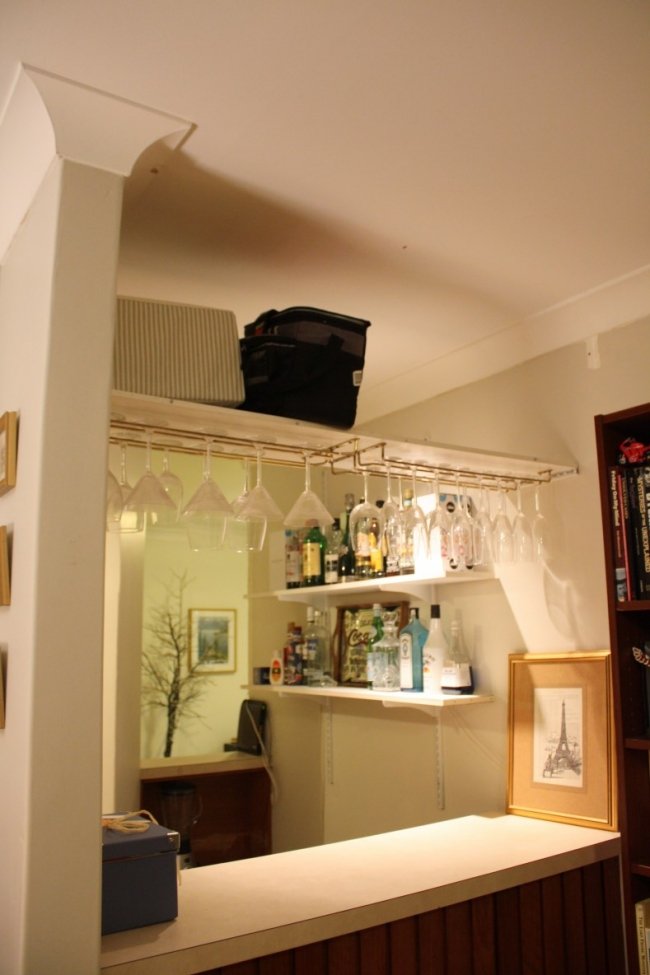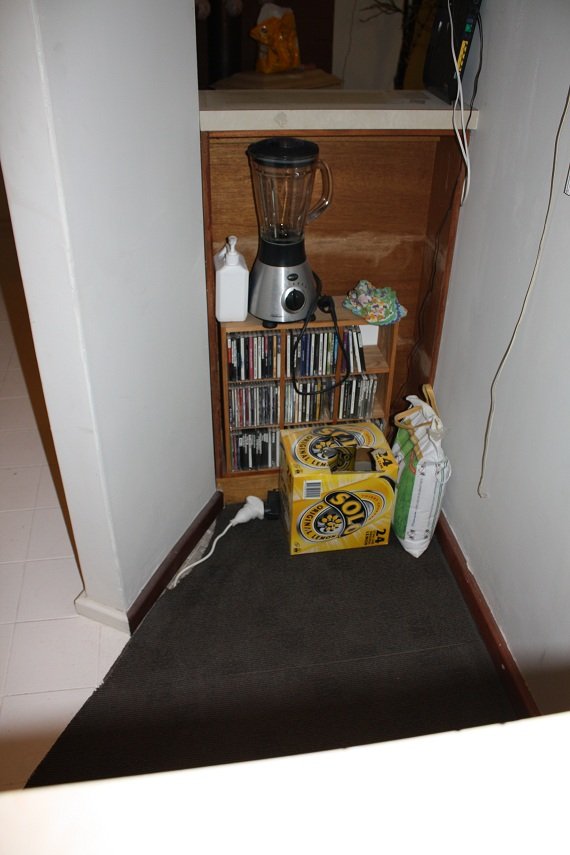 Branching off our entry, the bar boasted 'windows' into both our living room and our dining room on the other side. When we moved in, the previous owners had hung daggy electric-blue curtains over the windows and the floor was original shagpile carpet from the 70s, the musty smell of which hit you the moment you entered the house.
The bar is also tiny and you could just never picture it being functional. We knew the floor plan of our house was designed for entertaining, but we couldn't even imagine the original owners of our house using the bar in the '70s. "Jim? Could I tempt you with a Harvey Wallbanger or a Merry Widow? Why, just take a seat at the bar."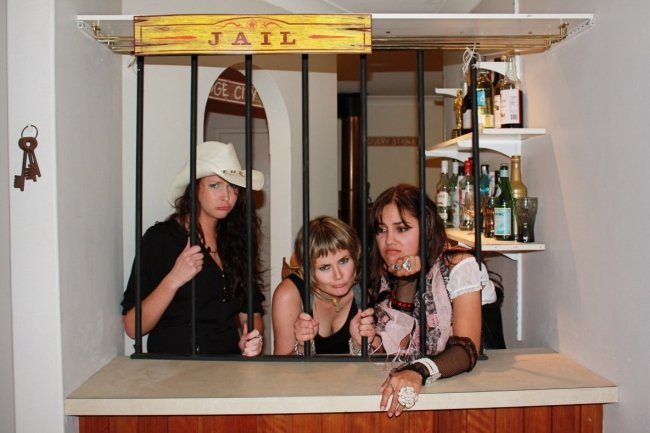 Over the years, we have been basically been using the bar for alcohol and food storage and as a dumping ground for miscellaneous crap. Making the fugly fuglier.
A while ago, Mr Nerd had this great idea to wall the bar up, knock out a couple of walls and turn it into a walk-in pantry, using the existing pantry door placement from the kitchen on the other side. This is what we've started working on, and what we'll be working on next week with a brickie. We'll also be knocking out the 70s arches in our home. I'm really not looking forward to the mess – numerous people have scared me about the joys of brick dust – but I'm very excited about the end result!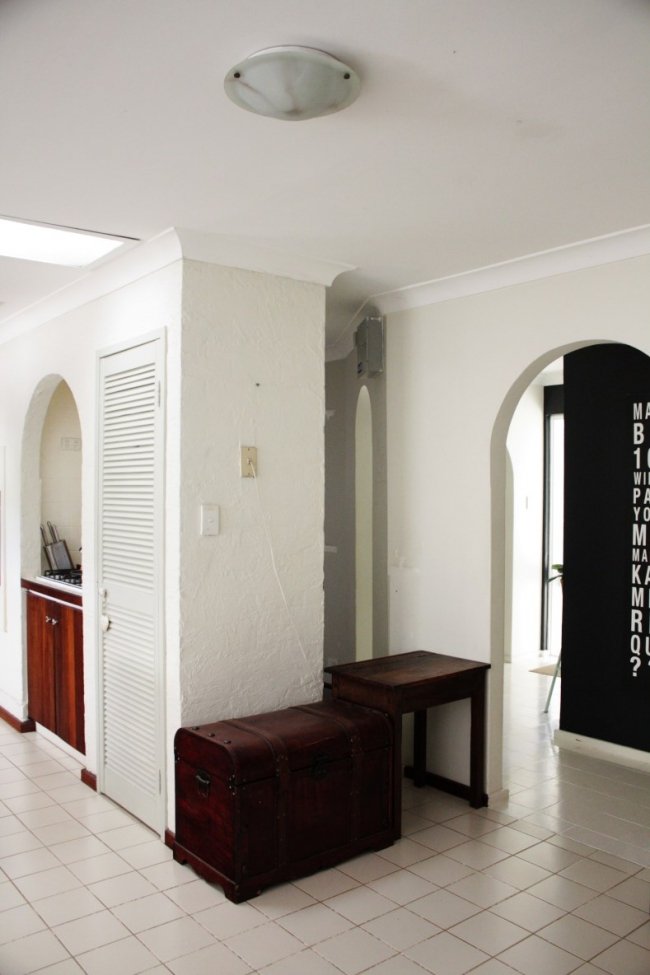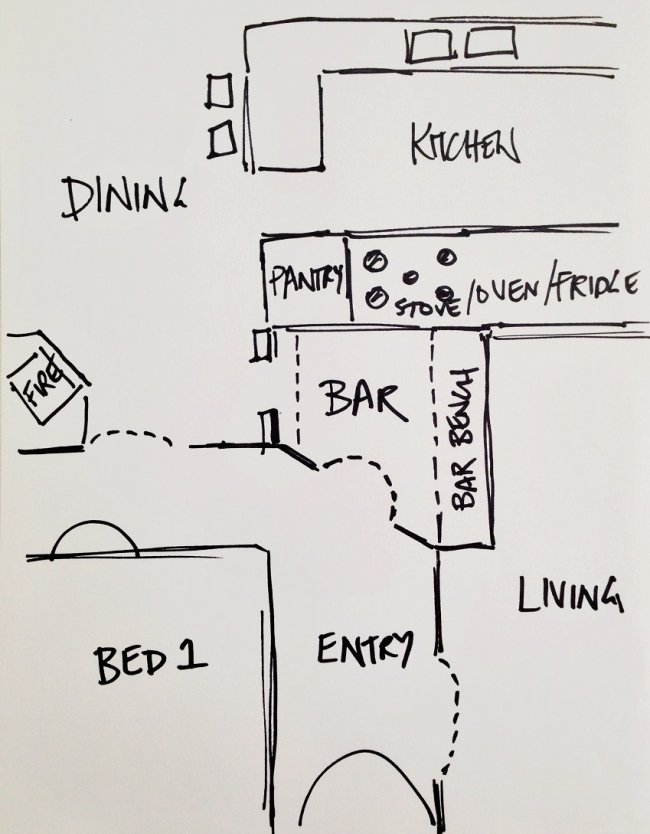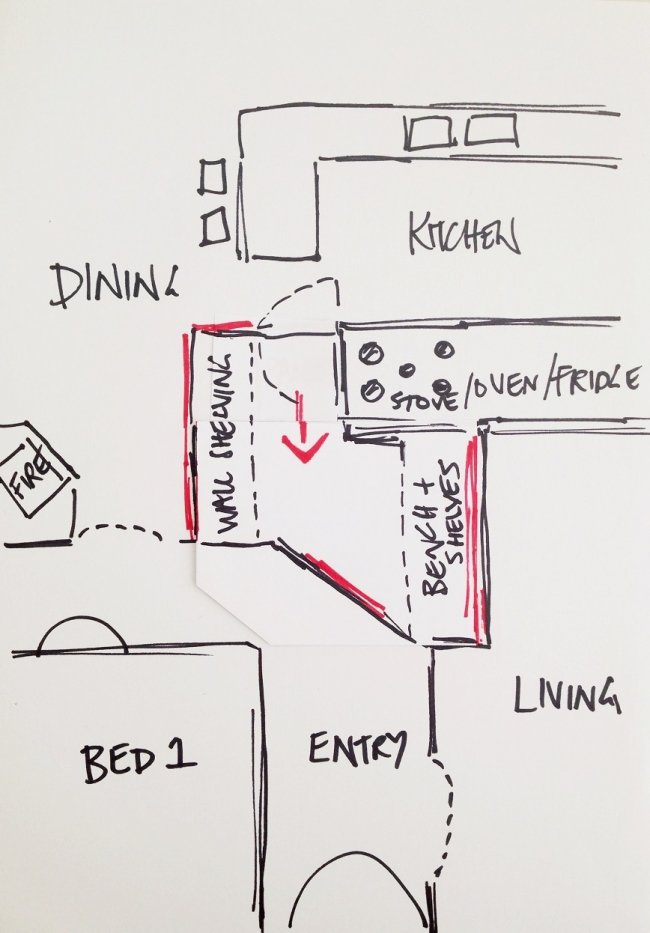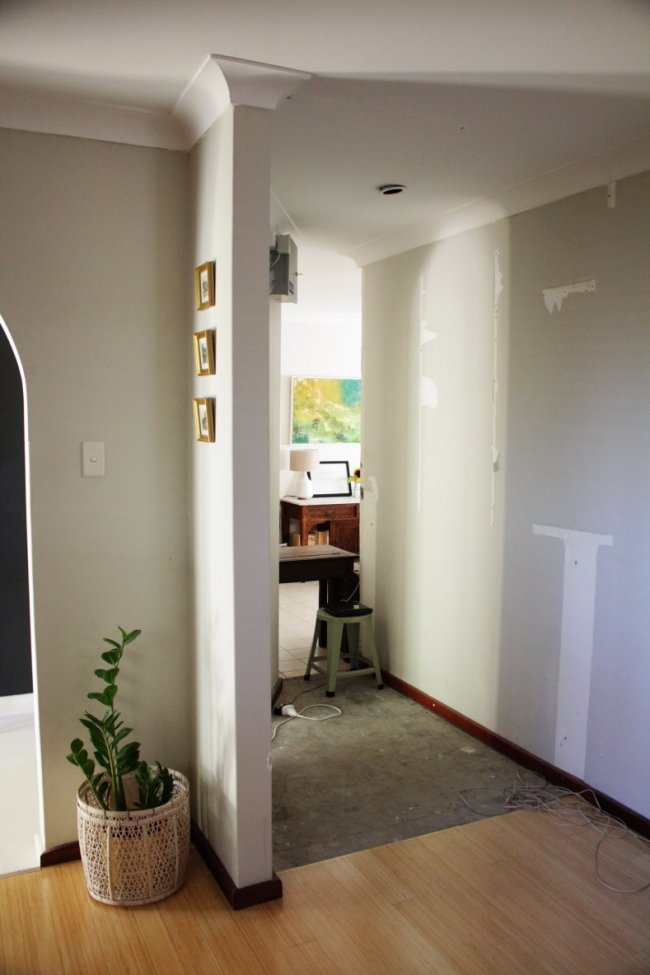 Make sure you visit us again tomorrow – I go into some great ways to add a touch of black to your home, with expert tips from Nelly!
Would you do black walls in your house? Have you painted something in your home black or introduced a black element that has somehow just made the room? Maya x