Posted Sunday, March 29, 2015 in:
Obsessed With
Where do you guys get your inspiration from when it comes to designing and styling your home? Magazines? Books? Or do you hunt for ideas and motivation on Pinterest or awesome blogs? (I hear this blog House Nerd is quite good). A good blog has always been one of my favourite motivators - sometimes a blog I stumble upon is just SO GOOD I get all revved up and then I can't sleep because I have this urge to paint a chair or something at 11pm in my pyjamas. Meanwhile, other people get their design fix from renovating TV shows like The Block or Better Homes and Gardens or Grand Designs (Kevin, I love you). Some love to spend time visiting antique or homewares shops.

One of my personal favourite ways to get home ideas and inspiration is through Instagram. (You can find House Nerd on Instagram @housenerd).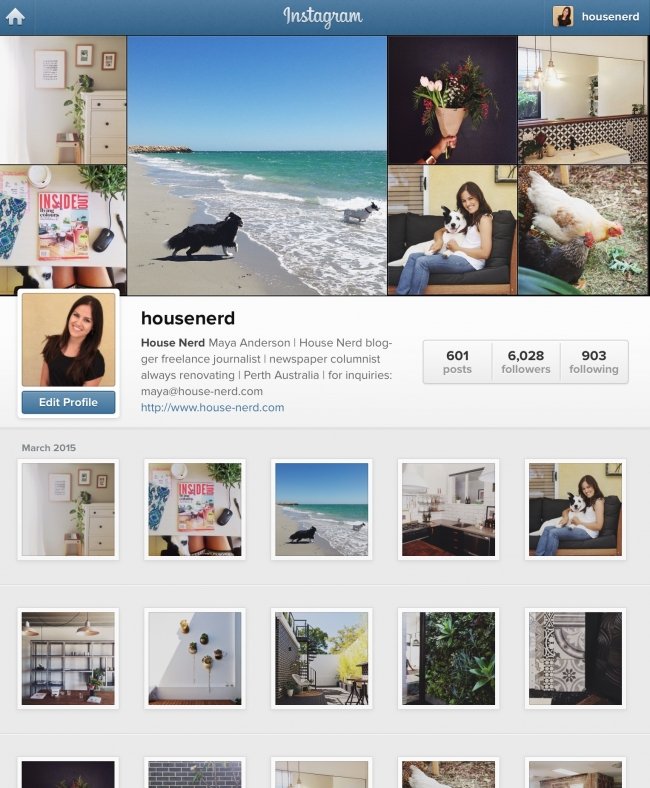 God, I love Instagram. Not just because it is such a nice, supportive community (I could write a blog post alone on that) but because I find Instagram such a tremendous way to get a nice big dose of interiors inspiration. I follow a LOT of people on Instagram who are into houses, and there are countless talented, creative, inventive Instagrammers doing things to their homes and gardens. And definitely not all are design or interiors professionals, some just have an amazing natural eye.
I think the best Instagram accounts make you feel something - whether it be inspired, refreshed, awed or motivated to finally tackle that DIY project. I often get the same 'kick' from Instagram that I do from reading a great renovation blog, that nudge to get off my butt and grab my hammer and actually hang up that picture, rather than just pin pictures of pictures.
The other thing I like about Instagram is that feeling of camaraderie, if you can put it like that. Like when your own renovation is a mess, and you're knee-deep in brick dust and rubble and feel like it will never end, there's something lovely about stalking someone's renovation pics and realising, "Holy crap, their house was even worse than mine. And now it looks awesome. Ahhh. Ok I feel better now." And there is the joy of celebrating with someone when their project is finally done, or they have that long-awaited move into the house they've been building.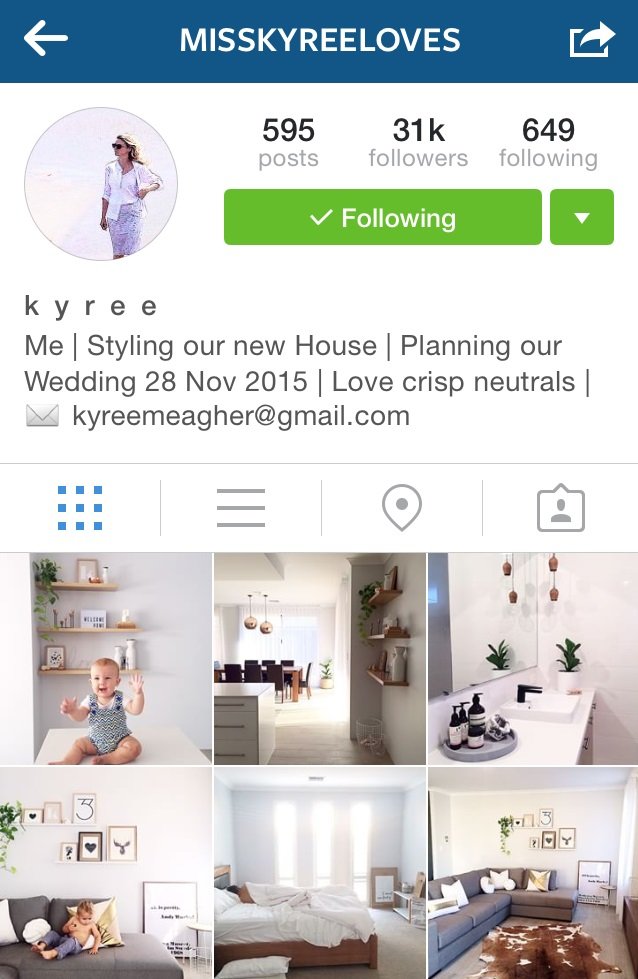 Instagram is also SO GREAT if you are decorating or renovating or building your home. Like the pendant light or the chair or the wallpaper or the throw pillow someone has Instagrammed? It is usually not too hard to find out where they got it from. On Instagram you come across things and shops and brands you might never stumble over going out shopping. Free interior advice at your thumbtip, I like it. And some design types freely give advice on where you can buy things, or even offer exclusive discount codes or giveaways.
So today I thought I would feature 10 house nerds I think you should follow. These guys are some – but definitely not all – of my favourite interiors Instagrammers. They're all based in or from WA (I had to narrow down my selection somehow! It was so hard to pick just 10!) and admittedly, most of these people happen to be friends of mine, but I am not being biased just because they are mates – they are all awesome, creative and inspiring people.
10 Interior Design Instagrammers You Must Follow
@misskyreeloves
Ok, I called it! I always thought 26-year-old Kyree's dreamy feed should be on Instagram's Suggested Users list, and the other week it got there, catapulting her into Insta-fame. Kyree's feed is one of the prettiest and most inspiring Instagrams I've seen, and her newly built Scandi-style, minimalist home is gorgeous. It makes me feel excited about cleaning and tidying my house (and that doesn't happen often). Her Instagram is like a beautiful blog of her days spent designing and styling her beautiful new home, planning her wedding, coffees with her mum and friends, daydreaming about motherhood, and a favourite holiday to the Greek Islands, where her partner popped the question. But what I like is that amongst the highs of life she also records harder moments, like dealing with long stints away from her FIFO fiance.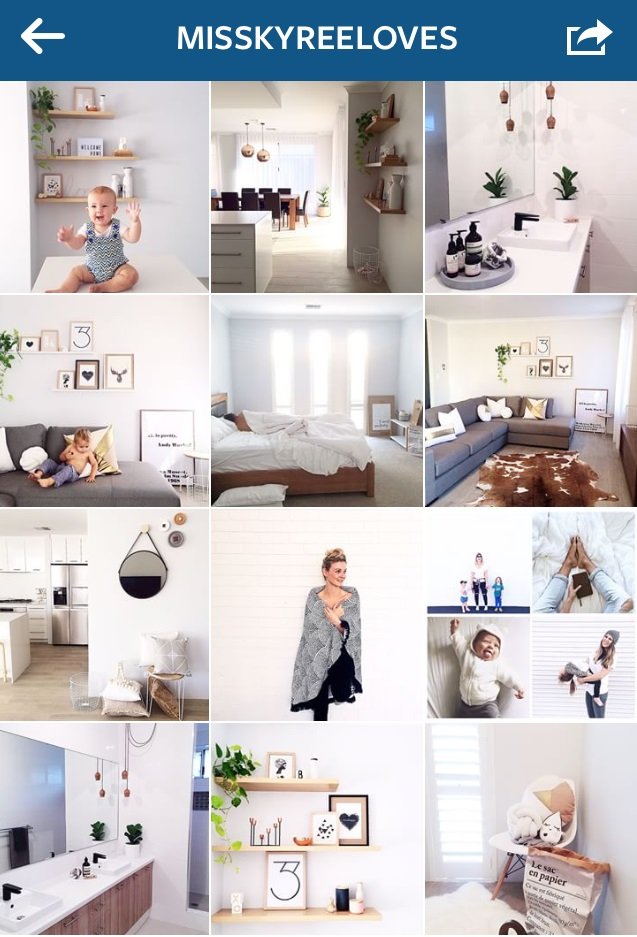 @featherhorse_
Love beachy interiors, surfing, tropical gardens and relaxed family homes? You will love the feed of my friend Lisa Quinn-Schofield, better known as Lisa Featherhorse. A stylist, artist and contributor for Design Field Notes, she has a gorgeous house near the beach that is home to her husband, two little girls and their lovely Weimeraner Hudson. Like a lot of stylists, Lisa can't help but constantly switch up her décor, so it is always evolving and never boring! And she is always super-generous about sharing where she found things; no style snobbery here. Their tropical-inspired garden is also stunning.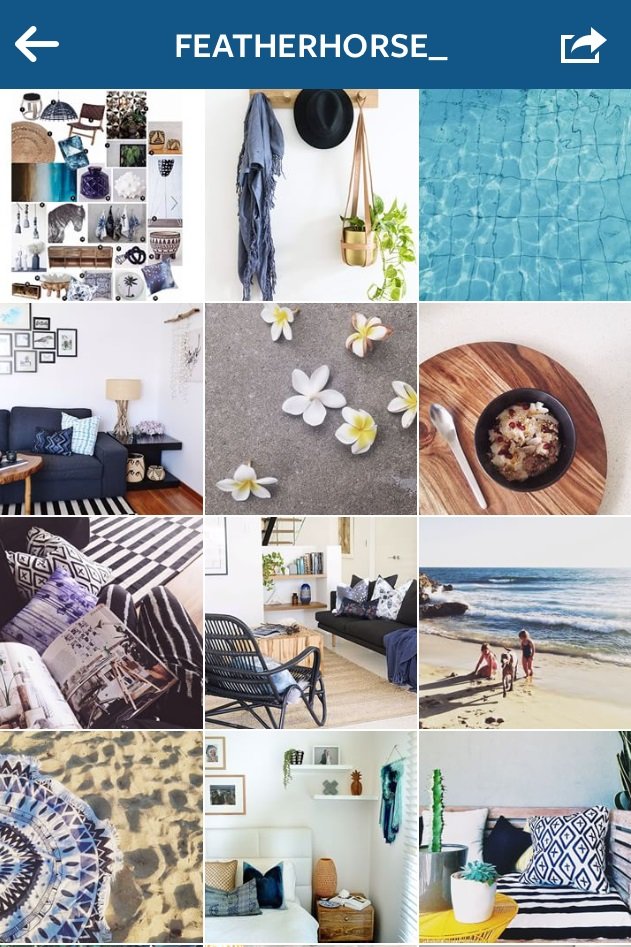 @darlingmess
I love seeing people's renovating photos on Instagram. Bring on the pics of brick dust, fresh tiling and your new windows - I love these feeds. They make me feel less like crumbling onto the floor in a big ball of pathetic when our renos aren't always going exactly to plan! If you are renovating or building and need some inspiration, this is a great feed to follow. Renovator, FIFO wife and mother of two Dani, who blogs over at
The Domestic Darling
when she gets a spare minute, and her husband are putting the final touches on their beautiful renovation. Renovating is not easy – especially with two little ones under foot – but Dani survived and her house is gorgeous – especially the kitchen!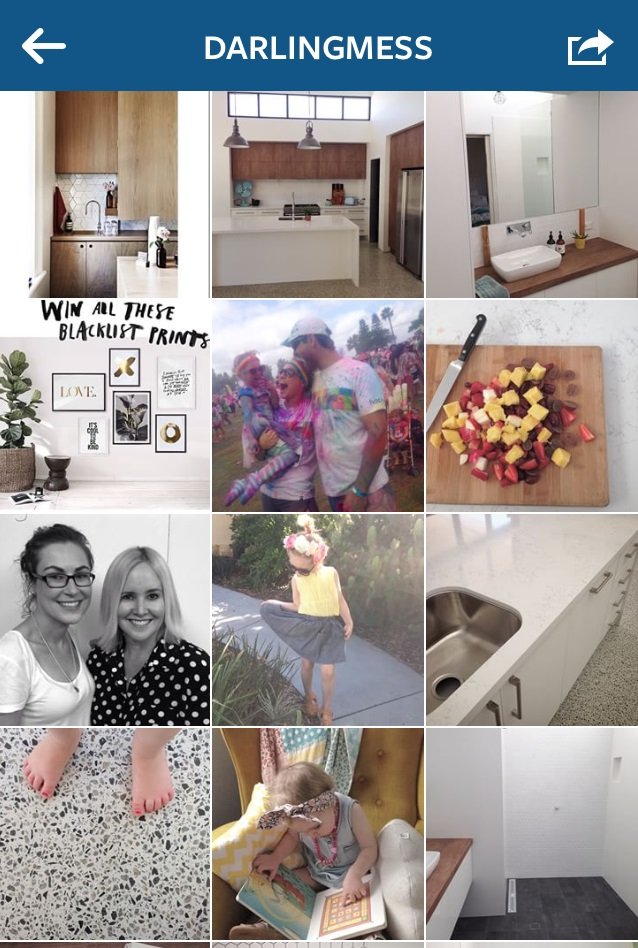 @meghan_plowman
The original Perth interiors Instagrammer, Meghan is a freelance art director and stylist and her feed is stunning (Daily Life named her in their "15 Home Bloggers to Follow on Instagram" roundup). Meghan photographs widely and often – her jobs, jaunts, meetings, workshops, café scenes, work, vignettes and simple moments at home. Every photo is evocative and inspiring. Definitely one to follow - plus those who have been lucky enough to score a place in one of Meghan's Instagram for branding and business workshops will know she is also a gorgeous person in real life, too.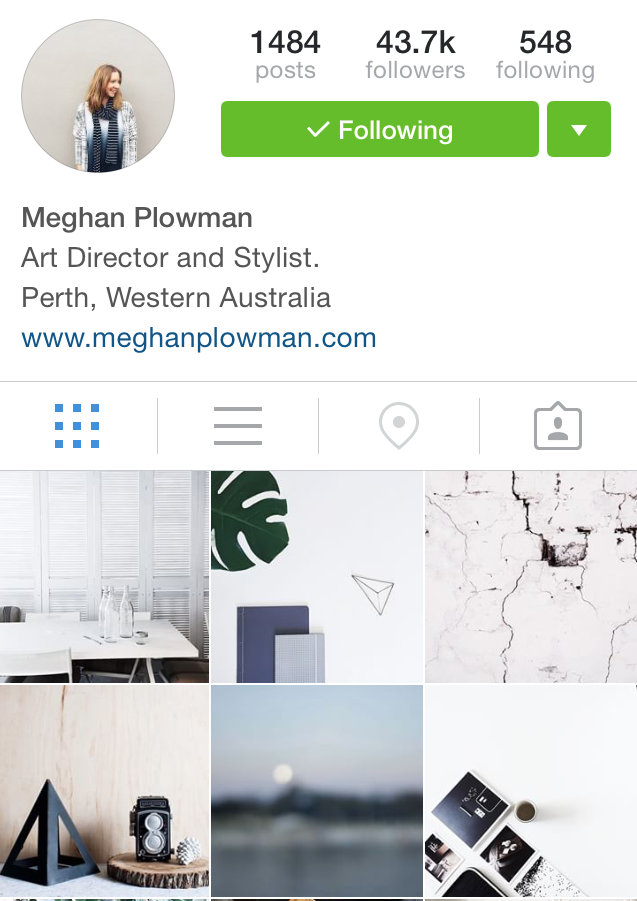 @honghenwoodstylist
Hong Henwood is one of those people with so much energy you can't help but find it rubs off on you. I love her. You might remember we featured her Queenslander home a while ago – if you do, you'll know that Hong specialises in beautiful interiors created from affordable pieces. I love her approach – that a gorgeous home needn't cost the earth. She also specialises in the most awesome kids rooms ever. She's super-generous with sharing her secrets and she always seems to know of all the sales before they happen.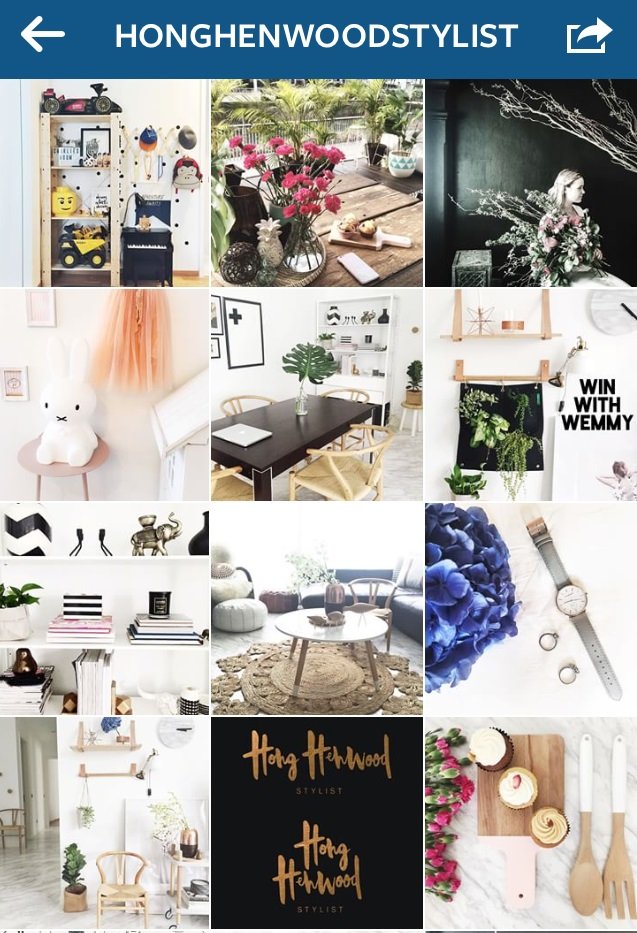 @bec_tougas
Minimalistic, moody, rustic and beautiful, the feed of Perth stylist Bec Tougas recently skyrocketed to Instagram fame after she earned a spot on Instagram's suggested users list – twice! Bec's tribe of followers love her eye for little beautiful details, all things Fremantle and the coolest new cafes. I don't know how she does it, but Bec is always telling me about the best new cafes before they even open.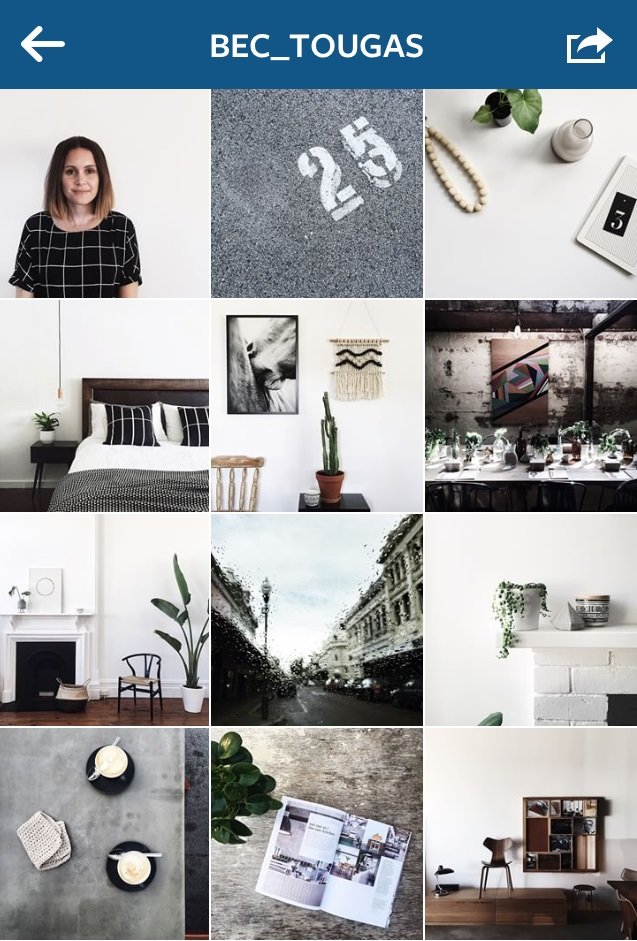 @emmagracehawtrey
If monochromatic palettes, black and white interiors and sophisticated styling are right up your alley, you will love the work of interiors stylist Emma Grace Hawtrey. Sydney-born but now living in Perth (happily for us) Emma freelance styles, works at Empire and has recently released her own range of beautiful Australian-made linen cushions, Woodpiles and Wishbones. And she is a really nice girl.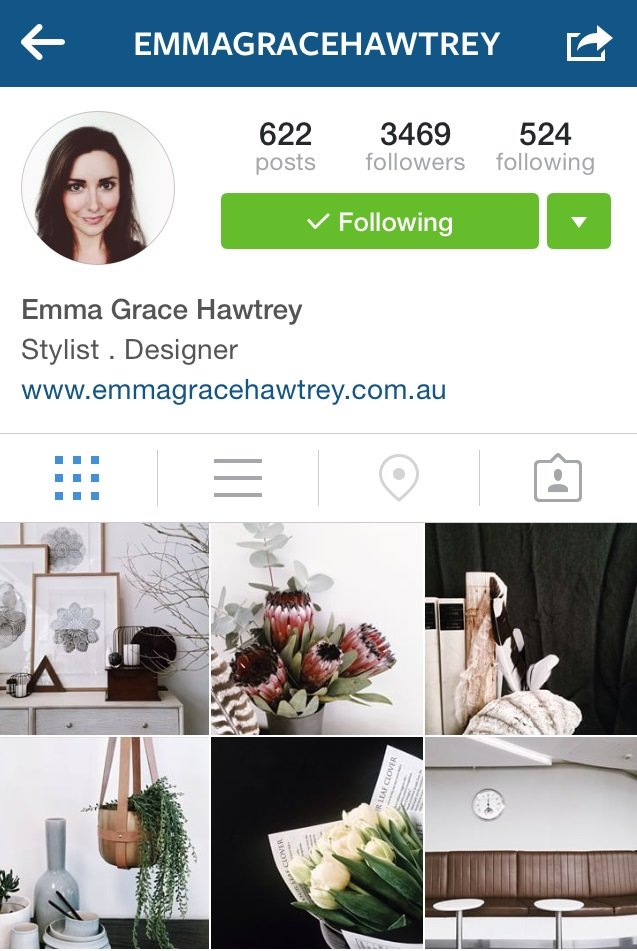 @rosie__flynn
I love Instagrams where it is like really peeking into someone's world (#stalker). Rosie Flynn, an interior architect, co-founder of children's range Hubble + Duke, and mum to three beautiful little blonde girls, creates such a gorgeous world on Instagram you feel happy just looking at her pics. She has taste, and her house style is beautiful – white, light, homey and pretty.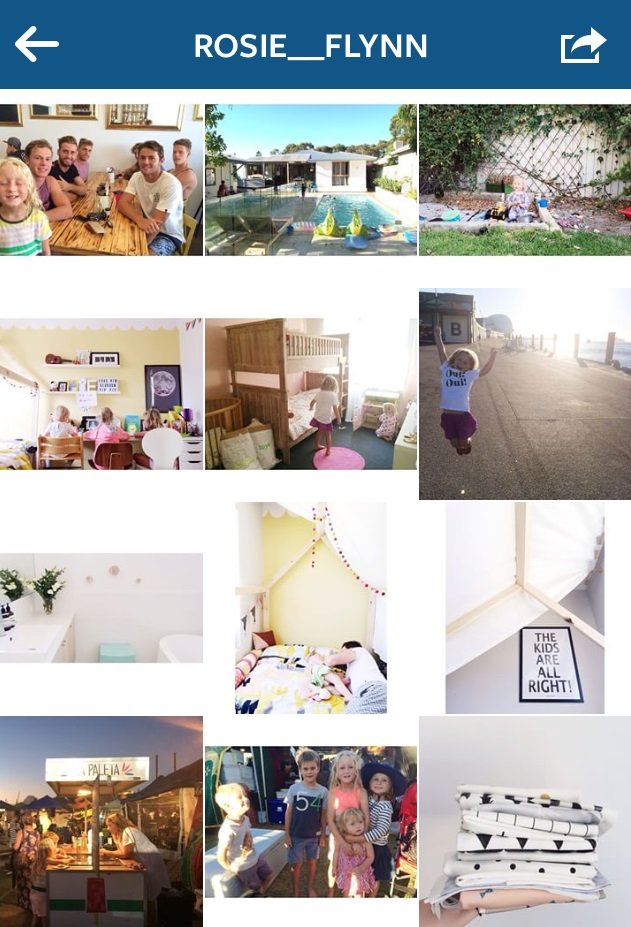 @pelefindson
A great thing about following stylists on Instagram is that they always have their finger on their design pulse… leading you to very cool things. As a working stylist and interiors writer constantly trawling the globe for the latest and most lovely products, Pele discovers and shares some gorgeous things that I've never seen elsewhere (for example, Flensted Mobiles (so damn cute! I am so getting Little Nerd one. Thanks Pele). Constantly styling people's homes for print publications, Pele also shares glimpses of how she styles her own home, working around an inquisitive toddler son.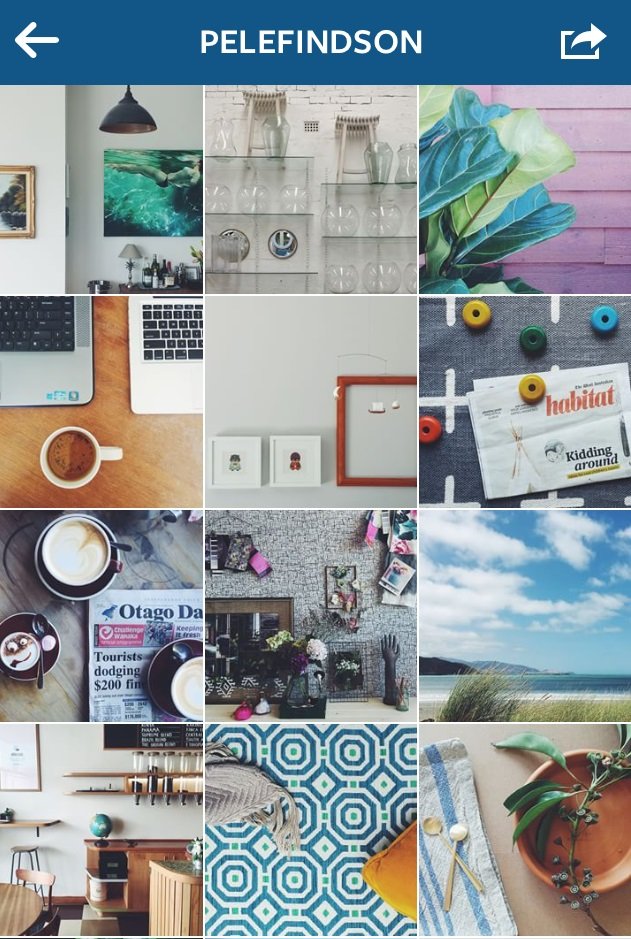 @bowerhouse
If relaxed, boho interiors, vintage touches and tribal and Indian-inspired spaces are your idea of heaven you will love the feed of Bowerhouse owner Natalie Long. I love how she styles her new, modern home (her husband is a builder) with all the tribal-inspired textures and patterns of her Bowerhouse range to come up with a warm, sophisticated style that is all her own. It shows that a house that is new and modern doesn't necessarily have to have all new, modern and shiny pieces. It is gorgeous.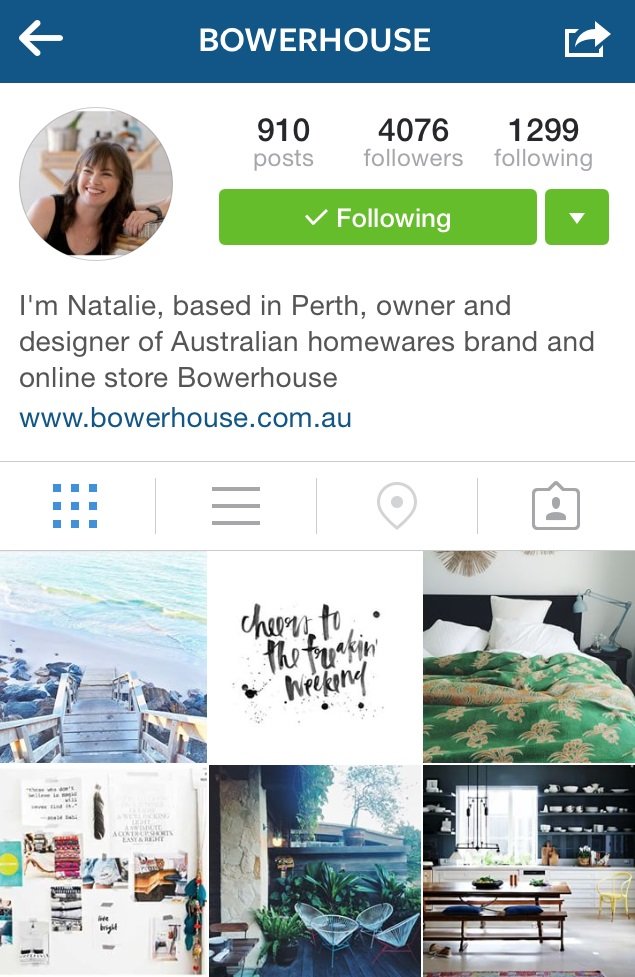 Who do you love to follow on Instagram for inspiration? What kinds of feeds do you like best? Do you like perfectly curated or some mess 'n' rubble? Have you ever found any great brands or things for the home through Instagram? Do you use Instagram for motivation? Maya x
You can also follow House Nerd on Instagram @housenerd.