Posted Monday, December 23, 2013 in:
Obsessed With
Guest Nerd
DIY
With Christmas two days away, everything seems a flurry of activity! Today I'm eating gingerbread cookies while sharing our Christmas decorations and wrapping (although I may have cheated a bit and had Jelena at Mr Sparrow wrap one of said gifts).

I've also asked three lovely house nerds about how they're decorating and wrapping this Christmas – landscape designer Monica Palmer, Emma Veiga-Malta from My Bespoke Chair, and Kelsie White from K Gets Organised.
Also make sure you check back here on the blog a little later today, because you can WIN a Dremel Moto-Saw!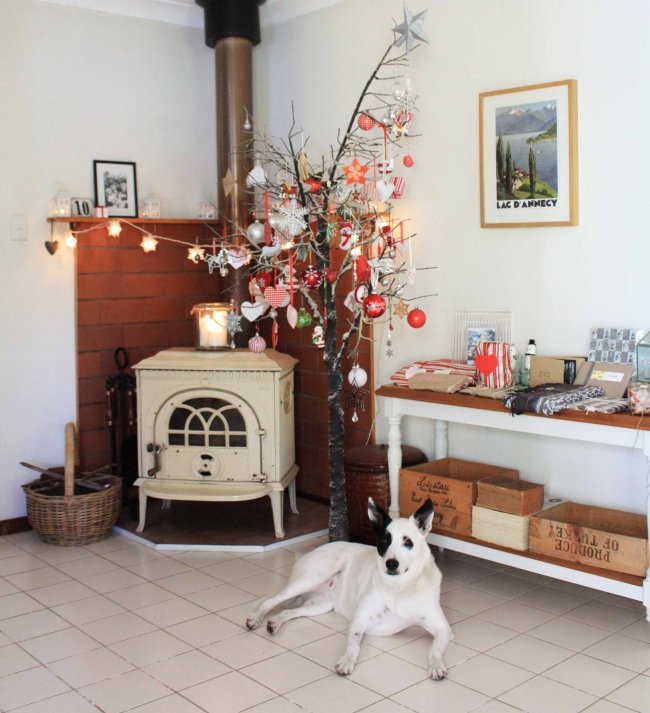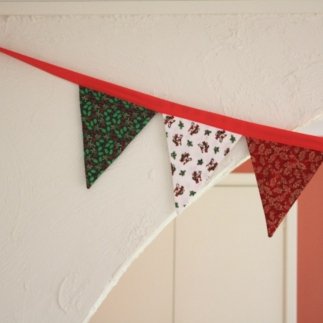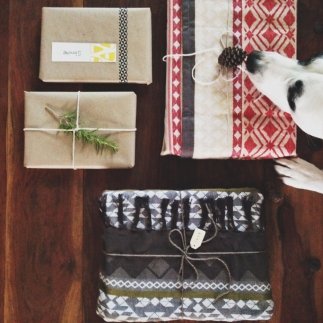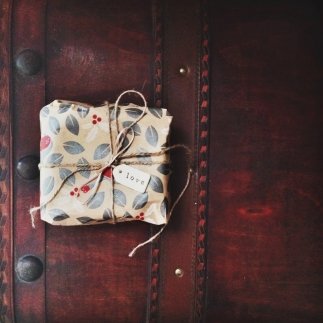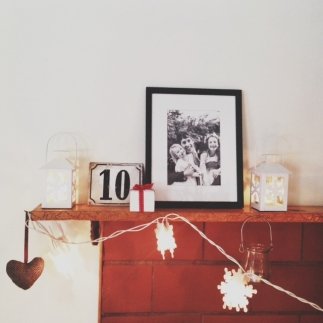 I am slowly learning more and more how to decorate to suit our house rather than trying to make it something it is not. Our house is a little worn around the edges, a little old, a bit rustic and imperfect - but it feels comfortable and unpretentious (I have noticed our guests don't even ask if they can pop their feet up on the coffee table, they just do it. It makes me laugh).

We have quite a bit of wood and white in our home and I've been trying to go for a kind of homey, simple look for our Christmas decorations. Our stick tree kind of suits the house. I bought the stick tree from Bed Bath N Table years ago as a present for my mum and carried it about a kilometre through Garden City to my car with the white faux snow stuff rubbing off onto my shoulders like a snowstorm of dandruff while other shoppers openly giggled at me. Then two years ago I said to my mum, "You don't really want that stick tree do you? Can I borrow it?" and I borrowed it and haven't quite gotten around to giving it back yet. What. I have other good qualities that make up for my bad ones.
My mum made me all the little hand-stitched heart decorations (ok that makes me sound even more mean! Argh) and the little tealight lanterns were a gift from my Nerd Mother in Law to use for our wedding… she saw them at a market and knew I would love them (yes, I have infected her with a fondness for the markets, too!) I love horses and each year I pick up another little horse decoration to add to the tree.
On the wrapping front, I figured recycling should be my goal this year, because I still had a ton of wrapping paper and ribbon and string left over from last year and it would save some money. But when I saw some pretty tribal-esque looking Ladelle teatowels at Myer, I thought they would be so cute to wrap some gifts with and couldn't resist getting some.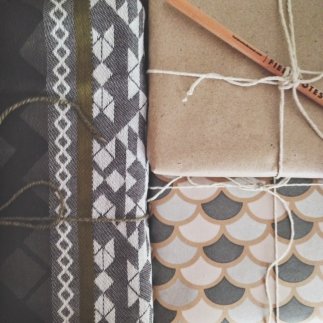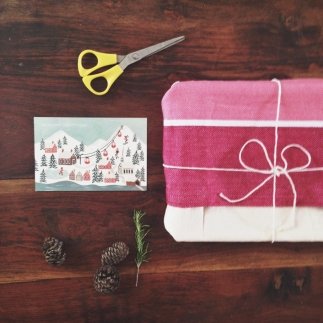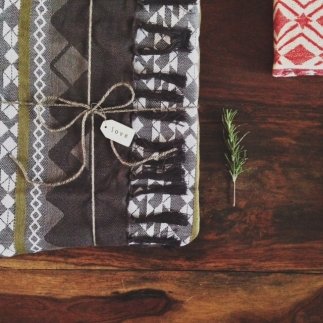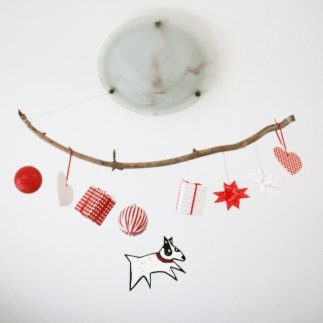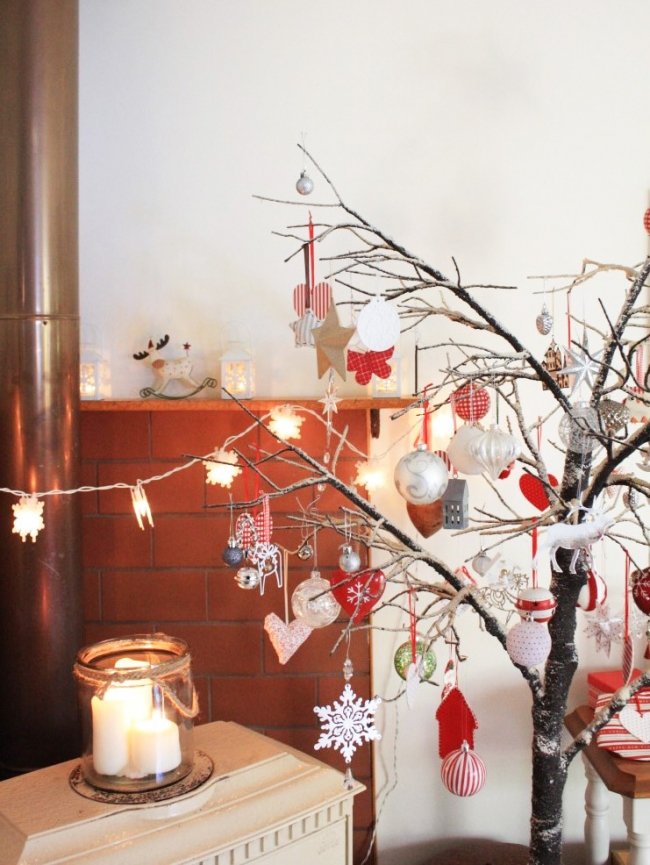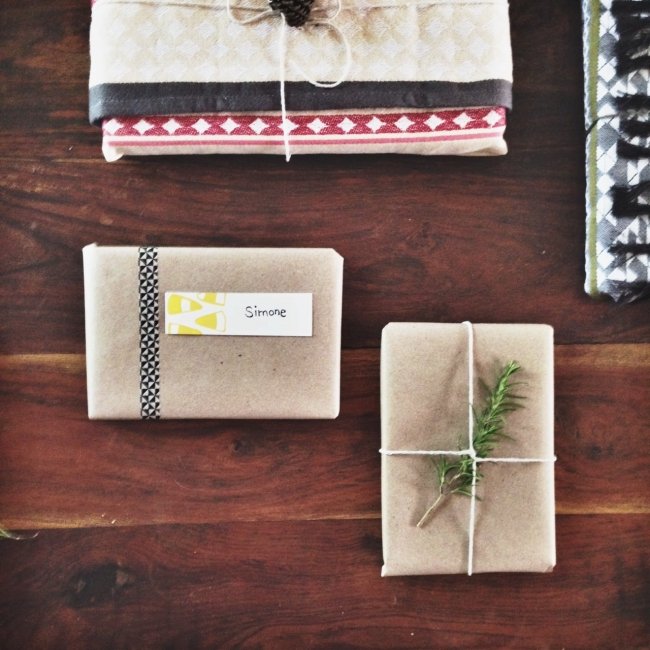 Here some my fave house nerds how they're decorating and wrapping this Christmas... each very different, each lovely.
KELSIE WHITE
K GETS ORGANISED designer and director
While many people getting more and more into their Excel spreadsheets and smart phone apps, Kelsie White prefers to stay true to the traditional methods of organising. A self-confessed paper addict, Kelsie has loved a nice piece of card since she could hold a wind-up crayon and started K Gets Organised to fulfil her love for both paper and helping people get super-organised. She spends her weekends working at a Fremantle florist and some of her weekdays working at a not-for-profit.

"I am addicted to paper products and this year I'm decorating using lots of it! I've got paper ornaments in beautiful pastel colours and bright paper garlands. But I'm still accenting with the traditional silver colour we have used in my family's Christmases for years (in particular silver tinsel!) I love the trend for recycling… I really think in 2013 we need to be looking to recycle and reuse the things around us. My mum has made a beautiful Christmas tree this year using recycled wood and she's decorated it using emptied and cleaned Nespresso capsules as ornaments. Gift wrapping wise, I'm keeping it simple and clean! Using brown paper, twine, edibles like mini candy canes, washi tape in block colours or simple line patterns, and confetti inside the wrap to create a little bit of magic when the receiver opens their gift."

P.S. Kelsie is gift-wrapping at MYRE in Fremantle tonight until 7pm! Make sure you head along to check it out and pick up a gift or two to have it expertly wrapped!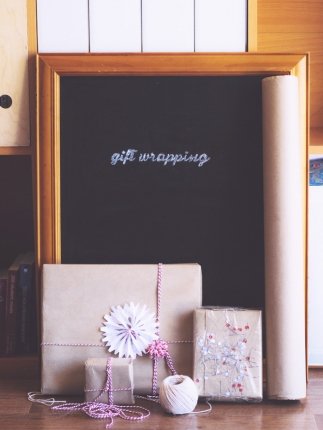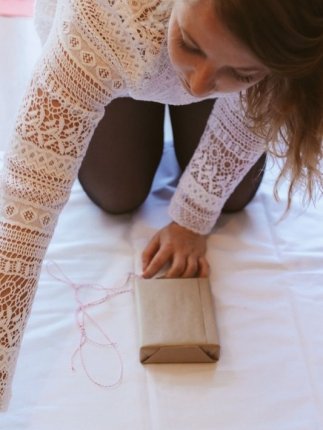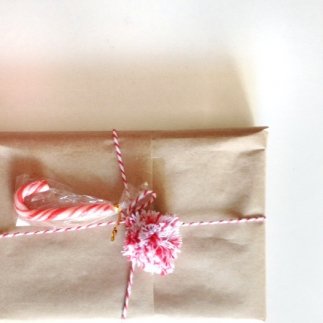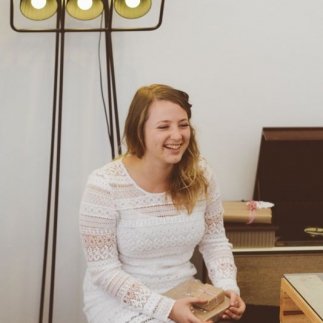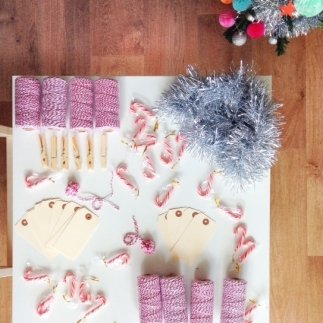 MONICA PALMER
Garden designer, SLIGHTLY GARDEN OBSESSED blogger & Quaint + Casual book writer
Award-winning garden designer Monica Palmer is one of the most multi-tasking people I know and quite frankly I don't know how she does it all. Working as a garden designer, she also writes the blog Slightly Garden Obsessed, is currently working on a garden styling + design handbook, Quaint + Casual, and is training for her first half Ironman to raise money for beyondblue. She has energy!
"This year I have been obsessed with plywood, all things black, raw materials and grey-green foliage; so naturally, my gift wrapping, house and garden designs all heavily feature these loves! When I wrap, I can't go past a good box, for the fact they can be regifted and make any kind of present symmetrical (provided it fits!) I've never been a traditionalist so I've mixed together colours and textures I love with a little bit of Christmas sparkle. We've put some decorations on the olive tree outside and still have string lights on our Gleditsia from last Christmas. I loved them so much I never took them down! They run on solar so we have gorgeous little lights every night of the year. I never tire of seeing them sparkling in the tree through our back door."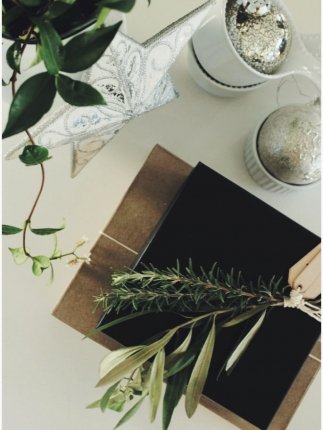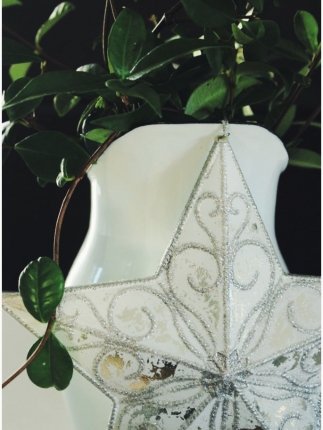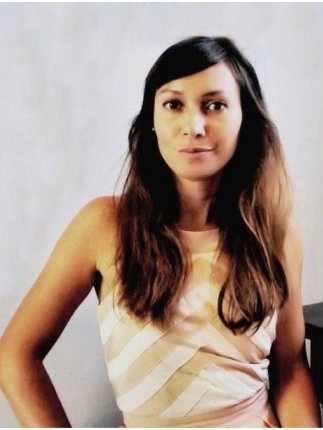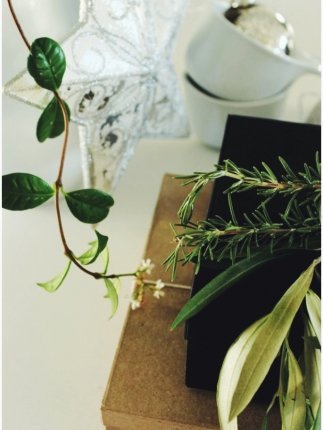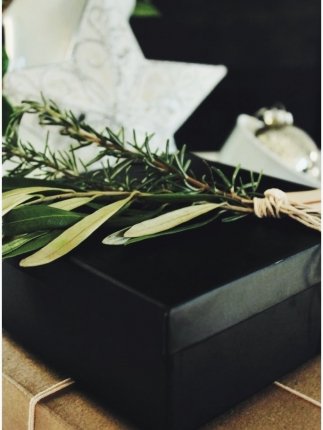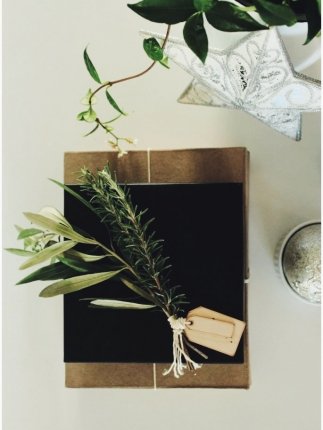 EMMA VEIGA-MALTA
MY BESPOKE CHAIR owner
With 14 years spent working as an artist and designer, Emma Veiga-Malta knows how satisfying creativity can be. So after moving from Switzerland to Australia in 2010, she founded My Bespoke Chair, a company where people can design their own chair online using her fun, simple design tool and have it sent to them after it is created by Emma's team! With the internet streamlining processes and democratising design, Emma says co-designing is a growing trend. With e-commerce always having been about what you want and when you want it, with her bespoke chairs now you can have it how you want it, too.
"I keep the house decorations very simple and really only the lounge and dining rooms get the Christmas treatment. It's where we spend the most time during Christmas, though I do like a wreath on the front door. Ashamedly, for someone who admires gorgeous gift-wrapping, my gifts are hastily wrapped on the bed on Christmas Eve, when the kids are asleep. I wouldn't win any prizes for "Best in Show'! I lived 12 years in Geneva, Switzerland before moving to Sydney in 2010 with the family. Christmas in Switzerland was spectacular; we'd light roaring fires, eat heart-stopping Raclettes and Tartiflettes (national cheese and potato dishes) and enjoy the dark, cosy evenings. The Alpine ski resorts are magically lit up and the towns hold traditional night-time Christmas markets. It's freezing but cosy and full of excitement. Being a European girl, my tastes are very influenced by traditional English, Dutch and French styles but I like to mix it up with contemporary design. The Germans and Swiss Germans, from Zurich, are uber-cool and produce incredible modern design. Having only lived a few years in Australia, I am finding the whole 'beachy' Christmas look very enticing and refreshing; pale blues, creams and silver, with a few sun-bleached starfish thrown in for good measure!"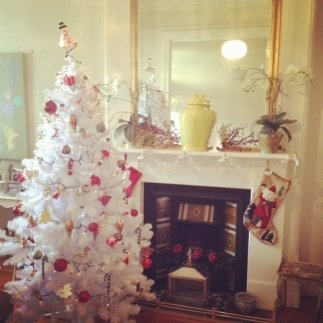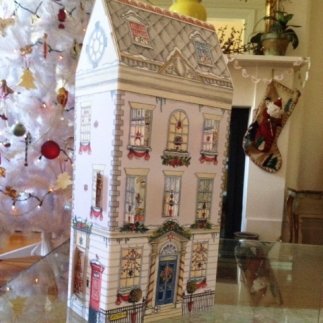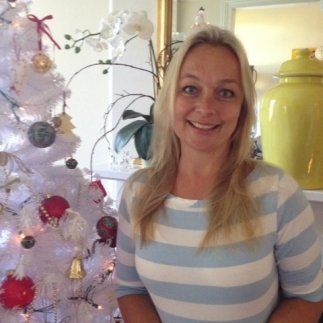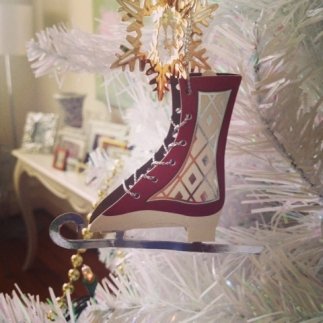 How are you decorating for Christmas this year nerds? What trends are you loving? Maya x