Posted Monday, November 21, 2016 in:
Nerd Life
Obsessed With
DIY
Our House
Recently I shared with you guys our new vinyl plank floors – and some 'before' photos of the floors we used to have. There was a reason we nicknamed this house the Crap Shack when we got it! Our 1970s house had a mishmash of some not-very-pretty flooring. You can see all the before pictures here and our before and after reveal of our new floors here!
After looking at different options on the market – timber, tile, laminate and bamboo – we finally chose vinyl planks (from Karndean Designflooring) and we could not be happier with them.
I've been getting so many questions about vinyl flooring through Insta, Facebook and on the blog so I thought I'd put them all together in one post and try to answer them all here! If you have anything else you might like to know, please feel free to leave a question in the comments.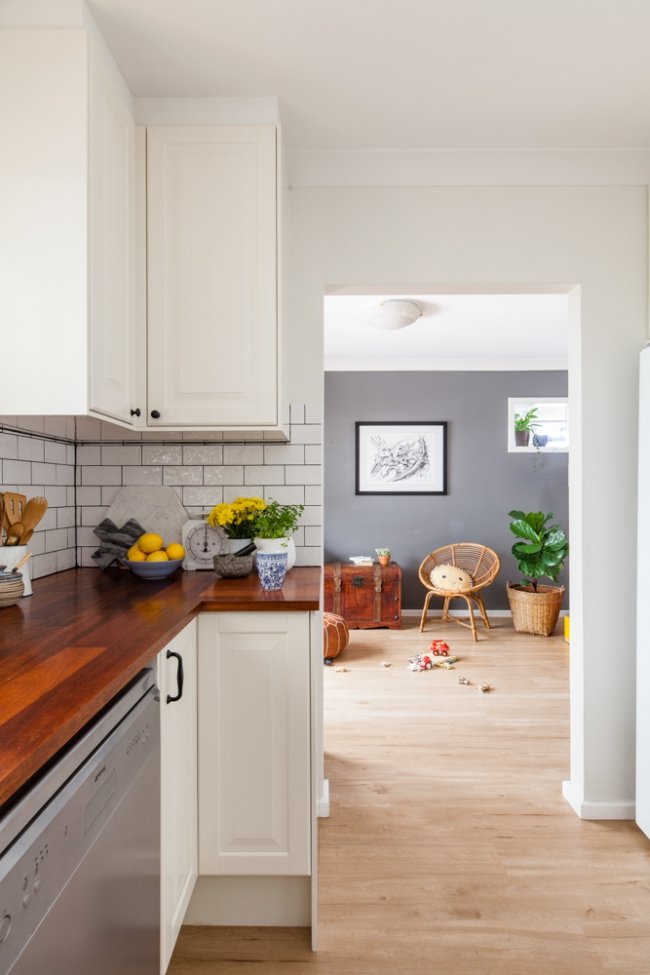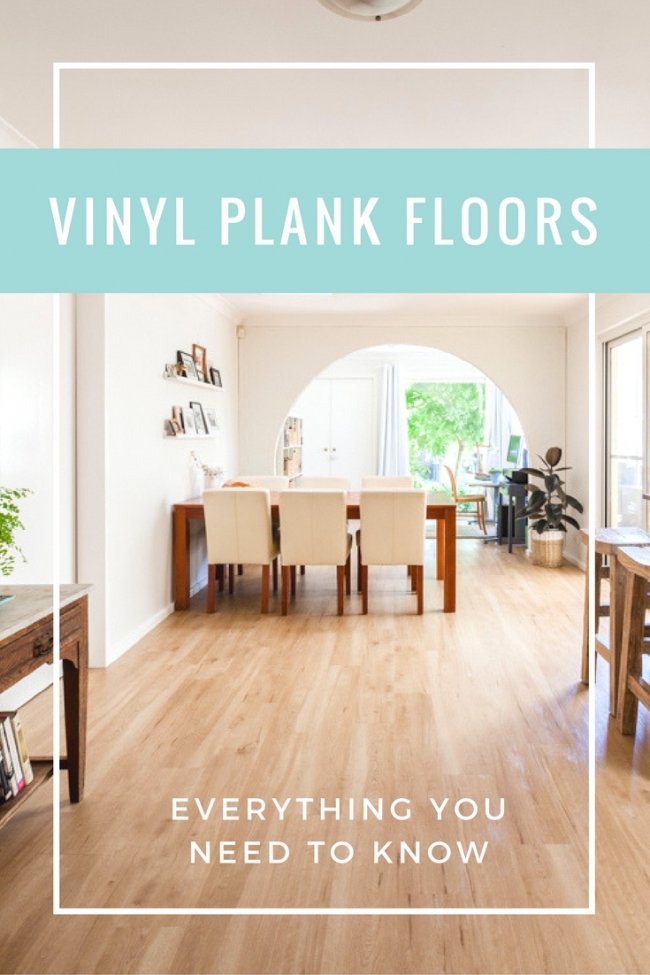 Do you like the vinyl planks?
Yes! No doubts and no regrets on what we went with.
How did you pick a colour?
It wasn't easy! My first thought was that we do an oak colour. This pic below is Karndean Birch; what we eventually went with. But then Mr Nerd suggested we do black and that totally threw me.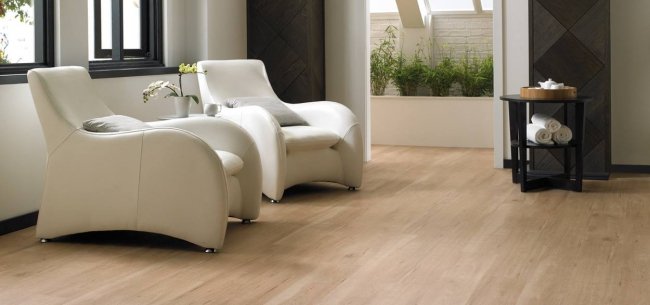 Black would have been the last colour I thought of – but when he suggested it, it did make sense. We had a lot of things in our house that the new flooring would have to look good with – the travertine in the laundry, the existing bamboo we had laid in the bedrooms when we moved in (we decided to keep it, as it still looked good) and the timber benchtop in the kitchen, which had a waterfall end. We also have a lot of timber furniture. I get where he was coming from with the black. It would have teamed nicely with all the existing colours in our house. And I've always thought black floors are very sexy.
What I wasn't so sure about was: could I live with black? While I agreed with Mr Nerd that technically black would look the best with what we already had, I didn't feel confident going with it. Our 1970s house has low ceilings, it has fairly ok natural light but some dark corners, I work from home and because I now have a baby, I am home a lot. I felt like under those circumstances the black might feel oppressive after a while. We also have a white, hairy dog – black wouldn't be as easy to keep looking clean.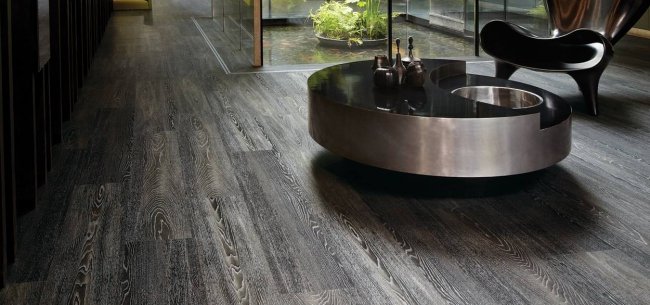 For a long time we considered doing Karndean Opus Argen (above) – it's a dark charcoal but with these beautiful silvery highlights through it that gives it a lighter and very luxe feel, it is just stunning – but in the end I couldn't bite the bullet on it. Mr Nerd was disappointed at first but he loves the Birch so we are both happy.
Can you get flooring samples?
Yes. In fact I wouldn't choose a colour without getting samples. Helping us make our decisions on colour was a COLOSSAL amount of samples!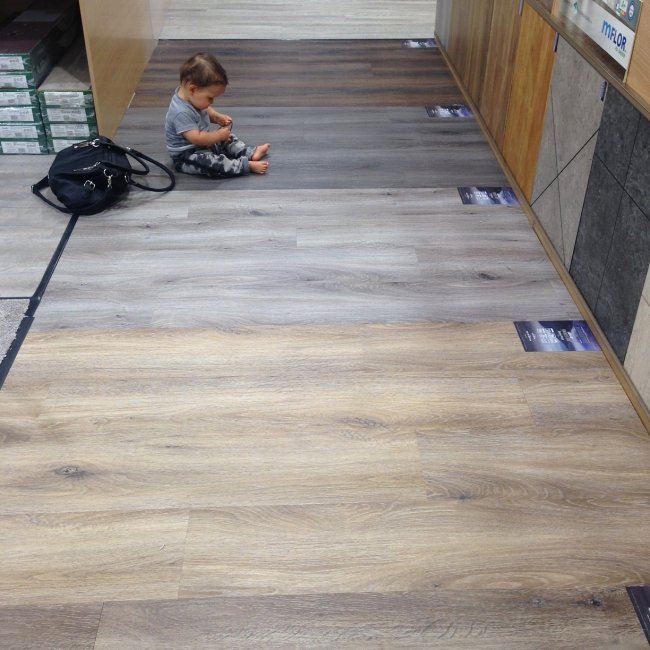 I borrowed them from a few flooring shops including Trevor's Carpets and Solomon's Flooring and always found the storeowners more than happy to loan out samples. You can also order free brochure samples online through the Karndean Designflooring website.
Make sure you try your sample all over the house where you'll lay that floor – not just in one room or one space. We spent literally weeks popping the samples next to our walls, our kitchen benchtop, the travertine floor in the laundry etc, basically all over the house to see what worked best.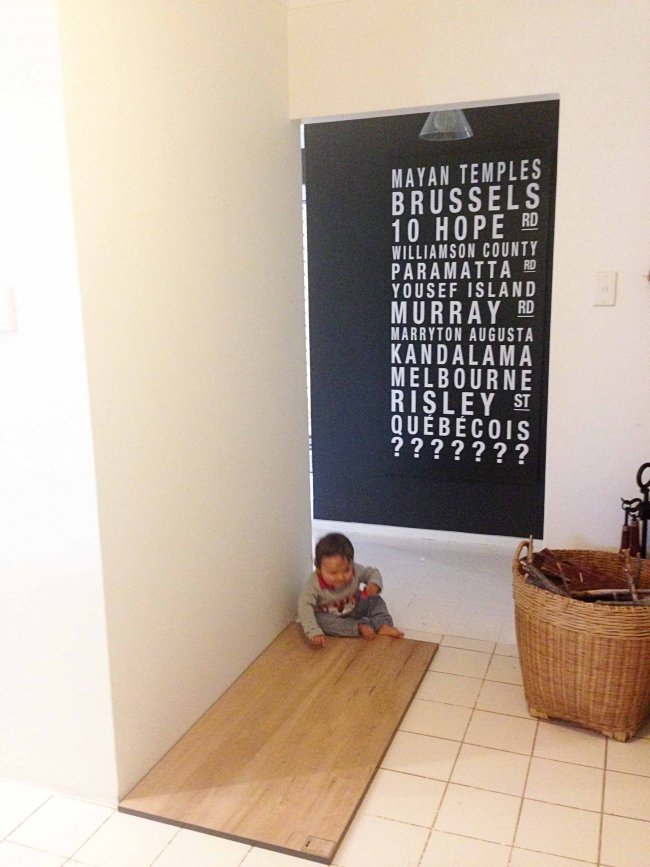 I can't stress enough - always get a sample! Sometimes what I loved in the shop, as soon as I took it home I was like, "Yeah, that won't work." If you're building a new house, put the sample next to other finishes you are considering, like paint colour and splashback tile. Van Gogh Birch was exactly what I wanted for our house; an oak sort of colour that's neither too warm nor overly cool.
Look at the texture in your samples too – see if it's something that you would like. Our vinyl planks have a pattern on them that's designed to make them look more realistic and to be more non-slip.
Did you do it DIY?
No, we did a Crap Shack world first with this renovation project; we actually did not do any of the work ourselves. Woah. While you can DIY Karndean vinyl, and a few of my readers have and they said they had great results, it was the last thing in the world I wanted to do. We thought about it - well Mr Nerd thought about it. I thought about piles of crap around the house for weeks, the thousand trips to Bunnings that every DIY project seems to encompass, the mess, the arguments. I wanted to pay the pros and be done with it and I am glad we did.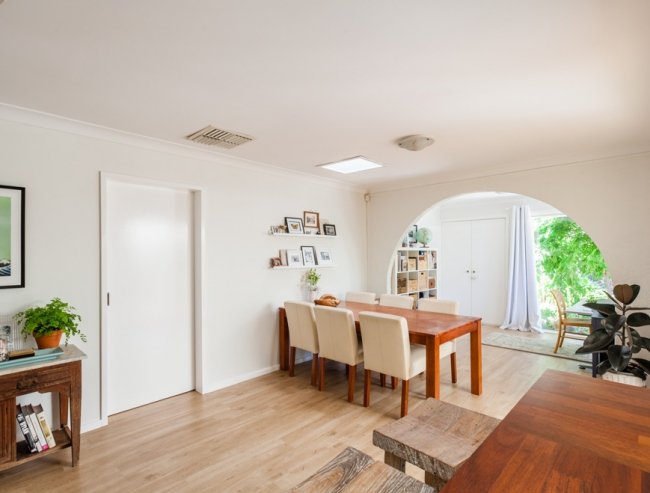 Who installed yours?
George Knuckey and his team at Craft Flooring and I cannot recommend them highly enough. They are awesome, sticklers to detail, made our house look brilliant. We bought the planks on a supply-only basis and used our own installer because I was dead keen on using this company. They installed the vinyl flooring at my sisters' unit. I saw it and I couldn't believe what a millimetre-perfect job he had done. It looked fantastic. So from the start I always said to Mr Nerd, "I really want to use this guy when we do our floors." They did the most brilliant job on our house too – it wasn't the easiest house to do, with all its weird angles and differences in flooring heights. You can contact George on 0419 936 298.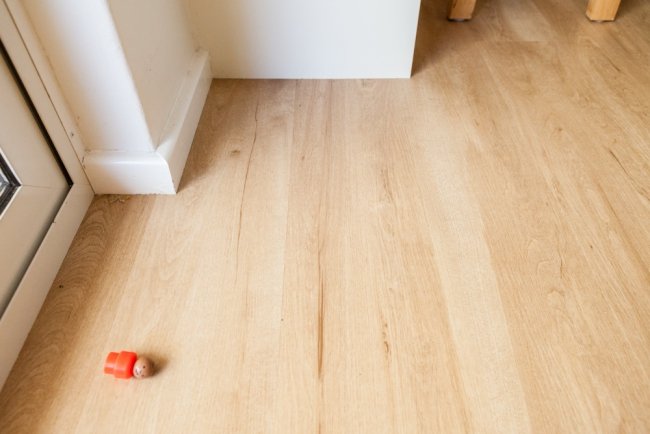 Can vinyl planks be laid over existing tile?
Yes! So long as there is a subfloor layer (to minimise any grout lines from the tiles underneath showing through after a while). A subfloor layer is also known as screed or a self-leveller layer. Basically in-between your existing floor and the vinyl.
The ability to lay the Karndean over our existing floor was one of the reasons I was so keen on it. Less mess = less drama = less marital fighting.

Trust me, we have done so many messy projects (jackhammering out all the old tiles in two bathrooms and a laundry, pulled out the kitchen, squared off the 1970s brick arches, knocked out a wall) and I knew how much dust and debris that was produced just from gutting one tiny ensuite.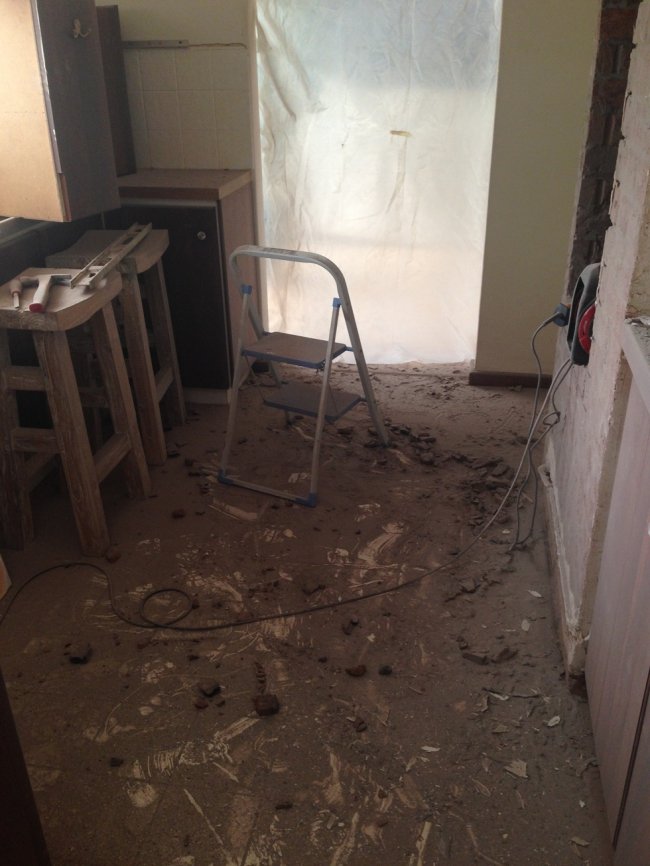 So I was looking dolefully at our big expanses of white floor tile in the dining room, study, kitchen and both hallways and thinking my God, that is going to be a nightmare to take up.
The versatility of vinyl planks was one of its major drawcards.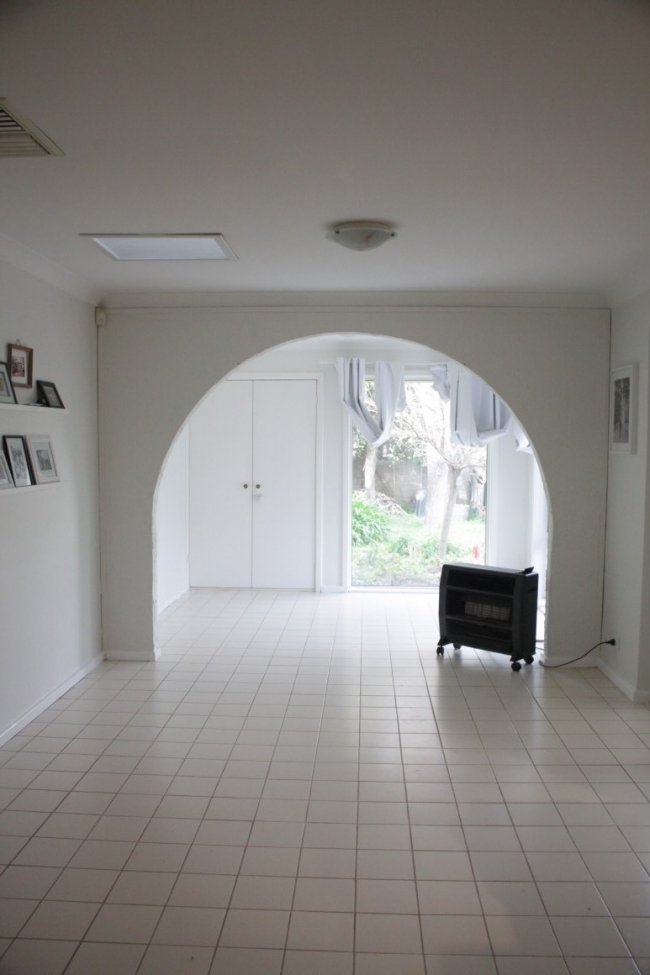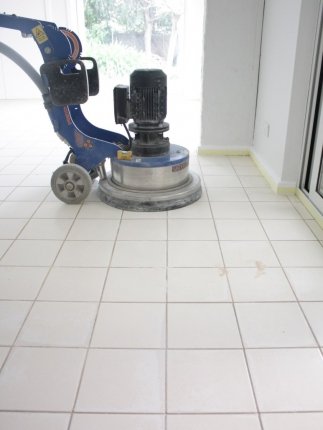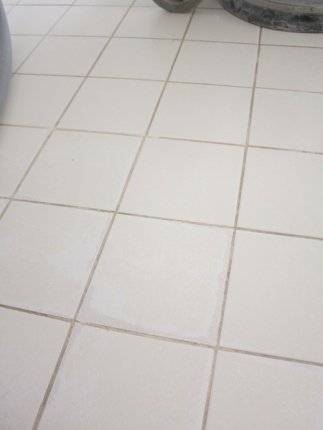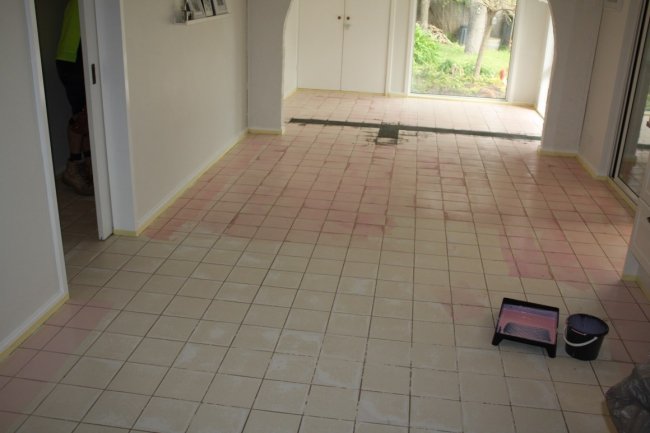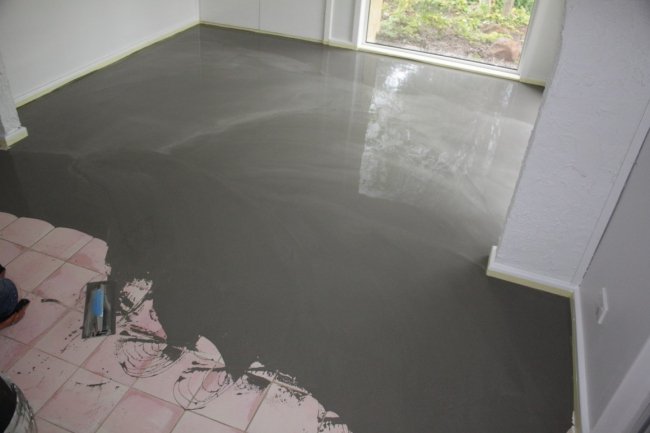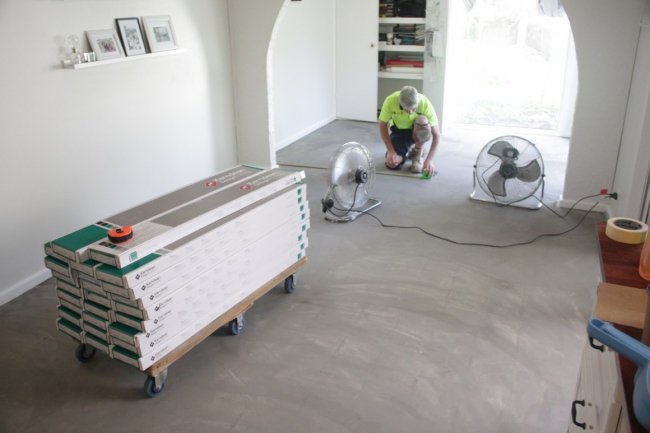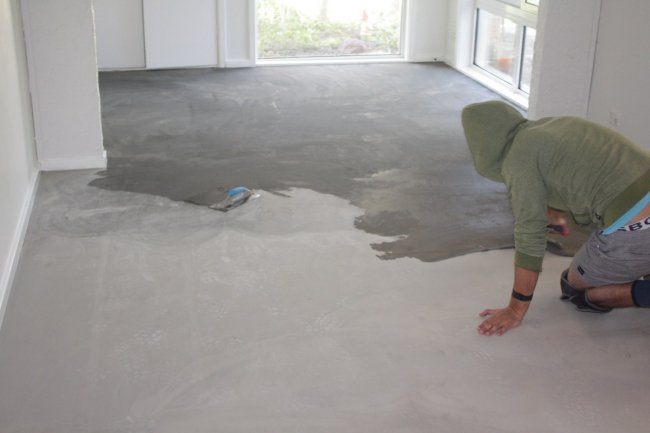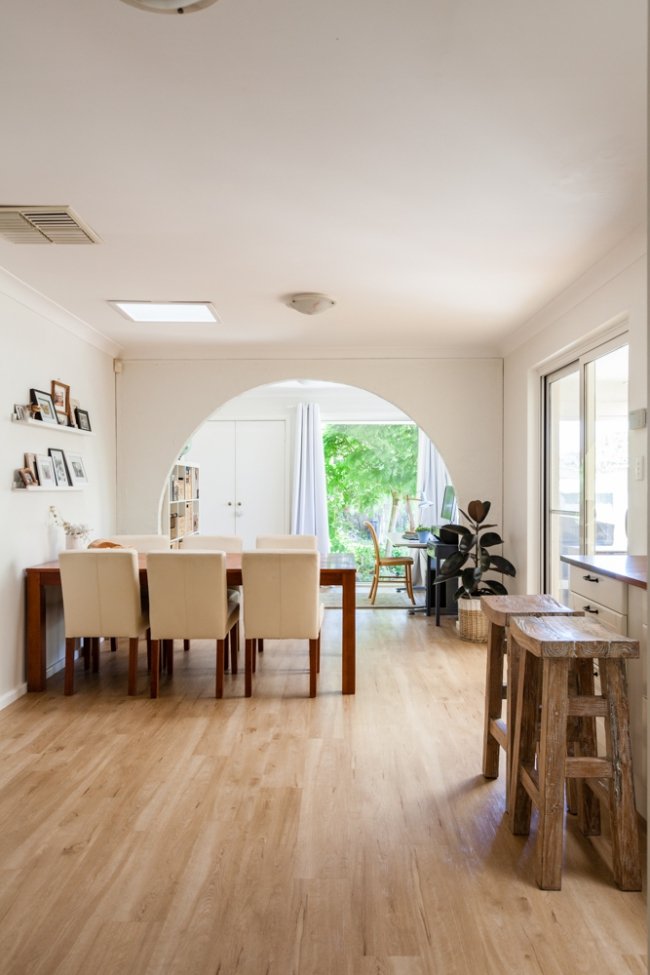 Karndean can be laid on any subfloor that is level, flat, smooth and dry. Theoretically, you could lay them right over tiles, but it's not recommended in case the grout lines show through.

So if you are thinking of doing vinyl over tile, grinding back the tile a bit, then putting down a primer and then screed (a layer of cement or self-levelling compound) on top of the tile first is definitely a must before putting the vinyl on top of that.
Our tiled areas needed Ardex primer and a layer of Ardex K12 Levelling and Smoothing Compound, because they weren't level (I swear nothing in this old house is level!) and to fill in the grout lines.
Also - be aware that the tile you lay on top of has to be structurally sound if you want to lay vinyl on top. In our house, some of the old tiles had popped. So George and his team jackhammered out these tiles and levelled the area with screed.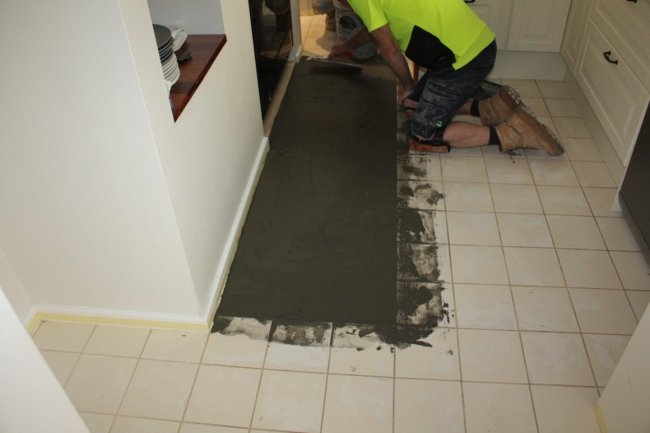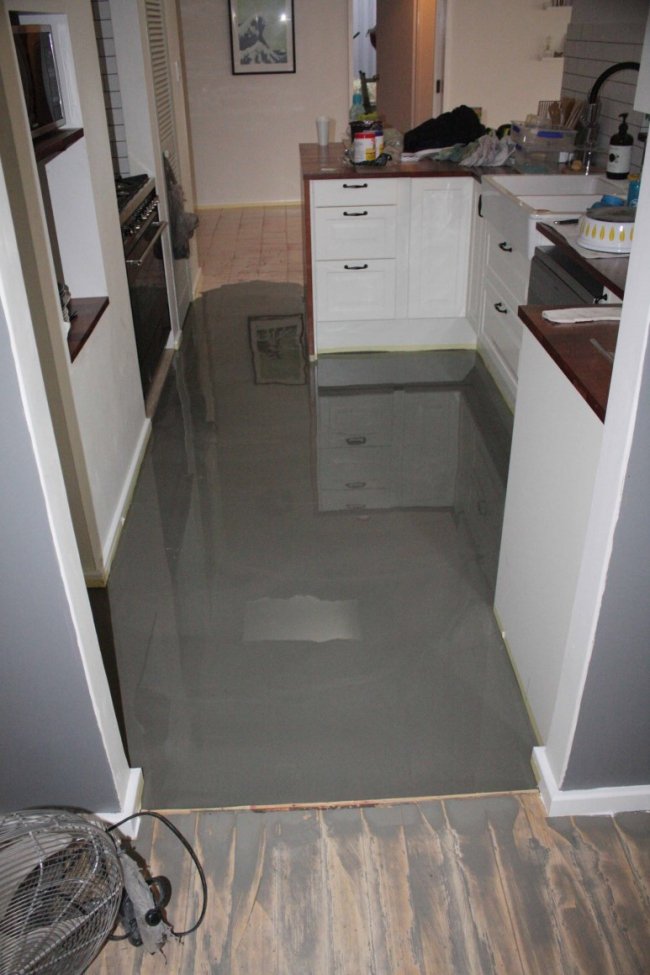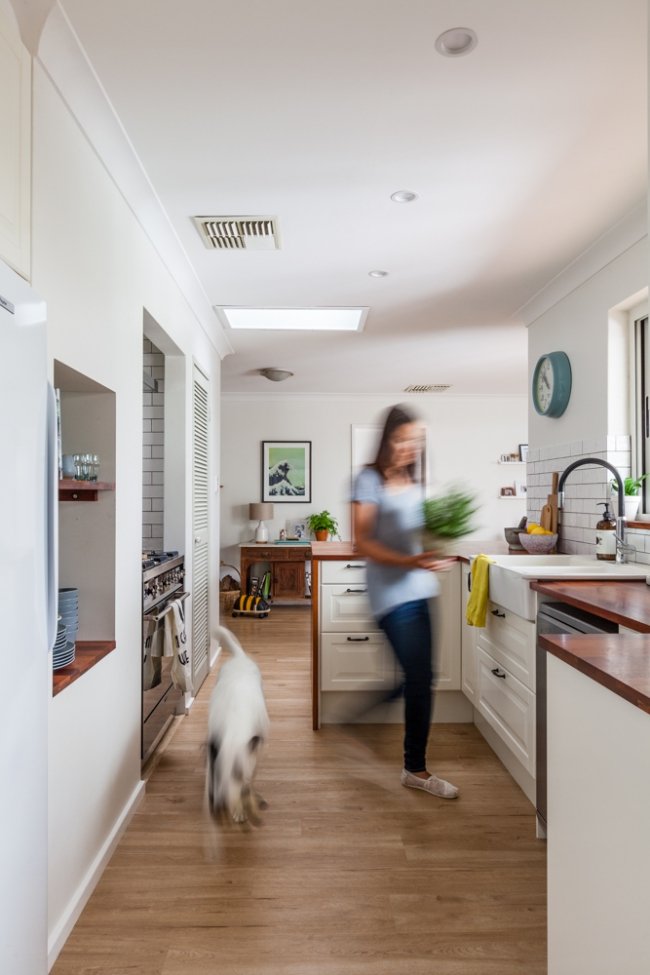 Can vinyl be laid over slate?
Yes, says George, but just like tile, you will have to screed on top of the slate. "Most likely, you'd have to grind back the slate to make it more level, then do primer and a good self-leveller, and you might even have to grind a little over the top of that as well," he says. "But it most certainly can be done over slate - the great thing is, is that you can put vinyl over pretty much anything." He says he does not recommend doing vinyl DIY over slate. Seek the pros.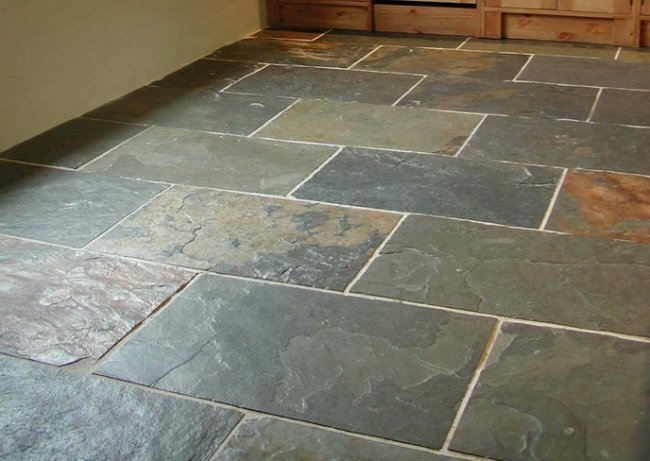 What did it cost? How was the Karndean vinyl cost-wise to other options?
Originally we wanted to lay timber floors. But timber floors are not cheap. The quotes we got for supplying and installing the kinds of timber we wanted were around $15-$20k plus. Plus it's messy as you have to lay onto the concrete. And a lot of timber floors can get scratched – especially if you have a dog.
Vinyl emerged as an attractive low-maintenance option – that looked like real timber for a fraction of the price! Get a few quotes from different shops, because they will vary.
We had 70sqm of floor to cover. For Looselay Karndean (Looselay is the premier Karndean stuff) I got quotes for $80sqm to $84sqm, installed. (That doesn't account for any additional prep work that might be required – for example if your floors aren't level, if tiled floors need an Ardex coat before the vinyl goes on top, etc). Want to buy it supply-only? I got quoted $43 per sqm at one place for the Looselay. (For Karndean pricing info you can find your nearest retailer or call them on 1800 428 963).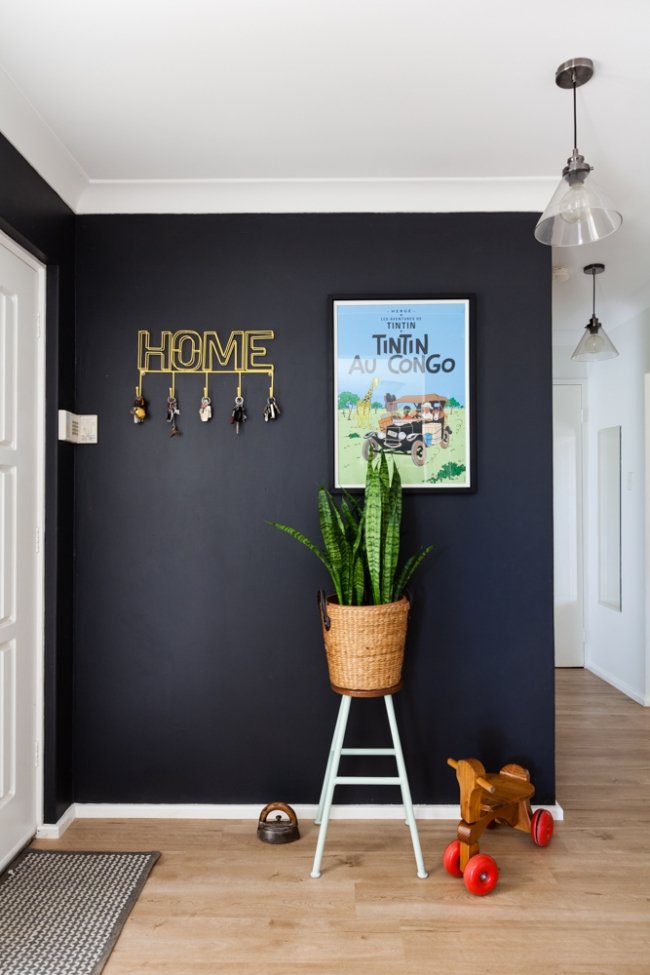 We ended up going with Karndean Van Gogh supply only (Van Gogh is cheaper as it is a slightly thinner plank) as Van Gogh had the exact colour we wanted. I asked George and his team to quote us to do the install. Quotes for install-only will vary, not just according to how many square metres you have to cover, but also how much prep work your particular home will need. Ours needed quite a lot! (George can do install quotes in Perth - 0419 936 298).
I thought the price for Karndean vinyl was very reasonable. The cheapest brand of vinyl I came across was $65 per sqm, installed, but it looked pretty tacky. You get what you pay for when it comes to vinyl. Try to get the better quality stuff if you can and you won't regret it.
How come you didn't go with real wood?
I LOVE real timber floorboards. But the installation mess (again, pulling out the old floor) the cost and possibility of it scratching (with the baby and dog) did not appeal. Also timbers floors are not cheap. The quotes we got for supplying and installing the kinds of timber we wanted were around $15-$20k+ and it's messy as you have to lay onto the concrete. Over the years we looked into a few other different flooring options:
Travertine and other tiling – to match in with what we laid in our laundry and ensuite. I love travertine and I do like floor tiles. But while our tiles were nice and cool underfoot in summer they were freezing in winter. Our old house has always been FREEZING in winter – two things that have helped it feel a nicer temperature have been the addition of the vinyl floors and new double-glazed windows. I also like the warm look timber gives (or fake timber, as in our case! By the Karndean also do vinyl tiles – lovely if you want the look of tile or stone but just want to lay vinyl over the top of an existing floor).
Bamboo floors. Before we realised how low-quality the bamboo in the living room, we pulled out the carpet in the bedrooms and DIY-replaced it with (a different kind of) bamboo flooring. I don't mind bamboo floors at all but I think they tend to suit contemporary styled homes more and I didn't think it would be the best choice for our place which is quite traditional. Plus I love the knots and appearance of wood planks.
Laminate flooring. I do like laminate flooring. I had thought we could lay it over the existing tile with an underlay, some people said yes, some said no, that we had to remove the existing tile. We also took advice from friends who had it put in their apartment and while it looked great they said they had problems with a couple of pieces popping, tapping and also shifting. If something is not 100% perfect it drives Mr Nerd mad, so laminate didn't seem the best option. Also it wasn't as affordable as I had thought it would be.
Carpet was never an option for any part of our house as Mr Nerd has asthma.
Vinyl emerged as an attractive low-maintenance option that gave us the warm look of timber that we wanted but without the timber price tag.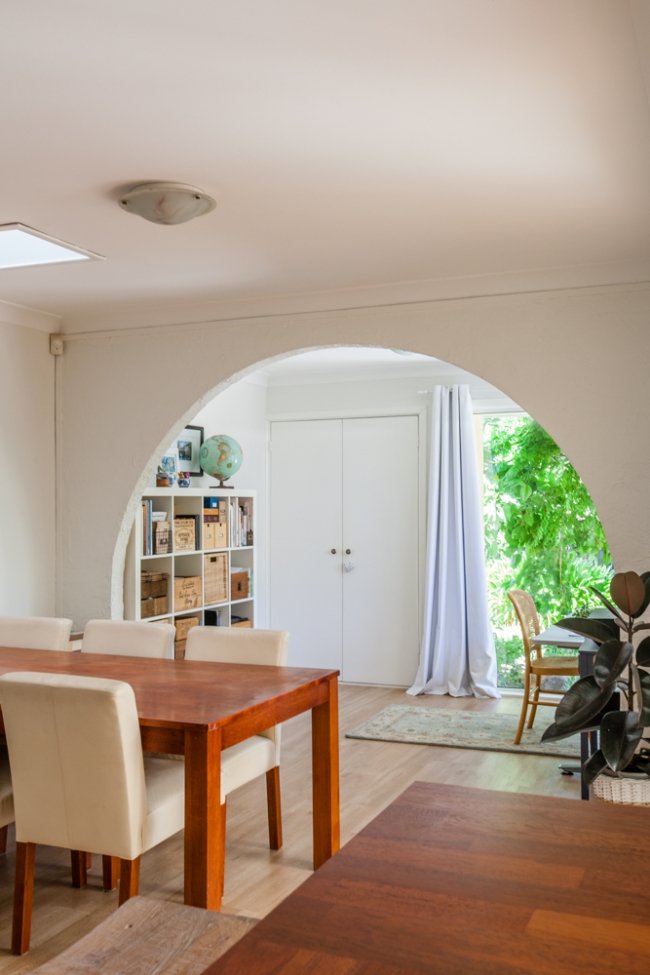 Why did you choose vinyl planks?
You can let go of any 'Granny's house' connotations you might have around vinyl flooring! Even though vinyl flooring has been around for decades, there's been a huge resurgence in its popularity the past couple of years. This meant there were so many different colours to choose from (and prices for different budgets) and they seriously look really good.
Vinyl planks emerged as the winner because when choosing what flooring type to install, we had to take into account our current living situation – we both work, we have a baby and a dog, and we wanted something that would be minimal fuss to install, gave the warm feeling of wood and that was also durable.
We also needed certain boxes to be ticked when it came to the flooring: a fast installation, minimal prep work and mess, and something that wasn't overly expensive. So if you wanted to live in your home while you installed vinyl, it could be done. (We actually moved out on the Friday morning and came back on the Sunday afternoon to nice new floors – whole thing done in less than three days!). Little Nerd was rolling around on the new floors in ecstasy.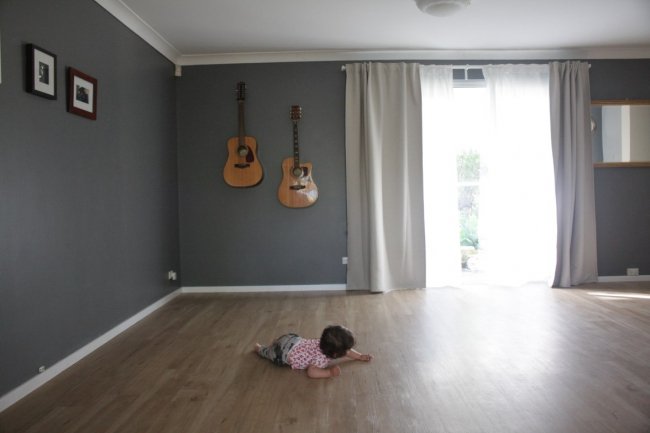 What made you go with Karndean?
We looked at a few vinyl flooring brands and after several House Nerd readers recommended Karndean vinyl planks in particular and we saw the product in person, we knew this was the brand we wanted. A few reasons:
- they come in a huge variety of really lovely colours
- withstand a lot of wear and tear, so good for us with a baby and dog
- come with a great warranty (the lifetime residential warranty of Karndean is 35 years)
- they feel great underfoot
- they're waterproof so would be fine for our kitchen
- good repair/replacement options if you accidentally damage one.
Karndean was more expensive than some other options on the market but I thought the price was worth it. When it comes to vinyl planking you do get what you pay for. More expensive options tend to look a lot nicer (and they tend to have more pattern variations, so you avoid that fake look where every plank is exactly the same as the next) the planks are thicker and quality is fantastic.
Do vinyl floors look real?
A lot of visitors do think the vinyl in our house is real wood when they see it. To me, vinyl very rarely 100% looks like real wood in real life, but maybe that is because I've been visiting and writing about hundreds of houses for so long so I instantly know what is real timber and what is vinyl. I never chose vinyl thinking that it was going to look exactly like real wood – but it's pretty cool that some people think it is!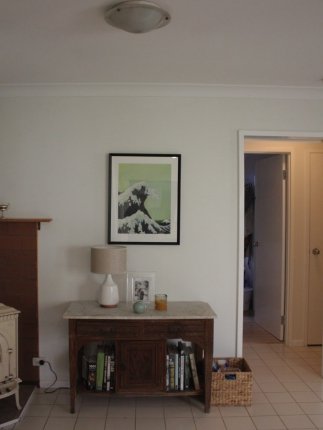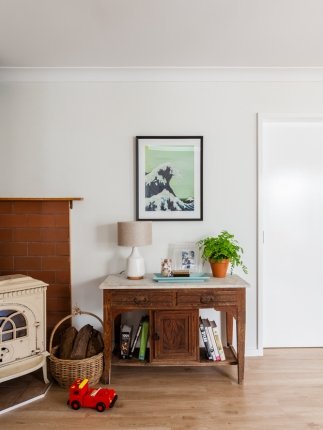 Do vinyl floors scratch or mark easily? Are they good with pets?
Good-quality vinyl won't mark easily. Vinyl floors can get scratched, but again not easily. They are pretty indestructible! Since we had it laid we have only had one very small scratch from a castor on my office chair. We just bought a little rug to go under the chair. And the baby goes to town on the floors with his little wooden hammer and no marks, so – awesome! A good thing about vinyl is that if a plank DOES get badly damaged, you can remove one plank without pulling up the rest and replace just that bit. The dog's claws haven't marked the vinyl at all.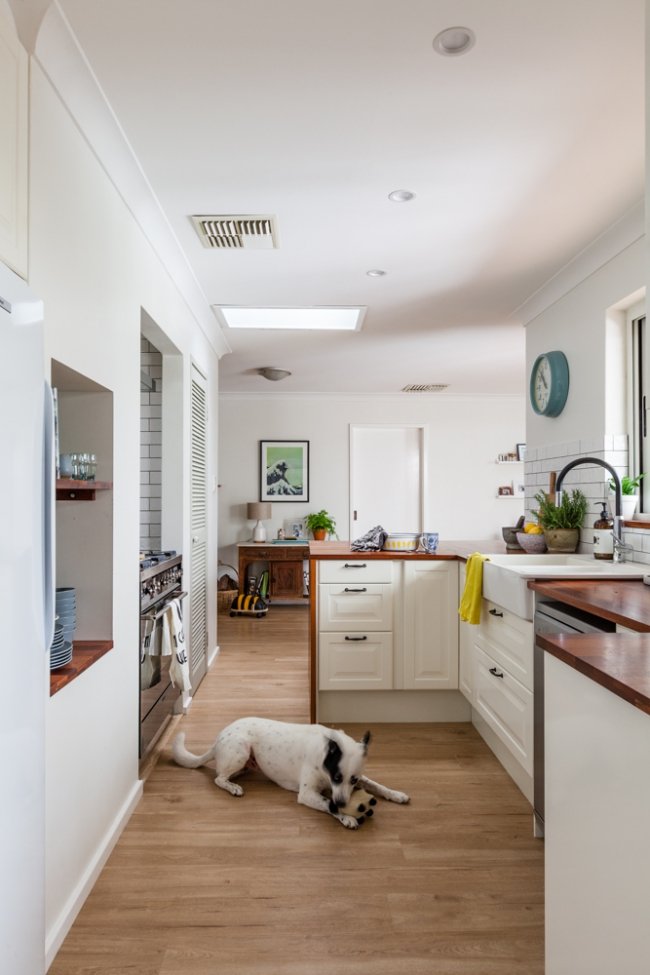 Can you mop vinyl floors? Are they easy to clean?
They are VERY easy to clean! They have been absolutely fantastic with our baby and dog. We have one of those inexpensive Handyswish mops from Bunnings with the microfibre pads that you can chuck in the wash. You can mop vinyl the same way you would tile or floorboards. And our iRobot Roomba has been doing a stellar job of keeping them free of dog hair.
How did laying the boards over your existing floors affect your kitchen bench heights? And did you have to take anything off the bottoms of your doors?
Unlike laminate floors (also called floating floors, floating wood floors, and click floord) that consist of a rigid particle board with the laminate surface on top, vinyl planks are not thick enough to affect the height of existing features like kitchen benches. In our house, we had renovated our laundry and bathroom and the tiled floors were a little higher than the un-renovated flooring. George and his team were careful to bring the level of the screed and the vinyl up to the height of those floors, making our flooring flush throughout, which was lovely. I can't speak for all houses, but in our instance, we did not have to take anything off the bottoms of our doors (yay!)
I have concrete floors in my bathroom and laundry (and not the cool kind) and I've been thinking about laying a similar type of waterproof boards straight over the top.
Unfortunately Karndean don't recommend laying vinyl planks in wet areas like laundries and bathrooms, even though the floors are professionally fitted tightly to make sure water spills don't seep through the edges of the pieces. However there ARE vinyl flooring options available for bathrooms, usually where the vinyl is one big piece!
Do you have to glue vinyl planks down? Or secure them down in any way? Or do they hold themselves down with their own weight?
While George says a glueless approach is possible, he strongly recommends using an adhesive. "With Karndean Looselay, you can put them straight to the floor but just make sure the floor is clean," he says. "We recommended gluing – it helps prevent problems if a piece shrinks a bit, and stops the feel of them slightly moving around underfoot. Also be aware that some vacuum cleaners are quite powerful and can actually take up planks that aren't glued down."

If you love renovations, houses and before and afters, you can follow House Nerd on Instagram @housenerd, Facebook, Twitter, Pinterest or Bloglovin.